When people think of fly fishing Wyoming they often imagine the beautiful Grand Teton Mountains and the great town of Jackson Hole. If you head a couple hours east, you'll run right into the town of Sheridan; a Mecca of high quality fly angling and seclusion.
I spent a summer living near Sheridan, Wyoming and had the opportunity to explore all that the nearby Bighorn Mountains had to offer. I've visited few other places in the world that have better fishing than Sheridan. Every chance I get I try and visit to see what else I can find.
Fly Fishing Sheridan: Why Go?
If you're interested in unique fish and seclusion, you'll find both of these in Sheridan. The waters spread throughout the Bighorn Mountains are beautiful and you can easily spend the entire day without seeing another angler.
It takes some effort to find these fish, but once you do, you're in for an amazing day on the water.
Species for Sheridan Fly Fishing
The waters around Sheridan, Wyoming are filled with a variety of species. Almost any type of freshwater fish is available to be caught. Spend a few days and see what you can find! You won't be disappointed.
Yellowstone Cutthroat
Yellowstone Cutthroat are one of the main reasons people visit Sheridan. These fish are becoming less and less common, but the population around Sheridan continues to flourish. You can find them in the Bighorn River as well as the North Tongue River.
When targeting this fish, make sure you have Caddis flies, terrestrial patterns and Sow Bugs. All of these are going to provide you with ample opportunities to land the Yellowstone Cutthroat.
Rainbow Trout
Rainbow Trout are another trout you can find in the waters around Sheridan. Several of the rivers hold wild populations of these fish. Make sure to look for them in the Bighorn Canyon as well as the North and South Tongue. These three rivers are wonderful habitats for these fish.
Bring Wooly Buggers, Gnat patterns and Prince Nymphs if you want to land these fish. Fish them in a variety of ways! They're temperamental and require some finessing to land.
Brown Trout
Brown Trout are some of the most common trout you'll find around Sheridan. They're all over the South Tongue River in the Bighorn Mountains. They sit under the cut banks and pools. Bring along BWO's, Zebra Midge's and a few Stonefly patterns.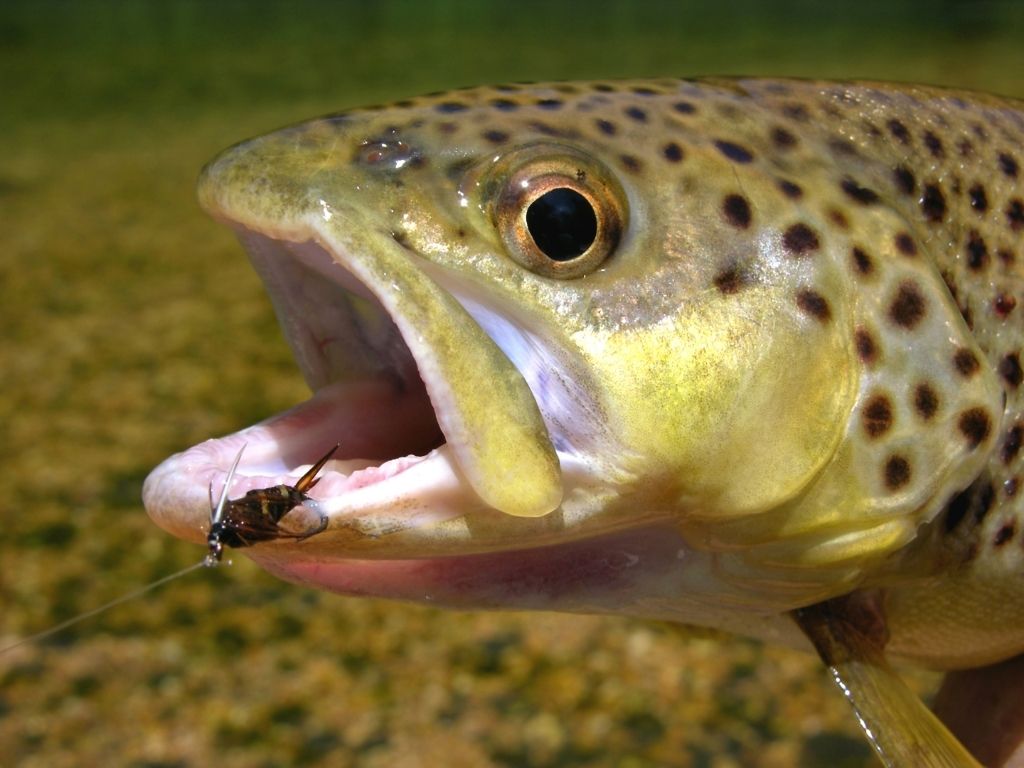 These fish are beautiful and can grow upwards of 20 inches. They're some of the largest trout in the waters surrounding Sheridan.
Largemouth Bass
Bass are all over the ponds and rivers near Sheridan. If you visit Lake DeSmet and Sibley you'll find these fish hanging around structure and spawning in the shallow water. Bring along popper flies and Clouser Minnows. They can grow upwards of 6 pounds so make sure you have your 7 or 8-weight!
Best Spots for Fly Fishing Sheridan
There are numerous hot spots around Sheridan that fly anglers should visit. It's best to have four or five days to spend in the area to fish. This amount of time is going to allow a great chance to explore!
North Tongue River
The North Tongue near Burgess Junction, Wyoming is an amazing place to visit for fly fishing. The majority of the river is located in National Forest land so you don't have to worry about access issues. You can park your car at one of the numerous pulloffs and spend the entire day exploring.
Beware of Moose! The river is surrounding by willow bushes and moose often feed on these. The population of Moose in the Bighorns is quite impressive so bring along your phone to snap some pictures. The North Tongue is known for its dry fly fishing.
Terrestrials start showing themselves late in July. Earlier in the summer be sure to bring Elk Hair Caddis and gnat patterns. There are dozens of eddies and deep bends in the river.
You'll likely be able to sight fish so make sure you stay as hidden as you possibly can. It's going to require quite a bit of finesse to land these fish, but once you do you'll feel rewarded!
Bighorn Canyon
The Bighorn Canyon is packed full of fish. It's best fished from a drift boat so make sure you hire a guide or have one of your own. The towering canyon walls and beautiful large fish make the canyon a must visit!
You'll catch trout and a variety of other freshwater fish in the Bighorn River. The deeper you go into the canyon, the better chance you have at landing trout. Enjoy the beauty and take advantage of the opportunity to land some of these impressive fish.
South Tongue
The South Tongue is one of the least pressured waters near Sheridan. You can access it near Burgess Junction and work your way up or down the river. The Stonefly hatches are amazing on the South Tongue. Bring them along! You'll see hundreds of fish jumping out of the water.
Best Flies for Sheridan
There are dozens of hatches that occur near Sheridan so make sure you're properly equipped before you make your visit!
Elk Hair Caddis
Elk Hair Caddis flies ranging from size 14-20 are going to work great near Sheridan. Wait for the mornings and evenings and begin fishing. Also, make sure you have tippet tied on your leader! It'll keep you hidden.

San Juan Worm
The San Juan Worm is a classic pattern that works all over the world. However, it works especially well near Sheridan. Cast it through the seams and pools and you'll land some nice fish.

Chubby Chernobyl
The Chubby Chernobyl is going to work great late in July. The warmer the temperatures, the more active these bugs become.
Brown and rainbow trout love these flies! Look for the cut banks and cast as far underneath as you can.

Pheasant Tail Nymph
The Pheasant Tail Nymph flies are great imitations of BWO's. Fish these hard early in the spring and later in the fall when these flies are hatching! You'll find yourself with quite a bit of action and some sizable fish.

Wooly Bugger
Wooly Buggers are going to work great in the Bighorn Canyon. Fish them low and slow throughout the pools in the Bighorn and North Tongue River. You don't have to cause much commotion with these patterns! Let their action do the talking.
Sheridan Fishing Season
The best time to fish the waters surrounding Sheridan are in the late-Spring and throughout the late-summer into the early fall. The fish are active throughout these few months.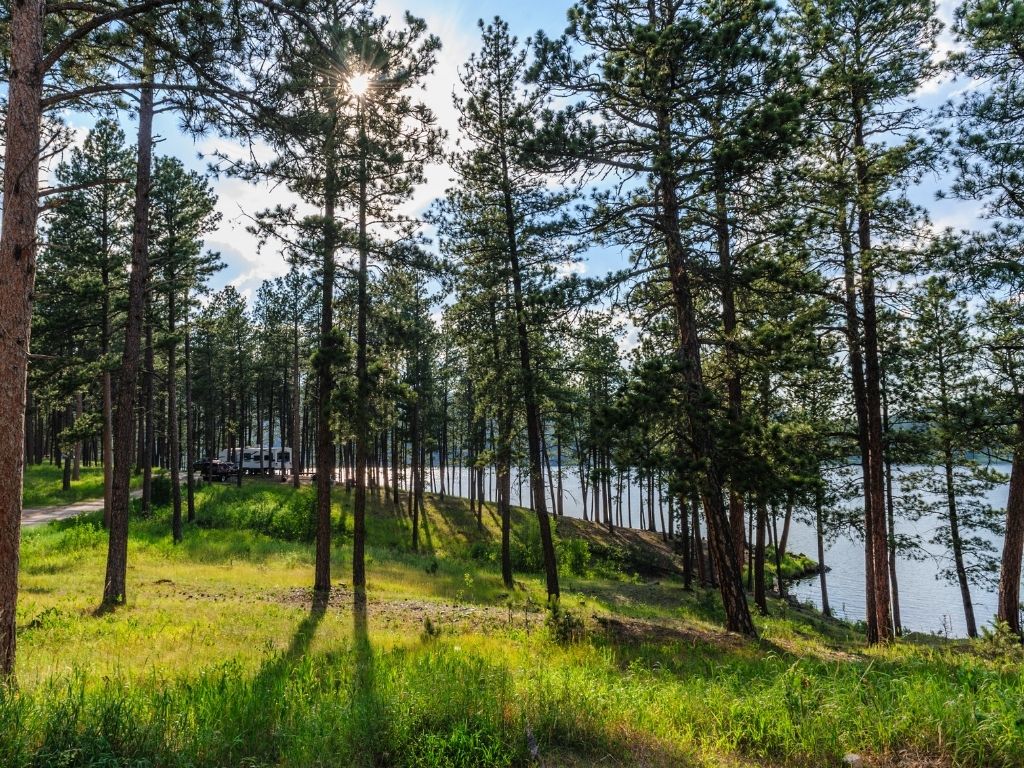 The Sheridan fishing season is one that you shouldn't miss.
Sheridan Fishing Report
The North Tongue and South Tongue Rivers were extremely hot when I visited in late June. The runoff had just subsided and fish were willing to eat just about anything. I had quite a bit of success with Elk Hair Caddis patterns and Wooly Buggers.
Conclusion
Fly fishing Sheridan is something that every fly angler should experience. The waters are beautiful, wildlife is plentiful and you always have the chance to land a trophy fish. These are the true definitions of western rivers!