Fly fishing Colorado remains one of my favorite things to do in the state. Like many states in the Western United States, Colorado is a hub for outdoor recreation.
Outdoor enthusiasts have multiple options all throughout the year to fill their needs. The mountains and vast landscape make Colorado a perfect place for people to visit.
Despite it being one of the best fly fishing destinations in the US, the water is not overcrowded and anglers have the freedom to fish a variety of waters. On top of that, there is a strong lean towards catch-and-release fly fishing in the state, which keeps populations of fisheries strong and the environment healthy.
Over the past few years, I've made winter trips out to Colorado to snowboard. I started bringing along my fly rod and began fishing in the morning before the resorts opened and skiing for the rest of the day. The fly fishing is high quality and there's no shortage of it.
Why Start Fly Fishing Colorado?
Colorado has one of the highest fish counts in the entire United States. On top of that, there is private water that anglers can gain access to, helping to ensure there is no overcrowding.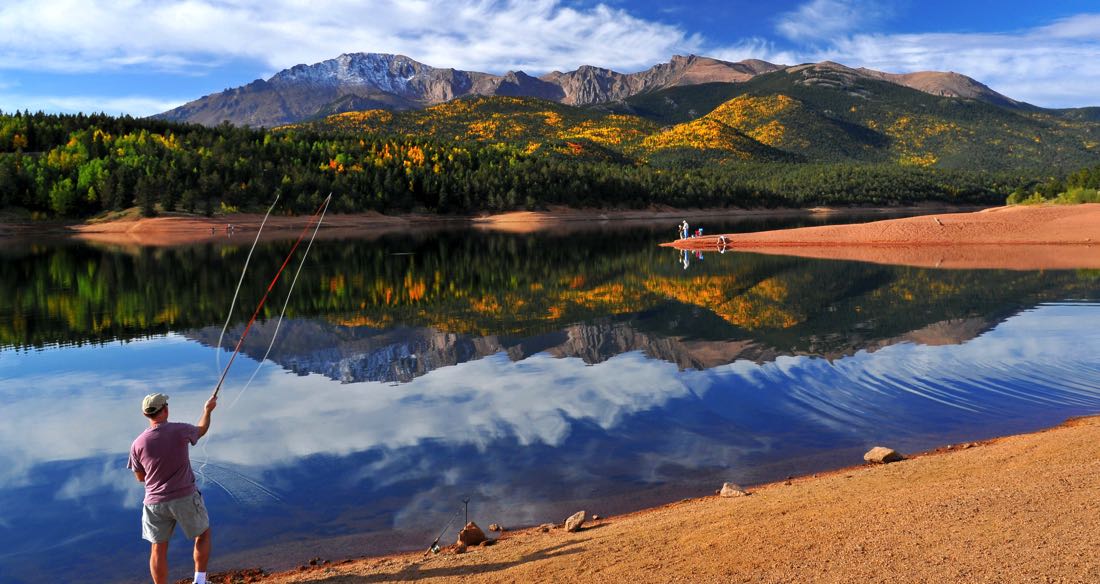 The crisp mountain air, beautiful scenery, and trophy trout are a perfect reason to make Colorado your next fishing destination.
What To Pack For Fly Fishing Colorado
Here are a few things that you'll want to bring on any fishing trip, as well as some items (like specific flies and rod weights) that are important to bring when fly fishing Colorado.
Colorado Fly Fishing: The Fish Species
Trout is the name of the game for fly anglers in Colorado. The variety of wild and stocked trout always leads to an entertaining day on the water.
Rainbow Trout
Rainbow trout are the most common trout found throughout Colorado. The Colorado Game and Fish Department stocks millions of these fish every year into the lakes and rivers throughout the state.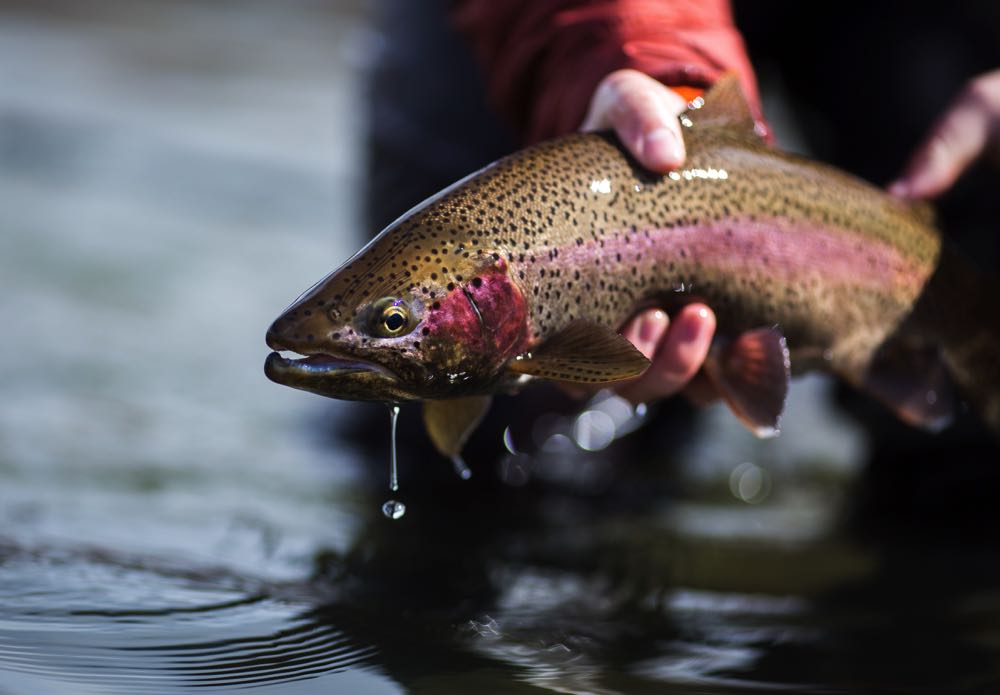 You'll find them in the South Platte, Gunnison, and Blue Rivers. To catch these, you'll only need your 5-weight. You'll find them most commonly around 12 inches and can always catch them on a variety of flies.
Be sure to pack Prince Nymphs, Elk Hair Caddis, Pheasant Tail nymphs, and Wooly Buggers. These fish aren't all that picky as long as you present the fly well.
Cutthroat Trout
Colorado has three types of Cutthroat. The Greenback, Rio Grande and Colorado Cutthroat are able to be caught all throughout the state. However, their numbers have been dropping in recent years and are now protected by the Parks and Wildlife service.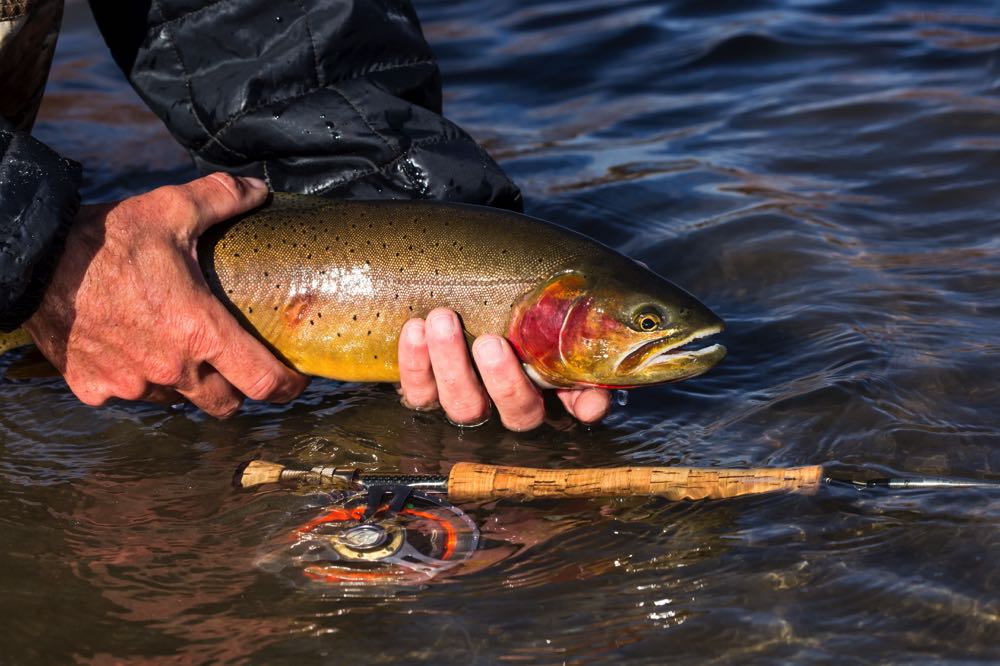 You'll find cutthroat in the Eagle River, Yampa River, and the Arkansas River. These fish vary in size and can most often be found in high mountain streams. Take along your 4 or 5-weight and light fluorocarbon tippet.
Parachute Adams, BWOs, Wooly Buggers, and midge nymphs will catch cutthroat. Many argue that these are the most beautiful fish in the world so be ready with your camera!
Brown Trout
Brown trout are another common species caught throughout the state. These fish are extremely hearty and don't need only cold and clear water to survive. They can grow upwards of 5 or 6 pounds throughout the state.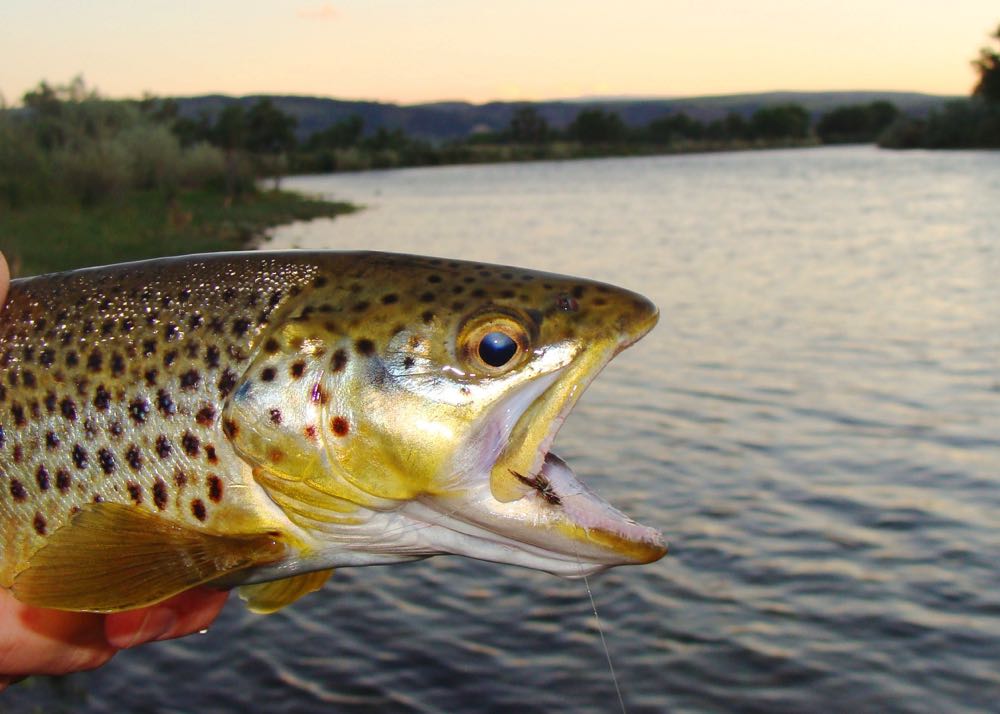 You'll find Brown in the San Juan, Rio Grande, Dolores, and Yampa rivers. They're great fighters and are great to catch during their fall spawning runs.
Bring along your 5 or 6-weight as well as 4 or 5x tippet to land these fish. They'll eat a variety of flies including Clouser Minnows, Wooly Buggers as well as Crayfish patterns. You can also land them on hoppers and beetles in the fall.
Brook Trout
Brook Trout are the final common species found in Colorado. They were introduced to the state in the late 1800s and have been able to repopulate on their own ever since.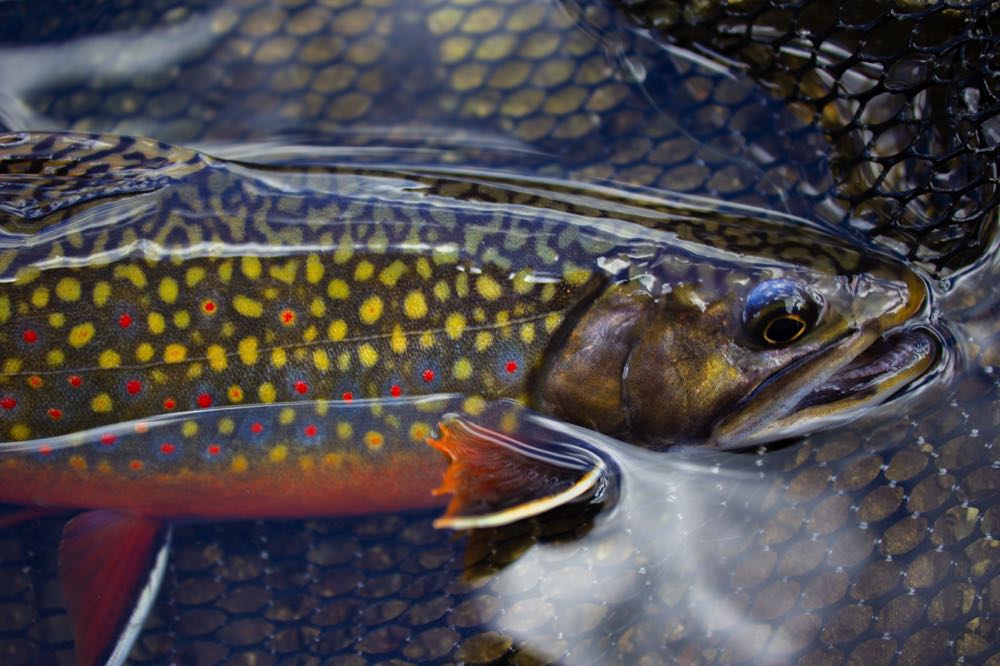 You'll find Brookies in the Poudre Canyon and the Big Thompson. These fish rarely grow over 12 inches in Colorado, but they're beautiful and put up impressive fights.
Bring along your 3 or 4-weight and tackle some of the pools and small pockets. These fish will hold in places you do not expect so be prepared to fish in small water. You'll catch them on small Prince nymphs, Pheasant Tails, and Gnat patterns.
Best Fly Fishing Spots in Colorado
Colorado has a massive variety of water for people to try. Anglers of all skill levels will be challenged, but still catch fish. Whether you're after moving or still water, Colorado has a variety of options.
Best Fly Fishing Rivers in Colorado
Anglers have their choice of small streams sitting at an elevation of 10,000 feet and wide flowing rivers spread throughout the states. Spend a few days seeing the variety that Colorado has to offer and you'll likely make a trip back.
South Platte River
Directions: South Platte River, CO
The South Platte River is a fly fishing haven. It's a tailwater fishery so the water temperatures stay consistent all year round. Plus, there are a variety of hatches and access is solid considering all of the private water throughout the state.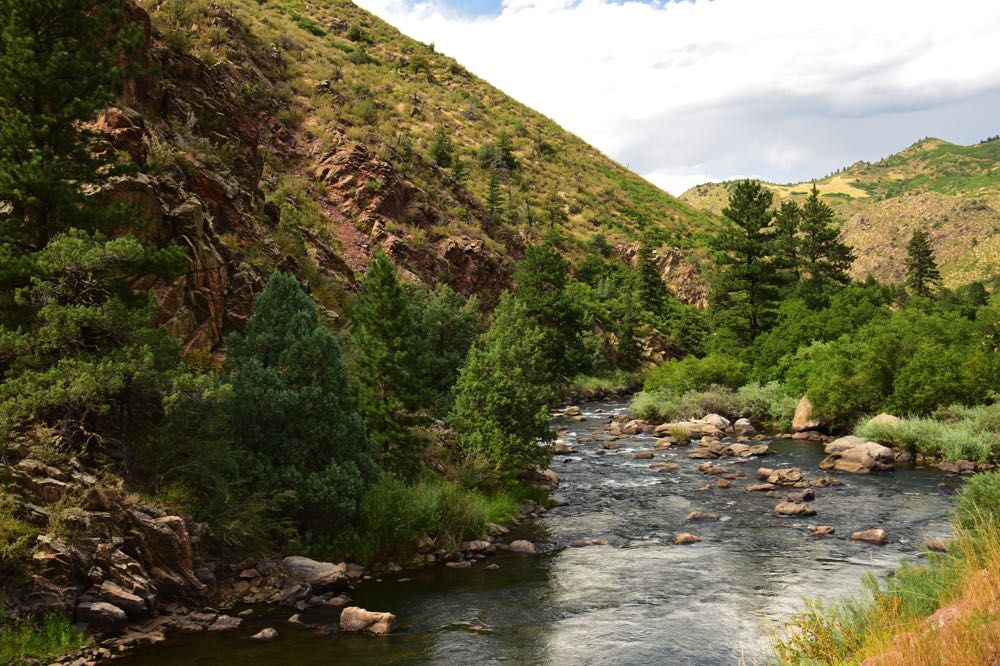 When fishing the South Platte, you want to target the portion the locals call the Dream Stream. It holds brown, rainbow and cut bow trout. All these can be caught ranging over 20 inches. You may even stumble upon a Kokanee Salmon as they spawn in this portion during the fall.
Bring your 5 or 6-weight to the South Platte. The water is a bit wider and you'll almost always be dealing with wind. You'll need the extra power to reach the spots you're trying to hit.
Be sure to have floating and weight forward line. The hatches in the mornings and evenings are well worth fitting into your day. Also, have 5 or 6x tippet so the trout aren't seeing everything you put in their way.
If you use streamers, be sure to have 1 or 2x leader. Some great flies to use are the Parachute Adams, Green Caddis, Sex Dungeons, and Wooly Buggers.
Arkansas River
Directions: Arkansas River, CO
The Arkansas is a must for any angler in Colorado. It has over 100 miles of Gold Medal Water available for anglers to fish. You'll find rainbow and brown trout all throughout the river well over 20 inches.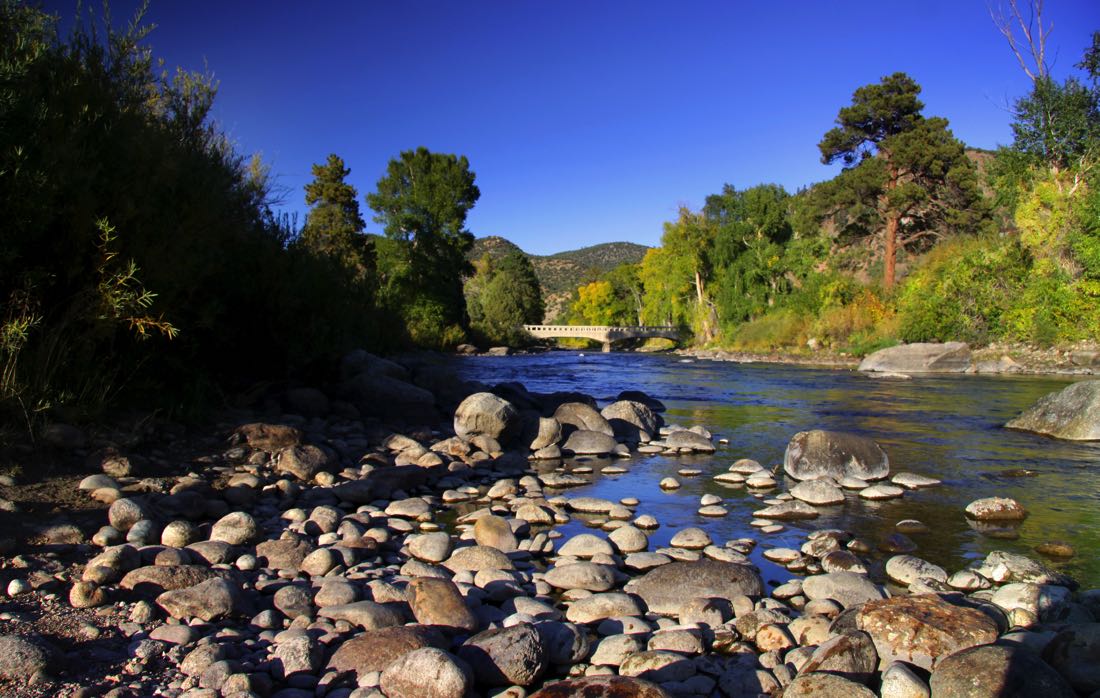 There are pockets, pools and riffles all throughout the Arkansas that test anglers. Pay attention to the BWO and Caddis hatches because as soon as those begin, the fish start their feeding frenzy.
Fish the Arkansas with your 5 or 6-weight. Also, 9 foot 3x leader is going to do the trick. If the flies are hatching switch over to 5 or 6x tippet and start targeting the rises.
Use Gnats, Stimulators, Hoppers, and Parachute Adams on the Arkansas.
Frying Pan River
Directions: Frying Pan River, CO
The Frying Pan is another tailwater fishery in Colorado that is filled with nice size trout. You'll catch rainbow and brown trout throughout the Frying Pan that are extremely healthy and large.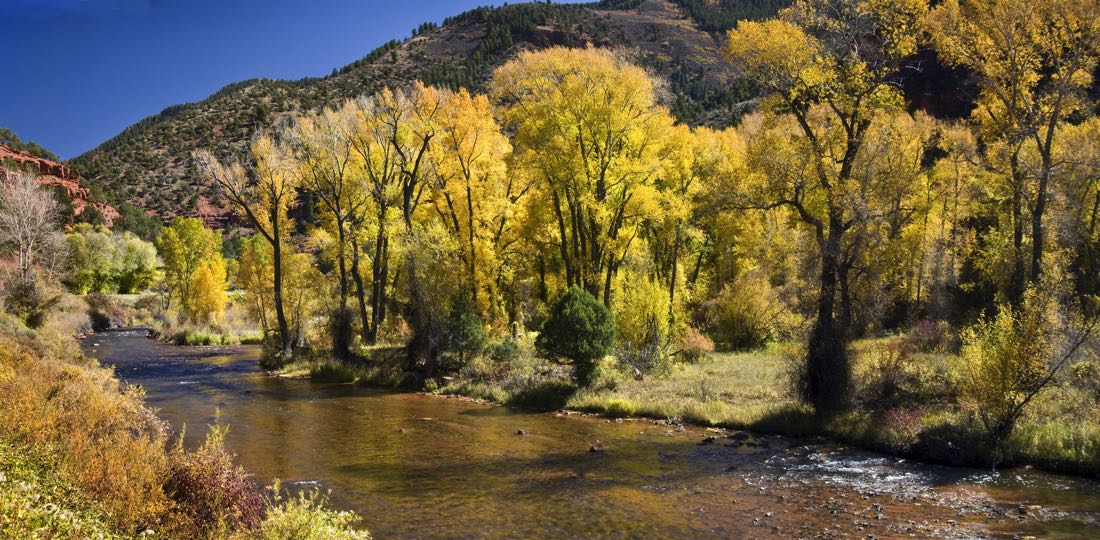 The water flows out of the Ruedi Reservoir so the fish are well fed and the water temperature stays consistent all year. It's a great river to fish during the winter if you're looking for some fishing action.
You'll catch fish on Mysis Shrimp patterns. These flow out of the lake and the trout love to eat them on a regular basis. You'll also catch fish on PMDs and small Buggers.
Be sure to use your 5 or 6-weight and 5 or 6x tippet. These fish can spook due to the high visibility. Survey the river before you choose the spot you're going to fish.
Colorado River
Directions: Colorado River, CO
The Colorado can be intimidating. Quite a bit of the water is large and it's great to fish from a drift boat. You'll gain better access to pools and the seams spread throughout the river.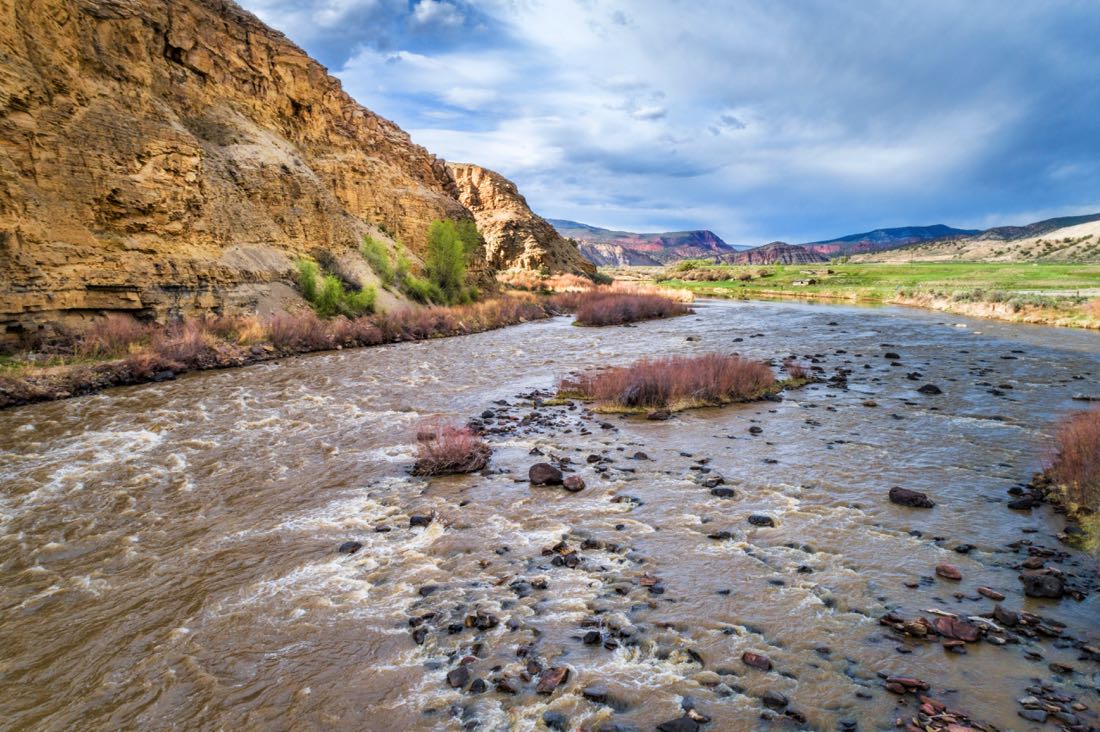 However, there are portions of the Colorado available to wade. These are located more in the headwaters within Rocky Mountain National Park and are a beautiful place to visit if you're willing to hike a few miles.
You can catch brown, brook, and cutthroat throughout the Colorado. Depending on where you're fishing, bring different rods. If you're spending time in the headwaters, use your 3 or 4-weight. Take along 5 or 6x tippet as well.
These areas require finesse casting and smaller nymphs and dry flies. As soon as you reach the bigger waters down south, use your 6-weight. Also, be sure to bring 1 or 2x leader to handle some of your larger streamers.
Gunnison River
Directions: Gunnison River, CO
The Gunnison is one of the best rivers in Colorado. Large reservoirs split up the majority of the river so the trout are extremely well fed and are capable of reaching upwards of 25 inches.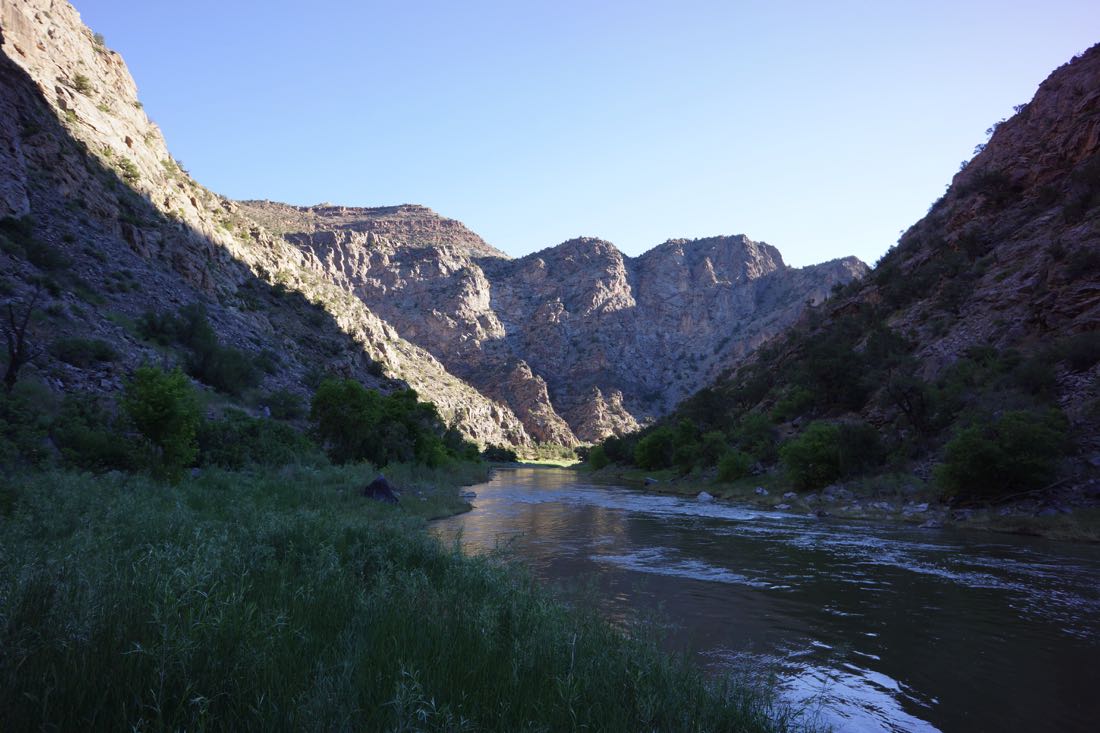 The Gunnison offers opportunities to fish extremely remote water as well as gives anglers a chance to bring their family. The portion below the Taylor Park Reservoir is catch and release and a great place to fly fish.
When fishing the Gunnison, it's best to use your 5-weight. You need the power to fight the larger fish as well as the faster action to hit your spots. Be prepared to nymph the riffles and swing streamers through the pools.
Bring both weight forward and floating line. These fish are very active during the hatches and you'll need a variety of tackle to fully experience the Gunnison. Some smart flies to use are Elk Hair Caddis, Drake patterns, Buggers as well as Parachute Adam's.
Heading to the Sunshine State for Fly Fishing?
Don't miss our full guide to Fly Fishing around Florida.
Best Fly Fishing Lakes in Colorado
The lakes in Colorado are rarely fished with a fly. As a result, fly anglers often have success when fishing them. You can fish alpine lakes as well as large reservoirs. There is a nice variety for widely skilled anglers.
North Delaney Butte Lake
Directions: North Delaney Butte Lake, CO
North Delaney Butte Lake is considered a Gold Water trout fishery. Even though it is still water, this lake offers anglers an opportunity to catch rainbow, brown and cutthroat trout.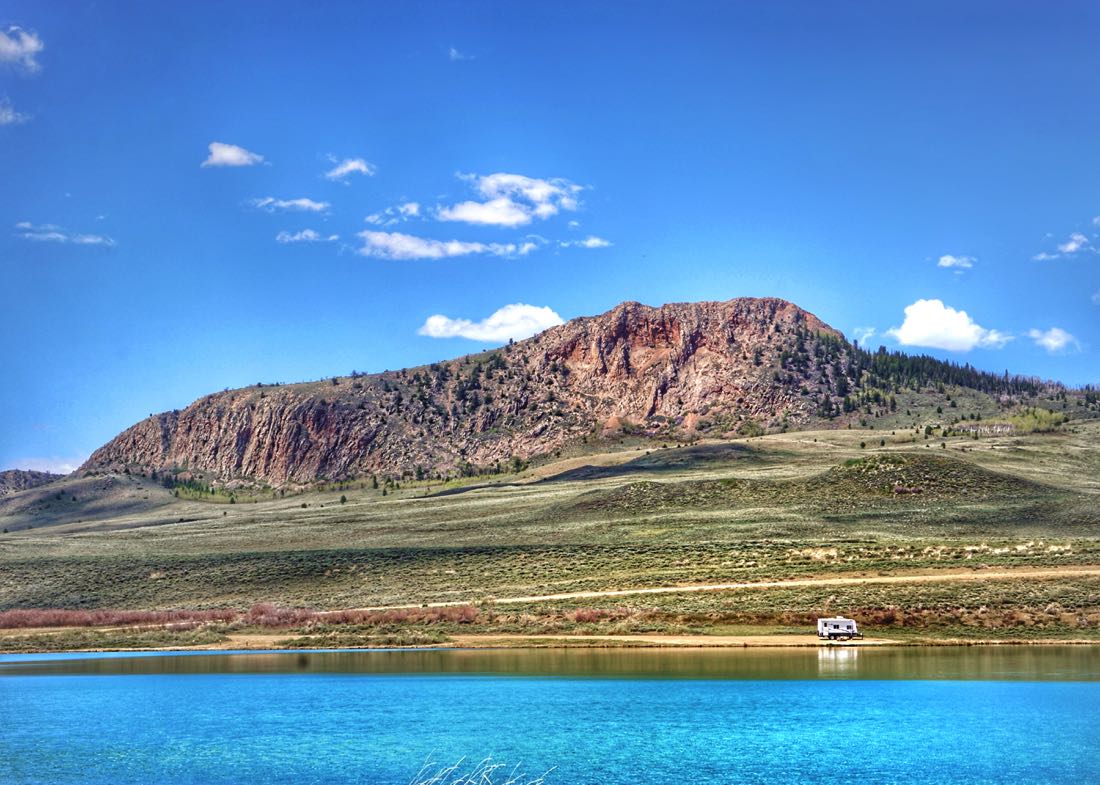 When fishing the North Delaney, if you can use a smaller boat or canoe, do it. It is also possible to fish from shore, but the structure spread throughout the middle of the lake is filled with fish.
The lake will freeze over in the winter so be sure to know when ice is on its way out because the fish are extremely active during these first few weeks. During this time, the water levels are a bit higher so be sure to have darker streamers to match the cloudy water.
Bring your 5 or 6-weight to North Delaney Butte Lake as well as your floating and sinking line. The trout aren't always picky, but it's smart to be fully equipped for wherever the fish are in the water column.
Bring your Buggers, Deceivers, Clouser Minnows, and small caddis flies. As soon as you see some topwater strikes, be ready for a fun stretch of fishing.
Ruedi Reservoir
Directions: Ruedi Reservoir, CO
The Ruedi Reservoir is a perfect place to bring your family for a day filled with fishing and outdoor activities. It's a 1,200-acre lake so you won't have too much trouble finding places to fish along shore.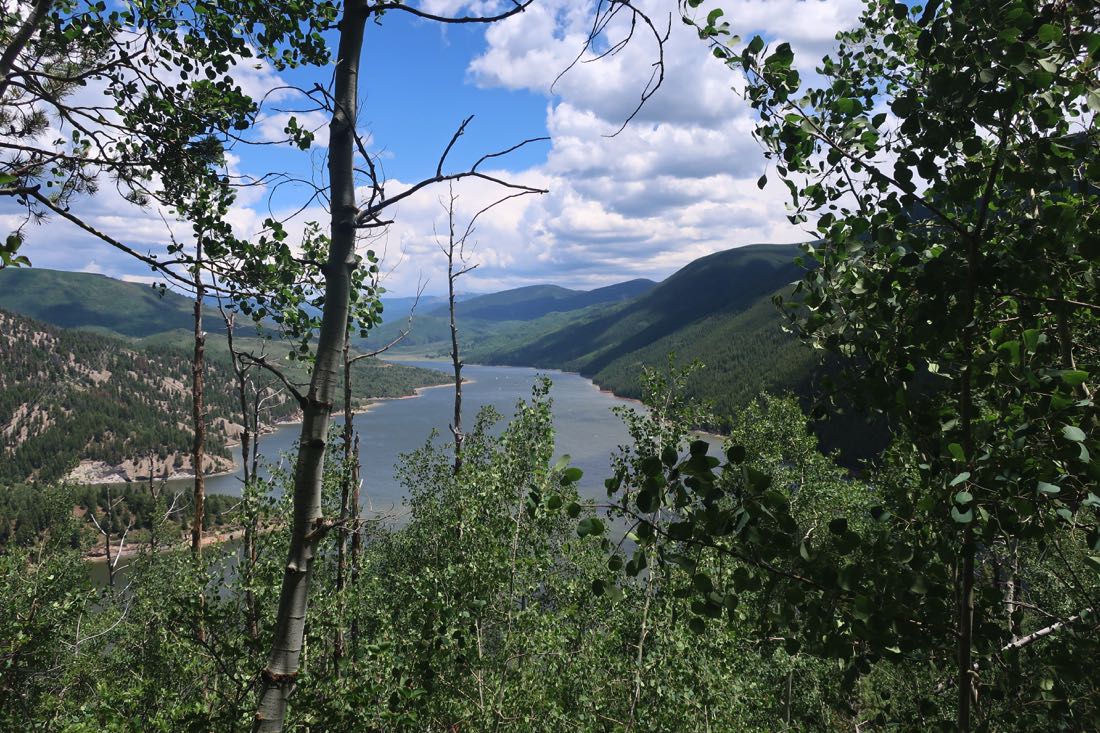 If you do have a boat or smaller watercraft, bring it because it's going to provide you with more access than you otherwise could have. You'll be able to catch rainbow trout, Kokanee Salmon as well as a variety of panfish.
If you're taking someone out to learn about fly angling, the Ruedi Reservoir is the place to do it. The fish are always willing to eat, you're surrounded by the beautiful views of Northwest Colorado and have a chance to enjoy the simpler side of fly angling.
Bring your 5 or 6-weight and a variety of flies and line. If you're looking to learn a new way to cast or try a different technique, the Ruedi is forgiving enough to let you!
Blue Mesa Reservoir
Directions: Blue Mesa Reservoir, CO
The Gunnison River was dammed in the mid-1960s and out of it came the Blue Mesa Reservoir. This happens to be Colorado's largest body of water and is filled with fish.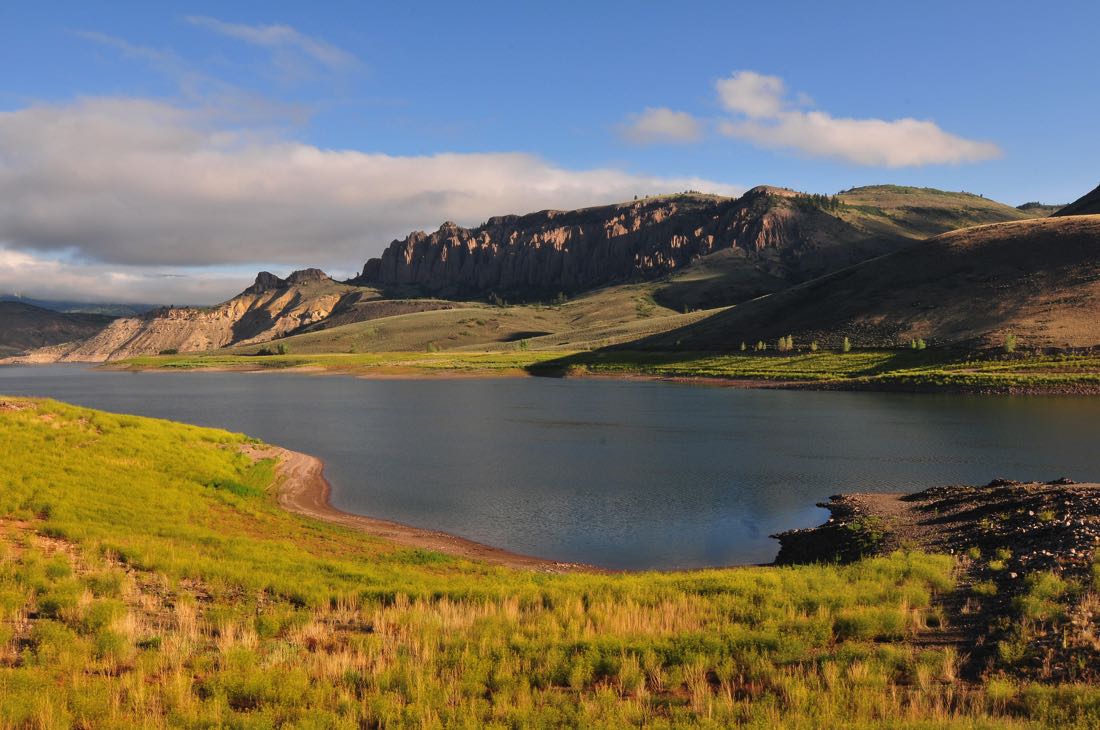 There is over 90 miles of shoreline to fish from, but it's surrounded by thicker vegetation so be sure you're wading in a ways before you make your casts. Otherwise, you'll be in for a long day of getting stuck.
If you can, fish the Blue Mesa with a book. There are quite a few streams that flow into the lake and fishing them from a boat is going to provide you with wonderful opportunities to catch the rainbow, brook, and brown trout that call these waters home.
Bring your 5 or 6-weight to the Blue Mesa. Since there is so much water, you'll want the ability to cover quite a bit of it. Bring both floating and sinking line and a variety of leaders and tippet. These fish can be picky, but not impossible to catch.
Stick near the moving water and the tributaries that flow out of it and you'll be in for a treat.
Trappers Lake
Directions: Trappers Lake, CO
Trappers Lake is Colorado's second-largest natural lake and is filled with cutthroat trout. It's a beautiful body of water and the cutthroat population is the largest population of consolidated trout in the world.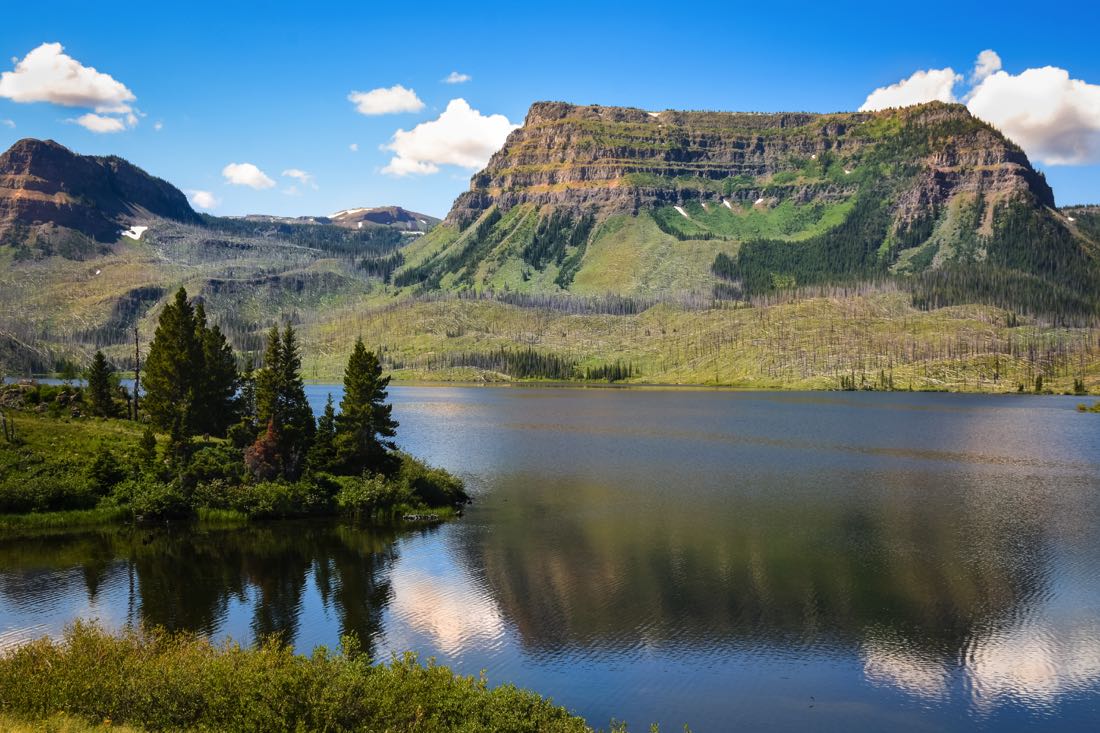 This lake is heavily wooded and needs to be fished from some sort of watercraft. A kayak or canoe is your best bet because the lack of noise from a motor allows you to enjoy the quietness and beautiful scenery.
While the cutthroat are willing to hit smaller streamers and nymphs, the dry fly action is second-to-none. The gnats and mosquitoes are prevalent in the evening so be sure you have those patterns in size 16-20.
Throw these flies with floating line on your 5-weight and you'll with the sun would never set. The Colorado Cutthroat are a beautiful fish and are considered to be endangered so be sure you're handling the fish with care.
Bring your family, take a long weekend, and explore the Flat Tops Trail Scenic and Historic Byway. It's a trip you won't soon forget.
Wolford Mountain Reservoir
Directions: Wolford Mountain Reservoir, CO
The Wolford Mountain Reservoir is a 66,000-acre body of water filled with rainbow trout. Plus, there are nearly 50 campsites for you to make home for a few short days.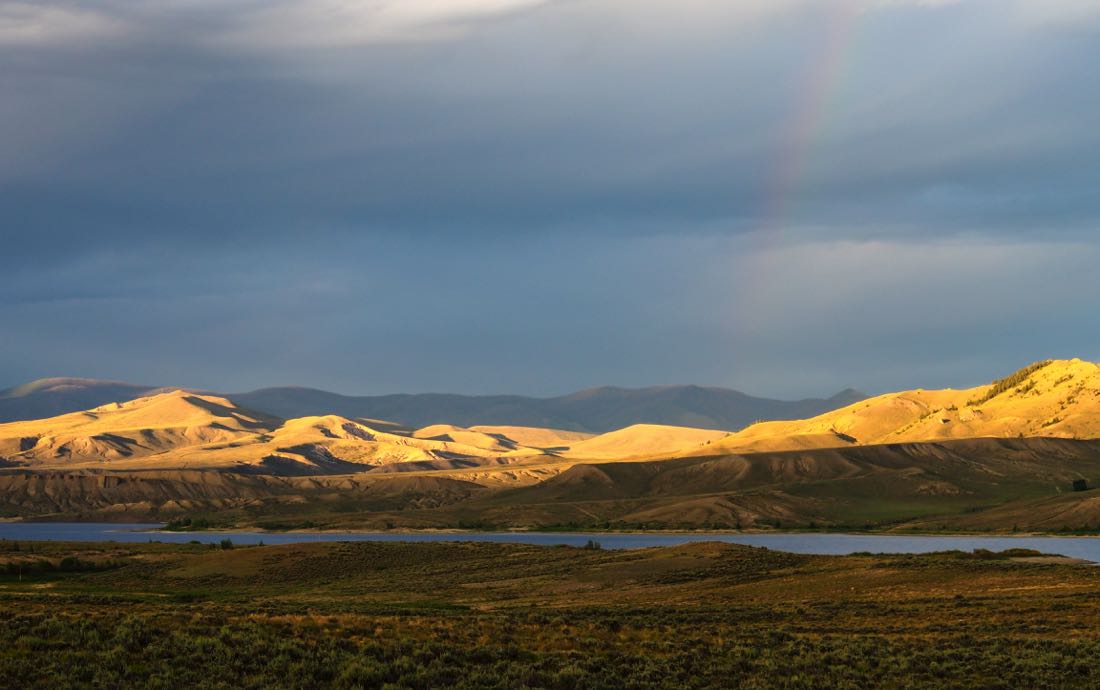 You can fish the Wolford Reservoir from the shore as well as the boat. If you can, use a fishing boat so you can cover the wide range of water. You're going to wish you could fish the structure and deeper portions of the water where the big trout tend to congregate.
The reservoir is best fished with your 6-weight paired with floating and weight forward line. You'll use 3 or 4x leader with 5x tippet to catch the fish in the reservoir.
Take along a few larger baitfish partners, gnat patterns, as well as Parachute Adams flies. These fish aren't necessarily picky, but it takes a bit for you to discover what pattern is going to work best.
Colorado Fishing Season
The official fishing season in Colorado depends on where in the state you're casting your lines and there are also some free fishing days at the start of June every year.
Fly fishing in Colorado is possible year-round, the heavy amounts of snow make only a few months of the year ideal for fly fishing. When the difficult months hit, spend your time fishing the lakes or finding another outdoor activity!
Colorado Fly Fishing in April
April is one of the best spring months to fly fish. The runoff hasn't fully started and the fish are still willing to eat. Bring along your Caddis, Sedge, and BWO patterns to any of the rivers listed above.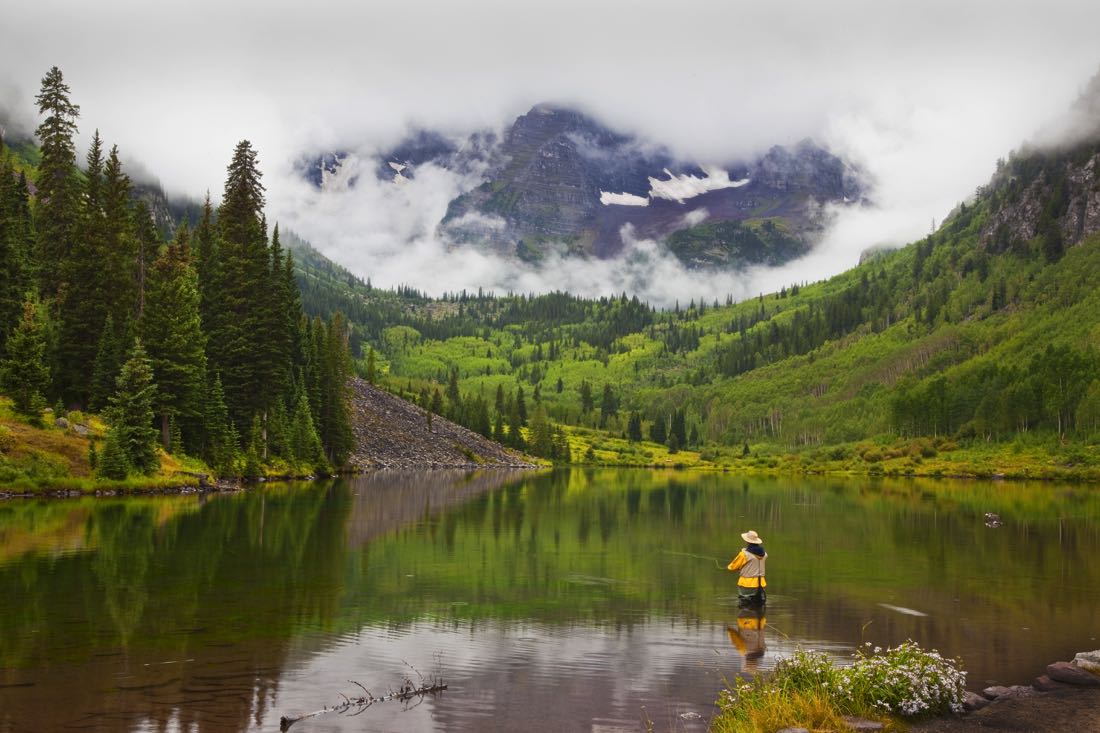 The lakes are likely going to still have ice on them, but you may be able to fish towards the end of the month. Be sure you're equipped with enough warm clothing! The weather can change in an instant.
Colorado Fly Fishing in May
Fly fishing Colorado in May is best reserved for the lakes. The rivers are filled with runoff and it can be extremely frustrating to try and maneuver some of the larger water. If you insist on fishing moving water, try some small tributaries.
Otherwise, stick with the lakes! Your streamers and BWO patterns will work great.
Colorado Fly Fishing in June
June is another tricky month when it comes to fly fishing in Colorado. The runoff is still in full swing and the water levels fluctuate in extreme ways. As a result, you're going to want to fish closer to shore.
The fish are going to move up in the water column and hug the shallower water when the levels are too high. Strip your streamers along the banks and you'll likely find fish.
June is a great time to fish the lakes above-mentioned lakes on the list. The runoff doesn't necessarily impact the reservoirs and you'll be able to find quite a few fish.
Streamers, BWOs, and Drake patterns are going to be your best bet.
Colorado Fly Fishing in July
By July, the runoff has subsided and the true Colorado fly fishing begins. The temperatures warm and the trout begin to get back to their older habits. Wading and drifting are both going to be possible!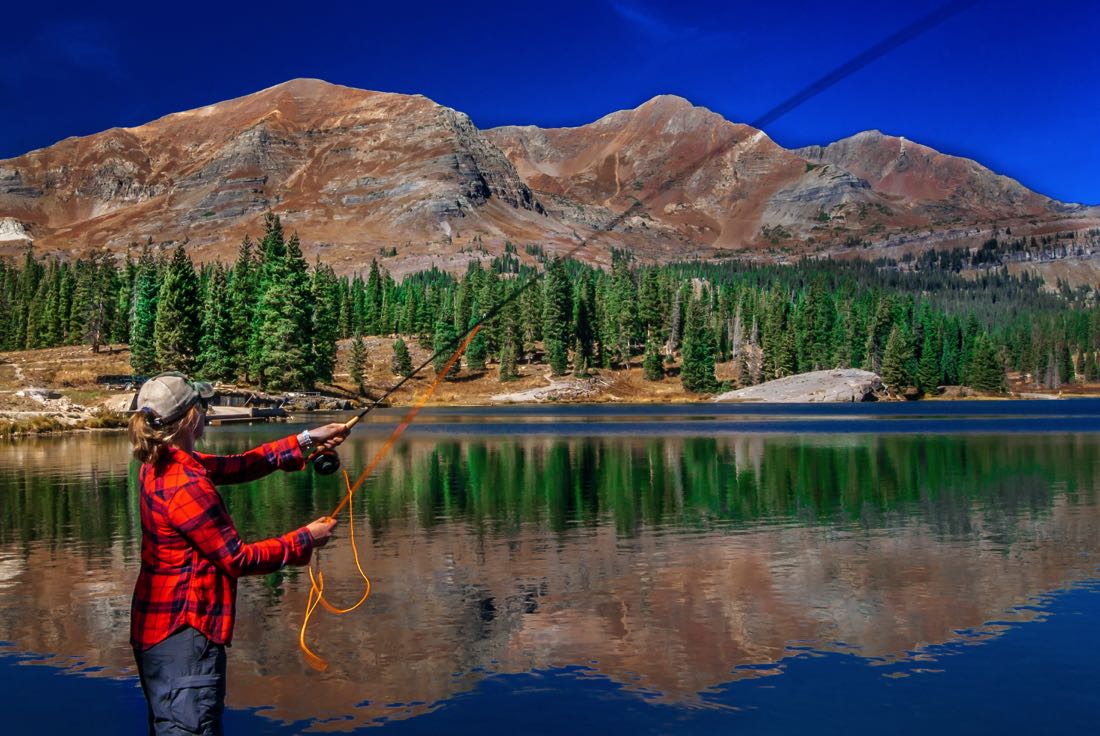 Drake, Dun, and Quill patterns will all catch you fish. Also, your streamers are going to work when you're fishing in the larger pools.
Colorado Fly Fishing in August
August is another great month to fly fish in Colorado. Be aware of the warm sun because you can easily burn within a few hours on the water. Take along your protective clothing and be prepared for some amazing fishing.
The terrestrials begin to appear in August so get ready for some wonderful dry fly fishing.
Colorado Fly Fishing in September
Fly fishing in Colorado in September is beautiful. The leaves begin to change and the terrestrial bite is still in full swing! Take advantage of September because it is usually the last of the warm weather.
Best Fly Fishing Lodges in Colorado
Colorado has some extremely beautiful fly fishing lodges! Due to the higher amount of private water in Colorado, you'll want to spend some time at the local lodges.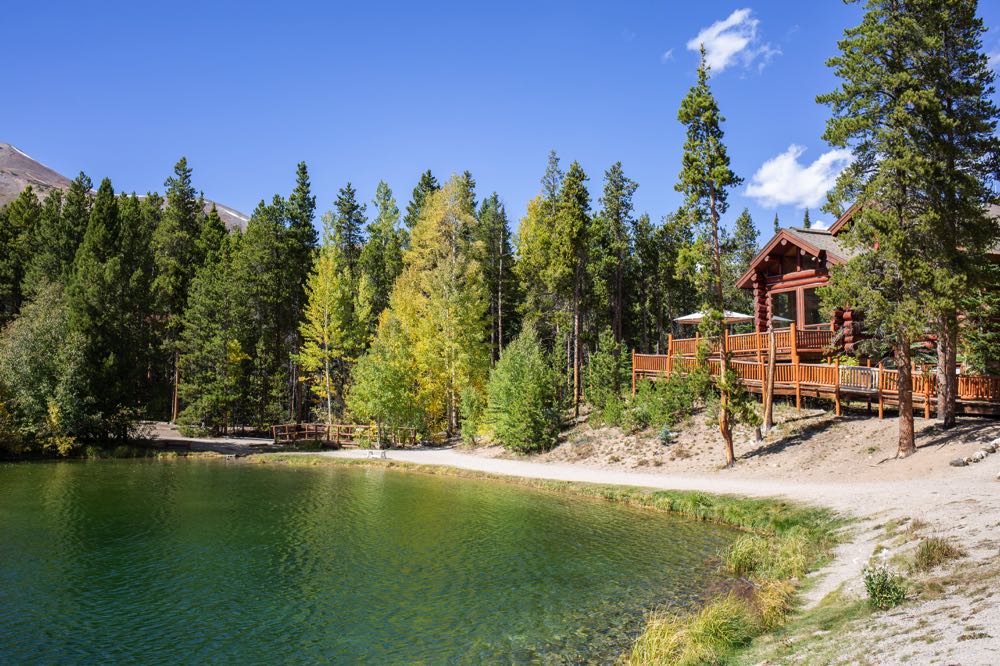 North Fork Ranch
Located on the South Platte River, the North Fork Ranch is located only an hour from Denver. You'll have great access to Gold Medal water and stay in great accommodations. A full guided day on the water is going to cost around $600 a person.
High Lonesome Ranch
Located a few miles outside of Grand Junction, the High Lonesome Ranch offers anglers quite a bit of access to tributaries of the Colorado River. It's an Orvis Endorsed fly lodge with quite a bit to offer. A 2 day, 3-night stay will cost you around $2000 per person.
Three Rivers Resort
The Three Rivers Resort is going to give you great access to Brook trout. You're located on the Upper Taylor River and have access to some great water. Plus, there are other activities for the entire family! An all-inclusive 2 day, 3-night stay will cost around $1500 per person.
Conclusion
Colorado is a must-visit for anyone looking to gain a true fly fishing experience. You can fish in a variety of different ways, find isolation, and learn all of the amazing things that fly fishing has to offer.
Some images in this post are courtesy of Shutterstock.
Like This Article? Pin it!