The best fly fishing packs vary depending on what you're looking for, but in my experience, the best pack you'll ever have is always your first one.
You know, the one you found in the discount aisle of the Walmart and paid for with the money you scraped together from mowing lawns for the little old lady down the street.
But even though you love that old tattered up fly fishing pack, there comes a time when you need to upgrade.
Compare The Best Fishing Packs
This blog is reader-supported. As an Amazon Associate, I earn from qualifying purchases.
| Image | Title | Best For | Price | Buy |
| --- | --- | --- | --- | --- |
| Top | Fishpond Summit | Best Overall | | Buy Now |
| | Vixyn Chest/Waist Pack | Best Waist | | Buy Now |
| | Maxcatch Sling | Best Sling | | Buy Now |
| | Aventik Pack & Vest | Best Backpack | | Buy Now |
| | Simms Freestone | Best Fanny | | Buy Now |
| | Allen Bear Creek Micro | Best Lightweight | | Buy Now |
| | Orvis Safe Passage | Best Waterproof | | Buy Now |
| | Simms Freestone Chest | Best Top-End | | Buy Now |
Prices pulled from the Amazon Product Advertising API on:
You've noticed your fly fishing gear and fly collection have grown. You also notice the pads in your straps are worn out and with each step, your straps dig a little bit more in your collar bone.
This was me not too long ago. So, I decided it was time for an upgrade. After all, why shouldn't we have nice things?
I did a ton of research when I was shopping for different fly fishing packs and I'm going to save you a lot of trouble by sharing with you what I learned in this post.
So, below we're going to take a look at ten different types of the top fly fishing packs. First, here's a quick look at some of the items we're going to talk about below.
As an Amazon Associate I earn from qualifying purchases.
Best Fly Fishing Packs
Below we're going to go over the best fly fishing packs, sling packs, backpacks, hip packs, fanny packs, and any other type of pack you can think of. So, check out the list below and use it to help you make your decision on what type of fly fishing pack is best for you.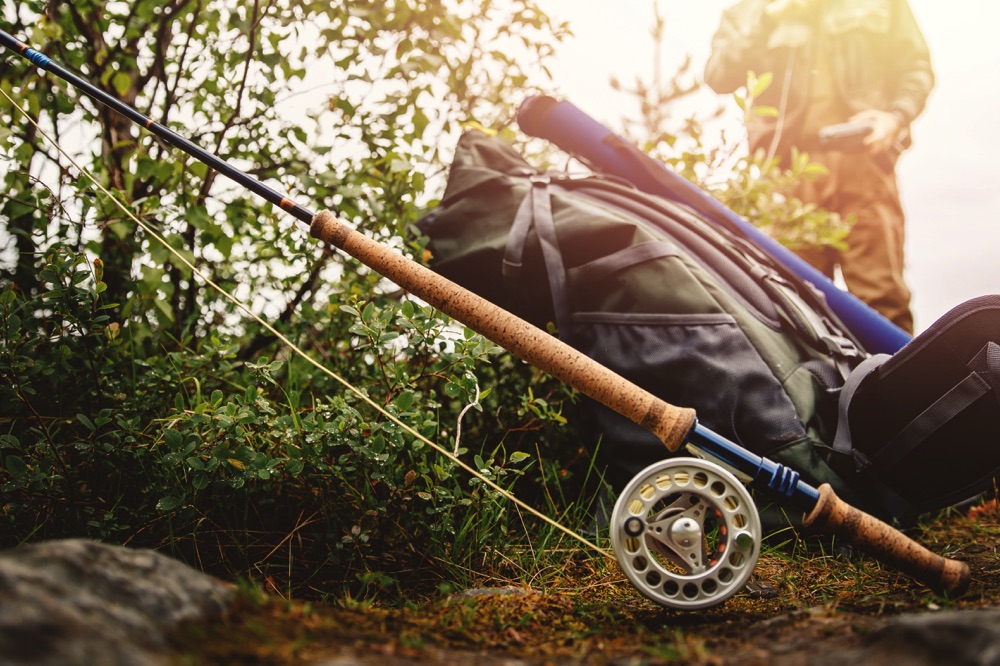 A good fly fishing pack will carry all the gear you need and have enough strength in the straps to carry your best 3 weight fly rod, all the way up to your best 8 weight fly rod or higher.
Best Fly Pack Overall – Fishpond Summit Sling
Pro – Plenty of space to clip on gear
Con – Price
The Fishpond Summit Sling Pack is easily one of the best fly fishing packs overall. It has all the right attachment features in all the right places. You've got a spot to hang your tippet, hemostat, floatant, net and anything else that you could dream of. It even has a tab that you can stick a fly rod tube. Ideal for the angler who has to take long hikes through thick country to get their favorite waters.
The bottom of the pack also has an area where you can store a bottle of water. Depending on the dimensions of the bottle you have you could potentially have 1 liter of water with you.
The bag has four compartments. Big enough to haul in whatever you might need, but small enough to keep it lightweight if that's what you prefer.
The front of the pack is a fold-down fly box, which means fishermen and women can easily access their flies while on the river without having to dig through their pack to get to their fly box.
Best Waist Pack – Vixyn Pack
Pros – Versatile waist / chest pack, great build quality, removable foam fly holders
Cons – Zippers can stick if fly holders aren't correctly replaced
The Vixyn Fly Fishing Waist Pack definitely wins our vote for the best waist pack on this list. It's super durable, lightweight, comfortable, and has all the features you could hope for from a good waist pack.
We love the storage and the small size of the pack. At first glance, you wouldn't think it could hold very much, but looks are deceiving. This pack has incredible storage and the removable foam fly holders are a real game-changer. They'll make you with every pack had them.
Your gear will be easily accessed through the main zipper pouch which allows the bag to fold out, revealing everything you have inside. Plus there are also extra pockets in the hip and at the very front of the pack.
Don't miss our full hands-on review of the Vixyn Fly Fishing Waist Pack.
Best Sling Pack – MaximumCatch Maxcatch Fly Fishing Pack
Pro – Size, breathable mesh back, highly adjustable
Con – Zippers can Fail
A great thing about this MaximumCatch Maxcatch Fly Fishing Pack is that the back is made of breathable mesh. This helps keep your back cool and dry on those hot days on the water or hiking your favorite stream.
The shoulder and waist straps are both adjustable so it becomes one sized fits most. It's also great for fishing in cooler weather as you can easily fit your pack over top of your winter clothing.
So if you're fly fishing in cooler places like Iowa in the fall or the early spring, this might be the best pack for you to use.
This pack also allows you to transport rod tubes as well, which is great if you want to switch up tactics during a trip.
It's also equipped with four different pockets that can all be utilized to fit different sizes of gear and equipment.
Similar to the Fishpond, the Maxcatch is the ideal size to haul everything you need while still keeping it lightweight. The pack is made of durable polyester material and will last you fishing season after the fishing season.
Note: You can also get some Maxcatch Vests as part of their awesome fly fishing combo packs.
Best Chest Pack – Aventik Fly Fishing Chest Pack
Pro – Tools Included, functional design, very lightweight
Con – A bit on the small side
Aventik had the fly angler in mind when they created the Aventik Fly Fishing Chest Pack Combo. It is designed to meet just about every need you could have when you're on the water.
It is lighter than a typical fly fishing vest or pack, giving you increased endurance and stability. While also giving the angler the convenience of easily zippering pockets to reach all of their gear.
It's not big enough to hold all of your larger accessories but is perfect for the angler who wants to bring the bare essentials. Big enough to hold a fly box, leaders, tippet spare fly reel, and a few other small items.
The straps are all completely adjustable. Making them able to fit just about any body type as well as fitting over tops of clothes. This is a great pack for any angler who wants to keep their gear lightweight, while still having a very functional chest pack.
Best Backpack – Aventik Fly Fishing Backpack
Pros – Dual storage, very versatile, convertible design
Con – Can become heavy
This one might not technically be a backpack. That's only because it's also a chest pack. You read that right, the Aventik Fly Fishing Backpack is a dual backpack chest pack. The backpack part of this piece of equipment can be used to haul much larger pieces of gear such as water, maps, rain gear, and larger fly boxes.
While the front chest pack can hold your tippet, nippers, flies, and anything else you deem necessary to fly fishing.
Now, the good news is that if you don't want the chest pack then it can be completely detached. Converting this set into just a backpack. This can be done if you don't want to lug around any extra weight for long trips or days out on the river.
The backpack part is also easily accessed if you need to take the chest pack off. Saving the angler time.
Piscifun Fishing Bag Portable – Best Waste Pack
Pros – Lots of Space, comfortable, breathable
Con – Zippers
I'm not sure why companies can't seem to get zippers right, but for some reason, they seem to be a thorn in the side of producers. Regardless, the Piscifun Fishing Bag Portable is a solid fly fishing pack that would suit any angler out fishing.
It can hold up quite a few small fly boxes, or two 9 inch tackle boxes. Great for packing in and out everything you need for a fishing trip.
The backside of the pack is made of a padded cooling mesh. This is great for any angler who spends countless hours hiking, wading, and fishing. This will help reduce fatigue when your out fishing by stopping the uncomfortable rub of a pack on a waistline and also keeping you sweat-free.
The front pocket has a wide mouth for easy opening so you can quickly grab your favorite fly or piece of gear without having to rummage around. It's also equipped with a D ring so you snap on a net, nippers, leader, or anything else you can think of.
Best Fanny Pack – Simms Freestone Tactical Hip Pack
Pro – Water Resistant
Con – Not the most functional design
The durable Simms Freestone Tactical Hip Pack is designed to carry exactly what you need for a fishing trip. It has areas dedicated to holding your tippet, and spots to hold fly boxes. Perfect for carrying exactly what you need and nothing more, this is a good pack for the minimalistic angler who only carries what they need.
It's made to be worn as a fanny pack. It also comes with a strap that will allow you to wear it as a sling across your body. The bag also is equipped with a front opening compartment. This is large enough to hold flies, hooks, and anything else you would want to have with you.
The pack is also made of water-resistant nylon fabric. That way you know you can keep your valuables in your pack and have confidence that they're going to stay dry. Even if you happen to take a misstep.
Best Lightweight Pack – Allen Bear Creek Micro Chest Vest
Pro – Padded Straps
Con – Zippers…again
The front of the Allen Bear Creek Micro Chest Vest Pack is a zip-down work station. Meaning the front part of the pocket flips down and becomes a small table that you can use to set flies, and tippets while you get your leader ready for tying.
It also has a clip that holds your leader in place and is also a fly patch. Ideal for fishing in windy conditions so that your gear doesn't fly away.
The neck strap is also padded. This is going to be more comfortable for the angler while they're casting, hiking, and bending down to net fish. Speaking of netting fish, the pack also comes with a D ring that you can use to hook your net on to.
Since this is a smaller pack it's not going to be able to carry a lot of gear. However, it can carry a medium-sized fly box in its biggest pocket, and then all the other essential items you can think of in the smaller exterior pockets.
Best Waterproof Pack – Orvis Safe Passage Sling
Pro – Large exterior pockets
Con – Smaller interior pockets
Thanks to the waterproof zippers on the Orvis Safe Passage Sling Pack you can have the confidence to carry anything you want without the fear of it breaking and getting wet. Ideal for the angler who enjoys fishing the backcountry where you need something to protect your phone, keys, or GPS.
Not only will it protect your gear against the rain, but also against any slips in the water.
The outside of the pack has a pouch for water. It also features a large exterior pocket that can be used to store extra rod tubes, reels, lunch, or anything else you could think of taking with you on a fishing trip.
The back of the pack does not feature any cooling mesh. Keep in mind that your back is going to be sweaty during warm conditions. Otherwise, the pack is very well made. It should stand up to most of the abuse that a hardcore fly angler will put it through.
Best Top-End Pack – Simms Freestone Chest Pack
Pro – Lightweight with large capacity
Con – Can only carry essentials
The biggest con of the Simms Freestone Chest Pack is that it can only carry exactly what you need. Compared to how lightweight the pack is, it has a large carrying capacity.
With the ability to hold floatant, tippet, leaders, 2 medium-sized fly boxes, and whatever else you need for a successful day out on the water.
This chest pack gives you everything you need right at your fingertips. Easy to open pockets and easily organized internal components mean its easier to find your flies or tippet for a quick change out. It features two external zippered pockets and two internal organization pockets.
The outside of the pack features a secured tippet caddy and loop velcros for wet fly storage. The outside also features exterior magnetic docking stations that are perfect for nippers or mitten clamps. The bag is also water-resistant. Keeping all of your fishing gear dry in case of tumbles in the water.
If you're looking for the best fly fishing packs and you aren't too worried about your budget, Simms makes some excellent top-end products.
Best Budget Pack – Piscifun Fishing Bag
Pro – Five outer pockets
Con – Not the best quality material
The Piscifun Portable Fishing Bag might be the best beginner fly fishing pack. Especially if you're an angler looking to get into the sport or someone who enjoys going out a few days a month.
Couple this pack with a decent beginner fly rod and you're good to go.
The quality of the materials is not the best and would not stand up to a rough fishing season that a guide or an obsessive angler would put it through.
It's perfect for someone looking for a lightweight pack that they can haul around a river or a lake for an afternoon or two. It features a large enough pocket that can hold food and a water bottle while still being able to contain most of your essential equipment.
The outside of the pack features two loops that you can use to hand nets, tippet, carabiner, or anything else that you would find could enhance your day fishing.
What makes the Best Fly Fishing Pack
Now that we've looked over some of the best packs for fly fishing on the market, let's take a deeper dive into all of the fly fishing pack features that you can find in the market. Below we're going to talk about fly fishing pack pockets, durability, material and much more.
Use the information that we have below to help you decide what kind of fly fishing pack is the best or for you. Do you need something strong, waterproof, or do you need large compartments for all of the gear you plan on bring ing with you? Check out below to see what is right for you.
Pockets
Something that all fly anglers must think about when purchasing a new fly fishing pack is how much pocket space is available. This goes for the gear heads who spend their whole paycheck on the least and greatest.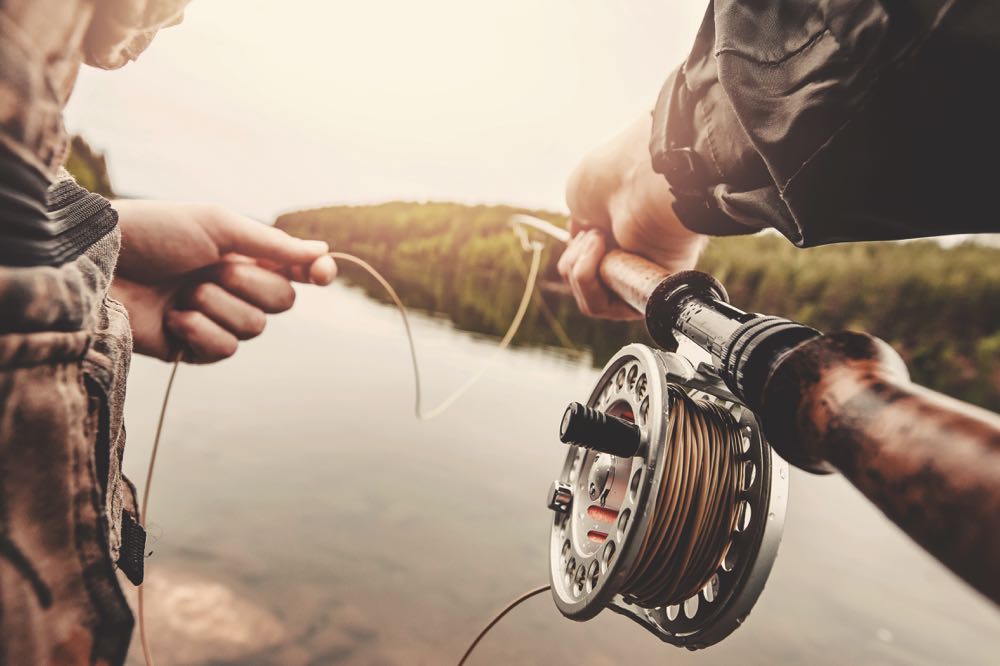 Or even the experienced angler who enjoys walking into the woods with only some twine and a soda tab for a hook. Make sure you have enough space to be able to fit everything that you want to bring with you. This includes food, water, maps as well as some of your larger fly boxes.
Adjustability
Having a pack that can adjust to your body type and the lairs you put beneath it is crucial. If you enjoy fishing year-round in the heat, and the cold then this is something you need to take seriously when purchasing a fly fishing pack.
What hugs your chest in the summer will cause discomfort and irritation come the winter when you stack a flannel on top of fleece on top of your base layer. Find something that is going to fit you comfortably and can easily adjust based on what you're wearing.
Water Resistance
Having a water-resistant pack is great. It's only needed for a select group of anglers though. It's great to know that your gear can survive a fall into the water is nice. However, there are more important things that you should be worrying about.
Unless, you plan on using this for long days, weekends, or weeks on the water. Where camping is going to happen and the potential for rain is there. That way your gear and your pack will be able to stay relatively dry while you're out in the woods.
Durability
Something that the hardcore angler must-have in a pack. Durability is key for fly angler who enjoys spending every weekend, weekday afternoon or every waking second on the water. The outdoors can be a rough place for gear, and packs are no different.
You need something that you know is going to be just as tough as you are and hold up to rough conditions. So, if you plan on spending a lot of time outdoors and fishing, then durability is not an aspect that should be overlooked.
It's always tough to see a hole in your pack and then finding out your gear all washed away with the current.
Material
Material and durability go hand in hand. You need a pack that is going to be strong. On top of that, you'll also need something that is going to be lightweight.
These two elements are key when picking out a pack that you plan on using.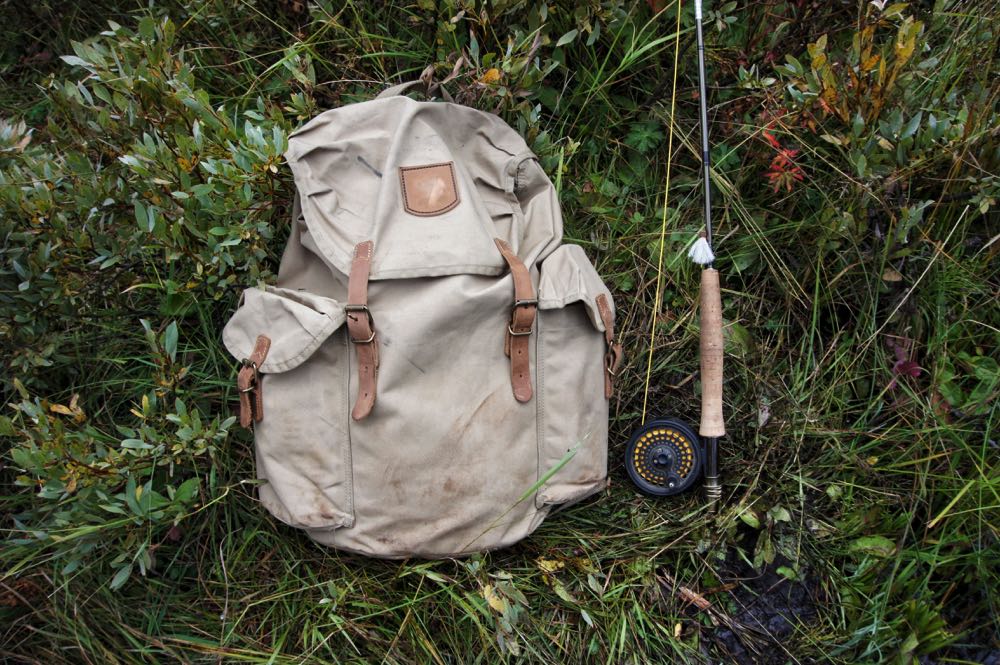 If durability is not an issue for you then the material should only be thought of as something that can keep my gear dry, and comfortable. This way you know that you can lug it around a lake all day without any issue.
Look for durable, waterproof TPU welded plastic or sturdy nylon DWR outer materials with strong, rugged zippers.
Comfort
Comfort is key. This doesn't matter if you're a hardcore fly angler or someone who goes once a year. You want something that is going to fit you, as well as be comfortable. A nice padded strap can do wonders for a day out on the water.
The same goes for having an adjustable neck, shoulder, chest, or torso straps. The last thing you want to be thinking about when your fishing is how uncomfortable a strap is.
Or how hot the back of the pack is making your chest or back. Look for something with padded straps and a nice mesh backing. It will only improve your fishing.
Breathability
Just like we spoke about above. Breathability is another key aspect of making sure you're comfortable. Anything that has is nylon, plastic, polyester, or anything besides mesh is going to make you hot, and sweaty.
Especially if you plan on fishing in warm weather. If this doesn't bother you then that's great. Most people though want to make sure their torso is not covered in sweat by the end of the day.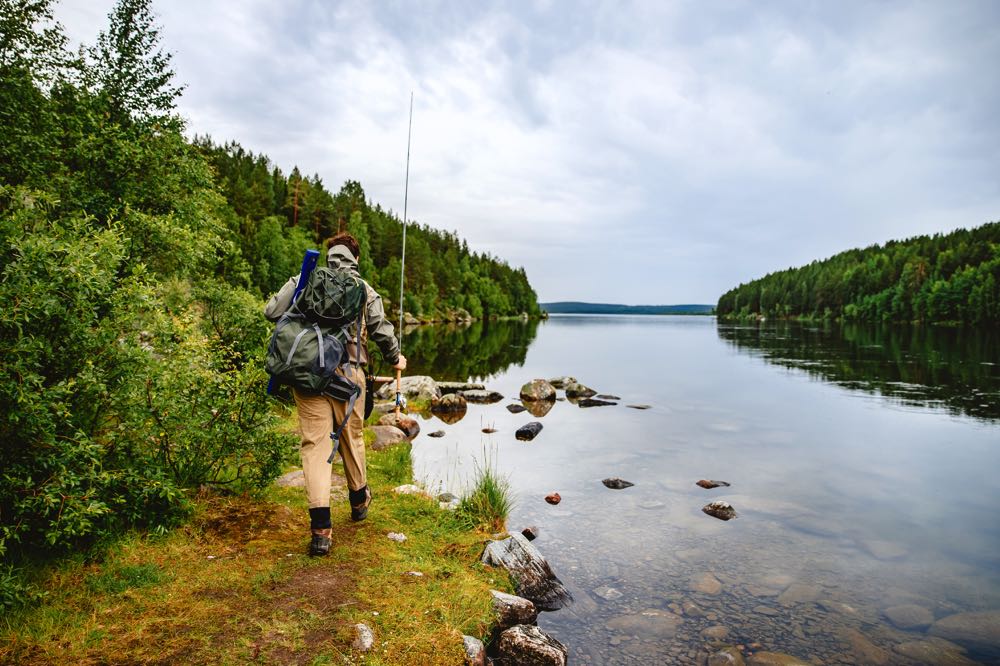 That's where a nice breathable pack comes into play and can do wonders for keeping you cool and comfortable on the water.
Price
This is always a big issue when purchasing any new gear. The price of your pack usually corresponds directly to comfort, durability, and every other category above. However, there is usually a sweet spot where price fits your budget and you're able to get just about every feature you want in a pack.
It usually take s a little bit of hunting around, but it can be done. Take some time to search through and find your price range and then exactly what you're looking for in a pack. Finding the right pack in your price range will make the time you spent looking for it worth it.
Review This Post
Conclusion
Materials, durability, water-resistance are all important features when picking out a pack. You need to see exactly what works best for you though. Are you a hardcore fly angler and fish as much as possible? Well, you probably need a durable pack with lots of space for gear.
Or are you someone who enjoys a few weekends a year for just a couple hours on the water? Then you most likely don't need to break the bank on a pack.
All anglers are different and all have different wants and needs for fishing. Figure out what you need and use the information above to guide you.
After going through and reading everything we went over hopefully you now have a better understanding of what a fly fishing pack is and what you should be looking for. A proper fly pack can be the difference between a great day out on the water or a poor one.
Make sure you have figured out exactly what features you're looking for, as well as what your budget is and then go out get it.
Like This Article? Pin it!