As an Amazon Associate I earn from qualifying purchases.
After wearing, testing, and fishing the BASSDASH Strap Fishing Vest, we bring you this full hands-on review.
Finding affordable fishing vests that are high quality isn't easy to do in today's market. Dozens and dozens of companies are creating cheap vests that appear high quality but fall apart after a few uses. Bassdash has managed to create a fishing vest that's both affordable and high quality. Fly anglers are going to have nearly all of the features they would want in a vest while they're out on the water.
In this article, we're going to take a deep dive into the vest, its quality, its features, the price, the overall fit, as well as some of the cons of the vest.
We purchased the vest ourselves, so there is no bias within this review. Plus, at Into Fly Fishing, we pride ourselves on being honest and accurate regardless of whether or not a company chooses to send us something.
Bassdash Strap Fly Fishing Vest
Order the Bassdash Strap Fly Fishing Vest on Amazon.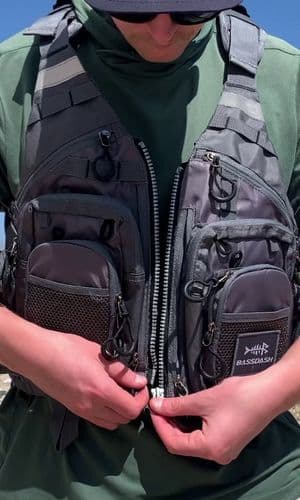 → Don't Miss Our Full List of The Best Fly Fishing Vests in 2023
About The Bassdash Strap Fishing Vest
This vest is available on Amazon for around $40 depending on the color and any promotions. It would be considered a budget option as far as fly fishing vests go, but it still has great build quality which I'll get into later.
The reviews on Amazon are through the roof with an overall rating of 4.6+ and over 2,100 five-star reviews. This is why we chose to order it and test it so you guys can see if it's worth the hype and the money.
Build and Construction of BASSDASH Strap Fishing Vest
The BASSDASH fishing vest is made of high-quality materials and filled with a variety of features that allow anglers to be as prepared as they would like when they hit the water. While it's not a fly fishing-specific vest, it has almost every feature you would want in a vest.
Materials
The BASSDASH Strap Fishing Vest is made of 100% polyester, so anglers are going to receive a breathable and light fishing vest. It's going to keep you extra cool during those warm months, and not feel like an added burden when you're wearing layers during those colder times of the year.
The padded mesh along the backside of the vest isn't going to rip as you wander through the brush in search of that next perfect fishing spot. Mesh is found all throughout the vest and that can be a worry for anglers because it is known to wear over time, but the double layers keep this vest lasting longer which is important in its price point.
Zippers
Another thing anglers often worry about on their fly fishing vests is the zippers. The BASSDASH Strap Fishing Vest has smooth conceal zippers with rope leverage pulls. These are a nice feature, especially on those days when your hands are both cold and wet. You don't have to fight small zippers to close everything.
Gear Loops
The gear loops are sewn and stitched into the polyester material, so your sunglasses, tippet rolls, nippers or forceps aren't going to come unattached after numerous trips to the water putting pressure on them.
The vest is 21 inches tall and around 26 inches wide. Plus, it's adjustable so anglers are able to make it fit however they need.
Pockets & Storage
The BASSDASH Strap Fishing Vest has 18 pockets that all serve different purposes. On the front of the vest, anglers will find five pockets on each.
The two front pockets are smaller and perfect places to store fly boxes, tippets, leaders, or any other small accessories that you need to easily access.
Behind the two protruding pockets, there's a larger zipper pocket that could hold a small water bottle, snacks, or larger things like fly line or streamer boxes. The pocket is still plenty accessible, but it's best for single larger items.
Bassdash Strap Fly Fishing Vest
Order the Bassdash Strap Fly Fishing Vest on Amazon.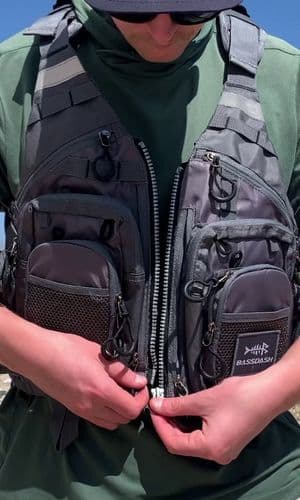 Another front pocket is right next to the middle zipper. The front pocket is a more concealed pocket that's not as easy to access.
It's a good place to put fishing licenses or other accessories like a knife that aren't often used while out on the water. It's around 6 inches wide and 6 inches deep, so it has plenty of room to fit just about any accessory you want.
The final front pocket located on your hips. The hip pocket is a 2-inch wide and 4-inch deep pocket that is good for things like floatant.
It's one of those pockets that should be home to one specific thing that never is placed elsewhere. It's not large enough to hold a whole lot.
On the back of the vest, there are two primary pockets for anglers. There's a long and wide pocket on the bottom of the vest that would work great for a water bottle.
The weight of the water bottle would counterbalance all of the weight on the front of the vest. It'd keep things from continuing to pull forward on your chest.
There's also an interior pocket on the back that's around 8 inches wide and 15 inches long. This is the ideal place to add a rain jacket or an extra layer. No other pockets on the vest are as large as this one, so make sure you use it wisely.
On the interior of the front of the vest, there are a few pockets. There are two open-topped pockets that could hold snacks, a water bottle, or things like hats and gloves. Plus, there are two large zippered pockets that would be a good place to store keys or other valuables that you don't want in the exterior pockets.
Features
There are a few notable features on the BASSDASH Strap Fishing Vest. The first is the large D-ring on the top of the back of the vest. This D-ring is large enough for you to clip your net.
Attach the net with a carabiner, a magnet, as well as a stretchable chord. The stitching on the D-ring strap is strong enough that it's not going to tear after a few uses.
Another notable feature is the clips on the bottom of the front of the vest. BASSDASH provides a few straps that you can hook into these clips. They're in place for you to attach the vest to your wading belt.
Doing this will keep the vest cinched to your body and prevent you from losing it in the event of a fall or other accident.

BASSDASH also includes a few other gear loops for you to hang necessary gear. Storage is not an issue on this vest. If you pack all of the pockets, that'd be an impressive feat.
Watch the BASSDASH Strap Fishing Vest Review Video
Price of BASSDASH Strap Fishing Vest
The BASSDASH Strap Fishing Vest is going to cost you around $40. For all the features you're getting this is a great price. The quality is hard to argue with for the price. Some quick research is going to show you that you'll struggle to find another vest that's going to compete in this price range.
BASSDASH as a company strives to make affordable and reliable gear.
The Overall Fit & Adjustability
The fit and adjustability of the BASSDASH vest is one of the most marketable parts of it. The shoulder straps are adjustable and so are the side straps.
This vest is easily able to fit a lean and lanky person as well as a larger person. The straps can adjust over 12 inches either way, so there should be a way for it to fit almost everybody.
You can make it as tight or as loose as you would like on the water.
Cons of the BASSDASH Strap Fishing Vest
One of the main cons of the BASSDASH Strap Fishing Vest is the lack of fly fishing-specific features. There are some useful general fishing features, but fly anglers may find themselves longing for a few specific fly fishing options.
For example, it would be nice if some of the fly box pockets had foam rows or a fly pin pad. If you choose to switch flies, you're going to have to place it back into your box instead of putting it in the built-in storage.
Another potential con is the stray strings that are found on the vest. There is quite a bit of stitching on this vest, and when they start to come apart, anglers are going to be trimming quite a few strings.
The stitching doesn't come apart easily, but a snag on a branch or a stuck fly could cause some trouble.
My Personal Thoughts and Opinions about the BASSDASH Strap Fishing Vest
Overall, I would recommend the BASSDASH Strap Fishing Vest. I've found that the high number of pockets and overall quality of the vest are hard to beat.
I'm the type to bring quite a bit of stuff with me to the water, so I appreciate that I can still stay organized despite my gear obsession.
Bassdash Strap Fly Fishing Vest
Order the Bassdash Strap Fly Fishing Vest on Amazon.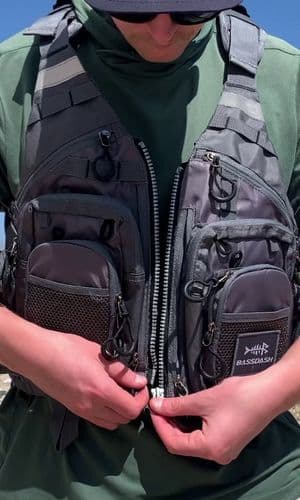 I also like how light the vest feels even with gear. I don't like feeling like I'm being pulled forward as I'm fishing. I'm able to cinch and adjust the straps to make it feel like I'm not even wearing the vest.
I'm a fairly thin guy, so finding fishing vests that fit me well isn't always easy. The BASSDASH vest can be adjusted to fit exactly how I like it.
One of the final things I appreciate about the vest is its breathability. I generally fish in fairly warm climates, so a thick vest doesn't feel good as the day progresses.
The mesh on the back of the vest breathes well and I don't take it off completely covered in sweat. BASHDASH made this friendly for anglers in warmer climates.
The final thing that makes this vest a winner is the price. A $40 piece of fishing equipment is rarely reliable. BASSDASH has made a quality vest that I know is going to last me for many seasons.
Amazon and the Amazon logo are trademarks of Amazon.com, Inc, or its affiliates.
As a part of the Amazon Associates Program and other affiliate programs, Into Fly Fishing® may receive a comission if you order products through links on this website.