Our team has tested as many fishing sunglasses as we could get our hands on in order to bring you this list of the best fishing sunglasses on the market today.
We have ordered the sunglasses online, picked them up in stores, and sometimes been sent them directly from the manufacturers. In all cases, we took them on the water and tested them in a variety of fishing situations, then narrowed down dozens of sunglasses into this list of the best fishing sunglasses of 2023.
Quick Answer: 10 Best Fishing Sunglasses
I've always used a polarized pair of glasses that I can wear both fishing and out on the town. I enjoy walking off the water knowing that I don't look completely like a fishing bum. That being said, the sunglass tan and the tattered hat on my head normally give me away.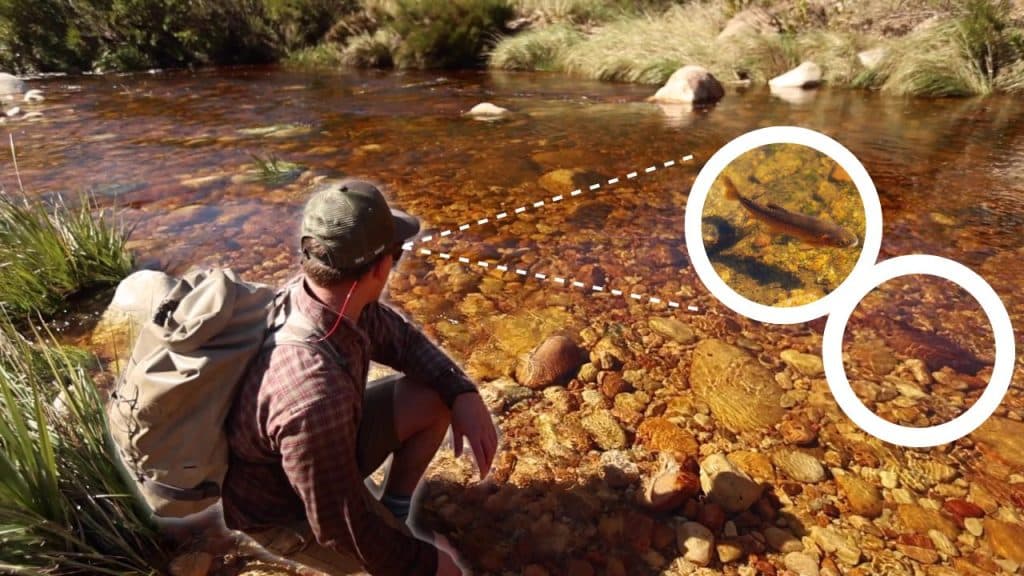 As long as my polarized glasses are helping me catch fish, then I don't care. So, below I'll go over some of the best fly fishing sunglasses on the market that will no doubt help your fishing.
Best Fly Fishing Sunglasses
Below I'll cover five different fly fishing sunglasses that will help your fishing, and I'll also show some that won't break the bank. I'll cover the price, pros and cons of each.
1. Costa Del Mar Blackfin (Best Fly Fishing Sunglasses Overall)
Pro: Polarized, scratch resistant
Con: A bit pricey
Costa Del Mar Blackfin Sunglasses are regarded as not only some of the top fishing sunglasses on the market, but also as a great all-around pair for any outdoor activity. They're made of polycarbonate and trivet, which give you the lightest and most durable lenses possible.
They also feature 100% UV blockage, which is ideal for protecting an angler's eyes all day.
The glasses are also 100% polarized. This cuts the reflective glare off the water and allows you to see trout and other fish as they hug the bottom of the river.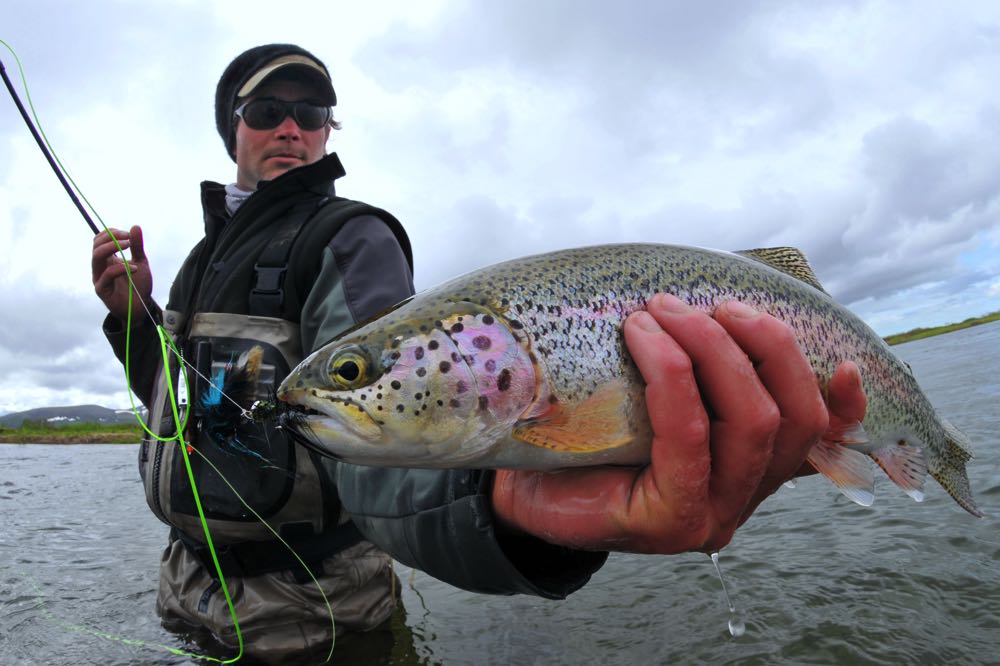 When you're fishing, you can't ask for a better advantage than actually seeing what you're casting to.
They're also made with Hydrolite-co-injected lining, meaning that these glasses won't slip off your head, even when you're in your sweatiest state or when you slip and fall while wading a river. The amount of pairs of glasses I've lost in the current due to a slip is too many.
It's worth it to invest in a pair that sticks to your head.
The same material that keeps the frames from slipping off your head is also the same material that will keep them from breaking.
Strong and durable, the Costa Del Mars can take abuse and keep on trucking. They're ideal for the fly angler that's rough on gear.
Compare At:
AvidMax
Why We Chose Them
We love Costa Sunglasses and we feel that the Blackfins are their best value pair of shades. They're cool looking, they fit well and have great TR-90 nylon frame that bends, but doesn't scratch.
2. Oakley Holbrook OO9102
Pros: Great polarization, high-quality frames, cool wood finish, easy-to-replace lenses
Cons: A bit pricey, not very scratch-resistant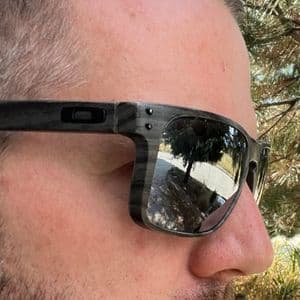 I've had the Woodgrain Oakley Holbrook OO9102 Sunglasses for 2 years, and I've taken them fly fishing on many occasions.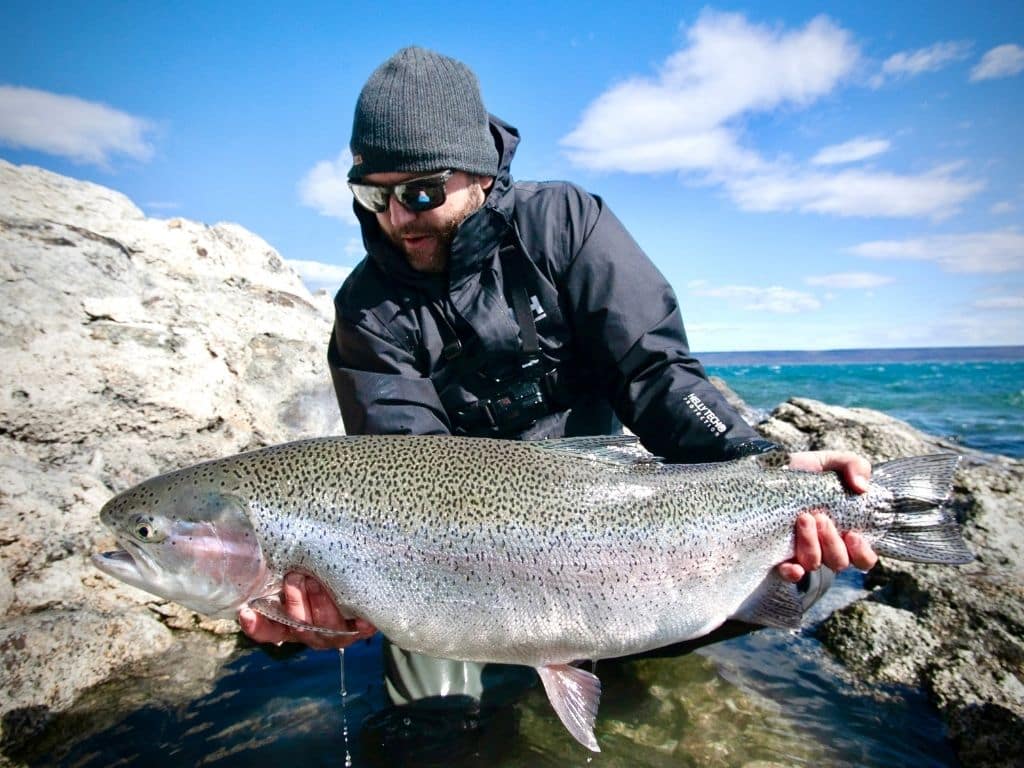 They're not specifically fly fishing sunglasses, and Oakley isn't a fly fishing brand, but I find them really comfortable and stylish. They also allow you to peer through reflective water surfaces to see fish.
I do wish the Oakley lenses were a bit more scratch resistant like other ones on this list, but the fact that these sunglasses are so popular means that there are plenty of brands making cheap replacement lenses for them that you can find on Amazon. I typically have 2 or 3 pairs of lenses as backups, just in case.
If you have a bit of extra money to spend, why not get a pair of fly fishing sunglasses that are stylish enough to wear anywhere? That's where the Holbrooks come in.
3. Costa Jose Pro
Pro: High-quality glass lenses, lots of colors, strong carry case
Con: Nothing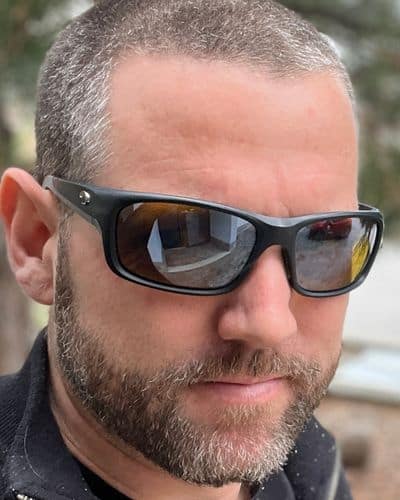 I just ordered a pair of these Costa Jose Pros when they came out new for 2023 and they are a wicked pair of fly fishing sunnies. They fit well, they have a thick band and a wrap-around style that blocks most incoming light.
I got mine with the 580 glass lenses and they just make the glasses feel more sturdy overall. They fit on my face perfectly and they come in a ton of different colors.
For fly fishing and seeing through those slow-moving surface waters, it's recommended to go for either the copper silver mirror or green mirror lens as well as the Costa sunrise silver mirror lens, which is ideal for dusk/dawn and low-light conditions.
I went for the silver mirror lenses and I love them. They look cool and they are able to penetrate the reflections of the surface water nicely.
Why We Chose Them
The Costa Jose Pro sunglasses made this list because they're new to the Costa lineup and like all costa products, they're well-built, come with a lifetime manufacturer warranty and look damn cool.
Why We Chose Them
I've had the Oakley Holbrook Sunglasses for over 2 years and while I've replaced the lenses a couple of times, the frames are still going strong. My favorite part about these sunglasses is that you can order loads of diffferent lenses from cheaper manufacturers on Amazon, so when you get a scratch, you can have backups for cheap.
4. Smith Outlier
Pro: Comfortable fit, great lenses
Con: Expensive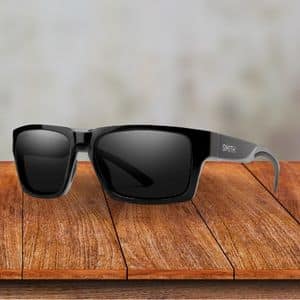 We've been testing the Smith Outlier 2XL sunglasses for a long time and they are a great pair of fishing sunglasses for sure. The lenses are super high quality, the polarization is great and offers excellent contrast and we've been using them for over a year and they're still going strong.
The lenses seem to be quite scratch resistant. We've dropped them, stuck them in our pockets and even had them float down the river a time or two and they're still going strong.
Pierre wore these on his recent trip to The Maldives where they put up with a lot of saltwater and they are still going strong. In short, these are some durable, high-quality fishing sunnies.
Why We Chose Them
Our team angler Pierre has had these sunglasses for a long time and we've put them through the ringer. They've been on numerous fishing trips, the lenses are solid and the frames lock into place so they don't move when they're on your face.
5. Costa Bloke
Pro: Comfortable fit, great lenses
Con: Expensive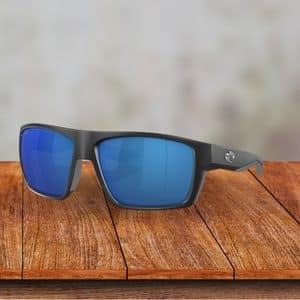 Costa recently sent one Pierre, our head guide and writer here at Into Fly Fishing, a new set of Costa Bloke Sunglasses and he's loving them.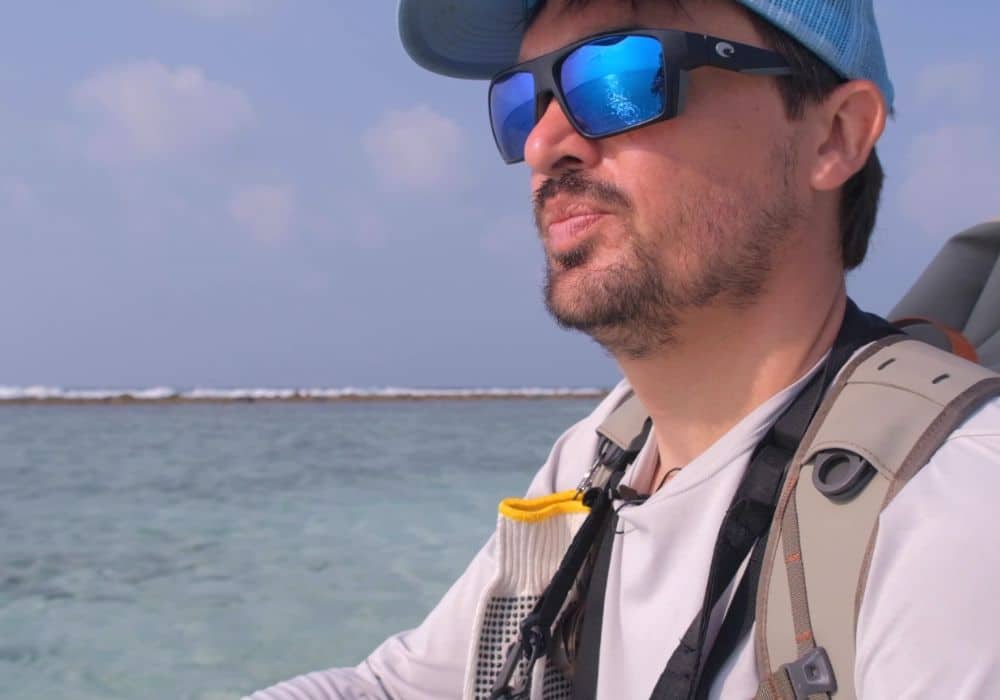 He also had these on his trip to the Maldives and they're now his go-to sunglasses.
We love these things because, like all Costa sunnies, they have great scratch-resistant lenses and they are durable.
Costa has done a great job with each new iteration of their sunglasses and these ones have a modern frame, a comfortable fit and best of all, they are snug on the face so they don't slide or fall off when fishing.
Note that in these sunglasses, a G in the model number denotes glass lenses, and P means they're plastic, so if you want glass make sure you go for a "G" model.
Why We Chose Them
We've had the Costa Blokes for a long time and we chose them because they're another great value especially considering you can get them with glass lenses.
6. Huk Polarized Fishing Sunglasses
Pro: Great value, nice style, good lenses
Con: A little hard to clean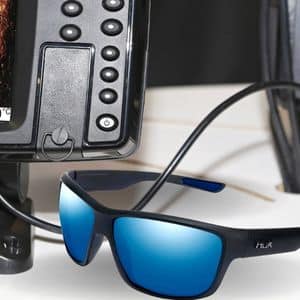 These Huk Polarized Sunglasses are some of the best fishing sunglasses you'll get under $50. They're sturdy, they don't slide off your face and they have decent lenses in them, especially for the price.
If you want to get a nice pair of fishing sunglasses without spending a ton of money, then the Huk Polarized Fishing Sunglasses are the way to go.
The Huk fishing sunglasses are the best value fly fishing sunglasses on the market in 2023. If we had anything bad to say about them, is that the overhanging frames make the outer areas of the lenses a bit hard to clean, but that's really being picky.
Compare At:
AvidMax
Why We Chose Them
The Huk Polarized Sunglasses made the cut because of their great value. These things are durable, offer great contrast for sight fishing and they cost less than $50. For that price, they're hard to beat.
7. Costa Reefton Pro
Pro: Tons of lens color options, wide handle
Con: Plastic lenses, expensive
The Costa Del Mar Reefton Pros are another pair of sunglasses that we've been fishing for some time and they're another great pair of glasses. They fit well, they don't slip and they hold up to saltwater.
What we don't like is that they're plastic lenses that cost almost $300. Costa has hefty price tags on all of their sunnies, but it would be nice to see the all plastic models coming in under $200.
Nevertheless, just like with any Costa Sunglasses, we love them and the Reefton Pros are a good for fishing if you have the money to spend.
Why We Chose Them
We recently ordered a pair of these sunglasses and we love them. The bulky frames mean that they cover more excess light from entering your eyes and they made this list becasue we think they just look super cool.

8. Suncloud
Pro: Polycarbonate lens
Con: Narrow fit
The Soundcloud Conductor Sunglasses are square-shaped unisex glasses. They feature nylon frames for a great fit and flexibility, and they're long-lasting and durable. They're perfect for the angler who needs to their gear to be as tough as they are. These glasses are also polarized, giving the angler a great view of the water and what lies beneath it.
Coming in at just under fifty dollars, this pair is durable and polarized. It grips your head and also comes in three different lens colors as well as four different types of frames.
All of the lenses made by Suncloud are made of optical grade polycarbonate. This means that the user gets glare-free viewing through a lightweight lens that's also scratch and abrasion-resistant. The lenses also provide 100% UV protection.
This keeps your eyes safe duing those long days spent out on the water.
You'll also notice that all the lenses made by Suncloud have a base curve of 6 or 8. The radius of the sphere is measured from the back lens. Relative to your face, a six would be flatter while an eight would wrap around the wearer's face.
These are two great options to have for someone picky about sunglasses fit.
Why We Chose Them
The Suncloud Sunglasses made our list because they're another great value pair of polarized sunglasses with UV protection. We love that they come in a bunch of different styles and while they're not as well-built as some of the other, more expensive sunglasses on this list, they're great for an angler on a budget.
9. Flying Fisherman Matecumbe
Pro: Price
Con: Only a few lens and frame colors
The Flying Fisherman Matecumbe feature triacetate lenses that are impact-resistant and will help improve your vision during any outdoor activity.
Also, they're scratch resistant, lightweight, and strong. These glasses give the wearer confidence that they can go anywhere and do anything without having to worry about breaking an important piece of equipment.
The polycarbonate frames are strong and durable. They're perfect for any type of fishing condition. The glasses also feature nonslip nose and temple pads.
They give ideal comfort and ensure that they'll stay put as you make your way down a boulder infested river.
The acting lens system that Fly Fisherman uses helps enhance color contrast and sharpens colors as well as clarity while also allowing you to see below the water surface.
This is thanks to Fly Fisherman polarizing the frames on these glasses, so you can see the fish before they see you.
The UV protection for the glasses exceeds the ANSI standards for general purpose eyewear. Not only will they help with your fishing, but they'll also protect your eyes. Don't think these are just fishing glasses, though.
These are great for any type of outdoor activity or event that you can think of.
Why We Chose Them
We included the Matecumbe sunglasses on this list because they come in a load of different styles and colors and all of them look cool. They're also impact resistant and are built for fishermen, buy fishermen, so you know they are well-polarized and built to be beat up.
10. KastKing Skidway
Pro: Great for the price
Con: Lens can pop out unexpectedly
The Kastking Skidway glasses feature a polarized lens that will help reduce glare when you're out on the water. Along with being polarized, they also have impact-resistant TAC lenses that can protect your eyes against flying objects.
They're also able to block out 100% of harmful UVA and UVB rays.
The frames are made out of Grilamid, giving you lightweight durability like no other. This material is commonly used by the military and in the medical field. They're flexible as well as being heat and UV resistant.
In fact, as far as the top fly fishing sunglasses for UV resistance goes, I give the KastKing Skidway the trophy on this list.
The flexible fit allows you to easily fit them to your face and have confidence that they're not going to fly off.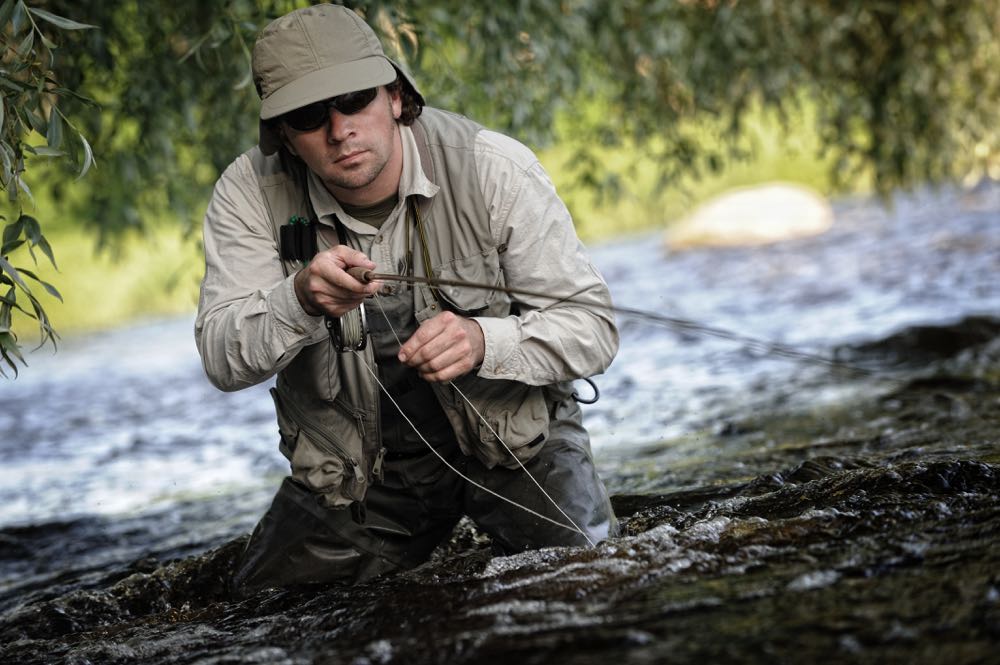 The 1.0 mm polarized lenses are more like something you'd find on much higher priced glasses.
The KastKing Triacetate lenses passed all tests that were checking for optical distortion. So, the glasses won't give the wearer any extra eye strain or headaches.
The square lens wrap design provides coverage across the front as well as the side of your eyes.
This gives the wearer full protection from the sun's harmful rays while also improving vision. With the purchase of the glasses, you'll also get a case and a microfiber cloth for cleaning.
Why We Chose Them
The KastKing Skidway Sunglasses are on this list mainly because they're cheap. Super cheap. They're under $25! That's not to say they will fall apart either. They're definitely not as durable as Costa sunglasses, but they are great for an angler with a very tight budget.
How We Test & Compare Sunglasses
We combine hands-on experience with endless research to come up with this list of the best fly fishing sunglasses. Between the five anglers on this site, we've probably worn (and worn out) more fishing sunglasses than any single angler would in a lifetime.
We took each of these sunglasses out on the water (and many more) to test them under the following criteria:
Polarization: We test the sunglasses in different lighting and in different fishing scenarios to determine if they reduce reflection on rivers, lakes, salt flats, and just about any other body of water one might fish.
Lens Durability: This is our #1 most important criterion after Polarization. We test the glasses to make sure they are scratch-resistant and will last a long time, even when being battered on fishing trips.
Light Penetration: When you're trying to spot fish, you need the minimum amount of excess light entering the sunglasses from the sides, above, and below the frames. We test this by deciding which glasses bring in the least amount of excess light and how easy it is to spot fish wearing each pair.
Price and Value: Of course, some fishing sunglasses are way overpriced. We take the price and overall value of the sunglasses into account when testing and comparing them on this blog.
Warranty: Some sunglasses companies have great warranties. We research this on the manufacturer's website and consider it when reviewing sunglasses.
Style: You probably won't only be wearing your sunglasses when you're fishing, so we also took style and aesthetics into consideration for this list.
For most of the sunglasses on this list, we didn't just fish them for a day. In most cases, we had them out on the water in different fishing scenarios for weeks, if not months, before considering them for this list.
What Makes the Best Fly Fishing Sunglasses
What makes the best sunglasses for fly fishing is durability, lens color, and polarized lenses. Most hardcore fly anglers will need strong frames and lenses to hold up to the harsh elements of the outdoors.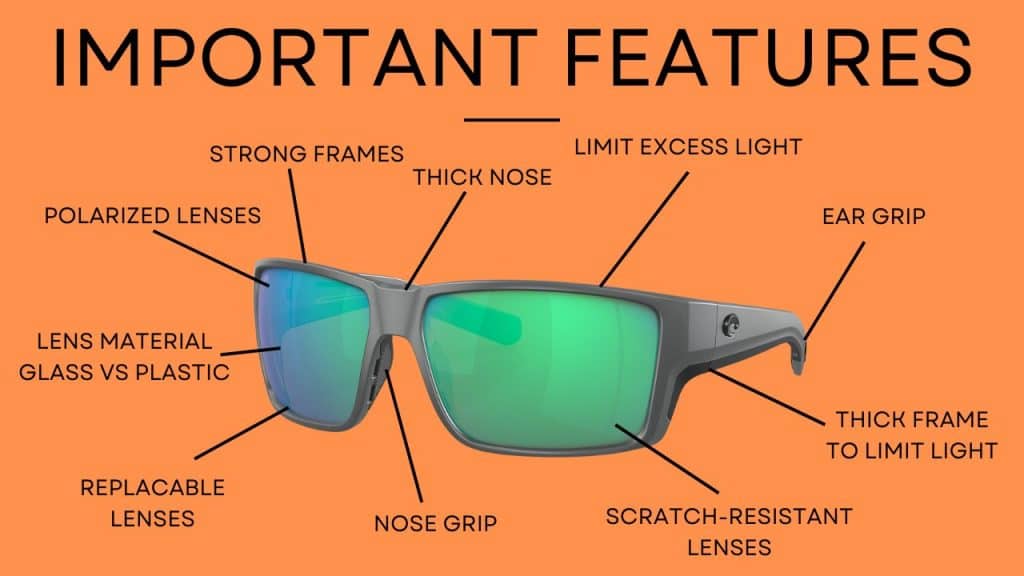 Having a good lens color depends on what type of water you'll be fishing, which I'll discuss further below.
Polarization
Having polarized lenses is crucial for fishing sunglasses. It doesn't matter if you're new to fly fishing or a 40-year vet. These help keep the glare off the water and allow you to see colors with better visibility and contrast.
Without it, you're hampering yourself on the water and are potentially missing fish that you could be casting to or rocks that you could be stepping over while wading.
So, whether you're fly fishing in South Dakota, casting a line in Iowa or setting off fishing the rivers and lakes of Minnesota, you should have a good pair of polarized sunglasses packed in your fly fishing pack.
Fit
Most glasses come in one size fits most. However, after looking around, you may notice a small, medium or large fit. This something you'll have to take into account when purchasing your glasses.
Something too small can make for an uncomfortable day of fishing, while something too large could cause your glasses to slip right off your face and into the water.
Color
Most lenses come in a variety of colors. Usually, you'll see blue, green, gray, copper and silver. Each of these colors has a condition that they work best in. Some are meant to be worn offshore in bright situations, while others are meant to be worn at dusk and dawn.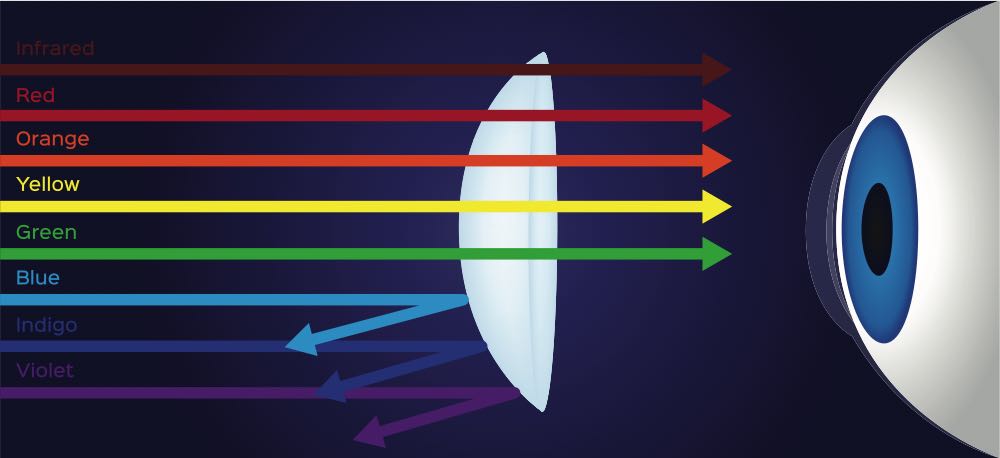 If you want a good middle ground, then stick with gray. It's a good choice for everyday activities both on and off the water. After gray, look for blue and green, the two most popular colors. Below I'll go over a few other colors.
Amber
Amber cuts the glare better than most other lens colors, making it ideal for sight fishing in mid to shallow water. It works best in shallow rivers, streams, lakes, ponds, and flats.
It's also a great color for everyday driving conditions. It gives the wearer a high contrast of colors, allowing you to pick out what you're seeing.
Yellow
A yellow lens color gives a major advantage during low light conditions. It's perfect for fishing in overcast conditions or during dawn and dusk. It gives the wearer a strong color contrast and allows for 25% light transmission.
This is ideal when you're fishing in low light conditions. It wouldn't be great to wear these during very bright and sunny days. The excess light that is let through would be as good as the next color.
Smokey
It's great for the angler who wants a catch-all with their lens. It can be used in any condition with success and works well off the water too. It reduces glare both on and off the water and also helps greatly with eye fatigue.
It allows you to focus for longer periods and stay long out on the water. Compared to the yellow lens, it only has a 12% light transmission. It's ideal for keeping the sun out of your eyes even during the brightest times of the day.
Type of Lens
The lens type means how it fits around your eyes, which also means the lens curvature. This is an important feature when you're picking out polarized glasses. The wrong curve won't allow you to reap the full benefits of your polarized lenses.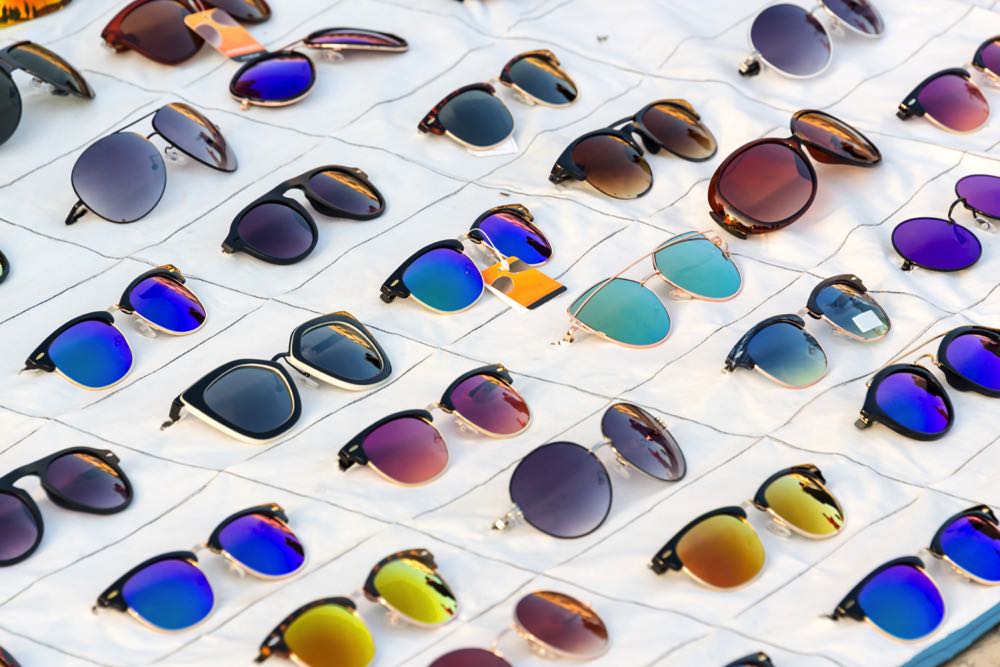 The best way to test this is by trying on the glasses and seeing if you have any distortion in the corner of your eyes when wearing them.
Lens Material
You'll find there are two different lens types for polarized glasses: glass and polycarbonate. Glass lenses give a nice crisp view and have a few other features that polycarbonate doesn't have.
They're scratch resistant and let you see more clearly than poly. The downside is they're much weaker and can shatter when dropped. Polycarbonate is lighter and much more durable than glass.
Of course, there's the downside that you can't see as clearly. However, if you often break equipment, then poly is the right choice for you.
Frame Material
When looking for a fishing frame, you'll want something that's both durable and lightweight. You don't want to have something so heavy that it weighs on your ears or the bridge of your nose.
You'll also want something flexible that moves with your head and doesn't feel like it's restricting you when you move your head while walking or casting.
Flexibility will also help ensure that they don't break.
Another key point about the material of sunglasses frames is that some of them are corrosion resistant.
So, if you're bonefishing in the Bahamas with your best saltwater fly rod and you drop the rod, reel, and your sunglasses into the sea, you'll want to be sure that everything will survive to fish with another day, even your sunglasses.
Non-Slip Frames
If you're not going to buy nonslip frames, then you'll need something that will secure those glasses to you, whether they're Croakies, retainers, or anything else you can rig up.
If they aren't slip-resistant, then they'll fall off and you'll be going through an awful lot of sunglasses. Look for glasses that have material either on the bridge of the glasses or on the temples. These are the spots where you need your glasses to be secure.
Weight
The weight of your glasses is often an undercooked aspect. You're going to be wearing these things all day. You don't want something that will weigh down on your face while your fishing.
In between casts, you don't want to be taking your glasses off to rub the bridge of your nose because it's sore. Your glasses need to be an extension of you and in doing so, they shouldn't cause discomfort.
Comfort
Weight, size, fit, and many other topics I talked about all culminate in this paragraph. You need your glasses to be comfortable. Anything too heavy will irritate you and you won't be able to fully concentrate on the most important thing, fishing.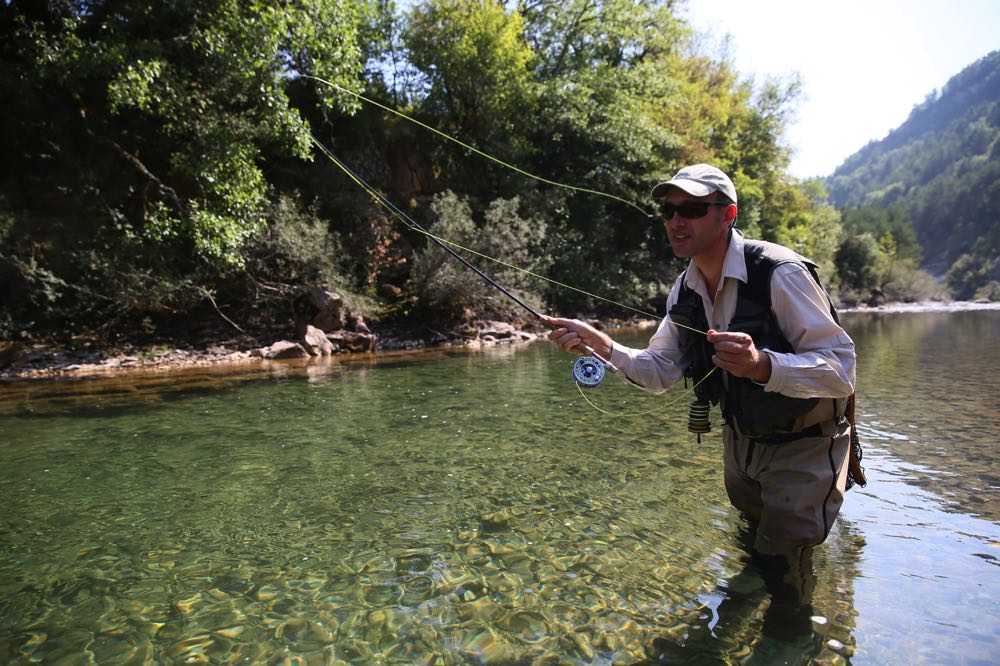 The same goes for fit. It's best to be able to try on glasses in person, but if that's not an option then you can take quick measurements at the house and compare it to the fit of the glasses you'd like to buy.
Fishing Sunglasses FAQs
What is the best brand for polarized fishing sunglasses?
In my opinion, after testing many brands of polarized sunglasses, Costa del Mar consistently makes the best polarized fishing sunglasses because they're stratch resistent, the fit well and they're stylish.
What glasses are the best for fishing?
Polarized sunglasses are the best for fishing. The polarization will reduce glare on the water and make it easier to spot fish. I recommend chosing red or amber lenses, which increase contrast in rivers and lakes and make it easier to sight fish.
What sunglasses help see fish in water?
Polarized sunglasses in red or amber are the best for spotting fish underwater.
Which polarized lens color is best for fishing?
Red or amber is the best color for fishing because it gives extra contrast to water in rivers and lakes. For saltwater fishing, grey lenses are equally effective in most situations.
Are polarized lenses worth it for fishing?
Absolutely. It's vital that you get polarized lenses when fishing because they reduce glare on the surface of the water and increase contrast, making it much easier to spot fish.
Why are fishing sunglasses so expensive?
Fishing sunglasses are typically made with strong, scratch-resistant polarized lenses and durable frames which brings their price up. Fishermen are notoriously hard on sunglasses, so fishing sunglass brands have made them extra tough, but this costs money.
Does saltwater ruin polarized lenses?
Saltwater ruins everything and polarized lenses are no different. Be sure to rinse your glasses in fresh water after using them in saltwater conditions. Make sure you rinse the lense and the hinges to ensure you don't rust or damage the sunglasses.
Review This Post
Conclusion
With all of the information above, hopefully you're feeling more comfortable about what you're looking for in a pair of fly fishing sunglasses.
While I did state in the introduction to this guide that sunglasses aren't as important as some of the other gear in an angler's kit, that doesn't mean that you shouldn't have a good pair of polarized lenses in your pack.
Even if you're brand new to the sport, a newbie angler should have a good beginner fly rod, a decent reel, and a good pair of polarized fly fishing sunglasses.
Now, head out to your local store and pick up a pair for your next outing. It'll only help you on your next fishing trip.
Disclaimer: IntoFlyFishing.com is a participant in the Amazon Services LLC Associates Program, as an Amazon Associate I earn from qualifying purchases. Please see our Privacy Page for more information.