As an Amazon Associate I earn from qualifying purchases.
When looking for the best fly fishing gifts for an angler, you should keep in mind what the angler in your life enjoys. Do they enjoy something practical that they can use on the water? Or would they prefer something that could add to the ambiance of their favorite room in the house?
I'd enjoy both – something that I could set down and look at when not fishing, but would still help me in my time on the water.
Examples of this are books about various locations where I could fish or some sort of instructional book.
So, below I'm going to go over what the fly angler in your life may enjoy as a gift. Take a quick look at the following items and decide what you think would be best.
There might even be a few items on this list that you could see a friend or family member enjoying.
The Best Fly Fishing Gifts for the Angler You Love
Here it goes, my list of the absolute best gifts for any fly fishing, fly tying, fly reading, and fly loving angler that you want to impress on the next special occasion. I've covered it all, from novelty gifts to the things you can get for the angler who already has it all.
Here it goes!
1. A Fly Fishing Trip
Again, this one isn't going to be cheap, but a fly fishing trip is going to be an experience, not just a material gift. You can make memories with a present. This is the perfect fly fishing gift for Dad on Father's Day, or Mom on Mother's Day.
It's a fly fishing present that they'll never forget and it actually helps you out for their gift next year, as you can frame photos from the trip and give it to them later!
Fly fishing trips will vary depending on how you book them. You can do it relatively cheaply if you simply look for a great lodge or cabin on Airbnb, drive there yourself, have your own boat or waders to get on the water, and don't need a guide.
If you do hire a guide, there are plenty of options in all of the best US states for fly fishing and in many fly fishing destinations around the world.
Check out our Angler's Guides to different places for fly fishing around the US. They include where to stay, what to bring, the type of fish to expect, and much more.
I recently went on an epic fly fishing trip to Jurassic Lake Lodge and it was the trip of a lifetime. I sent my dad photos, but would've loved to take him.
Unfortunately, that trip was quite expensive (minimum $3,000 per person plus flights), so I couldn't afford to take him. But if I could, I would, and if you can then a fly fishing trip like that would be the ultimate gift for a fly fishing family member.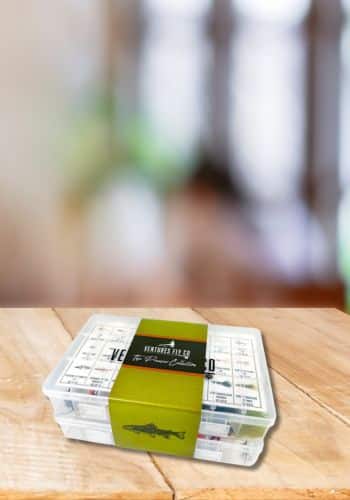 2. Ventures Fly Co. Hand-tied Flies
The Ventures Fly Co. 122-pack of Hand-Tied Flies is a great gift for any fly fisher in your life, regardless of skill level. The box comes with 122 hand-tied flies that are all must-have patterns.
In total, the box comes with 48 different patterns that you can use to match the hatch on just about any lake, river, stream, puddle, or ditch that you can find.
The boxes are broken down into two 24-compartment sections. Each section contains what the pattern of the fly is, the hook size, and a knot tying guide.
All of this information in one box will be of great help to any angler.
On top of being an informative gift, it'll also save the gift receiver in the long run. No longer will they need to run to the fly shop and burn through $20 on 10 flies.
Instead, they can have over 100 flies that will last them several seasons of fishing before they need to make another trip to the fly shop.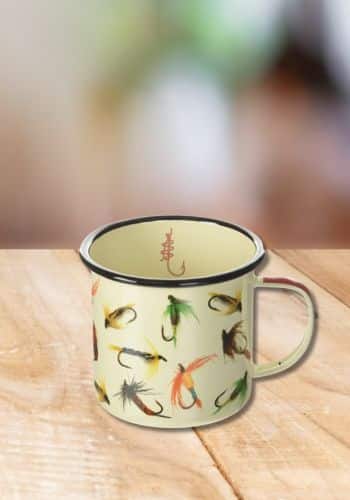 3. Gentlemen's Hardware Camping and Outdoor Mug
The Gentlemen's Hardware Camping & Outdoor Fly Fishing Mug is the ideal mug for both the fly angler and the outdoors enthusiast. The outside of the mug is donned with different types of flies, so the mug can be used as both for decoration and drinking. Other models come with pictures of deer as well as different types of trout.
On top of looking great, this mug also has a functional use. It's made with cold-rolled steel and then coated with enamel, making it lightweight and durable.
This means you can take this mug with you on either your hiking or fishing trips. The mug also has a liquid capacity of 17 ounces. It's enough to hold a warm cup of coffee in the morning and your favorite chilled beverage in the evening.
The biggest downside to this mug is that because of the enamel coating you can't use it in the microwave or wash it in the dishwasher.
Instead, it must be hand-washed, and cool liquid cannot be warmed in the microwave while using the mug.
4. The History of Fly Fishing in Fifty Flies
This is the best fly fishing present for the fly tying angler who likes to read. Available in both hardcover and Kindle, The History of Fly Fishing recounts the story of this 2,000-year-old sport. It shows some of the first popular flies as well as modern flies that are created from modern materials.
It also shows how the sport spread from England and Scotland to the US, South America, Europe, and the rest of the world.
On top of showing the spread of the sport, it also has different tips, illustrations, and photographs of flies, along with detailed techniques on how to use the flies shown.
You can use this book to both entertain you and educate you on the vast history of fly fishing and fly tying.
It's a great source if you're looking to get into tying flies or want to expand your knowledge. This is an ideal coffee table book that you could read over and use to improve your fishing.
5. Dancing Mayfly Trivia Game
If you're feeling the itch to go out and wet a line, but the weather or fishing is not permitting, then the Dancing Mayfly Trivia Game is the next best thing. The game is for two to four players and usually results in 60-90 minutes of playtime.
It features trivia that quizzes the players in their knowledge of fish, fishing, insects, fly patterns, and much more.
You'll improve your fly fishing knowledge while having fun at the same time. The game includes over 1000 trivia questions, 258 cards, money, chips, and dice.
The game is great for beginners because it can give them a solid foundation of knowledge that they can then expand upon, and it's a great fly fishing present to use while you're out on fishing trips.
However, the questions are challenging enough that an expert fly fisherman could learn something new while being challenged. You can sit down with your favorite fly fishing buddies and spend an evening rolling dice, answering fishing trivia, and learning new facts about fly fishing.
6. Fifty Places to Fly Fish Before You Die
The Fifty Places to Fly Fish Before You Die book is the perfect fly fishing gift for the traveling angler. It's available in hardcover, Kindle, or paperback, and it doesn't matter if you're an amateur or a 30-year vet of fly fishing, this bucket list of destinations will inspire anyone to get out and explore.
This book gives the reader just that. You'll be able to research the places you'd like to visit as well as learn about other spots, maybe ones that you'd prefer to visit instead.
Along with providing the reader with information on the best tackle to use, it also features pictures of the areas, information from local fishing guides, and stories from the author himself.
You'll also find travel information, so that you can start planning your trip right away.
Besides well-known fly fishing destinations such as in Montana, Wyoming, Iowa, South Dakota, Minnesota, and the Green River in Utah, you'll find areas that you may have never heard of.
7. The Fly Tying Bible
The Fly Tying Bible is the highest-reviewed fly tying book on Amazon, and the name pretty much says it all. Anyone who's either getting into fly tying or wants to take their fly tying skill to the next level should have this book on their bench.
It includes "100 Deadly Trout and Salmonflies in Step-by-Step Photographs" that are just as good, if not better, than YouTube videos, thanks to the diagrams, arrows, and simple layout.
Also, you can't wrap a YouTube video and give it to someone with a card, so The Fly Tying Bible makes a great gift for an angler, whether they're already into fly tying or haven't even thought of it yet.
8. Fisherman's Ultimate Knot Guide
Knots are one thing that all anglers need to know more about. Most of us have a couple memorized for different situations that we may find on the water.
There's the famous clinch knot that most of us use for connecting line to eyelets of hooks, but did you know that a loop knot can be used on streamers to create more action for the fly?
It's in the Fisherman's Ultimate Knot Guide, where you'll learn how to tie this knot and many more.
The cards come in a ring-bound book and are all waterproof. That way you can take it out on the water with you and not worry about getting them wet and ruining the illustrations.
Each card is also a smaller ruler as well and can be used to measure out lengths of line for tying the knots as well as measuring fish.
The small size of this book is great for keeping in your vest or pack without having to take up too much space. Or it can be kept next to your fly tying supplies.
9. Socksmith Trout Crew Socks
Trout Crew Socks allow anglers with fishing on the brain to show their love of the sport while looking good doing it. They're great for wearing to the office or out for a night on the town.
They're made of a soft and comfortable cotton and nylon blend that stay comfortable all day.
They are-one-size-fits-most, but the recommended size is a men's 8-13. These novelty socks are a sure conversation starter if seen and can help you bring up your favorite subject to talk about – fishing.
This is a great Father's Day, Christmas, or birthday gift for your favorite angler.
10. Fly Fishing Art
There are so many different types of fly fishing wall art on Amazon that you could easily find something perfect for the angler you love.
Why not give her a set of framed flies to hang in her fly tying den, or give him a beautifully painted print of a rainbow trout for the wall in his man cave?
Some of the artwork is even nice enough for a place in the living room, and with prices starting at just $14, this is a fly fishing gift that most people can afford.
11. Colorado Anglers Wooden Fly Tying Kit
The Colorado Anglers Wooden Fly Tying Kit is an excellent fly tying kit for someone who wants to dive even deeper into the world of fly fishing. It comes equipped with an instructional book and DVD. It's perfect for beginners to help lead them along into the world of fly tying.
It comes with hooks, dubbing, cement, and anything else you can think of that a fly tier would need to get started on their journey. It also has a vise and the tools needed to actually tie the flies too.
It's also a perfect travel kit. You can easily pack it into your luggage and bring it with you anywhere you'd like.
You can tie flies in your hotel room for the morning, or bring it on the boat with you and tie a pattern that you just lost a branch or a boulder. There's no limit to where you could bring this kit.
The built-in base ensures that the vise stays strongly attached to the table. It can be used on pretty much any tabletop surface because you don't have to clip it to anything.
The wooden box contains all the tools needed. This is a great gift for any angler you know who either wants to start tying flies or is looking for a good travel kit.
12. O'pros Fly Fishing 3rd Hand Belt Clip
You can now give the gift of a third hand. The O'pros Fly Fishing 3rd Hand Belt Clip rod holder is perfect for any fly angler. No longer do they need to set the rod down to tie a knot or work out a knot.
Instead, they can easily and safely clip it to their belt where a strong current won't wash it away. It'll also protect it from dirt and debris that could get inside the reel and cause damage.
The third-hand clip works by being attached to either the wading belt or the belt holding up the angler's pants. It can fit any belt in the 1-2 inch size range.
It's also made of plastic and nylon that's strong and durable enough to stand up to whatever the angler puts it through. It's an ideal gift that doesn't cost much and is very helpful.
13. Maxcatch Extreme Fly Fishing Combo
Perfect for the brand-new angler looking to get into the sport, the Maxcatch Extreme Full Fly Fishing Combo Kit is on our list of the best fly fishing combos and won the best budget spot on the list.
It includes everything a new fly fisher needs to get started, including the fly rod, reel, line, a fly box, flies, nippers and a lanyard. You could hit the river or lake with only this combo and be perfectly fine to get started.
For the more experienced angler, you may want to go with something like the Sage Foundation Outfit.
14. Anglatech Fly Fishing Back Vest Combo
The Anglatech Fly Fishing Back Vest Combo won our top pick for the best fly fishing vests in 2020 and for good reason. It's comfortable, affordable and comes with all the storage an angler could ask for.
An added bonus is that it doubles as a backpack, so you can store food, rain gear, some water, and extra supplies.
The vest is highly adjustable, so it should fit on pretty much anyone, and it also comes with a 2-liter water bladder/hydration pack to ensure you stay hydrated while out on the river.
15. Costa Del Mar Blackfin Fly Fishing Sunglasses
Costa Del Mar Blackfin Sunglasses made our list of the top fly fishing sunglasses for 2020. These polarized, UV-protected lightweight lenses are the highest quality and best value sunglasses on the market today.
They're regarded by many as the best fly fishing sunglasses available thanks to their light but durable polycarbonate and trivet lenses, which have 100% polarization, effectively removing the glare from the water and allowing the angler to spot fish beneath the surface.
These are the perfect gift for the serious angler who has it all.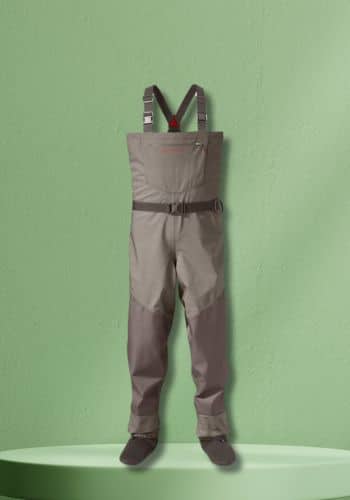 16. Redington Palix Fly Fishing Waders
The Redington Palix is the overall best fly waders on our list of the best waders in 2020 for a reason.
They're reasonably priced and made of three-layer waterproof and breathable material with double stitched and sealed seems and neoprene built-in boots.
You really can't go wrong with these. They're a great value and are perfect as a first or upgraded pair of fishing waders.
17. High-Quality Rubber Fly Fishing Net
The High-Quality Rubber Net made the #1 spot on our list of the best fly fishing nets available today. The rubber material helps to ensure that your hook doesn't get caught in the netting, but more importantly it helps protect the fish.
This particular one even comes with a very useful magnetic release clip.
Trout have mucus on their skin that helps protect them from bacteria and parasites, and this net prevents their skin from being scratched, cut or damaged, which is very important for catch and release anglers looking to protect future generations of fisheries.
18. G. Loomis NRX+ Fly Rod
The G. Loomis NRX+ made our #1 spot as the best fly rod to buy this year. If you're looking for the perfect fly rod to buy the angler who has it all, this will always be a welcome upgrade in his or her current kit.
It's not cheap, but the value of this rod is top-notch and it comes with an incredible warranty. G. Loomis is an industry leader in fly rod manufacturing, and the NRX+ is their best value rod for sure.
If you have the budget to spend on a rod as a gift for a loved one, you better get the right weight for them. One way to tell is by knowing where they fish.
Check their Facebook or, if they're older, check their photo albums. Do they typically have large fish that require 2 hands to hold? Are they mostly fishing for trout and bass or in saltwater?
If all of their fish are small (under 15 inches), I'd assume they usually fish with a 3-weight or a 4-weight fly rod.
If they typically have two hands on their fish, but it's always freshwater fish like bass or trout, I'd go for a 5-weight or a 6-weight, both will be just fine.
If they always have very large fish that they can barely hold for a photo, or if they are often fishing in saltwater, I'd go for at least an 8-weight (for smaller saltwater fish like bonefish), or as high as a 12-weight if they fish enormous GTs and Tarpon.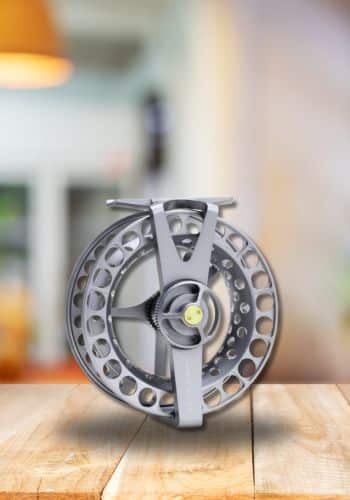 19. Lamson Force SL Series II Fly Reel
Again, this isn't going to be a cheap gift to give a friend or loved one, but I can guarantee that if they've never had a Lamson reel, they'll thank you profusely after taking the Lamson Force SL Series II Fly Reel out on the water.
Lamson has been a leader in reel construction for years, and the SL Series II made our #1 spot for the best fly reels on the market this year.
It's beautifully designed with a large arbor for quick retrieve, a sealed-drag system for saltwater use, and a sound that can make the hair on the back of your neck stand up when a fish strikes.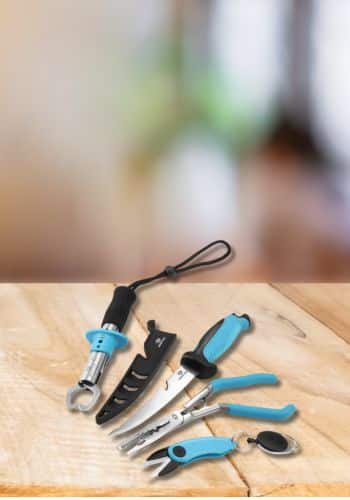 20. Mossy Oak 4-piece Fishing Tool Kit
The Mossy Oak 4-Piece Fly Fishing Tool Kit comes with everything that an angler might need when out on the water. It's equipped with pliers, a fillet knife and sheath, a trigger pull fish gripper, and a line snip.
Not all fly fishing is targeted toward trout. Sometimes you need a heavy-duty set of pliers like the one included in this kit, or a sharp, flexible fillet knife for bringing back your catch and cooking it for friends and family.
The tools all come together in one box, making them easy to store either on your boat or back at the house with the rest of your gear.
For the price, this is a great set of tools that all anglers will be able to get a lot of use out of.
Review This Post
Conclusion
After reading over all the information above, hopefully, you now know what the best fly fishing gifts for an angler are. It could be anything that you feel could help them become better anglers or something you think they could have fun with.
The gifts for fly fishers don't always have to be gear related, although it's always nice to have more gear. It could be artwork, a book, a coffee mug, or even a board game.
Sometimes, to find the best gifts for fly anglers, you should just ask the angler yourself to see what they need or like. That way you can get a better idea of what to buy.
Take some time to go browse around your local fly shop for some cool gift ideas for fly anglers, or look on Amazon. Giving a gift to the fly angler in your life is a great way to show how much you care.
Some images in this post are courtesy of Shutterstock.
Like This Article? Pin it!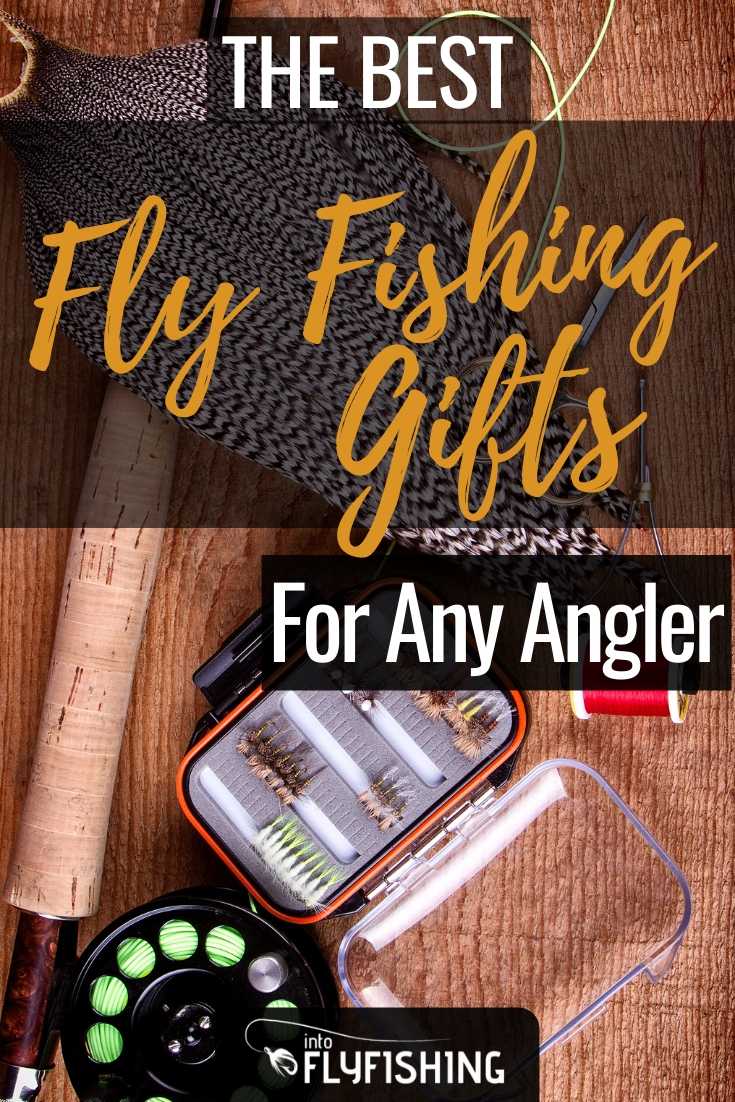 Amazon and the Amazon logo are trademarks of Amazon.com, Inc, or its affiliates.
As a part of the Amazon Associates Program and other affiliate programs, Into Fly Fishing® may receive a comission if you order products through links on this website.