As an Amazon Associate I earn from qualifying purchases.
G Loomis is a premier name in the fly fishing world. On top of that, they're also known as one of the better conventional tackle rods too. So if you enjoy both, then G Loomis fly rods will likely suit all of your needs.
G Loomis is out there trying to heighten the experiences of all anglers by creating great products. They're attempting to help us expand our opportunities and effectiveness.
So, if that sounds good to you, then check out the information below. I'm going to do some G Loomis fly fishing rod reviews and cover a couple of different rods as well as some great features that G Loomis rods have.
Who Is G Loomis?
G Loomis was founded in Woodland, Washington State, in 1982. They first started manufacturing rod blanks, which they only used for resales. They would then sell these blanks to custom fly rod builders and private rod label companies.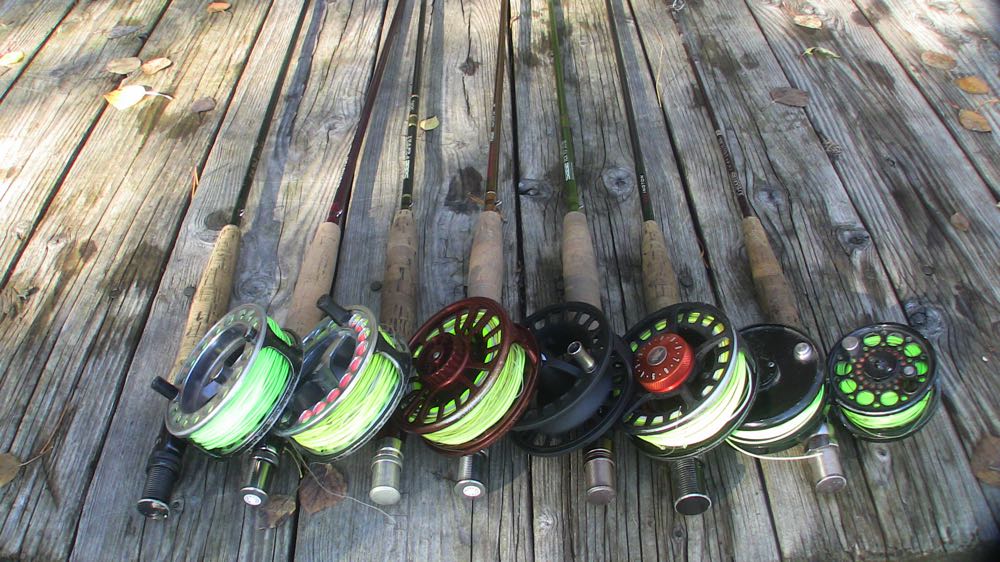 Then in 1997, they became a subsidiary of Shimano. Since then they've begun making all different types of fishing rods with one goal in mind: to provide serious anglers with great gear.
So, G Loomis is a relatively new company, but that doesn't mean that they can't compete with some of the bigger and older names out there. Check them out the next time you get the chance. You won't be disappointed.
G Loomis Fly Rod Warranties
G Loomis rods are covered by a limited lifetime warranty. It protects the rods against defects in workmanship and materials for the life of the owner.
Keep in mind that demo rods have no warranty. So, be careful when purchasing and using these types of rods, as you cannot get anything back for them.
You also need to register the rod within 30 days of purchase for the warranty to be valid. If you fail to do this, then your rod won't be under warranty and you won't be able to make a case with the company.
What Are G Loomis Rods Made of?
G Loomis uses what is called Conduit Core Technology on their rods. Instead of having thick wraps of graphite around the hook eyes, G Loomis uses a proprietary material of a similar strength but lower weight, which ensures a strong, incredibly light, and well-balanced product.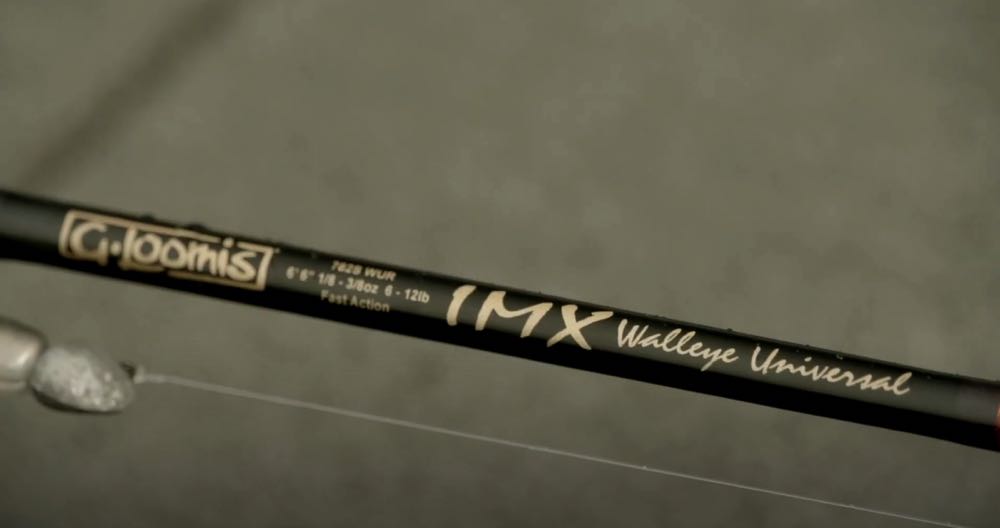 Therefore, casters will exert less effort when casting and less energy to move the rod. This will increase the amount of energy efficiency used when casting, mending, or working flies.
So, if that all sounds fine and dandy to you (which it should), then you need to check out some of the G Loomis rods below. They're strong and lightweight, and you'll be able to fish all day.
Types of G Loomis Fly Rods
G Loomis fly fishing rods can be used in all types of conditions. It doesn't matter if you want to chase tarpon in saltwater or if you enjoy throwing small hoppers to panfish in farm ponds.
It doesn't matter what you need, G Loomis has you covered. Make sure to check out the list below to see which one will be the best fly fishing rod by G Loomis for your type of fishing.
Freshwater Rods
They have a tremendous selection of freshwater rods to choose from. It doesn't matter what species of fish you plan on chasing; G Loomis has a great rod that an angler of any skill level will enjoy.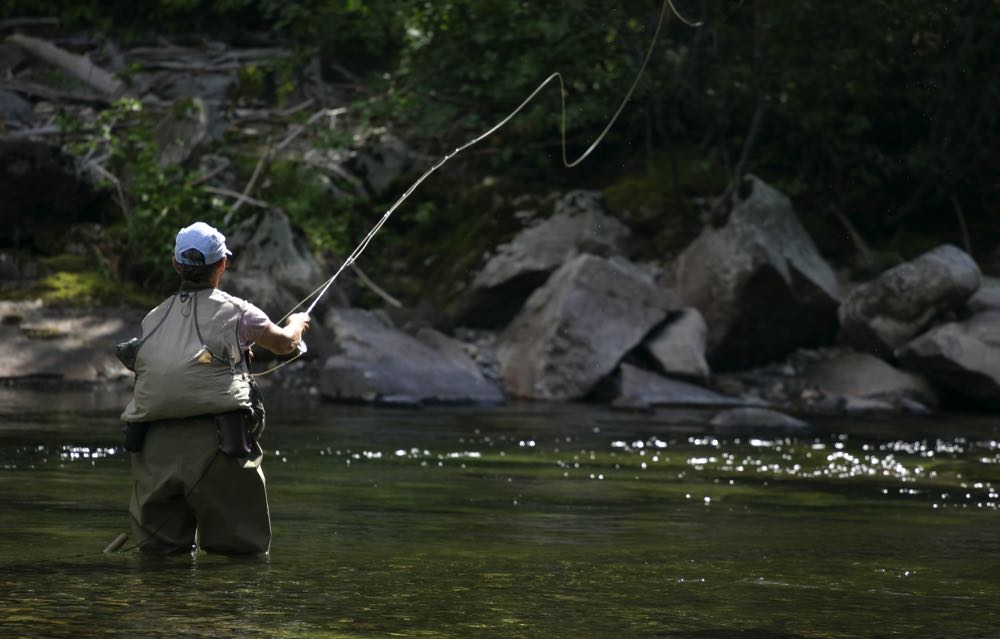 On top of that, these freshwater rods are even custom-made for different types of fishing. Some are for throwing streamers, while others are made for chasing muskies.
Saltwater Rods
The same applies for their saltwater rods. They have four different types that are made to be used when chasing saltwater species. Each one is just as good as the last.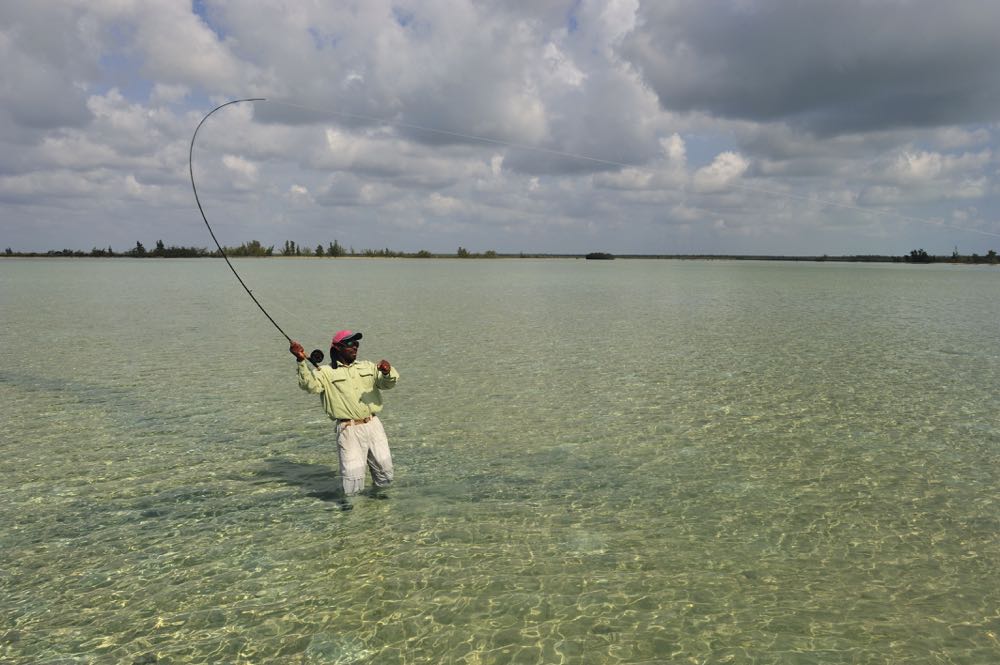 Similar to their freshwater rods, the saltwater collection even has some rods specially made for certain styles of fishing or for the species that you're chasing.
See also: The Best Saltwater Fly Rods
Two-Handed
They have three different rods that are used in spey and switch fishing. All of these rods are both efficient as well as versatile, making them great for any two-handed caster.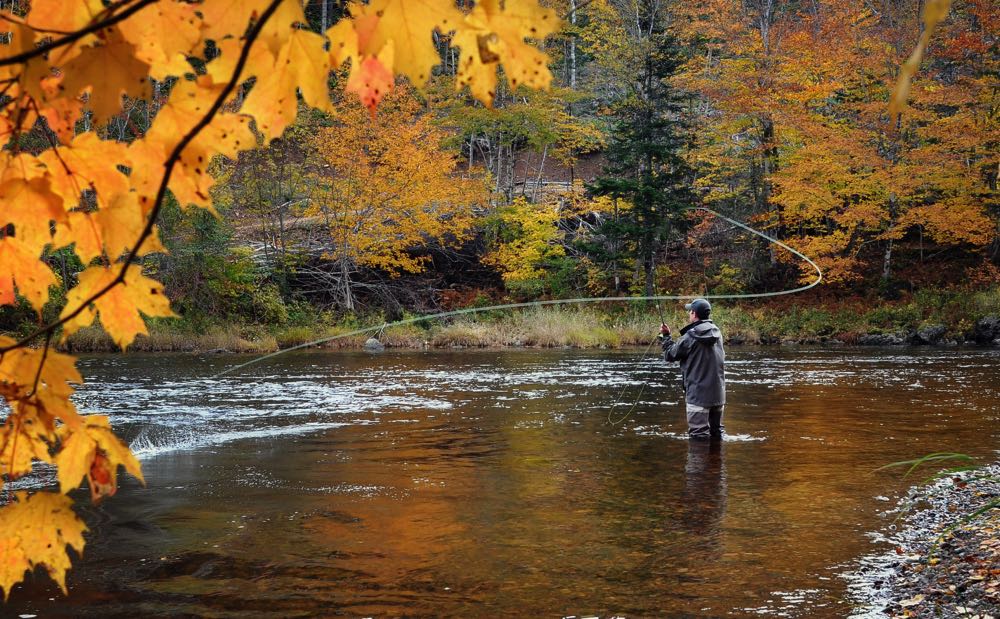 Each of these rods can be used to throw large flies clear across the river to the opposite bank in large salmon rivers. Or, they could land small flies delicately and with precision.
Features of G Loomis Rods
Below, I'm going to go over several different features of G Loomis rods. I'm going to cover mostly the basics, so don't worry if the feature you want isn't on the list below.
Now, check out what I've listed below. Each has its own pros and cons, so take a look and see which one is going to work the best for you.
Length
G Loomis makes rods in all different lengths. They understand that as great as a nine-foot rod may be, is it's not always ideal for fishing in every situation.
So, they make smaller rods that are ideal for chasing brook trout in small streams where you don't have much room to cast.
Then they also have longer rods for two-handed casting on large rivers.
Material
G Loomis is constantly working with different types of material to ensure that they're up-to-date on the latest and greatest in fishing rod technology.
However, that doesn't mean they don't have classics. Of course, they have graphite and everyday materials too. So, no need to fret if you don't enjoy Conduit Core Technology.
Pieces
You'll also find that G Loomis makes rods in all different pieces as well. A four-piece rod is great for travel and is just small enough to fit in a bag, but sometimes you need something even smaller.
On top of that, some people prefer a one-piece or a two-piece rod. Well, if you do too, then don't fear because G Loomis makes rods in many different numbers of pieces.
Action
No matter what type of fish you're pursuing or fly you're throwing, G Loomis has an action that will fit the style of fishing that you plan on using.
From slow to medium to fast, G Loomis has you covered. They even have some hybrid models of medium-fast for those times where you need a specialty action.
Balance
A properly balanced rod is important. It can lessen vibration and will help you cast with efficiency, allowing you to cast farther and be more accurate.
G Loomis ensures that all of its rods are properly balanced, giving you the ability to meet your fishing potential and maximize your fishing efficiency.
G Loomis Fly Rods
Below, I'm going to go over in detail some of the many different rods that G Loomis makes. They have several different types, so think about what kind of rod you need and apply that to the list below.
I'm also going to cover some of the different features, weights, and lengths of their rods. So, check out the list and see which one you like the best.
Small Stream G Loomis Fly Rods
These are the rods you take with you on skinny backwater streams. These are light and short, perfect for throwing small bugs in tight spots.
NRX+ LP
The NRX+ LP (Light Presentation) fly rod was made to be extremely accurate and for presenting dries delicately and effectively. This rod was made to be versatile, so on top of casting dries you could also mend nymphs and cast well.
When you have space, this rod excels at a backcast. However, if you find yourself backed up against trees, bushes, or a rock wall, then have no fear. You can easily bow and arrow cast or roll cast.
Despite it being lightweight, you'll be surprised at how strong and durable it is. It also packs a punch when casting and is great for firing in those quick casts.
Available Weights
8′ 3″ 3 weight
8′ 6″ 4 weight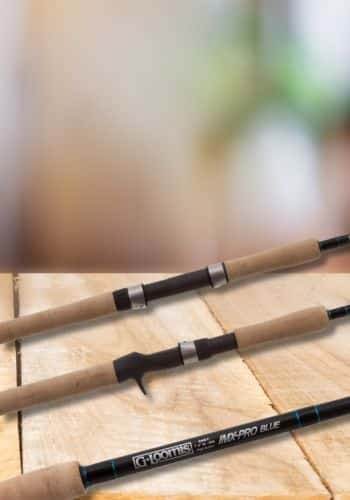 IMX PRO
The G. Loomis IMX Pro rod was built to the exact specifications of fishing guides around the world. It comes in fifteen different designs, taking the best of all and combining them into one.
The IMX is a game-changing addition to any fly angler's arsenal. The price might be a little steep for a brand new angler, but this would make a great rod that a novice could graduate up to.
You can easily roll cast your nymph or fry into plunge pools for brookies, or tuck a short cast into an eddy for a waiting cutthroat.
Available Weights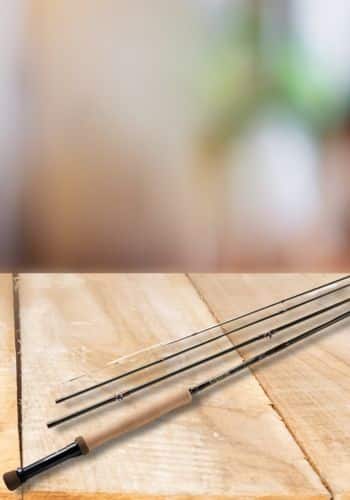 Shorestalker
The G Loomis Shore Stalker is perfect for walking along the banks of narrow rivers and small ponds. It loads incredibly quickly and you can fire a cast with great accuracy.
It's ideal for making short casts, but be cautious when taking this on larger bodies of water. It's not made to handle long casts to the opposite bank of large rivers.
There's also a surprising amount of power located in the butt section of this rod. So have no fear, you can easily cast large flies and handle large fish with this rod.
Available Weights
G Loomis Streamer Rods
If you enjoy throwing large flies to large fish, then you need to check out these rods. They have the backbone to get your fly out there and then horse in a fish. Check them out!
IMX Pro Streamer
Action: Medium fast, fast
It's similar to the IMX Pro I mentioned earlier, but the IMX Pro Streamer is made for one purpose and one purpose only: to throw big, chunky streamer patterns.
This 8′ 10′ rod is long enough to load up on those big casts, but has cut a few inches off the top to ensure your fly doesn't get hung up as much and that it's easier to land a fish.
So, if you're looking for a specialty rod and you enjoy throwing streamers, then this is the one for you. Once you get the hang of throwing streamers, you should pick this one up.
Available Weights
8′ 10″ 7 weight
8′ 10″ 8 weight
IMX Pro Muskie
There's nothing easy about muskie fishing. There are huge demands you have to meet in terms of your fishing tactics and the fight itself is downright difficult.
The IMX Pro Muskie series of rods ease the tension on your shoulder and forearms when you're locked in with a long fight with a big muskie. This allows you to reel in fish while others have broken off from exhaustion.
This rod has the power to deliver those huge muskie flies, while also giving you extra power and strength to fight off those big fish and get them into the boat.
Available Weights
9′ 11 weight
9′ 12 weight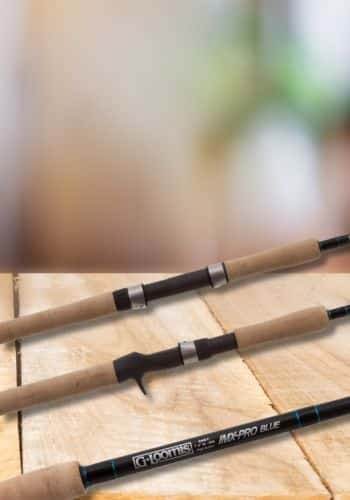 IMX Pro
Action: Medium fast, fast
The IMX Pro is one of the most versatile rods that G Loomis makes. They have smaller rods that are perfect for fries and nymphing. But these are made specifically for throwing big flies to big fish.
On top of being a great all-around rod, it's also extremely durable, making it great for the hardcore angler or for someone who needs their gear to be as tough as they are.
It comes in many different sizes too. So, don't worry about having too little or too much rod for the streamers you throw. There's a size that will fit exactly what you need.
Available Weights
9′ 6 weight
9′ 6″ 6 weight
9′ 7 weight
9′ 8 weight
10′ 7 weight
Saltwater G. Loomis Fly Rods
These rods are strong and durable. They allow you to get out there and fight off tough fish like snook, tarpon, reds, and speckled trout. Check out the rods below for your next saltwater fly rod by G Loomis.
NRX Saltwater
The G. Loomis NRX Saltwater rod will level the playing field with mother nature. When the winds blow hard and clouds form overhead, then trust this rod to get you through the day.
This is a very adaptable rod that was made to work with just about any weather condition that you can find when out on the water.
It provides power, line speed, and loop stability, which allow you to put a fly right in the face of a fish and then have the power to bring it into the boat.
Available Weights
9′ 7 weight
9′ 8 weight
9′ 9 weight
9′ 10 weight
9′ 11 weight
9′ 12 weight
Crosscurrent Pro 1
If you're on the water a lot, then you know what a pain it can be to constantly break down your rod and reel and then put it all back together the next day. Well, the Crosscurrent Pro 1 changed that.
This is a one-piece rod. You can easily store it in your rod vault or the back of your truck, meaning you have one fewer thing to think about when you hit the water the next day.
On top of that, this rod is also incredibly lightweight, powerful, and sensitive. It lets you to feel every little bite or tick of the bottom.
Available Weights
8′ 10″ 7 weight
8′ 10″ 8 weight
8′ 10″ 9 weight
8′ 10″ 10 weight
8′ 10″ 11 weight
8′ 10″ 12 weight
NRX Pro 1
G Loomis uses a fiber blend technology to create a rod that has a superb combination of strength and power while also being surprisingly lightweight.
This rod is similar to the freshwater NRX I mentioned above, except this rod has more power in the butt section, allowing you to fight big fish with ease.
The sensitivity of this rod is off the charts. How often has a fish been on the end of your fly and you only realized it once it was too late? Well, with this rod, that problem will be gone.
Unfortunately, this rod has been discontinued, so it can be hard to find. You may be able to find one used in your area, or even new at your local fly shop.
Available Weights
8′ 10″ 8 weight
8′ 10″ 9 weight
8′ 10″ 10 weight
8′ 10″ 11 weight
8′ 10″ 12 weight
Spey/Switch G Loomis Fly Rods
Now I'm going to go over two-handed rods. With these rods, you can shoot a fly clear across a river or land something small or delicate not too far away. See which one you like the best.
IMX Pro Short Spey
The IMX Pro Short Spey is an efficient and versatile rod. This rod was designed to meet the new characteristics that fly line has, allowing you to easily cast and control fish.
All of these have an 11′ 11″ length, making them perfect for manipulating casts when the canopy is low and for short swings with your fly.
It's extremely well-balanced and will cast just as well as your favorite long rod. This rod is ideal for the angler that loves to throw two-handed casts.
Available Weights
11′ 11″ 3 weight
11′ 11″ 4 weight
11′ 11″ 5 weight
11′ 11″ 6 weight
11′ 11″ 7 weight
Asquith Spey
G Loomis regards the Asquith Spey rod as the most technologically advanced fly rod in the world. The rod has a core layer, middle layer, and outer layer.
This is a uniquely constructed rod that provides increased rigidity without increasing the overall weight of the rod. It also helps to reduce ovalization.
All of this comes together to give the angler instant power when casting or when fighting fish. It will help you land big ones from all the way across the river.
Available Weights
12′ 6″ 6 weight
13′ 7 weight
13′ 6″ 8 weight
14′ 9 weight
15′ 10 weight
NPX Spey + Switch
This rod is a four-season spey rod. It will help you overcome rough conditions such as wind and strong river currents that move your fly like it's nothing.
The NPS Spey Switch allows you to take control of the weather. It will help boost performance and enhance your overall ability while also helping with your versatility.
It provides incredible power, line speed, and loop stability that exceed all other two-handed rods on the market right now.
Available weights
6 weight
7 weight
8 weight
9 weight
G Loomis Bass Rods
Below, I'm going to talk a little bit more about bass rods. They're made to chase both largemouth and smallmouth bass. They can throw larger flies and haul in larger fish.
IMX Pro Streamer
If you enjoy chasing smallmouth while floating a river, then the G. Loomis IMX Pro is the rod for you. It's heavy enough to throw those big bugs that bass love while also having power to bring them into the boat.
Also, these are great largemouth rods too, since you usually throw something a little big bigger for them. Popping a large frog past some pads would be ideal for this setup.
This rod is able to throw and throw well anything big enough for a bass to eat: streamers, poppers, crawfish, and more.
Available Weights
8′ 10″ 7 weight
8′ 10″ 8 weight
IMX Pro
The IMX Pro Rod by G. Loomis rod comes in several different sizes. This lets you downsize when chasing smaller bass in smaller bodies of water such as creeks and farm ponds.
It also comes in larger and more popular sizes such as 7 or 8 weights. You'll be able to pick out exactly what size you need for the fishing you plan on doing.
Available Weights
9′ 6 weight
9′ 7 weight
9′ 8 weight
10′ 7 weight
NRX+ Freshwater
The NRX+ Freshwater is the ideal rod for when the weather conditions don't cooperate with you. You can easily throw crawfish and streamer patterns when the wind picks up.
These rods also have a surprising amount of finesse to them. When you're not throwing streamers or poppers, you'll easily be able to feel that subtle bite on the crawfish you're throwing.
Along with the great finesse feeling, this rod also provides you with great power and strength. Like I mentioned earlier, when the wind picks up you'll be able to power the fly through it and land it where the fish are.
Available Weights
9′ 6 weight
9′ 7 weight
9′ 8 weight
Conclusion
G Loomis makes some incredible fly rods. They are strong, durable, and versatile. They're just flat out good pieces of gear that every fly angler would be happy to have in their arsenal.
They make a fly rod for just about every occasion. If you enjoy throwing small flies to brookies, then they have that. The same goes for powering big flies through sea breezes to a waiting redfish.
So, if all of the above sounds good to you, then you should check out a G Loomis fly rod. Head on over to Amazon and see what they have waiting for you there.
Amazon and the Amazon logo are trademarks of Amazon.com, Inc, or its affiliates.
As a part of the Amazon Associates Program and other affiliate programs, Into Fly Fishing® may receive a comission if you order products through links on this website.