The best fly rods under $100 are ideal for the angler who's just starting out and doesn't want to drop too much money on a beginning setup. Or, it could be a great backup rod.
Quick Look: Best Fly Rods Under $100
★ #1 Best Fly Rod Under $100: Maxcatch Premier ★
There are also plenty of solid rods out there for this price. You don't always need to drop $500 or more on a Sage fly rod. Most of the time, a solid rod under $100 can handle most of what you need it to.
So, if this sounds great to you, check out the article below. I'll be going over several different rods as well as some of their different features. Check them out!
Disclaimer: IntoFlyFishing.com is a participant in the Amazon Services LLC Associates Program, as an Amazon Associate I earn from qualifying purchases. Please see our Privacy Page for more information.
What to Expect from a Fly Rod Under $100
In the world of fly fishing, you usually have to be prepared to drop some money if you want a good piece of equipment. This goes for reels, rods, waders, boots, and everything else.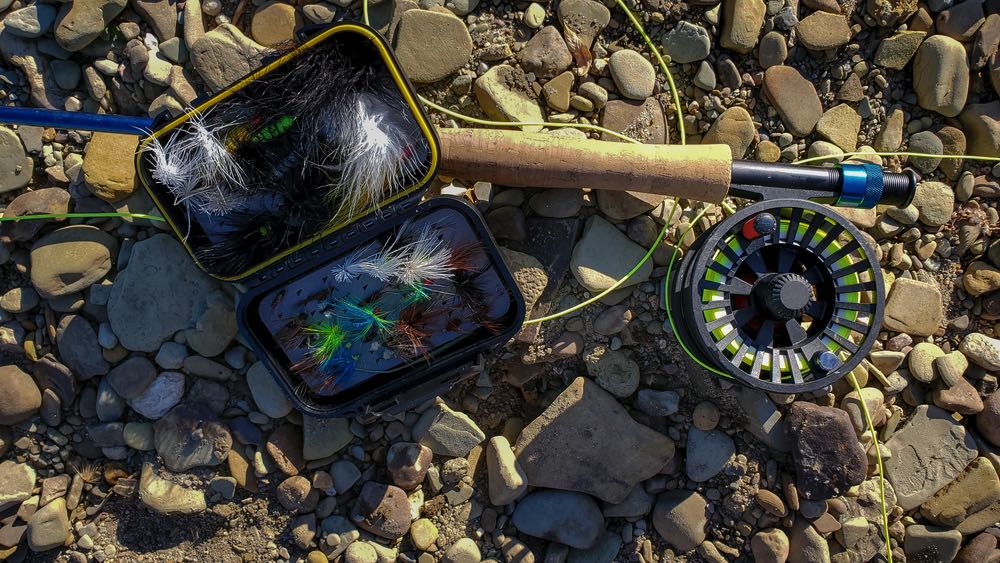 However, with advancements in technology, that's not always the case anymore. You can now get a solid rod for under $100. They are durable, sensitive, and come in many different lengths and weights.
Are There Good Fly Rods Under $100?
Of course there are. You may have to be a little bit pickier when searching for them, but there are certainly rods for under $100 out there.
When shopping for them, make sure to ask the owner if you can give them a few test casts in the parking lot. It's important that it feels comfortable and casts well for you.
Best Brands for Fly Rods Under $100
Below, I'll cover some different fly rod brands that produce rods for under $100. Check them out and see if one of your favorite brands is listed below!
Maxcatch
It's incredible that somehow Maxcatch is able to create high-quality fly rods for under $100. Hardcore anglers love to bash super-budget fly rods, claiming they aren't durable, don't feel right, or simply fall apart. But, those anglers are constantly proven wrong when they get their hands on a Maxcatch.
Piscifun
Piscifun is known for making some of the best fly fishing rods for under 100 dollars. They have several different rods and reels that are reliable and come at a pretty cheap price.
Their four-piece rod is great for short to medium casts. It has a surprisingly strong butt section, allowing you to fight big fish. Look for them when looking for a cheap rod.
Cabellas
Known as one of the premier outdoor companies in the US, Cabellas also carries a great line of cheap fly rods and fly reels. They're perfect for the beginner angler to pick up.
All of their rods and other gear for fly fishing are solid pieces of equipment, and their rods under $100 are pretty great for the price. They're cheap and readily available for use on your next trip.
Aventik
Another company that's similar to Piscifun, Aventik has some great products that won't break your budget. You can adequately gear up before a trip without having to spend a mortgage payment.
Most of their rods are under $100, so you'll have a great selection to choose from. This means you'll be able to find the rod you need to take out on your next trip.
Features of the Best Fly Rods Under $100
Below, I'll cover several different features that you should be looking for in fly rods under $100. Think about what you need for your own rod and then apply that to the list below.
Material
Graphite and bamboo are the most expensive materials for fly rods. Look for a rod that's made of fiberglass. Fiberglass is great for delicate presentations, and you want to have a light touch.
You can get a great fiberglass rod for half the price of a bamboo or graphite product. So, if you're looking for something great and cheap, make sure to get fiberglass. That being said, there are some great graphite fly rods for under $100 on this list!
Available Weights
The wonderful thing about modern technology is that you can get a cheap rod in any style, weight, size, or color that you could imagine. There might not be as many, but they're out there.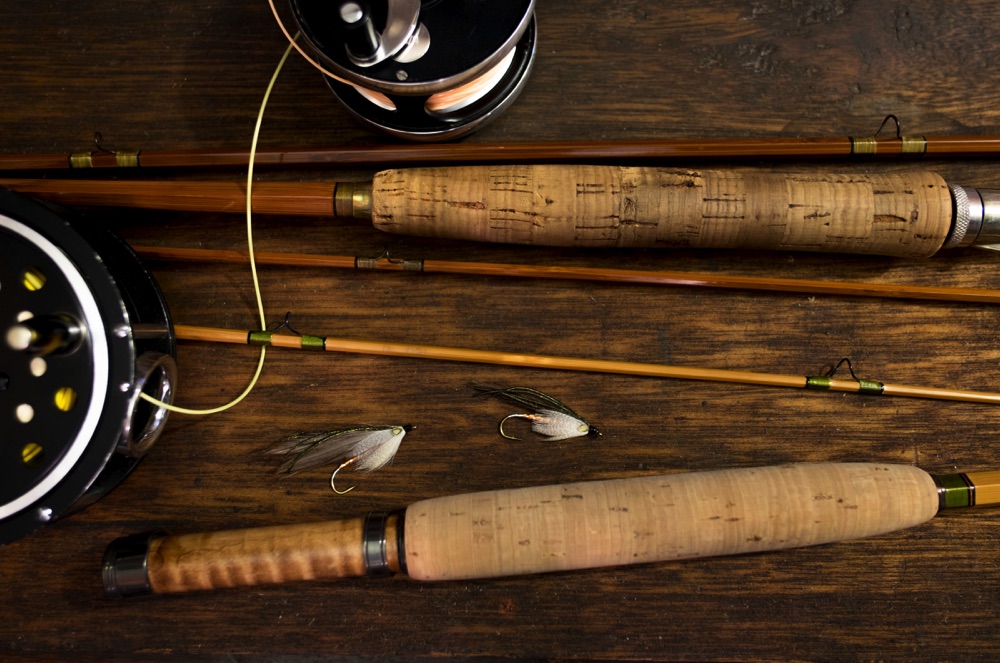 So, don't fret if you want a 7′ 6″ 2 wt. Chances are there's a company out there that makes a budget rod in the exact size and weight that you need it to be.
Pieces
Similar to the section above about weights, cheap fly rods can be found in any number of pieces. So, if you prefer to have a six-piece rod that can be easily packed in and out, then don't worry, you can find one.
The same goes for the more popular four-piece. Most rods have four pieces. You can even find two-piece or one-piece rods, if you prefer that.
Action
The majority of fly rods are either slow, medium, or fast action. Typically, a hybrid, such as a medium-fast, will be more expensive.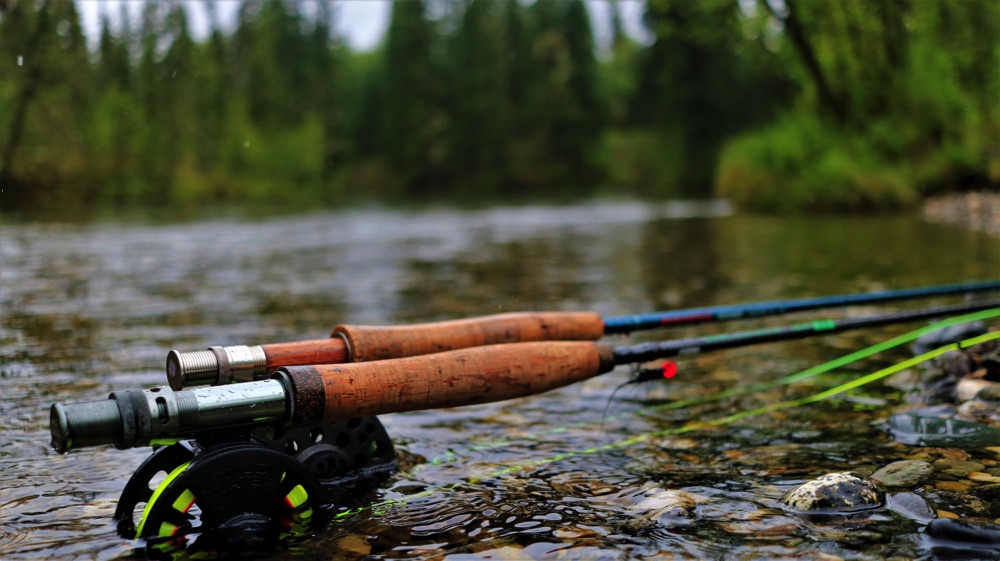 You don't always need a hybrid size, though. You can get away with a medium action on most rivers. If you need a slow or a fast action, you'll be able to find those easily.
Balance
With a cheaper rod you, shouldn't be too worried about balancing out your rod and reel. It's not something you should be thinking about too much until you plan on investing some serious money into your setup.
That being said, it wouldn't hurt to balance your rod and reel. You just need to make sure that the reel sits well on the rod you bought. This makes casting easier and more effective.
Species
Whenever you're shopping for fly rods, you should consider the species of fish you target most often. This will help you choose the best weight. If you're frequently targeting smaller trout on narrow streams, then the delicate presentation of a 2 or 3 weight fly rod might be best for you.
If you find that you're frequently going after tarpon, then you'll want nothing less than a 12 weight saltwater fly rod!
Best Fly Rods for Under $100
Below, I'll go over several different products for under $100. Each has its pros and cons, so check them out and see which ones will be the top fly rod for under 100 dollars!
Maxcatch Premier (Best Fly Rod Under 100)
The founder of Into Fly Fishing, Nick, has a 5 weight Maxcatch Premier Fly Rod and loves it. This rod is extremely well built for the price and feels great in hand. It's actually the premium level fly rod in the Maxcatch lineup, but it still remains under $100.
It comes in 3-12 weight (all four-piece) and ships in a beautiful hard fly rod tube. The thread wraps are high quality, the cork handle feels great in the hand, and it's actually a decent weight considering the price.
Maxcatch also offers a one-year warranty on these rods, so you can purchase with the confidence of knowing that it's covered for manufacturer defaults for up to a year.
This rod is an excellent beginner fly rod, and it's also the perfect backup rod to take with you on any fishing trip in case your main rod breaks or gets damaged.
Update 2023: I travelled most of last year with the 5 weight Premier in my luggage and used it extensively. I can say that I'm still very impressed with the build quality and can't believe the price. The flies and reel that come with the full combo are definitely worth the extra spend as well.
Aventik Z Short
The Aventik Z Short rod is great for the angler who's looking for a shorter and more compact rod. It's ideal for casting on small streams that have a lot of brush behind you.
Don't be fooled by the short size, though. It can also cast well for distance. So, don't be afraid to take this out on the river and cast farther than you thought.
Maximum Catch Ultralight
The medium-fast action of the Maximum Catch Ultralight Rod is an oddity in the cheaper world for fly fishing. However, it's very much a welcome one.
Similar to the rod above, it's designed for hitting small streams. It's great for chasing brookies in the mountains or cutties in small streams.
Piscifun Sword
The Piscifun Sword Fly Rod comes in serval different sizes, giving you the ability to choose exactly the size and weight needed to attack your local rivers, streams, lakes, and ponds.
This four-piece rod is ideal for travel, and the graphite body is both strong and durable. You can cast accurately as well as delicately when you need to land those small dries.
Goture Poder
Action: Slow, medium, fast
That's right, you can even get a saltwater fly rod for under $100.
Depending on the size of the Goture Poder Rod you plan to buy, you'll get a different action. It's great for someone who wants a rod that will fit their style of fishing perfectly.
The rod can also be used in both fresh and salt water, making it extremely diverse and effective. It also breaks down into four pieces and comes with a PVC tube, so it'll be safe during travel.
Mounchain 4 piece
Made from high-quality carbon fiber, the Mounchain 4 Piece Rod is very durable and flexible. It's incredibly convenient for use on any type of body of water. It's also a four-piece rod and comes with a tube, making it easy for travel.
If you don't want the tube, then you can buy this rod for $10. That's great for someone who's really looking for a budget rod at a great price. This medium action rod is a great catch-all size as well.
Despite the price, this rod is surprisingly lightweight. It's ideal for casting on long days out in the river and for hiking several miles to your favorite spot. It might be the best trout rod for under 100 dollars.
Wild Water Combo Kit
The Wild Water Combo Kit is a great combo kit for someone who's looking for a rod to attack small water or work nymphs. Coming in at under $100, it has just about everything you need for a day of fishing.
You can easily order it online and head straight to the river with this setup. It comes with a rod, reel, leader, flies, nippers, and a fly box. It's perfect for someone looking to get into fly fishing and doesn't want the hassle of buying everything separately.
Review This Post
Conclusion
Hopefully, after reading the above information, you now feel like fly rods under $100 are not all that bad. They're great pieces of equipment to start fly fishing with.
So, head on over to Amazon and order some for yourself. They can be excellent beginner or backup fly rods that won't break the bank.