Disclaimer: IntoFlyFishing.com is a participant in the Amazon Services LLC Associates Program, as an Amazon Associate I earn from qualifying purchases. Please see our Privacy Page for more information.
In this post, I'll cover the best budget fly rods on the market in 2023.
When you can't afford to splurge on luxury sports gear, you may find yourself shopping for the best budget fly rod, rather than a premium Sage or a top-end St. Croix.
After all the bills and debt are covered each month, sometimes we have less free cash to spend on the things that we truly love.
As I am a firm believer that you don't make debt to buy a fly rod, for many of us, the only option is to look at more budget-friendly options.
I have compiled a list of what I believe to be some of the best budget fly fishing rods on the market today.
The Best Budget Fly Rods in 2023
Below you'll find fly rods ranging in price from $99 to $198. I also included a budget-friendly fly rod combo which could be perfect for the beginner angler looking to get into the sport, as well as the best budget trout rod for those long days out on the river.
1. Echo Base
Available weights: 3 – 8
Action: Medium-fast
Weight (9 foot 5 weight): 3.7 ounces
Pieces: 4
Pros: Full-lifetime warranty to the original owner
Cons: Slightly on the heavy side
The Echo Base and all Echo fly rods are designed by Tim Rajeff. He's not only a previous single-hand distance casting world champion, but he also understands the principles of fly rod design and that distance isn't everything.
The Echo Base is a great value beginner fly rod offered by them. As with all Echo rods, it comes with a full lifetime warranty to the original owner.
The rod comes with a fabric-covered rod tube and rod sock.
2. Temple Fork Outfitters Lefty Kreh Signature II
Available weights: 2 – 10
Action: Medium-fast
Weight (9 foot 5 weight): 3.7 ounces
Pieces: 2
Pros: Wide range of weights to choose from
Cons: Only available in 2 piece configurations
The Lefty Kreh Signature II fly rod from Temple Fork Outfitters is an excellent fly rod for the beginner fly angler.
With various line wight options, there's a rod suitable for small streams, a 6 foot 2 weight, up to a 9 foot 10 weight saltwater stick. The freshwater rods come with a reverse wells AA grade cork grip and an anodized up-locking reel seat.
The saltwater offerings feature a full wells AA grade cork grip, a quality anodized up-locking reel seat, and a good-sized fighting butt.
The rod is only available in a 2 piece configuration. If you plan on traveling frequently with a rod, it might not be the ideal choice.
In that case rather consider a 4 piece rod. But as they say, what you loose with the one hand, you win with the other.
Because two-piece rods have fewer ferules, compared to 4 piece rods, the blank can transfer energy and vibrations easier. This translates into a smoother feeling rod.
The rod also comes standard with a rod sock – but not a rod tube.
3. Redington Classic Trout
Available weights: 2 – 6
Action: Medium-Fast
Weight (9 foot 5 weight): 2.9 ounces
Pieces: 4 and 6
Pros: Full-lifetime warranty to the original owner, very light
Cons: Can't fault this rod in any way
As its name suggests, the Redington Classic Trout is designed to be a perfect trout rod and it is, in my opinion, the best budget trout rod on this list. An exciting feature of this lineup of rods is that you have the option of two 6-piece models, one being a 5 weight fly rod.
A 6 piece 5 weight (that still weighs in at 3.1 ounces) is the perfect rod to take on hiking trips or to keep stowed away in your boot for those "you never know" fishing moments.
The rod comes shipped in a rod tube with section dividers. For peace of mind, Redington also offers a lifetime warranty to the original owner.
4. St. Croix Mojo Trout
Available weights: 2 – 7
Action: Medium-fast
Weight (9 foot 5 weight): 3.6 ounces
Pieces: 2 and 4
Pros: A long tradition of rod building, a wide selection of rods to choose from
Cons: Might be too expensive for some beginners, only offers a 5-year warranty, no rod tube
St. Croix has been in the rod manufacturing business for over 70 years – who better to trust to build a perfect affordable fly rod? This offering from them, the Mojo Trout, won the Best of Category Fly Rod at the 2018 ICAST show.
In total, there are 11 models in the range. From a 6 foot 2 piece 2 weight to a 9 foot 4 piece 7 weight.
The Mojo Trout comes with a cloth rod sock, but unfortunately no rod tube. It's hand-built in Mexico and comes with St. Croix's 5-year warranty.
5. Orvis Clearwater
Available weights: 2 – 6
Action: Medium-Fast
Weight (9 foot 5 weight): 3.2 ounces
Pieces: 4
Pros: Orvis 25 year warranty, offers 10-foot models
Cons: On the pricier side of "budget" fly rods
The Clearwater fly rod from Orvis is one of the best inexpensive fly rods on the market. Not just because of its sub $200 price tag, but also the performance you get from it.
The range also offers exciting 10ft models which are perfect to control drifts in rivers. This makes it a perfect rod to get stuck into more advanced nymphing techniques.
What makes it excellent value for money is the fact that you get Orvis' 25-year guarantee.
Best Budget Fly Rod Combo – Maxcatch Extreme
Available weights: 3 – 10
Sections: 4 piece
leader, waterproof fly box, 12 flies, nippers and lanyard.
Pros: Wide rod selection, low price
Cons: Slightly heavy
The Maxcatch Extreme Fly Fishing Combo is an unbeatable value for money fly rod combo. The rod weights available range from an 8 foot 4 inch 3 weight to a 9 foot 10 weight.
Have a look at the 3 and 4 weight models if you are looking to fish smaller rivers or if a younger person (under 10 years old) will be using it. The 5 and 6 weight models are perfect for targeting the majority of freshwater species.
This would be the best fly rod combo for most beginners. If you are starting out with saltwater fly fishing and you're looking for a good saltwater fly rod, the 7 weight and up would be perfect.
All the combos come with a rod case that can accommodate the rod while the reel is fitted to it.
Included in every combo is an aluminum fly reel with a smooth disc drag system. The size of the reel will differ with every different weight outfit to ensure that the overall combo is well balanced.
The reel comes preloaded with backing and a weight-forward floating line, once again suited to the specific weight combo you've chosen.
It also comes with a good quality neoprene reel pouch that protects the reel, even when it's mounted onto the rod.
The Maxcatch Extreme combo also features a waterproof fly box, a retractable lanyard and line nippers. These aren't included in even more expensive combos but are something you'll definitely make use of when on the water.
You won't get a fly fishing vest, fly fishing sunglasses or a fly fishing pack with this combo, but it's still a great deal.
Best Budget Fly Rod Buyer's Guide
When you look up the meaning of the adjective budget, it means inexpensive. Sometimes the meaning might be mistaken as poor quality, or in layman's terms – crap. Obviously this perception comes from somewhere.
It's a generalization that all things cheap directly translates to something being of poorer quality.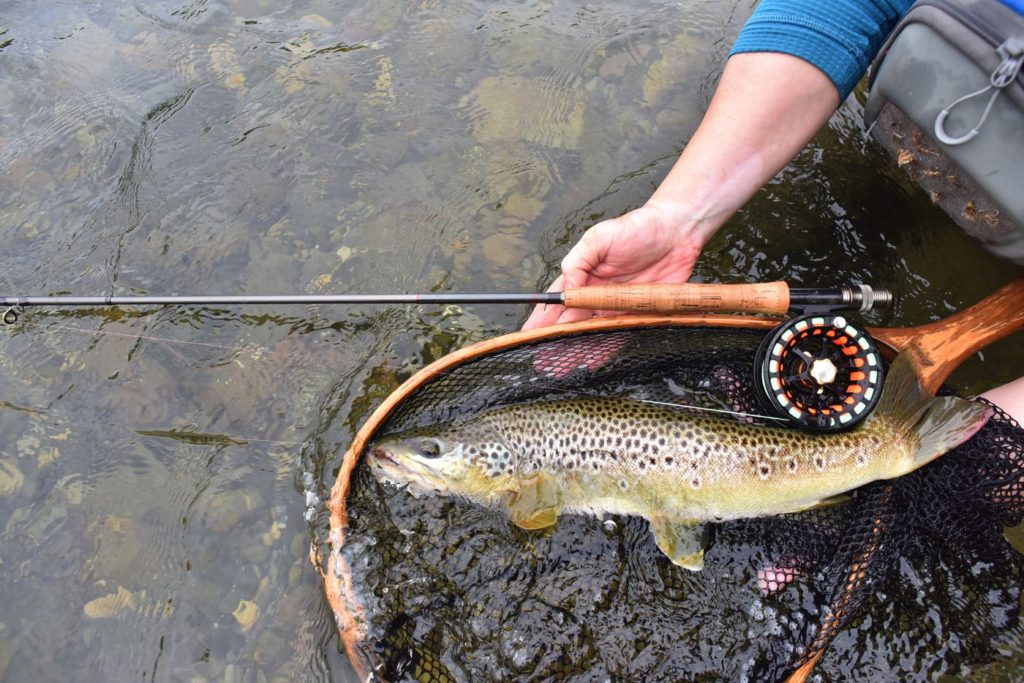 While this might still be true in many cases, we would like to assist you with making informed decisions when it comes to cheap fly rod selection.
Below, I have pointed out some of the factors that you should take into consideration when looking for the best budget fly rod. I have learned many hard and valuable lessons over time – especially when it comes to cheap fly rods.
Brands
If you read through our "5 Best Budget Fly Rods" section above, you would have noticed that I recommend reputable brands. This is not to say that there aren't any great budget rods for fly fishing of lesser-known brands out there.
The first question I ask when looking at different brands is "will this company still be around in 20 years?" This is an important question, as this will give peace of mind when you need to have your rod repaired.
In South Africa we had a budget fly fishing rod brand, whom I'll keep anonymous, that offered lifetime warranty on the majority of their rods.
Initially, it worked very well, and if you had any problems, like slamming your fly rod with your car's door, you get it sorted out.
Recently, they have gone out of business, and now there are a lot of people that can't get their rods repaired.
I tell you this story because it is something you have to take into consideration.
Warranty
This brings us to a very grey subject. Let's first mention that you get rods with lifetime warranties, and then you get rods without any warranty. The latter has been thrown out as we feel a manufacturer must back their product to some extent.
I also understand that, out of the manufacturer's point of view, it's not economically feasible to sell a rod for $100 and keep repairing it for free for the next 50 years.
My best advice is that if you have a friend or a trustworthy fly fishing shop in your area, have a chat with them to find out what their thoughts and experiences are.
Negative stories tend to travel quite fast and you'll soon find out what manufacturers you can trust or not.
The rods that we have mentioned in our "5 Best Budget Fly Rods" have different warranties, but all have been in the game long enough for you to trust them.
Line Weight
As with any fly rod, it's worth deciding on what budget fly rod you'll go with based on the type of fishing you'll be doing. You don't want to target Tarpon with a 3 weight, and you don't want to overpower small trout on an 8-weight.
For beginners, a great weight to start with is a 4 or 5 weight. And all of the rods we've listed above have these weights available and feel great in that category.
Rod Tube And Sock
Fly rods, well any fishing rod for that matter, are damaged the most while they are transported.
To me, it is of utmost importance that a rod comes with a rod tube and sock. This will ensure that the rod is kept safe and will prolong its usable life.
If the rod does not come with either of these, make sure you purchase them separately as soon as possible.
Review This Post
Conclusion
Whether you are an experienced or beginner fly angler, somewhere in your fly fishing career you'll be looking at buying an affordable fly rod. It might be due to budget constraints at home or looking at a backup rod, or maybe you already have a saltwater rod and you want to get a budget trout rod.
Whatever the reason, I hope that our list of 5 Best Budget Fly Rods will give you some direction.
Please share this article with your fishing buddies or newcomers to the sport.
Until next time. Tight lines.
Like This Article? Pin it!