Sage is a household name in the fly fishing world, and the X is their flagship rod. That, coupled with the price tag of almost four figures, means that expectations are high.
Sage X 9'6″ 8wt
If you like what you see in this Sage X 9'6″ 8wt review, you can order the Sage X 9'6″ 8wt on Amazon.
I've always really liked Sage rods, and I have several across multiple weights, models, and price points. They've always performed well in my mind, and I was excited to try the X as soon as it was released a few years ago.
As you'll read, I wasn't disappointed. I think this is an excellent rod that can be used in a variety of ways.
Disclaimer: IntoFlyFishing.com is a participant in the Amazon Services LLC Associates Program, as an Amazon Associate I earn from qualifying purchases. Please see our Privacy Page for more information.
Why Trust My Sage X 9'6″ 8wt Review?
I purchased this rod while living in Southeast Alaska during the spring and fall and having winters to travel. This meant that I was chasing a lot of steelhead and heading to warmer locations for bonefish in the winter. I wanted a rod for both.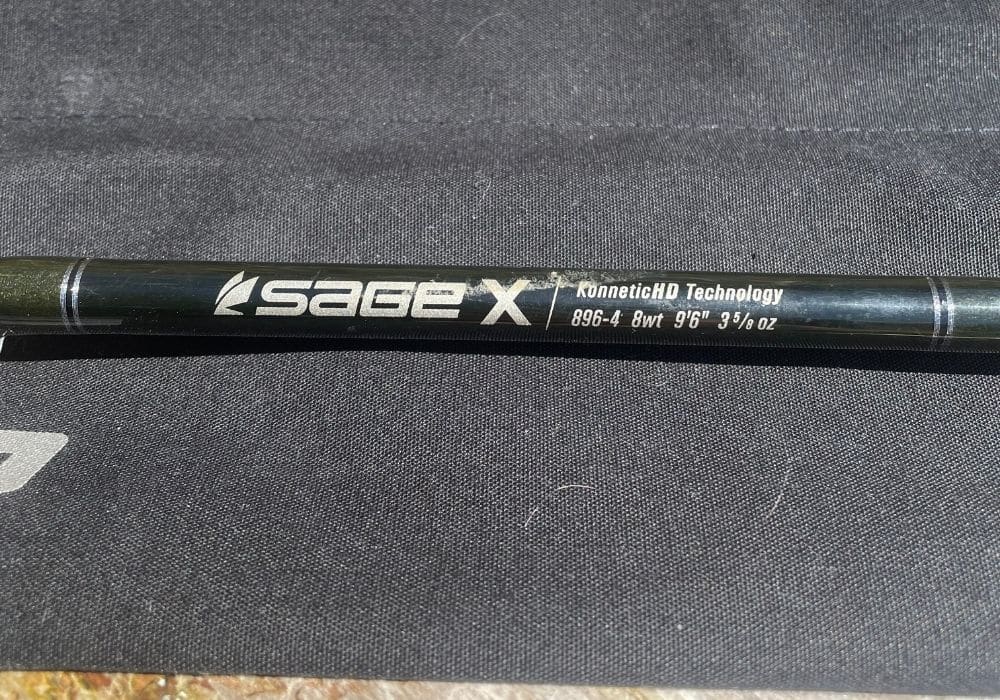 I was able to fish this rod across a whole spectrum of conditions and situations. It was used for short roll casts with heavy flies and long casts cutting through the wind. I fished it in 90 degree weather and freezing rain.
Watch the Sage X 9'6″ 8wt Fly Rod Review
What's in the Box?
When purchasing this rod, you'll find that the quality extends to the other items included with the purchase. In addition to the 4-piece rod, you'll receive the following:
The Sage X comes in an evergreen powder-coated aluminum rod tube. I've crushed other rod tubes before, but even with all the travel this one is dent and (almost) scuff free. It's a comforting feeling knowing I can pack this rod just about anywhere and it'll be just fine.
Because the rod is 9'6″, the rod tube is slightly longer at 33 inches. I've never had a problem with bringing it as a carry on or even putting it inside a large duffle bag.
Along with the rod tube, the rod comes in a black rod bag with the Sage logo.
Sage X 9'6″ 8wt Review Features and Specs
The Sage X replaced the Sage ONE, which means that it comes with a new generation of technology. While some things are more subjective and cater towards different casting styles, other things are not.
Order the Sage X 9'6″ 8wt
If you like what you see in this Sage X 9'6″ 8wt review, you can order the Sage X 9'6″ 8wt on Amazon.
Quality craftsmanship and components are important no matter what. When purchasing a high end fly rod, you want to make sure that you are getting your money's worth.
Build Quality
The Sage X introduced Konnetic HD technology, which according to the Sage website delivers greater blank recovery and a crisper tip stop in the blanks. I'll discuss the action of the rod in more detail later, but the blanks are extremely well built and feel very durable.
The 9'6″ 8wt model comes with two stripping guides with ceramic inserts. This rod is built for salt water, and I've tried to rinse it off after each outing. There's a touch of color forming around these guides, however. It's nothing that I'm concerned about, and it has seen a fair amount of flats and tidal areas.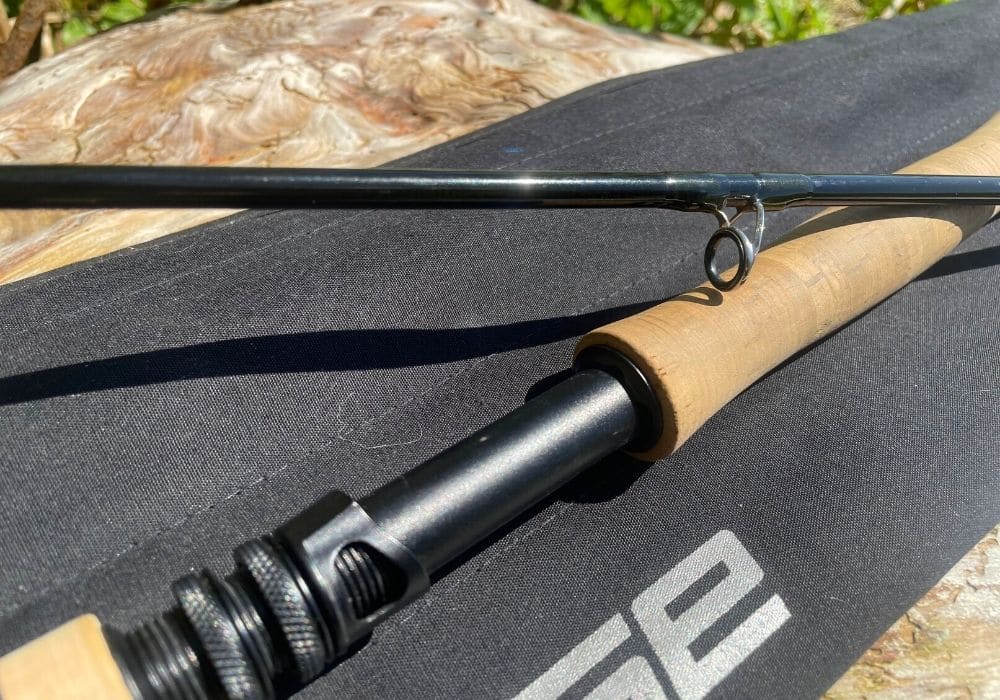 The rest of the rod has hard chromed snake guides. Most of these still look brand new.
This rod comes with a full wells grip with high quality cork and a fighting butt with EVA foam on the bottom. I like the way the foam looks and feels, and it's perfect for setting the rod down on any surface.
It has an anodized aluminum uplocking reel seat with two locking rings. I've never had an issue with the reel coming loose, and the seat itself is still in excellent shape. With the reel seat is a hidden hook keeper under the cork.
Action
This is built to be a very versatile rod, and the fast action of the Konnetic HD technology does the trick. There's a lot of feel in the tip, but it doesn't sacrifice power to achieve finesse.
It has the ability to pick line up easily, detect subtle strikes, and put a lot of distance on a cast. The rod has a very fast recovery rate, and it doesn't feel like there's a lot of extra movement.
Weight
The rod feels very light in the hand, which speaks to both its physical weight and the swing weight. As soon as you pick it up, you'll notice that it's easy to maneuver and control.
Aesthetics
I wouldn't describe the Sage X as flashy, but it is sharp. It's a very clean looking design, and I'm a big fan of how it looks.
The blanks are black, as is the reel seat and the EVA foam fighting butt. The wraps on the rod are a dark green and have metallic grey trim wraps. Nothing on the rod stands out on its own, but together all of the components look really nice.
It leaves more of a blank canvas to finish the look of your outfit. Just about any reel color, line color, and backing will look good with this setup.
Casting The Sage X
Casting this rod is a lot of fun, and I haven't found a situation yet where it has let me down. That's exactly what Sage had in mind for this rod, something that could be used in just about any situation and perform.
Sage X 9'6″ 8wt
If you like what you see in this Sage X 9'6″ 8wt review, you can order the Sage X 9'6″ 8wt on Amazon.
Finding the right rod is a very personal thing, and everybody has different casting styles. This means that some people prefer different rods because they suit their style better. I'd say that the Sage X is a great rod for most people, as the action is fast but also forgiving.
Short Distance
If the rod "struggles" anywhere (which is too strong a word really), it would be at very close distances. There won't be any issue delivering the cast, but accuracy will suffer a bit, which is normal for any fast action rod.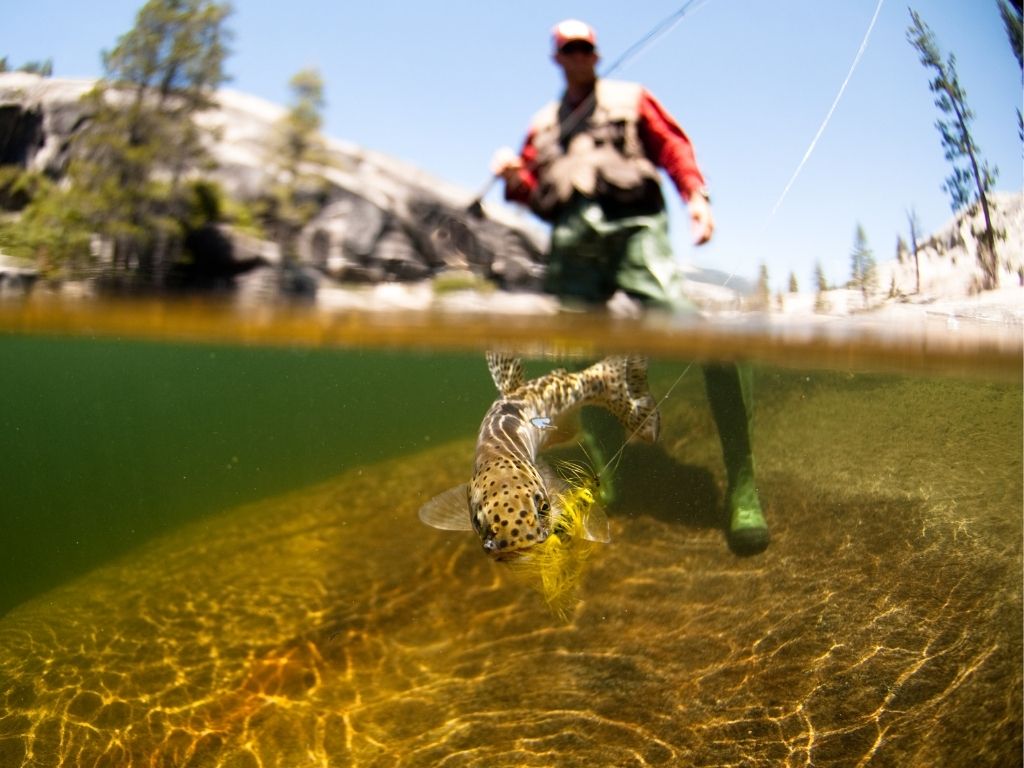 The nice thing about this rod is that it still does have the ability to make more delicate presentations at this distance.
Mid Distance
I love how this rod casts in the mid range. It has enough power that you don't need to make many…if any…false casts. It can pick the line up and put it down quickly and easily without a lot of effort.
It's also extremely accurate on those quick casts. This makes fishing it in salt water a lot of fun, and it inspires confidence when the pressure is on.
Long Distance
The Sage X also handles long distance casts extremely well. There was more than enough power to get the line out there and maintain accuracy.
It was able to do the job using both a double haul and casting with a lot of line through the guides. I never had any issues getting distance, and I was able to make long casts quickly when necessary.
It didn't take a lot of false casting to build up enough line speed to accomplish a distance cast. The rod is built with a powerful butt section that provided more than enough strength when I needed to dip into the reserves a little.
Roll Casting
This is my go-to single hand rod when I'm fishing for steelhead. The choice is simple, and the biggest reason is its ability to handle heavy setups without issue.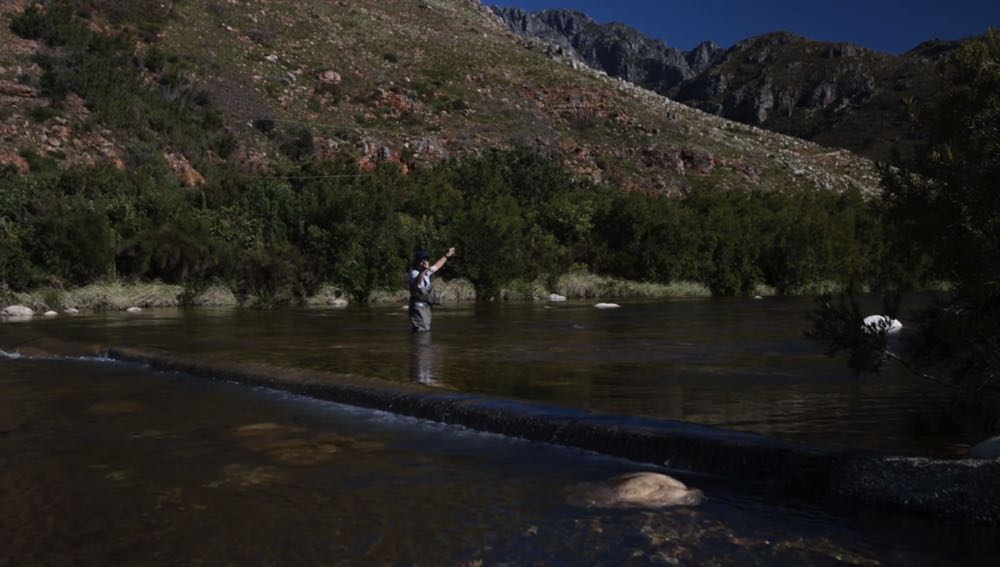 I can effectively fish large streamers and weight without needing room for a full backcast. I can load the rod on a roll cast and get the fly right where it needs to be. It also doesn't take multiple efforts to add distance to the cast.
The rod is very accurate for this type of fishing as well. I'm very impressed with the way it can transfer energy and flip the whole line and leader with a heavy fly. I can confidently say that it has helped me hook multiple fish.
Fighting Fish
As I mentioned before, this rod is both light and powerful. This is even more evident when you're playing a big fish.
When you have a big fish on, you feel very connected to what's happening on the other side of the line. Every run and head shake is clearly felt, and it does a good job of absorbing the initial shock of these movements.
It also has the power to put extra pressure on during a fight. If you're trying to turn a fish or pull it out of the current, you'll feel a lot of strength in the butt section. It's almost a little surprising, because at the same time the rod can feel somewhat light for what it's doing.
Sage X 9'6″ 8wt Review: My Personal Thoughts
Here's my list of pros and cons when it comes to this rod:
Pros
Quality: The rod is built from high quality materials, and the craftsmanship is excellent. The rod from top to bottom is flawless, and it's evident in each section that care was taken throughout the process.
It's also comforting to know that Sage offers a lifetime warranty on any manufacturer defects, so if you do notice an issue now or later, it'll be taken care of. Sage is typically very good at fixing these matters as soon as they're able.
Casting: This rod is a dream to cast. Every time I pick it up, I'm quickly reminded why I like it so much. It's a very easy rod to cast, and it even makes slow days on the water a lot of fun.
The Sage X is very forgiving for a fast action rod, so even if you do make some mistakes or are still working on your timing, you'll be able to fish it well.
Versatility: I like that I can bring this rod to a lot of places around the world and use it not just for different species, but also different conditions. It makes an excellent freshwater rod as well as an excellent saltwater rod.
Cons
Price: I'd say the biggest drawback of this rod is the price point, as it comes in at $950. That is not a small amount of money, and it's probably the biggest barrier for someone looking to purchase this rod.
Among different rods, there are many available that are cheaper than the Sage X. Most of them fall short of the quality, but there are always new products coming out that challenge the status quo.
Additionally, spending $950 on a rod might not be worth it for everyone. If you're relatively new to fly fishing, it might not be worth it to spend this much until you're a little more experienced. The value that it adds might not be recognized until later in your fly fishing journey.
Who Is This Rod for?
I think this rod best fits an experienced angler either looking to upgrade a current 8wt setup or looking to add that weight to their collection.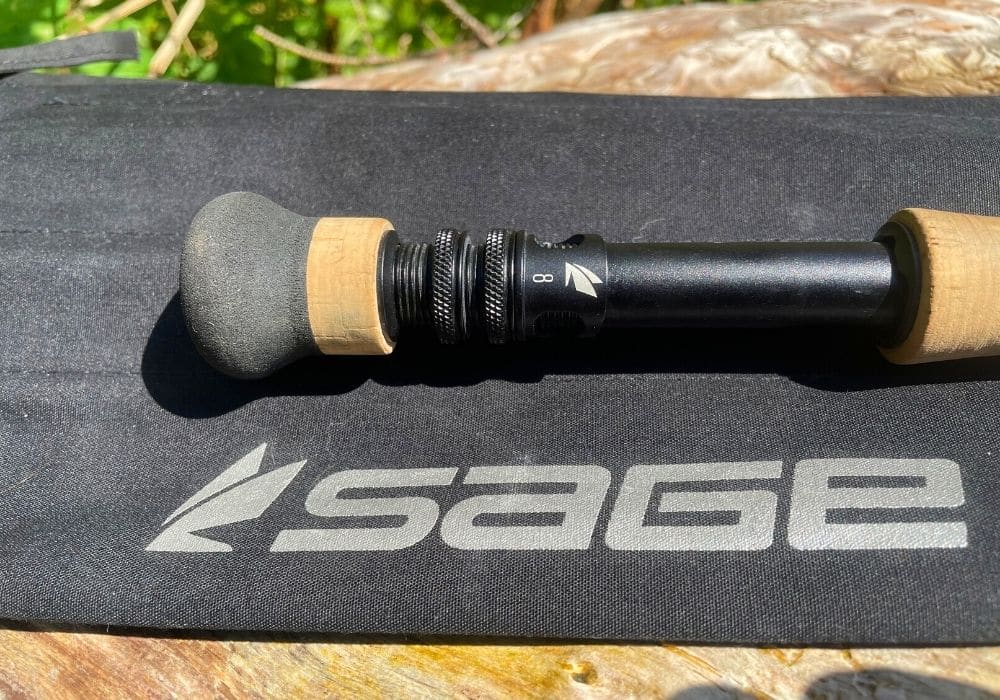 I don't think it fits a beginner well…not because they won't enjoy the rod, but because it's a lot of money and it may not be worth it to spend two or three times more on a rod without understanding why.
I also recommend this for someone that's planning to use it for multiple scenarios. It's a great all purpose rod to have for multiple trips.
If you're looking for a rod to only use on the flats, and you have a very specific purpose in mind, you might want to at least consider other options. Fly rods have become very specialized. If you know exactly what you want to use it for, you may be able to find one that fits that goal perfectly while sacrificing some of the other abilities that the Sage X has.
Conclusion
Overall, I think this is a great rod that would be an excellent addition to any angler's rod collection. If you don't have an 8wt, this will open the door to a lot of different fishing and allow you to do it well.
I'm always excited anytime I get to use this rod, and I can't wait to have it in my hand again!