When you buy a new fly rod, odds are you'll receive a rod tube with your purchase. These rod tubes are often fairly standard and don't always do a great job of protecting your brand new toy. Most companies are more concerned with the rod rather than the storage they provide.
VIXYN Rod & Reel Case
If you like what you see in this VIXYN Rod & Reel Case review, you can order the VIXYN fly rod & reel case on Amazon.
Purchasing a third party rod tube is often a smart idea. Companies that specialize in fly fishing storage know what it takes to keep your equipment protected.
I've had several rods damaged throughout my years in fly fishing due to poorly made fly rod tubes. The tubes were from the companies that I purchased the fly rod from. Since I've had those rods damaged, I've made a conscious effort to purchase tubes from different companies who understand the importance of storage.
Why Trust My VIXYN Fly Fishing Rod & Reel Case Review?
I've carried around my most expensive rod and reel in this rod tube over my past three trips to the water. I'm by no means kind to my gear, so I was a bit nervous about how this rod case would perform. I made it a point to not give it any special treatment, and I dropped it into the river onto some rocks at some point.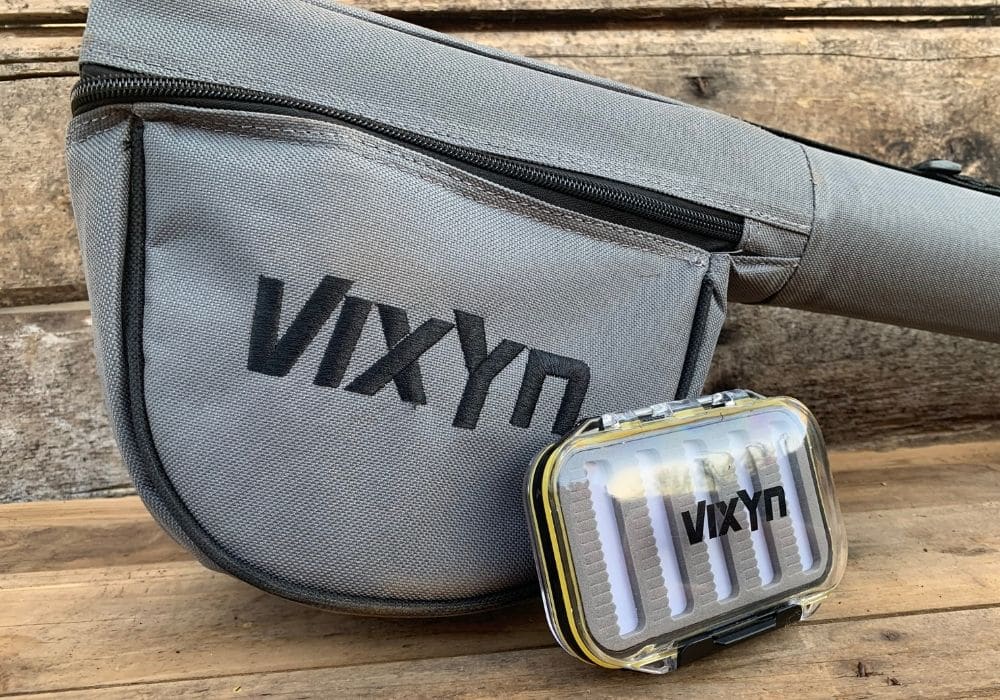 Plus, at Into Fly Fishing, we only review gear that has been personally used by our creators. I grew more and more fond of VIXYN's design when I gave this tube a shot.
Watch the VIXYN Rod & Reel Case Review
What's in the Box?
When you receive the VIXYN Fly Rod and Reel Case, you'll notice a few different items that are useful. VIXYN goes out of its way to make sure you receive items that will make your time on the water that much easier.
Waterproof Bag
The rod tube comes in a black waterproof cinch bag. This is something you won't see other companies do. This bag is fairly large, and I used it to store several of my other rods that I wanted to bring along on the trip.
You can keep the VIXYN rod tube in the bag if you want, but it can serve other purposes.
Fly Box
Vixyn sends along a double sided fly box when you purchase the rod tube. This fly box can store enough flies for a few days on the water. You can keep it stored in the zippered pocket on the side of the reel storage portion of the tube.
Rod Tube
At first glance, you'll notice the sleek design and ease of access you have with the VIXYN rod tube. The zipper is easy to maneuver, and there's plenty of room for your reel as well as your fly rod.
VIXYN Fly Fishing Rod and Reel Case Features & Specs
Third party fly rod tubes aren't always durable and their designs don't always make sense. The VIXYN fly rod tube was designed by someone who spends quite a bit of time on the water, so you don't have to worry about any frustrating features.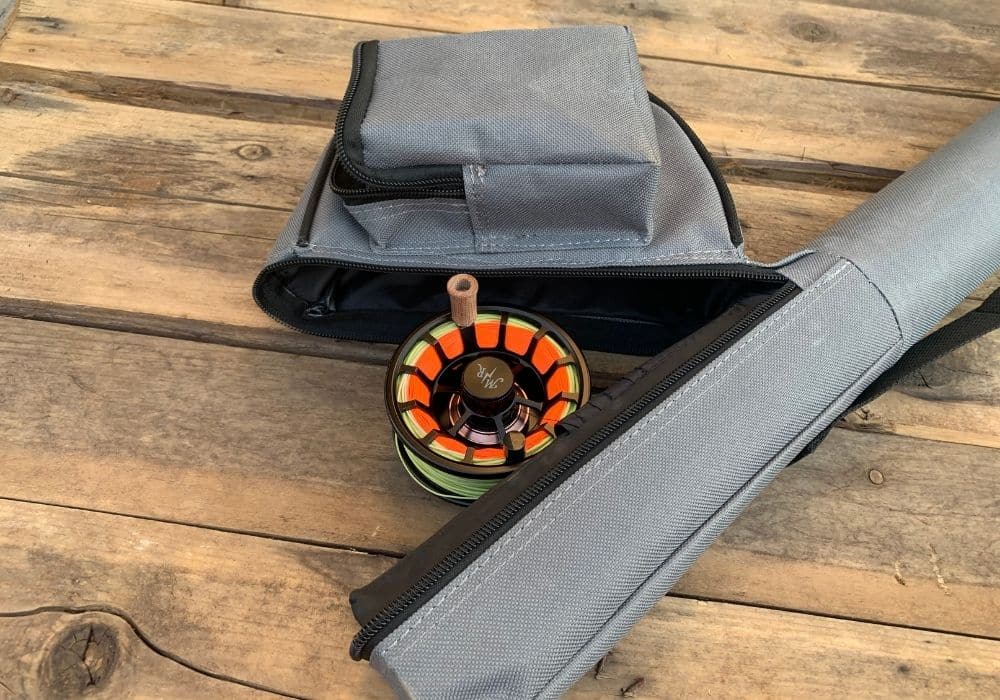 Build Quality
The Vixyn Fly Fishing Rod and Reel Case is made of a durable nylon wrapped around the hard plastic tubing. The nylon is tear proof and is able to withstand being tossed and dropped without showing any signs of wear or tear.
The zippers are fully sealed and can easily be opened and closed without any extra string getting in the way.
The straps are also quality. The shoulder strap is adjustable in case you want to hoist it over your shoulder or carry it around in your hand during your travels.
Reel Pouch Padding
Whenever anglers purchase rod tubes with a reel pouch, the main concern is how much padding surrounds the reel. If the tube is dropped or stepped on, or slammed in a door, how will it protect your reel? VIXYN has a nice amount of padding around the reel. There's not just a thin piece of nylon separating the reel from the outside world.
Order the VIXYN Rod & Reel Case
If you like what you see in this VIXYN Rod & Reel Case review, you can order the VIXYN fly rod & reel case on Amazon.
It's not overly thick, so if you know you'll be doing some intense traveling or that the tube is going to take a beating, keep this in mind. VIXYN could have added a bit more padding here. Reels are an extremely costly thing, and if a reel breaks, an entire fishing excursion takes the brunt of it.
External Pocket
More fly fishing companies need to start adding external pockets to their rod tubes. By adding this small pocket, VIXYN allows anglers to have quite a bit more organization. It's large enough to fit an extra spool or any fishing accessories you may need.
You can also fit a fly box in that pocket, if needed. This feature can make your life as an angler that much more organized.
Fly Box
VIXYN is also kind enough to send along a fly box with the purchase of the rod tube. This fly box is double sided, clear and waterproof. While it's on the smaller side, it has plenty of room for you to store an entire day's worth of flies in it.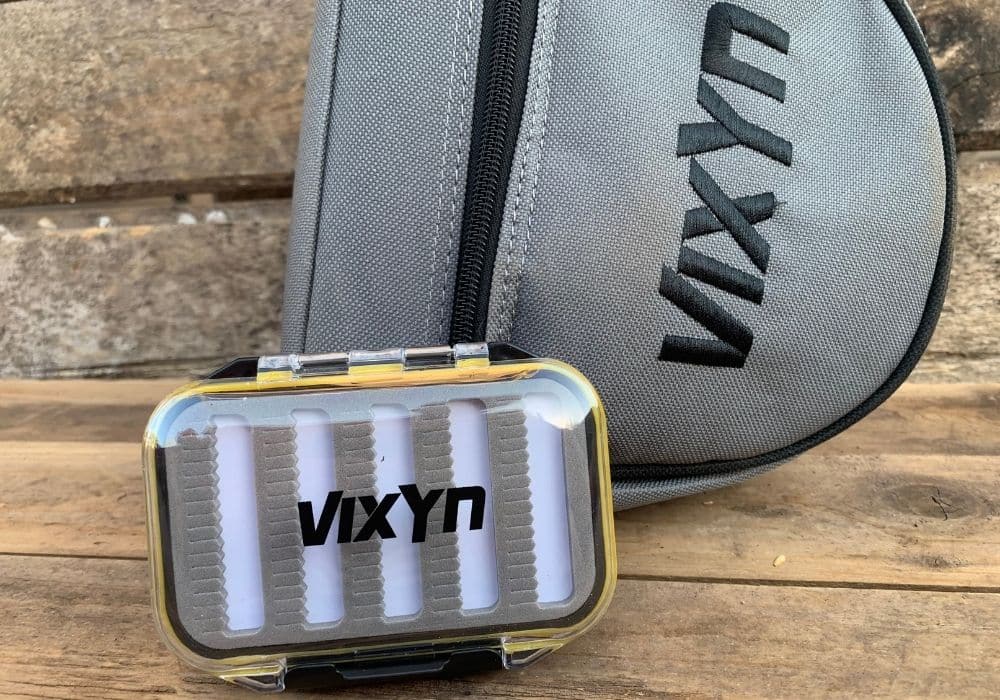 It's a nice added feature that many companies don't offer. Fill the box up with flies and keep it stored in the pocket so you know those flies are able to be handled by that specific rod.
Dimensions
This rod and reel case is 30.5 inches long, and the reel pouch drops about five inches below the tube. If you're carrying around a heavy 9′ 8 weight with an 8 weight reel, you'll have plenty of room to store the reel. VIXYN made sure that you can keep your reel attached to whatever rod you're using.
The tube can fit up to a four piece 9′ rod. Obviously, if you want to store anything smaller, it's possible. Most rods on the market are not longer than 9′, and if they are, they're usually for a special purpose. You must hope that the company you purchased the rod from will provide a quality rod tube.
Inner Pockets
It's important for rod tubes to have dividers. If they don't, the different parts of your rod will bang around against each other and potentially cause some damage. This isn't what you want when you're ready to head out to the water. VIXYN provides four different sleeves for your rod.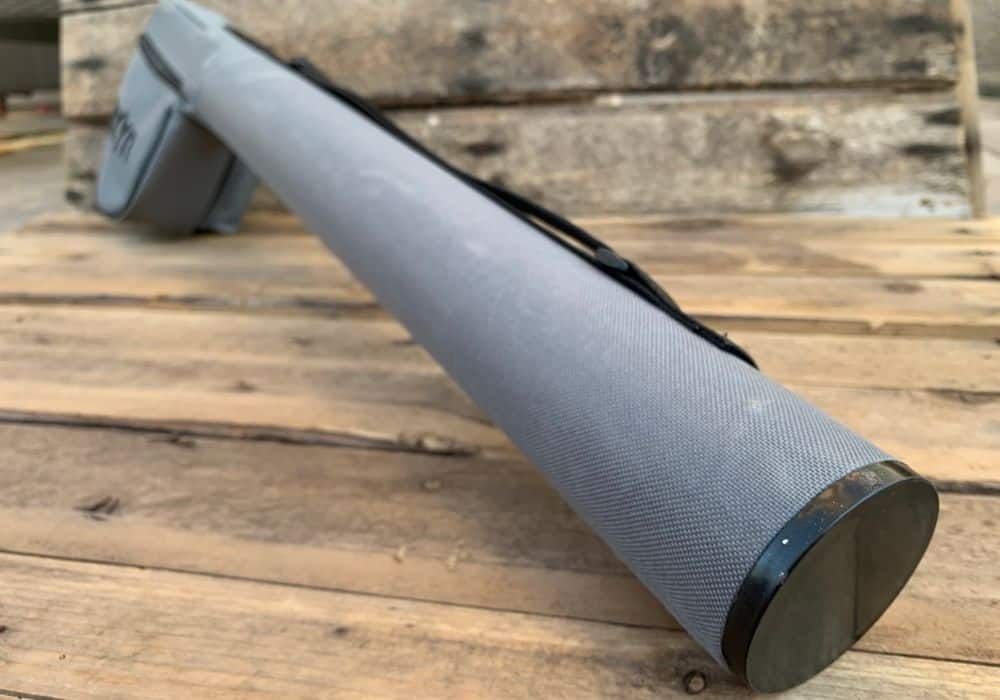 This way, you can have peace of mind that no matter how bouncy or rough things get, the pieces of your rod are going to stay where they need. The inside of this tube is quite large, so you could even store two rods in it if you needed.
While you can't keep both reels attached, you can keep two rods that you can use with the same reel. The added size can easily be used. Fly anglers know how precious any bit of space can be when packing for a trip.
VIXYN Fly Fishing Rod and Reel Case Review: My Personal Thoughts
The VIXYN Fly Fishing Rod and Reel Case is a quality option that will do the job you require of it.
Order the VIXYN Rod & Reel Case
If you like what you see in this VIXYN Rod & Reel Case review, you can order the VIXYN fly rod & reel case on Amazon.
They're making a name for themselves in the fly fishing storage world, and their work is nothing to doubt.
Pros
VIXYN takes pride in this product. They offer a 100 percent money back guarantee if you don't like it, and they also send along a free fly box with the purchase of the tube.
A company that's willing to put their reputation on the line and send along an added bonus is one that deserves respect. I still use the VIXYN waist pack, and I'm planning on using this rod sleeve.
This is an affordable rod and reel case for anglers. For around $45, you won't be disappointed. Some companies charge nearly $100 for a rod tube. Most anglers don't have that type of money floating around, but they want to keep their equipment safe. This rod tube will do that for an affordable price.
The VIXYN tube and case is roomy and easy to travel with. I carried it on a six mile hike into some backcountry and I wasn't frustrated at any time with the rod. The strap stayed secure. It took scrapings from bushes and bumps from rocks quite well and kept my rod and reel safe the entire time. It proved its durability well.
Cons
My biggest issue with the VIXYN rod and reel case is that there isn't as much padding around the reel as I'd like. Again, it's not as if there's nothing there, but I'm not fully confident that it can keep my reel safe after a high drop or serious impact.
Obviously, I don't want to risk breaking any of my equipment, so I definitely second guess where I place this tube and how I carry it.
I wish there were more colors! While the gray looks nice, I'd like to have the option of a couple of different colors. This isn't a knock against the quality or makeup of the tube, but I like to keep my rods in as subtle of tubes as possible. It doesn't bring attention to them when I store them in my vehicle.
Conclusion
You'll receive a quality rod tube when you purchase this one from VIXYN. You'll appreciate its makeup, size and durability. For fly anglers, our rods and reels are our lifeblood. If anything happens to them, we're in trouble. You can trust VIXYN with your equipment.