In this article, I'll share with you everything you need to know about Moonshine fly rods. I'll cover each model, what the intended application is, and more importantly, who should consider buying these rods.
Over the last couple of months, I've had the opportunity to fish many of Moonshine's rods in both fresh and saltwater scenarios. I've also involved many fellow anglers whose fishing ability ranges from beginner to expert to get a wider point of view.
Ultimately, a rod is a very personal choice, so I like to involve as many anglers as possible when testing new rods, which gives me a better understanding of how other people experience a rod.
Disclaimer: Moonshine sent me some of their rods in the past to test. I've always strived to maintain my most honest and unbiased perspective and will continue doing so. My most important aim is to keep providing you, the reader, with the most sound buying advice.
Disclaimer: IntoFlyFishing.com is a participant in the Amazon Services LLC Associates Program, as an Amazon Associate I earn from qualifying purchases. Please see our Privacy Page for more information.
Who Is Moonshine?
Moonshine Rod Co. is a small American-owned company based in Tennessee that sells quality fly rods at a price point reachable by most anglers.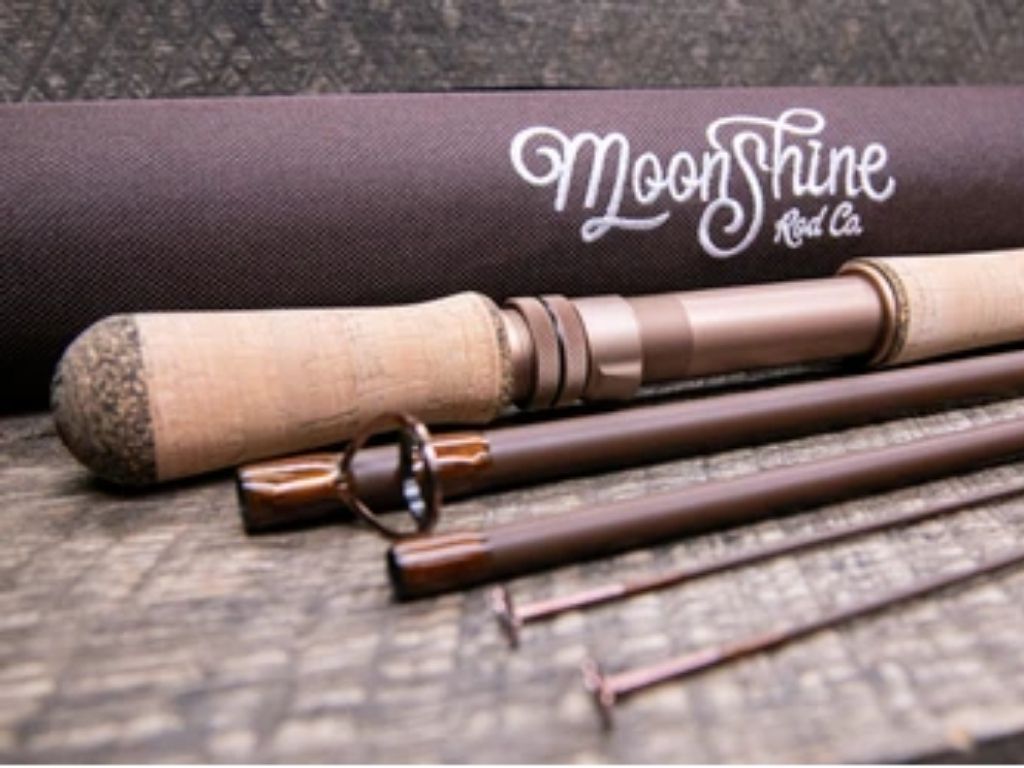 Don't confuse the word "affordable" with boring and mediocre performance. No, all of the Moonshine rods I've tested are unique looking and perform well.
Moonshine Fly Rod Warranty
Moonshine provides a lifetime warranty with a competitive industry fee to the rod's original owner. But what does this mean to you in practical terms? Here are the details:
Free repair or replacement of the rod, or section, if the problem is due to a manufacturing defect
Warranty replacement fees at the time of writing are:

$38 per section for Series rods (excluding the Vesper)
$45 per section for Vesper rods
$65 per section for Midnight Special rods

Proof of purchase is required when activating the warranty process
The turnaround time for replacements depends on the rod model:

Midnight Special: Because these are custom rods, the turnaround time is between 4 and 6 weeks.
Series rods (Drifter, Epiphany, Outcast, Revival, and Vesper) have a turnaround time of 1-2 weeks.
This warranty policy is comparable to all of the best rod manufacturers out there.
Where Are Moonshine Fly Rods Made?
Moonshine has two main groups of fly rods. The first is their Series rods, including the Vesper, Drifter, Epiphany, Rambler, Revival, and Outcast. Depending on the specific model, these rods are assembled in either China or South Korea. These are basically their standard factory rods.
Moonshine assembles the Midnight Special rods in the US from both imported and US-made components. Check out their awesome videos where they turn the reel seat inserts and grips by hand.
The Midnight Special rods are their custom shop range featuring unique cork grips and eye-catching reel seat inserts. If you like the look of these rods, you'll have to jump quick as they're pieces of art that sell like hot fries. If you can't find the one you're looking for, make sure to revisit their site regularly as they frequently upload new models.
There's a misconception that rods, blanks, and components made in the East are of poor quality. Although this might be the case in some instances, it's surely not the norm. The components used by Moonshine that are sourced in the East are top quality. The blanks, especially on the Vesper and Outcast models, are without fault.
Types of Moonshine Fly Rods
With quite a wide range of rods in their arsenal, Moonshine has a rod for most fishing applications ranging from saltwater flats to creek fishing.
Let's look at the main fishing scenarios and techniques where they've got you covered.
Small Stream Dry Fly Fishing Rods
If you're an angler who enjoys small stream dry fly fishing as much as I do, you'll appreciate Moonshine's extensive repertoire on this front. Their rods suit both the beginner and experienced angler. They even have a sweet little glass rod for the nostalgic angler.
General Freshwater Fly Rods
The bulk of Moonshine's rods make for excellent general freshwater rods. You can target anything with scales with these rods, including panfish, trout, and smaller bass.
Nymphing Rods
Nymphing rods seem to be the new buzzword. Moonshine has a couple of solid options that are suitable for both newcomers and experienced anglers. Note, most of these rods make for excellent lake fishing rods too, once they're paired with an applicable fly line.
Saltwater Fly Rods
Moonshine doesn't only make great value freshwater rods. The performance of their saltwater rods surprised me by featuring corrosion-resistant components, positive casting ability, and good stopping power.
Large Freshwater Fly Rods
With large freshwater species in mind, Moonshine has a good selection for all types of anglers. These rods are perfect if you're fishing in big rivers for big fish. They also work well when targeting large freshwater species in lakes.
Switch Rods
Switch rods do exactly what the name says, and it allows you to switch from one style of fishing to another. Switch rods can be used for spey casting, nymphing, and in lighter models, one-handed casting.
Unique Features of Moonshine Fly Rods
Surely, one of the best things about Moonshine is that each Series fly rod is shipped with a spare tip section. This tip has its dedicated sleeve in the rod tube and will definitely save your fishing trip from being a complete disaster.
Unfortunately, the custom Midnight Special rods do not come with a spare section.
Moonshine Fly Rods
As mentioned earlier, Moonshine makes some cracking rods for a wide variety of applications. Let's delve a little deeper into which specific models do what best.
Small Stream Dry Fly Fishing
Here are the Moonshine rods that are ideal for this fishing application:
Drifter
Best for: Ideal for beginners
Action: Medium-fast
Available sizes & weights
The Drifter is Moonshine's most affordable series. The fact that the 7'6" 3wt has a medium-fast action makes it ideal for small stream scenarios. Therefore, I believe this specific rod is ideal for both novice and experienced anglers.
The slower action and short length allow you to load the rod at extremely close fishing distances.
Revival
Best for: An affordable dry fly rod for the fiberglass lover
Action: Medium
Available sizes & weights
The Revival is a trip down memory lane, from the slow action to the retro looks of the orange blank and copper thread wraps. It does have some more modern features, including a three-piece construction, twin locking reel seat, and travel tube.
Vesper
Best for: The angler looking for a slightly longer rod with more performance
Action: Medium fast
Available sizes & weights
The Vesper is lightweight and the blank has a good recovery rate, which makes it such a pleasure to cast. All the components are top-notch, and the rod comes with a spare tip section. The 8'6 3wt model is ideal for the angler who's looking for a general dry fly rod for both small and medium rivers.
It has a slightly faster action than the other two small stream rods mentioned above, opening up more options. It allows you to throw streamers and multi-fly rigs and makes longer casts abreast.
Multi-Application Freshwater Fly Rods
Having a highly versatile freshwater fly rod in your arsenal is an absolute must. In my opinion, this is the first rod that most anglers should buy. It will allow you to target everything from small trout to decent-sized bass.
Drifter
Best for: The beginner or intermediate angler who wants a quality rod at an affordable price
Action: Medium fast
Available sizes & weights
The Moonshine Drifter blank has a matt brown color and a beautiful spalted burl reel seat insert. The classic looks suit the intended application well – to catch a lot of trout for many years.
Revival
Best for: General trout stick if you love slower action rods
Action: Medium
Available sizes & weights
Don't assume that fiberglass rods are for nostalgic hippies. Revival rods are a joy to fish with. They're durable and have incredible pulling power — an excellent choice as a general do-it-all freshwater rod. The shorter length also makes it an excellent boat rod.
Vesper
Best for: Intermediate to experienced anglers
Action: Medium fast
Available sizes & weights
The Vesper is a lightweight high-performance rod. I like that Moonshine slowed the action down on the 3-6 versions, making them ideal tools for real fishing distances.
Nymphing Rods
Moonshine has two dedicated nymphing rod ranges that will suit the needs of both beginners and experienced fly anglers.
Epiphany
Best for: Beginner or intermediate anglers looking to get into the nymphing game
Action: Medium fast
Available sizes & weights
10'4" 2wt
10'6" 3wt
10' 4wt
The Epiphany is well-balanced between price and performance and will suit most anglers well. I recommend the 2wt for small-stream anglers who target relatively small trout.
The 3wt has the butt section of a 5wt rod, making it possible to fish the rod to surprisingly large fish. I recommend this rod for most trout anglers. The 4wt is a beast of a rod with ample fighting power.
The Epiphany range has all the features of more expensive nymphing rods. It has a down-locking reel seat, proper fighting butt, and a matte black finish. The first stripper guide is on the butt section of the rod. All this makes for a rod that you can nymph with for the entire day.
Vesper
Best for: The nymph angler who is looking for a quality and high-performance rod
Action: Fast
Available sizes & weights
If you're looking to step up your nymphing game, the Vesper is the tool you need. The recovery rate is good, and the components are top-notch.
The 10′ 5wt Vesper is a rod that can deal with some serious fish. Don't think because it's a 5wt it can only handle trout. No sir. The substantial butt section allows you to put an impressive amount of pressure on a fish. This is a great lake and light beach rod too.
Saltwater Fly Rods
Moonshine offers saltwater rods in two different ranges. I can honestly say that both perform really well. The Outcast is more budget-friendly, with the 8 and 9 weight punching well above their price range. The Vesper is Moonshine's premium rod with high-quality components and super lightweight blanks.
Outcast
Best for: Beginner and experienced anglers will find the Outcast a pleasure to cast.
Action: Fast but still very comfortable to cast
Available sizes & weights
9' 7wt
9' 8wt
9' 10wt
8'6" 11wt
The Outcast series is dedicated to the saltwater angler. I'm amazed at the combination of price, performance, and weight. They're available in line weight from 7 to 11, making them suitable for most flats fly fishing scenarios.
My favorite Outcast model is the 9′ 8wt. The first time I picked up the rod, I thought I accidentally packed my 5wt. Everybody who fished it fell in love with it within the first couple of casts, even my wife.
I recommend the 7wt as a great crossover rod if you want a single rod that can catch bonefish, carp, and bass. The 8wt is an ideal bonefish rod that can be cast the entire day, no problem. If you're looking for a one-rod-do-it-all option, the 9wt is the best bet.
The 10wt Outcast is ideal for anglers who frequently travel to Mexico and Belize. This rod performs well on species such as small tarpon and big permit.
If you're targeting more serious flats species, the 8'6″ 11wt is the tool for the job. It has plenty of pulling power, and the shorter length makes it ideal if you're fishing off the front of a skiff.
Vesper
Best for: The angler who's looking for a great crossover rod and has a little more cash to spend
Action: For the 7-10wt Vespers, Moonshine designed a fast-actioned blank
Available sizes & weights
9' 7wt
10' 7wt
9' 8wt
9' 9wt
9' 10wt
The saltwater-ready Vesper has a lightweight fast-action blank at the heart of the build. The rest of the components are all saltwater ready, making this an appealing alternative to other more expensive flats rods.
As with all the other Vesper models, what makes the rod so great is the recovery rate.
Large Freshwater Species Rods
These rods allow you to target the larger specimens that call the fresh stuff their home. Think carp, steelhead, salmon, and trophy bass – these Moonshine rods will get the job done.
Drifter
Best for: The beginner or intermediate angler who's looking for a rod that won't break the bank.
Action: Medium fast
Available sizes & weights
The Drifter 7 and 8 weight both have a solid fighting butt and double locking reel seat rings. These rods are an excellent choice if you've just started carping or need a backup rod for a salmon trip.
Vesper
Best for: If you're looking for a high-performance rod to tackle big fish
Action: Fast
Available sizes & weights
These three Vesper rods also feature in our saltwater rod list above, but make for excellent crossover rods. They can send big flies a mile, making them perfect for species such as steelhead, golden dorado, and tigerfish.
Switch Rods
Switch rods make it possible to quickly adapt your fishing style from one technique to the other. With this one rod, you can throw long-distance spey casts, euro nymph, and use it as a one-handed fly rod.
Drifter
Best for: The budget-conscious angler looking to test out switch rods for the first time
Action: Medium fast
Available sizes & weights
11' 5wt (matte or gloss finish)
11' 7wt (matte or gloss finish)
At under $200, the Moonshine Drifter rods are an excellent way to explore these versatile rod types. With a large fighting butt, aluminum reel seat, and medium-fast action, these rods may be used in both fresh and saltwater environments and can handle pretty sizable fish.
For this reason, Drifter switch rods work excellently in large lakes, big rivers, and estuaries.
Conclusion
To me, there's nothing more difficult than deciding which fly rod to buy, and even more so when you have a limited budget. After testing numerous Moonshine fly rods out, I can honestly say that you can buy their rods without any worries.
They're well priced and good performing, and most importantly, Moonshine's business philosophy is reassuring and refreshing.
Now that you know everything you need to know about Moonshine fly rods, I hope it's easy to decide which model will suit your fishing style and technique the best.
Please leave any comments, questions, and suggestions at the bottom of the page. I'd love to hear about your experiences and thoughts about the brand.
Until next time.