As an Amazon Associate I earn from qualifying purchases.
This is my unbiased and honest Moonshine Vesper 5-weight review written after using the setup extensively.
Purchasing a high end fly rod can be a challenge. The idea of spending several hundred dollars on a piece of fishing equipment requires extreme confidence and assurance that it'll perform for years to come.
Order The Moonshine Vesper
If you like what you see in this Moonshine Vesper review, you can order the rod on Amazon.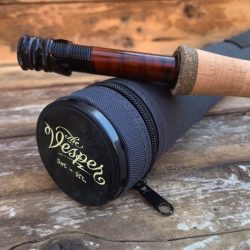 I've spent years in the world of fly fishing, and I'm always skeptical when I think of purchasing a new piece of equipment. I especially struggle when looking to purchase a new rod.
I'm never quite sure if it'll to perform how it's advertised. I'm hard on my gear, so I need to know it's up for the challenge.
Watch the Vesper Review Video
Why Trust My Moonshine Vesper Review?
I've used the Moonshine Vesper 5-weight rod many times on different types of water and fishing scenarios. I've taken it to small trout streams in the mountains, and I've fished both from shore and from a boat on several lakes.
I've hiked in to a few spots, bumping and banging the rod along the way, and I've stuffed it into my car while it was out of the rod tube with the reel still attached. In short, I've treated the rod rough and I've fished it plenty, so I have a pretty good idea of its strengths and weaknesses.
5-weight rods are tricky. Many rod companies make them either too light or too heavy. It's difficult to find a balance for a proper 5-weight.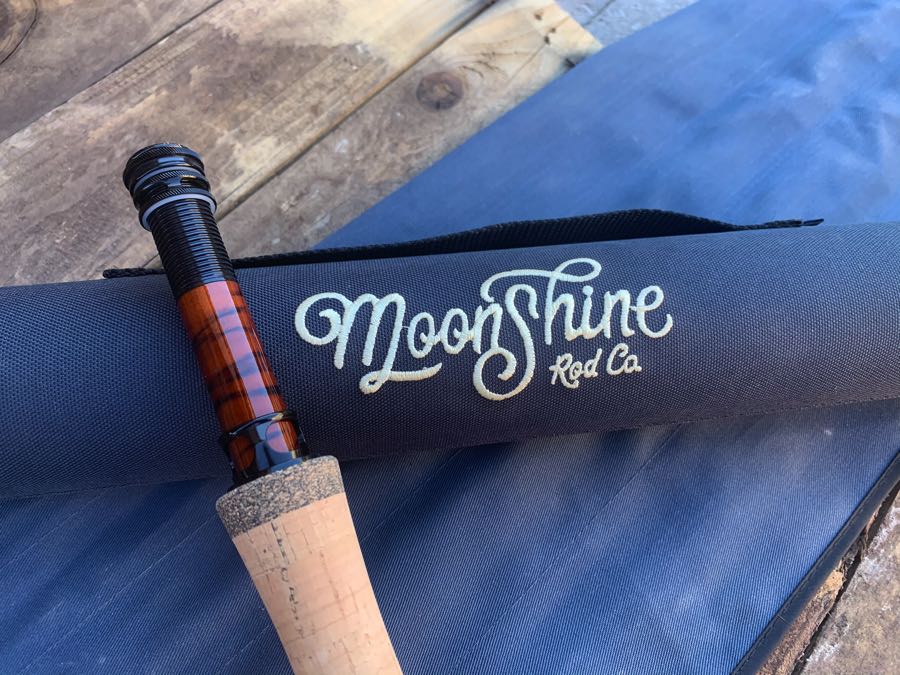 These rods should be versatile and able to perform on small streams, lakes and even large rivers. It's essentially a "do-it-all" rod. If companies fail to make their rods versatile enough, it makes me skeptical of what the rest of their arsenal is like.
The Moonshine Vesper fits all of these requirements. It's a great rod that can handle almost everything you put in its way.
What's in the Box?
When you receive your order from Moonshine Rod Co., you'll find a nice quality rod tube, a rod sleeve and the five (yes, five) parts of the rod.
Rod Tube
The rod tube is high quality, and it will ensure that your rod stays protected. It has a zip-off cover, the handle, and the Moonshine Rod logo.
You can take this tube on airplanes, and it'll be able to bounce around and keep everything protected. Because of its relatively small size, you can even use it as part of your carry-on or personal item.
Rod Sleeve
The rod sleeve is a unique feature of this rig. Not only does it give protection from the hard plastic tube, but there's also a cloth sleeve with individual pockets for each of the five pieces.
You can keep it organized and prevent the rod from getting scratched. The sleeve will also help it to dry properly.
The Rod
You'll receive five different pieces for your rod. The first is the beautiful tobacco tiger reel seat with a nice cork handle. Then there are the two middle pieces and finally the rod tip. The fifth piece is actually an extra rod tip.
This is a special feature! Not many rod companies would send each rod with two different tips right off the bat.
Moonshine realizes that things can go wrong when you're fishing. You can slam the rod in the trunk, bend it heavily against a tree, and generally subject it to many other kinds of abuse.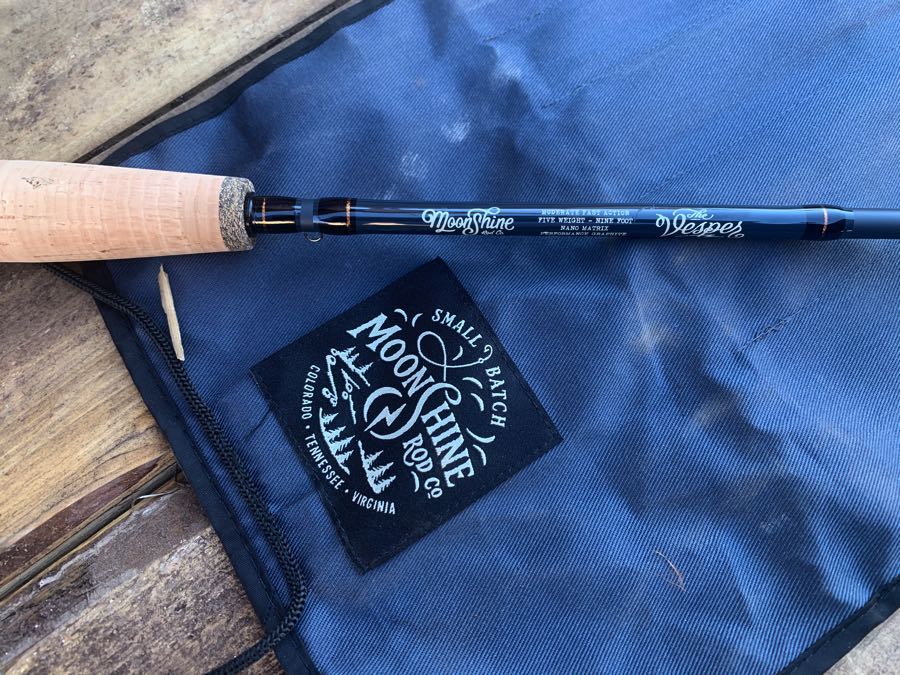 They don't make you wait extra time for the tip to get replaced. Instead, they provide an extra and allow you resume fishing right away. This is a wonderful feature that shows they're thinking about the customer.
Moonshine Vesper Review Features & Specs
The Moonshine Vesper has several unique features you won't often find on other fly rods.
It's one of the more unique looking fly rods I've seen and it all fits together well. It's enough to interest you, but not too much to turn you away.
Build Quality
The Moonshine Vesper is made from Nano Matrix performance graphite. Some anglers complain that graphite makes rods too brittle, but the graphite on this rod doesn't feel that way. It still has a smoothness to it that you can trust to handle a variety of weight loads.
The guides are made of titanium and appear to be very durable. There's not much give to them, so make sure you don't push them up against a tree or rock. You don't want a guide to snap. This will allow your fly line to move around more than it should.
The cork is AAAA grade and has a nice, soft feel. It sits in my hand comfortably and performs well in warm weather. I never felt my hand sweat or rub. I was always able to keep a tight grip on the cork all day without worrying about getting any sort of blister.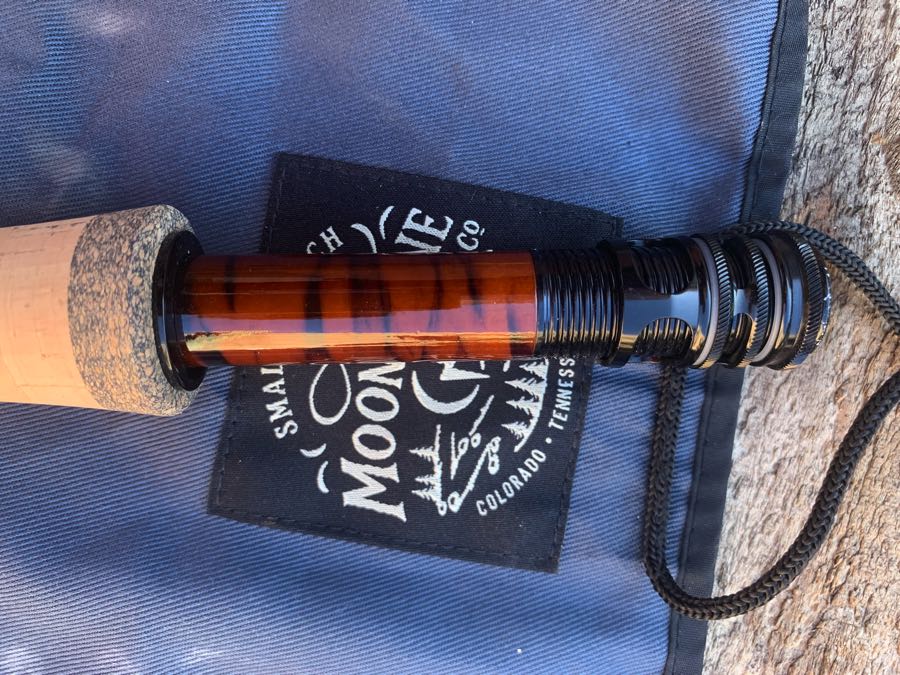 The tobacco tiger aluminum reel seat is perhaps my favorite feature. Fly rods have little room for unique designs, but Moonshine took advantage of the limited space on the reel seat and made it a beautiful dark, tiger-style aluminum. Plus, it's saltwater ready, so you can fish fresh water one day and salt water the next!
Action
The Vesper 5-weight is a moderate-fast action. You can find 5-weight rods in just about every type of action.
Anglers often have strong opinions about this, but I think a moderate or fast action is your best bet when choosing a 5-weight. Moonshine Rods combine both aspects of those action speeds into one.
You have the power of a fast action rod, but you also keep the sensitivity you'd find on a moderate or slow action.
Again, there's a fine balance between all of these, and Moonshine does it quite well. You'll appreciate the strength you feel when fighting the fish.
Weight
The Moonshine Vesper 5-weight is extremely lightweight. I couldn't believe it was a 5-weight when I first lifted it. It feels similar to my 3-weight 7-foot rod. I barely noticed it in my hand during a long day on the water.
You don't have to worry about shoulder or wrist tightness if you plan an all-day adventure. This rod will take it easy on your muscles and joints.
You can purchase the Vesper series from a 3-weight all the way to a 10-weight. The moderate-fast action can be found in the 3 to 6-weight rods. The fast action comes into play in the 7-10 weight rods.
Warranty
The warranty on the rod is great! It's a lifetime, no-fault warranty as long as you have proof of purchase. You'll have to pay a $45 replacement fee, but other than that, you'll receive a new rod. This gives anglers peace of mind that they can fish with it without worry.
Too often, high end fly rods don't come with great a warranty, so anglers worry about fishing them and the possibility of breaking something. Moonshine wants you to fish these rods hard and see what they can do!
While 5-weight rods obviously have their limits, don't worry about trying to make a certain cast because you might get stuck and snap something.
Aesthetics
The aesthetics on the Vesper are some of my favorite of all my arsenal. The matte blue finish is great. The sun doesn't reflect off of the rod or blind you when you're fishing it. It also doesn't reflect into the water and potentially distract the fish.
There's one small dot at each of the connection points on the rod. Line each of them up and you'll find yourself with a properly pieced together rod. This is just a small feature that allows you to get on the water faster.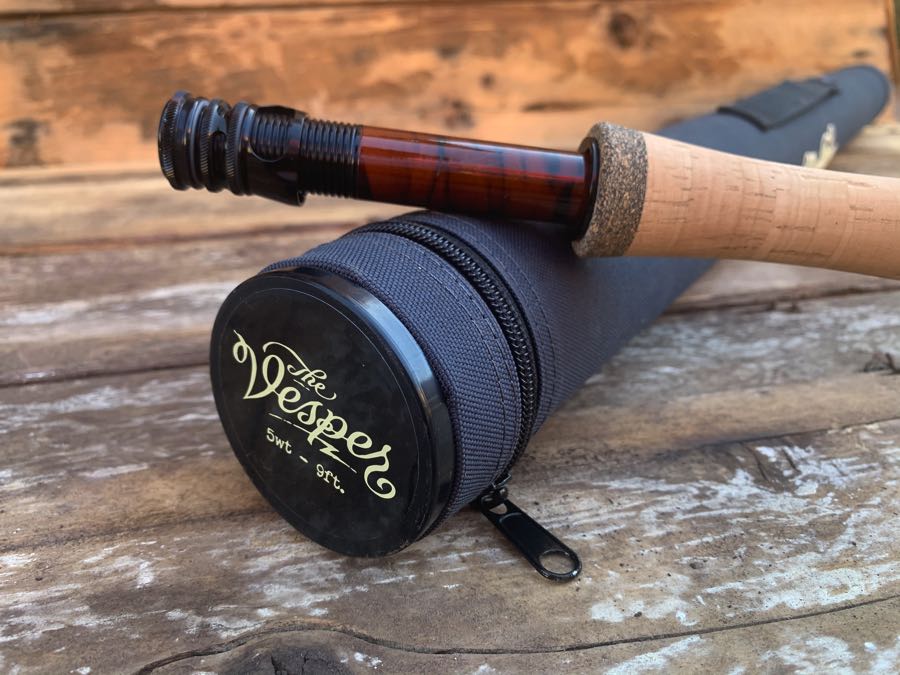 My favorite feature of the rod, as mentioned above, is the reel seat. The dark design catches the eye of everyone that looks at the fly rod. It's a great option for anyone looking for a bit of a unique design on their rod.
Price
This rod will cost you around $450. For a top-of-the-line rod from a company, this isn't a hefty price tag.
From any other major company, you'd find yourself paying upwards of $700 or $800 dollars for a rod of this quality. Don't shy away from this rod. You'll be pleased with the purchase.
Order The Moonshine Vesper
If you like what you see in this Moonshine Vesper review, you can order the rod on Amazon.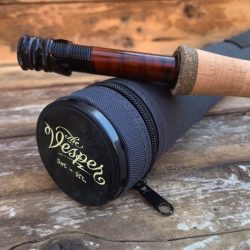 Long Distance Accuracy
Accuracy is an important aspect for any fly rod. Anglers shouldn't have to worry about where their fly will go when they're making a cast. If you're a consistently solid caster, this rod will help you keep up those skills and even improve your casting ability.
You won't feel hindered by this rod, but you'll actually feel like you're a bit better.
I put out casts that were up to 60 feet with this rod on a consistent basis. I fished this rod in 10-15 mph winds and still had the power I wanted.
It took a bit more effort, but I was able to power through the wind and hit the exact spots I was trying to hit.
As you cast, you'll find the power coming from the lower part of the rod, near the cork. You can feel the tension build from the bottom and release through the tip of the rod.
You won't feel like you don't have enough power to hit the exact spots you want. Timing on your casts is still important, but if done properly, you'll be pleased with what the rod offers.
Short Distance Accuracy
Short distance casting is often overlooked when anglers purchase a rod. Most anglers think about the 50-foot beast of a cast across the river to the opposite bank when they make their purchase. However, many fish are caught within 15 to 30 feet of an angler.
The moderate-fast action can turn anglers off from the Vesper. They might think it's too stiff and difficult to finesse a cast around a boulder just a few yards out in front of them. This isn't true.
You'll be able to make those 10-15 foot casts all day long. Short, little flicks of your wrist will let you pick the exact spots that you want.
The most difficult part about maneuvering with short casts is the pace that the fly hits the water. We don't want to smack our flies down on the water.
We want to lay them down softly so we don't spook the fish and can make a natural presentation. The Vesper can accomplish these clean lay downs, but it takes time to work out the small details of a rod.
Species
Anglers often wonder about the versatility of a rod. If you're primarily a trout angler and you want to take the Vesper to lakes or rivers in search of bass or pike, you can. I landed two bass and a carp on it, and both of these fish were extremely solid fighters.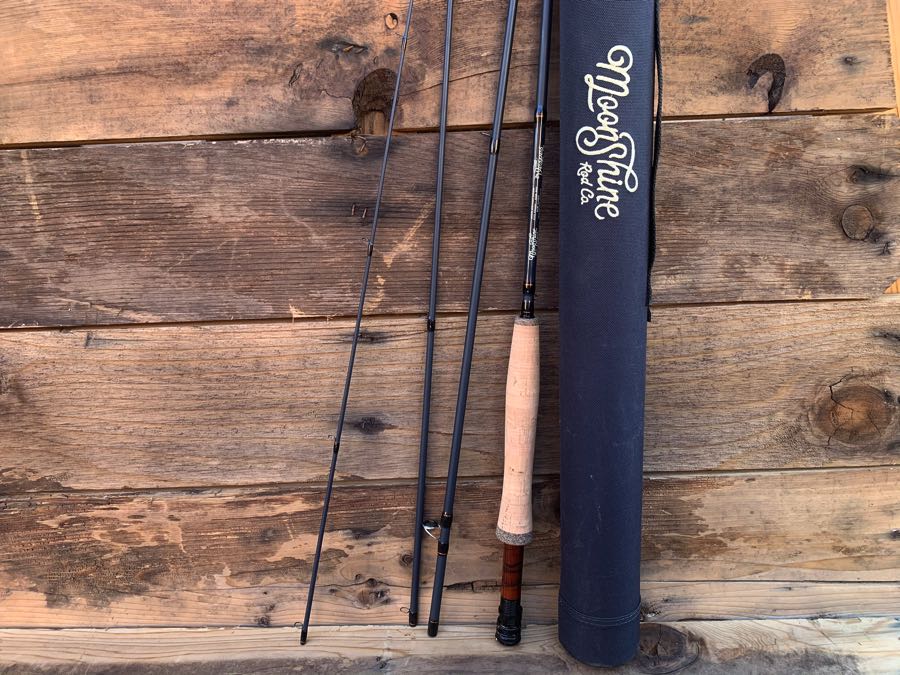 They tested the rod and I had to work them, but in the end the rod landed the fish. I was able to fight them well and felt like I had enough power to get them to shore.
It didn't feel too easy and I didn't feel like I had no control. It was a nice balance that kept the fight entertaining.
Moonshine Vesper Review: My Personal Thoughts
To finish off this Moonshine Vesper review, I want to give a few more of my own opinions after using the rod. As I mentioned, I've used it quite a lot in many different conditions, including small streams and lakes. I think that during that time I got a pretty good idea of what this rod is capable of along with what could be improved about it.
Pros:
Power. The Vesper has quite a bit of power packed into such a light weight. It feels great in your hand, and you'll feel like you have the ultimate control when casting.
I find myself fishing on windy days quite a bit, and this rod performs the best out of any in my arsenal. It's a great fighter as well. It'll give you its all no matter what type of fish you catch.
This rod is also extremely sensitive. I was able to cast into a school of sunfish with a small San Juan just to see how sensitive the tip would be. When one of the sunfish hit the rod, I felt as if I was getting bit by a 14-inch trout.
I had no doubt that there was a fish on my fly. It was impressive to feel!
Cons:
My fly line made a bit of noise passing through the guides as I was making casts. It wasn't extremely loud, but it was noticeable as I was casting. It's obviously not a deal breaker, but don't be surprised if you hear yourself as you're casting.
Order The Moonshine Vesper
If you like what you see in this Moonshine Vesper review, you can order the rod on Amazon.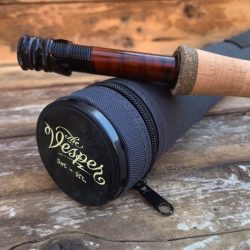 Concluding My Moonshine Vesper Review
The Moonshine Vesper is a can't miss. If you're looking to upgrade your 5-weight and you feel as if you're ready for a higher-end rod, this is a great option. You won't break the bank, but you'll receive a high-quality rod that'll to work hard for you.
The only thing you'll be missing is the name from a well-known fishing brand. But don't worry, I anticipate it won't be long until Moonshine finds its way to the top.
Amazon and the Amazon logo are trademarks of Amazon.com, Inc, or its affiliates.
As a part of the Amazon Associates Program and other affiliate programs, Into Fly Fishing® may receive a comission if you order products through links on this website.