As an Amazon Associate I earn from qualifying purchases.
The best Tenkara rods are going to allow you to get out on the water as often as possible. They are made to be carried with you in packs so you can easily transport them.
Quick Answer: The Best Tenkara Rods
Most collapse down to about 20 inches in size. Then can extend out to around 11-12 feet. Making them ideal rods for backpacking, camping, hiking, or anywhere you to easily stow the best Tenkara fishing rod.
So, if that sounds good to you then check out the article below. We're going to cover some of the basics of the rod, as well as some different features. Stick around and see if Tenkara is right for you!
What is a Tenkara Fly Rod?
Tenkara style was created in Japan to fish in smaller mountain streams. Since then, Tenkara rods have advanced to be able to handle just about any type of water condition now.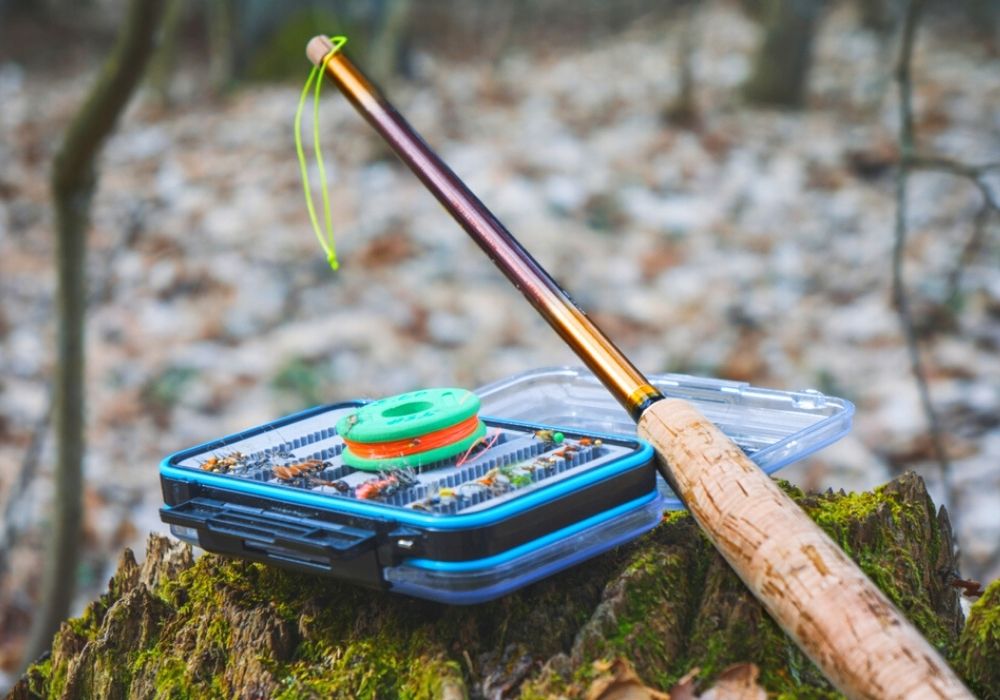 There is no reel used in Tenkara. Just a fly line, with leader and tippet. Making it great for anglers who are new to the sport and are just learning to cast. The easy casting motion helps people begin fly fishing.
What is the Best Weight for a Tenkara Fly Rod?
Here's where Tenkara differs the most from a normal fly rod. There are no real weights in Tenkara. Instead, they use Flex. Below, we're going to cover this more in detail to help you get a better understanding.
5:5
What these numbers mean is that 50% of the rod is still while the other 50% flexes. So, these numbers have nothing to do with the number of rod pieces but are a better representation of where the rod flexes.
This means that the top 50% of the rod is going to flex while the bottom 50% will remain stiff. This is similar to the way action works on a normal fly rod. a 5:5 is considered a mid-flex rod and the best fly rods for fishing Tenkara on small streams.
6:4
The 6:4 means that 40% of the rod will flex closest to the tip while the remaining 60% will remain stiff. The 6:4 is considered a mid flex and is great for anglers who enjoy fishing small to medium bodies of water.
Look to use this on small mountain streams chasing brook trout, or out west going after cutthroat. This could also work in some mid-sized rivers or lakes and ponds.
7:3
The 7:3 means that 30% of the rod will flex closest to the tip while the remaining 70% will remain stiff. This is considered a tip flex rod. Ideal for medium and larger bodies of water.
There is a size larger than this and is considered to be similar to a fast action rod. However, the three I previously mentioned are the most popular Tenkara sizes.
Other Features of the Best Tenkara Rods
Below, we're going to cover some other features of Tenkara rods. There are many other features than we're going to list but these are some of the most popular.
So, check out the information below if you want to learn more about these rods. Look at what some of your favorite features are and apply them to your own rod purchase.
Length
The average length of a Tenkara rod is going to be 12 feet. They do make larger and smaller sizes but this is the equivalent of a 9-foot fly rod in terms of popularity.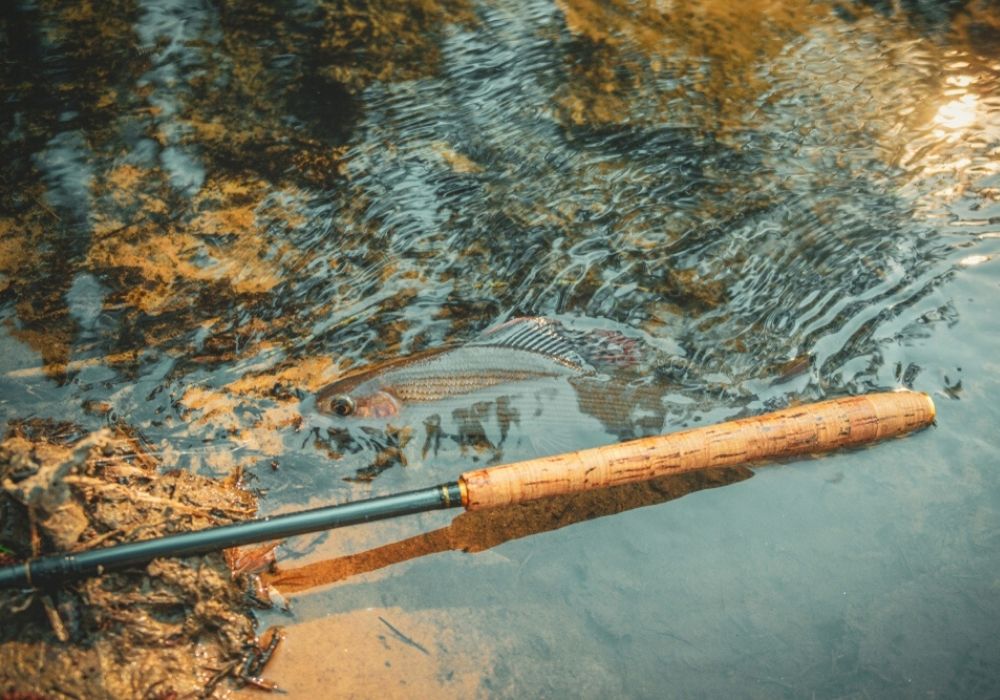 Small rods are available if you feel 12 feet to be too much for those smaller streams where there is little to no room to move. They also make larger sizes such as 14 feet and bigger.
Material
Carbon fiber is the most popular material when making a Tenkara rod. being made of this material allows these rods to be of extremely high quality.
Carbon fiber allows you to have a lightweight rod while giving you supreme power. This will help you when fishing in bigger water or fighting larger fish on light line.
Pieces
This is the best part about the best fly fishing rods for Tenkara. The majority if not every Tenkara rod comes in one, telescoping piece. Most of these rods can be shrunk down to around 20 inches.
This allows them to be the perfect rods for travel. Easily bring a rod with you while camping, hiking, or backpacking into the woods to find that perfect trout stream.
Action
Tenkara rods are slightly different than a normal fly rod. They don't rely on length, weight, and action in order to be categorized.
Instead, they use length and flex. Flex is most closely related to the action. So, when you see a rod with an 8:2 flex that means it's going to be the Tenkara equivalent of a fast action rod.
Balance
Since there is no reel on a Tenkra you don't have to worry too much about balance. All you have on there is a rod, with a line and maybe a small line holder that you can use to feed out line for longer casts.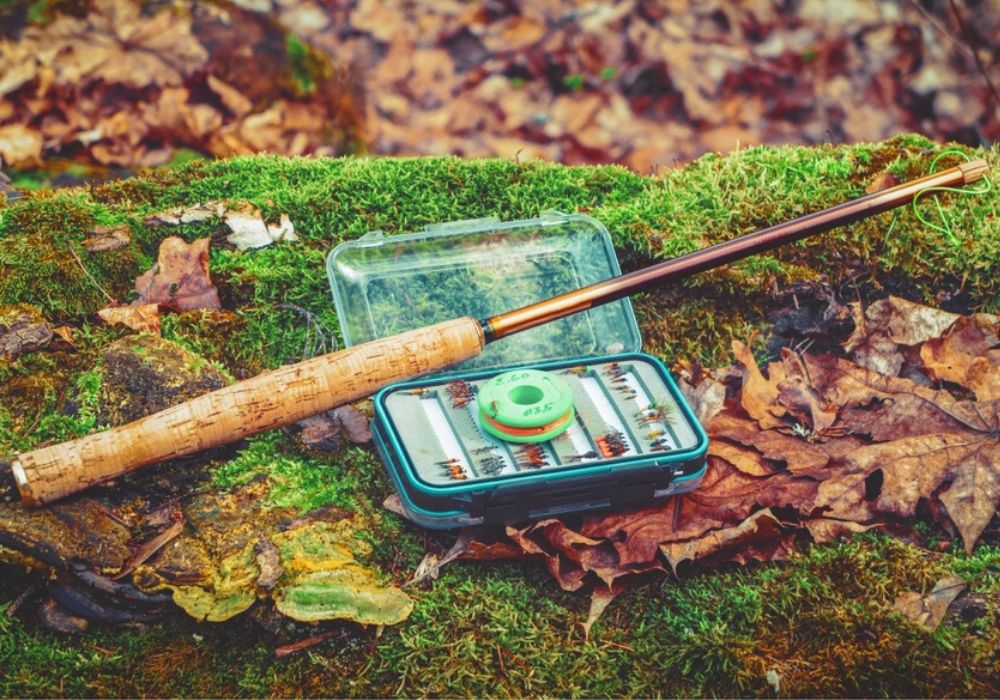 Otherwise, balance is not something you should be too concerned about when fishing in this style. Only be worried about that if your line holder is oversized, or if you're using a line too big or large for your rod flex.
Best Tenkara Fly Rods
Below, we're going to go over several different Tenkara fly rods. Each is going to have a different flex and size to them so they'll all have their own pros and cons.
So, take a close look and see which one is going to be right for you and your style of fishing. As we mentioned, take a close look at all the pros and cons so you can see which one is the best Tenkara fly rod for you!
Tenkara USA Hane Rod
Tenkara USA Hane Rod is a great, compact, and all-around Tenkara rod. This is one of the best tenkara rods on the market for sure. When it's collapsed it measures at just under 15 inches and is just shy of 11 feet when fully opened.
Making it perfect for keeping in your car, or inside of a day pack while you spend the day hiking or backpacking near a stream. Feel free to use this rod in small streams or mid-sized bodies of water.
Tenkara USA Sato Rod
Length – 10′ 8″, 11′ 10″, 12′ 9″
The Tenkara USA Sato Rod comes in three different sizes. So, if you plan on only fishing in skinny bodies of water and don't want to use a 12-foot rod then don't fret. They make smaller sizes that will work better for your style of fishing.
It is a 6:4 flex and the longer rods can be used on bigger bodies of water. So you cant take this out on larger rivers and haul in those bigger fish with this strong rod.
Z Aventik Pocket Tenkara
For the Tenkara rod angler on a budget, the Z Aventik Pocket Tenkara is going to allow you to get out on the water and fish Tenkara without having to spend too much money. It's also great for someone new to this style of fishing but doesn't want to drop too much money.
The short sizes are perfect for targeting trout in small water. The 9′ size is ideal for those situations where you need to meander your way through thick undergrowth and make a tight cast into a plunge pool.
Tenkara USA Amago
The Tenkara USA Amago is longer than a normal rod. Making it ideal for reaching out and really getting your fly out to where the fish are located. Perfect for throwing to spooky trout that you are not able to get close to.
The or then will collapse down to 21 inches. So, you will have the ability to take this rod anywhere you want to go. It could even be a backup rod to your fly rod. It stores so small and easily you can keep it in your dry bag.
Tenkara USA ITO
The Tenkara USA ITO is a very long rod and similar to the Amago that we covered above. Use it primarily for those times where you need to get a fly out really far and don't want to spook any trout in the process.
Check this rod out if the above description sounds like what you intend on doing. It's great for targeting those 8-16 inch trout.
Dragontail Hellbender
The Dragontail Hellbender is a great combo rod. It comes with everything you need in order to start doing Tenkara fishing. So, if you're a beginner and don't want the hassle of picking everything out your self then get this.
It comes with a rod, line holder, tippet, flies, and furled line. This is also a great setup for kids too. It allows anglers of all ages to get out onto the water.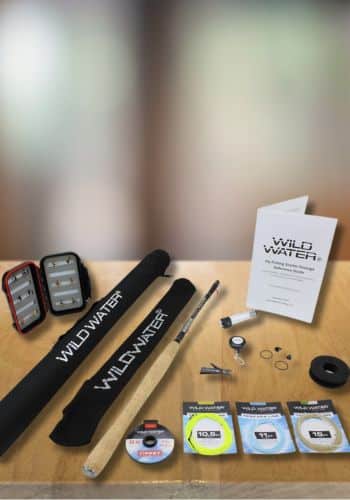 Wild Water 12′ Tenkara Fly Rod
I have to say that this is a great offering from Wild Water and could easily be one of the best budget options for tenkara fly rods available in 2023.
The 12 foot Wild Water Tenkara Fly Rod is built using 9 sections of IM8 graphite giving it a very sturdy and light feel in the hand. There's a comfortable 10-inch cork handle section and when the entire rod is collapsed it is only around 20 inches long and weighs about 3.2 ounces.
If you're looking for a tenkara fly rod that won't break the bank, this and the Aventik Pocket are likely a couple of your best bets.
Review This Post
Conclusion
Tenkara is a relatively new style of fishing in the US, but it has been done in Japan for hundreds of years. So, if you're looking for a new way to fly fish then check out Tenkara!
Amazon and the Amazon logo are trademarks of Amazon.com, Inc, or its affiliates.
As a part of the Amazon Associates Program and other affiliate programs, Into Fly Fishing® may receive a comission if you order products through links on this website.