After using, testing, and fishing the Wild Water, we bring you this full, hands-on review.
Purchasing affordable fly rods can be scary. Oftentimes, the prices are too good to be true and the rods are not able to perform overly well. With the Wild Water 9′ 5/6-weight setup, anglers are getting a rod and reel that has impressive quality for an extremely low price.
Wild Water has a variety of different rod sizes and outfits, so they make fly fishing an easy sport to enter. In this day in age, it's important for companies to make fly fishing as accessible as possible and Wild Water does this.
The reviews on Amazon are extremely impressive with over 2,000 people giving it a rating of 4.8 out of 5 stars, so we wanted to see if it lived up to the hype.
→ Don't Miss Our Full List of The Best Fly Rods of 2023
Why Trust My Wild Water Rod Review?
First, we purchased the rod ourselves, so there is no personal bias heading into this review. Plus, I had a great chance to test out the rod both on and off of the water. I spent plenty of time with it at a local park casting into and against the wind just to get a feel for it.
Then, I took it to the water and saw how it performed with mends and on-water maneuvers.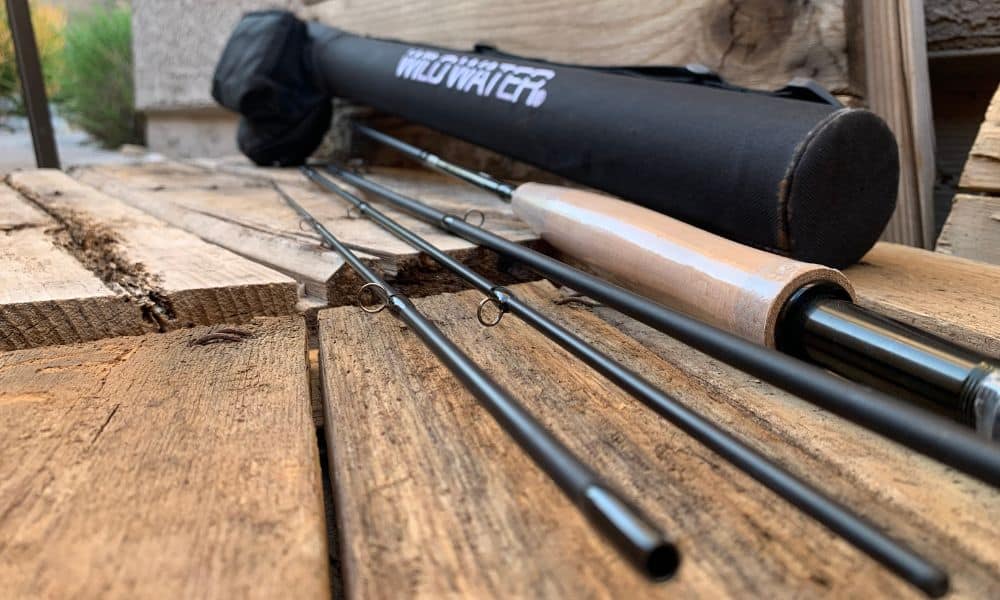 At Into Fly Fishing, we only review gear that we've personally used. We do our best to be objective in our reviews and give our honest opinions. We care about providing anglers with accurate information that will set them up for success on the water.
What's in the Box?
When you receive the Wild Water 9′ 5/6-weight you're going to receive the rod, a 6-weight die cast fly reel, a fly box with nine flies, a spare leader, a stainless nipper as well as one zinger. The entire setup gives you peace of mind that it's all going to be properly balanced, and you'll have everything you need for a successful day on the water.
Wild Water Fly Rod
Order the Wild Water fly rod on Amazon.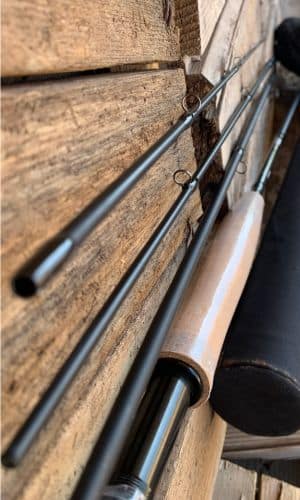 You also get a protective rod case with a reel pouch. The rod case has a zippered pocket built-in for your smaller fly box. For added protection, Wild Water also provides a 4-section cloth rod bag.
Wild Water Features & Specs
Below I'll list the features, specs, and components of the rod, not just from the manufacturer's website but from my own hands-on testing of the rod.
Build Quality
The 9′ 5/6-weight fly rod is 4.4 ounces and it is made of an IM8 light, matte black graphite. The graphite is meant to last and be fished hard, so anglers can get the most out of their purchase.
The reel seat has double-locking rings, so your reel isn't going to go anywhere even if you happen to hook into an especially large fish.
The stripper guides are made of stainless steel and silicone carbide rings.
The 7-inch western-style cork handle is comfortable for an entire day on the water with no worries about slipping or cramping.
Action
The Wild Water 9′ 5/6-weight is a medium-fast action. It has more sensitivity, but still enough power to make 40-50 foot casts in some more challenging conditions. The medium-fast action also gives anglers enough power to fight larger trout, panfish, or smaller bass.
It's not meant to thrive on massive lakes and larger rivers in pursuit of salmon, steelhead, pike, or large bass, but it can do well on streams, medium-sized rivers, or smaller lakes if you want a chance at most-sized trout.
It's the ideal action for a beginner angler looking to learn how to fly fish. It's not too stiff that it's impossible to cast, but it has enough power to allow you to hold your own in some more challenging circumstances.
Presentation
The presentation is where the Wild Water rod excels. As soon as you're finishing your casts and your fly hits the water, the sensitivity and medium-fast action make this rod easy to maneuver. If you miss your cast by a few feet, you can easily make mends to get your fly exactly where you would like with little to no difficulty.
Even at the finish of your cast, you can make slight adjustments to get your fly to lay down softly. If you're throwing dries or nymphs, you can easily unfurl your line to get the fly to be the last thing that hits the water. This is important for soft and accurate presentations.
Sensitivity is a necessary feature on a fly rod. Wild Water had their rods tested by quality fly anglers who wanted to be able to adjust as soon as their fly hit the water.
Short Distance Casting Accuracy
The Wild Water 9′ was meant to be cast in those shorter distances. Anywhere within 40 feet, the medium-fast action is capable. Even if there is some wind action, it has just enough power to cast through it and still get your fly to where you would like.
Whether you're fishing on moving water or in a lake, the medium-action gives anglers a chance to present flies wherever they would like. It's capable of throwing dries, nymphs as well as streamers into pools, riffles, and seams.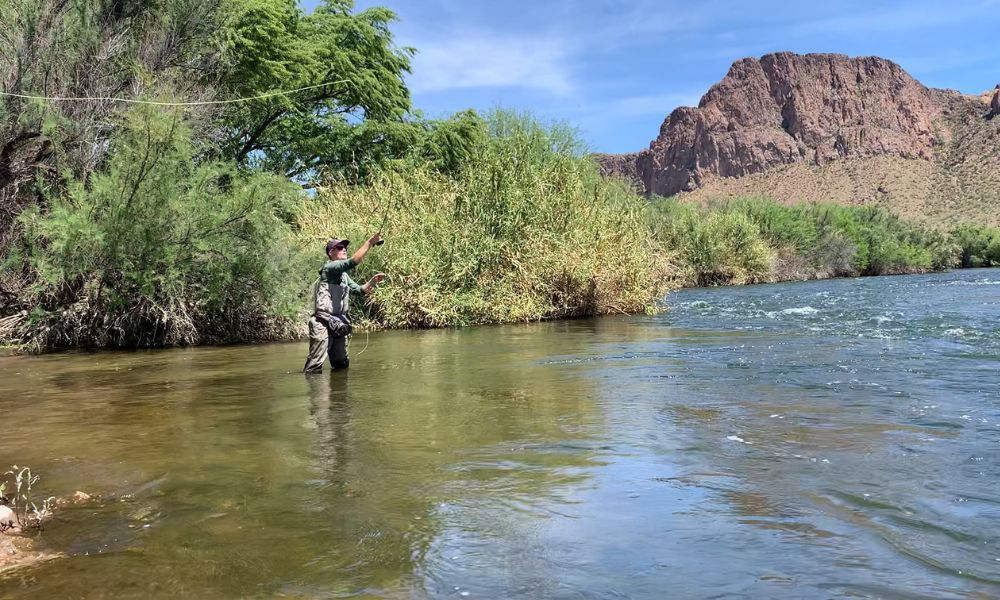 If most of your time is going to be spent in some tighter fishing conditions for larger fish, the Wild Water 9′ 5/6-weight is a great option for you. The medium-fast action has enough power for you to shoot out your line 20 or 30 feet even in areas where you have limited casting lanes.
Long Distance Casting Accuracy
The long-distance casting is where the 9′ Wild Water ran into some trouble. As you cast beyond 50 feet, the integrity and backbone of the rod are lacking. If there is any wind or challenging casting lanes, it can be extremely challenging to get your fly where you would like.
The recovery rate of the medium-fast action gives anglers limited time to create their loops and shoot their line. The amount of time required to wait allows for the line to lose a bit of its momentum and it's a challenge to get it back to the ideal loop.
The rod tip would also shake a bit when shooting the line. This shake caused the line to pile up on itself or shoot the fly off in the wrong direction. These smaller misses can be a challenge to recover from, but the mending that's able to happen with this rod can make up for some of those mistakes.
Being that the rod is medium-fast, it's important to know its limitations before you choose to use it. I knew that it wasn't meant to be launched, so I wasn't overly disappointed when it wasn't able to do it.
Warranty
Wild Water offers anglers a lifetime warranty on their product. For such an affordable product, it's rare for a company to fully back it up with a lifetime warranty option. As long as anglers send the rod to the company and pay a $35 fee, Wild Water will fix or replace the warranty to the original purchaser.
Anglers must register their rod within 30 days of purchase and they won't cover it if the rod was abused, misused, or neglected. They also will not cover any theft or loss of the rod, so keep that in mind.
Wild Water Price
The Wild Water 9′ outfit is going to cost you around $100.
Wild Water Fly Rod
Order the Wild Water fly rod on Amazon.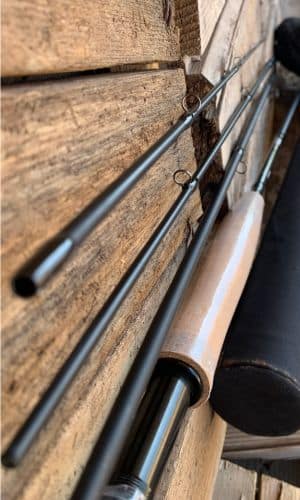 For the price, there are no other outfits on the market that are going to provide you with as many accessories to get you ready to fish. As soon as you get it in the mail, you're able to immediately head to the water and have everything you need.
Wild Water Fly Rod Review Video
Wild Water: My Personal Thoughts
I was eager to try the Wild Water Fly Fishing Setup. I had heard and read quite a few things about it, but I wasn't sure how it was going to perform. As soon as I started casting it, I could tell it was a medium-fast action rod.

Personally, I'm more of a fan of a stiffer, faster action, but the sensitivity and softer feel of the Wild Water was a nice change of pace. It forced me to slow down and be more intentional with my movements, which I think gave me a great chance to get the fly exactly where I wanted. It had a smooth feel, but I could tell it was missing a bit of the power as I made those longer casts.
I really like the look of the Wild Water 9′. The matte black blank, black reel seat, and cork handle are nice looks. Many companies try to create a more fancy design with their reel seat and locking system, so I appreciate that Wild Water kept things simple. It's definitely a sharp design that I think flies under the radar.
I really liked how I was able to move the line on the water. Personally, I felt as if the amount of control I had was just right. I was able to fish it in faster-moving water that required quite a few mends, and the Wild Water responded well.

I needed to make both large and small mends, and it only took me a few tries to get the feel for how it was going to move. I could tell the rods were created and tested by a variety of fly anglers.
For the size of the rod, I would have liked it to feel a bit more versatile. The medium-fast action is meant for a more beginner angler, but I felt like beginners could outgrow it after a year or two of consistent fishing. Those casts beyond 50 feet became a bit shaky, and there wasn't a whole tone of power when casting into the wind, so it didn't feel as if it was meant for a wide variety of different fishing situations.
Overall, the Wild Water setup is perfect for anglers looking for a cheap backup rod setup or a beginner who wants an entire fly fishing outfit set up for them. It's not going to break the bank, the rod and reel balance nicely, and the lifetime warranty is going to give those new anglers peace of mind that they can fish it however they would like.
Disclaimer: IntoFlyFishing.com is a participant in the Amazon Services LLC Associates Program, as an Amazon Associate I earn from qualifying purchases. Please see our Privacy Page for more information.