Ultra-finesse fishing is not for the faint of heart. It often requires extreme patience and trudging through thick brush. The reward for this effort is well worth your time. You'll discover untouched waters and have the chance to land some native fish.
The equipment needed for these excursions is lightweight and a blast to operate. If you know you're after those small native trout, a 1 weight rod will do the trick. Many companies don't even make a 1 weight, but if you get the chance to use one, you should.
Finesse fly angling is one of my favorite types of fishing. The battle that comes with trying to find fishable water in the midst of beautiful country is a challenge I always enjoy. I've used lightweight gear for years and encourage every angler to give it a chance.
As an Amazon Associate I earn from qualifying purchases.
What Is a 1 Weight Fly Rod?
One weight fly rods are used for finesse fishing on small, moving bodies of water. Whether it's alpine streams or local creeks, a 1 weight rod is ideal for delicate presentations.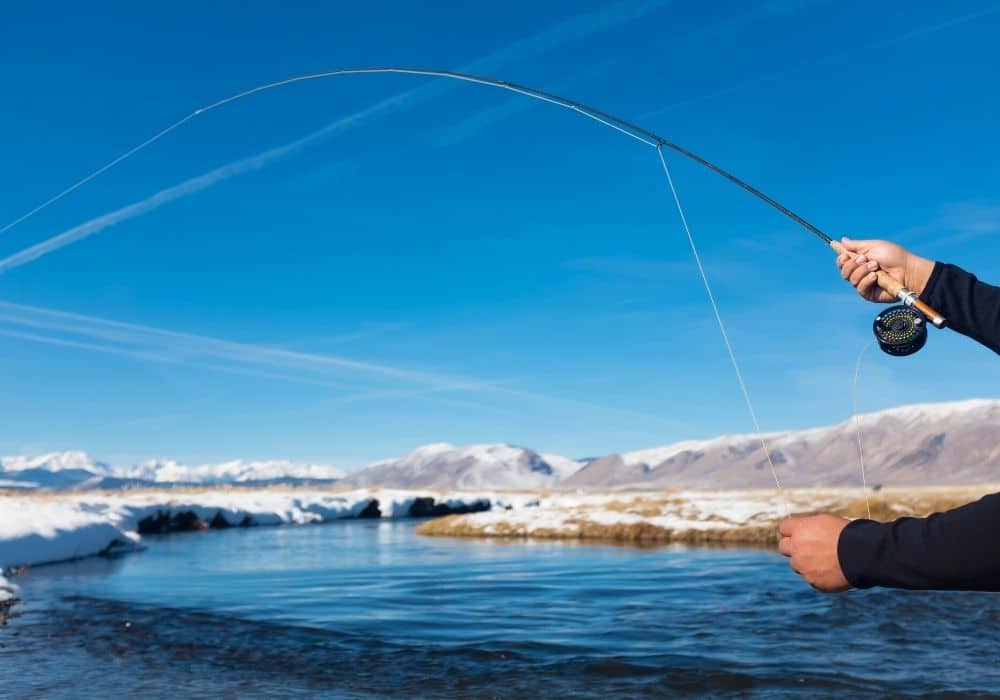 They aren't created to cast long distances or fight massive fish. It's an ideal product for the native trout lover.
Common 1 Weight Fly Rod Lengths
One weight fly rods don't vary in lengths as much as heavier rods. Since they're so limited in what they can do, the lengths are made for specific purposes. Make sure you understand where you're going to fish before you make your purchase.
1 Weight 5′ 9″
A 6′ fly rod feels too short for many. However, there are too many times when an area looks like it's filled with fish, but your long rod doesn't allow you to present your flies as well as you'd like. These shorter rods are ideal for roll casts and have the power you'll need to land 10 to 12 inch trout without exhausting them.
1 Weight 6′ 9″
The shorter the fly rod, the better it is for those very tight waters with overhanging trees or thick brush along the banks. A shorter length allows you to stay out of the way, but still accomplish the roll casts you'll need to make. Plus, you'll have enough power to fight the fish into your net without disrupting too many of the pools.
These short 1 weight rods are easy to carry, giving anglers a great opportunity to delicately present flies and enjoy some wonderful entertainment. It takes some getting used to, but you'll find that they perform quite well.
1 Weight 7′ 6″
A 7′ 6" rod is the most common 1 weight length you'll find. It's the easiest to use and the most versatile. If you need to nymph a small stream, you'll have enough reach to high stick it over some riffles.
If you need a bit of power to make a 15 to 20 foot cast, a 7′ 6″ rod can accomplish just that. You'll have to be more careful if you're using it in extremely tight situations, but it won't feel as if it's too difficult to manage. Plus, the flexibility of this length of rod makes it feel as if you're fighting a strong fish no matter how big it is!
1 Weight 10′
There are a few companies who make Euro nymphing 1 weight rods. While they aren't overly common, it's possible to Euro nymph with a 1 weight. Again, if you own a 1 weight, you have a very specific reason to do so. If you enjoy Euro nymphing, give one of these ultra-ultra light rigs a chance. The fight is quite a bit different than you'd find with other rigs.
Features of the Best 1 Weight Rods
One weight rods need to have a few very specific features in order for them to fulfill their purpose on the water. These aren't a versatile rod like a 5 or 6 weight.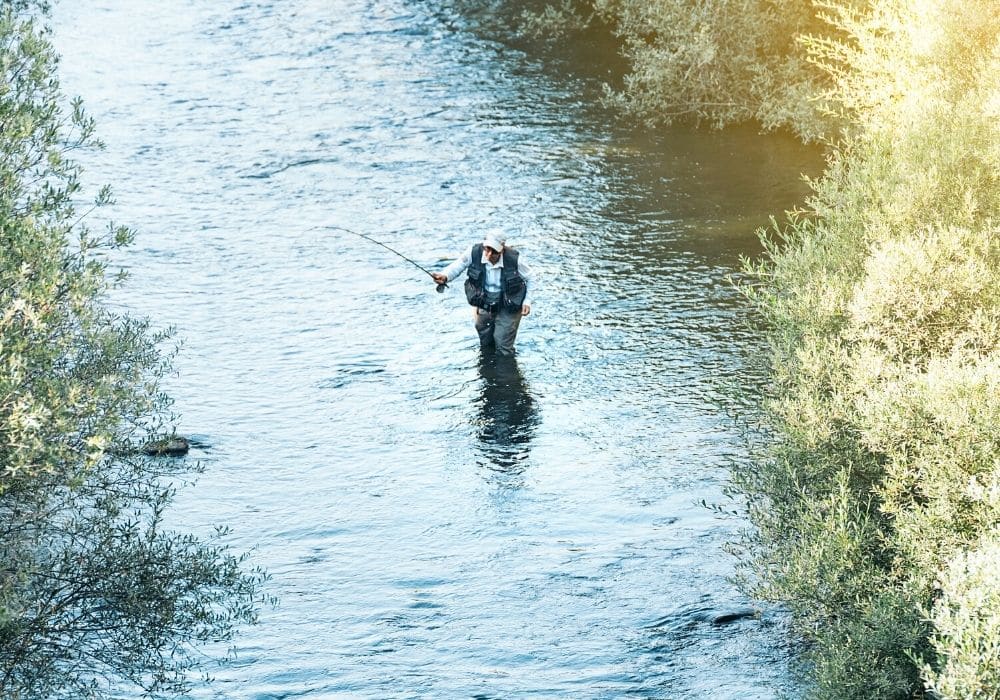 They're created for spending time on small water, so they should be used that way.
Recovery
It's important for anglers to find a rod with a fast recovery that doesn't sacrifice casting distance. As a result, a moderate action rod with a fast recovery is a wonderful option. You can hit your spot 10/10 because you don't have to worry about the friction around the rod tip.
Accuracy
If your 1 weight rod doesn't cast in an accurate way, it's not worth it. These rods need to be some of the most accurate in your arsenal because you have to be so delicate in how you present your flies.
Action
Depending on your preference, a 1 weight rod will be useful with anywhere between a moderate or fast action. This entirely depends on your feel and abilities as an angler.
Balance
The balance of a finesse rod is one of its most underemphasized aspects. Your rod needs to sit well in your hand. If you feel like you're constantly fighting your rod, you may need to check out the overall balance with the reel.
See also: The In-depth Headwaters Bamboo Gallatin Outfit Review
Best 1 Weight Fly Rods
One weight fly rods are a small niche in the fly fishing world. Companies have respect for anglers who want to fish with 1 weight. As a result, they put quite a bit of time into developing these rods because they understand how particular finesse anglers can be.
Sage Dart
The Sage Dart is one of the most beautifully designed rods on the market. Imagine yourself on a stream in North Carolina targeting brook trout. This rod would thrive in that scenario. Sage created this rod to target trout in gin clear streams with all sorts of obstacles in the way.
It's 7′ 6" long, so you can nymph it as well as cast it. The KonnecticHD materials make this a durable and extremely easy rod to operate. Small flicks of your wrist will send your fly line to exactly where you'd like it to be. The Dart is a beautiful rod, and Sage absolutely hit it out of the park with the design.
It's ideal for the angler who lives on small streams and needs a rod that's up for the challenge. You won't have a doubt in your mind when you pick up this rod.
Snowbee Prestige G-XS Fly Rod
The Snowbee G-XS Fly Rod is a great option for an angler in search of a high performance finesse rod. The G-XS rod is made with Graphene and is one of the most durable but sensitive rods on the market. The 1 weight is 7′ 6″ and it provides anglers with the opportunity to do a variety of different things.
This rod has won numerous awards for its accuracy. If you consider yourself a talented caster, then the Prestige G-XS from Snowbee is the ideal choice. It'll perform extremely well even in tricky conditions. This lightweight rod feels great in your hand and responds quickly to your every command.
Yes, it's on the pricier side, but if you spend most of your time on small streams, then it's the best choice for you.
Redington Butter Stick
Redington took it old school when they created the Butter Stick. Because of its slow action, you feel everything throughout this rod. If you're new to finesse angling and aren't confident in your short casts, the Redington Butter Stick is about as forgiving as they come. It's only 6′ feet long, so it's very manageable.
For some anglers, finding the timing and getting the feel for casting isn't easy. This rod is forgiving on short casts and still allows you to lay down flies softly, even if it isn't done perfectly.
You'll feel that you have quite a bit of control when you're using the rod. Avoid using this rod on windy days, though. It's not as powerful as many on the market, but you'll find yourself improving the more you use it.
Hardy Ultralite LL Rod
Hardy is well-known for their reels, but their rods rarely receive enough praise. The Hardy Ultralite LL Rod is nearly 10′ long, so if you're in search of a Euro nymphing 1 weight rod, this may be your best option. Many companies don't make rods this lightweight, so it's nice when they're made by such a reputable company.
Light line fishing is an amazing thing to do, and Hardy has created a wonderful tool to do it with. Give the Ultralight LL Rod a try if you want an entirely new experience on the water.
Temple Fork Finesse Trout
The Temple Fork Finesse Trout rod was designed by finesse anglers. It's a great option for those short and medium casts that force you to delicately present your flies. The tip is so soft on this rod that you'll be able to feel it load with only five or so feet of line outside the top. You can also do some impressive mending with this rod.
The rod is 6′ 9″ long, so it's not too short that you feel like you have no control, but it's long enough for you to mend line and do some high sticking on very tight waters. TFO has found a really solid design with this rod.
Review This Post
Conclusion
Every angler needs to try his or her hand at finesse fishing. It's an exercise in patience, and it will truly allow you to put your fishing abilities to the test. You'll learn more about the tendencies of fish as well as the importance of a delicate presentation.
A 1 weight fly rod will give you a full experience and then some. Do yourself a favor and pick up one of the above mentioned rods. You'll wonder why you haven't been finesse fishing longer.