As an Amazon Associate I earn from qualifying purchases.
In this review, I'm looking at the Headwaters Bamboo Gallatin Outfit in detail. I spent a couple of weeks fishing it, and in this review article, I'll share my general thoughts on this affordable bamboo rod kit.
Headwaters Bamboo Gallatin Outfit
If you like what you see in this Headwaters Bamboo Gallatin Outfit review, you can order the rod on Amazon.
Why Trust My Headwaters Bamboo Gallatin Kit Review?
Right before diving into the review, I want to point out that Headwaters reached out to us and sent me this outfit for a test and review. I didn't pay for the rod, but there was no obligation to provide a misleading review if I honestly felt that the rod wasn't up to it.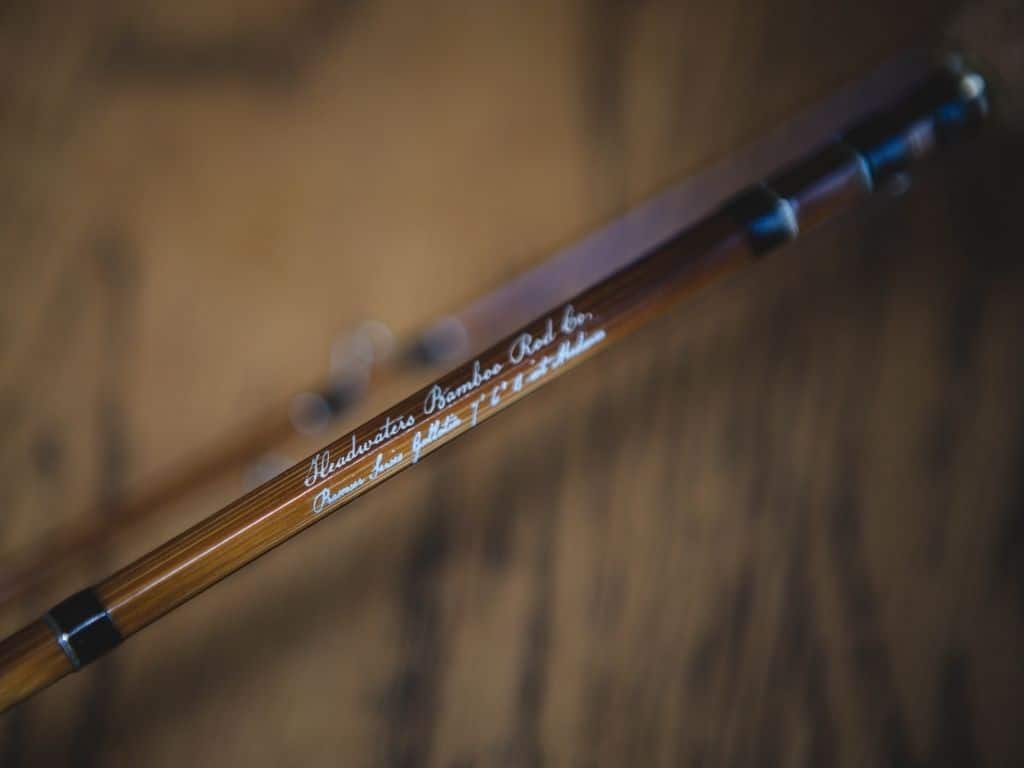 Like I always say, there's no perfect rod, so it's my job to tell you where it excels and falls short.
About the Headwaters Bamboo Gallatin Kit
As a company, Headwaters Bamboo's main aim is to put quality split cane rods back into the hands of the everyday angler.
The Gallatin Complete Kit is one of the Premiere Series Outfits, and it includes a 7 foot 6-inch medium-fast action rod, their own St. Joe fly reel, backing, and a matching weight forward floating line.
Watch the Headwaters Bamboo Gallatin Outfit Review
Where and How Was the Rod Tested?
It's winter here in Cape Town, which means that we're getting a heck load of rain, so all the rivers you've seen me fish before are completely blown out and unfishable. This means I had to get creative and look for alternative streams where I could test the rod.
This pushed me farther up into the mountains, fishing extremely small rivers with dense overgrowth and picky fish. In retrospect, this was the absolute ideal condition to test the Gallatin.
I targeted trout up to 10 inches in size on small dry flies and tiny nymphs.
What Does the Gallatin Kit Include?
The Gallatin Kit includes all of the following:
Rod Tube
The rod itself is shipped in a high-quality powder-coated aluminum tube with the Headwaters Bamboo logo on the side. The rod tube length is relevant to the length of the rod and, in this case, is 47 inches long.
The collar and cap are machined from bar stock aluminum and feature a rubber sealing gasket and a foam insert on the inside. The cap doesn't have the rod's info on it.
Rod Sock
The rod sock continues with the theme of quality. It has three dividers, two for the rod and one for the spare tip section. It's made from a thick cotton-like material and does a great job at protecting, especially the sensitive tips.
Rod
The foundation of this complete outfit is the 7 foot 6-inch medium action Gallatin rod, which is rated to be used with a 4wt line. It's a 2-piece rod and also includes an additional tip section.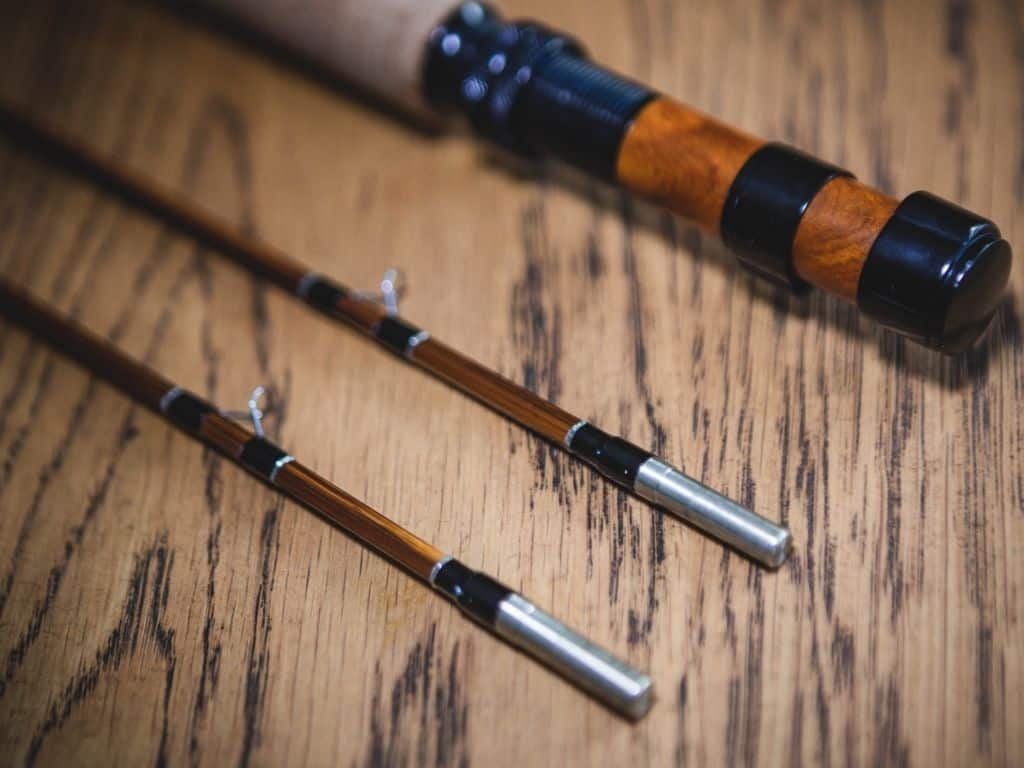 This isn't only there to keep you on the water if you accidentally break one, but it's recommended that you alternate the tips after each day's fishing, allowing a tip to rest.
Reel Seat
While I'm talking about the rod, let's go through some of the design features, starting here at the base of the butt section. The Gallatin features a black aluminum down locking reel seat with two locking rings. The upper locking ring also has a rubber bushing to further secure your reel in place.
The reel seat also features an understated classic-looking maple wood insert.
Grip
The rod has a cigar-shaped grip that tapers to a slightly larger diameter as you go forward. Initially, I had my reservations about the shape, but I'm now completely blown away by how comfortable it is. If you have slightly larger hands, this grip will be very comfortable.
I must say, as with all other rod companies that try to keep the cost down in order to make their rods more affordable, the cork quality isn't the best. This is completely understandable, and the grip performs perfectly fine. It's just something I wanted to bring to your attention.
Blank
The blank is where things get really interesting.
For those that don't know, a bamboo fly rod is made by laminating multiple perfectly tapered strips of split cane together. The Gallatin is built on the legendary Payne 100 taper, and the result is a 4 weight 2-piece fly rod that measures 7 foot 6 inches in length.
I'm not going to talk about the character of the blank right now; I'll get to that later in the article.
Line Guides
The stripper guide has a narrow diameter and a beautiful brown agate insert. This small guide does throttle distance casting a tad, but it greatly improves accuracy at short distances – and that's what this rod is all about.
The rest of the line guides are all chromed double-foot guides.
Finish
The blank is finished by exposing it to a flame which gives it a dark, deep, and rich color. It's then sealed with a clear coat which preserves the finish and prevents ingress of water.
The line guides, hook-keep, and ferrules are finished and secured with black thread and silver accents.
The rod's details are also featured on the blank and are applied in the form of a sticker that looks like a handwritten font.
Reel
Now that we've looked at the rod that's included in this Premiere Kit, let's have a look at the reel.
Firstly, the reel comes in a soft fluffy pouch that does a great job at protecting it — definitely something functional and out of the ordinary.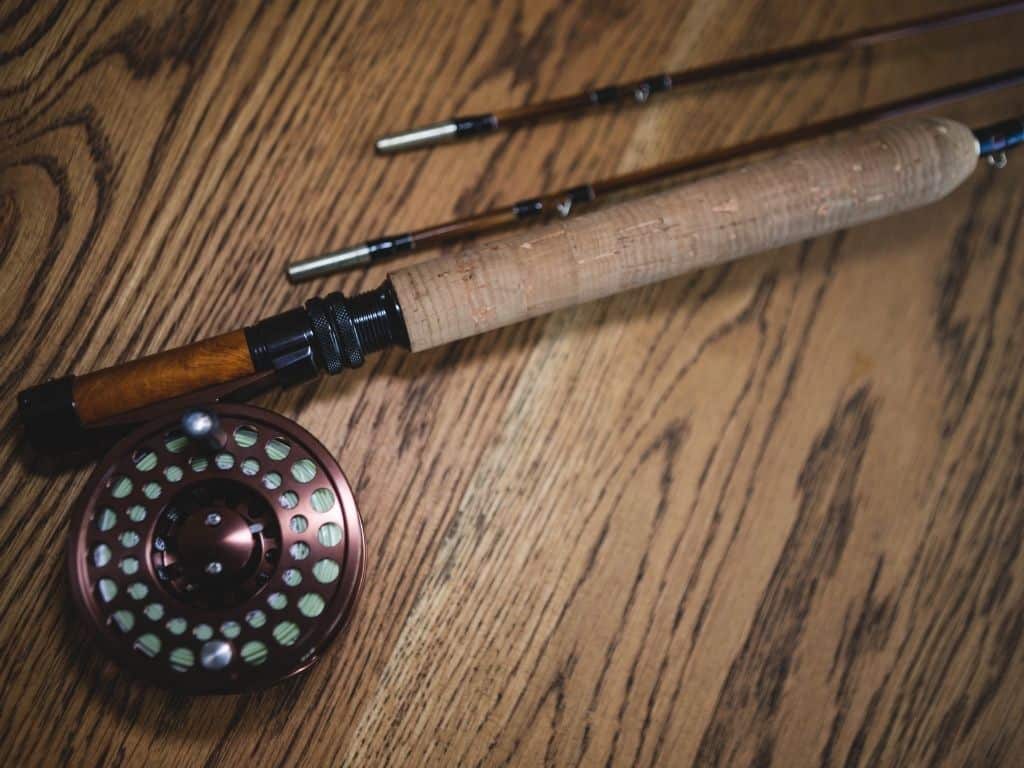 The St. Joe reel comes in two models, the 3 to 4 and this one, the 5 to 6. It has a simple click and pawl drag system that prevents overwinds and makes it easy to convert the reel from left to right-hand wind.
The St. Joe reel is made from machined aluminum and has a metallic brown anodized color. It's nothing complicated, but perfectly simple, and an ideal reel for the Headwaters Bamboo rod.
Fly Line and Backing
To complete the outfit, Headwaters ships the kit with 50 yards of backing and a 4 weight floating line. I didn't have any issues spooling the line and backing, and the reel has more than enough capacity for both.
Where Does the Headwaters Bamboo Gallatin Outfit Shine?
So, now that we know what the complete Gallatin Outfit includes, let's look at where the kit shines.
Slowing Down
Probably the thing I enjoyed the most about fishing the rod was that it forced me to slow down — not only my casting stroke, but the entire way that I fished. I found myself planning the cast, drift, and potential fight much better. I made fewer casts, but more of them counted, if that makes sense.
Short Fishing Distances
As mentioned earlier when I discussed the stripper guide on the rod, this rod is intended to be used in short to medium fishing distances, and it absolutely excels at this.
Where Does the Headwaters Gallatin Fall Short?
The shortcoming of the Gallatin is due to the nature of its construction, and it's not necessarily unique to this bamboo rod. The first is that the slower action limits your achievable line speed, which makes it harder to cast into the wind or deliver large and heavy streamers.
Order the Headwaters Bamboo Gallatin Outfit
If you like what you see in this Headwaters Bamboo Gallatin Outfit review, you can order the rod on Amazon.
The rod's length also makes it harder to control drag-free drifts when compared to a 9 or 10-foot rod. I know these might seem obvious, but I just wanted to make the point clear.
Fishing the Gallatin Outfit
So, after fishing the Gallatin on our small mountainous streams, let's look at how it fared.
Dense Overgrowth
One of the reasons why I mentioned earlier that the streams I ended up fishing were perfect for this rod is how well it dealt with dense overgrowth. The shorter length makes it so much more manageable in these conditions, where a long 9 or 10-foot rod would be basically impossible.
The 7-foot 6-inch length not only made it more manageable, but I was able to deliver good, accurate standard bow and arrow casts. By the way, this rod's bow and arrows are like a dream.
Light Tippet
The Gallatin has a soft tip and flexes all the way into the cork grip. This characteristic means that it's excellent at protecting extremely light tippets, especially during the hook set. I can't remember one instance where I snapped off a 7X tippet when setting the hook on a fish or being stuck to a branch.
Fly Range
In my opinion, and as you'd expect, the Gallatin is perfectly suited for dry fly fishing. The slow action, delicate presentation, and how well the rod handles light tippet make it perfect for this style of fishing.
I was forced, however, to move to a dry and dropper combination, as the trout weren't coming to the surface. Initially, I had trouble with this, but I mitigated the issues by shortening the leader slightly.
Although the rod will be able to deal with streamers, I'd limit the size and weight of these.
Fighting Ability
What the rod gains in light tippet protection, it somewhat loses in the size of fish it can handle. This doesn't mean you can't catch big fish with it, but you generally don't have as much pulling power as you'd have on a similar carbon fiber rod.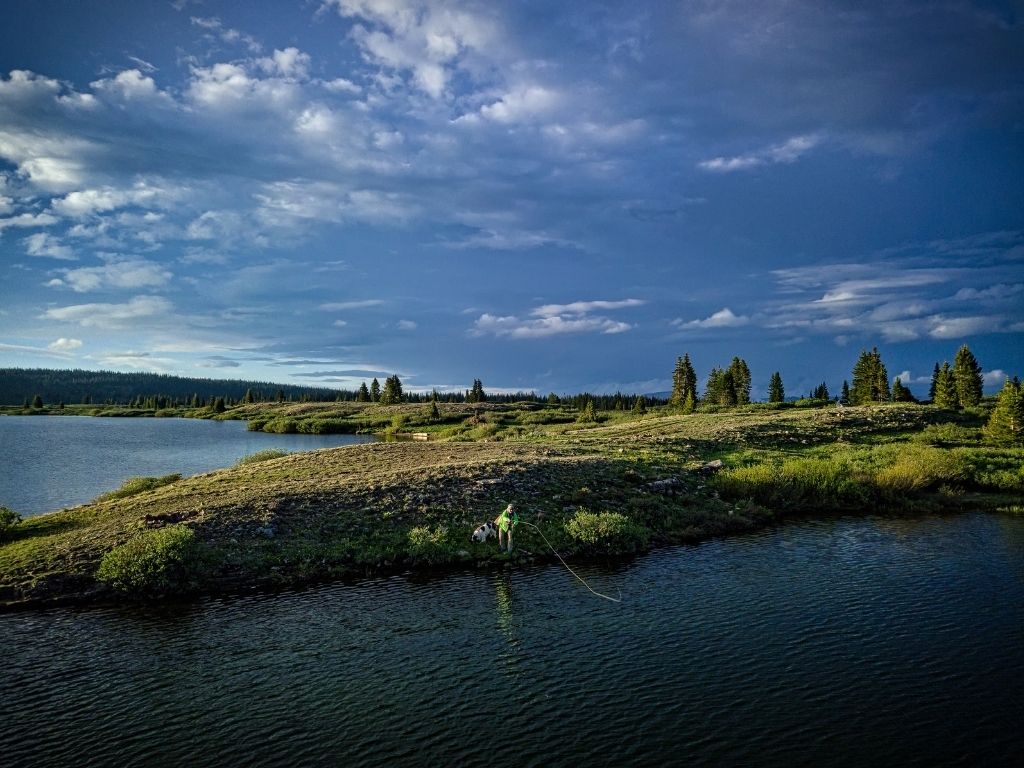 A good way to improve your chances of landing big fish is to plan the hook up and fight before you even make the cast. Think of potential snags and how you'd prevent the fish from getting to them.
My Personal Thoughts
So, after testing the rod on my local small rivers, what are my final thoughts on the Gallatin Outfit?
Pros:
I think that Headwaters Bamboo put together a great balanced rod kit here, and it offers exceptional value.
The rod is an ideal dry fly rod, so if that's a style of fishing you prefer, the Gallatin is a great option.
It comes with a spare tip, so you're always covered in case you break one.
If you're targeting relatively large fish with an extremely light tippet, this is also a great option.
The reel seems like it's well made and has a simple design, so it'll last many years.
The line matches the rod perfectly.
Cons:
Not as versatile as an equivalent carbon fiber rod
Hard dealing with wind and large, heavy flies
Who Should Buy the Headwaters Bamboo Gallatin Outfit?
So, who should consider buying the Headwaters Bamboo Gallatin Outfit?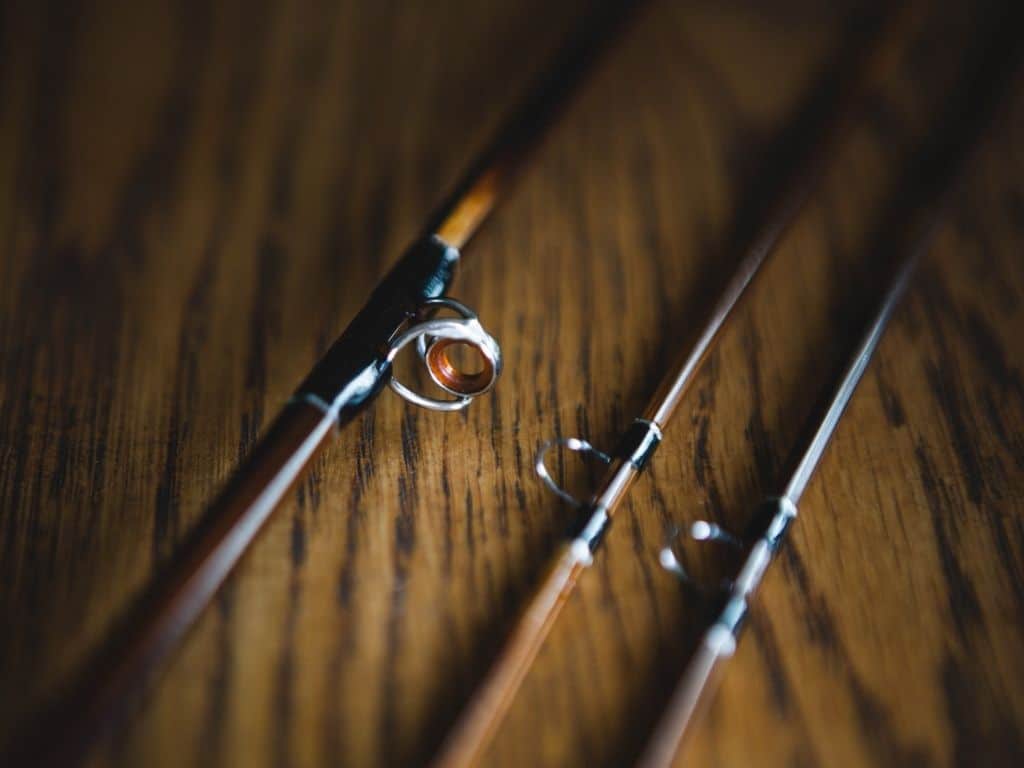 I'd say that the complete kit is perfect for the first-time bamboo rod angler who's always wanted to give split cane a go. As mentioned throughout the article, the kit is well balanced, and the reel and line are of good quality.
Order the Headwaters Bamboo Gallatin Outfit
If you like what you see in this Headwaters Bamboo Gallatin Outfit review, you can order the rod on Amazon.
The rod itself is so good that I think it would make a great addition to any experienced angler's arsenal. It's not only something out of the ordinary to fish with, but it's a rod that I can see myself fishing with on a daily basis.
Conclusion
I must say, after spending a good amount of time with this rod, I really fell in love with it. At heart, I'm a dry fly angler, and this rod is absolutely perfectly suited for this.
During my time with the rod, so far I've also learned that it's actually a serious piece of kit. I always thought of bamboo rods as something unusual and that was their appeal. But now, I actually think they make so much sense and they'll forever remain relevant.
The Headwaters Bamboo Gallatin rod not only does bamboo rods complete justice, but it offers many anglers the opportunity to afford one and fish with these fine instruments.
Until next time!
Amazon and the Amazon logo are trademarks of Amazon.com, Inc, or its affiliates.
As a part of the Amazon Associates Program and other affiliate programs, Into Fly Fishing® may receive a comission if you order products through links on this website.