In this post, I'll cover the best 5 weight fly rods on the market in 2022.
Whether you're a beginner or an expert fly fisher, having the best 5 weight suited to your needs is crucial.
I must confess that, when it comes to fly fishing, I'm a bit of a gear junkie. In my cupboard, probably more aptly called a rod storage facility, you'll find rods ranging from 2 weight to 12 weight.
I've also guided for many years and I've rented my clients plenty of 5-weight fly rods, which I've fished extensively myself.
My Top 3 Picks for 5-Weight Fly Rods
Best Overall: Orvis Helios 3D
Best Budget: Echo Base
Best Mid-Range: Sage Pulse
Mostly, I'll even have two or three rods of each weight. And what did it all cost? Jeez, I'd rather leave it there (and please don't let my wife read this).
But I digress. One of my favorite weights for an all-around good rod that's versatile enough for small streams and big trout is the 5 weight. In this post, I'll share with you my pick for the best 5 weight fly rods.
Compare 5wt Fly Rods 2022
Product prices and availability are accurate as of the date/time indicated and are subject to change. Any price and availability information displayed on [relevant Amazon Site(s), as applicable] at the time of purchase will apply to the purchase of this product.
Prices pulled from the Amazon Product Advertising API on:
In my collection of rods, I have two 5 weights. One is a cheap backup rod, but the other is mid to premium range rod. I only have this one because it's all I need, really.
And, to be blatantly honest with you, I could sell all my 6 and 4 weights and still be able to fish the water that I would've with that 5 weight. It's that versatile.
The following statement may be regarded as very bold, but in my opinion, the 5 weight is the best freshwater fly rod you can have. All trout species, bass, and grayling – it has you covered, for presenting small dry flies to trout and streamers to bass.
Complete Your 5wt Fly Rod Setup:
Best 5wt Fly Line
Best 5wt Fly Reel
Best Streamers For 5wts
Top 5 Weight Fly Fishing Rods in 2022
In no other fly rod weight category do you have more competition than in the 5. Many rod ranges are designed around the 5 weight and then scaled up or down from there. So, with so many to choose from, how do you make up your mind? Here are some of my favorites.
*This list was updated in 2022 to include the Orvis Helios 3D.
1. Orvis Helios 3D
Pros: Soft tip but still great on long casts, accurate both long and short
Cons: The price tag, ugly label design
Grip: Snub nose half wells
Available weights: 3, 4, 5, 6, 7 & 8
Action: Moderate
Pieces: 4
I can't say enough about the Orvis Helios line of rods. Both the Helios 3F (Feel) and the Helios 3D (Distance) are fantastic rods, but I think that the swing weight of the 3D is actually better anyway. It feels more like a high-performance rod than the 3F, plus you get better distance out of it.
It's not cheap. Coming in at around $950, this is not a beginner fly rod. But, if you have the money to spend and you're going to fish the rod enough to make it worth the price tag, then this is the rod for you.
Casting this rod is a breeze and it's super accurate, while the handle is comfortable in hand. All-in-all, there's no better 5 weight on the market in 2022.
Check out our Orvis Helios 3F Review (coming soon).
2. Echo Base
Action: Medium-fast
Weight: 3.7 ounces
Pros: Lifetime warranty
Cons: Heavy for a graphite rod
The Echo Base fly rod is a perfect fly rod for the beginner to intermediate angler. The medium-fast action will assist the beginner to get used to timing the back and forward cast correctly.
It's a 4 piece rod that's shipped in a cloth-covered rod tube case and a sock. To keep costs down, and to make it more durable, Echo has chosen to fit the rod with a black anodized reel seat.
It also makes for a very good value backup rod.
As with all Echo rods, the rod has a lifetime warranty for the natural life of the original owner.
With all these features, can you believe that the starting price of this range is only $99?
3. Orvis Clearwater
Action: Medium-fast
Weight: Not disclosed
Pros: 25 year warranty
Cons: Not much you can fault with this rod
The Orvis Clearwater is undoubtedly one of the best value fly rods available today. It's a great 5 weight rod and built with trout and bass in mind. It's able to deliver dries very delicately and can chuck big streamers accurately to likely lies.
Thinking about picking up a Clearwater? You really can't go wrong. It's a great rod. Before you buy, make sure you check out our In-Depth Review of the Orvis Clearwater Setup.
The rod comes in a rod tube and includes Orvis's famous 25-year warranty.
Another option is to buy this rod as a complete outfit. At only $311, it comes with a Clearwater reel, backing, and fly line. This also offers amazing value for the beginner to intermediate angler.
4. Sage Pulse
Action: Fast
Weight: 3.25 ounces
Pros: Lifetime warranty, built in the USA
Cons: Not new Konnetic HD technology
Aside from maybe the Sage Foundation, the Sage Pulse is Sage's best value for money fly rod. But don't let that fool you. It's still an amazing fishing tool capable of delivering the goods.
Just like its more expensive brothers, it's handcrafted at their Bainbridge Island facility. It comes with a black nylon covered rod tube to protect the rod during transport.
The rod has a very unique lichen green blank color, which stands out well.
For people looking for the most advanced, newest rod building technology, this might not be for you. Sage utilized their tried and tested Graphite IIIe technology to construct the blanks.
5. Epic 580 FastGlass
Action: Medium
Weight: 3.95 ounce
Pros: Lifetime warranty, very durable, color, reel seat and grip variations to choose from
Cons: Price
If you're more of a traditionalist, then the Epic 580 FastGlass should be on your wishlist. It's a modern fiberglass rod, but don't let that fool you. It's light and doesn't feel like a wet noodle in hand.
This is a perfect rod if you're more inclined to dry fly fishing, but it can deliver nymphs and streamers comfortably as well.
At $895 it's not cheap, but it'll last forever. If the rod's looked after properly, your grandchildren will still catch trout on it.
Swift offers this rod in a ready-to-wrap kit as well. That means you can build the entire rod yourself for only $399. It comes with all the components, tools and material that you'll need. They also include instructional videos and a booklet to take you through the building process.
The built rod or ready-to-wrap kit comes with various options you can choose from. These include blank color (amber or olive), grip (western or slim wells) and reel seat (anodized black or silver).
6. G. Loomis Asquith
Action: Fast
Weight: Not disclosed
Pros: Lifetime warranty
Cons: Price
Here we have a high-performance rod from G. Loomis. The Asquith is known to be a superb saltwater rod in the 8-12 weight range. But, the 5 weight is an excellent dry fly rod when tight loops and pin-point accuracy are important.
I wouldn't, however, recommend this rod for the novice to intermediate angler. Its very fast action would make it hard to time your casting stroke, and in so doing, make it really hard to cast.
This is a rod designed for the advanced caster who's willing to invest in a very high-end fishing tool. That being said, if a 5 weight is the most important rod in your arsenal, this would be an ideal rod if you're looking for nothing but the best.
The Best 5 Weight Fly Fishing Combo
Oftentimes, if you're a beginner, it's best to pick yourself a fly rod combo to ensure that your rod, reel, and line are all matched up and balanced at the same weight. The same goes for a good 5 weight fly rod setup.
7. Sage Foundation
Included in the outfit: Comes with a rod, reel, rod and reel case and fly line
Pros: Lifetime warranty, made in the USA
Cons: Older graphite technology
Sage released their Foundation fly rod combo in 2018. It's a high-performance rod, as expected from Sage, and it's dedicated to the beginner and intermediate fly fisherman.
Included in the combo is the Spectrum C Series of reels. Its a large arbor die-cast reel that features a sealed carbon drag.
The reel comes pre-spooled with backing and an amazing fly line from Rio, the Rio Gold. To complete the outfit, it comes in a very sturdy rod case that can accommodate the reel and rod fit together.
Although this outfit would stretch the budget of many beginners, it's amazing value for money, as you're investing in one of the greatest fly rod manufacturers ever. You may not get as much fly fishing gear in this combo kit as some others on this list, but it's still worth the money.
Read more: Our Full List of the Best Fly Rod Combos
What Makes a Great 5 Weight Fly Rod?
Without getting too technical or splitting hairs among different rods, the best 5 weight fly fishing rod that you can choose is the one you see yourself fishing for many years to come.
This speaks to how the rod makes you feel. How content are you with it, and how well does it suite you?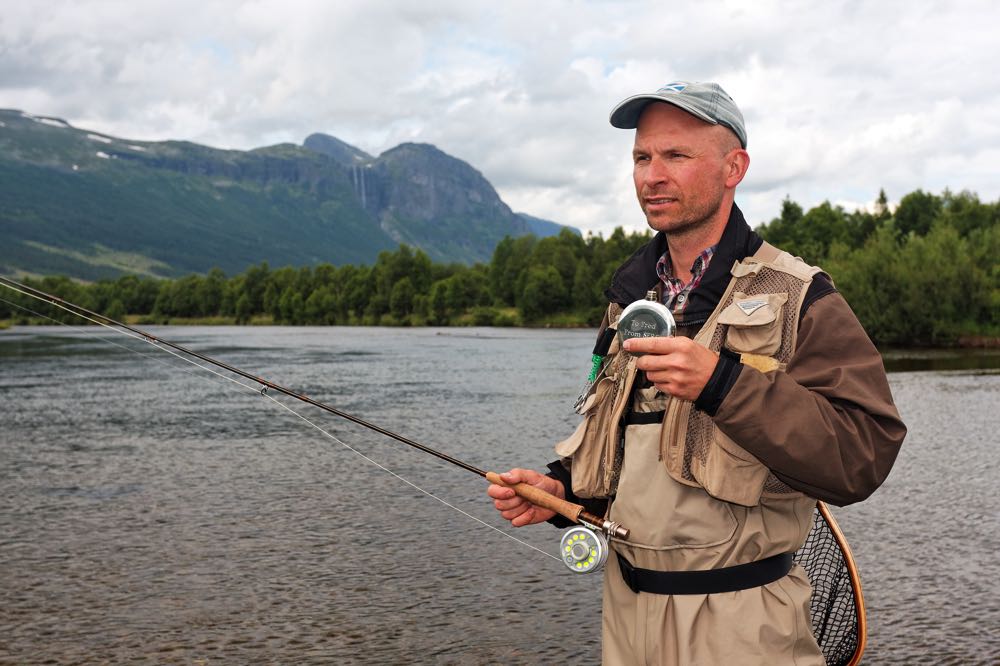 A 5 weight fly rod, or at least this is how I see it, isn't something I chop and change every season. It's something that I have a relationship with. We share countless hours on the water, and we both have the scars to prove it.
There are, however, fundamental concepts that I want you to take into consideration when looking to buy a 5 weight rod for fly fishing.
What Is Your Casting Ability, and What Do You Actually Prefer?
I want you to be honest with yourself about this one. If you fall into a beginner to intermediate fly caster category, it could actually hurt you to buy an ultra-fast high-performance rod.
Also, even if you're an experienced angler, you might prefer the feel of slower rods. That's really awesome and I want to encourage you to stick to that sentiment. Contrary to what is advertised, it's fine if you like slow action rods.
What Is Your Budget?
During tough economic times, we all have to turn over our dimes. Don't create debt to buy a fly rod. It's a tool to assist in relaxation, not to cause stress.
There are wonderfully capable fly rods (see them listed above) that start from as little as $99. I remember when I just started out how I felt so ashamed when fishing with guys who had gear ten times as expensive as mine.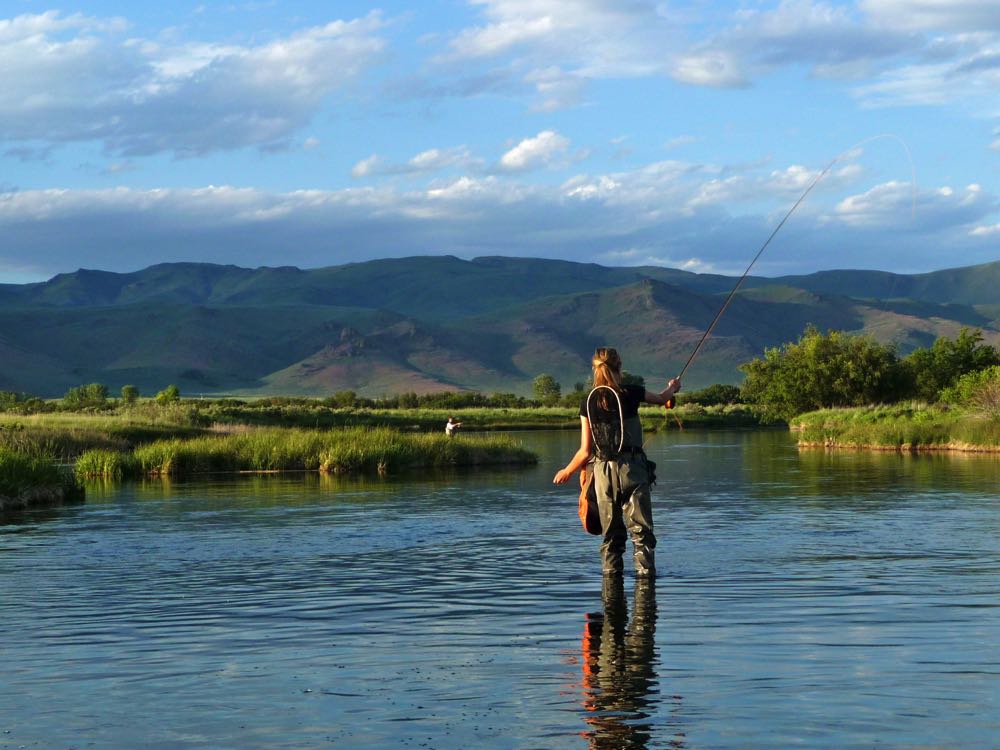 I'd much rather be on the stream fishing with a cheaper rod than have an expensive rod in the cupboard but no money for fuel.
Watch the Video
Review This Post
Conclusion
Whether you're a beginner, intermediate or advanced angler, a good 5 weight will always play a big role in your fishing stories.
For the beginner, I suggest getting one of the cheaper rods, such as the Echo Base or Orvis Clearwater. Both offer exceptional value for the money.
For most of us, mid-level rods will be all we'll ever need. The rods offer so much performance that you'd rarely need to upgrade from this level. I'd be happy fishing a Sage Foundation or Pulse for all my years to come.
For professional anglers and guys wishing to fish with nothing but the best, I don't think there are many rods out there that will beat the Asquith in performance.
Thanks for taking the time to read this post. If you found it interesting, please share it with your friends.
Until next time.
Like This Article? Pin It!