As an Amazon Associate I earn from qualifying purchases.
In this post, I'll cover the best 5 weight fly rods on the market in 2023.
Whether you're a beginner or an expert fly fisher, having a good 5 weight suited to your needs is crucial. A 5wt fly rod is such a versatile fishing tool, and it's used to catch many different fish species.
I mainly use 5wt fly rods to target stillwater trout, carp, bass, and, the biggest test of them all, smallmouth yellowfish.
My Top 3 Picks for 5-Weight Fly Rods
Best Overall: Orvis Helios 3D
Best Budget: Echo Base
Best Mid-Range: Sage Pulse
A good 5 weight needs to perform well on so many different levels. It needs to fish dry flies well, punch heavy streamers into the wind, and even chuck a multi-nymph rig when it needs to.
Compare 5wt Fly Rods 2023
The 5wts these days have become such impressive rods that, to be honest, I could almost sell my 6wts and 4wts and would still be able to cover all the required fishing scenarios with them.
Because my 5wt rod sees so much use it really takes a huge beating, so if you're in the market for a new 5wt rod, be sure to choose one with a reputation for being durable.
The following statement may be regarded as very bold, but in my opinion, the 5-weight is the best freshwater fly rod you can have. All trout species, bass, and grayling – it has you covered, for presenting small dry flies to trout and streamers to bass.
Let's look at the top 5wt fly rods on the market, and why they are so good.
Jump to the Best 5wt Fly Rod
★ #1 Best 5wt Fly Rod Overall: Orvis Helios 3D★
Complete Your 5wt Fly Rod Setup:
Best 5wt Fly Line
Best 5wt Fly Reel
Best Streamers For 5wts
Top 5 Weight Fly Fishing Rods in 2023
In no other fly rod category do you have more competition than with 5 weights. Many rod ranges are designed around the 5 weight and then scaled up or down from there. So, with so many to choose from, how do you make up your mind?
This list will help you find the best fly rods suited to your application and needs.
1. Orvis Helios 3D
Pros: Soft tip but still great on long casts, accurate both long and short
Cons: The price tag, some anglers might feel that the logo design is over the top
Grip: Snub nose half wells
Available weights: 3, 4, 5, 6, 7 & 8
Action: Fast (3D) and medium fast (3F)
Pieces: 4
I can't say enough about the Orvis Helios line of rods. Both the Helios 3F (Feel) and the Helios 3D (Distance) are fantastic rods. The 3F is ideal if you prefer slower actioned rods and mainly fish dry flies. If you mostly throw streamers or multi-fly rigs, the 3D is for you.
The Orvis Helios 3D is not cheap. At around $950, this is not a beginner fly rod. But, if you have the money to spend and you're going to fish the rod enough to make it worth the price tag, then this is the rod for you. You won't be disappointed.
Casting this rod is a breeze, and it's super accurate, while the handle is comfortable in the hand. All in all, there's no better 5 weight on the market in 2023.
Compare At:
AvidMax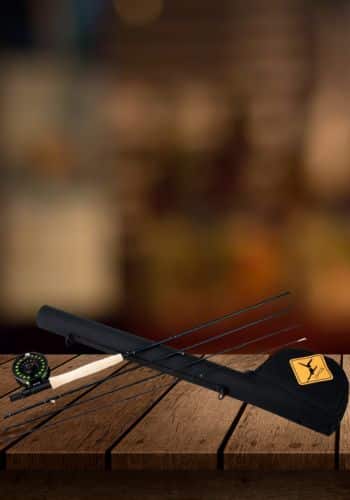 2. Echo Base
Action: Medium-fast
Weight: 3.7 ounces
Pros: Lifetime warranty
Cons: Heavy for a graphite rod
The Echo Base fly rod is a perfect fly rod for the beginner to the intermediate angler. The medium-fast action will assist the beginner to get used to timing the back and forward cast correctly.
It's a 4 piece rod that's shipped in a cloth-covered rod tube case and a sock. To keep costs down, and to make it more durable, Echo has chosen to fit the rod with a black anodized reel seat.
It also makes for a very good value backup rod.
As with all Echo rods, the rod has a lifetime warranty for the natural life of the original owner.
With all these features, can you believe that the starting price of this range is only $99?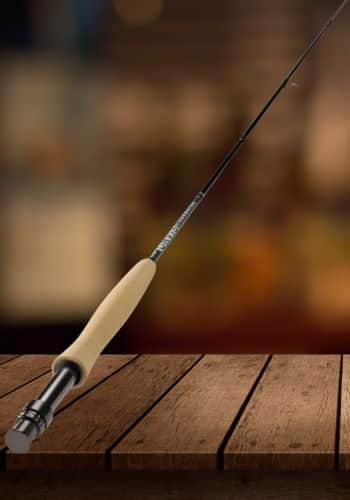 3. Orvis Clearwater
Action: Medium-fast
Weight: Not disclosed
Pros: 25 year warranty
Cons: Not much you can fault with this rod
The Orvis Clearwater is undoubtedly one of the best-value fly rods available today. It's a great 5 weight rod, built with trout and bass in mind. It's able to deliver dries very delicately and can chuck big streamers accurately to likely lies.
Thinking about picking up a Clearwater? You really can't go wrong. It's a great rod. Before you buy, make sure you check out our In-Depth Review of the Orvis Clearwater Setup.
The rod comes in a rod tube and includes Orvis' famous 25-year warranty.
Another option is to buy this rod as a complete outfit. At only $311, it comes with a Clearwater reel, backing, and fly line. This also offers amazing value for the beginner to intermediate angler.
Compare At:
AvidMax
Trouts Fly Fishing
Trident Fly Fishing
4. Sage Pulse
Action: Fast
Weight: 3.25 ounces
Pros: Lifetime warranty, built in the USA
Cons: Not new Konnetic HD technology
Aside from maybe the Sage Foundation, the Sage Pulse is Sage's best value for money fly rod. But don't let that fool you. It's still an amazing fishing tool capable of delivering the goods.
Just like its more expensive brothers, it's handcrafted at their Bainbridge Island facility. It comes with a black nylon-covered rod tube to protect the rod during transport.
The rod has a very unique lichen green blank color, which stands out well.
For people looking for the most advanced, newest rod building technology, this might not be for you. Sage utilized their tried and tested Graphite IIIe technology to construct the blanks.
5. Epic 590G Graphene
Action: Medium fast
Weight: 3.1 ounce
Pros: Lifetime warranty, very durable, available in three formats
Cons: Price
Epic released their graphene rod range a while ago and is available in the following formats from their online store. Firstly, the rod is available in their Reference Series and packs a huge amount of value. Anglers who love more customization can opt for the Studio Built option, where you can customize each and every component.
We opted to go for the Epic Ready to Wrap kit and built the rod from scratch. If you'd like to see how we did it, check out our video series.
The 590G doesn't follow the same recipe in terms of design and feel that so many other manufacturers are chasing. Sure, the rod is lightweight, but it has a sweet medium fast action.
I asked their rod designer about the action, and his reply was "we build fishing rods, not casting rods."
The Epic 590G is certainly not cheap, but it is a rod you buy for a lifetime of fishing. If you'd like a more in-depth review of the Epic 590G, be sure to check out the full review video we did on it.
6. G. Loomis Asquith
Action: Fast
Weight: Not disclosed
Pros: Lifetime warranty
Cons: Price
Here we have a high-performance rod from G. Loomis. The G. Loomis Asquith is known to be a superb saltwater rod in the 8-12 weight range. But, the 5 weight is an excellent dry fly rod when tight loops and pin-point accuracy are important.
I wouldn't, however, recommend this rod for the novice to intermediate angler. Its very fast action would make it hard to time your casting stroke and, in so doing, make it really hard to cast.
This is a rod designed for the advanced caster who's willing to invest in a very high-end fishing tool. That being said, if a 5 weight is the most important rod in your arsenal, this would be an ideal rod if you're looking for nothing but the best.
Compare At:
Trident Fly Fishing
Telluride Angler
AvidMax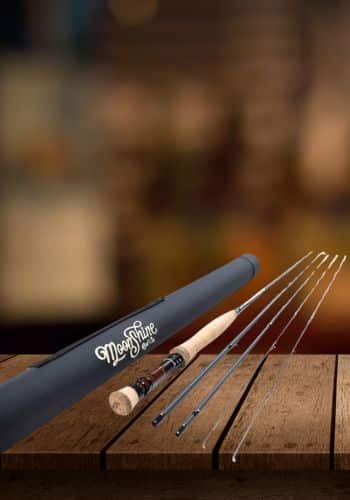 7. Moonshine Vesper
Action: Fast
Weight: 2.8 ounce
Pros: Lifetime warranty and an extra tip section
Cons: Still trying to find a negative
The Vesper rods are my favorite series from Moonshine Rod Company. The blanks are lightweight and have an incredible recovery rate. We've fished a couple of renditions of the rod and they always blow me away – especially when you consider the price.
The 9ft 5wt Vesper has a matte carbon finish and an uplocking reel seat with two locking rings. The first stripper guide is made from titanium and has a silicon carbide insert. All of the remaining line guides are single-foot to reduce overall weight.
The 5wt Vesper is also available in a 10ft version, which will make for an exceptional stillwater option.
As with all other Moonshine rods (except the Midnight special range), the 5wt Vesper comes with a spare rod tip. This feature, to me, is a game changer.
Moonshine has an incredible after-sales service, and I'm not saying that lightly. I've had to use it once and the service was lightning fast.
The Moonshine Vesper is shipped in a rod sock with 5 dividers, one for each section plus the spare tip, and a Cordura-covered tube.
8. Snowbee Diamond 2
Action: Medium fast
Weight: 3.5 ounce
Pros: Great value for money and robust
Cons: Heavy
The Snowbee Diamond 2 is one of the best value-for-money 5wt fly rods on the market. Yes, I know many anglers aren't aware that Snowbee makes some exceptional fly rods, but this, the Diamond 2 should definitely be on your radar if you're looking for a beginner or backup 5wt.
I spent a couple of weeks with the Diamond 2 targeting stillwater trout and bass and it did everything that I wanted it to do. It never felt that it held me back and, the great thing was, I never felt I was going to break an expensive rod.
The Diamond 2 is a brilliant option for anglers who are just starting out as the action is slightly slower than more advanced rods. However, it's not the kind of rod that you'd feel you have to replace after a year or two's fishing.
The Diamond 2 comes shipped in a rod sock and a Cordura-covered tube.
9. Vision Rivermaniac
Action: Medium fast or fast
Weight: not disclosed
Pros: High-performing trout rod and available in two actions
Cons: No rod sock
Vision produces some of the best fly rods in the world, and the weirdest thing of all is that not many people are aware of the brand. Where I come from, they're the best know for their Euro Nymphing rods like the Nymphmaniac and Hero range.
Earlier this year, Vision answered my prayers and produced a general river-specific rod, aptly named the Rivermaniac. The Rivermaniac is built using the same materials as the Nymphmaniac.
We're currently testing one so can't disclose too much, but let's just say it's doing good, really really good.
All the Rivermaniac rods, from 3wt to 6wt, are 9ft in length. But what makes the range so interesting is that each rod weight is available in either a medium or fast action – similar to the Orvis Helios which comes in a 3D and 3F.
The medium action is ideal for anglers who prefer to roll cast and present dry flies delicately, whereas the fast is aimed at anglers who want to make those 60 feet casts all day long.
10. Thomas and Thomas Paradigm
Action: Medium fast
Weight: not disclosed
Pros: One of the all-time classic dry fly rods and lifetime warranty
Cons: Expensive
We spoke about the G. Loomis Asquith earlier in the article, which is a super-fast, high-performance modern fly rod. On the opposite side of the scale, you have the Thomas and Thomas Paradigm.
The Paradigm range has been around for a couple of decades, and this, the latest version, has received updates to improve it in terms of weight and materials, but it still retains the absolute soul you expect the rod to have.
Although the Thomas and Thomas Paradigm leans toward dry fly applications, the 9ft 5wt format is a lot more versatile than that. The rod has more than enough power and can generate good line speed to fish nymphs and streamers, too.
As with all Thomas and Thomas rods, the Paradigm is hand-built in the USA and comes with a lifetime guarantee. It ships in a rod sock and a solid, powder-coated aluminum rod tube.
The Best 5 Weight Fly Fishing Combo
Oftentimes, if you're a beginner, it's best to pick yourself a fly rod combo to ensure that your rod, reel, and line are all matched up and balanced at the same weight. The same goes for a good 5 weight fly rod setup.
Sage Foundation
Included in the outfit: Comes with a rod, reel, rod and reel case, and fly line
Pros: Lifetime warranty, made in the USA
Cons: Older graphite technology
Sage released their Foundation fly rod combo in 2018. It's a high-performance rod, as expected from Sage, and it's dedicated to the beginner and intermediate fly fisherman.
Included in the combo is the Spectrum C Series of reels. It's a large arbor die-cast reel that features a sealed carbon drag.
The reel comes pre-spooled with backing and an amazing fly line from Rio, the Rio Gold. To complete the outfit, it comes in a very sturdy rod case that can accommodate the reel and rod fit together.
Although this outfit would stretch the budget of many beginners, it's amazing value for money, as you're investing in one of the greatest fly rod manufacturers ever. You may not get as much fly fishing gear in this combo kit as some others on this list, but it's still worth the money.
Compare At:
Telluride Angler
Trident Fly Fishing

Read more: Our Full List of the Best Fly Rod Combos
What Makes a Great 5-Weight Fly Rod?
Without getting too technical or splitting hairs among different rods, the best 5-weight fly fishing rod that you can choose is the one you see yourself fishing for many years to come.
This speaks to how the rod makes you feel, how content are you with it, and how well it suits your fishing style.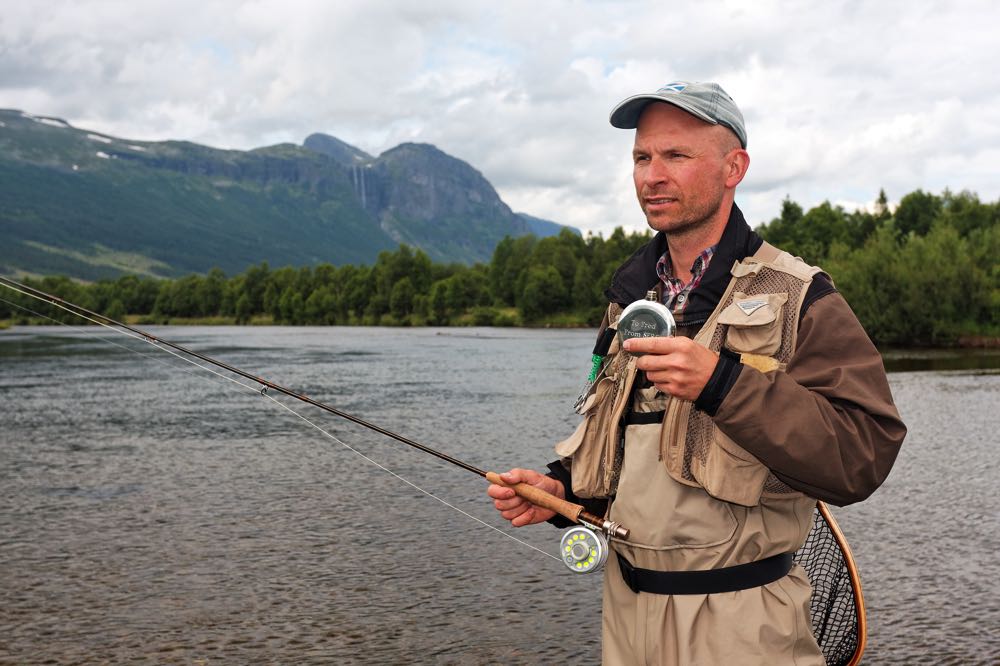 A 5 weight fly rod or at least this is how I see it, isn't something I chop and change every season. It's something that I have a relationship with. We share countless hours on the water, and we both have the scars to prove it.
There are, however, fundamental concepts that I want you to take into consideration when looking to buy a 5 weight rod for fly fishing. These considerations will ensure that you buy the right rod for you.
What Is Your Casting Ability, and What Action Do You Prefer?
I want you to be honest with yourself about this one. If you fall into a beginner to intermediate fly caster category, it could actually hurt you to buy an ultra-fast high-performance rod.
The reason for this is that these rods require a perfectly timed and formed casting stroke. In many cases, these rods give little to no feedback back to the caster, so you need to be in tune and have your timing dialed in.
Learning to cast with an ultra-fast actioned rod will be frustrating.
Some experienced anglers might prefer the feel of slower rods. That's really awesome and I want to encourage you to stick to that sentiment. Contrary to what is advertised or what rod manufacturing companies are trying to sell you, it's fine if you like slow-action rods.
The more experienced you get at casting the more intuitive it gets, and this is when purchasing a faster-actioned rod starts making sense. I'm a firm believer of try it before you buy it, so be sure to experiment and play around with different rods.
What Is Your Budget?
During tough economic times, we all have to turn over our dimes. Don't create debt to buy a fly rod. It's a tool to assist in relaxation, not to cause stress.
There are wonderfully capable fly rods (see them listed above) that sell for as little as $99. I remember when I just started out how I felt so ashamed when fishing with guys who had gear ten times as expensive as mine.
Do not fall into this emotional trap. Buy what you can afford and fish it as much as you can.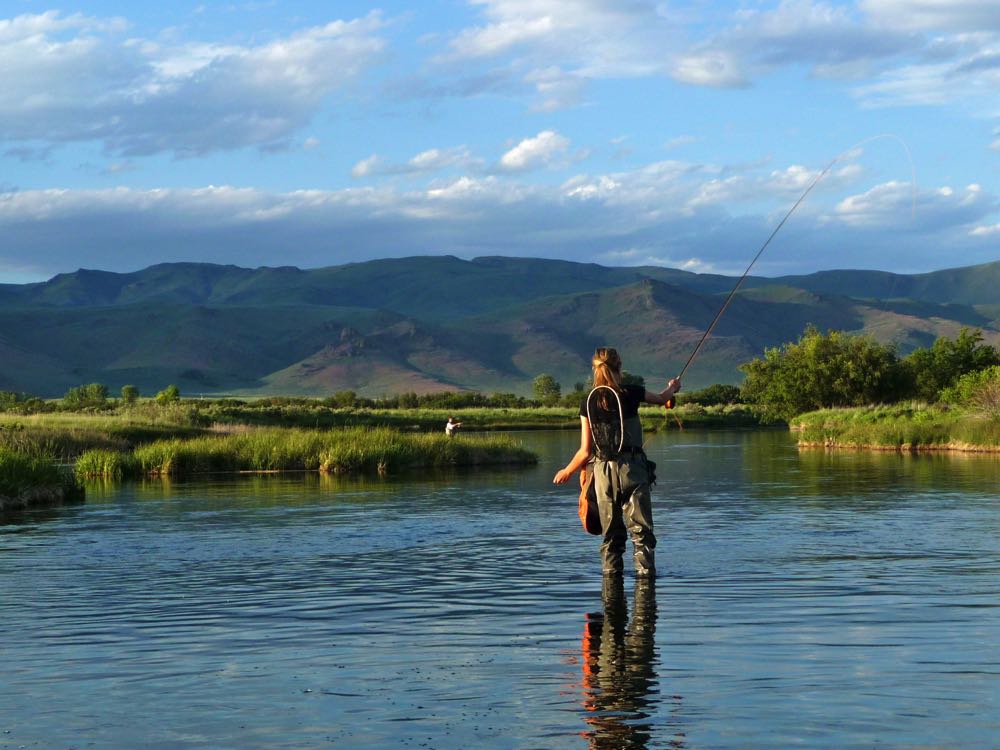 I'd much rather be on the stream fishing with a cheaper rod than have an expensive rod in the cupboard but no money for fuel.
A Good 5-Weight Is Versatile
When I think about a 5wt fly rod I think of versatility. The rod must be able to throw big streamers to hungry bass, so it needs to be able to generate high line speeds.
On the opposite side of the scale, there will be scenarios where I only have my 5wt with me and fish are sipping tiny spent mayflies off the surface. I then need a rod to delicately lay down a small dry fly and protect light tippet material.
Watch the Video
Review This Post
Conclusion
Whether you're a beginner, intermediate or advanced angler, a good 5 weight will always play a big role in your fishing career. It's one of those rods that you take out on a fishing day when you don't know what you might find.
For the beginner, I suggest getting one of the cheaper rods, such as the Echo Base, Orvis Clearwater, or Snowbee Diamond 2. All three offer exceptional value for the money.
For most of us, mid-level rods will be all we'll ever need. The rods offer so much performance that you'd rarely need to upgrade from this level. I'd be happy fishing a Sage Foundation or Pulse for all my years to come and a fly rod like the Moonshine Vesper will blow you away.
For professional anglers and guys wishing to fish with nothing but the best, I don't think there are many rods out there that will beat the Orvis Helios, Thomas and Thomas Paradigm, or the Epic Graphene.
Thanks for taking the time to read this post. If you found it interesting, please share it with your friends.
Until next time.
Like This Article? Pin It!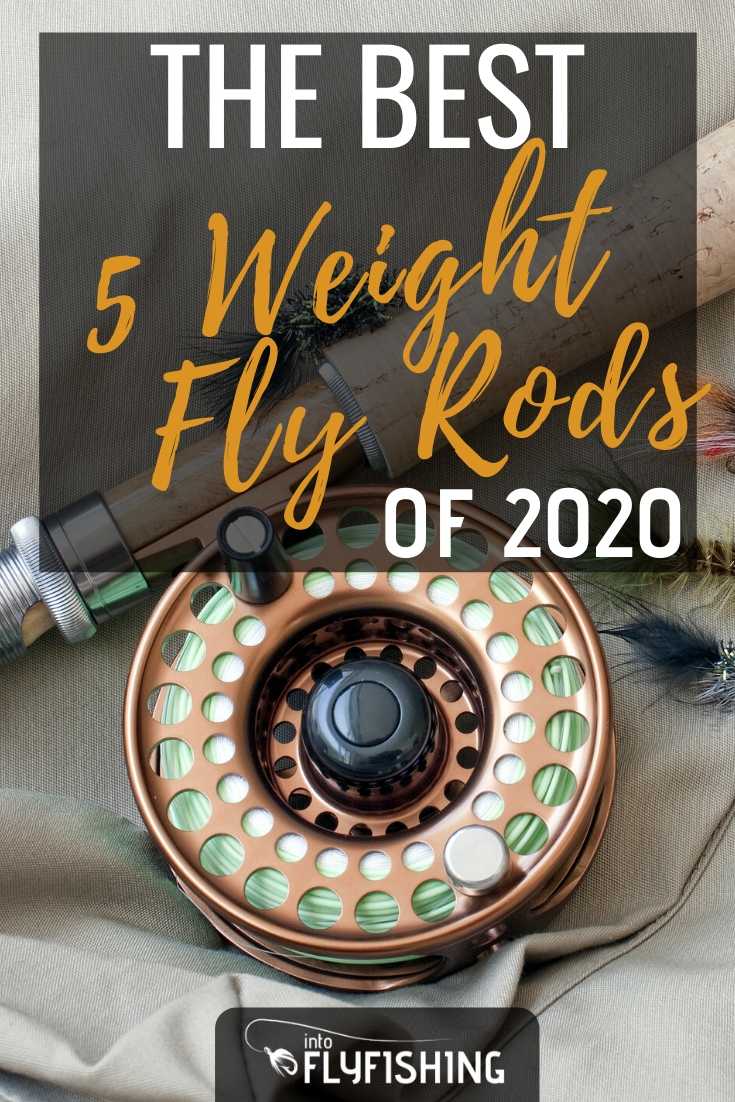 Amazon and the Amazon logo are trademarks of Amazon.com, Inc, or its affiliates.
As a part of the Amazon Associates Program and other affiliate programs, Into Fly Fishing® may receive a comission if you order products through links on this website.