In this post, I'll cover the best 8 weight fly rods on the market in 2023.
If you are like me, then the rods in your arsenal with the most wear and tear are your 8 weight fly rods. Its sheer versatility allows it to be picked up from my rod rack more often than not. The method and scenarios where it gets used most also contribute to these battle scars.
In my guiding days, I rented my clients and personally cast probably close to a hundred 8-weight fly rods and my goal is to break down the best on the market, including some that won't break the bank.
Compare The Best 8wt Fly Rods 2023
Product prices and availability are accurate as of the date/time indicated and are subject to change. Any price and availability information displayed on [relevant Amazon Site(s), as applicable] at the time of purchase will apply to the purchase of this product.
Prices pulled from the Amazon Product Advertising API on:
Big flies, high winds, quick casts, bushwhacking, chasing boats, and big fish that's what the best 8 weight fly rods should be able to handle. That's what I expect from them.
From a rod design point of view, the 9-foot-8 weight is massively important. Like its smaller brother, the 5 weight, the 8 represents a popular model in most fly rod builders' designs.
An interesting observation is that the 8 represents the heaviest model in many freshwater rod lineups (sometimes referred to as all-water rods), and also represents the lightest model in many saltwater lineups.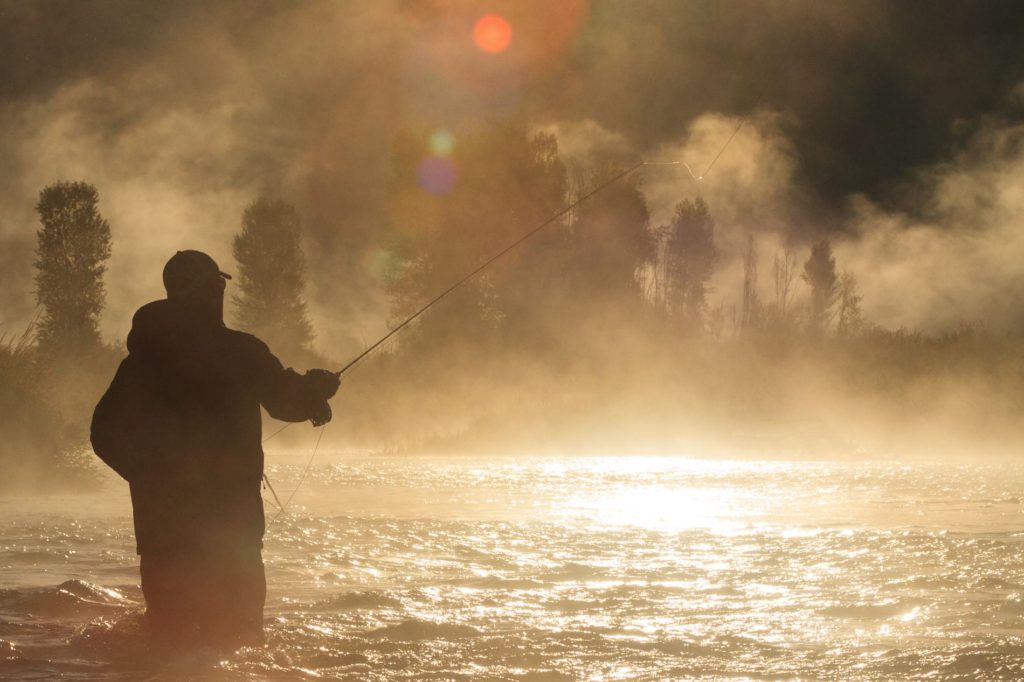 So in that sense, there are a vast amount of 8 weight rods to choose from these days.
It's a very popular saltwater rod for targeting bonefish, whether you are wading or fishing off a skiff. Likewise, it can be used for a multitude of freshwater species like salmon, large trout, golden dorado, and bass.
Best 8wt Fly Rods Quick-Look
★ #1 Best Overall: Sage X ★
5 Best 8 Weight Fly Fishing Rods
Below are some of, what we believe, are the best 8 weight rods on the market today. They're not necessarily the most expensive rods. They are our selection of great rods in each market segment.
*Note: This list was updated in 2023 to include the Sage X
Disclaimer: IntoFlyFishing.com is a participant in the Amazon Services LLC Associates Program, as an Amazon Associate I earn from qualifying purchases. Please see our Privacy Page for more information.
1. Sage X (Best Overall)
Action: Fast
Pros: Great value for money
Cons: On the heavy side
The Sage X has replaced the Sage ONE and is equipped with new Konetic HD Technology.
It is lighter, stronger, and smoother casting than any fly rod they have ever created. While some things are more subjective and cater to different casting styles, other things are not.
The Sage X is a great 8-weight rod and, for me, the best Sage fly rod on our list. This fly rod is very light on the hand and has versatile performance.
Compare At:
Trident Fly Fishing
2. Echo Base
Action: Medium-Fast
Pros: Great value for money
Cons: On the heavy side
The Echo Base is a great beginner-to-intermediate 8-weight. Its action is absolutely perfect if you find that fast-action rods aren't working for you.
For durability, it features a black anodized uplocking reel seat and a cork and EVA fighting butt.
It comes with a fabric-coated rod case and sock. As with all Echo rods, it comes with a lifetime warranty for the original owner.
This is an amazing value for money rod and a perfect backup rod for every trip.
3. Temple Fork Outfitters BVK
Action: Fast
Pros: Light and responsive
Cons: Poor reel seat and small fighting butt
The Temple Fork Outfitters BVK has been around for quite some time, and rightly so. It's been a great value (in all weights), and it brings a beautiful casting rod to the masses. The 8-weight rendition of the range, to me, is probably the best. For its price, it is incredibly light, accurate, and can generate high line speeds.
I've caught countless bonefish on it and, to this day, it hasn't let me down. It's an incredible blank and feels great in hand.
One thing to keep in mind is to pay special attention to cleaning and maintaining the reel seat screws.
Considering this rod? Don't miss Complete Hands-on Review of the TFO BVK fly rod.
4. Thomas and Thomas Zone
Action: Fast
Pros: Made in the USA, lifetime warranty
Cons: Styling might not be for everyone
The T&T Zone has been a very successful saltwater rod. It won numerous prizes, including Best of Show Saltwater Fly Rod at IFTD 2018. Fishing one, not long after that, in Seychelles, I soon became very fond of it. Even, dare I say it, more than the more expensive Exocett. Personal preference, I guess.
The rod feels very reassuring in the hand, and the rubber-cork composite grip will last a lifetime.
All in all, a good value for money rod that will be able to tackle a multitude of species and water types.
If you're interested in this beautiful rod, don't miss our in-depth hands-on review of the Thomas & Thomas Zone.
Compare At:
Trident Fishing
5. Scott Sector
Action: Fast
Pros: Lifetime warranty, made in the USA
Cons: Price
Scott's most advanced saltwater specific fly rod – the Sector. They've thrown everything they have at it, and it's proper.
The stripping guides are nickel-titanium recoil guides. In essence, they just pop back into place when you bend them. They're also very resistant to corrosion.
They've also optimized the blank's construction to improve the recovery rate. This means that the rod will vibrate less after the cast is made, allowing more efficient energy transfer.
We know it's not the cheapest stick in the bush, but if it's within your budget, go test it out – you won't be sorry.
Compare At:
Telluride Angler
Best Value For Money 8 Weight Combo
Sometimes the best way to buy a fly rod is to get it as part of a full outfit. That way, you can ensure that the line, reel, and rod are all weighted to match each other to help guarantee that you have a perfectly balanced kit.
If you're interested in different types of full fly fishing starter kits, check out our post that lists all of the best fly rod combos on the market today.
Orvis Encounter Fly Rod Outfit
Action: Medium-Fast
Pros: Great value for money
Cons: No lifetime warranty, plastic reel design
The Orvis Encounter outfit is an incredible value for money. We've also mentioned it in our Best Fly Rod Combo post.
This rod is aimed at the beginner who wants to wet his toes in saltwater. The action of the blank has been optimized for the beginner to intermediate angler. This will enable you to feel the cast better compared to an ultra-fast action rod.
The softer action will also assist you with protecting lighter tippets – something that can be quite tricky when you just start fly fishing.
The combo includes the Encounter 4-piece rod and the Encounter large arbor reel that comes preloaded with backing and a weight-forward floating line. This means that most of the weight is in the first 20 feet of the fly line. This results in easier rod loading, which will translate into longer casts for the beginner.
All this comes in a sturdy fly rod tube for added protection when traveling.
Compare At:
Trident Fly Fishing
AvidMax
Considering this Set-Up? Check out our Full Hands-On Review of the Orvis Encounter.
What Makes A Great 8 Weight Fly Rod?
To say that one specific rod ticks each box on the list below is nearly impossible to do. For you, there might be a rod that gets damn close, but it might not be the same for others. Rod choice is a personal thing.
Below, I have discussed some factors that I believe are important when choosing an 8 weight. It will, however, vary between each individual, as casting technique, budget, and target species differ.
Action
In every rod weight, you will find a massive difference in this regard. Each manufacturer, and each rod within their lineup, has a different action. I can't say what's best and what's not. I can, however, point you in a general direction by making some suggestions.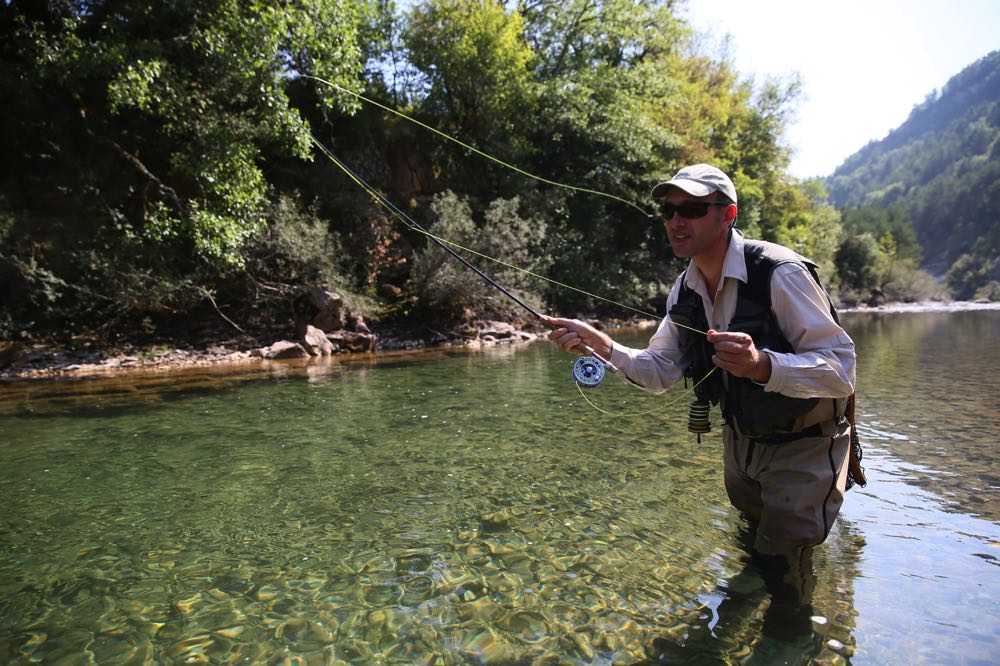 If you are a novice to intermediate fly caster, a medium-fast action road would suit you best. Have a look at some of the all-water fly rod models. We'll also recommend one or two in the section below.
For more advanced casters I would recommend looking at faster rods. It allows you to generate so much more line speed. This will allow you to carry heavier flies and punch your line into the wind with less difficulty.
Rods geared more towards saltwater species would be perfect here, although there are some ultra-fast all-water rods as well.
Presentation
The best 8-weight rods will enable you, if your technique is good enough, to generate high line speeds. Although most of your fishing will be done from short to medium ranges, these high line speeds will make longer casts possible. It will also allow you to continue fishing in windy conditions.
As far as saltwater fishing goes, a good 8-weight fly rod is on the lighter side of things. This is the perfect rod weight to use when specifically targeting bonefish, especially when delicate presentations are required for success.
Fighting Ability
A good 8 weight should be able to assist the angler to protect the relatively light tippet. In saltwater, for instance, it's not uncommon to fish 10lb leaders on an 8 weight. However, the rod needs to have enough backbone to really pull when it's required.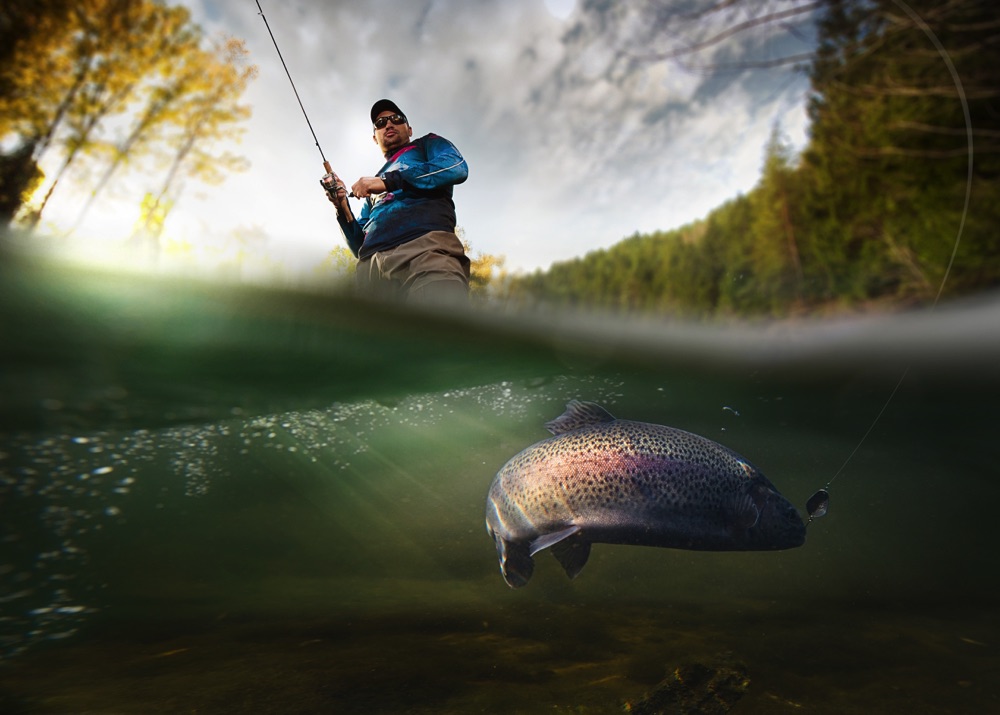 Durability
Here, I specifically mean how durable the rod is in the long run. Corrosion is the worst enemy for fishing gear. For this reason, I would recommend that if you plan on buying an 8 weight, make sure that it has corrosion-resistant components. Specifically the reel seat and line guides.
Unfortunately, these corrosion-resistant components can only protect your rod up to a certain point. Therefore, it's essential that you take good care of your rods. After each day of fishing, rinse them off and after the trip clean them properly and polish the rod.
Watch The Video
Review This Post
Conclusion
An 8 weight rod is an essential tool in a fly fisherman's lineup. With it he/she can target a multitude of species, ranging from large trout and salmon to bass and bonefish. Because you'll spend so much time with it, it's important to buy the best 8 weight fly rod you can.
In this writeup, we've given you 5 of the top 8 weight fly fishing rods on the market, according to us. What we wanted to show is that there are great options starting from as low as $114 and ranging to $985.
If you're in the market for an 8 weight, I hope that this gave you some clarity and a nudge in the right direction. Please share this with your friends and fellow anglers.
Like This Article? Pin it!