The best travel fly rods are typically going to either come in six or eight pieces. This allows you to quickly and easily break them down to fit securely in your travel bags, car, or wherever else you might need them.
However, you shouldn't sleep on a Tenkara rod, which might be the best travel fly fishing rod you could possibly have considering they telescope down to twenty inches or even smaller.
Quick-Look: Best Travel Fly Rods 2022
★ #1 Best Travel Fly Rod Overall: Echo Trip 8 Piece ★
So, if you're looking for a great travel rod then check out the information below. We're going to cover a few different products as well as some of the top travel rods.
As an Amazon Associate I earn from qualifying purchases.
What is a Travel Fly Rod
A travel fly rod is a rod that breaks down into small enough pieces that you can travel with it and not have it take up too much room. So you're one piece salmon rod would not be something considered travel-worthy.
Ideally, you want a rod that can break down and fit comfortably on the outside or inside of a carry on bag. Something you can easily keep in your car for those long trips, or on a plane for a cross country flight.
Common Travel Fly Rod Lengths, Weights, and Pieces
Below, we're going to cover some of the most common sizes for travel fly rods. Check them out and see the great travel rods that we have below.
9′ 5wt Six Piece
The classic trout rod and size. You can take this sized rod and hit just about any river, lake, stream, or pond and catch a ton of fish. Ideally for trout, but it has the ability to target multiple species.
The six pieces it comes in will allow you to easily stow it away in a bag for travel by either car or plane. Allowing you to bring this rod with you no matter where you plan on going.
9′ 8wt Eight Piece
If you want something with a little bit more heft to it then the 8wt eight-piece rod is going to be ideal. Great for targeting larger freshwater fish, or for going after some smaller saltwater species.
The eight-piece also maximizes the amount of room that you can have in a bag. This breaks down to a size much smaller than the normal six-piece and allows you to store more gear and supplies.
7′ 6″ 3wt Six Piece
This is the ideal rod for getting out in the backcountry where you need a short rod to navigate through the brush. Easily make roll casts and short backcasts to hit plunge pools and runs.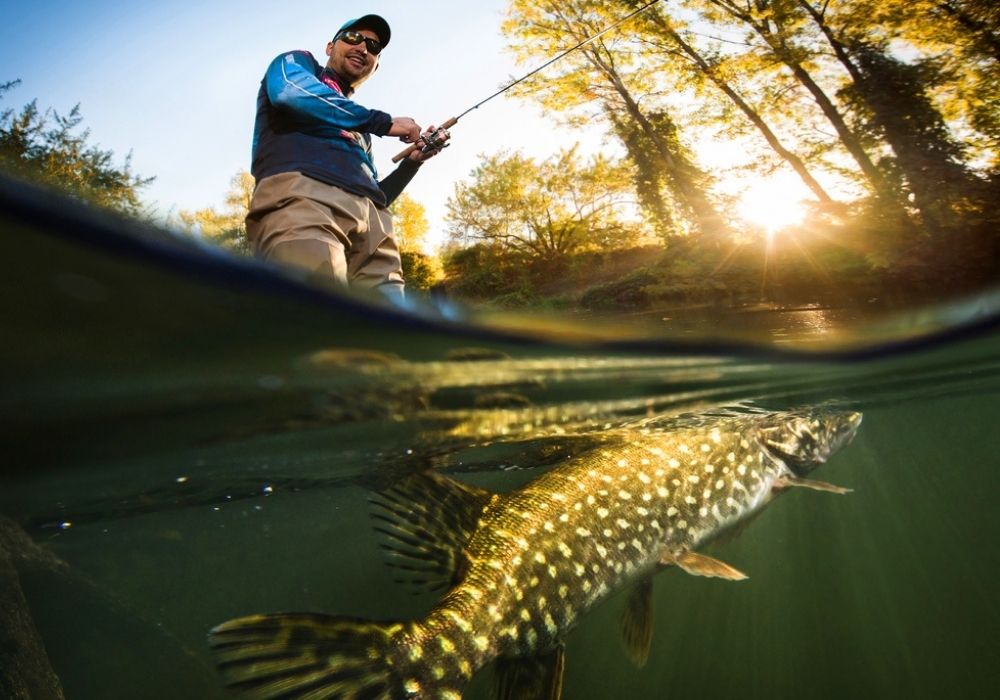 The six-piece setup for this rod allows you to put this in a pack and hike in and out of the wilderness without having to take up too much room in your bag. Ideal for hiking or camping.
Other Features of the Best Travel Rods
Below, we're going to go over some different features for the best fly rods for travel. Check them out and see which ones you like the best and what you like for your own travel rod!
Material
Travel rods come in a wide array of different materials. Most likely though they are going to be made of either graphite or fiberglass. If you're a bamboo traditionalist then you might be hard-pressed to find that in a six-piece.
Portability
This is the whole reason for getting a travel fly rod. You need something that is both short and skinny enough to fit in your bag or wherever else. It's best to measure out exactly the size you need and then find the rod that fits that perfectly.
Rod Tube
Besides how many pieces your rod breaks down to, this is the most important factor when thinking about portability. The rod may break down into eight pieces but if the rod tube is too wide then it kind of defeats the purpose of a travel rod.
Action
You should be able to find travel rods with just about any action you would like. Slow, medium, or fast, the action of the rod should not affect the size or portability of it.
Balance
Balancing your fly rod is important, especially if you're going to be spending some good money on gear. You want to make sure your line, reel, and rod are all the same wt, and that the reel sits and balances well on the rod with the line attached.
Length
The length of the rod is going to affect how many pieces are needed in order to break down adequately. A six-piece 7′ 6″ that breaks down into six pieces will be much smaller than a 9-foot rod that breaks down into the same amount.
Pieces
As we mentioned earlier most rods that are considered "travel rods" are going to come in six or eight pieces. However, don't let a normal four-piece rod deter you from not traveling. It can be done easily and without hassle.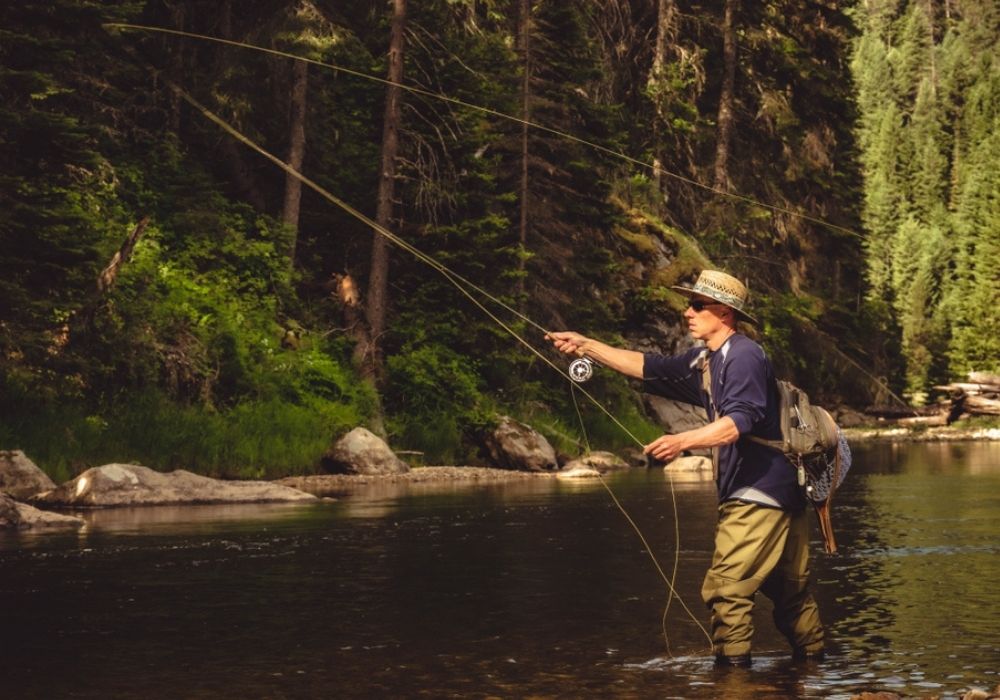 My four-piece 9′ 5wt is longer than my duffel bag so I normally just use the velcro strap on the bag to hold the handle of the rod tube. It straps in nice and snug. If you prefer to keep a rod in your bags then a six or eight-piece is the way to go.
See also: Hands-on & Tested Headwaters Bamboo Gallatin Outfit Review
Best Travel Fly Rods
Below, we're going to go over five different fly rods that you can use for easy and convenient travel. Most are going to be in the six to eight-piece range, but we will also be sneaking in a four-piece rod.
So, check out the rods below and see which one is right for you. Each has its own pros and cons so take a close look and see which ones work the best fly rod for traveling!
Aventik Z Fly Rods
Price – $56.99
Action – Fast
If you want a great travel fly rod and are on a budget then look no further! The Aventik Z Fly Rods are a great option to choose from. These cheaper rods can get you out on the water quickly and easily without spending too much money.
They come in several different colors and sizes. Allowing you the option to pick out exactly what you need in order to fish in the style you prefer.
VIEW ON AMAZON
Echo Trip Eight Piece
Price – $279.99-299.99
Action – Medium Fast
If you want to upgrade your travel rod set up then take a look at the Echo Trip Eight-Piece rod. This medium-fast rod is ideal for fishing most larger and medium-sized bodies of water.
Also, the fact that it comes in eight pieces means you'll be able to pack this just about anywhere. Easily stow it in a carry on or duffel bag to either travel with you on a plane or in the car.
VIEW ON AMAZON
Maximumcatch All-Time Traveler
Price – $76.00
Action – Medium Fast
Similar to the Aventik, this is a great budget rod. You don't always need to spend a car payment or a mortgage in order to bring home a solid rod.
The Maximumcatch All-Time Traveler fly rod is an eight piece. Making it ideal for packing away in tight places. Easily travel around or hike with this in your pack or in your car.
VIEW ON AMAZON
Unifishing Tenkara
Price – $ 69.99
Length – 9′-13′
The Unifishing Tenkara is different than normal fly fishing. You won't be using a reel like you normally would on a fly rod. However, it is still a very effective way to get out and fly fish.
It is even better since most, if not all Tenkara rods are collapsable. They're usually around 20 inches long when collapsed and can fit in your pocket if you really need it to.
VIEW ON AMAZON
Moonshine Rod Co. The Drifter
Price – $199.00
Action – Medium
The Moonshine Rod Co. The Drifter is your classic four-piece fly rod. This particular series comes in many sizes but we're going to talk specifically about the 7′ 6″ because it is easier to travel with.
The seven-footer is great for going out and changing fish in small streams where you need to roll cast, or don't have much space for a backcast. The small size means it breaks down small as well so it can fit just about anywhere.
VIEW ON AMAZON
Redington Crosswater Combo
Price – $149.99
Action – Medium Fast
The Redington Crosswater Combo is a great combo travel kit because the rod tube has the attachment to keep the reel attached. This will save you some time when getting to the river as you no longer have to attach the reel to the seat of the rod.
This is also a solid starter kit for anyone looking to get into fly fishing.
VIEW ON AMAZON
Maxcatch Premier Fly Fishing Combo (Added 2022)
I just had to add the Maxcatch Premier to this list in 2022 as I spent the start of 2020 traveling around Europe and fishing with this rod and I have to say that I love it.
Maxcatch gets some grief in the hardcore fly fisherman community for being a cheap brand out of China, but their Premier series really is Premier for the price. No, it's not going to compete with a top of the line Sage or Orvis when it comes to performance, line speed and tight loops, but it's an incredible value.
Coming in at under $200 for a kit that includes everything you need, and seeing as it's a 4 piece rod with a sturdy rod tube, I'd go as far as to say that this is the best travel fly rod of the year.
It's hard to pick between the Premier and the Echo 8pc, but we kept the Echo at the top this year because it's just so much more portable and can be easily placed in your carry-on luggage while traveling.
I did manage to get the Premier onboard the plane without checking it, but not all airlines would've allowed it.
Review This Post
Conclusion
Travel fly rods can be great for individuals who are constantly on the move. If you're always hiking miles and miles back to your favorite fishing hole then the rods above are going to be the best backpacking fly rod for you!
So, hopefully, you now have a better understanding of what to look for in the best fly rods for traveling. So, head over to Amazon and see if you can find the one for you!