The best fly rod under 200 dollars will make a great backup rod for a seasoned veteran, and it could also be a great rod for an angler who's looking to start out in the sport.
Just because a rod is not $900 doesn't mean it can't be a good piece of equipment. A $200 rod can serve an angler just fine and will allow them to catch many fish.
So, if you're interested in learning more about fly rods for under $200, then stick around. Below, I'm going to cover several different rods as well as some features you should be looking for when purchasing one of your own.
Disclaimer: IntoFlyFishing.com is a participant in the Amazon Services LLC Associates Program, as an Amazon Associate I earn from qualifying purchases. Please see our Privacy Page for more information.
What to Expect From a Fly Rod Under $200?
Not very many fly rods under $200 can stand up to their more expensive counterparts. This doesn't mean that they're bad rods or pieces of equipment, though.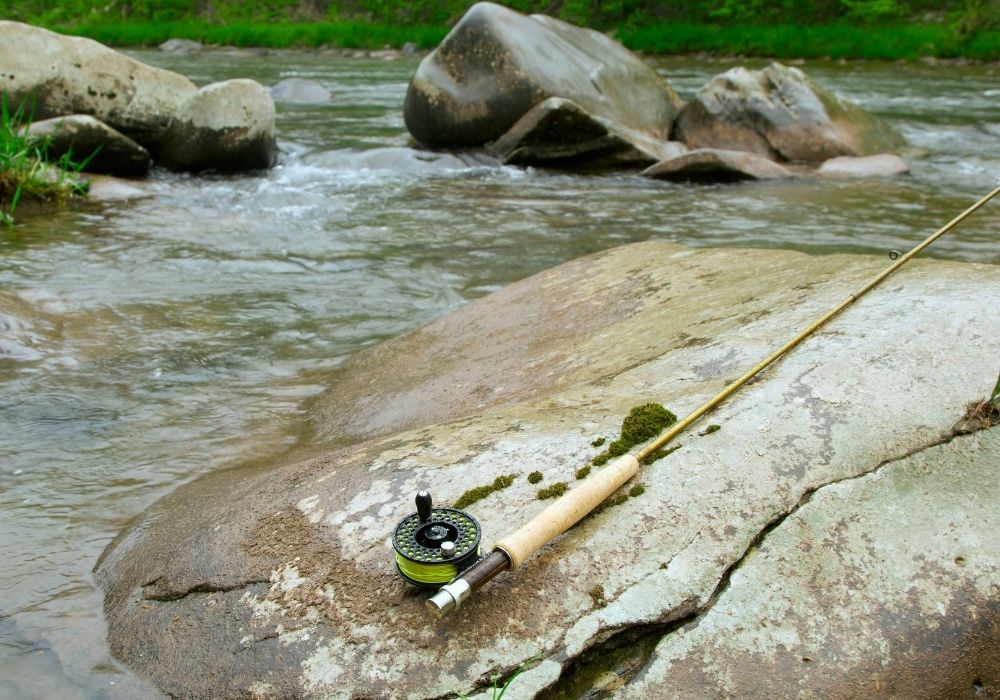 Instead, what you'll most likely be getting is a solid rod that will allow you to get out on the water and do a little bit more than what you were used to when you used that $60 combo.
Are There Good Fly Rods Under 200?
The short answer is, yes. You can find a very good rod out there for under $200. However, you have to keep it in perspective and know exactly what you plan on using it for.
So, think about what you need exactly for fly fishing and then apply that to the rod you're looking at. It might not have all of the features you want, but it'll have all the necessities.
Best Brands of Fly Rod Under $200
Below is a short list covering some of the best fly fishing rods under $200. Check them out to see if your favorite brand is here!
Orvis
The Orvis Clearwater rod is one of the most popular rods out there, and for good reason. These come in at just under $200 and come in many different sizes and weights.
This is a great backup rod or a great rod for a beginner to graduate to after they've worn out their original setup. It's hard to go wrong with a Clearwater rod.
Moonshine rod Co.
The Moonshine Rod Co. is a new company that's popularizing the $200 fly rod. The Drifter, one of their more popular rods, comes in at $199 and is a great rod for an angler of any skill level.
Similar to the Clearwater, it comes in several different sizes. So, if you want a classic 9′ 5wt trout rod or a 7′ 6″ 3 weight to chase after small-stream trout, they have the rod for you.
Redington
The classic trout rod made by Redington is a freshwater medium action rod. That means it's very versatile and can be used in many different water types as well as with different techniques.
It comes with a lifetime warranty, and at this price it's really a steal. Coming in at around $150, this rod outperforms its price point time and time again.
Features of the Best Fly Rods Under $200
There are many great things about rods under $200. They may not have the same sensitivity as a $1000 rod, but they'll get you out on the water and fishing.
Below, I'll cover some of the best features of the top fly rods for under $200. Each of these has its own pros and cons, so take a close look to see which one is best.
Material
Graphite and bamboo are the most expensive materials out there for fly rods. So, most of the rods in this price range are made of fiberglass. Fiberglass is also great for delicate presentations.
You'll be able to get a great fiberglass rod for half the price of a bamboo or graphite one. So, if you want something cheap that'll allow you to get out and fish, check out a fiberglass rod.
Available Weights
Nowadays, you don't have to worry about a rod not coming in the size and weight that you want. Many companies are now making all kinds of rods in different price ranges in order to meet the needs of the customer.
So, don't fret if you want something very specific for Euro nymphing or something for chasing backwater trout. Chances are a company makes exactly what you need in your price range.
Pieces
You'll also be able to find a rod that comes in as many pieces as you'd like. If you prefer a one-piece to stick in a rod vault on top of your truck, then you'll be able to find one.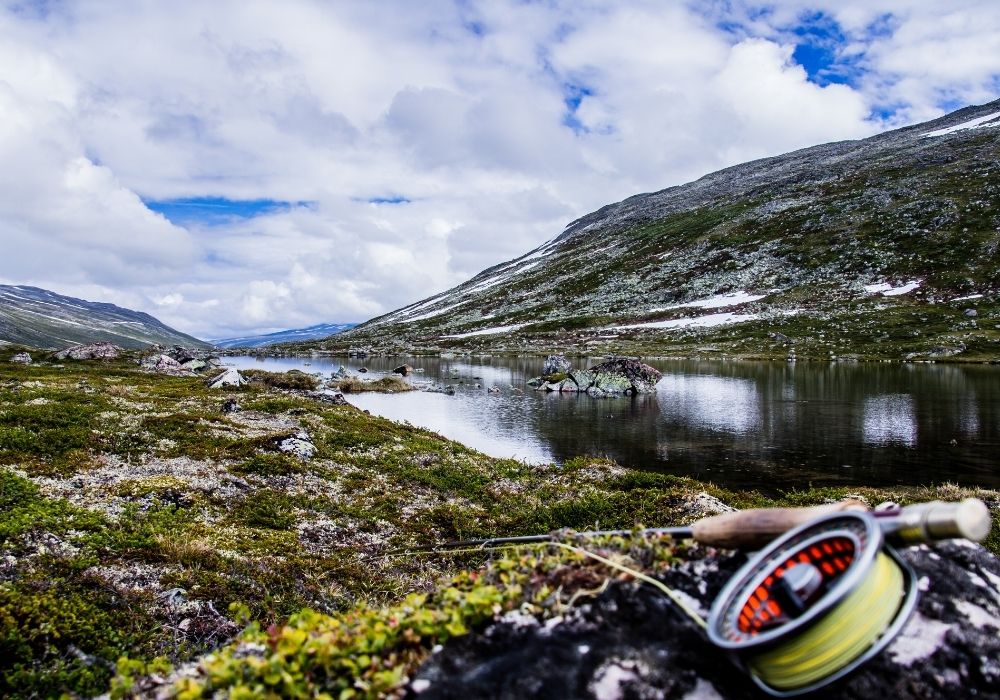 Most rods come in four pieces, though. That just makes it easier to travel. They also come with a rod tube so that you can keep it safe when not in use.
Action
Once you start getting into the $200 range, you'll start seeing more rods that are an in-between size. You'll start to see more medium-fast rods that can be used for multiple fishing tactics.
Overall, though, most rods are either slow, medium, or fast, with medium being a great catch-all action that you can use for multiple types of fishing styles.
Balance
The balance of your rod becomes more important the more expensive your setup becomes. If you'll be spending $1000 on a rod and $1000 on a reel, then you damn sure want that balanced.
While it's still important with a cheaper setup, it's not as crucial. Find something that's close and stick with that. Keep in mind, though, that a more balanced setup will help you with casting effectively.
Best Fly Rods Under $200
Below, I'll go over several different fly rods for under $200. Each has its own list of pros and cons, so make sure it matches exactly what you need for your style of fishing.
Orvis Clearwater
Price: $300
Action: Medium
The Orvis Clearwater is the rod that will help you conquer both Eastern and Western rivers. It's versatile enough that you can use it for just about any type of fishing you can think of. The Orvis Clearwater is the best 5 weight fly rod for under $200.
It comes in several different sizes and can be utilized for fishing small streams and tiny dries. Or, you could get a longer model and use it for Euro nymphing.
VIEW ON AMAZON
Redington Classic Trout
Price: $136.99-169.99
Action: Medium
The Reddington Classic Trout is exactly what the name implies. It's a classic trout rod that can be used in just about any type of water. They make models as small as a 7′ 6″ 2 weight or as big as a 9′ 6 weight.
If you're looking for a solid rod to start out trout fishing with, or if you want something that you can advance to, then this is a great option for you and other anglers. This is the best trout rod for under $200.
VIEW ON AMAZON
Moonshine Rod Co. The Drifter
Price: $199.00
Action: Medium
The Moonshine Rod Co. The Drifter is a high-performance medium action rod that will consistently outperform its price range. Similar to the rods mentioned above, the Drifter comes in several different sizes.
The 7′ 6″ 3 weight is the best 3 weight fly rod for under $200. It's ideal for hitting mountain streams and chasing brook trout, while the 9′ 8 weight is great for getting out on bigger water and chasing smallmouth or other hard fighting fish.
VIEW ON AMAZON
TFO Lefty Kreh Pro Series II
Price: $169.99
Action: Medium
The Temple Fork Outfitters Lefty Kreh Professional Series II is a medium-fast rod. It's ideal for throwing larger flies and targeting even larger fish. It's great for throwing streamers to big trout, even bass.
This rod comes in several different weights and sizes, making it ideal for the angler who wants a weight and size for every fishing occasion.
VIEW ON AMAZON
Fenwick Aetos
Price: $198.00
Action: Fast
The 10′ 3 weight model of the Fenwick Aetos is ideal for getting out there and Euro nymphing. It has the sensitivity needed to toss those small nymphs and feel even the slightest of nibbles.
The 8 weight is equipped with a fighting butt, allowing you to take this into salt water or fight large freshwater fish. It's ideal for the angler who likes to get out and fish all different types of water.
VIEW ON AMAZON
BONUS 2023: Maxcatch Premier
I just had to add the Maxcatch Premier Fly Fishing Combo to the list of the best fly rods under $200 category after I used this rod extensively at the start of the year. I love this fly fishing combo. It comes with everything you need, and it's great for traveling.
Maxcatch is often thought of as a cheap rod builder, but their Premier Series is a bit more top-end. It's definitely worth the extra spend, especially considering you get everything you need for a day on the river, all for under $200.
I love how this rod feels when you're casting it. It has medium-fast action and can generate great line speed and tight loops. I fished it all over Portugal, and the 5 weight was perfect for medium-sized trout.
Review This Post
Conclusion
Fly rods for under $200 can be a great way to get out on the water without having to spend too much money. The price range usually means you're also going to be getting a solid piece of equipment too.
So, if the above information appeals to you, check out the list above or use the list to help guide you to your own fly rod for under $200. Chances are you're going to find the one you need.