As an Amazon Associate I earn from qualifying purchases.
In this post, I'll cover the best 6 weight fly rods 2023 has to offer.
Choosing from a list of the best 6 weight fly rods isn't always an easy task. It's a very important decision for an angler to make, as the 6 wt is one of the most commonly used rod sizes that you'll likely have in your arsenal.
A good 6 weight fly rod is very versatile and a must-have for every serious fly fisherman. The specific fly rods that suit you best will depend on many things, such as your budget, intended fishing method, and casting style.
Our Top 3 of 6-Weight Fly Rods
Best Overall: Sage X 6wt
Best Budget: Echo Base 6wt
Best Value: Redington Classic Trout 6wt
In my 6 weight arsenal is a 10-foot Sage VXP and a custom-built 9-foot Sage One. Although these models are quite old, especially the VXP which isn't available for purchase anymore, they remain a joy to fish with. If you buy the correct 6 weight fly rod, you'll fish it for years.
Species that you'll be able to target include large trout, salmon, and bass. I've even used a 6 weight to catch small bonefish in Seychelles. A good 6-weight is an essential part of your fly fishing gear.
Compare 6wt Fly Rods
I'm going to list five 6wts in this post, but I have one clear standout for the best 6 weight fly rod 2023, which I've highlighted in the quick look above and in the list below.
Quick Look: Best 6-Weight Fly Rods
★ #1 Best 6-Weight Fly Rod Overall: Sage X ★
5 Best 6 Weight Fly Rods
With so many brands and models on the market today, it's hard choosing the best 6 weight suited to your needs. Below, I have selected and discussed 5 of the best 6 weight fly rods, depending on your budget.
1. Echo Base
Action: medium-fast
Lengths available: 9 foot
Sections: 4
Claimed weight (9-foot model): 3.9 ounces
Pros: Lifetime warranty, perfect for beginners, value for money
Cons: The rod is heavy
The Echo Base is a perfect fly rod for the beginner to the intermediate angler. The medium-fast action will help the beginner to get used to timing the back and forward cast correctly.
It's a 4 piece rod that is shipped in a cloth-covered rod tube, case, and a sock. To keep costs down, and make it more durable, Echo has chosen to fit the rod with a black anodized reel seat. This also makes for a very good value backup rod.
As with all Echo rods, the rod has a lifetime warranty for the natural life of the original owner. With all these features, can you believe that the starting price of this range is only $99?
2. Redington Classic Trout
Action: Moderate
Lengths available: 9 foot
Sections: 4
Claimed weight (9-foot model): 3 ounces
Pros: Lifetime warranty, the rod is very light
Cons: Would be great if they offer different length options
As its name suggests, The Redington Classic Trout rod is designed to be a perfect trout rod. It's not only a great rod for the beginner fly angler, but also a good choice for fishing off a boat.
The blank is a dark brown color with a matching rosewood reel seat insert. It's a classic-looking trout rod. To finish the package off, it's shipped in a brown fabric covered rod tube with section dividers.
For peace of mind, the Classic Trout also features a lifetime warranty.
Compare At:
Trident Fly Fishing
AvidMax
3. Epic 686 FastGlass
Action: Medium Fast
Lengths available: 8 foot 6 inches
Sections: 4
Claimed weight (8 foot 6-inch model): not disclosed
Pros: Durable, will stand out from the crowd, lifetime warranty
Cons: Expensive and slightly heavy
If you are more of a traditionalist, then the Epic 686 FastGlass is a great choice. It's a modern fiberglass fly rod, light in hand, and very durable.
If you're a classic fly angler who loves the feel of a high-quality fiberglass rod, then the FastGlass series is likely the best 6 wt fly rod for you.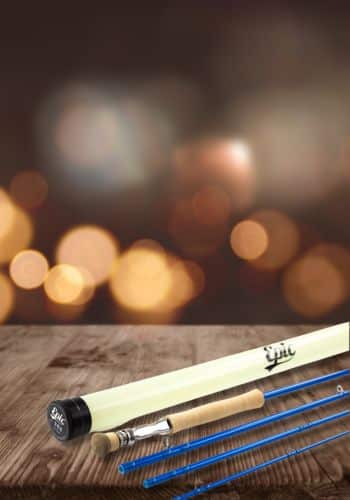 This is a perfect rod if you are more inclined to dry fly fishing, but it can deliver nymphs and streamers comfortably as well. With a total length of 8 foot 6 inches and the considerable bendability, it makes an excellent boat rod.
At $895 it's not cheap, but it will last forever. If looked after properly, your grandchildren will still catch trout with it.
Swift offers this rod in a ready-to-wrap kit. That means you can build the entire rod yourself for only $399. It comes with all the components, tools, and materials that you need. They also include instructional videos and a booklet to take you through the building process.
The built rod or ready-to-wrap kit comes with various options you can choose from. These include blank color (amber or olive), grip (western or slim wells), and reel seat (anodized black or silver).
The Epic 686 FastGlass Rod isn't currently available on Amazon, but you can pick it up from the highly-trusted Trident Fly Shop online, and you'll still get fast and free shipping as well as a money-back guarantee if you're not happy.
4. Sage X (Best 6wt Fly Rod 2023)
Action: Fast
Lengths available: 9 foot, 9 foot 6 inches and 10 foot
Sections: 4
Claimed weight (9 foot): 2 13/16 ounces
Pros: Very light, made in the USA, lifetime warranty
Cons: Expensive
The Sage X replaces the old "Sage One" as its new premium all-water fly rod. As you expect from Sage, it features the best quality cork and has the classic Sage thread wraps.
It is built making use of their most advanced Konnetic HD technology which makes it extremely light. It controls loops very well and has plenty of backbone.
The rod comes in a rod-sock with a durable aluminum rod tube to protect its precious contents. It also features a lifetime warranty.
We've chosen this rod as the best 6 weight fly rod 2023 has to offer because of its great built quality, excellent warranty, and superior blank recovery, particularly in the higher weights (the 3 weight casts a bit like a 4 weight).
I recently got my hands on the 3wt 9′ version of this rod and I have to say it's a very well-built piece of kit. I thought the 3wt version wasn't as sensitive as you'd expect from a lighter rod, but the 6wt variation would likely be excellent. Check out my Sage X Review here.
Compare At:
Trident Fly Fishing
5. Orvis Clearwater
Action: Medium-fast
Lengths available: 9 foot
Sections: 4
Claimed weight (9 foot): not disclosed
Pros: Orvis 25 year warranty
Cons: Would be great if they offer different length options
The Orvis Clearwater is undoubtedly one of the best value fly rods available today. It's a great 6 weight rod, built with trout and bass in mind. It's able to deliver dries very delicately and can chuck big streamers accurately to likely lies.
It comes in a rod tube and offers Orvis' famous 25-year warranty.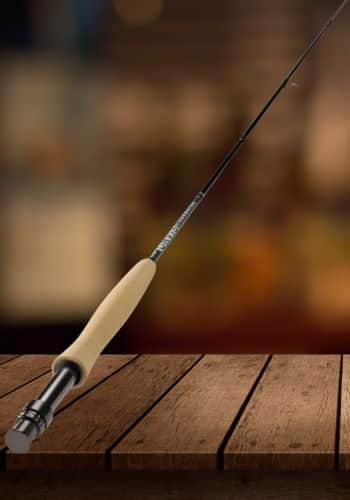 Another option is to buy this rod as a complete outfit. At only $311, it comes with a Clearwater reel, backing and fly line. This also offers amazing value for the beginner to intermediate angler.
If you're considering this rod, check out our full Orvis Clearwater Review.
CHECK PRICE ON AMAZON
Compare At:
AvidMax
Trouts Fly Fishing
Trident Fly Fishing
Best 6 Weight Fly Rod Combo
Sage Foundation
Included in the outfit: Rod, reel, rod, and reel case and fly line
Pros: Lifetime warranty, made in the USA
Cons: Older graphite technology
Sometimes it's more cost-effective to purchase a fly rod and reel combo which often includes a fly rod, a fly reel, fly line, and leader as a very minimum in the package.
Sage released their high-performance Foundation fly rod outfit back in 2018. And as one would expect from Sage, this is a great rod for both intermediate and beginner anglers.
Included in the combo is the Spectrum C Series of fly reels. It's a large arbor die-cast reel that features a sealed carbon drag. The reel comes pre-spooled with backing and an amazing fly line from Rio, the Rio Gold.
To complete the outfit, it comes in a very sturdy rod case that can accommodate the reel and rod together. This combo includes one of the best 6wt fly rods 2023 has on the market and a great, top of the line fly line to go with it.
Although this outfit would stretch the budget of many beginners, it's amazing value for money as you are investing in one of the greatest fly rod manufacturers ever.
Compare At:
Telluride Angler
Trident Fly Fishing
What is a 6 Weight Fly Rod Good For?
A lot of people ask what a 6 weight fly rod is good for, and the answer is quite simple. This is one of the most versatile weights of fly rods, so it's good for just about everything.
You'll be overweighting a bit for smaller trout and underweighting for larger saltwater species, for sure, but the 6 weight is one of the only fly rod weights that is great for smaller freshwater species, while still being sufficient to handle some saltwater fly fishing.
Typically, a 7-weight is considered the most versatile fly rod overall, but if you're planning to do mostly freshwater fishing for medium-sized trout on small to midsized rivers, with the odd day out fishing saltwater, then the 6 weight is likely your best choice.
Features Of The Best 6 Weight Fly Rods
As with a good quality 5 weight, the best 6 weight will be versatile and will be able to shine in various different fishing situations. Below, I've gone through some key features that I expect from the best 6 weights.
6wt Fly Rod Presentation
When compared to a 5 weight, a 6-weight fly rod is usually paired with a slightly heavier line. This line will enable you to carry heavier flies and generate a higher line speed.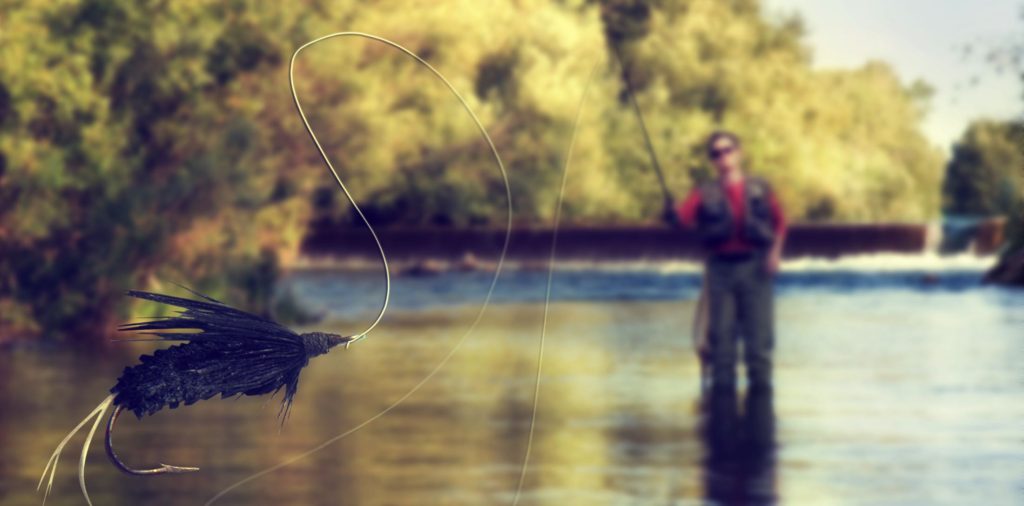 Therefore, a 6 weight is a good choice if you are looking to make longer casts with heavier flies. A good 6 weight should be able to cast streamers up to a hook size 2 with ease. Having said that, if you are a skilled caster, you will still be able to present smaller flies delicately, should the need arise.
Fighting
The fighting ability of a 6 weight is arguably one of its best attributes. It's capable of handling large trout, salmon, and some saltwater species with ease. It's also a great rod choice if you are targeting bass on a regular basis.
Typically, a 6 weight rod's power comes mostly from the mid- and butt sections. The tip will also protect tippets down to 5X.
Durability
As this is a rod that sees a great deal of action, choose a brand or model that is reputed to be durable. This will ensure that the rod doesn't spend most of its life in postage to and from the manufacturer.
The material and weight of the rod can also indicate its level of durability. Generally, fiberglass rods are very durable, but are heavy and have an incredibly slow action. On the other side of the scale, an extremely lightweight rod tends to be less durable.
Action
Depending on your intended method of fishing and your casting style, the modern 6 weights generally feature fast actions. However, there are still medium-action rods on the market suited for beginners or casters with slower styles.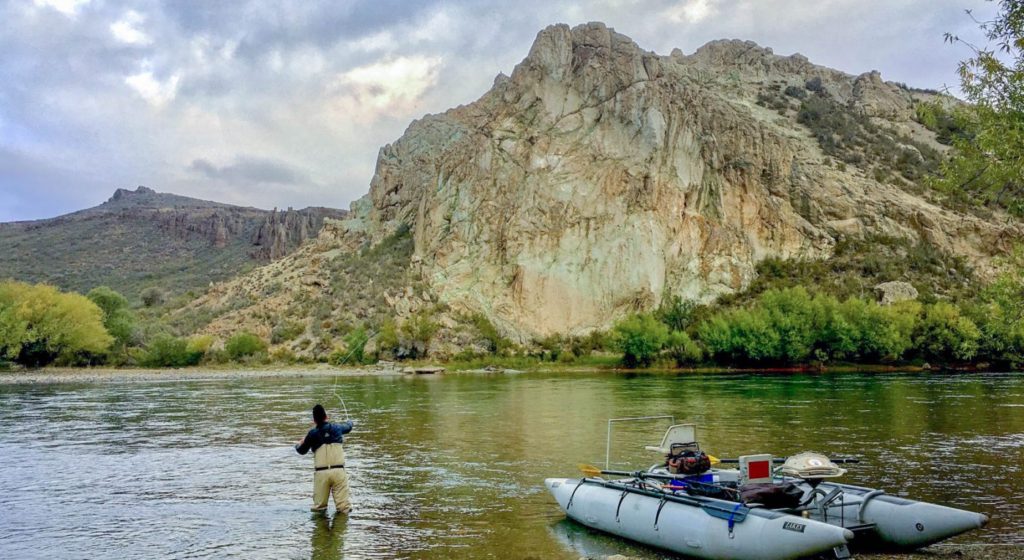 Price
For most of us, price is probably the most decisive factor when buying any rod. Especially in the current economic climate, it's hard to pinch off close to $1000 for a fishing rod.
When choosing a rod, remember that you need to pair it with a suitable reel and line. My recommendation is to buy the best fly line you can afford, and rather save a couple of dollars on the rod or reel.
Review This Post
Watch The Video
Conclusion: Best 6 Weight Fly Rods 2023
If you are looking for one rod to fish large rivers and present large flies, a good 6 weight is the best rod for you. It will easily catch medium- to large-sized trout, salmon, and bass. You could even use it for some light saltwater fly fishing as well.
There are so many 6 weight fly rods on the market these days, that even to me, it would be a tough choice to choose one. Hopefully, this post pointed you in the right direction.
Please share your comments or thoughts below, we would love to hear from you.
Some images in this post are courtesy of Shutterstock.com.
Like This Article? Pin it!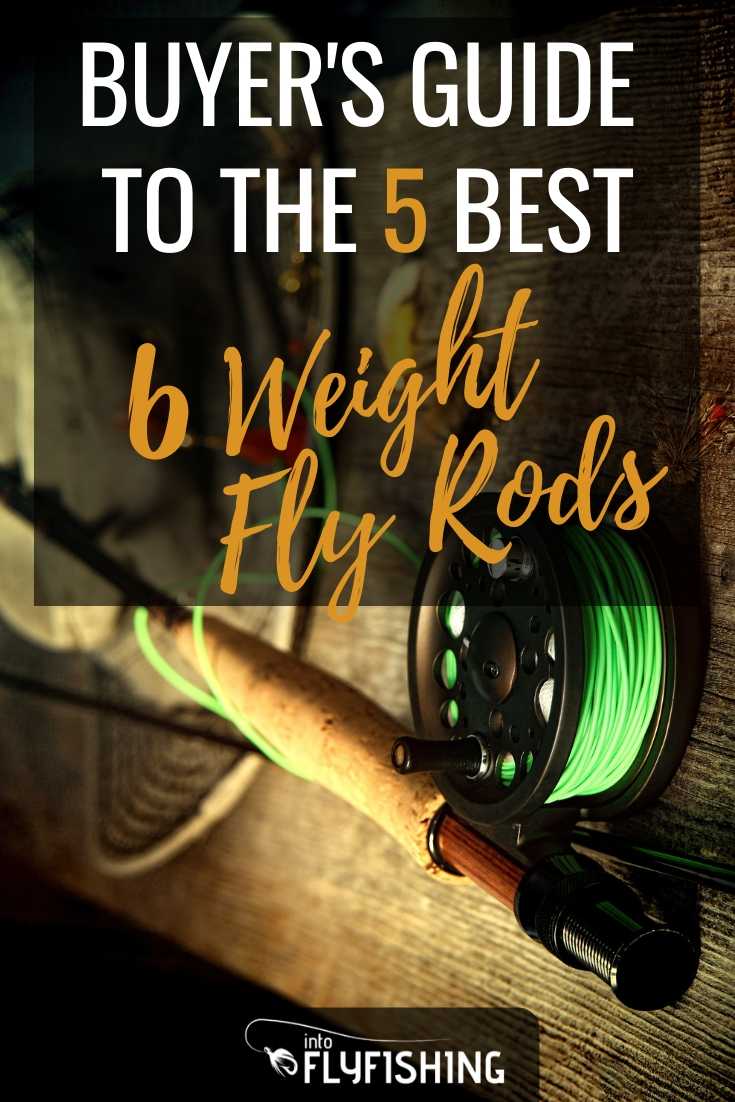 Amazon and the Amazon logo are trademarks of Amazon.com, Inc, or its affiliates.
As a part of the Amazon Associates Program and other affiliate programs, Into Fly Fishing® may receive a comission if you order products through links on this website.