As an Amazon Associate I earn from qualifying purchases.
In this in-depth review, we're looking at the Moonshine Epiphany 10 foot 4 inch 2 weight. We'll look at the rod's strong and weak points and who it's designed for. Then, I'll zoom into each component in detail.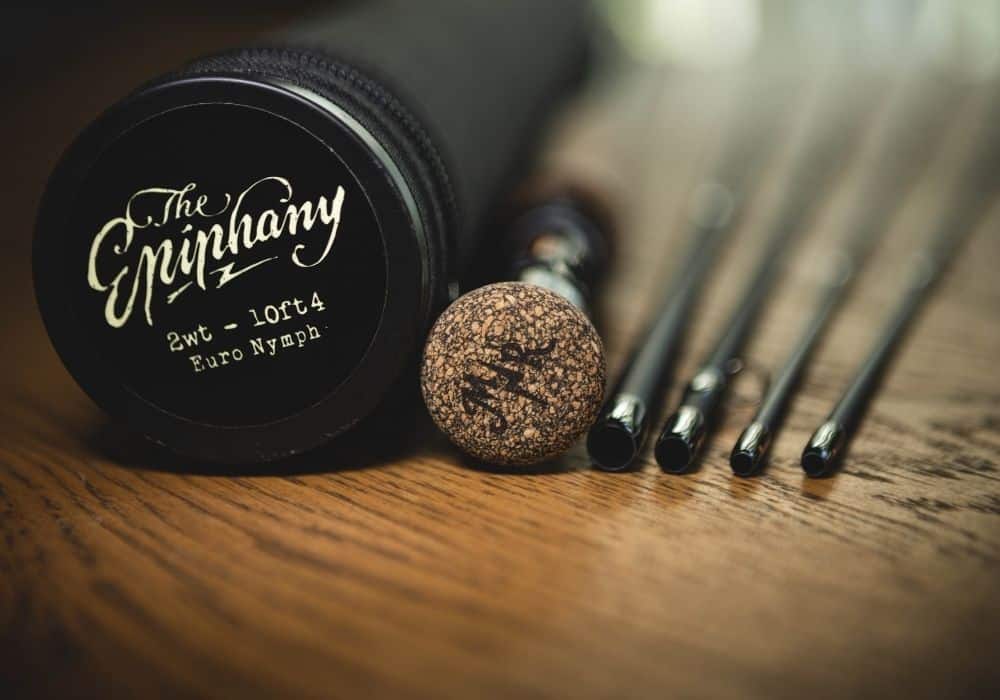 Moonshine Epiphany 10'4″ 2wt
If you like what you see in this Moonshine Epiphany 10'4″ 2wt review, you can order the Moonshine Epiphany 10'4″ 2wt on Amazon.
Why Trust My Moonshine Epiphany Review?
Before diving into the review, I must mention that Moonshine sent me this 2 weight Epiphany to test and review. I always strive to be as honest and objective as possible, which they also appreciate. Ultimately, this review is here to show you what the rod is about and whether you should consider buying it.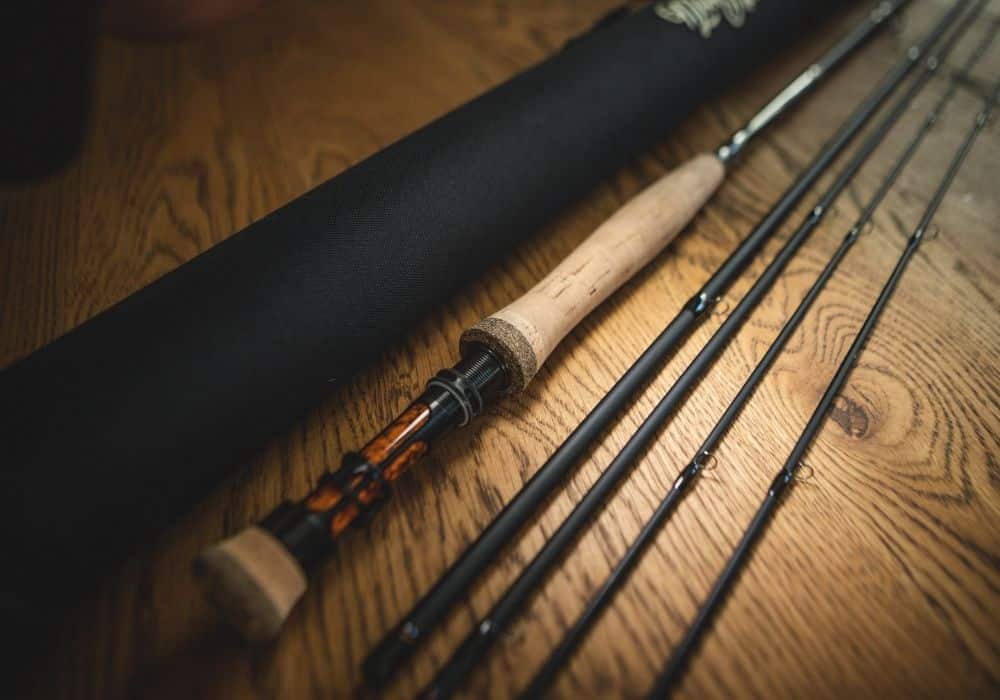 The Epiphany range, which has recently been redesigned with new blanks and components, is Moonshine's dedicated Euro nymphing rod. There are three Epiphany models, and this, the 10ft 4 inch 2 weight, is the lightest.
I used it extensively for three weeks on the trout streams near Cape Town, and I feel the 2 weight is better suited for this application than its bigger brothers. The river's flow rates have dropped considerably, so I mainly fished the rod with a dry-dropper rig but also tested it in deeper runs with heavier nymph rigs.
Watch the Moonshine Epiphany 10'4″ 2wt Review
Where Does the 2 Weight Epiphany Shine?
Before I get cracking on the details of the rod's build, let's first look at where the Epiphany 2 weight shines.
Recovery Rate
For those that didn't read my Epiphany 3 weight review, that specific rod had a pretty poor recovery rate, which impacts your confidence when you need to make accurate casts. Now, the 2 weight Epiphany is way better in this regard. Although the blank design might be similar, the slight reduction in weight makes for a rod that recovers better.
Light Tippet Protection
The soft tip of the 2 weight Epiphany also helps to protect light tippet material. I'm talking everything down to 8X. I fished 7X most of the time, and the rod gave me the confidence to pull as hard as I wanted.
Obviously, this relies heavily on the quality of the tippet you're using and how well you tie your knots.
Spare Rod Tip
The Epiphany comes with a spare rod tip to keep you on the water in case you accidentally break one. Just with this detail, you can see Moonshine is a company run by anglers. As I said in my Moonshine Outcast review, I can't understand why other manufacturers aren't doing the same.
Where Does the 2 Weight Epiphany Fall Short?
Going through the rod in detail, I couldn't find any issue or imperfection at all. The clear coat is bubble-free and applied perfectly, all the guides align 100%, and the grip sits nicely in your hand.
Moonshine Epiphany Features & Specs
Let's have a look at the build and components of the 2 weight Epiphany.
Rod Tube
Moonshine ships the Epiphany in a solid Cordura-covered tube with the Moonshine logo embroidered on it. A sticker with the rod's details is located on the cap, making it easy to identify.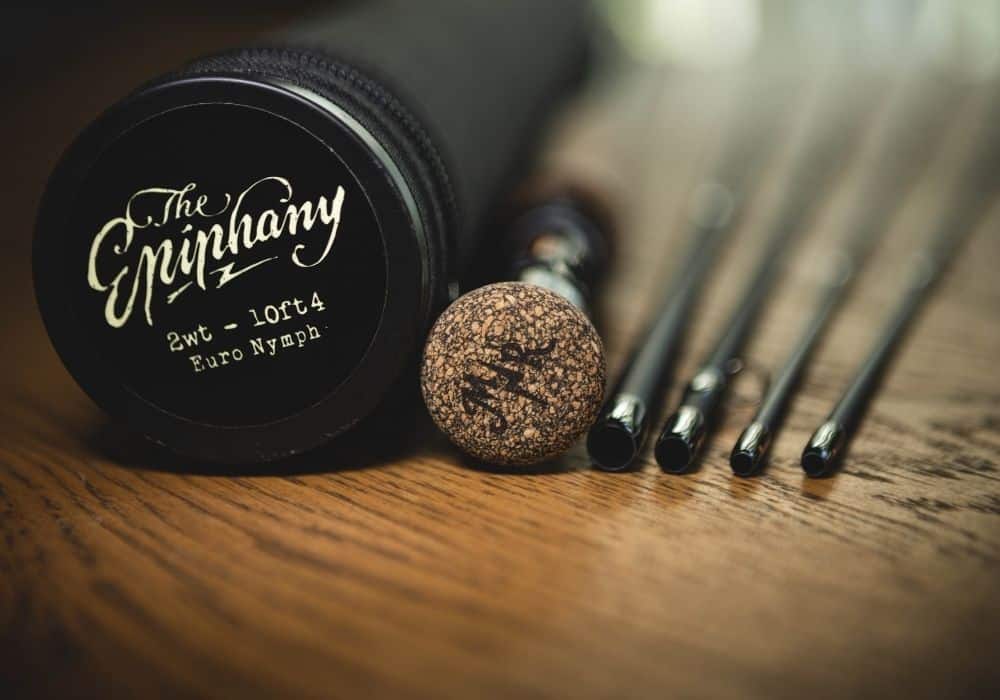 Order the Moonshine Epiphany 10'4″ 2wt
If you like what you see in this Moonshine Epiphany 10'4″ 2wt review, you can order the Moonshine Epiphany 10'4″ 2wt on Amazon.
The rod doesn't come in a rod sock; instead, the tube has five individual compartments, one for each section and the spare tip.
Sticker
Each Moonshine rod comes with a unique sticker.
Fighting Butt
A good nymphing rod should have a fighting butt, which is used to anchor the rod against your arm while you're high sticking. Because most dedicated nymphing rods feature down-locking reel seats, the fighting butt also helps to keep a spinning reel away from your body while you fight a fish.
The fighting butt is made from a combination of cork and rubberized cork with a laser engraved Moonshine Rod Company logo.
Reel Seat
A black aluminum down-locking reel seat is used to balance the rod's length. It has a single locking ring with a Delrin bushing to keep it in place. Make sure you really tighten this properly to prevent the reel from coming loose. The reel seat also features an orange wood insert that gives the rod character.
Grip
The Epiphany has a half-well grip made from the same high-quality cork and rubberized cork you'll find on the fighting butt.
Blank
As I mentioned earlier, I found that the blank of the 2 weight Epiphany has a better recovery rate than the 3 weight I reviewed a while back. I love the feeling and tippet protection this blank gives you. For the price, I doubt you'll get a better 2 weight blank.
Finish
The blank has a matte carbon finish, which reduces rod glare on bright days. The components and ferrules are finished with black thread and metallic orange accents that complement the striking orange reel seat.
The epoxy on the thread wraps is perfect and has no signs of bubbles or discoloration.
Alignment Dots
Each section has orange alignment dots that help you to assemble the rod more efficiently, so you can get on the water quicker.
Line Guides
The 10'4" 2 weight Epiphany has a total of 13 line guides. The titanium and silicon carbide stripper guide is placed high up on the butt section to eliminate line sag. Thin wire single foot guides are used on the 2nd and 3rd sections to reduce weight.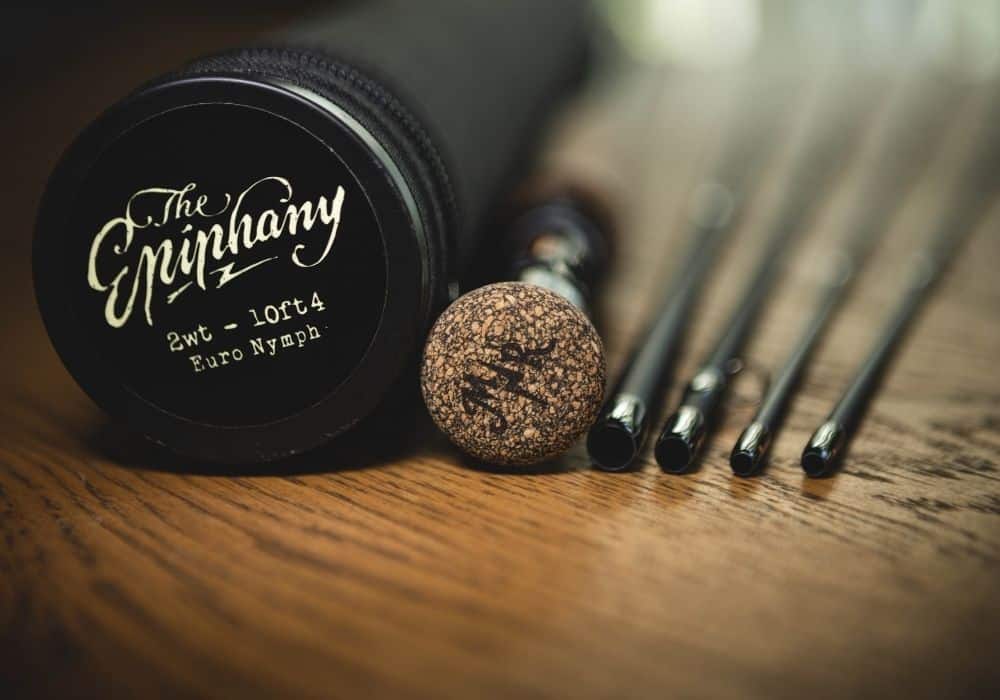 The tip section features a combination of single-foot and snake guides for added durability. According to Moonshine, this last detail allows knots and line joints to pass through the guides easier.
Warranty
The Epiphany comes with a full lifetime warranty for the original owner that covers any defects in materials or craftsmanship. If you break any section of your rod and need a replacement section, Moonshine will sort you out for $45 with a delivery time between one and two weeks.
I claimed a warranty replacement from them all the way here from South Africa and had a new section within one week.
Fishing the Moonshine Epiphany 2 Weight
As mentioned earlier, I tested the Moonshine Epiphany on the trout streams near Cape Town. I mainly fished it with a dry and dropper rig but frequently switched over to heavier nymphs when the situation allowed.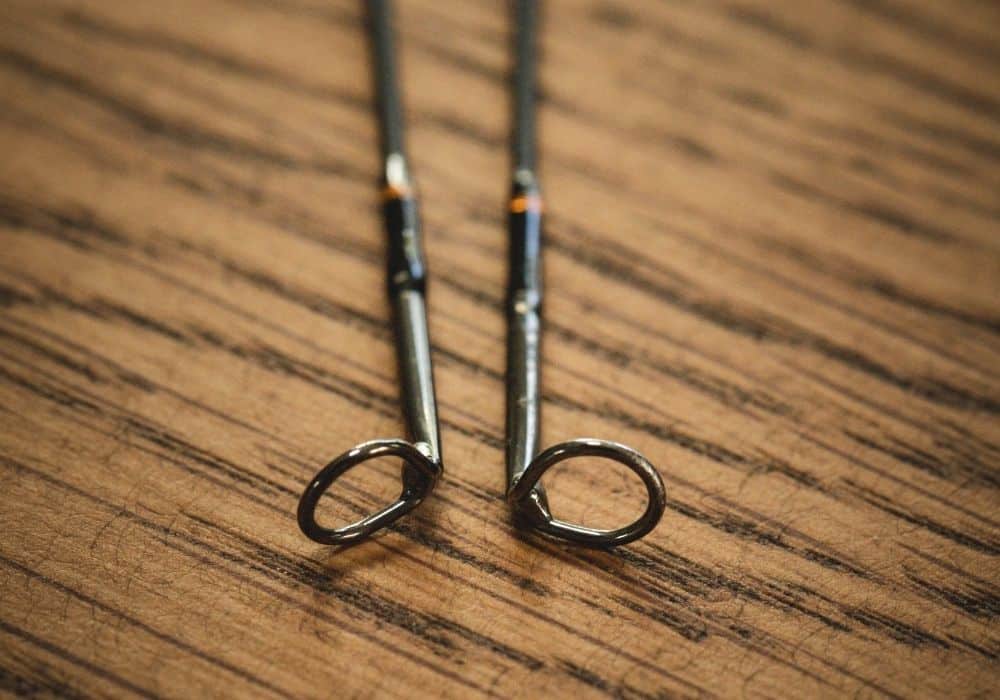 Length
The 2 weight Epiphany is slightly shorter than the 3 weight version, making it easier to handle in tight situations. Measuring 10' 4", it's still on the long side, so controlling drag-free drifts is still effortless.
Fly Sizes
The rod performed well with the lighter dry and dropper combined with a thin tippet. It was easy to make accurate casts. I do feel that if you're planning on fishing heavy nymphs, let's say two 4mm tungsten beaded Perdigons, it might not be the ideal choice. In that case, I'd opt for a 3 or 4 weight Euro nymph rod.
Fighting Ability
The thing that impressed me most about this rod while fighting a fish is the confidence it gives you in protecting light tippets. The tip is extremely sensitive and forgiving, so you can easily use it down to a tippet size of 8x.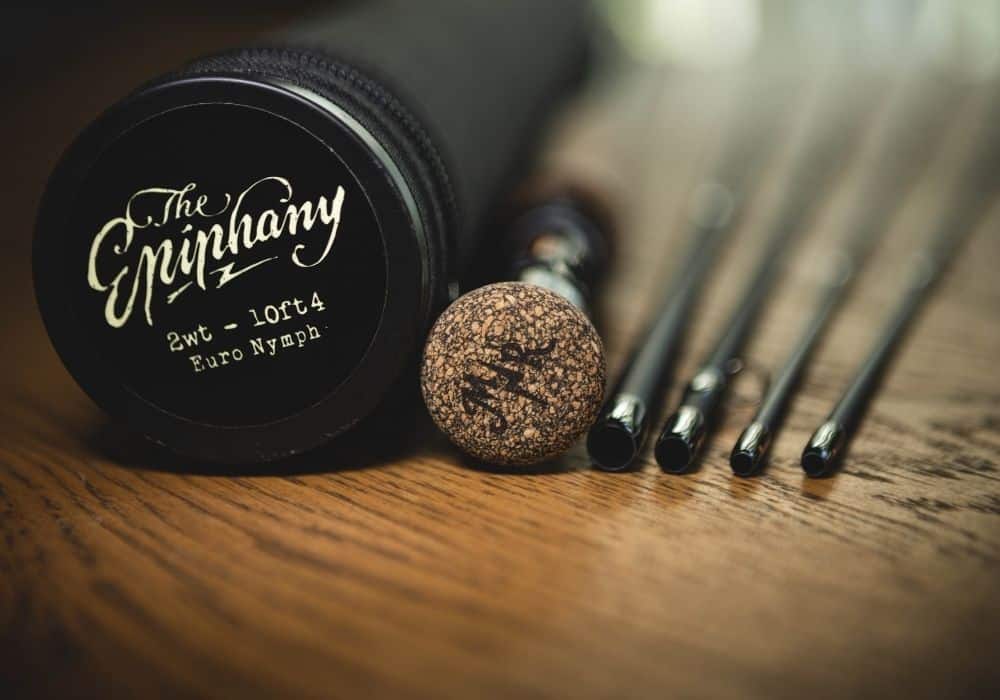 Order the Moonshine Epiphany 10'4″ 2wt
If you like what you see in this Moonshine Epiphany 10'4″ 2wt review, you can order the Moonshine Epiphany 10'4″ 2wt on Amazon.
Yes, it has ample pulling power, as the butt section is relatively beefy, but you're not buying this rod to target 10 pound trout.
My Personal Thoughts
So, after spending all this time with the 2 weight Moonshine Epiphany, what are my final thoughts?
Pros:
The recovery rate of the rod is good, giving you a confidence boost to make that tricky cast.
The rod is very well priced and gives you access to the latest in Euro nymphing rod design without breaking the bank.
I also love the fact that Moonshine gives you a spare tip – it just makes so much sense, and I cannot understand why there aren't more manufacturers doing this.
Cons:
On the con side, there isn't much fault I could find. I mean, you can feel it's not a $1000 rod, like a Sage ESN or a Thomas and Thomas Contact, but it's not trying to be that.
It is a rod coming in at a reasonable price that still gives you the ability to catch fish in exactly the same way.
Who Should Buy the 2 Weight Moonshine Epiphany?
So, who is this rod designed for? This is the perfect rod for any angler looking to learn Euro nymphing. This rod is the ideal tool for the job and will continue to serve you well for many years to come.
The Moonshine Epiphany 2 weight is also perfect for outfitters who need to keep a couple of good nymphing rods for clients. Their good after-sales service and the fact that you get a spare rod tip means that you always have a rod available – yet it doesn't break the bank.
Conclusion
Most important of all, I enjoyed fishing the 2 weight Moonshine Epiphany. It allowed me to fish exactly the way I wanted, and it handled everything I threw at it with ease.
I hope that you found this review helpful. Please leave any comments, questions, or suggestions at the bottom of the page. I would love to hear your thoughts on the rod.
Until next time.
Amazon and the Amazon logo are trademarks of Amazon.com, Inc, or its affiliates.
As a part of the Amazon Associates Program and other affiliate programs, Into Fly Fishing® may receive a comission if you order products through links on this website.