As an Amazon Associate I earn from qualifying purchases.
When you're first starting as a fly angler, you want to get a rod that will allow you to fish in as many situations as possible. The goal is to get out and start to gain experience in different types of waters in different conditions and have a rod that will work for all of it.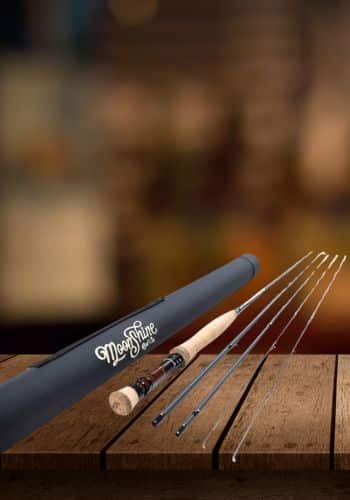 Moonshine Vesper 10′ 7 wt
If you like what you see in this Moonshine Vesper 10′ 7 wt review, you can order the Moonshine Vesper 10′ 7 wt on Amazon.
Once you progress in your fly fishing journey, you'll begin to learn more about what would make a setup better for certain types of fishing…whether because of conditions, the size of the water, or the species you are chasing.
This is where a 10′ 7 wt rod starts to enter the equation. For most people, this should not be your first rod purchase, as it's intended for certain situations and to handle those situations better than other rods would.
Why Trust My Moonshine Vesper 10′ 7 wt Review?
I want to mention here that Moonshine did send me this rod to review, and I didn't purchase it. This didn't influence my review at all, and I'll be providing my honest thoughts on how this rod performed.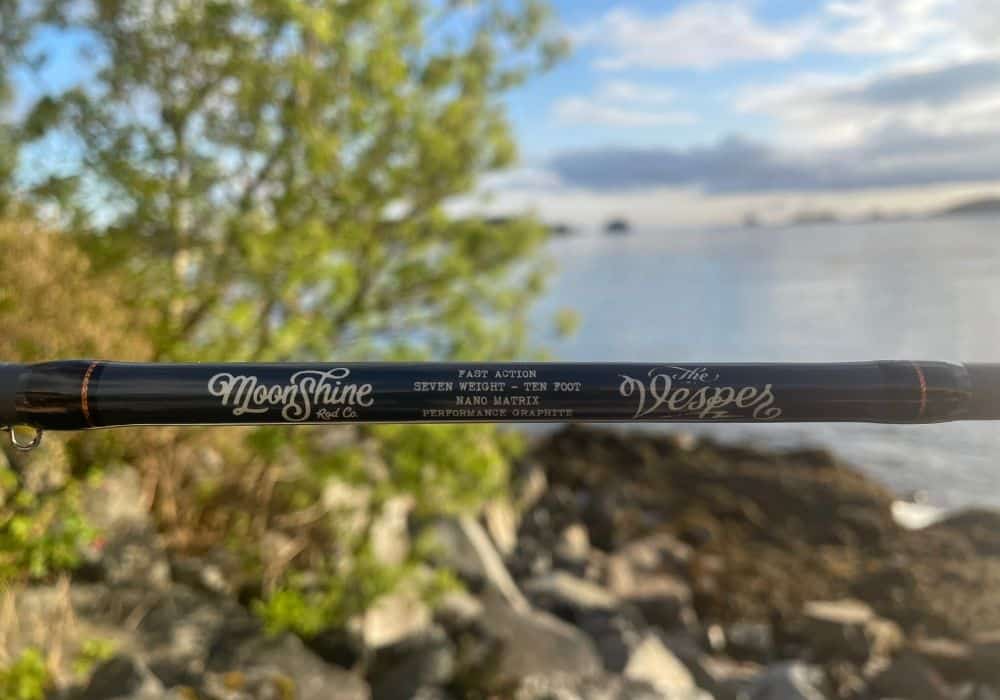 Recently, I had the chance to use this rod in southeast Alaska chasing my favorite fish: wild steelhead. I've spent several years fishing these waters, and they have an extremely special place in my heart.
I was able to get a good feel of how the rod behaves while casting in a controlled setting and also in the real world on the river.
What's in the Box?
When purchasing any type of equipment, it's important to know what you're getting, especially when it deviates from the norm. In Moonshine's case, when buying this model or any other Vesper rod, you'll receive an extra rod tip. You'll also receive the following:
Rod Tube
The rod will come inside a cordura rod tube with an embroidered Moonshine logo. The rod information will also be labeled on the top of the tube for easy identification.
The tube feels sturdy, and it includes a strap to use as a handle or to run a backpack strap through.
Rod Sleeve
Inside the rod tube, you'll find a cloth rod sleeve containing five compartments for all of the rod pieces. More on this in the rod section.
The sleeve has no impact on the performance of the rod, but I like the way it looks with the logo on the folded over section at the top. The material used for the ties is more like a cord than cloth, which feels nice when you're putting the rod away.
The Rod
And obviously the most important part…the rod itself. The unique thing you'll notice about this four piece rod is that there are actually five pieces.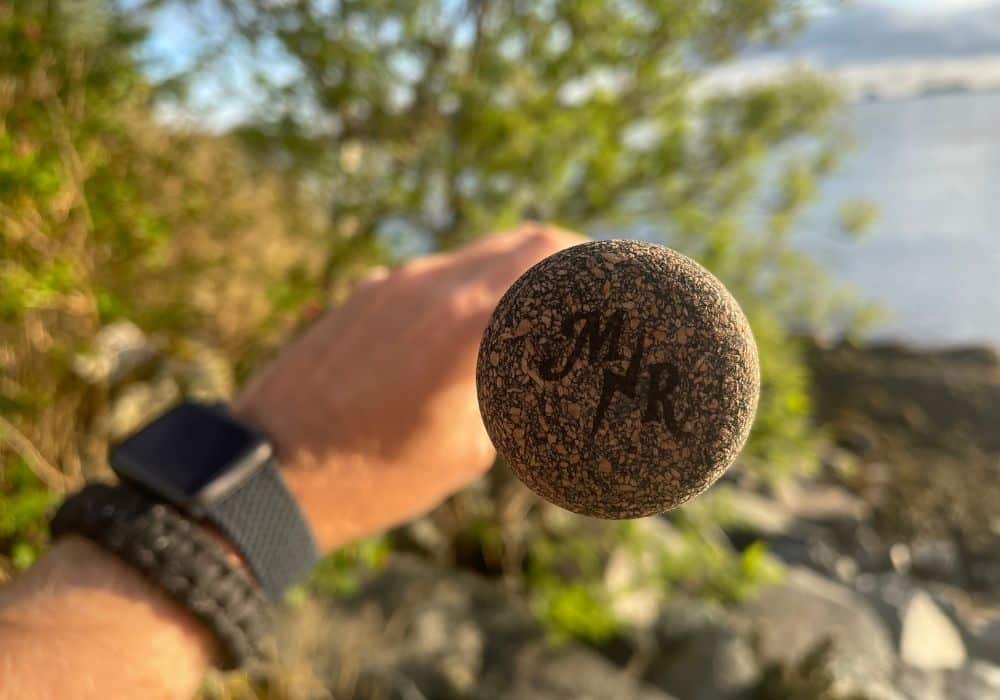 Moonshine includes an extra tip section on all Vesper models, which is a huge benefit in the convenience department. The tip section is the easiest to break (especially while bushwhacking through thick forests), and this removes the need for a warranty replacement if you do break the tip.
I think this goes above and beyond, and although they have a full warranty program, sending a rod in is never fun. This is a great way to cut down on those instances. I've seen plenty of rods break in other sections, but the tip is the most likely.
Don't miss our Moonshine Vesper 5 wt 9' Fly Rod Review.
Moonshine Vesper Review Features and Specs
Moonshine's message for the Vesper is that they've focused on building high quality blanks for a great rod and removed the fluff. Their goal is to produce a high performing rod at an affordable price.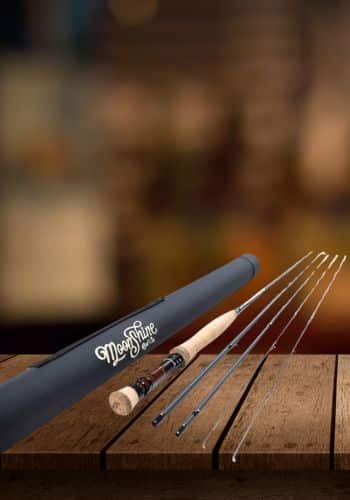 Order the Moonshine Vesper 10′ 7 wt
If you like what you see in this Moonshine Vesper 10′ 7 wt review, you can order the Moonshine Vesper 10′ 7 wt on Amazon.
It's also very clear that they want to make visually appealing rods, and I do really like the way the rod looks.
Build Quality
The rod is built with nano-matrix carbon fiber, and the blanks do feel high quality. The first issue I noticed with this rod, though, was that it makes a whistling sound through the blanks when pressure was applied.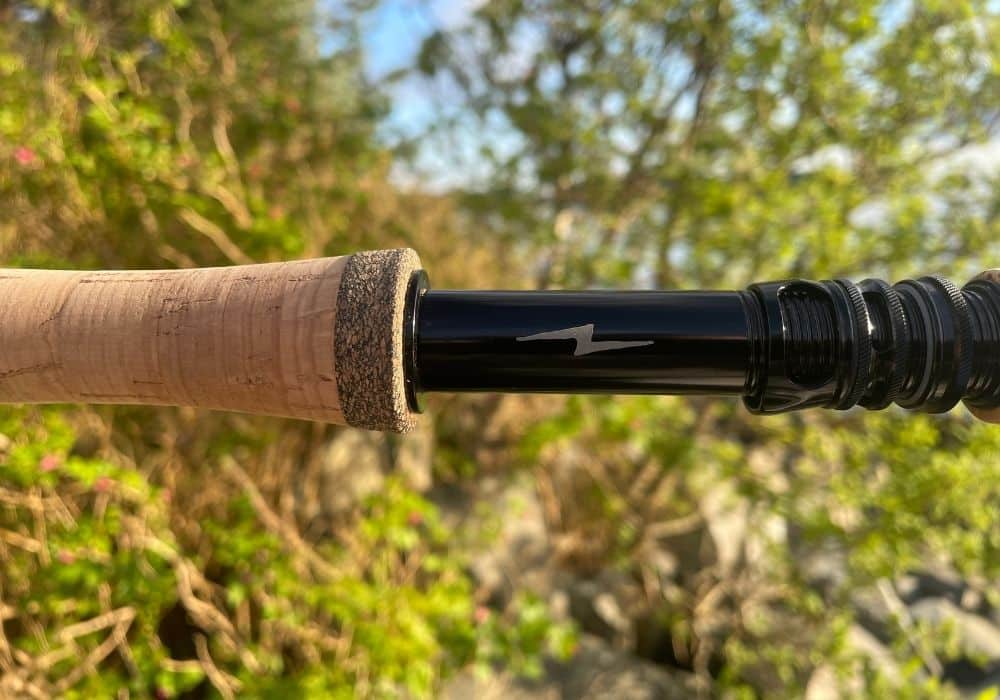 The noise is annoying, and it also makes the blanks seem cheaper. It seemed to lessen the more I used the rod, but it hasn't completely disappeared.
The 10′ 7 wt has two high quality SiC stripping guides followed by light wire single foot guides instead of snake guides. This can preserve weight, as there's only one wrap instead of two, but the difference is minimal.
The biggest potential drawback would occur if you're fishing in freezing temperatures. Ice can lock the line into the guide easier than in a snake guide, but the reality is that this doesn't apply for most people.
The rod has a full wells AAAA grade cork grip, which feels great in the hand. The grip was comfortable all day, and there's also a fighting butt with the same cork.
This model has a salt ready aluminum uplocking reel seat with the lightning bolt logo engraved on the back. The lighter Vesper models have a tobacco reel seat that's really sharp looking, but beginning with the 7 wt they transition to a more saltwater friendly seat.
The reel seat has two locking rings, both with bushings. I'm always a fan of having double locking rings, especially on heavier rods.
Action
Moonshine lists the 10′ 7 wt as fast action, and this was the biggest issue I had with the rod. Most of the rods I fish are fast action because it fits my casting style, and this didn't match the description.
It's extremely important to note that no type of action is inherently good or bad, and my issue is not that it wasn't fast action. My issue was that it didn't fit the description. The lighter weight models (3-6) are labeled as moderate-fast, and I think this rod is more in line with that category.
The tip is very sensitive, and it has a lot of softness down into the midsection. The rod does have a lot of power in the butt section, and it feels great when you get the rod to load deeply. This also comes in handy when trying to turn or control a big fish.
Weight
The 10′ 7 wt is listed on Moonshine's website as weighing 3.7 ounces, and it feels light in your hand. The swing weight is also good, and there won't be any problems casting this rod all day.
It doesn't feel bulky, and it feels good from the moment you pick it up. You want to start throwing lines as soon as it's in your hands!
The Vesper is offered from a 3 wt up to a 10 wt, with most of the models being the standard 9 feet. There are a couple length variations in the 3, 5, and 7 weights.
Aesthetics
I love the way this rod looks. When it's all put together it's beautiful, but even the individual blanks are impressive.
The matte grey blanks match perfectly with the black and copper wraps. The copper really stands out on the rod. Even though it's subtle, it makes a statement. The rod also has matching alignment dots that fit nicely.
The writing on the butt section with the length and weight looks great as well. I think that Moonshine has branded themselves well, and the font on the rod does a good job of finishing the job.
The cork fits the rod nicely, and the main handle section is accented by darker trim on the top and bottom. The fighting butt also has this two tone look. The bottom of the fighting butt has the MR logo printed on it, which is a nice detailed touch.
Warranty
I've never broken one of their rods, so I don't have any first-hand experience with their warranty program. They list on the website that they offer a no fault lifetime warranty to the original owner, which sounds amazing.
This, coupled with the extra tip that's provided from the beginning, gives me a lot of confidence in owning this rod for a very long time. That feeling also makes the price point look even more attractive.
Casting
Casting is a very broad term that encompasses many different scenarios that oftentimes are not directly comparable. As I discussed earlier, this is more of a specialized rod, so I'll be talking about some very specific casting situations.
It's important to understand that everyone has a different casting style and that I want you to understand what the rod does well and not well, which should not be confused with the rod itself being good or bad. Understand the rod and how it will work for your type of fishing.
For overhand casting, this rod was incredible, while I had a difficult time getting the rod to perform how I wanted it to in tighter situations.
Traditional Casting
It was incredible to cast in the traditional way. Overhand casting this rod was effortless, and the presentations were accurate and delicate.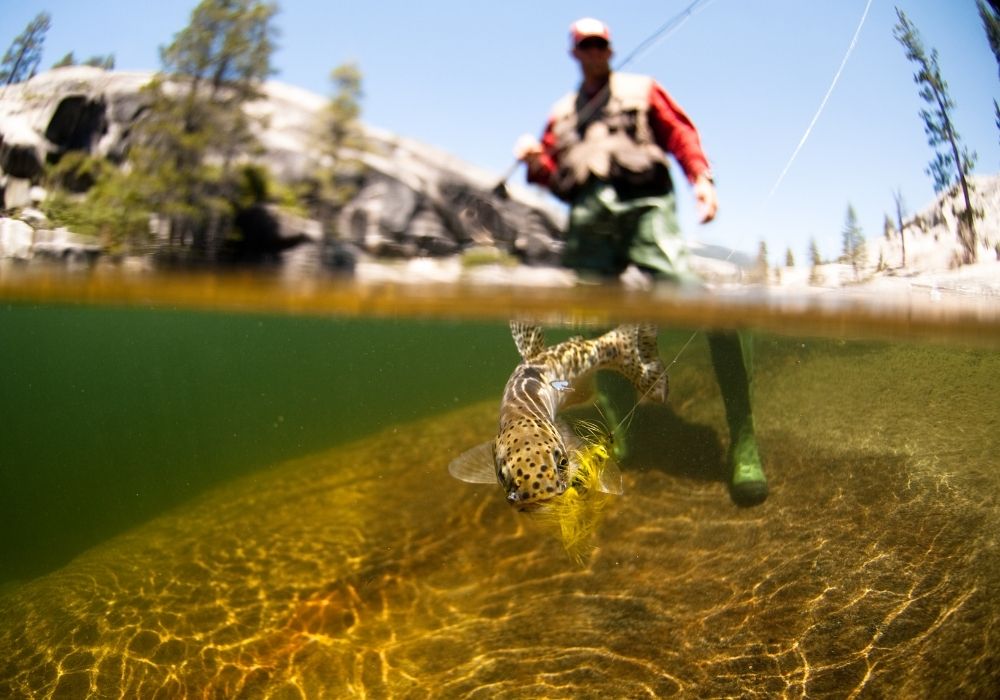 I couldn't get enough of casting this rod because it felt so smooth. It outperformed my expectations at both short and long distances. When you use a double haul to deeply load the rod, this thing will cast a long way!
Although it can cast a long distance, I wouldn't choose this as a saltwater rod. The action is a little too slow, and it would be difficult to quickly make a cast, especially into wind. On the flip side, it means the rod has enough touch to deliver a great cast with a rig that might have multiple components (nymphing or beading).
Roll Casting
The very first cast I made with this rod was with an indicator, weight, and a large fly. The cast crumpled in front of me. The rod just doesn't have the tip power to make these types of casts, and for me in southeast Alaska, that's what I needed.
When I changed setups and fished a lighter fly, the rod completely changed. It handled roll casts arguably better than some of my more expensive rods. I loved the way I could get some serious distance on a roll cast if I didn't overload the tip section.
Moonshine Vesper 10′ 7 wt Review: My Personal Thoughts
After spending some time with this rod, I was able to form some opinions on what I liked about it and what I didn't.
I also have some thoughts on who I think this rod would be great for and who may want to look at other options.
Pros
Traditional Casting: I'll say it again, I loved casting this rod with a lighter setup. It felt so smooth and natural, and it will forgive many mistakes. It has the power to make casting easy, which will reduce strain if you spend all day on the water.
The Look: Overall, it's a beautiful rod. I like everything about it, and I think Moonshine did an excellent job on their design. They have some even flashier rods (Midnight Specials) if you go check out their website.
Warranty/Extra Tip: For me, customer service plays a huge role in how I view a company and if I think a product is worth it. The fact that they're doing everything they can to provide a resolution to a broken rod (which is inevitable) speaks volumes.
Cons
Whistling Blank: This one is still strange to me. I've had rods that make noises while being cast, but not while they were under tension with line running through the guides. I don't know if this was specific to my rod or a bigger issue.
Action Characterization: As I said before, I actually really like the feel of the action on this rod. The problem I have is that I don't think it's a fast action rod, and it's somewhat misleading for a person looking for a truly fast action rod. This could be due to the extra length…I'm curious what the 9′ 7 wt feels like.
Who Is This Rod for?
With the way this rod feels, I'd recommend it to anyone who'll be chasing large fish using nymphs, beads, or streamers. I really think you'll enjoy this rod if you do a lot of that type of fishing (I'm thinking the Great Lakes, or Alaska outside of the southeast).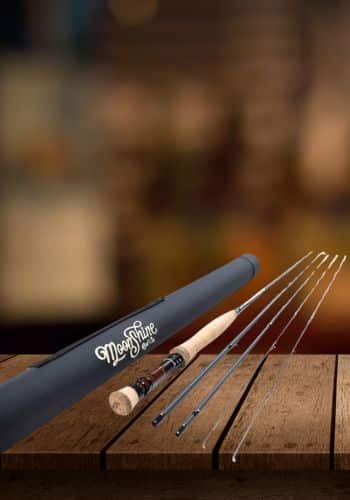 Order the Moonshine Vesper 10′ 7 wt
If you like what you see in this Moonshine Vesper 10′ 7 wt review, you can order the Moonshine Vesper 10′ 7 wt on Amazon.
It's strong enough to cast larger streamers (not roll cast) and control lighter rigs. It also gives you a lot of ability to mend drifts effectively.
I don't think this rod would do well on a bonefish trip. I wouldn't want to take this to the salt water and have to battle any type of strong winds.
Conclusion
Overall, I really liked this rod. It didn't quite fit the type of fishing I was hoping to use it for, but I can't wait to use it in some other situations.
While it underwhelmed me in some ways, it exceeded my expectations in others. If you're hunting for a new big trout rod, give this one a look!
Amazon and the Amazon logo are trademarks of Amazon.com, Inc, or its affiliates.
As a part of the Amazon Associates Program and other affiliate programs, Into Fly Fishing® may receive a comission if you order products through links on this website.