In this in-depth review, I'll take a close look at the 10 ½ foot Moonshine Euro Nymph Vesper. Yes, I know it's a mouthful, but it's a cracking rod worthy of such a name.
Moonshine Euro Nymph Vesper
If you like what you see in this Moonshine Euro Nymph Vesper review, you can order the rod on Amazon.
Euro nymphing is one of the most successful techniques to catch trout and our indigenous yellowfish species here in South Africa. I've been using these techniques for many years and know an excellent nymphing rod when I pick one up.
Disclaimer: IntoFlyFishing.com is a participant in the Amazon Services LLC Associates Program, as an Amazon Associate I earn from qualifying purchases. Please see our Privacy Page for more information.
Why Trust My Moonshine Euro Nymph Vesper Review?
As a disclaimer, I must point out that Moonshine sent me the Euro Nymph Vesper to test and review. There's no obligation to provide a rave review if I honestly feel the rod doesn't deserve it – in fact, Moonshine encourages reviewers to be as open and honest as possible.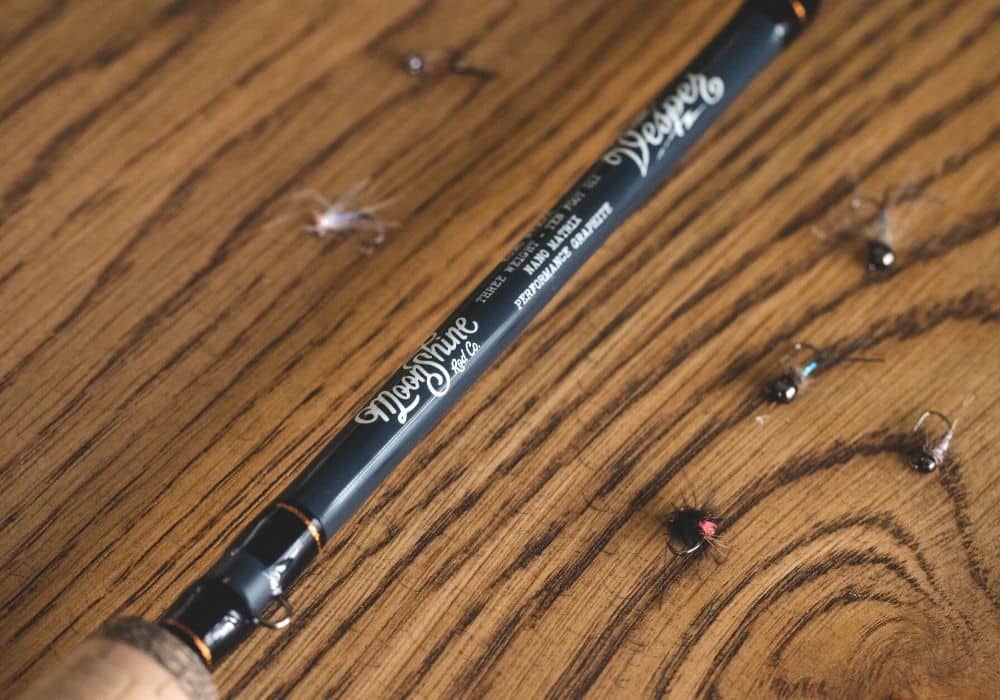 I tested the 10 foot 6 inch 3 weight Vesper on small to medium rivers while catching trout for the past month. I even fished in a competition with it, leaving my trusty Echo Shadow II strapped to my backpack as a backup.
I used it in various scenarios and with multiple techniques, including standard nymphing, throwing bobbers, dry and droppers, and even streamers.
Where Does the Euro Nymph Vesper Shine?
Before I get cracking on the details of the rod's build, let's first take a step back and look at where the Euro Nymph Vesper shines.
Action
The Vesper has a fast action that suits the Euro nymphing style of fishing well. The rod's action makes it easy to cast multiple fly rigs with little to no fly line out of the rod tip.
Recovery Rate
One of the most significant performance improvements between the Moonshine Vesper and the Epiphany is the blank's recovery rate. The Vesper recovers fast, which translates to much more confident and accurate casts.
Spare Rod Tip
The Vesper comes with a spare rod tip to keep you on the water in case you accidentally break one. I don't know if you've suffered this before, but if you have, you know how terrible it is to give up a day's fishing because the rod tip broke. It's happened to me twice, but now with the Vesper, that won't be a problem.
As I said in my Moonshine Outcast review, I can't understand why other manufacturers don't do the same.
Where the Vesper Falls Short?
Once again, as with all other Moonshine rods, there aren't many issues or shortcomings on the Euro Nymph Vesper. If I had to narrow it down, it would be specific details on the build.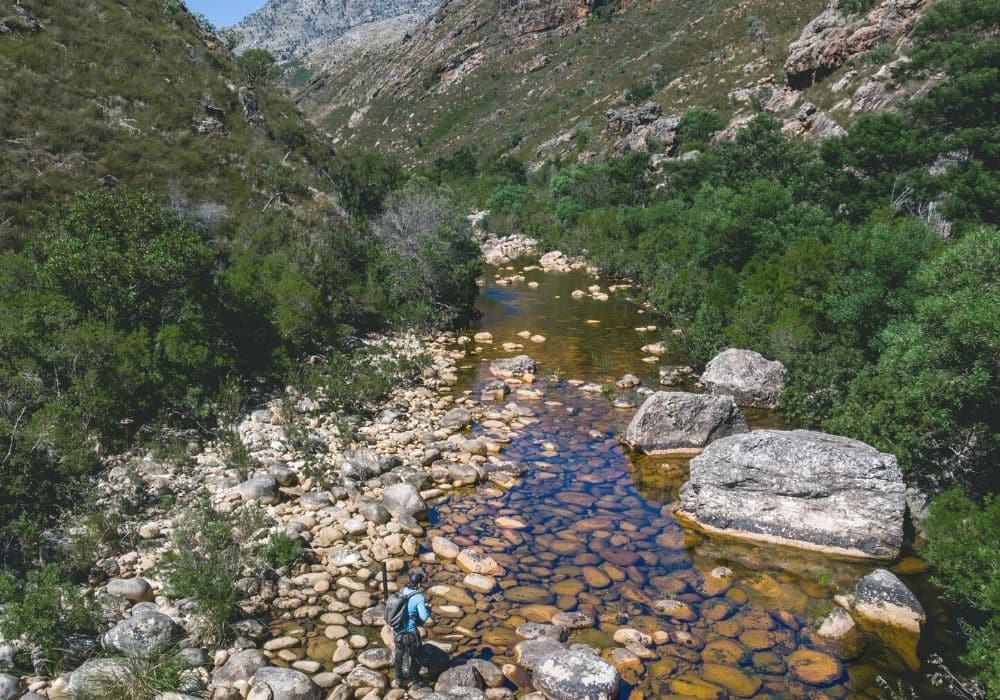 I imagine that this issue is only applicable to the particular rod Moonshine sent me.
The fixed seat that holds the reel foot in place is loose. You can see there was some epoxy in there, but it came loose, so now the reel spins around the seat. I'm sure you could easily fix it by applying some epoxy there yourself.
Also regarding the reel seat, the Moonshine website states that there are two locking rings on the Euro Nymph Vesper. The rod I received only had one.
Watch the Moonshine Vesper 10'6″ 3wt Review
What's in the Box?
Moonshine ships the Euro Nymph Vesper with the following:
Rod Tube
A solid Cordura-covered tube with the Moonshine logo embroidered on it comes with the rod. A sticker with the rod's details is located on the cap, making it easy to identify.
Rod Sock
The rod comes neatly rolled up in a grey rod sock with the Moonshine logo on it – unfortunately, there's no rod ID on the sock itself. It has five compartments, one for each section, including the spare tip.
Decal
Each Moonshine rod comes with a unique decal.
Moonshine Euro Nymph Vesper Features & Specs
Let's have a look at the Euro Nymph Vesper itself:
Fighting Butt
For a freshwater rod, the Vesper has a proper fighting butt. It's made of a combination of high-quality and rubberized cork for added durability. As with all Moonshine rods, it has their brand name laser engraved to the base of it.
Moonshine Euro Nymph Vesper
If you like what you see in this Moonshine Euro Nymph Vesper review, you can order the rod on Amazon.
The fighting butt does a great job of anchoring the rod while high-sticking, and it keeps the reel away from any snags as you fight a fish.
Reel Seat
A black aluminum down-locking reel seat is used to balance the rod's length. According to the spec on Moonshine's site, the Euro Nymph Vesper has two locking rings that will prevent your reel from coming loose. Unfortunately, the rod I received only has a single ring, so the reel does seem to move around, especially with the part that came loose.
The beautiful tobacco tiger reel seat gives the rod a luxurious feel and suits the overall color scheme.
Grip
The Vesper has a half-wells grip made from the same high-quality cork you'll find on the fighting butt. They've added rubberized cork rings on the front and the back for extra durability.
Blank
The blank of the Moonshine Euro Nymph Vesper is the most significant performance improvement over the more affordable Epiphany. It's light and feels refined.
The blank has a matte grey-black finish and a smooth texture. This matte finish is specifically incorporated into the Vesper to reduce rod glare on sunny days, helping you get closer to the water to land more fish.
Finish
The line guides and ferrules have black thread wraps and metallic copper accent wraps. The clear coat itself is perfect without any trace of bubbles or discoloration.
Alignment Dots
Each section has orange alignment dots to help you to assemble the rod more efficiently, so you can get on the water quicker.
Line Guides
Moonshine did a great job in selecting and positioning the line guides on this Vesper. The first stripper guide is made from solid titanium and has a silicon carbide insert. This guide is set high up on the butt section to reduce line sag when high sticking.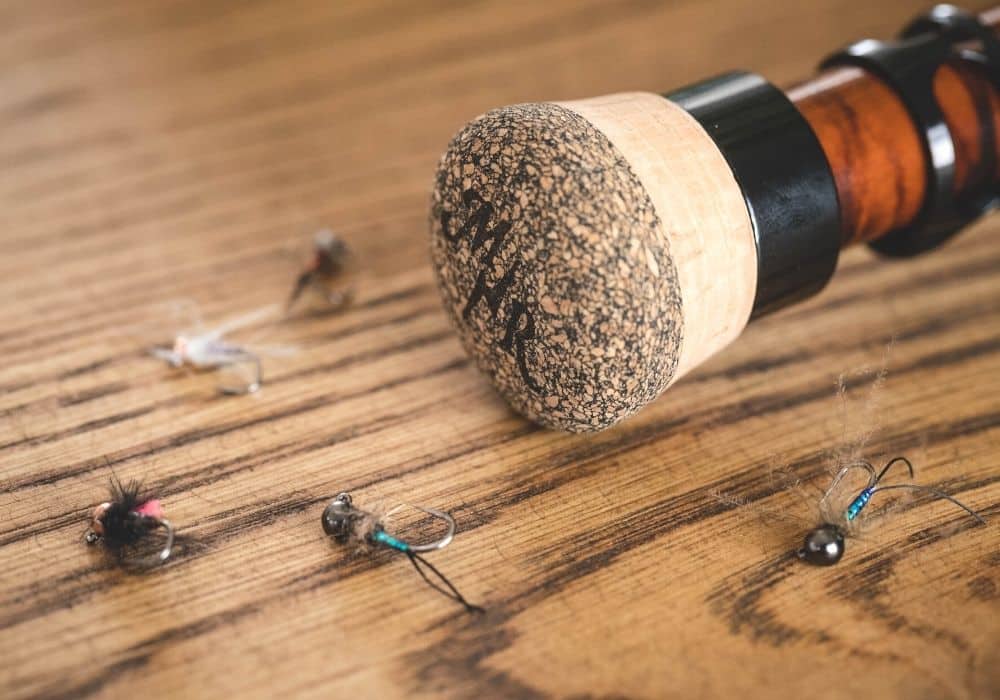 All the other guides, except the tip-top, are light wire single foot to reduce weight, ultimately improving the rod's recovery rate.
Warranty
The Vesper comes with a full lifetime warranty for the original owner and covers any materials or craftsmanship defects. If you break any section of your rod and need a replacement section, Moonshine will sort you out for $55 with a delivery time between one and two weeks.
Fishing the Moonshine Outcast
As mentioned earlier, I tested the Moonshine Euro Nymph Vesper on small to medium rivers while catching trout. I used various techniques, including throwing bobbers, multi-nymph rigs, dry and dropper systems, and single streamers.
Moonshine Euro Nymph Vesper
If you like what you see in this Moonshine Euro Nymph Vesper review, you can order the rod on Amazon.
Length
The Euro Nymph Vesper is 10 ½ feet long, making it super easy to set up and control drifts. It allows you to reach over current seams, rocks, and other obstructions that would otherwise kill your drag-free drift.
Action
The Euro Vesper has a fast action, but due to its length and sensitive tip, it feels very comfortable to cast. The action allows you to present multiple-fly rigs with ease, and I was impressed at how well it coped with light combinations, like a size 18 Elkhair Caddis and a nymph with a 2mm bead.
Fighting Ability
On such a long rod, the butt section needs to be beefy and stiff, to give the Euro Nymph Vesper incredible fighting power. Yes, the tip is light, helping you to protect light tippets during a fight, but the butt section surprises with the amount of pulling power it packs.
My Personal Thoughts
So, after spending a month with the Moonshine Euro Nymph Vesper, what are my final thoughts?
Pros:
The rod's recovery rate is good, giving you a confidence boost to make that tricky cast.
The rod is designed with nymphing in mind, so investing in it gives you access to all the latest trends and technologies.
I also love the fact that Moonshine gives you a spare tip – it just makes so much sense, and I cannot understand why there aren't more manufacturers doing this.
Cons:
Unfortunately, there were two issues with the build. These most probably wouldn't be present on the one you buy, however, or you could have them quickly resolved with Moonshine's excellent warranty service.
Who Should Buy the Moonshine Euro Nymph Vesper?
So, who is this rod designed for? The rod performs at a level that competes with many premium rods, making it great value for money. For this reason, I think it's an excellent option for the intermediate or experienced angler looking for a new nymphing or dry-dropper stick.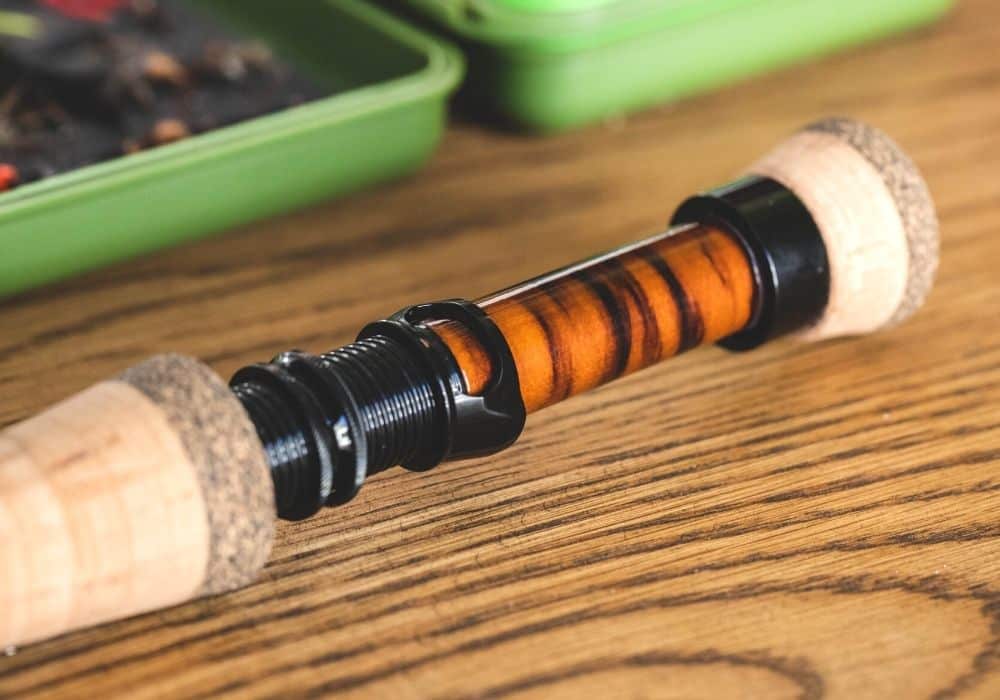 If you want to try out nymphing for the first time and have some cash to splurge, the Vesper is an excellent choice.
Conclusion
I hope you found this review helpful. If you have any comments, questions, or suggestions, please leave them below the video. I always strive to improve these reviews, which ultimately are dedicated to you.
Until next time.