After using, testing, and fishing the Moonshine Drifter, we bring you this full, hands-on review.
Small fly fishing companies like Moonshine Rod Co. are a valuable part of the industry. Moonshine has found a place in the market with anglers who are looking for more affordable gear with quality performance. The Moonshine Drifter 4-piece 6-weight 9′ rod is a solid rod that anglers of all skill levels are going to enjoy.
The Drifter Series is the most affordable set of rods that Moonshine makes, so if you're looking for your first rod or a backup rod, it's a solid choice.
The reviews on Amazon are high with over 750 people giving the rod 4.8 stars, so we wanted to see if it was worth the hype.
→ Don't Miss Our Full List of The Best Fly Rods of 2023
Why Trust My Moonshine Drifter Rod Review?
First, we purchased the rod ourselves, so there is no personal bias heading into this review. Plus, I had a great chance to test out the rod both on and off of the water. I spent plenty of time with it at a local park casting into and against the wind just to get a feel for it.
Then, I took it to the water and saw how it performed with mends and on-water maneuvers. At Into Fly Fishing, we only review gear that we've personally used.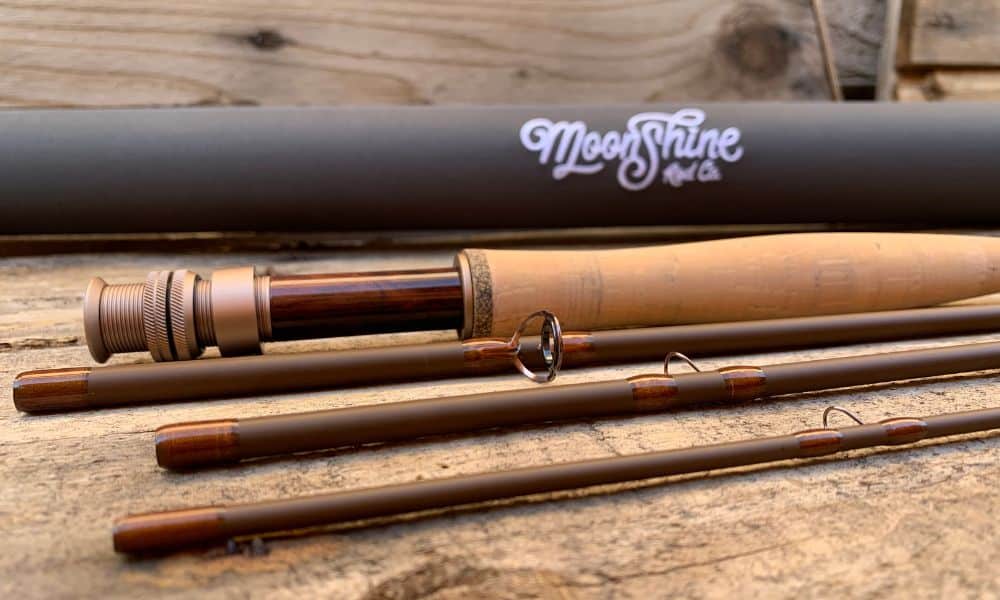 We do our best to be objective in our reviews and give our honest opinions. We care about providing anglers with accurate information that will set them up for success on the water.
What's in the Box?
When you receive the Moonshine Drifter Rod, you'll get a portable canvas rod tube with specific sections for each piece of the rod. One of the main selling points Moonshine has is the extra tip they provide with each rod.
Whether you slam it in the door or it snaps when strip setting, Moonshine provides an extra fourth piece for you. This allows you to fish it without any worries of having to leave the water early.
Moonshine Drifter Features & Specs
As mentioned earlier, the Drifter Series from Moonshine is part of their most affordable set of rods. While Moonshine is still new in the fly fishing industry, they've quickly risen up the ranks as a favorite choice for a variety of anglers.
Build Quality
The Moonshine Drifter Series rods are made of performance graphite. The 4-piece rod has a solid feel to it with a nice amount of backbone. Casting into the wind and fighting fish isn't much of a challenge for the Drifter. Even though it only weighs 3.8 ounces, the 6-weight feels as if it's prepared to handle the majority of larger water situations.
In terms of the other materials on the rod, Moonshine didn't skimp. The AAA cork grips feel great in your hand after a long day on the water. The burl reel seat has a double-locking mechanism, so you can pull on your reel as hard as you would like and not have to worry about any movement. Plus, the copper hardware is adonized, so you can fish it in all water.
The guides and rod pieces aren't going anywhere. Even if you hook into a massive fish, you're not going to find yourself with the rod breaking down or guides ripping away.
The 9′ rod is built to last. You even get the extra tip, so you can fish it that much harder.
Action
Moonshine Drifter rods are able to be purchased in two different actions. The original Drifter, which I fished, has a medium action. The Drifter II has a moderate-fast action, so you get a bit more versatility with it.
The medium action doesn't feel too slow. Some medium-action rods you purchase feel as if you're only supposed to be fishing them on small creeks in tight conditions. The 6-weight medium action has more of a backbone, so it doesn't feel as overmatched as some medium action rods on big water.
You can cast large streamers, fish in wind, and make fairly long casts with the original Drifter Series rod. I fished it on a fairly windy day in fast water and tighter conditions, so I wanted to make sure I could shoot the line. It performed extremely well with my setup. Even some of the more fast action rods I was using weren't able to keep up with the Drifter.
I prefer a moderate-fast or fast-action rod, so I was a bit skeptical about what this setup would be able to do, but I was continually impressed. I didn't lose out on as much power as I thought. If I did lose out on power, I would have had a hard time continuing to use this rod.
Presentation
What you lose out on in power with the medium action, you gain in presentation. I was fishing water that was flowing around 1000 CFS, so it wasn't slow. I was able to make my casts, do a quick mend to get my line in the right place, and be ready for a strike. The rod even allowed me to lay down my streamers a bit more softly.
It worked extremely well with dry flies and nymphs, so I was curious what the streamers would be like. When I'm fishing a 6-weight rod, I want to be confident it can toss around size 2 or 4 streamers. It did this well, and I was able to generally present them how I would like.
When casting into the wind, I found that the dries and nymphs didn't last as softly as I would like, but that's to be expected with any rod on a windier day.
There were definitely times I had to strong-arm my way into some of the areas I wanted, but I was able to get the flies where I wanted for the most part. If I was fishing on a calmer day with a bit slower water, it would be easy to pick my exact spots and lay down the flies wherever I want.
Short Distance Accuracy
The medium action of the Moonshine Drifter makes the short cast accuracy phenomenal. Anything shorter than 25 feet is easy. You can pick whatever spot you want, and you'll be able to hit it even in some of the more challenging conditions. Regardless of the fly, you'll find that those shorter casts are where the Drifter thrives.
I found that when I was struggling, I was able to slow down my casts and be more precise and focused with each movement. The rod responded well and rewarded my efforts.
Long Distance Accuracy
The Drifter has challenges with the longer casts. The medium action of the rod really shows up in casts beyond 45 or 50 feet. Since this is primarily a trout rod, you're likely not going to make casts far longer than this, but it's important to know before you purchase it.
Stick anywhere shorter than 50 feet, and you'll be content with the ability of the Drifter.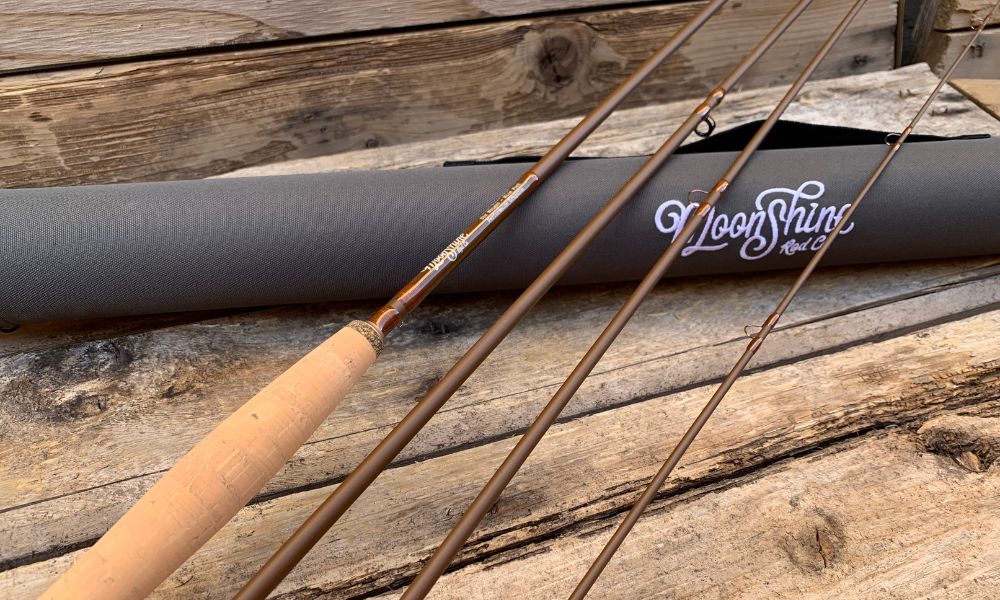 Warranty
Moonshine offers anglers a lifetime warranty on their rods. For the Drifter, you'll have to pay a $40 replacement fee, and once you do, Moonshine will get you back out on the water within a few weeks.
Moonshine Drifter Price
For $180, you're going to get a high-quality rod. In terms of entry-level rods, $180 is a solid deal. You'll find that it's going to fish better than most entry-level rods you find. Plus, the extra tip and lifetime warranty make the price even better.
Moonshine Drifter Rod
Order the Moonshine Drifter fly rod on Amazon.
Watch The Moonshine Drifter Fly Rod Review Video
Moonshine Drifter Rod Review: My Personal Thoughts
Ever since I started fishing with the Moonshine Vesper, I've wanted to try their more affordable rods like the Drifter. When I first started using the Drifter, I immediately noticed the similarities to the Vesper. I really enjoy my Vesper, and find that the Drifter compares quite well to this high-performance rod.
I'm not personally a huge fan of medium-action rods. However, of all the medium-action rods I've fished, the Drifter is definitely up there with the ideal combination of power and sensitivity.

As mentioned earlier, I'm able to make most casts I would need for trout fishing, but if I wanted to get out into more challenging conditions or larger water, I wouldn't make this rod my first choice.
Moonshine Drifter Rod
Order the Moonshine Drifter fly rod on Amazon.
I really enjoyed how sensitive the rod felt from the first moment I used it. I like to fish with dries and nymphs in clear water in medium-sized mountain rivers. This rod is going to fit in extremely well in those conditions.
The sensitivity hurt at times when I was trying to throw my larger streamers. While I could do it, I felt like I was losing a bit of control when I stretched out the casts. The rhythm felt a bit off, and the casts became more unruly.
It's one of those rods that isn't a jack-of-all-trades, but as long as you know where it's going to work, then you'll love it.
Disclaimer: IntoFlyFishing.com is a participant in the Amazon Services LLC Associates Program, as an Amazon Associate I earn from qualifying purchases. Please see our Privacy Page for more information.