In this in-depth review, I'll take a closer look at the Moonshine Epiphany. The original Epiphany was introduced back in 2017 and has since become one of Moonshine's most popular models.
Recently they redesigned it completely, using new components and new blanks, shaving off more than 1oz in weight (which is not really that much). In my opinion, the improvements extend much further than only the weight, as the performance is solid for a rod at this price point.
I spent the last four weeks with a 3wt Epiphany and put it through its paces on the trout streams near Cape Town, which gave me a clear understanding of how the rod performs.
In this article, we'll look at where the Epiphany performs well and where it falls short. We'll also go through the components used and who the rod is intended for.
Why Trust My Moonshine Epiphany Review?
I grew up fly fishing for an indigenous fish species in South Africa called smallmouth yellowfish. Nymphing is one of the most effective methods to catch them, which gave me considerable experience using this method.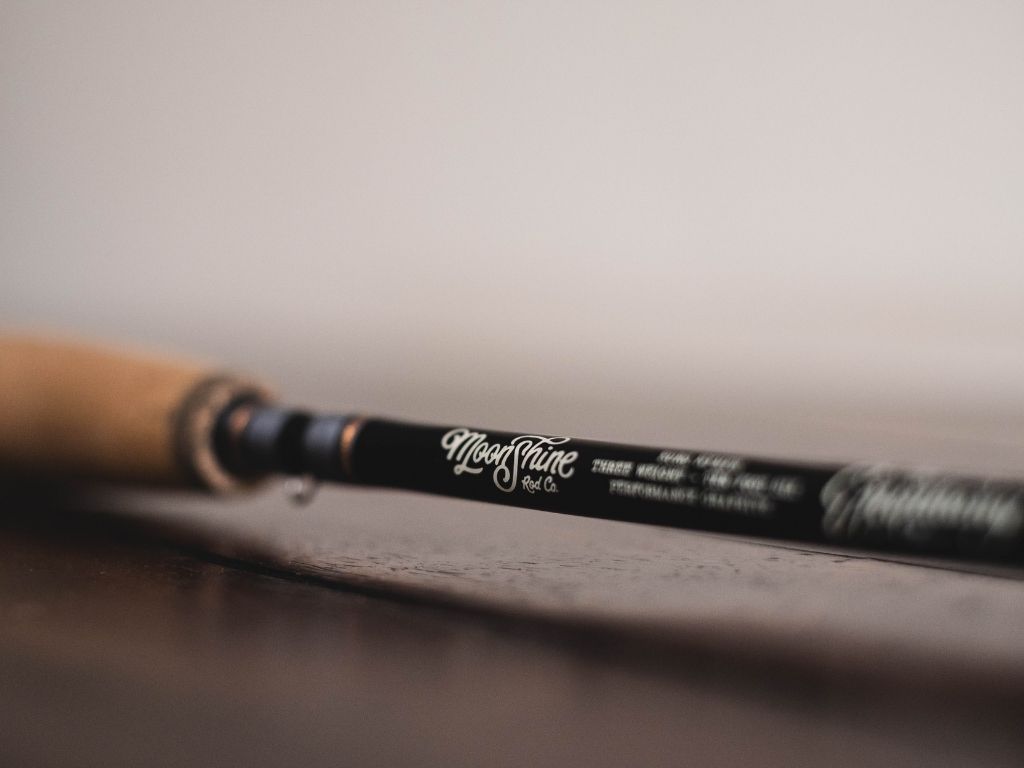 As most of you probably know by now, nymphing works exceptionally well for trout and has consequently spiked in popularity.
Watch the Video
What Makes a Good Nymphing Rod?
Nothing prevents you from tying one or two nymphs onto your existing trout rig and going nymphing. Although you probably will succeed to some degree, a dedicated nymphing rod has specific design characteristics that allow you to nymph more effectively for extended periods of time.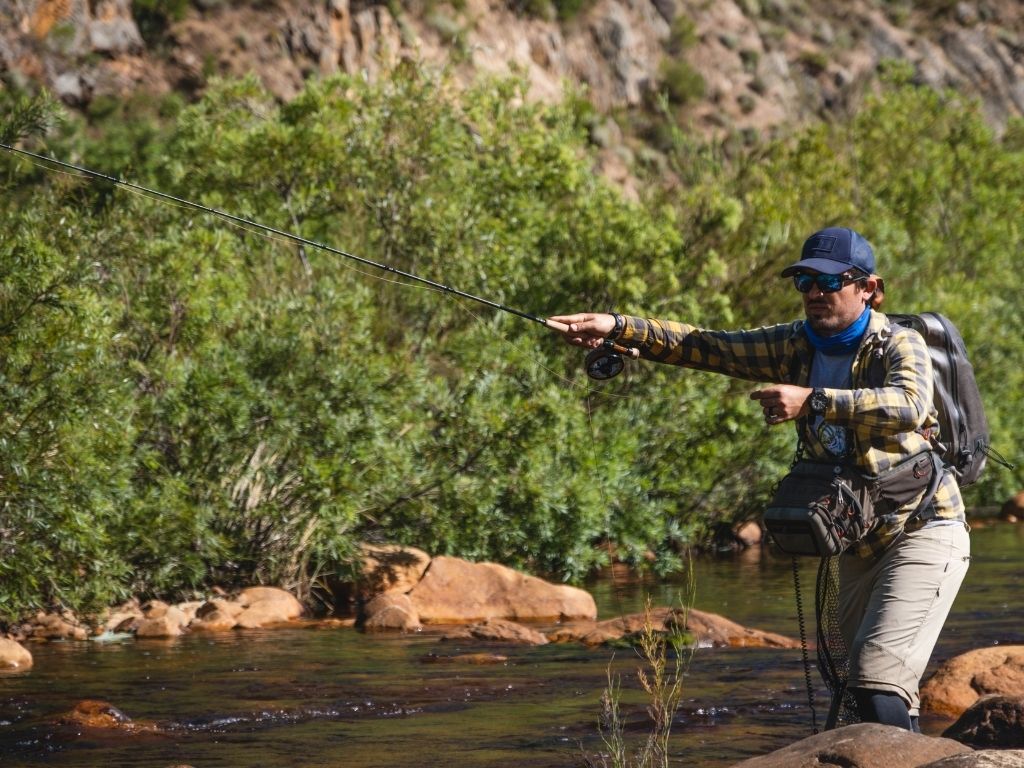 So, what makes a good nymphing rod, you ask? Let's look at some of the key features all good nymphing rods have in common.
Length
The first thing you'll notice on all nymphing rods is that they're longer than standard single hand fly rods. They vary in length from 10 to 11 feet. The biggest reason for this is to enable the angler to extend their reach to ensure a drag-free drift.
Flies
A nymphing rod must excel at casting a team of heavily weighted nymphs without the aid of any fly line – just the leader. I also test nymphing rods with dry-dropper rigs, as this is one of the primary methods I use to target trout.
Fishing Distance
A nymphing rod is usually used for close-quarter fishing. In other words, you won't be making 50 foot casts with it. In most cases, sub 25 foot casts are more than sufficient to catch fish.
Tip Sensitivity
One of the most important aspects of being a nymphing angler is the ability to detect takes. You make all the effort to build the correct leader, tie and select the right flies, and drift them in the right zone. Even with all this effort you've put in, you must still be able to detect takes.
All good nymphing rods have this in common – with practice, they give you the ability to detect even the most subtle takes.
Where the 3wt Epiphany Shines?
After spending four weeks with the Moonshine Epiphany, I feel it performs well in these areas.
Wide Range of Applications
The 3wt Epiphany is suitable for a wide range of fish species and sizes. It has a very soft and sensitive tip that looks after thin tippets well. This characteristic comes in very handy on larger fish.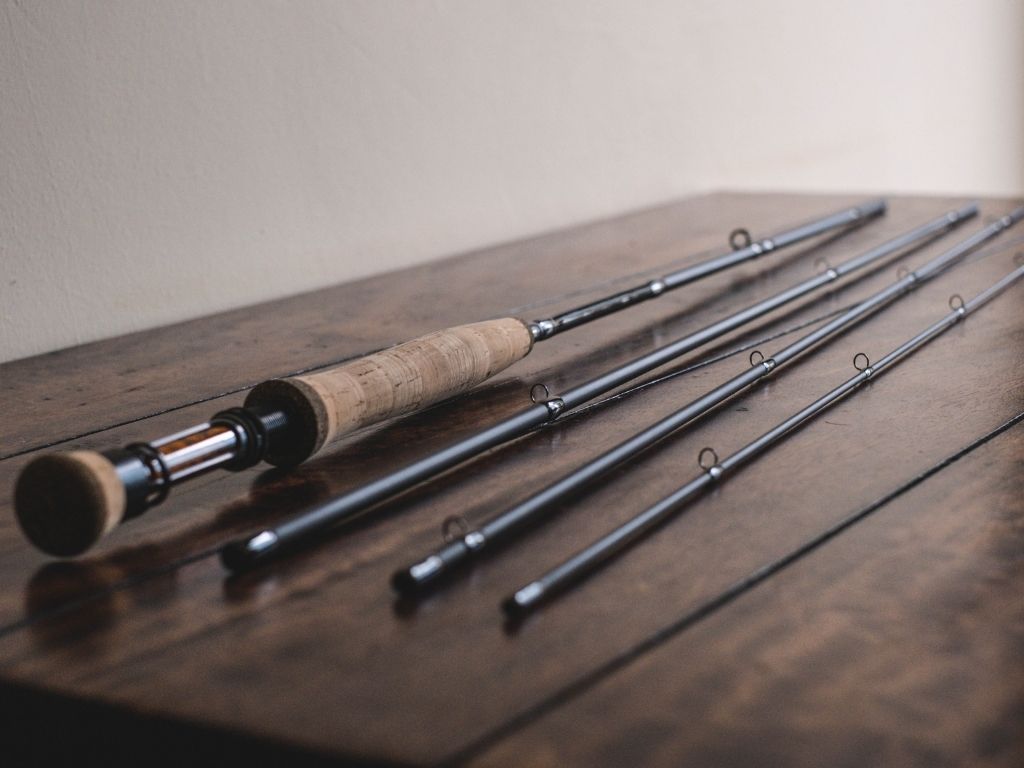 On the other side of the coin, the rod has a solid butt section that looks more like a 5wt, which gives it a lot of power.
In my opinion, the Epiphany 3wt's strongest point is the range of fish species and river sizes it can be used on.
Skill Level
The Epiphany has a medium-fast action, which makes it ideal for beginner and intermediate anglers looking to jump into the nymphing boat. This doesn't mean, however, that it has the action of a wet noodle. The rod feels solid in hand and can deliver the desired cast without much effort.
Line and Drag Management
The 3wt Epiphany's 10'6″ length allows for easy drag control. Its length makes it easy to present the fly over a couple of seams and keep the suspended line in the correct current.
Another handy feature is that the first stripping guide is placed very high up into the fighting butt. It helps tremendously reduce line sag so that your left arm doesn't have to extend forward too often.
With the Epiphany, Moonshine has designed a rod that's both comfortable and effective to nymph with.
Two Tip Sections
The Epiphany comes with two identical tip sections. The reason for this is that the guys over at Moonshine know that things go wrong, and when they do, you need a backup to get back onto the water as fast as possible.
I can't comment on the long term durability of the Epiphany, as I only used it for four weeks. Having said that, I experienced no problem with its hardiness.
Price
Apart from being such a good all-rounder, the second best thing about the Epiphany is its price. It costs under $300 and comes with excellent components that look like they're put together well.
The Moonshine Epiphany is in the same price bracket as Redington's new nymphing rod, the Strike, and the Echo Shadow II. The Epiphany is slightly cheaper and comes with an extra tip.
Where the 3wt Epiphany Falls Short?
All things in life are a compromise, and if you design a dedicated nymphing rod, there will undoubtedly be some compromises. Below, I go through some of the shortcomings of the Epiphany, which isn't meant to make the rod look bad but rather help you make the right decision when buying a rod.
Long Distance Casting
As mentioned earlier, Moonshine designed the Epiphany to be a great nymphing stick. This means that it performs well at distances below 30 feet. In addition to this, the first line guide is positioned on the butt section, where it reduces line sag.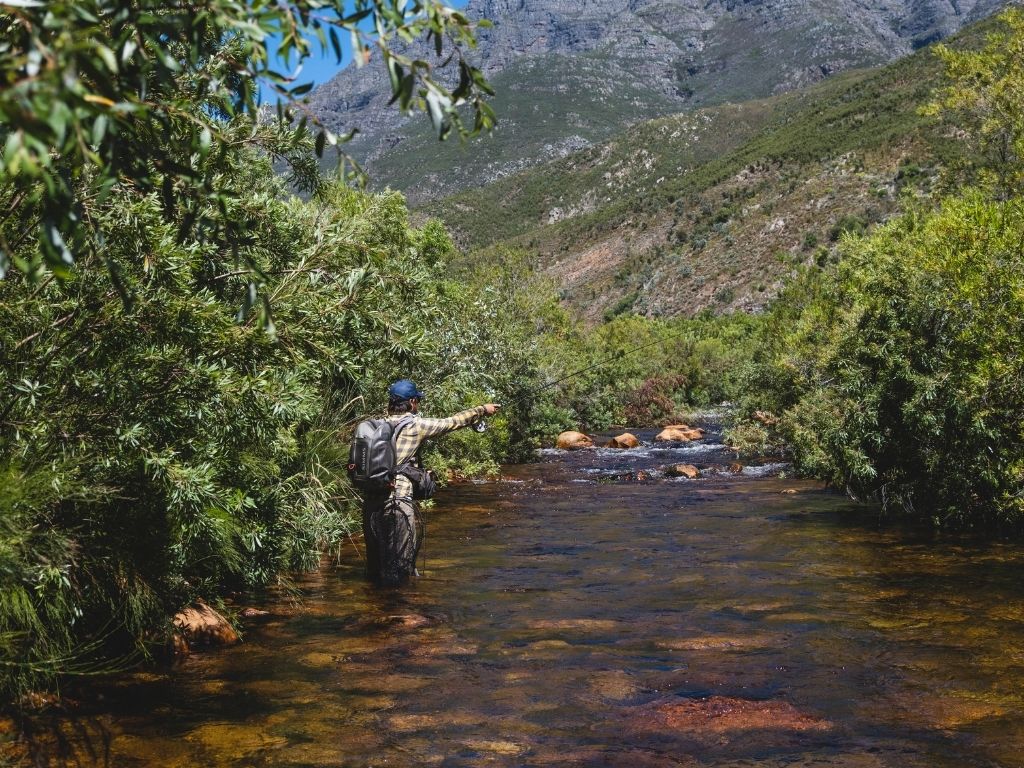 Unfortunately, both these features have a detrimental effect on the long-distance casting capabilities of the rod. It doesn't mean you can't make a 60 foot cast. I tested it with a 12 foot leader and a small Woolly Bugger, and it was able to do so.
But don't expect it to be as accurate at these distances as a fast action 9 foot rod.
Recovery Rate
The only pure shortcoming of the Epiphany is that the recovery rate is slow. This means that after you deliver the cast, it wobbles up and down. I must mention that this isn't so bad that you can't fish the rod. All nymphing rods in this price range suffer from the same characteristic.
Small Rivers
The first day I took the 3wt Epiphany out was on a very small trout stream. It very quickly became apparent that the 10'6″ length makes fishing on densely overgrown small streams very hard.
Keep that in mind, especially if you fish small streams often.
What's in the Box?
Moonshine ships the Epiphany with the following:
Rod Tube
The rod is shipped in a solid fabric-covered rod tube that has a zippered cap. It doesn't have a rod sock, and instead, each section has its own individual slot inside the tube. There's a sticker on the top of the cap for easy rod identification.
The rod tube has the Moonshine Rod Company's logo embroidered on the side.
Decal
Moonshine sends a cool sticker with each rod you purchase from them.
Moonshine Epiphany 3wt 10'6" Features & Specs
Let's have a look at the rod itself:
Fighting Butt
A good nymphing rod should have a fighting butt, which is used to anchor the rod against your arm while high sticking. The fighting butt also plays another critical role. Most nymphing rods feature down-locking reel seats, which balances the rod/reel combination.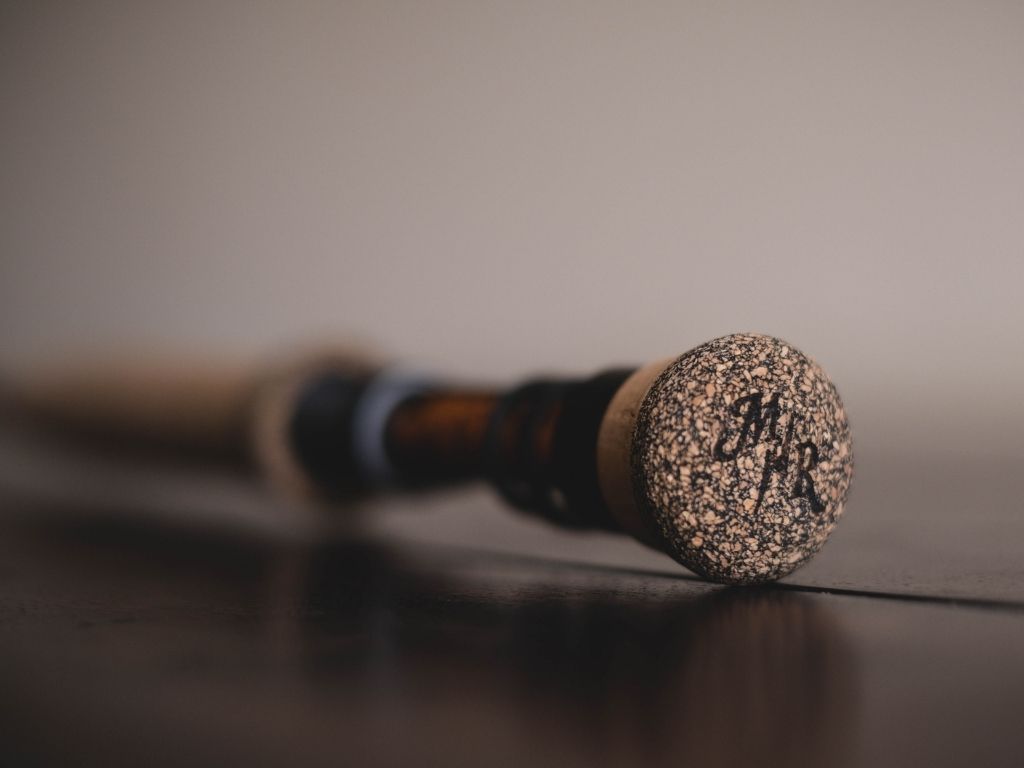 A good fighting butt keeps the reel away from your body when fighting a fish. The Epiphany's fighting butt performs well in both regards.
Reel Seat
The reel seat has a matte black aluminum skeleton that features a bright orange tiger eye insert. As mentioned earlier, it's a down-locking reel seat that balances the long rod in your hand.
The locking ring features a Delrin bushing to prevent it from coming loose. I must mention that I found that my reel came loose a couple of times when out fishing. A double locking ring would be better, although this is far from a deal-breaker.
Grip
Both the fighting butt and the grip are made from high-quality cork that has a burled cork ring at the end, which makes the grip more durable. The half-wells grip slightly on the large side, which makes it perfect for most male anglers.
Rod Finish
The blank has a matte carbon finish, reducing rod glare on bright days. The components and ferrules are finished with black thread and metallic orange accents that complement the striking reel seat.
The epoxy on the thread wraps is perfect and has no signs of bubbles.
Alignment Dots
Orange alignment dots on each section make for a quick and easy rod setup.
Line Guides
The 10'6" 3wt Epiphany has 13 line guides. The titanium silicon carbide stripper guide is placed high up on the butt section to eliminate line sag. Thin wire single foot guides are used on the 2nd and 3rd sections to reduce weight. The tip section features a combination of single foot and snake guides for added durability.
Warranty
All Moonshine rods come with a lifetime warranty against any defects in the materials or craftsmanship. If you accidentally break a rod section, Moonshine will replace it for a flat rate of $65.
Where Are Moonshine Rods Made?
All Moonshine rods are assembled in the United States with components sourced from around the world. The blanks, in particular, come from either South Korea, Japan, or China.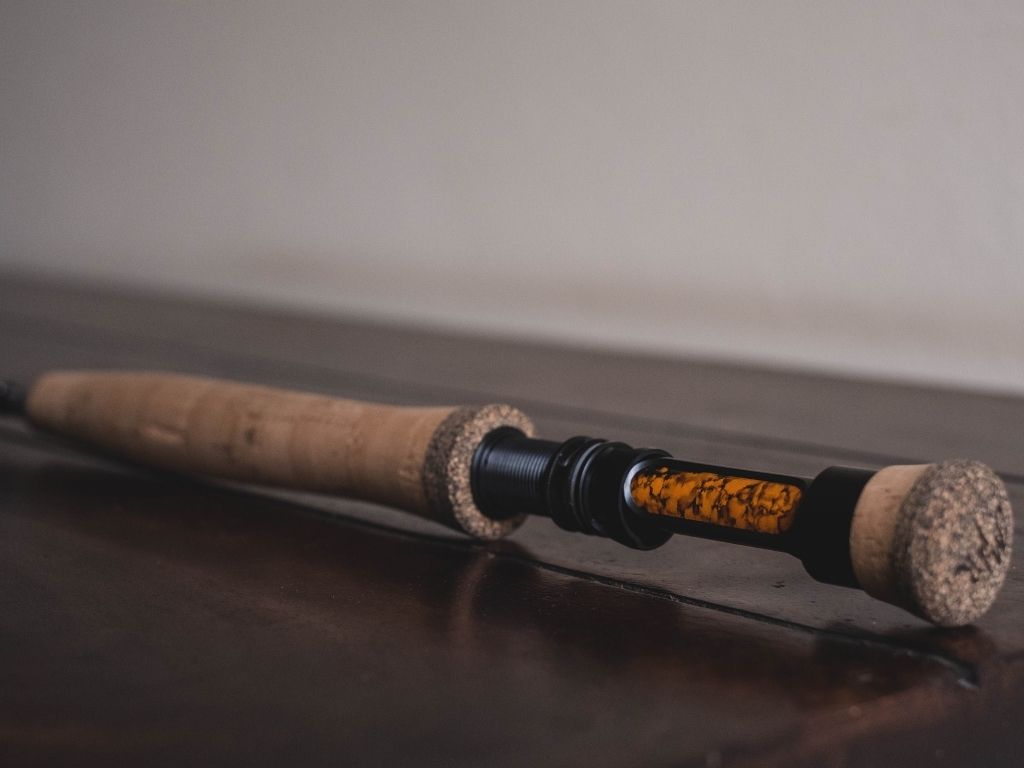 This philosophy is how Moonshine can deliver a high-quality product at such a competitive price. One of Moonshine's fundamental principles is to offer quality rods at a price point accessible to the masses.
Casting the Moonshine Epiphany 3wt
Before going through my experiences when casting the Epiphany, I first need to explain what rig was used on it, as these would undeniably influence the casting performance.
A standard 5/6 weight reel was used, and I feel that it balanced the 3wt perfectly. Any reel lighter than this will cause an imbalance in the overall nymphing system. Spooled onto the reel was a 3wt double taper floating line.
Because it's a 10'6″ rod, I stretched the leader to just under 20 feet of 2x monofilament, which had a tippet ring attached to it. From the tippet ring, I ran 2 feet of 5x to the first fly and then another 2 feet to the second — a pretty standard nymphing leader, nothing fancy.
20 Foot Casts
At 20 feet, less than 10 feet of leader and tippet is out of the rod tip. On Cape Town trout streams, that's where most of the fishing happens at. The Epiphany excels at this distance smoothly turning over the rig, and I was able to make very accurate casts.
However, fishing at closer distances than this becomes hard, as the rod is too long.
20-30 Foot Casts
At this distance, the Epiphany performed well too, and I found this to be the rod's best range.
30-40 Foot Casts
A 30 foot cast with the rig I used means that you're using no fly line. After getting used to the rod's action, I was able to make this distance without much trouble. I must mention that the construction of the leader and the flies' weight play a vital role when nymphing at this distance.
60 Foot Casts
As you'd expect, this is where I felt that the Epiphany started struggling. Even when I shortened the long leader to 12 feet and used a single fly, I struggled to make accurate casts. It's able to do it but not super accurately.
My Personal Thoughts
So, what are my personal thoughts after spending some time with the Moonshine Epiphany?
Pros:
I think Moonshine nailed the price, offering anglers a decent nymphing rod without breaking the bank. I was pleasantly surprised by the quality of the build, and the finish was without flaw.
The rod has ample pulling power and will be able to deal with various fish sizes and nymphing scenarios. All this while having a soft 3wt tip to protect delicate tippets.
I like that Moonshine provides a spare tip section. It's not just a sales gimmick, it will truly save your fishing trip.
Cons:
This isn't a long-distance casting rod.
The recovery rate of the blank is relatively slow.
Conclusion
After all that said, who is the Moonshine Epiphany for? In my opinion, the following two types of anglers will enjoy the Epiphany a great deal.
The first is the fly angler who's been involved with the sport for a couple of years. You have the basic casting mechanics dialed in; you understand where fish hold and what they feed on. Now, you're interested in getting your nymphing game on. This is the rod for you.
I also think that outfitters/guides who rent out gear to clients will find the Epiphany perfect for their needs. It's inexpensive, the action is ideal for beginner clients, and the warranty is solid.
I hope that you guys found this in-depth review helpful. Please leave any comments and questions at the bottom of the page.
Until next time.