In this article, I'm checking out the Vision Rivermaniac 9ft 5wt Fly Rod. I've been fishing this rod for more than a year now and in that time, I've tested it in a variety of fishing scenarios to bring you this comprehensive review that will help you decide if this rod is right for you.
Before we get started with this review, I have to say that Vision did send me this rod for review and testing. But in no way am I required to speak positively about the rod and as with all reviews on this site, this review is my honest opinion after testing the rod extensively myself.
Vision Rivermaniac
Order the Vision Rivermaniac fly rod on Vision Fly Fishing.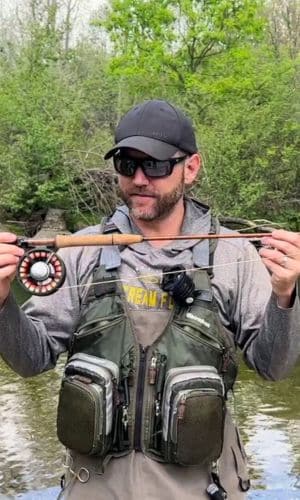 → Don't Miss Our Full List of The Best Fly Rods of 2023
How Did I Test This Rod?
For most of the testing period, I had it spooled up with the Sage Spectrum C 5/6 Fly Reel. And on that I usually had Scientific Anglers weight forward floating line in the 5 weight, but I also tested the rod with some decent size streamers and a sinking line, and I overweighted the rod with 6 weight line a couple of times as well.
I typically fished the rod in small to medium-sized rivers catching fish between 2-4lbs, though I did catch a massive brown on it that was probably around 6 pounds and that was casting a dry dropper rig on a large river below a dam.
I love this rod. I really love the way it casts. So in this review, I'm gonna talk all about the casting of the rod, the accuracy, the capabilities, who it's best for, the price, the blank recovery rate, and more.
The Rod Components
First, let's cover the components. We'll start at the but section of the rod and move up towards the tip. Right off the bat when I was unboxing this rod, I could tell that these were high-quality components.
Reel Seat
So starting at the butt of the rod, we have this black anodized up-locking reel seat, and it has a double ring, which I always like.
It just helps to make sure the reel stays in there nice and snug, and it has this gorgeous burled wood insert that really adds to the style and flare of this rod when you're looking at it.
Cork Handle
I really love the handle of the rod as well. It fits a good size hand. My hands are pretty average-sized for a guy who's six feet tall, and this rod handle is very comfortable and ergonomic.
It has a decent cork handle. There are some fillers and a few bits of cork missing. I would like to see a little bit more quality of the cork handle in a rod of this price, but it's still a decent handle.
The Blank
Moving up here to the blank. This is what sets this rod apart. I love this blank. I love the way it has power all the way down to the handle.
This river maniac by Vision has this really flashy copper kind of bronze finish on it. I love the finish of it. Most of my rods are pretty bland and they have a matte finish in a dark or classic brown.
This one is really flashy. I don't really believe that you can scare fish off by having flash on your rod, but if you do worry about that. You might consider a different rod by vision, but yeah, overall the style and look of the rod and the components use are really high quality.
These blanks are just excellent and I really love the way the rod casts.
And at the same time, it's a little bit medium to fast action, so you don't have to worry about your timing stroke being bang-on perfect every single time, which sometimes mine's not.
It also has a really cool feature where you can measure fish from the butt of the rod, and it has these little stripes on the actual blanket itself up to 50 centimeters, then 60 centimeters so that you can measure fish.
If you've caught anything bigger than 60 centimeters, well good for you, but this rod doesn't have any lines to measure them if they're bigger than 60cm.
Guides
There's one stripper guide on the second section of the rod at the very start of the second section. Then there are nine single snake guides and the tip ring.
Vision Rivermaniac
Order the Vision Rivermaniac fly rod on Vision Fly Fishing.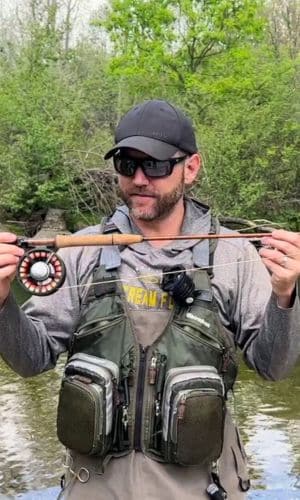 Casting The Vision Rivermaniac
All right, so about casting this rod, um, I really love the way it casts. I fished everything from a double nymph rig to streamers and even bulky hopper droppers on this rod and it seems that no matter what you rig up on the Rivermaniac, it turns it over with ease and precision.
What I love about this rod is that the blank recovery is perfect. You don't really have any wobble in the rod on the forward stroke, and you don't need much power at all to get it firing line out of the tip.
Every cast just lays down really nicely. You can get some tight loops with it as well. This is just a great casting rod, and you really do not need to have your timing perfect.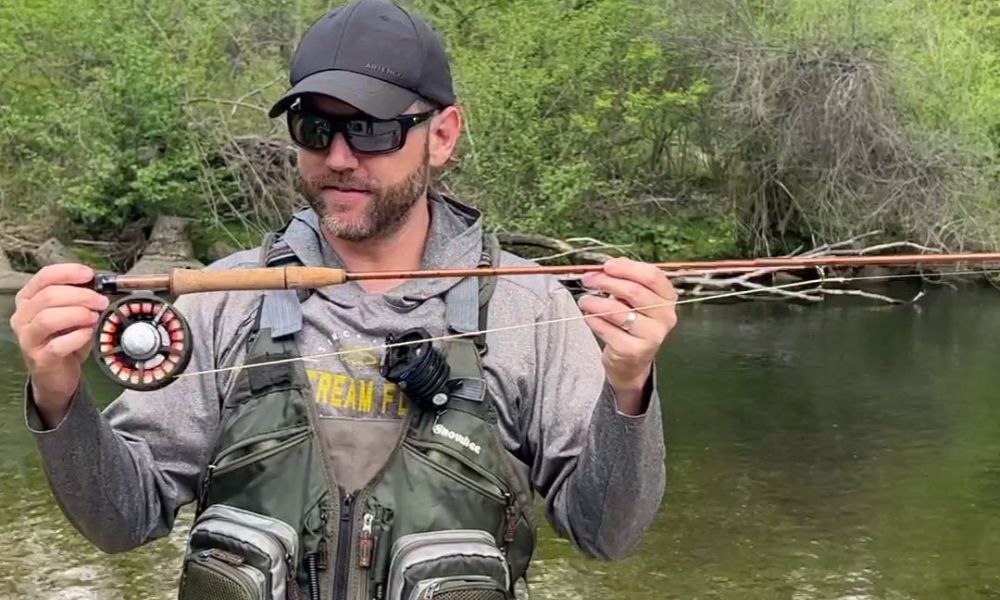 This rod just feels fantastic and every time it casts, it feels like it almost corrects for you and gets the flies to just lie down nice and easy at the end of the cast.
Casting Accuracy
So on my local river, I've had to cast extremely close to the bank for every one of the fish that I actually caught. And so the accuracy is super important and I find that the rod has excellent accuracy, even up to 50 feet. I can basically pinpoint the bank, get right along the edge where the fish are holding and hit my spot almost every time.
I mean, I miss a few. I am human. But the Rivermaniac really does have great accuracy and it allows me to just punch the line out with one quick backstroke and drop the fly exactly where I want it.
Fighting Fish
I've already caught dozens of fish in a variety of sizes on my Vision Rivermaniac and I love the backbone it has. During the filming of the review video (below), we caught a really nice brown trout.
He was stubborn and just sat in the shallows with his head to the bottom of the riverbed, but the Rivermaniac still had enough backbone to corral him into the net.
So when you're fighting fish, you definitely have enough backbone with this rod and you definitely have the feel for all the takes too, which I love about it because it has this really sensitive tip. And so if there's a very light take, then you'll feel it all the way down through to the rod and it makes it really easy to feel those subtle eats.
Watch the Vision Rivermaniac Review Video
Line Control
All right, so now I wanna talk a little bit about line control on this rod because it's one of the things that I really do enjoy about it. Just a little swing of the wrist and you can really mend the line easily and get it to where it needs to be. The tip of the rod is firm enough that a little tiny flick of the wrist is going to move the line quite a bit.
So at first, I was finding that I was overpowering the mend quite often, but as you fish with the rod more and more, you start to get used to that and you can really mend that line exactly how you want it to be which will help you get that natural drift.
The Price ($495 USD)
All right, so the price of the Vision Rivermaniac 5wt 9ft Fly Rod is around 450 Euros ($495 USD) and I think overall that's a great price for this quality of Rod, especially with this beautiful blank.
Vision Rivermaniac
Order the Vision Rivermaniac fly rod on Vision Fly Fishing.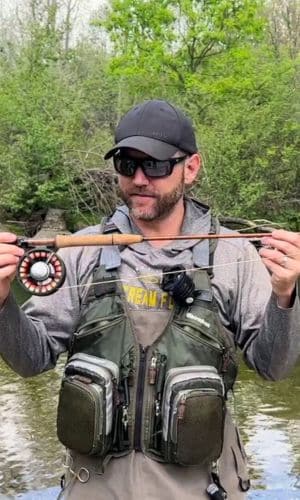 What I Like (The Pros)
I like a lot about the Vision Rivermaniac fly rod series. These rods cast so well and they look amazing. They have some super high-quality components, especially considering the price point.
I also love that Vision is a brand out of Finland and they assemble and design the rods there. These guys are fly fishing fanatics and you can tell from their rods and their other products that they really know their gear.
When you fish a Vision on a river in the US, you'll definitely turn some heads. Not a lot of people have seen them before, but if they get their hands on one, I'm certain they'll want to buy one.
What I Don't Like (The Cons)
There are only two main things I'm not crazy about with the Vision Rivermaniac.
Firstly, I wish that the cork was a little bit higher quality. It could've just been the rod I was shipped, but the cork handle had some filler and missing bits of cork, even fresh out of the box.
Secondly, I'd love to see a hook keeper. This is just a personal preference, but I don't like having to hook my flies on the stripper guides or into the cork. Even this handle has a nice rubberized cork edge, I still prefer to have a dedicated keeper.
Other than that, there's not much bad you can really say about the Rivermaniac series of rods by Vision.
My Final Thoughts & Opinions
So lastly, I just wanna talk about my final thoughts and opinions on the Vision Rivermaniac, 9′ 5wt Fly Rod.
I think that overall this is the perfect rod if you're going to be on small to mid-size rivers catching small to medium size trout. I caught a really nice one on it during testing, and another much bigger trout earlier in the year, and them both with no problem at all.
I love the accuracy, so if you're in tight spaces and you need to do a roll cast or you just need to plunk it down close to the bank it's great for that.
As you can see from the review video above, this thing has basically the perfect blank recovery rate. So as soon as you straighten it out, there's no wobble in the blank.
I hope you have found this review helpful in deciding if the Vision Rivermaniac is the right rod for you. If you have any questions, feel free to contact us.
Disclaimer: IntoFlyFishing.com is a participant in the Amazon Services LLC Associates Program, as an Amazon Associate I earn from qualifying purchases. Please see our Privacy Page for more information.