In this review article, we're looking at the Snowbee Diamond² 10ft 3wt rod. The Diamond² rods fall in the more affordable range of Snowbee's rods and include all the popular freshwater weights and lengths.
Snowbee Diamond² 10ft 3wt
If you like what you see in this Snowbee Diamond² 10ft 3wt review, you can order the rod at Snowbee.
If you haven't read my review of the Diamond² 9ft 5wt, be sure to check it out too. But as a spoiler, it's a great all-rounder for a good price and certainly one I'd recommend for newcomers to the sport.
Disclaimer: IntoFlyFishing.com is a participant in the Amazon Services LLC Associates Program, as an Amazon Associate I earn from qualifying purchases. Please see our Privacy Page for more information.
Disclaimer
Right before we jump into this review, I must point out that Snowbee sent me the rod for a test and review. But, they don't pay me to say certain things about the rod or anything funny like that. The thoughts and opinions I express in this review are my own, which I choose to share so you can make a more informed decision while shopping for a rod.
Where and How Was the Rod Tested?
Now, with that out of the way, let's look at where and how I tested the rod. I took the rod out on my first couple of days of river fishing on our trout streams here in Cape Town. The fish we target around here generally range in length between 8 and 15 inches, so I prefer using lighter rods.
From a leader and fly point of view, I mainly use a two-fly rig with the bottom fly a weighted nymph. I swop the top fly out between a dry and another nymph, as the fishing situations and fish behavior dictate.
Generally, the casts are no more than 20 feet in length, and the leader and tippet combo is running around 20 feet long.
Where Does the Snowbee Diamond² 10ft 3wt Shine?
So, let's look at where the Snowbee Diamond² 10ft 3wt does well.
Length
The first reason you might consider this rod is its 10ft length. This additional length is what enables you to control your drifts and maintain contact to detect subtle takes.
Also, if you're thinking of getting into competition fly fishing, the total leader length you're allowed to fish with is twice the length of the rod, so having a 10-foot rod means you can fish with a longer leader than with a shorter rod.
These long light-line rods have really become very popular, and rightly so.
Power
The second area where the rod shines is power. If you've never fished with a 10ft 3wt rod before, don't confuse it with a standard 3wt rod, especially not the Diamond². The rod has the backbone of a 5wt, so you're able to really pull on larger fish.
Where Does the Snowbee Diamond² 10ft 3wt Fall Short?
As I always say, there's no perfect fly rod, so let's also look at where the rod falls short. The biggest thing that stood out for me is the overall weight, and it's something that you really become aware of when fishing.
Order the Snowbee Diamond² 10ft 3wt
If you like what you see in this Snowbee Diamond² 10ft 3wt review, you can order the rod at Snowbee.
I weighed the rod on the good old kitchen scale and it just hit 3.8 ounces, which is in the ballpark of the advertised weight. I have saltwater rods that are much lighter than this.
This is one of the reasons I do feel that it's not an ideal small stream rod, like for instance Snowbee's Prestige G-XS.
Watch the Snowbee Diamond² 10ft 3wt Review
Rod Details
Let's get up close to the rod itself, and look at it in more detail:
Tube
Snowbee ships the rod in this green Cordura-covered tube which is about 35 inches in length. On the cap, you'll find info on the rod's length, line weight rating, and the number of sections, but not the model.
The tube also has a small leather patch with a classic trout fly embossed into it, and it also has this webbing handle.
Rod Sock
The rod is further protected by a sock with four dividers, one for each section. This sock has all the rod's details printed on it too, so it's easy to ID the rod when you travel with multiple rods in a large tube.
Rod
So, looking at the rod itself, let's start at the butt section.
Fighting Butt
The Diamond² 10ft 3 weight doesn't have a fighting butt. Some anglers prefer one, while others don't. I prefer a small fighting butt on Euro nymphing rods, but that's once again personal preference.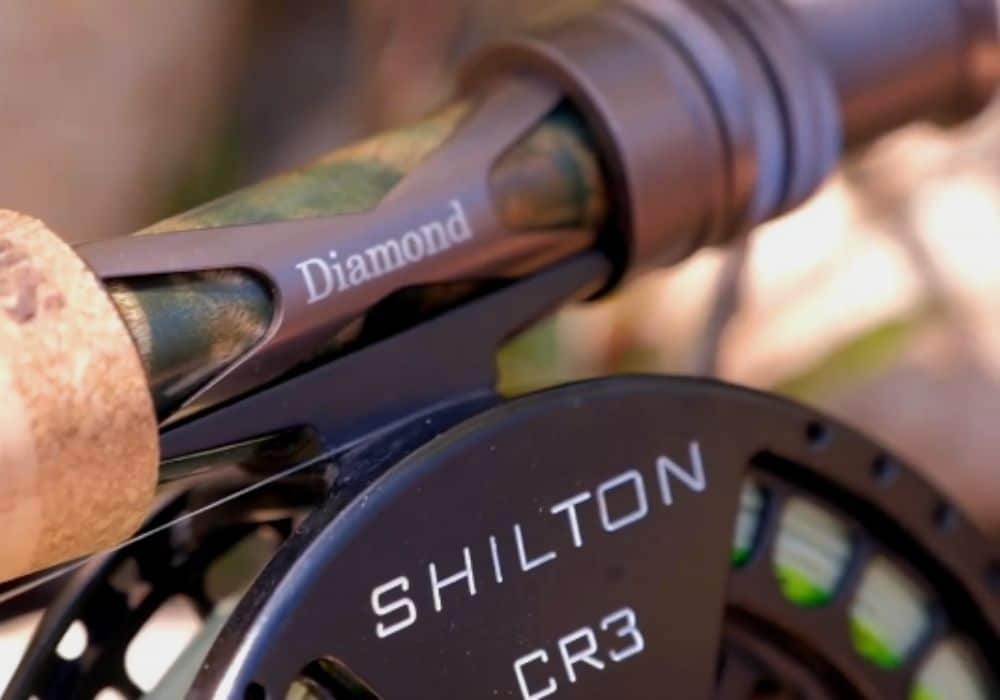 Reel Seat
The reel seat's hardware might be a little overkill for a 10ft 3wt, but one thing is for sure, it will definitely last. I love that it has two proper uplocking rings, each with a rubber bushing, which really helps to keep your reel locked into position.
Under the gunsmoke-colored skeleton, you'll find an olive burl wood insert.
Grip
The 10ft 3wt Diamond² has a half wells grip and rubberized cork rings at the top and bottom, just for an accent, and it adds to the durability of the grip.
I've only fished the rod for a couple of weeks, so can't really comment on the overall durability of the grip or rod, but the cork used on the grip has quite a lot of filling added to it, to cover up all the blemishes.
This seems to be consistent with the Diamond² 9ft 5wt recently reviewed.
Blank
The blank is built around what Snowbee calls Tri Modulus Carbon technology. Basically, that means they use different carbon materials in different parts of the rod to optimize its durability and performance.
The rod has a medium-fast action, which you'd expect from an entry-level 10ft rod, but the good news is that it doesn't have a poor recovery rate. Once you've made the cast, the tip recovers relatively quickly, and you don't get that oscillating wobble you get with most of the other affordable nymphing rods.
Line Guides
The rod's first stripper guide is placed quite high up on the second section. This helps to feed the line more easily when you're making a cast, but it does introduce quite a lot of slack when nymphing.
The 10ft 3wt Diamond² actually has two stripper guides, both with silicon carbide inserts and a gunsmoke frame color. The rest of the guides are all beefy chrome snake guides – they'll surely last, but my question is, aren't these thick and tall guides a little overkill for a 10ft 3wt?
Finish
The blank has an olive-green finish, and all the line guides are wrapped with olive thread and gold accent wraps. If you read my previous review on the Diamond² 9ft 5wt, you'll know that I picked out some imperfections in the clear coat on the blank and wraps, but I'm happy to say that this rod has no problems at all.
My Personal Thoughts
So, let me share with you my personal thoughts on how the rod fishes by going through some of its strong and weak points:
Pros:
The Diamond² 10ft 3wt offers good value at a price of around $289.
Looking at how beefy the reel seat, line guides, and blank is, I think it will be a rod that will last you a good number of years.
The rod also has quite a lot of pulling power.
Cons:
The primary issue is the weight of the rod, it's something that I just couldn't get used to.
The quality of the cork is quite poor too.
Order the Snowbee Diamond² 10ft 3wt
If you like what you see in this Snowbee Diamond² 10ft 3wt review, you can order the rod at Snowbee.
Who Should Buy the Snowbee Diamond² 10ft 3wt?
So, who should consider buying the Snowbee Diamond² 10ft 3wt? I think that the rod will suit the beginner angler who wants to get into Euro nymphing and fishes medium to large rivers for trout over 15 inches.
Conclusion
I hope that you found this review helpful. If you own a 10ft 3wt Diamond², or fished with one before, please let me know what you think about it in the comments section down below.
Until next time.