As an Amazon Associate I earn from qualifying purchases.
Fly fishing still water is an entirely underrated aspect of fly fishing. When most people imagine fly fishing, they dream about high mountain streams and rivers filled with native trout. Stillwater fishing is often left to the spin anglers.
Snowbee Denny Rickards Signature Series Rod
If you like what you see in this Snowbee Denny Rickards Signature Series Rod review, you can order the fly rod on Snowbee.
As a result, fly anglers miss out on opportunities to land massive fish while spending time in beautiful parts of the world. One reason many fly anglers stay away is the lack of fly fishing gear created specifically for still water.
Snowbee noticed this lack of specialized gear and teamed up with Denny Rickards to create a stillwater fly rod. This 9′ 6 weight is perfect for lakes, rivers, ponds, reservoirs and everything in between.
Denny Rickards has over 40 years of professional angling experience and understands what it takes to fly fish still water. It's an art in and of itself, and the Denny Rickards Signature Series Rod helps anglers succeed in these unique fishing experiences.
As a part of the Amazon Associates Program and other affiliate programs, Into Fly Fishing® may receive a comission if you order products through links on this website.
Why Trust My Snowbee Denny Rickards Signature Series Rod Review?
I had a great opportunity to test out the Denny Rickards Signature Series Rod on a lake in the mountains of northern Arizona. I gave it a solid test in the midst of some difficult weather conditions.
It was cold and windy, without much cover to block the wind, and the rod was going to have to perform well in order for me to have any sort of success on the water. However, it was a great chance to test out all that the rod had to offer.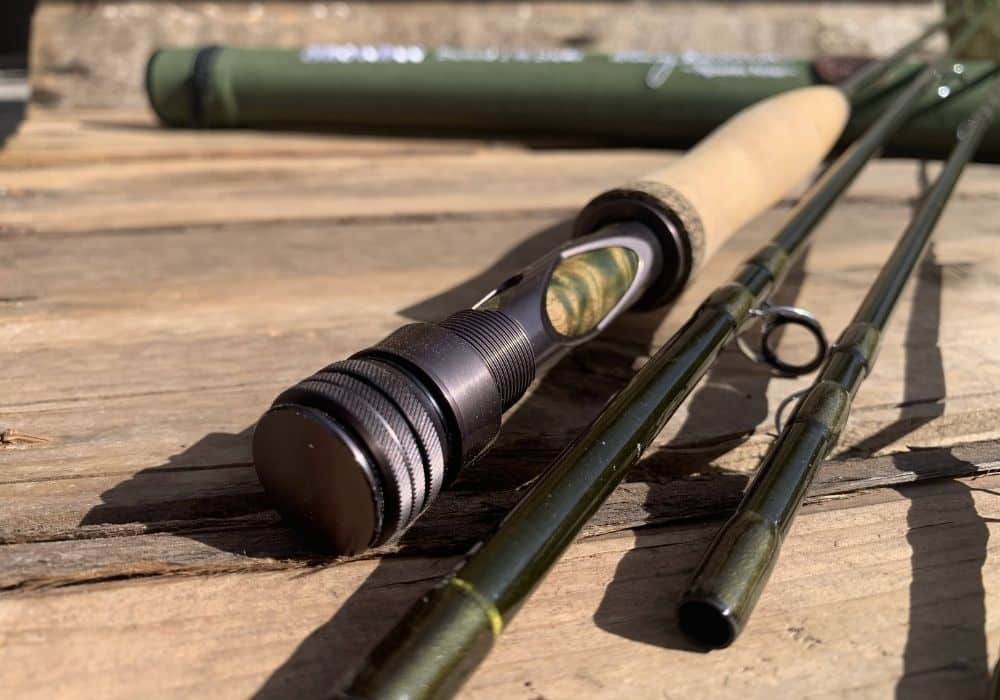 At Into Fly Fishing, we only review gear that we've personally used. We're allowed to be objective in our reviews and give our honest opinions. We care about providing anglers with accurate information that will set them up for success on the water.
We don't take our platform lightly here at Into Fly Fishing. Choosing the gear that will best fit your experiences isn't always easy, so we do our best to simplify that process.
What's in the Box?
When you receive the Snowbee Denny Rickards Signature Series Rod, you'll get a rod tube as well as a sleeve. Snowbee sends along a sleeve instead of a rod tube with three dividers. It requires that you take a bit more time at the end of your fishing day to get it all put away, but your rod will thank you in the long run.
Snowbee Denny Rickards Signature Series Review Features & Specs
The Denny Rickards rod is a part of the Diamond Rod series from Snowbee. The Diamond Rods have been in existence since 1994 and have consistently seen favorable reviews.
Order the Snowbee Denny Rickards Signature Series Rod
If you like what you see in this Snowbee Denny Rickards Signature Series Rod review, you can order the fly rod on Snowbee.
These affordable high performance rods are unique in the fly fishing world. The performance level is hard to beat, and the price is very friendly for what type of rod you receive.
Before I tried out the Denny Rickards Signature Series Rod, I've cast several other rods from the Diamond series. I found them to be of a consistently high quality that more than justified their affordable prices. So, how does the Denny Richards Signature Series Rod stack up?
Build Quality
The Denny Rickards Signature Series as well as all of the other Diamond Series rods are made of Tri-modulus carbon technology. This 4-piece rod has a solid feel to it. Immediately I could tell that it has a backbone, but it only weighs 3.9 ounces. It feels heavy enough that you know it has power, but it's not so heavy that you'll lose out on any of the finesse presentation.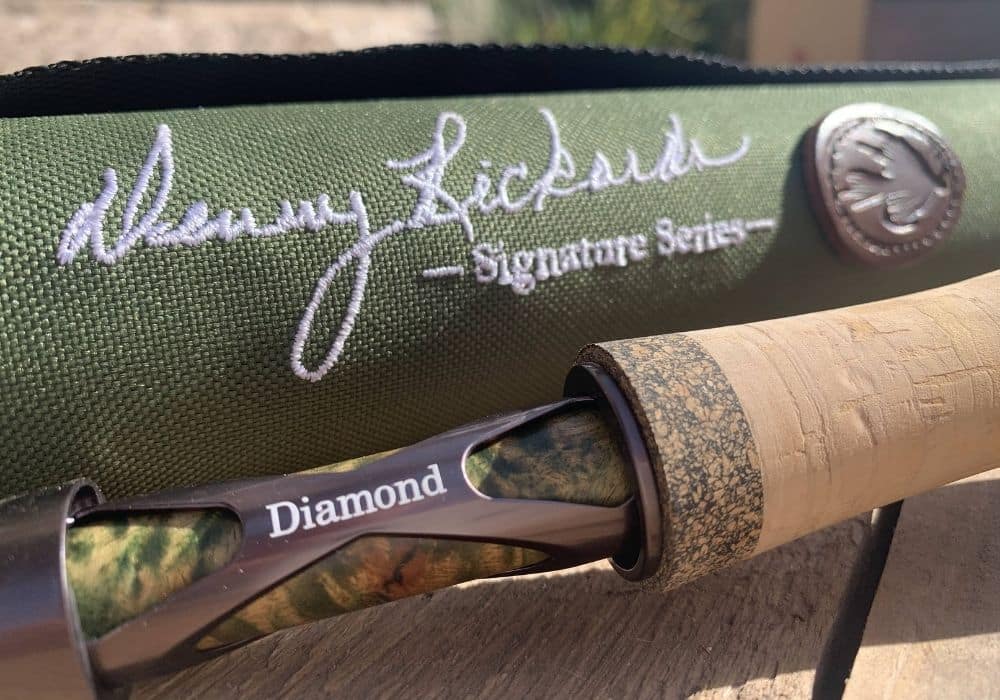 Snowbee and Denny Rickards tested this rod for more than a year on more than 50 lakes. No punches were pulled regarding the quality and performance of the rod. It has extra large SIC lined stripping guides, a high-quality cork, and an up-locking reel seat.
It keeps the traditional quality aspects of the Diamond series and adds on some extra features due to the year spent testing and creating this rod. At 9′, the rod delivers plenty of power and great control.
Action
The Snowbee Denny Rickards Signature rod is a fast-action rod. It's created to have quite a bit of power and not an excessive amount of flex. Fast-action rods aren't the most forgiving rods when it comes to casting, but when you find the rhythm, it's hard to beat the feeling.
Since it's a bit stiffer, you'll be able to fight fish with more power. This is always a benefit because you won't exhaust the fish and potentially harm it during the fight.
I noticed this right away with the first fish I hooked into. The large rainbow trout put up an admirable fight, but it was no match for the rod. The rod seemed to have the perfect balance between flex and stiffness, and I was able to land the fish fairly quickly.
The best part of a fast-action rod is that it can power through the wind. Whenever you're fishing still water, odds are you're dealing with wind. And sure enough, there was some serious wind on the day I spent with the rod, which is a pretty common situation up in the mountains of Arizona.
Snowbee and Denny Rickards anticipated this during the creation of the rod. This rod fought well through those windy conditions. It had the backbone to let me hit the spots I needed to.
Presentation
When you're fishing a heavier weighted rod, the major worry is that you're going to lose out on the finesse to present your flies softly. If you're fishing still water, the last thing you want is your line and fly slapping the water. This will spook all the fish and ruin your chances of landing whatever trophies are lurking.
Presentation is an underrated feature on fly rods, and while you can get away with a somewhat sloppier presentation on moving water, there's no room for error on still water.
I found that although the Denny Rickards signature series offers some impressive power, I didn't have to sacrifice my presentation. The final flicks of my wrist could create a nice lay down. After giving myself a bit of time to get used to the rod, I quickly got into the right casting rhythm and figured out what I needed to do to create a smooth finish.
Short Distance Accuracy
I was easily making casts up to 30 feet with the Denny Rickards Signature Series Rod. I only needed a couple of false casts to get the line out to where I needed it. Laying down the fly in my chosen spots didn't take much effort at all.
Whether I was looking to drop the fly next to a lily pad or up against a downed tree, it didn't take much effort on my part. I had to finish the follow through with where I wanted my fly to hit, and the extra large guides made sure that it got to the desired destination.
If casting is where you feel confident, this rod will help you feel even better about it.
Long Distance Accuracy
Accuracy at long distances is where the Denny Rickards Signature series has to earn its keep. Fly fishing lakes requires 40 to 70 foot casts. Whether you're on a boat trying to hit the bank or casting out to a drop-off, you don't want to feel a lack of power.
While many rods give you the necessary power, you may lose out on accuracy. This rod doesn't do that. You can keep the rhythm, and a smooth follow through will get you to your spot. Pick out the spot before you start casting and you'll be able to hit it.
This rod is a blast to air out. Test yourself and see how far you can cast. The only limitations you'll run into are your own.
Warranty
The Denny Rickards Signature Series Rod is protected under Snowbee's lifetime warranty. They promise to replace the rod if there is any sort of manufacturing error. If the rod breaks, you can send the rod back and Snowbee will either fix it or send you a rod of a similar value.
They want you to fish this rod hard and test its limits. When you're fishing a lake, you never know the size of fish you'll find, so you need to be confident that the rod will hold its own.
Snowbee Denny Rickards Signature Series Rod Review: My Personal Thoughts
I've always wanted an opportunity to fish a fly rod specifically designed for stillwater fishing. I had a few things in mind for what a quality stillwater rod would need, and the Denny Rickards signature series exceeded these expectations. It was easy to tell that the developers spent hours on the lake perfecting this design.
I fished this rod in 15-20 mile per hour winds. I was skeptical at how it was going to perform. The wind was swirling, so it was difficult to position my body and make the wind as little of a factor as I possibly could. The rod stepped up to the challenge and allowed me to hit my spots despite the adverse conditions.
The smoothness of this rod is in a class of its own. The rhythm isn't hard to find, and the line slides through the guides at an amazing rate. I use RIO Floating Line on this rod and it felt like a dream. It took very few false casts to get to the spots that I needed.
High performance rods are often quite expensive. For only $349, you're getting a steal. If you're an angler that enjoys stillwater fishing with fly rods, you'd be doing yourself a disservice if you didn't purchase this fly rod. It won't take you long to be pleased with your decision.
The presentation on this rod is where it becomes special. You can use a heavy sinking line or a lighter delicate presentation line and accomplish what you need. Again, you'll need to lay down your flies softly on clear, still lakes. It's more than possible with this rig.
Order the Snowbee Denny Rickards Signature Series Rod
If you like what you see in this Snowbee Denny Rickards Signature Series Rod review, you can order the fly rod on Snowbee.
There are few rods in the fly fishing world that put a smile on your face as soon as you start using them. The Denny Rickards Signature Series Rod will do that. It feels comfortable in your hand and will give you the confidence you need to spend a full day on the water.
Conclusion
There's a desperate need for stillwater specific fly rods. Snowbee stepped up to the challenge and relied on the wisdom of a fly fishing legend. They've accomplished something special. Do yourself a favor and get this rod. You'll find yourself planning specific trips to lakes, ponds and reservoirs.
After my thorough test of this rod, it's now earned a top spot in my arsenal. I'm already thinking of the next stillwater destination I can take it to. Maybe a return trip to Arizona is in order.
Amazon and the Amazon logo are trademarks of Amazon.com, Inc, or its affiliates.