This article is our first installment of our in-depth Stillwater Series, where we'll look at a basic stillwater rig to get you going. Unfortunately, I see many anglers buying the incorrect equipment for stillwater fly fishing, so I want to cover all the elements you need with this article.
Before we start, I'd like to ask you to leave any questions you might have at the bottom of the page. I've been fly fishing for many years and I take some things as a given, but I'd love to elaborate on answers to any of your questions in future articles.

Disclaimer: IntoFlyFishing.com is a participant in the Amazon Services LLC Associates Program, as an Amazon Associate I earn from qualifying purchases. Please see our Privacy Page for more information.
What Is Stillwater Fly Fishing?
Let's first take a brief look at what stillwater fly fishing is. In essence, and as the name suggests, it's fly fishing in dams and lakes where there's little to no current flow. However, it's slightly more complicated than this.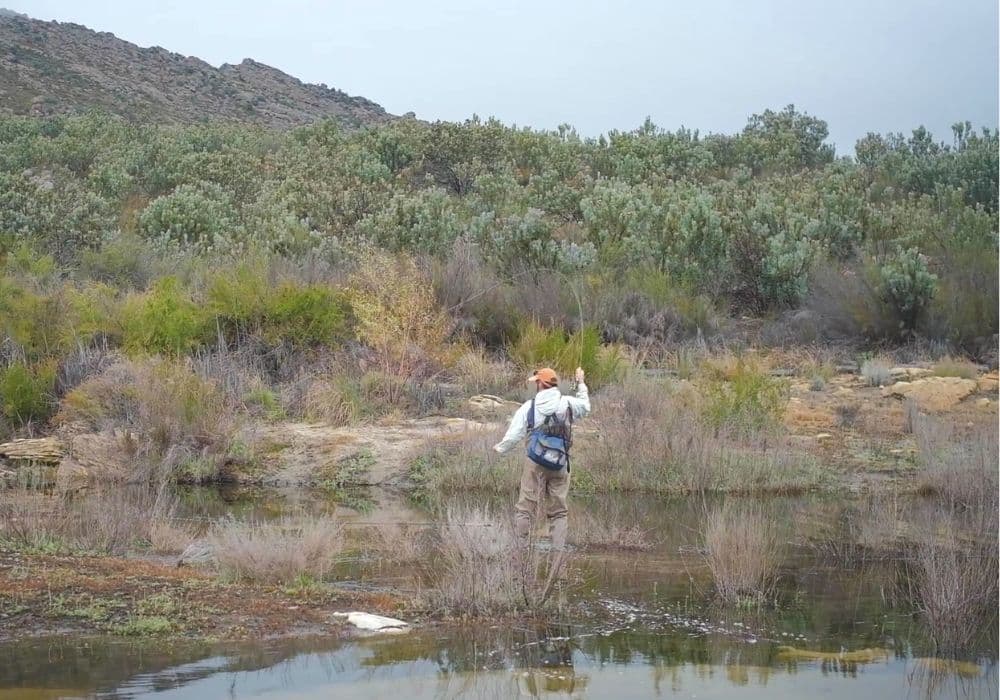 Like fishing a river, it's essential to understand where the fish are holding, to fish at the correct depth, and to use the right flies. A big part of stillwater fishing is also using the wind to your advantage.
In South Africa, the most popular stillwater species to target on fly is undoubtedly rainbow trout. So, in the article and video, I focussed on them.
Stillwater Fly Rod
There are many additional variables on a rod that could influence your decision, but I think the line weight and length are the most important. Things like action, number of sections, and whether it has a fighting butt or not, all those kinds of things, are more personal preference.
Rod Weight
The foundation of all fly fishing setups is the rod. In my opinion, the ideal rods are 5 and 6 weight. Some extreme situations even call for a 7 weight. The weight you select will be determined by:
How large the fish generally are in the stillwater you're fishing
What fly, or combination of flies, you're going to be throwing at them
And, one everybody forgets about, how windy it is.
If you need one rod for all the applications, a 6 weight is the way to go.
Length
As far as length goes, the two most popular options are 9 and 10 ft, and 10 ft is probably the most ideal, in my opinion. This is because it allows you to reach slightly higher, which keeps you from snagging your boat partner. A 10 ft rod also generally has a somewhat beefier butt section, which helps to tame larger fish quicker.
But having said that, by no means is a 9 ft a poor option. As you can see, I'm using a 6 weight 9-foot Moonshine Vesper rod, and it absolutely excels at stillwater fishing.
Watch the Best Stillwater Fly Fishing Gear Video
Stillwater Reel
As far as the reel goes, the most important considerations are line capacity and the smoothness of the drag (low startup inertia).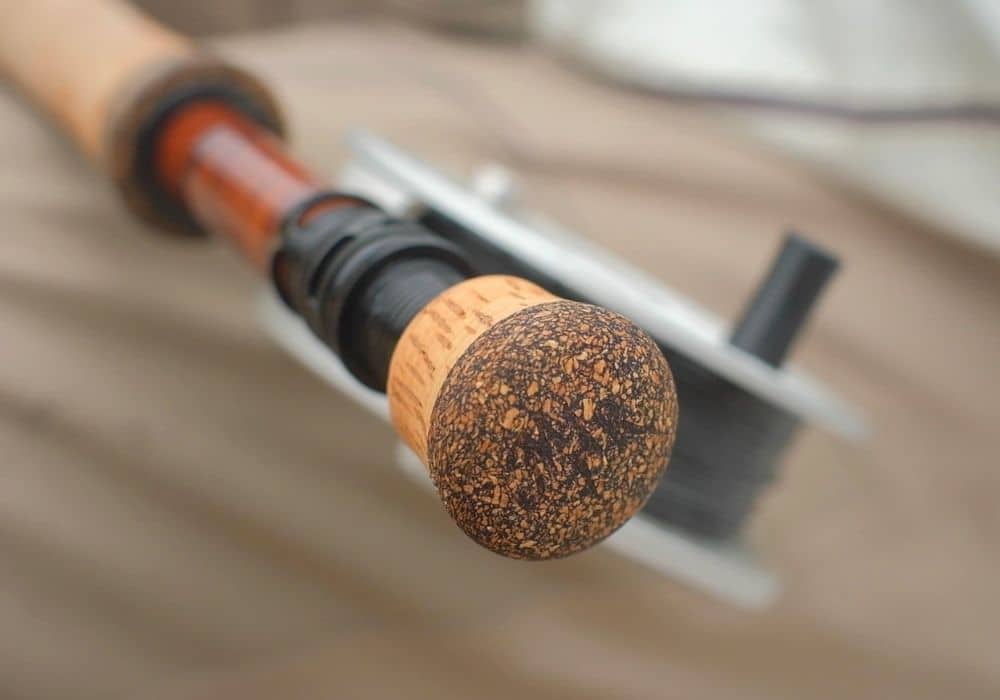 Line Capacity
You'll generally be making a longer cast when compared to river fishing, which means that a lot of times, when you hook into a fish, you're about midway to the end of your fly line.
Make sure you select a reel that has at least 80 yards of backing capacity. Test it with the specific line you're using, especially if you're using a floating line.
Smooth Drag
Probably the most critical attribute of a good stillwater reel is the smoothness of the drag. Now, if you're using 2X and you are hooking into a 1 lb stocky, this will obviously not be a problem at all.
But sometimes, especially when the fishing is slow, it's necessary to drop your tippet size down to 5X. If you then hook into a decent fish, you'll need the smoothest drag you can get. It'll help you land a lot more fish, and there will be fewer fish swimming around with piercings in their jaw.
Fly Line and Backing
As mentioned earlier, a good stillwater reel should carry at least 80 yards of backing. Be sure to test this yourself with the fly line you're going to use, as all fly lines differ in diameter. For instance, a 6wt weight forward floating line's head is much thicker than a di7 sinking line.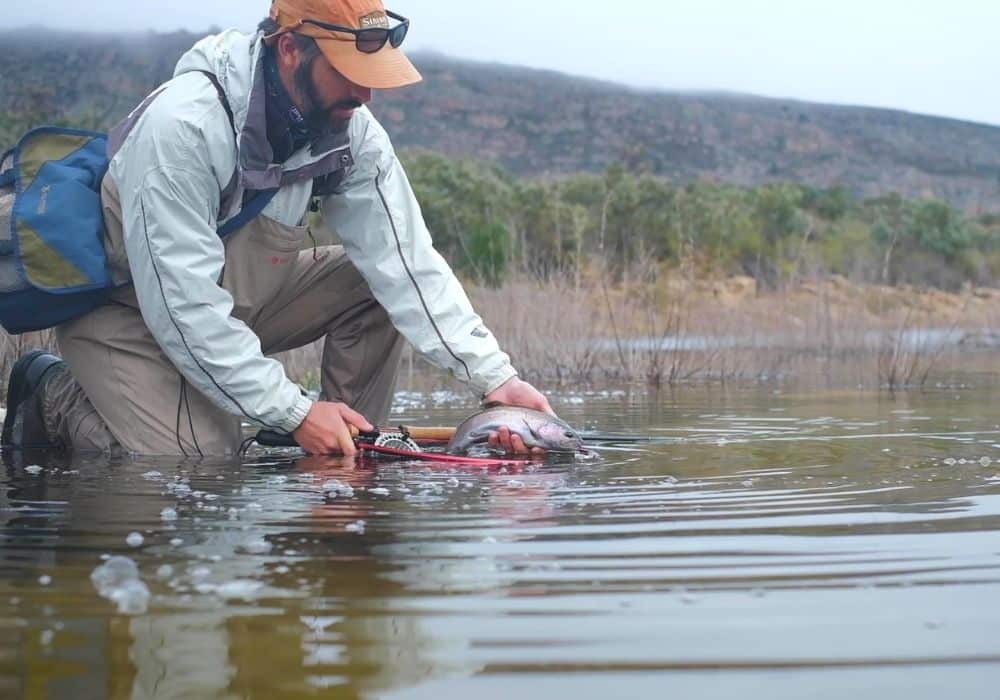 As far as a fly line goes, this is where stillwater fly fishing can become quite complicated. If you're fishing a shallow lake only 10 feet deep, you can get away with only having a floating or intermediate line.
The dam I regularly fish is up to 90 feet deep in some places, and if the fish are holding very deep, you need a fast-sinking line to get there.
To keep things simple for the purpose of this article, I recommend having three fly lines for your stillwater setup: a floating line, an intermediate line that sinks around 1.5 ips (inches per second), and a di5, which sinks around 5 ips.
Leader
To the front of the fly line, I attach a monofilament or fluorocarbon leader. If you're not building your own leaders or don't fish level leaders as I do, the best bet to get started is using a 9-foot tapered leader.
I recommend getting a 2X or 3X leader and attaching a tippet ring at the end of it. We secure our tippet section to this ring to prolong the life of the leader.
Tippet
Another topic that usually opens a heated debate is which tippet to use. In stillwater fly fishing, this is undoubtedly the case, and I don't want to go down the rabbit hole of which brand is better.
It's always a good idea to have a couple of different tippet diameters and materials with you, so I recommend a full selection between 2X and 5X in monofilament and 4X and 5X in fluorocarbon for the slower days.
Flies
I'm planning on doing an article on 10 of the best stillwater flies, but without giving away too much on which flies work the best, I want to talk about the hooks used for stillwater flies.
If you tie your own flies, ensure that the hooks are the best quality you can afford. If you buy flies from a shop, ask them specifically which hooks the flies are tied on. I'd stay clear of flies tied ultra-cheap in the East, as these hooks tend to break. The flies also look like crap.
If the shop can tell you exactly which brand of hooks is used on their flies, there's a good chance it will be of solid quality.
Remember, the hook is the primary contact between you and the fish, so don't skimp on this.
Conclusion
And that's it, with this basic setup, you can go out and do some severe damage from the banks for your local stillwaters. Once again, if you have any questions or topics you want us to discuss in upcoming articles, please let us know at the bottom of the page.
Be sure to check out our Stillwater Series of videos on Youtube, and while you're there, please subscribe to our channel and turn on the notifications.
Until next time!