After fishing and testing the Eagle Claw Featherlight, we provide you with a full, in-depth review.
Diehard fly anglers always remember their first setup. Odds are, it wasn't overly high quality, but that didn't matter. It opened the door to a lifetime of adventure, challenges, and joy.
The Eagle Claw Featherlight 6'6″ 3/4-weight was my first-ever finesse rod. For the past six years, I've fished with it worldwide in small rivers and beautiful mountain streams.
The Eagle Claw Featherlight is extremely affordable and sufficient for most finesse situations. When I first purchased it, it had very few reviews, but now it has over 500 reviews of 4.5 stars or higher.
Eagle Claw Featherlight
Order the Eagle Claw Featherlight on Amazon.
→ Don't Miss Our Full List of The Best Fly Rods of 2023
Why Trust My Eagle Claw Featherlight Review?
We purchased the Eagle Claw Featherlight ourselves, so there was no bias heading into the review. We wanted to see if it could hold up against other budget fly rods we've reviewed. Plus, at Into Fly Fishing, we pride ourselves in only reviewing gear we've tested.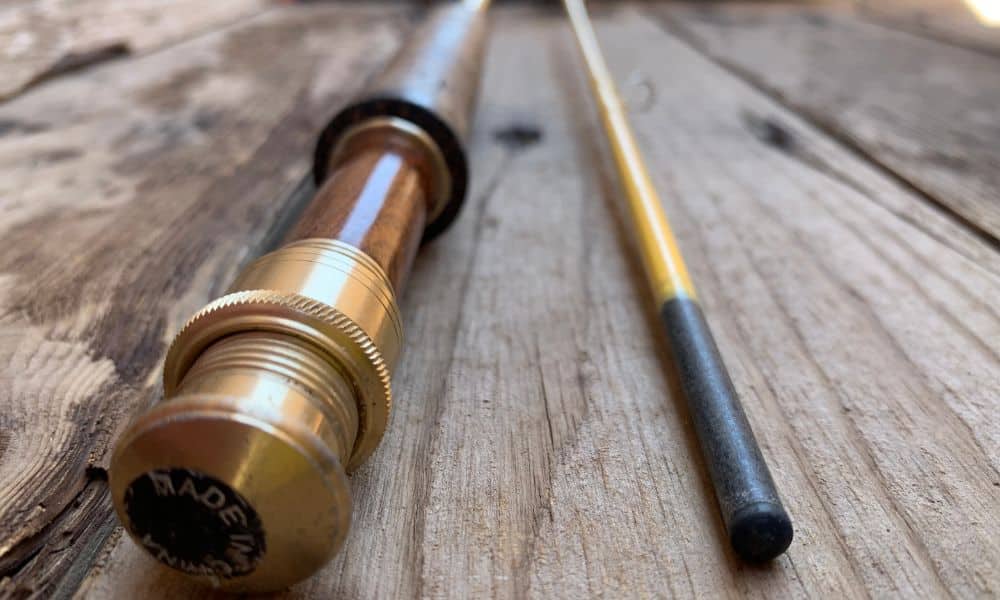 I have personally fished this rod for five or six years, so I'm well aware of its capabilities and shortcomings.
What's in the Box?
When you receive the Eagle Claw Featherlight, you don't get anything else besides the rod. There's no rod case since it only breaks down into two pieces.
Each piece is around 3.5 feet long, so if you do want to store it, you'll have to purchase your own separate storage tube.
In my experience, I've let it float around unless I'm flying with it, then I'll put it in a rod sock and a storage tube. It's held up extremely well over the past six years bouncing around in the bed of trucks, in airplanes, and in numerous moves.
Eagle Claw Featherlight Price
The Eagle Claw Featherlight is going to cost you $38. It's one of the most affordable quality fly fishing rods you will find. You must purchase the reel and line you want to use separately.
Eagle Claw Featherlight
Order the Eagle Claw Featherlight on Amazon.
Eagle Claw Featherlight Rod Features & Specs
Below I'll list the features, specs, and components of the rod, not just from the manufacturer's website but from my own hands-on testing of the rod.
Build Quality
The Eagle Claw Featherlight 6'6″ 3/4-weight has a fiberglass blank. The guides are stainless steel, and the cork is high quality. Even though it's a budget-friendly rod, it doesn't look overly gaudy or cheap.
Yes, the epoxy and wraps aren't exceptionally high quality, but they don't fall apart or begin to wear immediately after you start using the rod.
The reel seat is made of deep-brown wood with a single locking system. Throughout the six years of use, it hasn't begun to fall apart, and everything looks similar to how it did when I first purchased it and began using it.
Action
The Eagle Claw Featherlight has a moderate-slow action. There is a significant amount of rod bend, and it's not meant to be a powerful rod. It can handle smaller flies, smaller fish, and smaller water. You'll notice the moderate-slow action as soon as you begin casting it.
With some patience, you'll learn the proper rhythm and likely find that the added sensitivity is perfect for those tight fishing conditions.
Presentation and Mending
The Eagle Claw Featherlight makes presenting flies and mending easy. The deep rod bend lays down flies extremely softly. The softer laydowns make for more natural presentations, which are vital to success on those clear mountain streams.
Once you've made your cast, the Eagle Claw isn't done. If you happen to make a poor cast or need to mend up or downstream, the Eagle Claw will have no trouble with it at all. It's able to make mends large and small.
Flicks of your wrist are going to allow to keep that drift perfect. Whether you're throwing dries, dead drifting nymphs, or throwing small streamers, the Eagle Claw is up for the challenge.
Short Distance Accuracy
The Eagle Claw Featherlight is one of the most accurate, affordable rods you can find. The combination of the moderate slow action and short length gives you the time and luxury of picking the exact place on the water and hitting it.
Anything inside 25-30 feet is fairly easy with the Eagle Claw Featherlight. However, where it excels is in those 10-15 foot casts. In these short distances, the line doesn't feel so fast that you lose control. It has a nice balance that gives you enough time to adjust before your fly hits the water.
You can take your time with the casts and not ruin the hole you're fishing. Plus, once your fly hits the water, you have all of the power and control you would need to continue to make proper presentations.
Long Distance Accuracy
The Eagle Claw Featherlight was not built to cast long distances. As soon as you get beyond 30 feet, you won't love the results. The moderate slow action makes it extremely difficult to keep the momentum going through those longer loops.
Plus, the shorter length of the rod makes it a challenge to muster that extra power.
If you do need to make those longer casts, I recommend sticking with still or extremely slow-moving water. If you're fishing with it in larger water across a few different seams, it doesn't have what you need to make the proper mends and adjustments.
This rod isn't advertised to make longer casts, and there are plenty of other rods that will do a far better job than the Eagle Claw Featherlight.
Eagle Claw Featherlight
Order the Eagle Claw Featherlight on Amazon.
Watch the Eagle Claw Featherlight Review Video
Eagle Claw Featherlight: My Personal Thoughts
It's hard not to be biased about the Eagle Claw Featherlight rod, but I think its praise is well-deserved. I don't treat my gear exceptionally well. It's not uncommon for me to take it into rough backcountry, get it hung up on trees, and put it in situations it probably shouldn't be in.
One of my primary judgments of gear is durability, and the Eagle Claw lives up to every test. The only other rod I had used before I began fishing with this one was a moderate fast action 9′ 6-weight.
Adjusting to the moderate-slow 6'6″ 3/4-weight took some time, but now it feels like an extension of my hand.
The moderate-slow action is easy to use and extremely sensitive. If I know I will be fishing for finicky fish in challenging conditions, there's no question in my mind about what rod I want to use. The Eagle Claw is up for the challenge.
Casting this rod is easy. I never use it intending to put a massive amount of power behind it, so I'm not disappointed with its performance. It's meant to stick to waters that only require up to 25 or 30-foot casts. Beyond that, it can turn ugly. It takes a long time to get the extra line out, and it definitely loses its integrity.
Inside 30 feet, I don't have a problem getting my fly exactly where I want. It doesn't matter if it's a dry fly, nymph, or small streamer. I can lay down my flies exactly where the fish need them. There is no other rod in my arsenal that I've caught more fish with.
The sensitivity and line control of the rod is what sets this rod apart from many other affordable finesse options. It doesn't take much to make mends and is very responsive. As the day on the water progresses, I find myself getting more tired and making less accurate casts.
The Eagle Claw always makes me look better due to its ability to respond to my mends. One of my favorite things about this rod is how it fights fish. I've landed trout anywhere between 6 inches and 20 inches with it.
Regardless of the size, the rod makes it fun to fight. The fiberglass blank and moderate slow action allows you to feel every single headshake and movement from the trout.
Those larger fish definitely test the limits of the rod, but with some sensitivity, I've been able to land them and not harm the fish.
Anglers who are looking for an affordable finesse rig, look no further. The Eagle Claw Featherlight is exactly what you will need for those small streams and rivers. The shorter length allows you some more freedom to cast in tighter areas.
I couldn't recommend this rod more. Anglers of all skill levels will enjoy fishing with it and have plenty of success. As long as you know its limitations, you won't be disappointed by it. Pick apart those small streams and put your skills to the test. The rod will be up for the challenge.
Disclaimer: IntoFlyFishing.com is a participant in the Amazon Services LLC Associates Program, as an Amazon Associate I earn from qualifying purchases. Please see our Privacy Page for more information.