As an Amazon Associate I earn from qualifying purchases.
As people gain more experience with fly fishing, their desire to purchase higher-end equipment increases. This can be an intimidating stage in the life of a fly angler. Spending $400-600 dollars on a piece of fishing equipment is a major investment.
If you're looking for an overall rod that can thrive in just about every situation, the Orvis Recon is for you. I know, because over the past several years I've used it in almost every situation imaginable. From small mountain streams to alpine lakes, and from big raging rivers to glassy reservoirs, I've cast this rod hard and often.
I've hooked into tiny brook trout, big belligerent salmon, and practically everything in between. The rod isn't perfect (as you'll see under cons below), but it's performed admirably well when I've needed it to. It's been a reliable companion on fishing trips that have since become vivid memories.
Now, this isn't a great rod for beginners. It requires some finesse and touch, which a rod like the Orvis Clearwater or Encounter doesn't demand from its users.
I've used top-of-the-line gear along with some of the cheapest setups on the market. Believe me when I say that the Recon is well worth the money. I own the first generation, which was released in 2015. Orvis recently released the second generation of the rod to reviews just as high.
Why Trust My Orvis Recon Review?
After I'd been fly fishing for several years, I was intimidated by purchasing higher-end equipment out of fear that it wouldn't be much better than the gear I already owned. This wasn't the case with the Recon, as it has massively outperformed both the Orvis Clearwater and Encounter, which I've owned for years.
I've owned the first generation 5-weight Recon for the better part of a year and a half, and I've seen it flourish in situations it has no businesses being in. As mentioned above, I've landed multi-pound bass and salmon on this rod as well as tiny wild trout.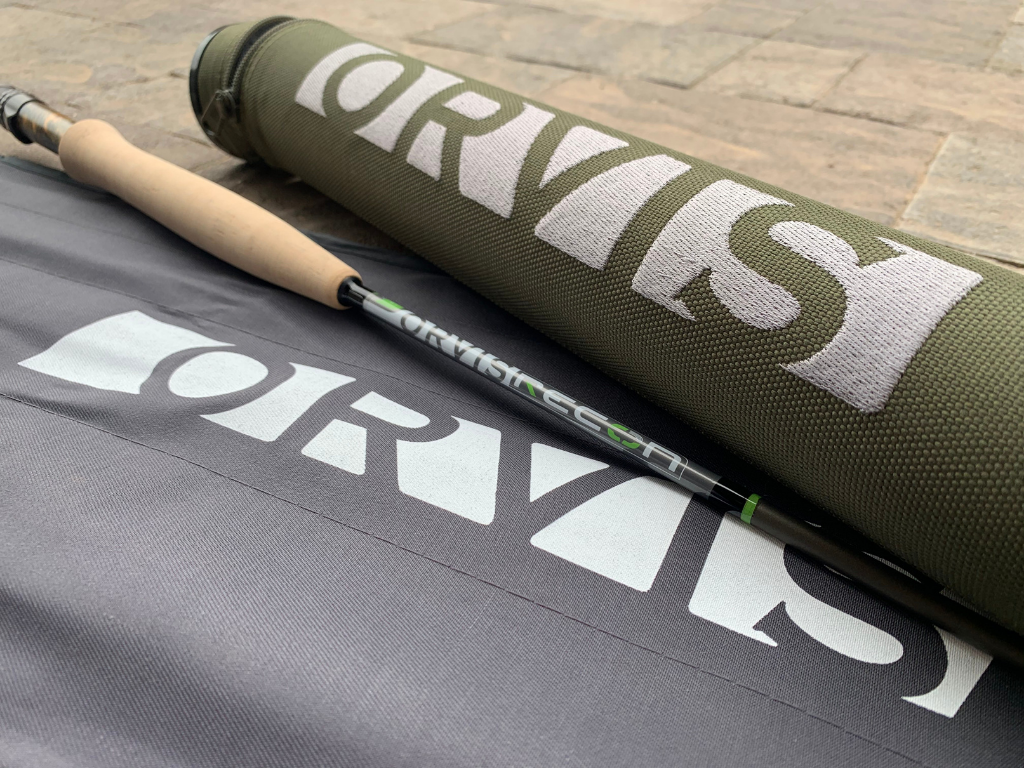 It travels extremely well and despite all the abuse it has received, it still looks great. I'm not too kind to my equipment, and the Recon has always seemed to forgive me. I've slammed it in doors, dropped it, and bent it far beyond what I assumed would be okay.
What's in the Box?
When you purchase the Orvis Recon, you'll receive a signature Orvis rod tube. This is right around 30 inches and can easily be snuck onto planes. Airline companies aren't too picky as long as the rod tube can fit next to you on the seat or in the overhead bin.
This tube will keep your rod safe no matter what. I've done everything to it short of running it over with my truck, and it continues to keep my rod safe. Since it's not a "package," you don't receive a reel, line or any other equipment.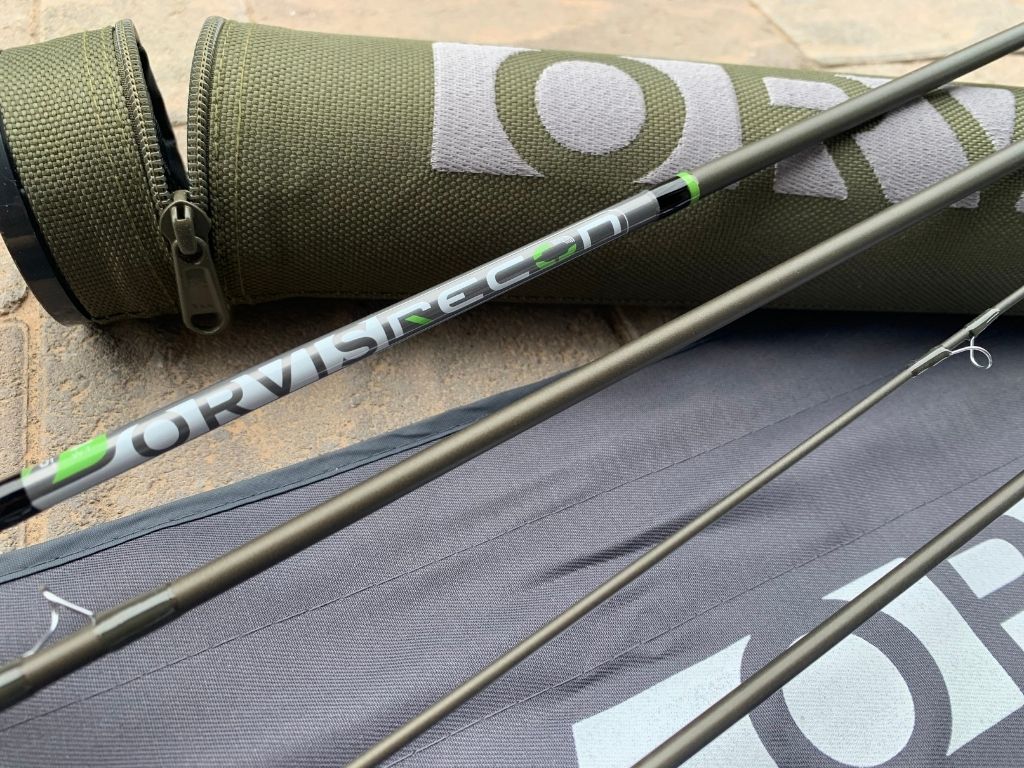 Orvis does offer these types of packages, but you either have to pay quite a bit more or downgrade to the Clearwater or Encounter. Both of these are solid options, though, if you're looking for a package.
Orvis Recon Review Features & Specs
The Recon isn't only a high performing rod, but it looks great too. The new version can be purchased in a dark green color with some phenomenal looking guides and a beautiful reel seat.
It doesn't look too flashy like other companies' rods.
Build Quality
The first generation Recon is a more traditional looking rod. It's a dark green, almost black color with a tan cork handle. The reel seat is attractive and it has an overall great look. Orvis rods always look sharp and the Recon is no different.
You have a 7-inch grip to use and nickel spread throughout the rod. The graphite material can be a turn-off for some anglers, but it performs just as well as fiberglass. The graphite is a blast to use, and you'll receive some phenomenal feel as a result.
The rod breaks down into four pieces. Four-piece rods can be a bit of a worry for some anglers. If you're targeting larger fish, are the four pieces going to hold their own? Will they stay in place? The Recon pieces fit extremely snugly within one another.
In all my time using it, I've never had to fret about losing a piece mid-cast or breaking it on a heavier fish.
Weight
My 5-weight weighs in at 2 and 5/8 ounces. It's made of extremely light material, and when I pick it up, I'm always somewhat shocked that it can land a fish of any size.
You can purchase the new Recon in just about any weight and size that you'd desire. The freshwater models range from 7′ 6″ 2-weights all the way to 9′ 6-weight rods. Orvis also has a saltwater option for anglers looking to spend their time on the coast.
You can purchase 9′ 6-weights all the way up to 12-weight 9′ rods. All of them have the signature Recon look and are extremely light. This rod is always shocking to pick up. You won't believe that something that light can handle the fish you hook into!
Action
The Recon is a fast-action rod, and there's no doubt about that. Certain fast-action rods can be seen as more medium-action, but Orvis made sure to keep this action as fast as they could.
I've made this rod handle long leaders, large streamers and big water. I've never had to worry about a lack of power. The rod has given me everything it has and more when I cast it.
Warranty
The beauty of the Orvis Recon is that it's covered by Orvis's 25-year warranty. If you're willing to spend the money on the Recon, Orvis rewards you. They'll protect your investment regardless of what happens to your rod.
Orvis Recon Review: My Personal Thoughts
There's a lot to be said about the Orvis Recon. I've been frustrated with this rod in certain instances, but more often than not it comes through for me. I've yet to find its match and if it happens, I'll know that it'll give me everything it has and more.
Below I'll explain the pros and cons of this rod based on my extensive use of it while targeting many different kinds of fish in a wide variety of different conditions.
Versatility Pros
When it comes to my fly equipment, I'm not a specialist. I don't have a rod for every type of situation. I need a rod that'll perform wherever I put it. The Recon does this. I have a 6-weight Clearwater and I often find myself leaving it at home because I know the Recon can hold its own.
I've fished some large rivers in Canada and across the western United States with the 5-weight Recon. I've needed to throw heavy flies in muddy water and windy conditions. This is where you'll truly test a fly rod. The Recon put up a wonderful fight against the wind.
This light rod is a beast in difficult conditions. I often find myself more worried about the speed of the water, cold weather and fly choice in tough conditions. The last thing I want to worry about is whether or not my rod will perform. I can hit my spots and have the ability to mend.
Versatility Cons
I've run into issues with this rod in tight situations. If I'm finesse fishing on smaller mountain streams, the Recon isn't going to be my first choice. The action is too fast for these circumstances. I find myself missing casts and fish as a result.
If I'm trudging into the mountains looking for wild brook trout, the Recon won't be my first choice, although I've used it several times in that scenario. Honestly, I'm a little inconsistent with hitting my spots and often find myself wishing I had a bit more opportunity to finesse this rod. I'll bring my 4-weight along and can automatically tell the difference.
However, if you understand that you're not going to get a small stream rod with the Recon, you won't be disappointed. If this is primarily the water that you fish, don't purchase the Recon. It won't perform as well as other rods in these circumstances.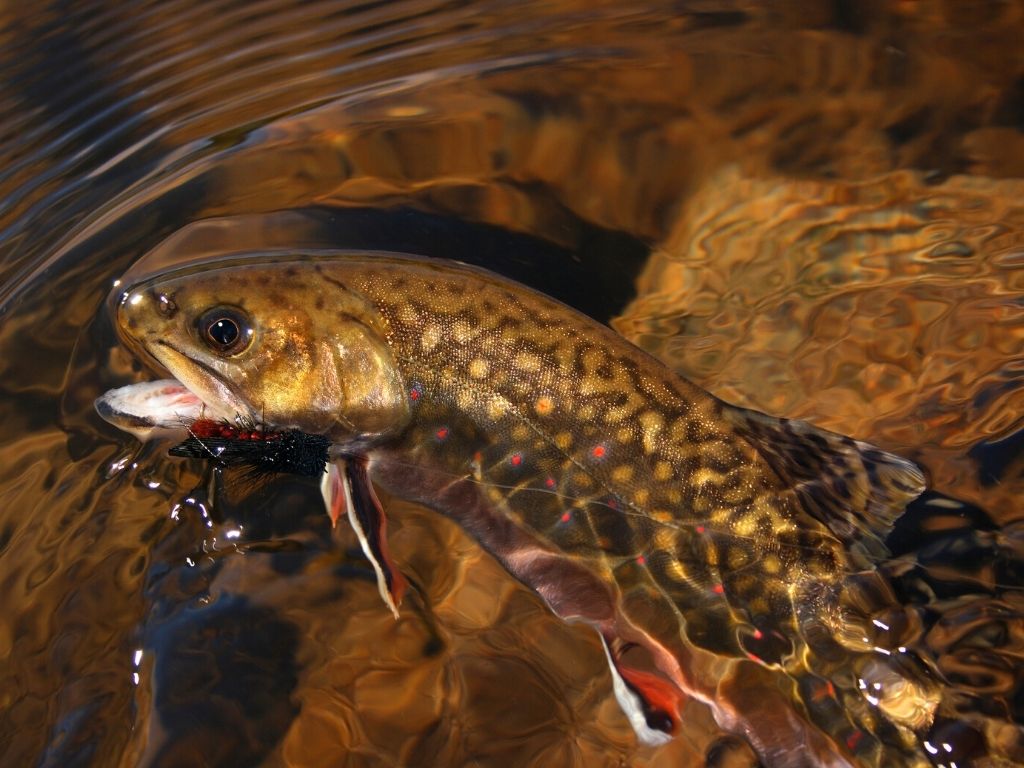 The Recon does come in 3- and 4-weight options, but they're still fast-action rods. I wouldn't jump at the opportunity to use these weights in the tighter waters. I'd still tend to go with a medium-action rod that's a bit easier to operate.
Casting Power
Like I mentioned earlier, the Recon does extremely well in wind and rough weather. This is automatically a positive. However, on a calm day with opportunities to make long casts, the Recon is money. You can hit your spots at 25, 40 and 60 feet with no issues.
I'm the type of angler who makes long casts just because I enjoy it. The lengthy casts may not always be necessary, but I enjoy a lot of fight with a fish. This rod allows me to pick a spot and hit it 20 yards away with no issues.
If I see a rise on the opposite bank, I'm going to try to hit it. I'll make the 50-foot cast and see what happens. The Recon makes it feel like I'm barely giving any sort of effort. If I leave the water after a long day and I'm not sore, count me in!
Fly fishing is already hard enough! I don't need to add arm soreness to the equation if it isn't necessary.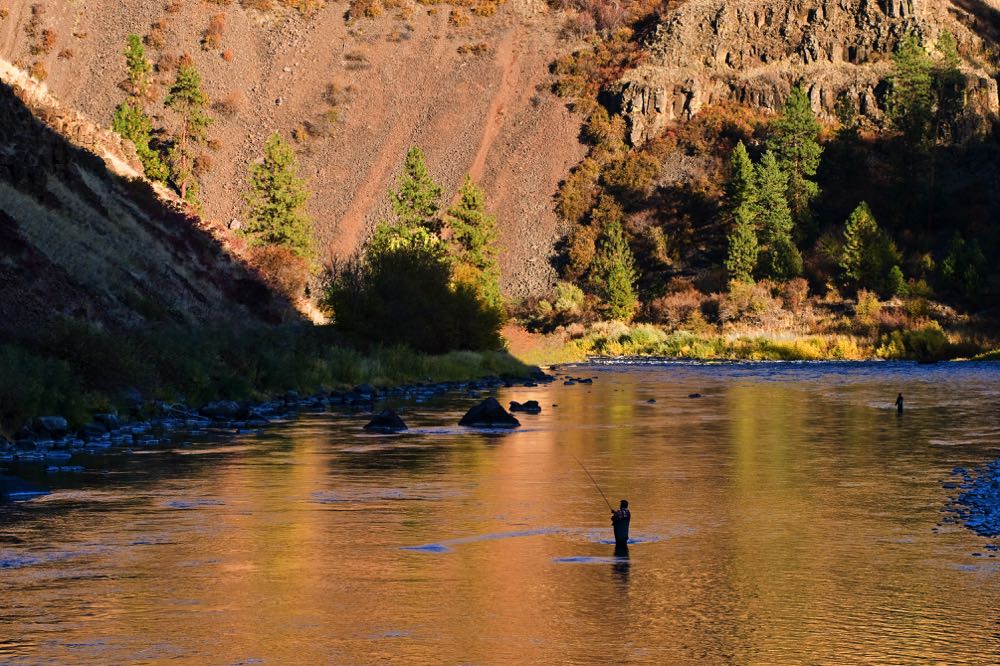 Again, life gets challenging in the situations where I need to make a 10-foot cast or do a river load. I'm not confident in my abilities with the rod to hit the exact spot that I need. Small creek fish are some of the spookiest, and I can't risk losing some of them due to an issue with feel.
Comfortability
When it comes to fly angling, you need to be comfortable and confident with your setup. The Recon doesn't take long to adore. That first cast at the end of runoff season in the cold weather will put a smile on your face.
When everything stacks against you in some of those big water situations, you'll always have the Recon to have your back. Big water is intimidating and sometimes you wonder if there are any fish available to be caught.
The Recon will allow you to put yourself in a great position to have a chance at some of these fish. If you want to feel at one with a fly rod, the Recon is the perfect choice. Medium to large rivers won't stand against what the Recon has to offer.
Price
The Orvis Recon is fairly priced when it comes to purchasing a quality fly rod. You can purchase them for around $500 on the Orvis website. In the world of fly angling, this is definitely a higher end rod, but you can spend hundreds of dollars more if you desire.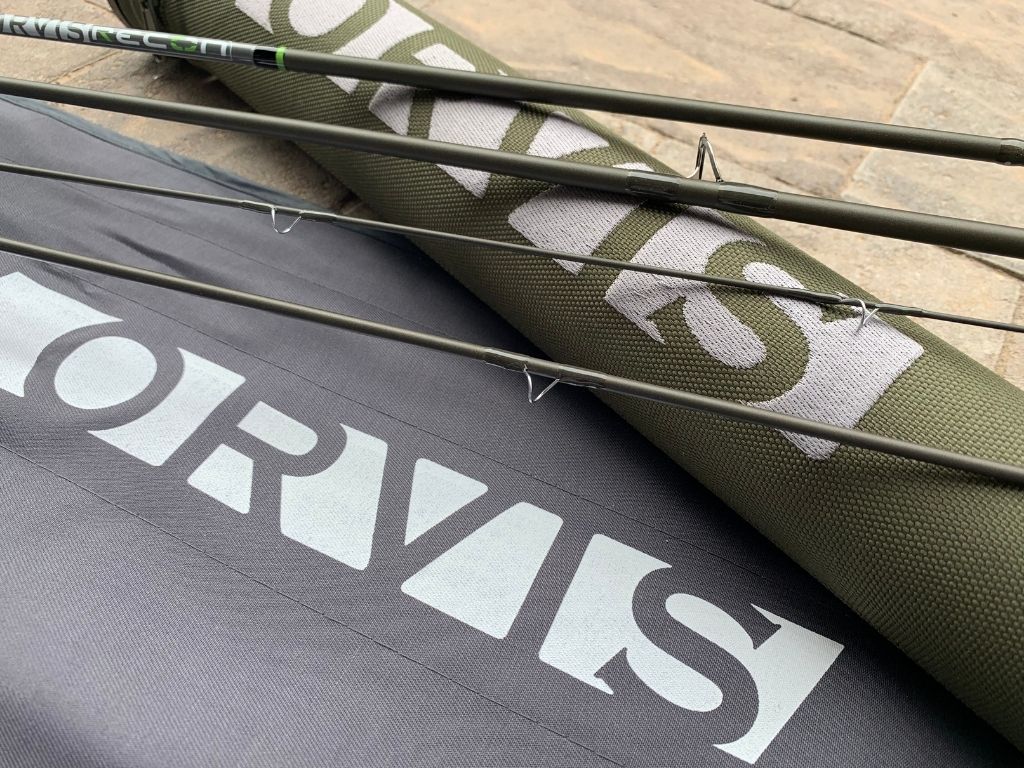 In my opinion, you don't need to upgrade past the Recon. Even if you're an avid angler, this rod will do everything you need it to in some of those hairier situations. While it shouldn't be the only rod in your arsenal, it's a good purchase for those who have experience fly angling.
Shop The Orvis Recon Fly Rod
View the Orvis Recon Fly Rod and compare prices on AMAZON.
If you're ready to move past your beginner setups, the Recon is ideal. You can pair it with some of your less expensive reels and still feel the massive difference. As long as the reel size and line weight match up with the rod, you'll be in business.
Orvis Recon: Conclusion
If you're debating about pulling the trigger on the Recon and you have the funds, do it. You won't regret adding this beautiful rod to your arsenal. I certainly don't. The statement of "you get what you pay for" is absolutely true when it comes to fishing with this rod.
I've spent the better part of five years living out West and fishing as much as I possibly can. But over the past year, I've been on and off the water without much consistency. When I pick up the Recon, it feels like I've been fishing every day for the past month.
Familiarity and comfortability with this rod make it well worth the larger price tag. I love it, and I'm pretty sure you will too.
Amazon and the Amazon logo are trademarks of Amazon.com, Inc, or its affiliates.
As a part of the Amazon Associates Program and other affiliate programs, Into Fly Fishing® may receive a comission if you order products through links on this website.