My Orvis Helios 3D Fly Rod Review. Spoiler alert… it's one of my favorite rods.
In this article, I'm going to share with you my personal thoughts on the Orvis Helios 3D 5-weight Fly Rod. I've been fishing this thing almost exclusively for the past few years and I've been casting it on the river pretty much every single day.
I have the rod in a few different weights and colors and I've rented the rods to clients when I'm guiding on fly fishing trips, and have let my friends cast them as well.
It's safe to say that I've put this Orvis Helios 3D through its paces and I know what it can and can't do.
Orvis Helios 3D
If you like what you see in this Orvis Helios 3D fly rod review, you can order the rod on Orvis.
So, I'm here to give you a quick rundown, a review if you will, of the Helios 3D 5-weight. The goal of this article is to tell you where the Helios 3D shines and where it might fall short so that hopefully you can decide if it's right for you.
Disclaimer: IntoFlyFishing.com is a participant in the Amazon Services LLC Associates Program, as an Amazon Associate I earn from qualifying purchases. Please see our Privacy Page for more information.
Understanding the Helios Rods
Whatever Helios 3 rod you get, you have the rod weight, and then it either comes in an F, which stands for finesse, and D, which stands for distance. As an example, the one I'm holding in the photo below is the Orvis Helios 3D 5-weight.
Basically, the letter at the end of the 3 is Orvis's way with this rod range of kind of giving you an option of a softer, slower rod, which is the F for finesse, and then you have your D for distance, which I'm pretty sure you can work out.
It means you have more power in it. It's a faster action rod, so it can deliver heavier flies.
Helios 3D Rod Components
Below I'll quickly break down the different components of the rod, keeping it pretty basic because the real techy stuff can be found on the Orvis listing for this rod.
Reel Seat
The reel seat is just your plain black, run-of-the-mill reel seat. I mean, it's really nice. It's simple, it's sleek, it's solid.
The reel sits in there really nicely. It is nice and snug and once it's done up, you don't seem to have that trouble of it loosening off while you're fishing. I don't think I've had that trouble once yet. So that's really good.
Once the reel's sitting in there, it's really snug. There are no gaps, it lines up beautifully, it looks really, really nice.
Handle
The cork handle is a nice smooth rounded style. I know some of those rods these days have that kind of angular look to them.
I haven't really fished many of them, but I much prefer this style. It sits nicely in your hand, and it's nicely molded, has a great shape that's nice and smooth, it's made with good quality cork, and overall it's nice and ergonomic, and really easy and comfortable to fish with.
Colors & Styles
There are several different styles now. You have your plain white H3. Originally, the H3 was known for a white kind of look to it.
Order the Orvis Helios 3D
If you like what you see in this Orvis Helios 3D fly rod review, you can order the rod on Orvis.
There are actually two other ones now. There's this really cool-looking blue one. That blue really pops, especially on an overcast, dull day. So it looks cool.
There's also an olive green one, which I don't have, but I've seen them, and they look really sleek and kind of subtle. I like that one a lot.
You have the white, you have the blue, and you have the olive styles these days, which is handy for anglers who are picky about rod color or who want a selection while they're on the water.
It's nice to have those options, and if you're like me, I like a bit of color in my fishing gear, so I appreciate that Orvis gives us those to choose from.
Guides
As far as the guides go, you have this nice big stripping guide on the 5 weight. It's a decent size, so it doesn't restrict the casting at all, and on the 6 weight one, there are two stripping guides. On the 5 weight, just the one.
Then you have the snake guides running up the rest of the rod. Nicely finished, they look good and do the job.
Lastly you have the tip ring at the end which is nicely seated and it's build well so it doesn't look like it'll be snapping off any time soon.
Alignment Dots
Then you have the white dots, which line up when you're putting your rod together, which is so simple but is just genius. It makes putting your rod together super simple and thoughtless.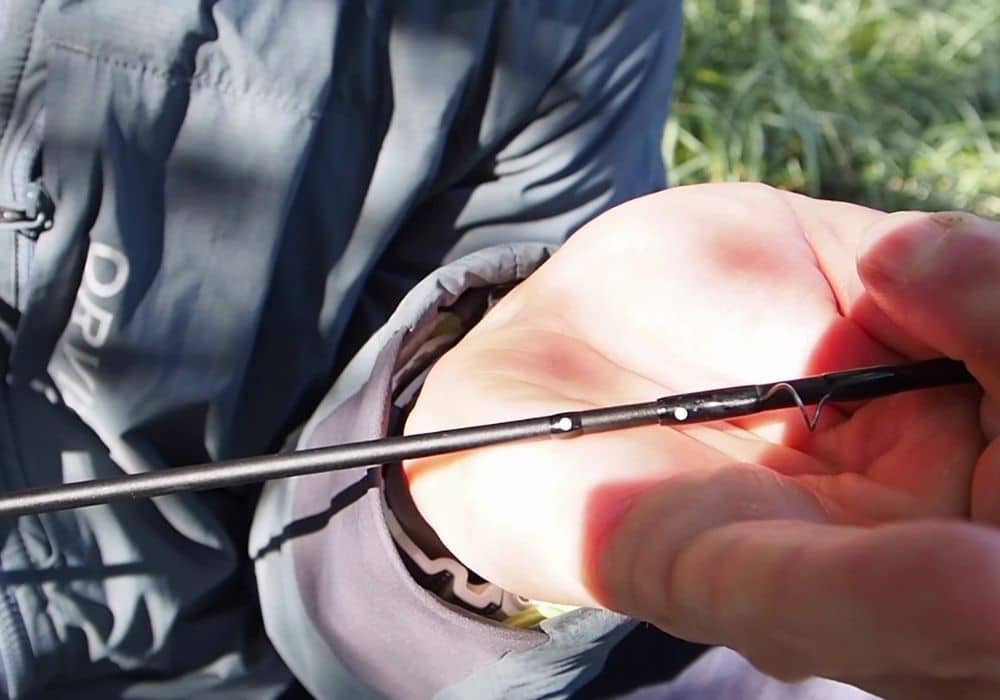 You don't have to look down the rod and line up the guides just using your eyes. You just line up the dots, away you go, and you know everything's perfectly lined up.
As you'd expect with a rod of this caliber, it's all nicely finished and looks great.
Watch the Orvis Helios 3D Fly Rod Review
Fishing the Helios 3D
With the Helios 3D, you have so much power in that bottom half of the rod. It just makes roll casting, water loading, and fishing heavy gear, heavy rigs, heavy nymphs, really, really easy.
It just makes roll casting an absolute dream. Mending is very smooth and overall the rod is effective and effortless. It does everything you want it to do and it does it very well.
Fighting a Fish with Helios 3D
When you're fighting a fish, you really have that bottom half of the rod there to really just dig into, especially when you're playing a big fish.
It has lots of power. You really can just bend it out and really use the backbone of the rod to help control the fish.
I generally fish 5 weights and 6 weights, mainly 5 weights on the North Island of New Zealand, more 6 weights on the South Island of New Zealand with those bigger rivers, and with those rod sizes you really need a rod with the backbone to properly pray big fish and cast in those conditions.
The Orvis Rods I Fish
I've fished both the F and the D in both the 5 and the 6 weights. I love them both and soon there will be a separate review for the Orvis 3F Rod lineup by Orvis.
The Difference Between 3D and 3F
I've been fishing them for a while now, a couple of seasons, and I've got a pretty easy way to break down the difference between the two.
As you can see from the photos of me holding the Orvis Helios 3D fly rod in this post, I'm pretty layered up. I'm on the other side of the world if you're in the States, and it's a pretty cold winter here.
So, what we're more into now is more rainfall, bigger rivers, and we're fishing heavy nymphs with indicators, long leaders, potentially in rain and wind. We don't really get snow here. You know, bigger water.
So this is the 5 weight D, and I'll tell you how I get the most out of it.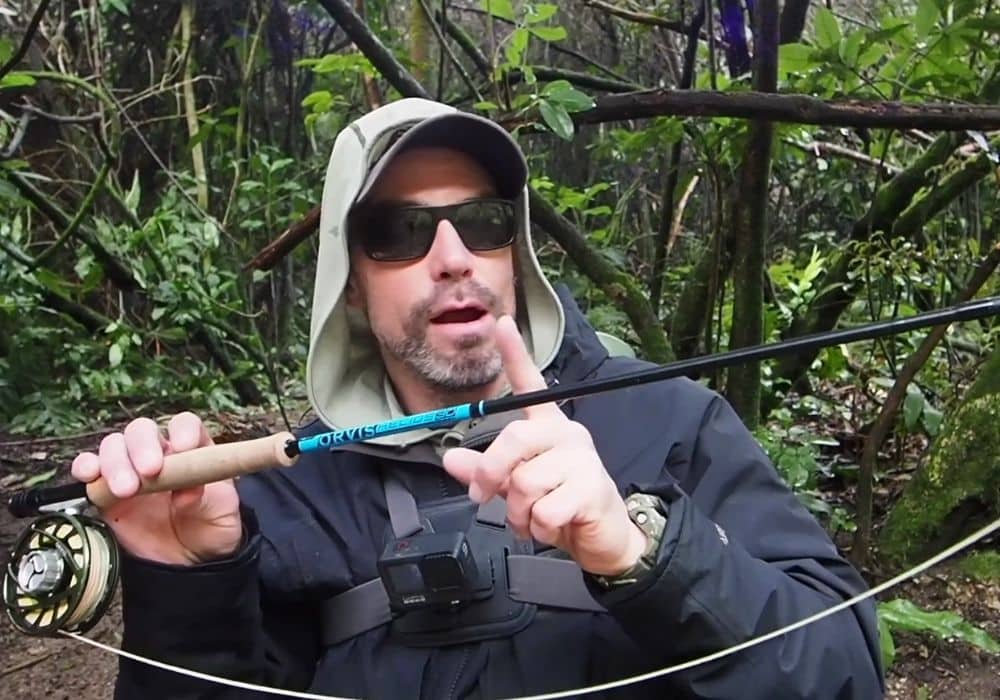 Because of the faster action, it's not so much suited to dry dropper style fishing, presentation casting, that kind of thing. That's where the F really comes into its own.
Where this guy comes into its own, this is where the backbone and the power of this rod really help you out.
I intend to load a Scientific Anglers 6 weight Infinity Smooth on here, so I'm overloading it by a line weight, to make it really easy to load that rod.
It really helps you to turn over those heavy bombs, those bits of split shot, those eggs, those indicators, those longer leaders, using your roll casts, using your water loads, that kind of stuff. And it really helps you just launch those things around the river.
This is a real workhorse. Not really there for your dry fly, your dry dropper, presentation kind of stuff, small creeks. But when you need something that's going to work for you, that's where this thing really comes into its own.
You can present a dry fly on it with a long leader, and it does the job, but it's just not quite as nice to use as the F.
Which Helios is Best for You?
If you're thinking about getting a Helios 3, but you're not sure between the F and the D, I'd say look at the kind of fishing you're going to be doing mostly with it, and then pick the rod from there.
Order the Orvis Helios 3D
If you like what you see in this Orvis Helios 3D fly rod review, you can order the rod on Orvis.
You know, if you're mainly fishing small stuff, dry dropper, light rigs, presentation kind of stuff, then you're probably going to want the Helios F in whatever rod weight you get.
If you want it for more throwing streamers, heavy nymphing, long leaders, heavy flies, split shot even, that kind of stuff, then probably the D is going to be more for you.
In Summary
To summarize, I love these rods. Orvis make some of the best rods on the market these days and I find fishing them to be a real pleasure.
The one point where some people might shy away from is the price tag. These rods come in at around $850. If you're just getting into fly fishing, maybe this rig isn't the one for you.
But if you're a professional or an avid angler who has gone through a lot of budget rods and is ready to step it up to a truly premium rod, then the Orvis Helios 3D might be the one for you.