As an Amazon Associate I earn from qualifying purchases.
In this Redington Vice Combo review, we'll be taking a look at all the various features of the product, so you can be better informed before making a decision on whether or not it's a good fit for you.
Redington Vice
If you like what you see in this Redington Vice review, you can order the fly rod and reel combo on Amazon.
I've always been a gearhead when it comes to fly fishing. I've always been interested in all of the various rods, reels, and other gear available and how they differed from one another.
Why Trust My Redington Vice Combo Review?
I purchased the Redington Vice Combo in a 5 wt a few months ago and have had the chance to fish it on several rivers in various conditions.
Over the years, I've had the opportunity to fish a lot of different rod/reel combos as both a client and guide. Some were great, others not so much, and many were in the middle.
While just about any setup will do for a day, I believe that if you're purchasing gear to be used time after time, it's important to find what fits best for you.
Watch the Video
What's in the Box?
One of the biggest pluses of buying a combo like the Redington Vice Combo is that you have everything you need to go fishing (minus the flies) right out of the box. This saves a lot of time and effort finding a separate rod, reel, and line…and making sure they work well together.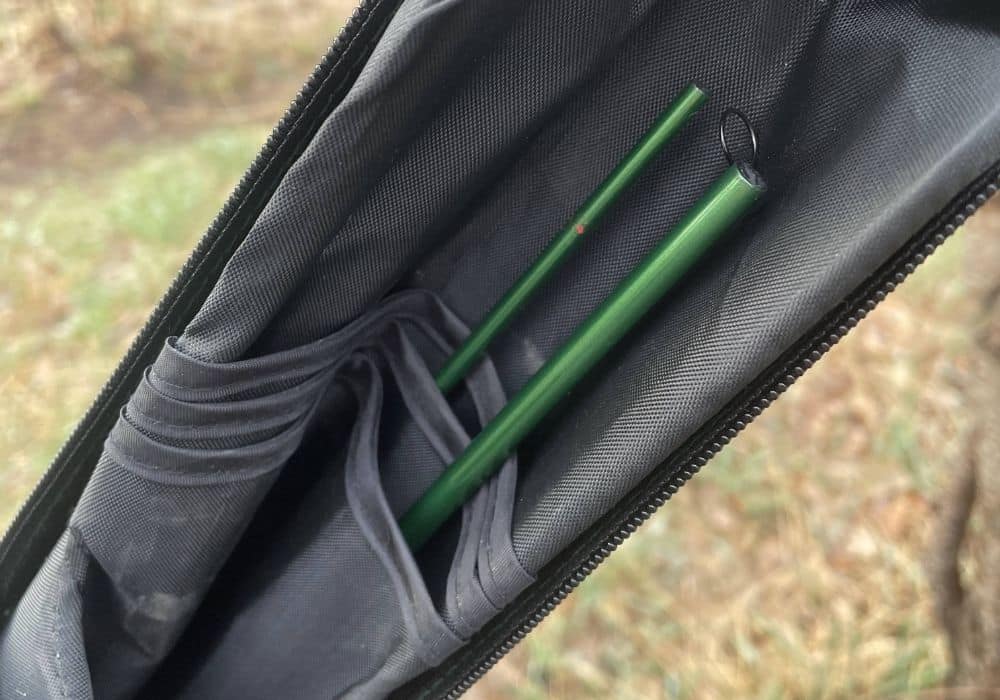 The expectation for combos is that the reel will be a good fit for the rod, and the line will properly load the rod. In many kits, such as the Redington Vice Combo, the reel will also be spooled with backing, line, and a leader to get you started.
Here's what you'll find in the Redington Vice Combo:
Rod Case
The first thing you'll see is the green cordura rod case that's included. The case contains a reel compartment, so the rod can be stored without removing the reel. The tube itself contains dividers for the four rod sections.
Redington iD Reel
Attached to the butt section of the rod is a Redington iD reel. The reel is already spooled with backing, line, and a leader.
The reel is lined with a Rio Mainstream line weighted to match the rod.
Redington Vice Rod
Inside the rod case is the rod broken down into four pieces. The rod blanks are a bright green and really stand out once removed.
All you need to do is string the rod and tie on a fly and you're ready to fish!
Redington Vice Combo Review Features and Specs
When you're looking for a new rod and reel to purchase, the quality, price, and feel of the gear is extremely important.
There's a wide variety of features offered on the market today, so let's discuss what the Redington Vice Combo has to offer.
Build Quality/Components
Redington has carved out a niche for producing high quality yet affordable gear for many years. They're usually a good place to start for anglers looking to upgrade from entry level gear but not wanting to spend several hundred dollars to do so.
Order the Redington Vice
If you like what you see in this Redington Vice review, you can order the fly rod and reel combo on Amazon.
The Vice rod is built to be a versatile tool that can be used just about anywhere. It has an anodized aluminum reel seat, which means it can handle both fresh and salt water. The rod also has black anodized snake guides, which are also compatible for any water type.
The 5 wt version comes with a traditional half wells cork grip that feels very good in the hand. Different grips and a fighting butt are available on other Redington Vice models (which range from a 3 wt to a 9 wt).
The iD reel is constructed from die cast aluminum. It features a large arbor design and a Rulon disk drag system. The reel handle has two rubberized pieces that make it easier to grip and less likely that your fingers will slip off during a fight.
Aesthetics
As previously mentioned, the Vice rod is made with bright green blanks. This makes the rod really pop when removed from the case, and it stands out on a sunny day.
The guide wraps are a gold color that complements the green really well. The guides are black, which makes a sharp overall color combination. The blanks also have alignment dots used to make sure the rod is set up correctly in a straight line. Unfortunately, the dots on the rod I received don't actually do this and are a little off.
Finally, the reel seat has a laser etching with the rod name, model number, and line weight. This makes for quick identification of the rod.
The iD reel that is included in the 5 wt combo is completely black aluminum. (The iD reel if bought separately is also available in a dark green.) The only color comes from the red rubberized portions of the reel handle and the letters "iD" on the back of the reel.
A unique feature of the iD reel is the completely flat back surface. The purpose of this design is to allow the customization of the reel through decals. Redington offers dozens of decals that can be added to the reel in the pursuit of personalization.
Action
The Vice is a fast action fly rod, which means there is less flex throughout the rod. This action gives the rod a lot of power, but also makes it less forgiving. Timing and proper casting technique are important to utilize this rod as it's built.
The stiffness of the rod gives it a lot of backbone and aids in fighting bigger fish. The tip section has enough feel to detect all but the smallest strikes.
The drag system on the iD reel is very solid. It provides enough stopping power for just about anything that would be chased on a 5 wt.
It's relatively smooth, and although there's some stickiness when getting the line started, it's a good system for the price point.
Price
At the time of writing, the price for the Redington Vice Combo is $299. When I purchased this combo, it was Redington's most expensive combo option. Now, Redington is working on releasing a line of Field Kit combos that are priced at $349.99.
$299 is a decent amount of money, but if you look at how the items are priced individually, it's clear that this is a good deal. The Redington Vice rod retails for $199 by itself, and the iD reel comes in at $99.
This means you're getting the backing, fly line, and leader for free. All of this adds up to about a $50 or $60 value, and you don't have to take the time to spool the reel yourself.
Weight
The Redington Vice Combo is a little heavier than other outfits in the same category or higher. I had a Sage 6 wt with me while fishing this rod, and the weight difference was definitely noticeable.
The additional weight is something to be aware of. If you're spending long days casting on the water, you may feel it a little more the next day than you would using a lighter rod.
Warranty
Redington offers a lifetime warranty to original owners on the majority of their products, and the Vice Combo falls into that category. I've broken other Redington rods over the years and have always been extremely satisfied with their customer service.
If the damage is considered to be outside the scope of the warranty, Redington will still repair the product for a nominal fee of $45. It's a great feeling to know that if your rod or reel breaks, you'll be covered and can get it fixed for a minimal price and hassle.
Casting the Redington Vice Combo
I took this combo out to cast in both real-world situations and a controlled environment. The way the outfit casts and feels is greatly dependent on the situation you're in.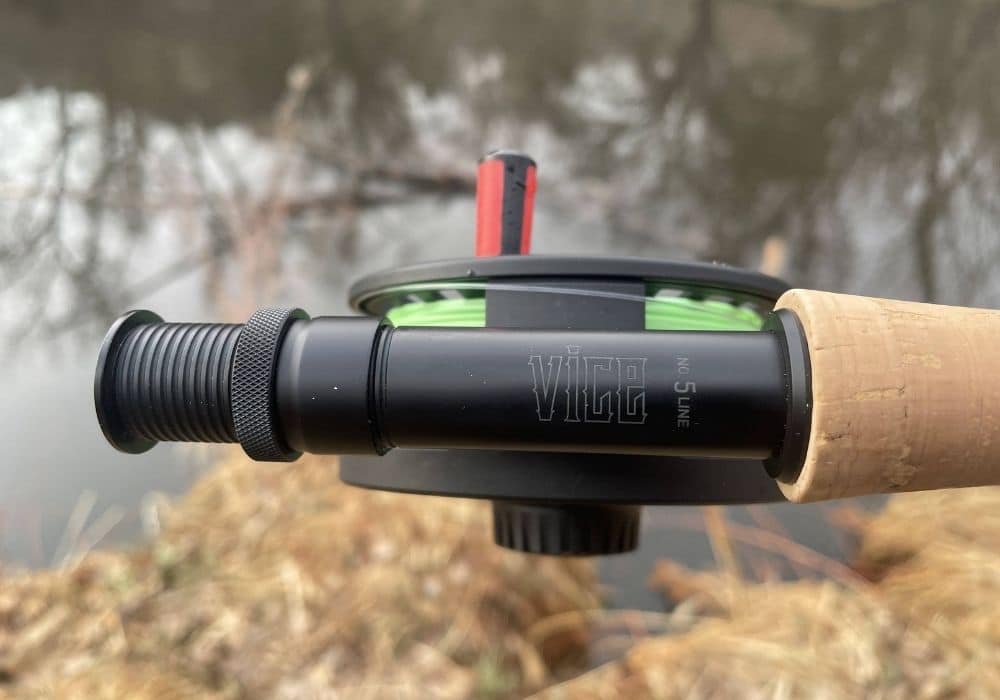 While many people think that casting is a coverall idea, the truth is there are many different scenarios. How a rod casts while presenting a dry fly can be completely different than how it performs roll casting a line full of weight and nymphs.
Short Range
This is where this setup struggles the most. The rod is too stiff and heavy to feel like you have much control over a short cast.
There just isn't enough line weight and momentum to get a proper load into the rod, and therefore it feels like casting a broomstick. This makes it difficult to lay a cast down with much precision.
It's a different story when there's more weight on the line, like with multiple split shots or a heavier streamer. If you have the additional weight to load the rod, it does improve the short game considerably.
Medium Range
The combo starts to show what it can do here. The more line that you're using to cast, the better feel you'll get with the rod, which in turn provides more feel and accuracy.
At this range, you can begin to have more consistent casts, with accuracy greatly improving. It doesn't take much effort at all, and just remember to focus on timing and let the rod do the work.
I was able to make overhead casts with triple nymph rigs that had multiple hinge points and it felt great.
Long Range
This is where the Redington Vice Combo really shines. At longer distances, the rod has a chance to fully load, and the action is wonderful once it does.
Throwing long casts with a lighter fly is a blast with this rod. It's really fun to feel the power and effortlessly throw a long cast. The rod has the power to punch through wind at longer distances as well.
I felt like it was easier to be accurate at long distances than short distances with this setup. The action feels very smooth on longer casts, and I really enjoyed getting more line out there.
Redington Vice Combo Review: My Personal Thoughts
After spending some time with this combo, I was able to gain an understanding of what it does well and what it doesn't. Overall, it's an extremely versatile rod, but that doesn't mean that it handles every situation perfectly.
Order the Redington Vice
If you like what you see in this Redington Vice review, you can order the fly rod and reel combo on Amazon.
When choosing a setup, it's important to keep in mind that what is best for one person isn't necessarily best for another. The key is to understand the capabilities and apply that to your own fishing style and uses.
Pros
Fighting Power: The rod provides enough backbone that you'll almost never feel overpowered by a fish. You can have no doubt that if you hook into a lunker, you won't lose the fight due to lack of strength.
The reel also provides enough stopping power that you won't be left wishing you could crank down the drag more.
Casting Versatility: Although it doesn't quite handle every cast exceptionally, it does allow for a variety of fishing styles. Once you're able to get a feel for the fast action, you'll be able to cast everything from complicated nymph rigs, to dries, to streamers.
As I discussed in the casting section, the dry fly presentation and casting will be lacking until you're working with longer distances. Casting with indicators and streamers will be comfortable at all distances.
Durability/Warranty: For a combo in this price range, all of the components are very well made and durable. You won't feel like the rod is going to break or that it's extremely fragile.
If something does happen to the rod or reel, you can be confident that Redington will be there to assist you with your problem. This isn't a combo that you throw in the trash if it breaks.
Cons
Finesse: I'd say that the biggest weakness of this rod is close range delicacy. It's difficult to make a perfect cast and presentation without either a weighted fly or a lot of line out.
This means that if you're spending a lot of time on smaller streams trying to hit small pockets near you, you might get a little frustrated. Once the fly is on the water, it does have enough feel to detect a hit or fight a smaller fish…but getting it there is the problem.
Weight: The combo is heavy, there's no getting around that. Although that might not be a big deal to everyone, it can make a difference over the course of a day and especially over the course of several days.
This doesn't mean that the rod is like a dumbbell, of course, but the extra ounces add up cast after cast. That being said, I fished it hard for multiple days and it wasn't an issue, just something to be aware of.
The different weight makes it also dependent on the type of fishing you're doing. If you're using a lot of roll casts, it doesn't matter as much as when you're trying to make 60+ foot casts with multiple false casts all day.
Misaligned Alignment Dots: This isn't the end of the world and doesn't affect the rod performance, but it's annoying. The alignment dots are there to serve a purpose, and if they don't work it can cause some confusion during setup.
This is probably a one-off mistake, but make sure to double check that your guides are straight by looking down the reel seat after the rod is assembled to make sure everything is properly lined up.
Conclusion
Overall, I recommend this rod, but with a few caveats. I think this rod is great for an angler looking to take the next step in gear to add to their collection. I don't think this is a great rod for someone brand new to fly fishing.
The rod performs just how it should and how it's expected to. But the fast action makes learning more difficult as you don't have the forgiveness if you make a mistake.
I really enjoy fishing this rod and will use it consistently for many rivers that require long casts or a day of nymphing. I love that I can throw a streamer on and continue fishing with confidence.
Amazon and the Amazon logo are trademarks of Amazon.com, Inc, or its affiliates.
As a part of the Amazon Associates Program and other affiliate programs, Into Fly Fishing® may receive a comission if you order products through links on this website.