After fishing and testing the Redington Wrangler Trout XL Kit, we're going to give you a full, in-depth review.
Versatility is an important feature of fly fishing equipment. Most anglers aren't able to afford several different setups for a variety of fishing experiences.
As a result, we need something that's going to thrive in a variety of different circumstances. The 9' 6-weight Redington Wrangler Trout XL combo is one of those setups that is ready for just about anything.
Redington is a well-known fly fishing company that has specialized in affordable fly equipment for years. The 9' 6-weight Redington Wrangler Trout XL won't break the bank, and it's perfect for anglers of all different skill levels. Plus, it's ready to head to the water as soon as you receive it.
The Redington Wrangler Trout XL Combo has limited reviews, so we're excited to offer an in-depth look at a solid fly fishing combination.
Redington Wrangler Trout XL Kit
Order the Redington Wrangler Trout XL Kit on Amazon.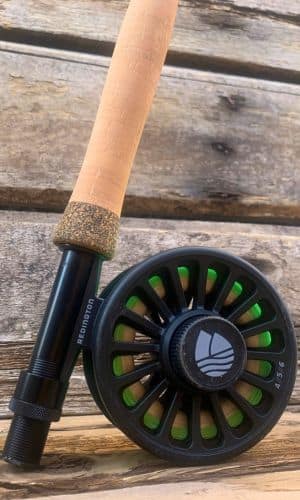 → Don't Miss Our Full List of The Best Fly Rods of 2023
Why Trust My Redington Wrangler Trout XL Review?
At Into Fly Fishing, we pride ourselves on providing honest and authentic reviews. We only review gear we have personally used, so it allows us to help you, the angler, determine what equipment is best for you.
Redington did send us the Redington Wrangler Trout XL Combo to review, but we are going to provide full transparency with our thoughts about its performance.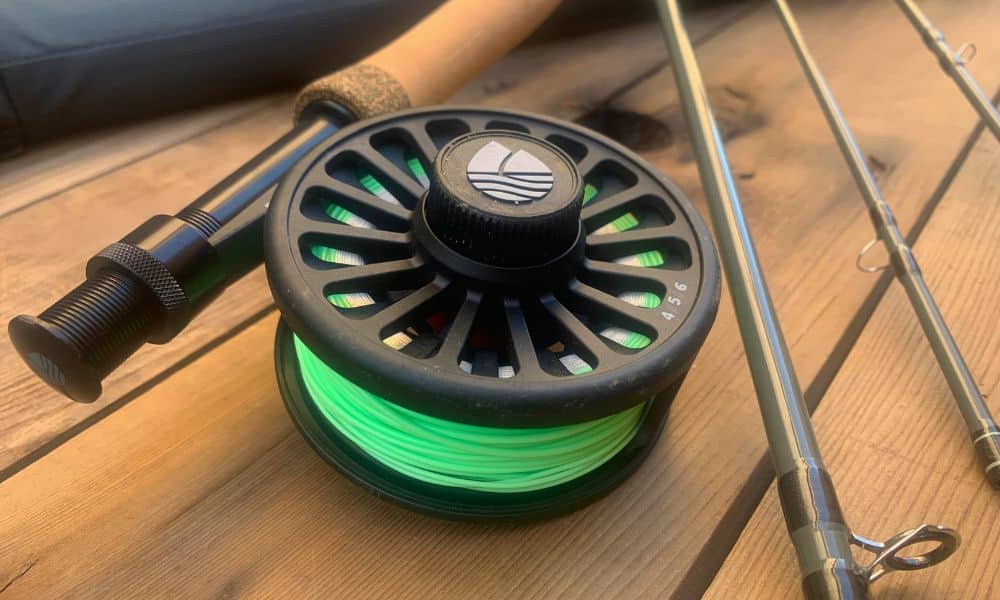 I was able to fish with this rod for a few days. I also spent time at a local park casting and figuring out everything it was capable of doing.
What's in the Box?
When you receive the Redington Wranglers Trout XL, you're going to get a rod and reel storage tube, the 9' 6-weight rod, and the 4/5/6/-weight Redington Crosswater reel equipped with 6-weight Rio weight forward floating line as well as a 9' tapered leader.
You're getting a package that's fully prepared to hit the water. Attach the reel to the rod, string the line, tie on a fly, and you're good to go.
Redington Wrangler Trout XL Price
The Redington Wrangler Trout XL is going to cost you $250. This is a bit on the pricier side if you're looking for a true entry-level combo, but it's not only built for beginners. Anglers of all skill levels are going to find this combo to be high quality and ready for most things you throw its way.
The Redington Crosswater reel that comes equipped with the backing, Rio line, and Rio leader is extremely nice, so anglers are getting a really solid deal for what they're paying. You won't regret making the bit larger investment.
Redington Wrangler Trout XL Kit
Order the Redington Wrangler Trout XL Kit on Amazon.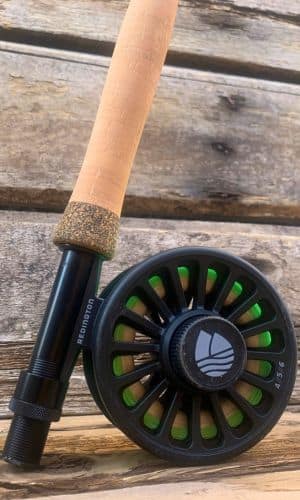 Redington Wrangler Trout XL Features and Specs
The Redington Original is built with the traditional high-quality that all other Redington rods and reels are made with. It's going to live up to its advertisement.
Build Quality
The Redington Wrangler Trout XL rod has a performance graphite rod blank that's paired with a high-quality cork, anodized reel seat as well as steel stripping guides. The cork is comfortable, and my hands never felt hot or uncomfortable, even though I was fishing on an 85-degree day.
The anodized reel seat is prepared to be used in any type of fishing situation. The aluminum is coated and ready for all the dirt and grime you could throw its way. The steel stripping guides are a bit thinner than traditional guides, so the line glides through them extremely easily.
The Crosswater reel is made with a composite material and has a carbon fiber drag system. It's a lightweight reel but packs plenty of punch for when you need it. The handle is rubber coated, so your hands aren't going to slip if they're sweaty or wet.
The backing, fly line, and leader are all RIO, so you know you're getting quality equipment.
Action
The Redington Wrangler Trout XL rod is a medium-fast action. It has a bit more power and backbone than the Redington Original Combo. It has a solid recovery rate, so if you do need to launch your fly or you happen to tie into a large fish, it'll still perform well and land the fish in a reasonable time.
When I was really trying to air out the flies, I found that the rod recovered quickly enough that I wouldn't lose my loops.
Presentation and Mending
Presenting flies with the Redington Wrangler Trout XL was no problem at all. I could softly lay down dries and nymphs and drop my streamers into the rapids and pools. The bit extra stiffness on the rod tip was enough to keep things steady when you really needed an accurate presentation.
Mending was also quite easy. Whether I needed to make a large or small mend, I could. It responded to quick flicks of my wrist and kept up if I needed to make a few large mends in a row after a poor cast.
Short Distance Accuracy
Anywhere inside 40 feet, the Redington Wrangler Trout XL was money. Even in some wind, the rod helped me hit all of the spots I wanted. The longer I used it, the more accurate I became.
This rod shoots the line very well, so I didn't lose my target because I had to make an unreasonable amount of false casts. One false cast, and I could get my fly just about anywhere I wanted in a shorter distance.
I could also roll cast and river load within short distances as well.
Long Distance Accuracy
As I started stretching past 40 feet, the rod kept up nicely. The medium-fast action started showing itself beyond 50 or 55 feet, but 40-55 feet was a blast. Streamers, nymphs, and dries all felt smooth.
The weight of streamers became a bit tricky in those longer distances, but I let my loops unfurl a bit longer, and things still felt good.
At around 60 feet, you're going to find yourself limited with the Redington Wrangler Trout XL. You have to be an exceptional caster to stretch it these long distances. It's definitely possible, but it'll take time to learn the rhythm.
Overall, for most distances you'd want to cover with a 6-weight, you'll be more than okay.
Warranty
Redington offers a 1-year warranty on the Redington Original combo. The warranty backs up any sort of manufacturing error. If you receive the rod with a hairline crack or something is wrong with the design, you're protected.
The warranty isn't going to protect against any neglect or abuse on your part.
Watch the Redington Wrangler Trout XL Review Video
Redington Wrangler Trout XL: My Personal Thoughts
One of my favorite features of the Redington Wrangler Trout XL is the design. The dark grey and black design is sleek and not overly "loud" like many other Redington rods. Paired with the black reel, it's a sharp look.
On numerous occasions, other anglers have complimented the setup. I may add a white fly line to the reel to complete the neutral colors, but that would be the only small feature I'd change.
After fishing the Redington Original Combo, I was curious as to what this combo would be like. Being that it was a bit more expensive, I was hoping for a little better performance. I believe that the extra $50 is worth it.
I found the Redington Original to lack some of the power that I would like for a medium-fast action, but the Redington Wrangler Trout XL had that little bit of extra power that made covering water far easier.
Redington Wrangler Trout XL Kit
Order the Redington Wrangler Trout XL Kit on Amazon.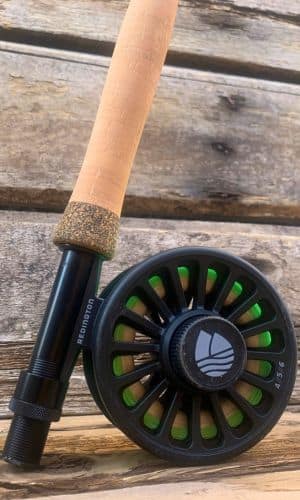 Certain 6-weight rods aren't as versatile as one would think. They may be a bit weak to be comfortable in a variety of scenarios, but the Trout XL has that extra power I would want.
I would feel comfortable fishing this rod in streams, small rivers, medium rivers, lakes, and even some of those larger trout rivers. The 6-weight is going to handle most trout you find.
Not only will this rod handle trout, but it will also do well with panfish, smaller bass, catfish as well as small carp. I have faith that even though it's a medium-fast action, it has enough power to get the fish into the net in a timely manner and not hurt the fish.
I know I could put enough pressure on the fish to end the fight fairly quickly.
When I was casting, presenting my flies, and mending them, the rod and reel were up for the challenge. I used the rod in water that was flowing between 700 and 1000 CFS, so I needed to have the power to make adjustments if necessary.
Due to the heavy flow, I didn't have much time to get everything in the right place. I also really like the Crosswater Reel. It's extremely light, spooled well, and has a great overall feel. When the drag is fully pinned, it takes a good amount of effort to get the line to begin moving.
I'm also a fan of Rio fly lines, so I was super excited to know that this reel is paired with it. It's smooth and feels great.
Overall, the Redington Wrangler Trout XL operated and performed exactly how I thought it should. It was the right amount of power but was still plenty sensitive. Plus, the reel was easy to operate, and the entire setup was balanced properly.
For any beginner, intermediate, or advanced angler looking for a new setup, the Trout XL is an ideal option. I'm planning on using this combo as one of my primary travel setups. I'll take it on flights and into the backcountry. If I happen to find larger fish than anticipated, I know it's going to give me everything it has.
Disclaimer: IntoFlyFishing.com is a participant in the Amazon Services LLC Associates Program, as an Amazon Associate I earn from qualifying purchases. Please see our Privacy Page for more information.