As an Amazon Associate I earn from qualifying purchases.
In this review, we'll look at the Shilton CR freshwater range. As many of you might have seen in the videos we're doing, I always use the CR. Whether it's on my Euro nymphing rig for small streams or my stillwater setup for large lakes, the reel does it all.
The first Shilton reel was developed in 1997 by engineer Tony Fritelli, who saw a gap in the South African market for a top-quality fly reel. The first reel they made was the CL range, a medium arbor freshwater reel that still serves many anglers well to this day.
Shilton CR Freshwater
If you like what you see in this Shilton CR Freshwater review, you can order the reel on Shilton Reels.
Shilton's saltwater reels (SL and SR) are certainly their most popular, extensively used in Seychelles by Alphonse Fishing Company for many years. However, recently, the SR range has gained more popularity globally, and rightfully so, even after being available for many years.
So, let's look at how the reel performs and who should consider buying it.
As a part of the Amazon Associates Program and other affiliate programs, Into Fly Fishing® may receive a comission if you order products through links on this website.
Why Trust My Shilton Freshwater Reel Review?
All the Shilton reels you see in this video are my own, which I purchased with my own money. I've had all of them for more than five years and use them every week.
These reels get fished hard and don't receive any special treatment.
Where Does the CR Range Shine?
So, after all of my years fishing the Shilton CR range, let's have a look at where these reels fare well:
Durability
As mentioned earlier, I own three Shilton CR reels. Through all my time fishing with them all over the world, they haven't once let me down. The closest I got to anything failing was one of the screws that attaches the reel foot to the cage was loose. That's it.
The durability of these reels is something to behold, and the drag is just as smooth as the day I bought them.
Line Pickup Rate
The CR has an ultra-large arbor at 3.8 inches for the 5-6 weight model. Even at this size, the reel is still super lightweight, weighing in at 4.9 ounces. To visualize the size of the arbor, the 5-6 weight model has about the same size as the spool a new fly line comes on.
Ultimately, this large arbor gives you a quicker rate of retrieval, which helps when a fish is swimming towards you. Another benefit of this large arbor design is that it reduces line memory when your reel is stored.
Weight
I've already touched on the weight of the reel. At only 4.9 ounces for the CR (5-6 weight model), it's light in hand, and you're never really aware of it being there. I even use the CR3 on my 2 and 3 weight Euro nymphing rigs.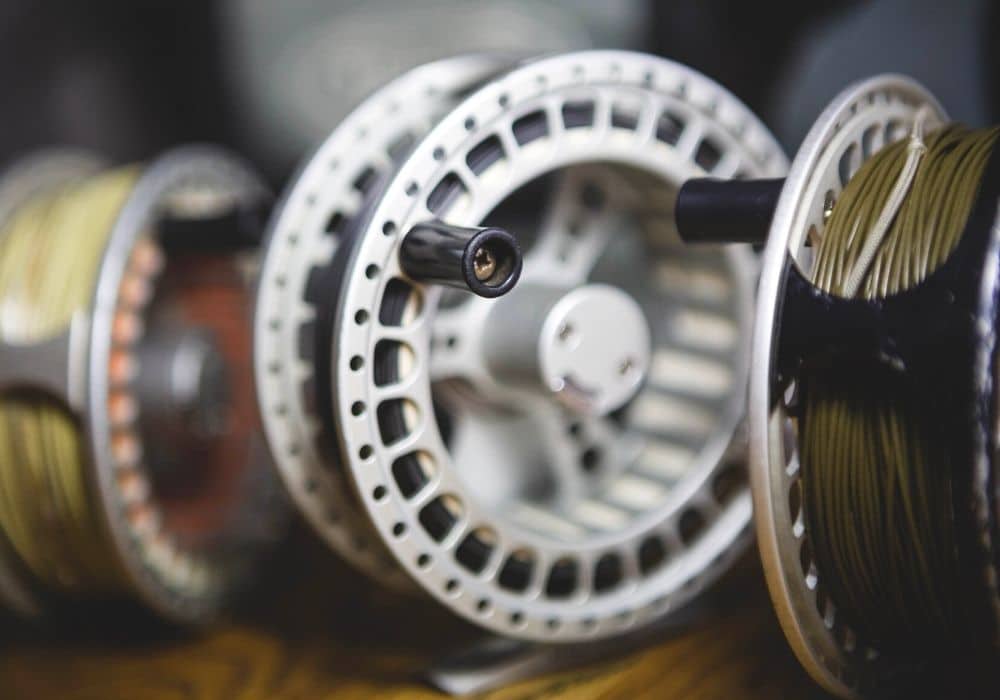 The CR4, which is rated for up to 8 weight lines, only weighs 5.5 ounces.
Versatility
Once again, I've touched on the versatility of these reels above. If I had to choose only one freshwater fly reel, the Shilton CR3 would be it. It's light enough to use on small streams with 2 or 3 weight Euro nymphing rods, but it has ample stopping power to use for something like carp, big bass, and tigerfish.
Watch the Shilton CR Freshwater Reel Review
Where Does the CR Range Fall Short?
Once again, not all reels in the world are 100% perfect, so let's look at where the Shilton CR range might fall short for your application.
Click
If you're a fly angler who prefers having a heavy click on your reels, the reel won't tickle your fancy. Both incoming and outgoing directions are entirely click-free to keep things as simple as possible.
Order the Shilton CR Freshwater
If you like what you see in this Shilton CR Freshwater review, you can order the reel on Shilton Reels.
I'm indifferent to what sound a reel makes, so to me this isn't an issue at all.
Backing Capacity
Large arbor, low weight, big backing capacity. You can choose only two of these, and in the case of the Shilton range, the backing capacity might be lacking for some. I've never seen a fish run me down to the spool, and the backing capacity indeed isn't poor.
But, if you're someone who needs close to 200 yards of backing, be aware of this. See each model's specifications below for the backing capacities.
Not Saltwater Proof
The Shilton CR is a freshwater reel. Yes, it has a sealed drag, but it won't be bulletproof against the ingress of water or grit.
Now, if you use this reel in the salt, it will probably do good for a while, especially if you're only casting it off the bow of a skiff, but it will suffer, especially if it's submerged.
What's in the Box?
When you buy a Shilton, it comes in a box with the warranty card and an information pamphlet. Obviously, I don't have these anymore, but one thing I want to take you through quickly is the reel case.
Reel Case
The reel is shipped in a durable and functional reel case that can be used when the reel is attached to a rod. It has a webbing loop on the top to help you carry multiple reels around.
The reel case is well padded and does a great job protecting your investment during storage or transit. It also has a transparent pocket on the back where you can add line identification or contact details.
Shilton CR Models
There are three models in the Shilton CR range. Let's look at the specifications of each and what scenarios they're designed for.
Shilton CR2
Spool diameter: 3.5 inches
Weight: 4.5 ounces
Line weight range: 3-4 weight
Backing capacity: 65 yards 20 lb with a 3 weight floating line, and 55 yards 20 lb with a 4 weight floating line
The Shilton CR2 is an ideal reel for general trout fishing. If you fish smaller streams or dry flies often, this is a great option.
Yes, to some extent, the reel is a little overkill for 3 to 4 weight applications, but there are vital advantages this reel gives you in these scenarios. The large arbor increases your line pickup rate and reduces line memory, which could make the difference between landing that spooky small stream trout or not.
The smooth drag and low startup inertia also help to protect light tippet material. But, on the other hand, you'll probably never use the full potential of the drag force.
Shilton CR3
Spool diameter: 3.8 inches
Weight: 4.9 ounces
Line weight range: 5-6 weight
Backing capacity: 155 yards 20 lb with a 5 weight floating fly line, and 110 yards 20 lb backing with a 6 weight floating fly line
Like I said before, the Shilton CR3 is the best all-rounder in the range, and it covers the widest variety of applications. It's light and has the same smooth drag, but can be used with slightly heavier lines.
If you're only going to buy one Shilton to cover all your freshwater angling needs, this is the model to have.
Shilton CR4
Spool diameter: 4.2 inches
Weight: 5.5 ounces
Line weight range: 7-8 weight
Backing capacity: 175 yards of 30 lb backing with a 7 weight floating fly line, and 150 yards of 30 lb backing with an 8 weight floating line.
The CR4 was released a couple of years after the first two, the CR2 and CR3, were. It became a favorite pretty soon after its release with anglers who target substantially sized freshwater fish.
This reel is absolutely perfect for salmon, large tigerfish, golden dorado, and big bass. It has a slightly larger backing capacity, and you're able to spool an 8 weight line onto it.
Drag
One of the things I love the most about my Shilton CRs is how smooth the drag is. The one-way bearing is smooth, and the drag application is quick.
The drag is built around carbon fiber and stainless steel discs, similar to all the biggest brands in the world. I've never had them seize up or get sticky at all. The pressure to these discs is applied by spring washers that sit externally to the sealed drag system.
Anodizing
All Shiltons, regardless of model or range, have a high-quality anodized finish. One of the coolest things is that Shilton has released a wide range of colors on their reels, and you're able to mix and match different colors on different parts of the reel.
Warranty
Even though I think that a Shilton is pretty bombproof as far as a freshwater reel goes, things happen. Thankfully, the reel comes with a lifetime warranty to repair or replace parts due to problems in materials or craftsmanship. This warranty is only applicable to the original owner.
Who Should Buy the Shilton CR Freshwater Reel?
The Shilton CR range is ideal for the intermediate to advanced angler who knows they'll be fishing for many years. Even at over $400 for a freshwater reel, I think the build quality and performance make it excellent value for money.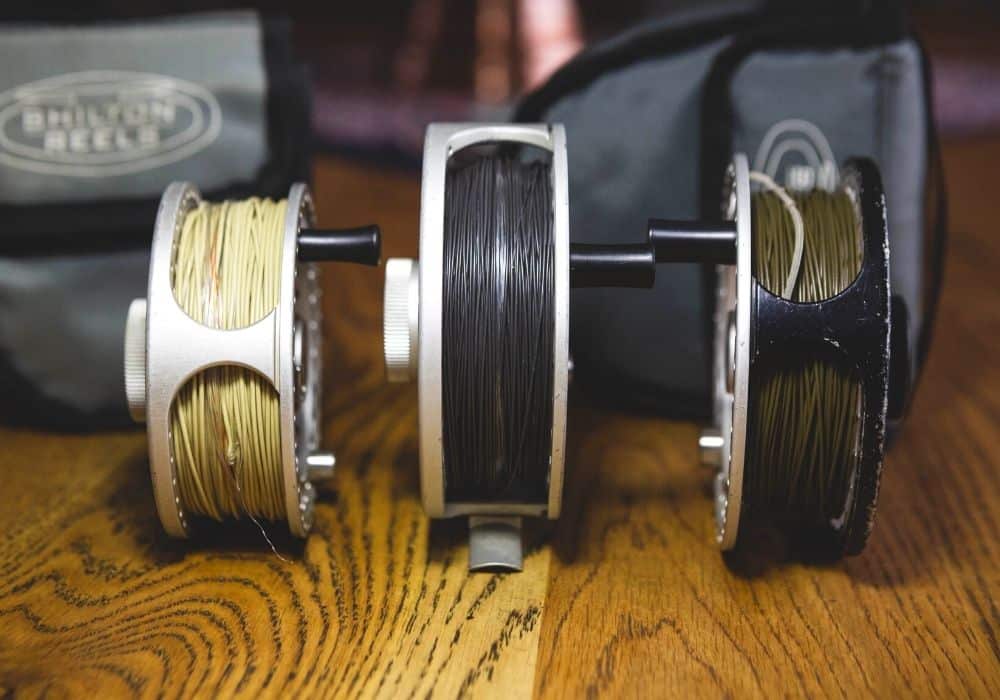 It's a reel that you'll buy once and never have to buy anything else again.
Order the Shilton CR Freshwater
If you like what you see in this Shilton CR Freshwater review, you can order the reel on Shilton Reels.
The reel is also easy on the eyes and, if you're an angler who prefers something else, these reels indeed fit the bill, especially if you purchase one of their custom anodized color options.
Conclusion
I hope that you found this review helpful. I can honestly and with absolute confidence recommend the Shilton CR range to any freshwater fly angler.
Please leave any comments or questions at the bottom of the page, or contact us to get in touch quicker.
Until next time.
Amazon and the Amazon logo are trademarks of Amazon.com, Inc, or its affiliates.