The best fly fishing reels for under $100 are going to allow you to get out on the water and fish without having to break the bank and will allow you to spend that money elsewhere.
They may not be durable or be on the same level as some of the other more expensive reels, but they can work just fine and the reality is that most fly anglers don't need to spend their car payment or more for a reel.
So, below we're going to cover some of the best fly reels for under $100. Check them out and see which one is going to work the best for you!
As an Amazon Associate I earn from qualifying purchases.
What To Expect From a Fly Reel for Under $100
You're going to get a reel that is going to get the job done. Nothing more and nothing less. Sure, some may come with more bells and whistles but for the most part, you're just getting a solid piece of equipment.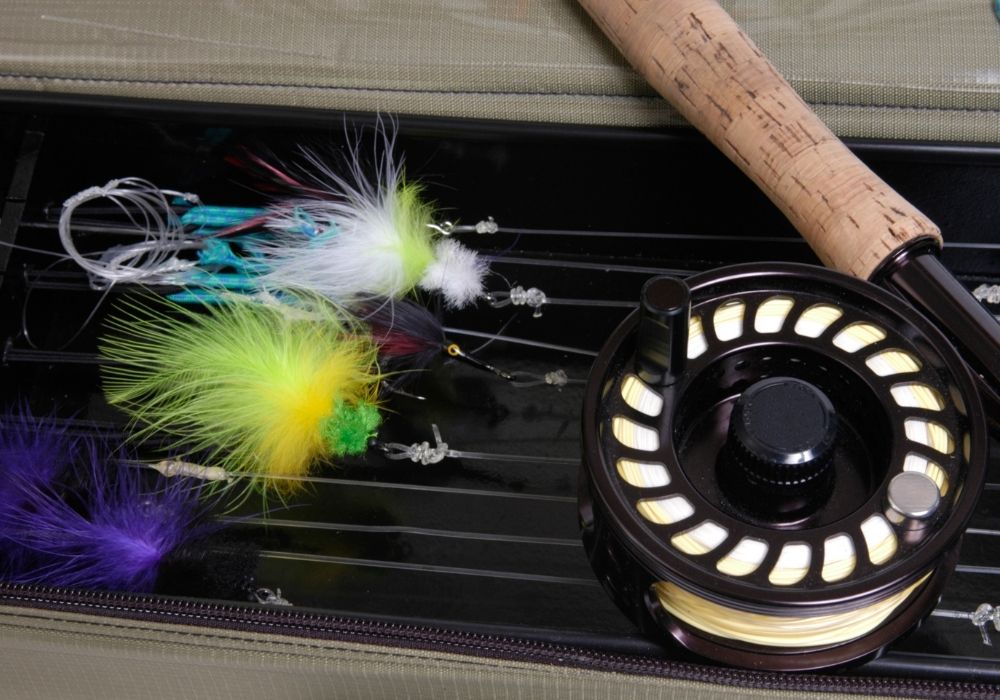 Some of the more expensive models may be better suited with a stronger drag system or more durability, but in reality, as long as you take care of your reel then you could hold onto it for years.
Are There Good Reels Under $100
The short answer is, yes. You will be able to find good reels for under $100. It may take some looking and some research as well as testing but they do exist.
Read as many reviews as possible on the reel. Not all $100 fly reels are created equal so you need to ensure you're getting something that will hold up to the general wear and tear of a reel.
Best Brands for Under $100
Below we're going to go over several different brands of fly reel that make products for under $100. Each of them is going to be ideal for the angler on the budget so check them out and see which one you like!
Piscifun
Known as a discount fishing brand, Piscifun may have a reputation for making cheap products but they make some of the top fly reels for under $100.
So, if you're looking for several different products for under $100 then check out Piscifun. They make a reel that anyone would be happy to use out on the river.
Orvis
Orvis's most popular reel for under $100 is easily the Clearwater. It's a great reel for a beginner because it's not super expensive but has all of the components needed to go out and catch big fish.
I would recommend this reel for anyone looking to get into the sport, or as a great backup reel for someone to take with them on multi-night trips.
Maxcatch
This brand is very similar to Piscifun. They are known to carry cheaper fishing reels and other gear that are ideal for the angler on the budget or a new angler who doesn't want to spend too much.
These are great reels for getting started. Most of them are under $50 and will allow you to get out on the water and learn the sport without having to drop a car payment in order to do so.
Features of the Best Reels Under $100
They may not have some of the best features as a $500 reel, but they can make do with they have and in the right hands can consistently catch fish.
So, if you're looking for a great reel for under $100 then check out some of the features of them below. I think you'll be surprised at what you find.
Drag System
The drag system will not be as important if you plan on targeting smaller species of fish. Average sized trout, bass, or panfish can be played with a hand on the spool. Most cheaper reels lack in the drag system department.
So, if you plan on chasing bigger fish then you should be doing adequate research to ensure you're getting a reel with a drag system that can handle large and strong fish.
Overall Weight
It's going to be hard to find both a lightweight and durable reel for under $100. Usually, you're only going to get one of the other. Something lightweight could be made of plastic, meaning it will break quicker.
So, with weight, you'll have to compromise some. Figure out a weight that you want in a reel and then bump it a little. That will ensure you can find a reel that you like.
Arbor Size
Arbor size and price is not something I normally see going together. There are expensive reels with small arbors and large arbors. As there are also cheap reels with large arbor and small ones.
It all depends on what you prefer. A smaller arbor is great for targeting smaller fish since you don't need to wind in line as quickly. Where a large arbor is great for targeting larger species.
Material
The cheaper models are going to be made of either plastic, which is lightweight but brittle. Or it will be made of molded metals. These will be heavier pieces of equipment.
It's going to be tough to find a cheap reel that is durable. That's just part of the deal when you go the cheaper route. So, it's important that you are always careful when fishing to ensure it can stay with you for years to come.
Sound
As far as aesthetics go the sound of a fly reel is tough to beat. The ripping of line coming off a click and pawl reel is unmatched. Luckily, the sound of the reel is not dependent on its price.
You'll find some cheaper reels that are loud and let everyone on the river know you've got a fish on, or you could find one with just enough zip so that only you can hear.
Feel
If you've been fishing for a while you'll know that the "feel" of a reel is important, but it's unique to each individual. What feels great to one angler may feel terrible to another.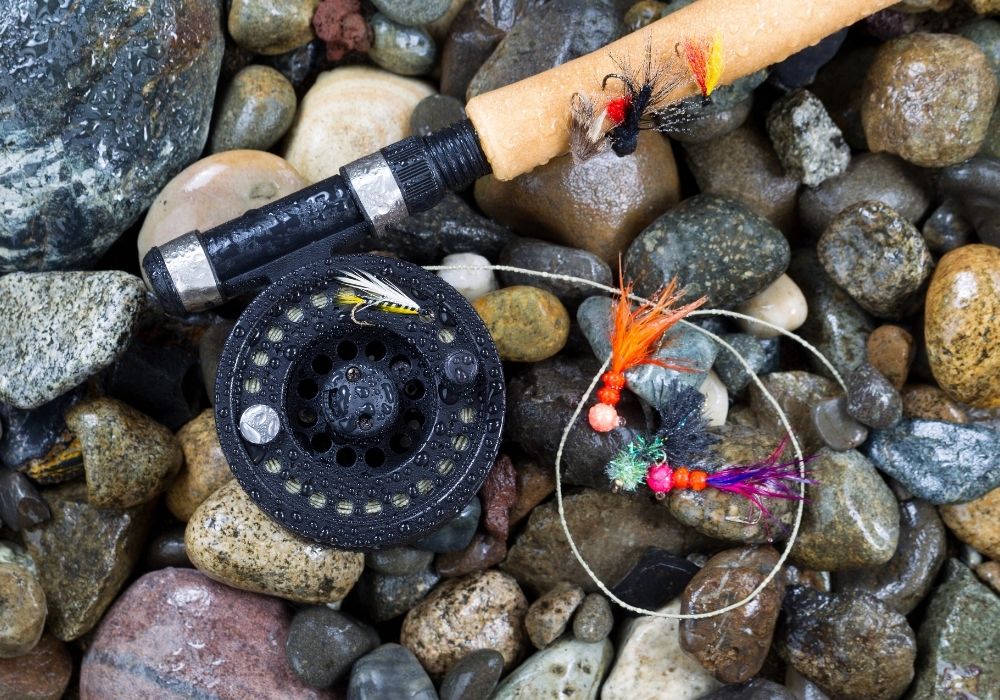 In theory, a $20 reel could technically feel better than a $500 reel. It all depends on your personal preferences and what feels best in your hands.
Aesthetics
Most of the cheaper reels are not going o have the best aesthetics. Looks, colors, and unique designs are typically designated for the more expensive models.
That being said you can definitely find a good looking reel for under $100. It may just take a little bit more research and looking around but it for sure be done.
Available Weights
You can find just as many weights in cheaper models as you can in the expensive models. The quality of the reels will be different but you shouldn't be worried about being able to find a 2 weight for under $100.
Best Fly Reels Under $100
Now that we've gone over some different features of reels of under $100 let's talk about some of the different products.
Below, we're going to cover five different reels. Each has its own pros and cons. So, check them out and see which one is right for you!
Piscifun Crest
Drag System – Click and Pawl
Pros – Large Arbor and durable, works exceptionally well for the price
Cons – Slightly heavier than other reels due to the sealed drag
The Piscifun Crest comes in several different sizes. Meaning you'll be able to target several different types of saltwater fish and throw a varying array of sized flies to the fish of your choice. This is the best saltwater reel for under $100.
The fully sealed drag system will help keep out the sand and saltwater that you would find when targeting reds, bonefish, or any other species. This is a great reel for the price.
VIEW ON AMAZON
Redington Zero
Drag System – Click and Pawl
Pros – It's super lightweight, durable and affordable
Cons – The clicking is pretty loud and has very little drag power
If you're looking to get out on those small streams and throw tiny bugs to brookies then Redington Zero is a great reel for you. Coming in a 2/3 weight so you can pair it to a smaller rod if need be.
It looks great and also has a large arbor so that you quickly retrieve line and get that fish into your net faster. The clocker drag system also sounds great if you wind up hooking into a big fish. This could be argued as the best fly fishing reel for under$100.
VIEW ON AMAZON
Orvis Clearwater
Drag System – Disc
Pros – Both durable and effective at an incredible value
Cons – Has very simple aesthetics and the texture isn't the smoothest
There might not be a brand more well known in fly fishing than the Orvis Clearwater. All of the pieces of equipment given this name are not only solid pieces of equipment but also very affordable.
Similar to the Redington Zero this has a large arbor that can be utilized when reeling in bigger fish so you can land them quicker and more efficiently. This is the best trout reel for under $100.
VIEW ON AMAZON
Piscifun Sword
Drag System – Multi-disc
Pros – Durable and high-quality for the price
Cons – Drag start up isn't that smooth
One of the cheaper reels on this list, the Piscifun Sword is one of the better reels for the price. It's ideal for the new angler, or for someone looking to bring along a back up reel in case their main reel breaks or is lost.
It's stainless steel and has a great look to it. For the price, the reel is surprisingly durable. Allowing you to fish hard with it.
VIEW ON AMAZON
Maxcatch Tail
Drag System – Click and Pawl
Pros – Lightweight and durable for the price
Cons – Pre-spooled line isn't great quality
The MaximumCatch Tail reels are similar to Piscifun. These are cheaper reels that are made to be affordable for just about any angler.
Making this another great reel for someone looking to get into fly fishing without spending too much money. This might be the best value reel for under $100.
VIEW ON AMAZON
Maxcatch Avid
I've had 2 of these Maxcatch Avid reels for over a year and I love them. No, they aren't as high quality as the Redington Zero or the Orvis Clearwater (listed above), but this reel is still an incredible value for the money.
When you're looking for the best fly reels under $100 in 2021, then this lineup is one of the best you'll find.
A high-quality die-cast design with a combination of cork and teflon disc drag system, this reel isn't perfectly seeled for saltwater, but I used the 7 weight plenty of times off my dock fishing snapper and as long as I rinsed it after each use, it has been fine so far.
Review This Post
Conclusion
After looking over the information above you hopefully have a better understanding of what to look for when purchasing a reel for under $100.
So, with that being said go check out Amazon and see if you find one for yourself!