As an Amazon Associate I earn from qualifying purchases.
With fishing gear getting more expensive, anglers are getting priced out of more and more equipment. Even entry-level rods and reels are getting more challenging for the average angler to purchase. Thankfully, companies like Echo keep their equipment, like the Echo Base reel, in a friendly price range.
Echo is a reputable company in the fly fishing industry. Fly anglers trust their gear, which is reliable and accessible for anglers of all skill levels. The Echo Base, Echo's most affordable reel, is one of their better options for anglers. It has everything most anglers want in their budget-friendly reels.
We saw the positive reviews and wanted to give the reel a test. We purchased it and put it through a test to see if it lived up to the hype.
Why Trust My Echo Base Reel Review?
I fished with the Base in the mountains of Colorado to test its abilities. I tested durability, drag, smoothness, construction, and components to see how it performed.
For the most part, the Base handled every situation. It worked well in lakes and rivers.
At Into Fly Fishing, we only test the gear we use. I've tested numerous budget-friendly reels throughout my career, so I know what a quality reel should feel like. I enjoyed my time with the Echo Base and think it's a quality reel.
Watch the Echo Base Reel Review
What's in the Box?
Reel Case
To keep the reel affordable, Echo doesn't send a high-quality neoprene velcro case with the Base. You get the traditional reel sock with a cinch strap. It'll provide a small amount of protection for the reel, but you may want to move it to a better, more padded case if you want to travel with it.
I leave a lot of fishing equipment in my vehicles and let it bounce around in a large duffel bag. Even in the reel sock, the Base looked no worse for wear over a few months of travel. I'll switch it to a more padded case if it moves into my regular rotation.
Reel
When I received the reel from Echo, there were no scratches or cosmetic issues on its surface. We purchased the 4/5 weight model, so it's versatile, and I've been able to fish it on larger and smaller waters.
The reel doesn't come spooled with fly line and backing, but it was easy to engage the quick release and get everything spooled and ready to go.
Echo Base Reel Features & Specs
The Echo Base Reel is built to be affordable. You're not getting the same materials as you find on their high-performance reels, but the Base is still built to last. All of the components create a powerful and relatively smooth reel.
Build Quality
The Echo Base is made of composite, so it's lightweight and durable. It isn't as heavy as some other affordable fly fishing reels, so you don't get the aluminum that many high-performance reels are made of, but it's still up for the challenge.
The reel's inner parts are stainless steel, so they don't skimp on the bearings and other components. It is corrosion-resistant, so it's ready for all types of water. While the reel isn't fully sealed, it's sealed enough to keep most moisture out of the bearing.
The handle and the drag knob are made of the same composite plastic. They can withstand some torque and tension but are not as durable as the aluminum handles on other high-performance reels.
If you take the time to clean and care for the Base, it'll last you for years. Again, it doesn't feel as high quality as some of the more expensive reels, but it does the job.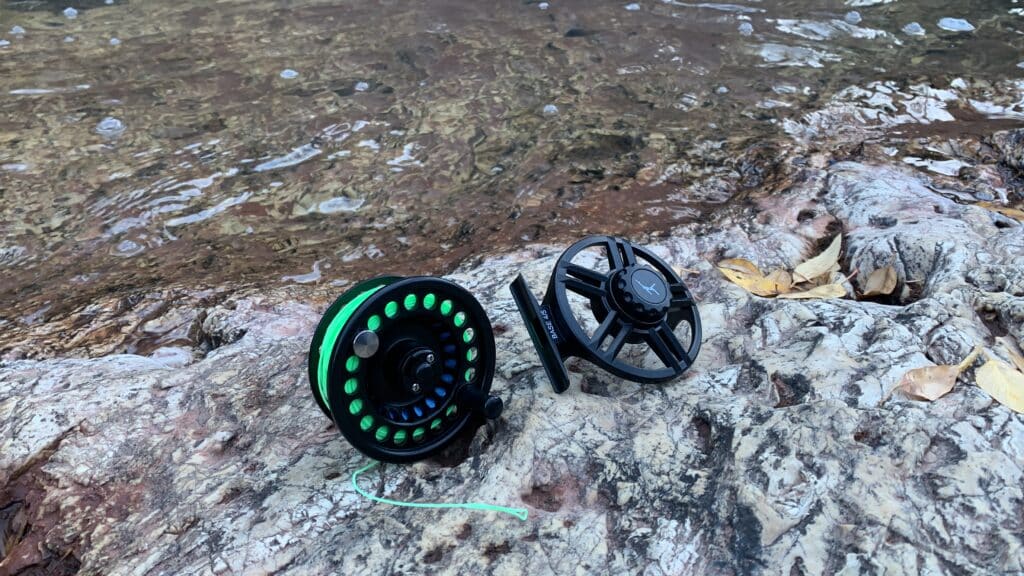 Arbor Size
The Echo Base reel is a large arbor design. The arbor is .9 inches wide, and the reel has a 3.5-inch diameter. All of the other sizes of the reel have similar-sized arbors and diameters. Large arbor reels are ideal. They increase your retrieval speed and allow for more line and backing.
The 2/3 model holds 90 feet of weight forward 3-weight fly line and 75 yards of 20-pound backing.
The 4/5 model can handle 90 feet of weight-forward 5-weight fly line and 100 yards of 20-pound backing.
The 6/8 model holds 90 feet of weight forward 7-weight fly line and 175 yards of 20-pound backing.
Weight
The Echo Base reel is light thanks to the composite material. The balance is there even when it's spooled with line and backing. I found the balance point on my 5-weight and 4-weight rods with no problem.
The 2/3 weight reel weighs 4.7 ounces.
The 4/5 weight reels 5.1 ounces.
The 6/8 reel weighs 6 ounces.
The reel weighs around a half ounce less than most other reels at similar prices. If you're the type who barely wants to feel their rod and reel when it's in your hand, the Echo Base can help you accomplish that.
Drag
In another effort to keep the reel affordable, Echo gave the Base reel a Rulon-disc drag system in all their models. Rulon is Teflon plastic, and it's used as the friction plate. The plate can handle high temperatures, so if you hook into a fish that rips your drag, it won't seize.
The reel feels powerful, and the drag knob is easily adjusted to your preference. You can tighten the drag enough that pulling out the line is extremely difficult. Any fish you hook into with the 4/5 weight model will struggle to max out the drag.
The beauty of Rulon-disc drag systems is they require minimal maintenance. A good cleaning several times per season will keep it performing well.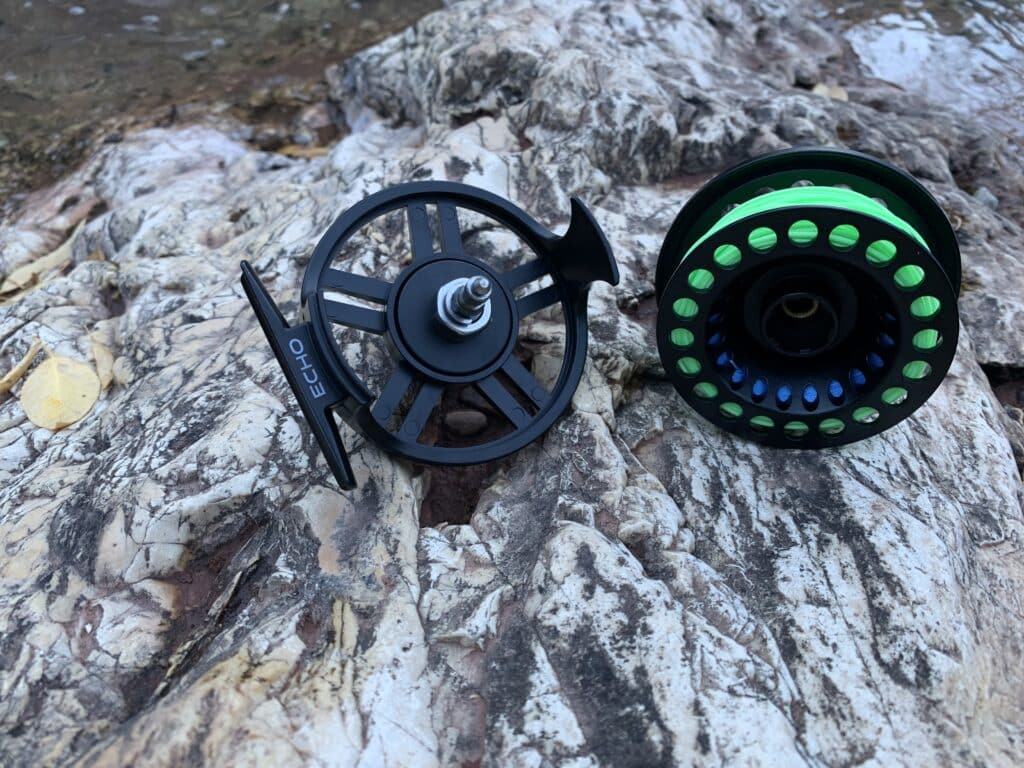 Sound
The Echo Base has an old-school, classic sound. There's no sound on the retrieve, but you'll get a nice clicking sound as you're stripping. When you hook into a fish that pulls your line, you'll love the sound it produces.
If you're fishing small water and don't want to spook the fish, be careful with the speed you're stripping.
Aesthetics & Color Options
The Echo Base doesn't have the most unique design. It's fairly basic. The hollow bicycle wheel design won't blow your mind. Plus, the Echo only offers a black model.
The Echo Base isn't the best option if you're after the fanciest and classiest-looking affordable reel on the market.
Price
The Echo Base sets itself apart with the price of its reels. All of the models range in the $56 to $50 range. As prices on most fishing equipment skyrocket, you're getting a great deal on the Echo Base. It can do everything other affordable reels can do but at a cheaper price.
Echo Base Reel: My Personal Thoughts
I think the Echo Base Reel is perfect for the person getting into fly fishing. It's durable, comfortable, and powerful enough to help you learn and grow your skills. Depending on the size you choose, it can handle various fish of all different sizes, so you don't need multiple reels.
The drag system is extremely powerful, and everything else about the reel is solid. Even though it's made of composite, it doesn't feel too cheap. I trust Echo and like their products. They wouldn't skimp on their reels even though it's their most affordable option.
Plus, Echo offers anglers a 12-month warranty with the purchase of an Echo Base reel. The warranty protects the manufacturing of the reel, so if anything falls apart, you're covered.
The reel is smooth enough, but you do get a few hiccups. The drag knob is a little sticky. Even after adjusting it and using it for a few weeks, I'd have to push hard to get it started and work harder than I like to get the drag to the spot I like.
Plus, the quick-release button is small and sticky. You need to use your fingernail to release it and give the reel a good pull to get it unstuck. These factors don't affect the performance, but they remind you of the affordability.
I don't have any doubts about how it'd perform for a beginner. Even if you're looking for an affordable backup reel, it'll work.
Stick with panfish and smaller trout if you're fishing the 2/3 weight. It'll pair well with a small stream rod.
When fishing the 4/5 weight, I have confidence it'd handle most trout, panfish, and smaller bass. The drag system gives me confidence.
The 6/8 option can handle steelhead, salmon, bass, pike, and trout. It's not a giant reel, but it is equipped to handle most freshwater fish.
Amazon and the Amazon logo are trademarks of Amazon.com, Inc, or its affiliates.
As a part of the Amazon Associates Program and other affiliate programs, Into Fly Fishing® may receive a comission if you order products through links on this website.