After fishing and testing the Piscifun Sword, we're going to give you a hands-on, full, in-depth review.
Some of the true budget fly fishing rods just aren't worth the money. They break easily, have no sensitivity, and can't be trusted. Every once in a while, however, you strike gold. The Piscifun Sword is one of those true budget rods that is able to hold its own in numerous fishing situations.
The 9' 6-weight model is a diamond in the rough. It doesn't have the ability of high-performance rods, but it's fully functional and can land all different types of fish.
The rod has 4.7 stars out of 5 on Amazon, with over 70 people reviewing it, so we wanted to see if it lived up to the hype.
→ Don't Miss Our Full List of The Best Fly Rods of 2023
Why Trust My Piscifun Sword Rod Review?
We purchased the Piscifun Sword ourselves, so there was no bias heading into the review. We wanted to see if it could hold up against other budget fly rods we've reviewed. Plus, at Into Fly Fishing, we pride ourselves in only reviewing gear we've tested.
I fished this rod for a few days and spent time casting it at a local park to see what it was capable of doing.
What's in the Box?
When you receive the Piscifun Sword, you'll receive the rod as well as a plastic rod tube. The rod tube isn't easy to use, so it's recommended that you purchase a separate rod tube to store it.
There is no rod sock or any other extra protection, so if keeping your rods safe is a priority, you're going to have to invest in some separate gear.
Piscifun Sword Price
Perhaps the best part of the Piscifun Sword is that it's only going to cost you around $40, depending on different sales on Amazon. Most other decent-budget fly fishing rods are going to cost at least $75, so a decent rod for $40 is almost unheard of. If you're new to fly fishing, you won't find a better deal on a fly rod. Y
You'll be able to learn all of the basics and have an easy time investing in something a bit higher quality as you grow your skills.
Piscifun Sword Fly Rod
Order the Piscifun Sword fly rod on Amazon.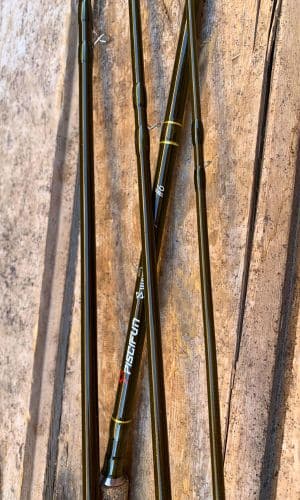 Piscifun Sword Rod Features & Specs
Piscifun is a fairly reputable fishing company that's specialized in affordable fishing gear for years. Their gear is easy to use and is known to last for an extended period of time.
Build Quality
The Piscifun Sword blank is built with an IM7 performance graphite. As a result, it's a bit heavier but still able to cast well enough. It weighs around 4.7 ounces, so you'll definitely notice it as soon as you take it out of the tube. Many other 9' 6-weight rods are usually around 3.5 to 4 ounces.
The reel is has anodized aluminum, but it's not entirely sealed. The metal design on the real seat leaves some of the graphite exposed. However, it does have a double-locking reel seat, so your reel is going to stay in place the entire time.
The guides are steel and smooth. They aren't too bulky that the line gets hung up in them. Overall, it's a solidly built rod that is going to keep you fishing for many seasons.
Action
The Piscifun Sword has a medium action. Being that it's a 9' 6-weight model, anglers aren't going to get that power they may want for a 6-weight model, but it has enough that you're going to be fine on most streams, ponds, medium-sized rivers, and smaller lakes.
You don't have the power to cover a massive amount of water and fight large fish, but you have enough to make reasonable casts and handle almost all trout that you find.
The action itself is likely more comparable to a medium-fast due to the extra bit of backbone, but it's not enough to give you the confidence to fish a massive body of water in pursuit of some larger fish.
Presentation
The added weight of the rod takes a bit of getting used to, so the presentation can be a challenge when you first begin using it. Being that it is a medium action, it's created to be able to throw dry flies and nymphs softly into tight areas.
You get a bit more sensitivity to control your flies. It definitely lacks in presentation compared to a high-performance rod, but for $40, it's good enough to help you present your flies in most situations.
Short Distance Accuracy
From 30 feet and in, anglers won't have a lot of trouble making their casts. Those extremely short casts can be a challenge due to the added weight, but with some trial and error, you can get your flies to where you want. The 20-30 feet range is definitely a sweet spot for the Piscifun Sword.
Long Distance Accuracy
As you get up into 50 or 60-foot casts, you'll notice that the Piscifun Sword has limitations. Being that it is a medium action, it's not necessarily built to handle some of those extra-long casts you may be hoping to make.
However, if you spend most of your time between 30 and 50 feet, the Piscifun Sword is going to do just fine.
Warranty
Piscifun offers anglers a 1-year warranty on the Sword model. The warranty covers any manufacturing error. Any neglect or abuse from the angler is not covered.
Watch the Piscifun Sword Review Video
Piscifun Sword: My Personal Thoughts
I really enjoyed fishing with the Piscifun Sword. To be honest, I had extremely low expectations when I first received it. The rod tube is a strange design, and I immediately switched it out as soon as I took it to the water. I figured the rod would be just about as nice as the rod tube, but it was far better.
Piscifun Sword Fly Rod
Order the Piscifun Sword fly rod on Amazon.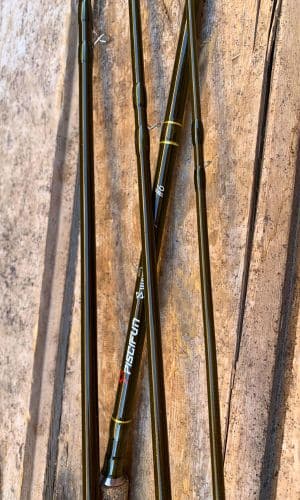 I first cast this rod at a local park to get a general feel for it before I took it to the water. From 10 feet to 60 feet, I was able to hit most of my spots, even with the wind I was facing. The added weight of the rod was especially nice. I felt like I had the extra power in case it was needed.
Being that it was almost 1.5 ounces heavier than other rods we've reviewed, I thought it would be cumbersome, but it really wasn't. The power acted as some extra backbone instead of a hindrance.
I was also able to be fairly accurate with this rod. It seemed to have a sweet spot between 20 and 50 feet. Anything shorter than 20 feet was a bit challenging due to the heaviness of the rod.
I had to take some time to learn how to get those finesse casts down. After a while, I was able to lay down quality short casts with dries, nymphs as well as streamers. Casts beyond 50 feet become a bit unruly. I noticed some shaking in the rod tip as I was shooting my line.
I was using some weight-forward RIO Trout line, so it was meant to be smooth through the guides. I also found that I couldn't get the fly exactly where I wanted like I could with casts between 20 and 50 feet.
It seemed to be a bit better with dries and nymphs. Streamers became hard to cast at longer distances.
In terms of line control, I found that the Piscifun Sword held its own. This is definitely where the rod's weaknesses were most noticeable, but it wasn't awful. The added weight of the rod proved to get in the way when I was trying to make larger mends.
It did fine with those smaller mends, but anytime I had to really move the line, it took a couple of tries to get it where I liked.
If you're an angler who's new to the sport and want to give it a try without breaking the bank, the Piscifun Sword is a wonderful option. The 6-weight is versatile enough to cover different types of water and target all types of trout as well as smaller fish.
For anglers searching for a backup rod, I recommend choosing something different. It is a medium action, so it's more sensitive and doesn't have the power that you would want in a versatile backup rod.
Overall, I would recommend this rod. It's fun to cast, extremely affordable, and is going to do most of what you ask of it. As long as you're aware of its limitations before you begin using it, you won't be disappointed with its performance.
Disclaimer: IntoFlyFishing.com is a participant in the Amazon Services LLC Associates Program, as an Amazon Associate I earn from qualifying purchases. Please see our Privacy Page for more information.