Trout is arguably the most sought after fish on a fly rod. You can find them in lakes, rivers and mountain streams. However, in order to catch them, you need to have the gear to do so, including the best fly line. Both a floating line and a sinking line.
Waders, flies, rods, and reels are all important pieces of fly fishing equipment, but a good fly line can truly make or break the trip. You'll need something that is able to land a dry fly delicately or drop your streamer down low enough in the water column for a trout to see.
That's why below we'll be going over the best line for fly fishing for trout. You'll see a line that can land your Elk Hair Caddis softly and quietly while also allowing you to cast for accuracy and for distance.
Disclaimer: IntoFlyFishing.com is a participant in the Amazon Services LLC Associates Program, as an Amazon Associate I earn from qualifying purchases. Please see our Privacy Page for more information.
What Makes a Fly Line Better for Trout?
When looking for a fly fishing line for trout fishing you should think about how you plan on approaching them. Are you throwing streamers? Nymphs? Or, do you want to throw dry flies?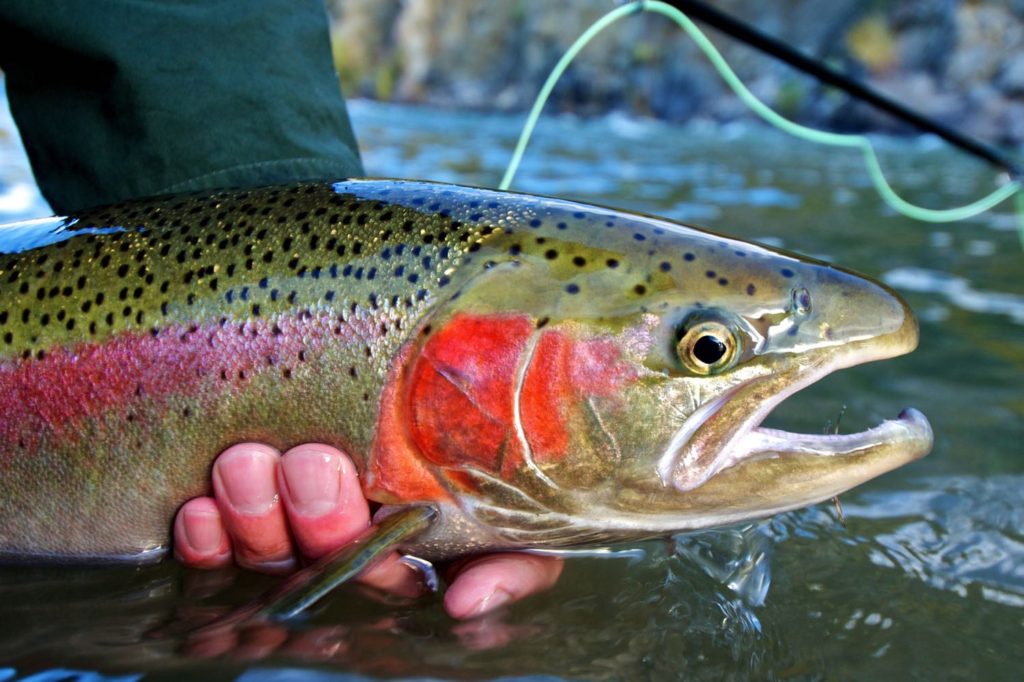 Each fly line company is going to have a line that specializes in throwing the above flies as well as any other types. A floating line is great for dries or an all-around line. While sinking is good for streamers, and sink tips work well for most subsurface.
When To Use Fly Line For Trout
Any time you're fly fishing you'll be using fly fishing line for trout. You'll find that there are many different types of line that work well in different scenarios. A sinking line works well in deep rivers or lakes when you want to get your streamer down low.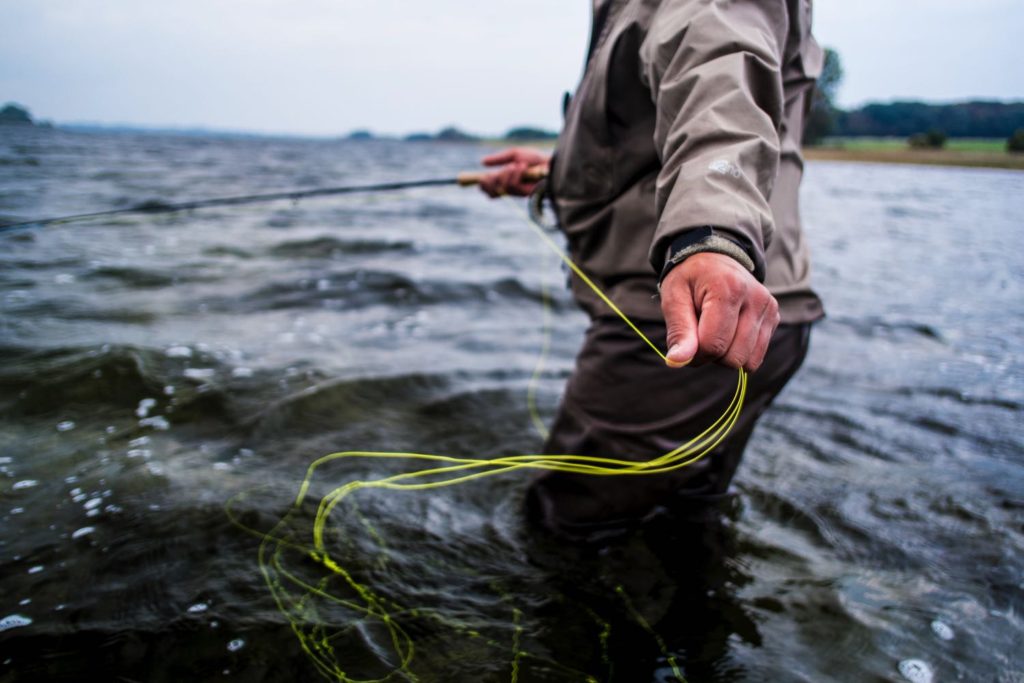 A floating line is the best dry fly line for trout, and could even be considered the best trout fly line. However, it can also be a great catch-all. You can easily drop a nymph with a floating line or even strip in a streamer. If you have to get one fly line you should get floating.
A sink tip is great for throwing nymphs or streamers. It works great for getting drifts through really deep runs of rivers or on lakes. This is best used when your leader isn't long enough on a floating line.
Basic Types of Fly Line for Trout
There are four main types of fly lines for trout. Weight forward, double taper, shooting taper, and level taper. Each has a specific purpose that will help you. Below, we go over these so you can have a better understanding.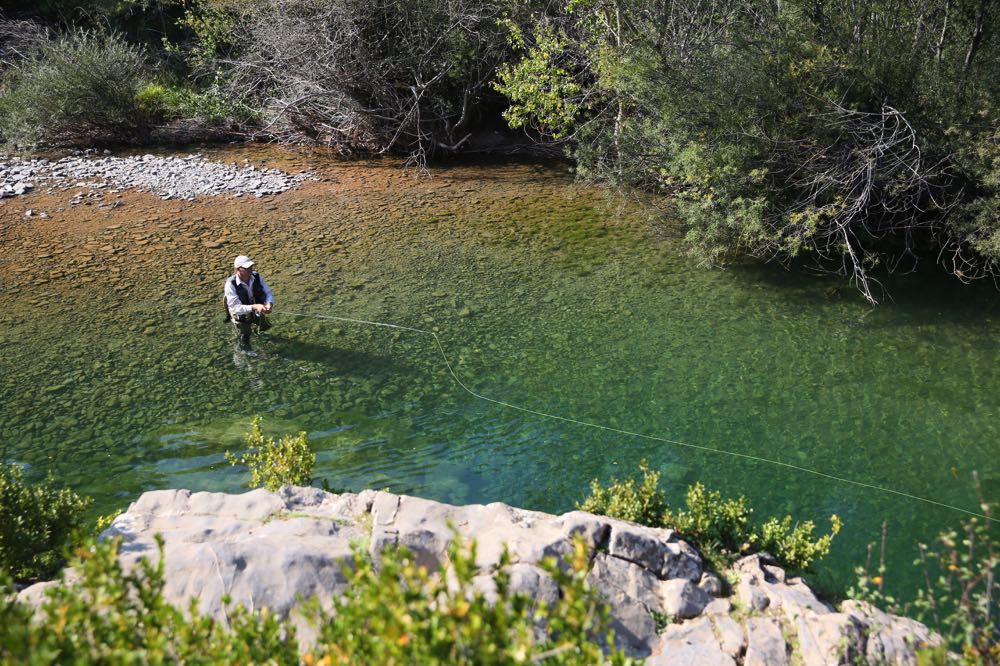 Weight Forward Taper
A WF taper should be the first fly line that any angler purchases. The heavier front end allows for long accurate casting and allows for great presentations. If you could only have one fly line a WF should be the one.
Double Taper (DT)
A DT fly line is considered to be more delicate than a WF. If you need to throw flies to wary trout that spook easily then a DT will be the line for you.
Shooting Taper (ST)
A shooting taper is needed for times when you have to cast extremely far. If you're fishing in a big river or lake and have the room for a backcast, then this is great for stripping streamers.
Level Taper (LT)
This is one that many anglers have difficulty using. It works in specific scenarios but it's clunky and not recommended. One of the pros of this line is that it is the cheapest in the market. Great for an angler on a budget.
Fly Line Weight for Trout
When choosing your fly line weight for trout you have to take into account the weight of your rod and reel. You'll need to match the weight in order to ensure you can coast accurately and effectively.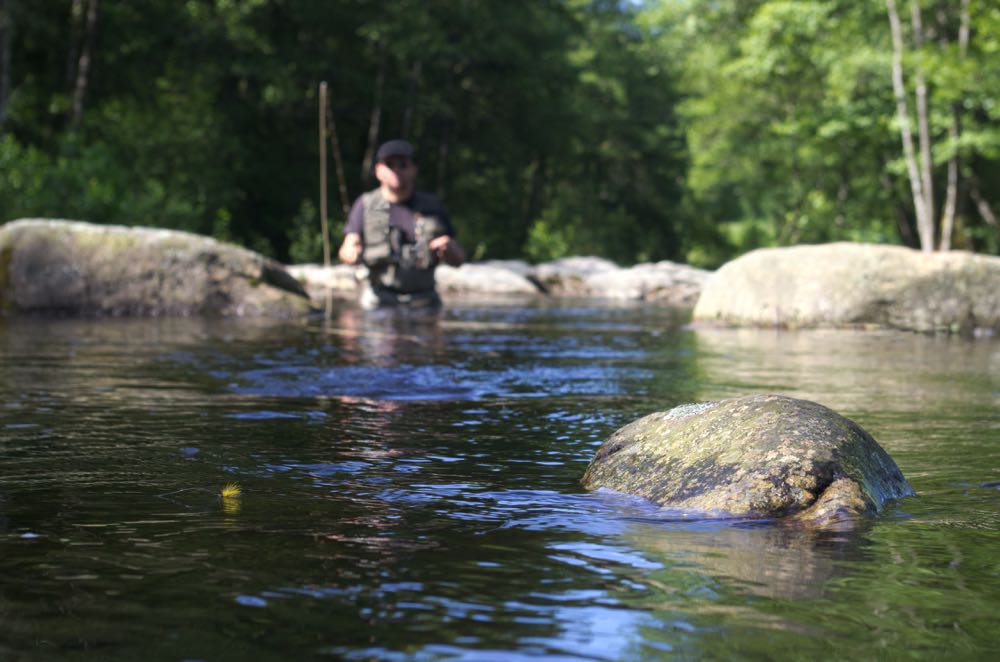 After matching the weights you should think about what size are the flies you're going to throw. If you plan on throwing #28 zebra midges then a light line is going to be best. The same goes for large streamers.
Also, keep in mind what type of fish you're going for. Small Brook Trout would do well on fly line in the weight range of 1-4. Where large rainbows and browns probably need a size 5-7.
Length of Trout Fly Line
Most fly lines come in a package of 100 feet. This is typically going to be more than enough for trout fishing. Some companies can vary, but it will be within that same length range.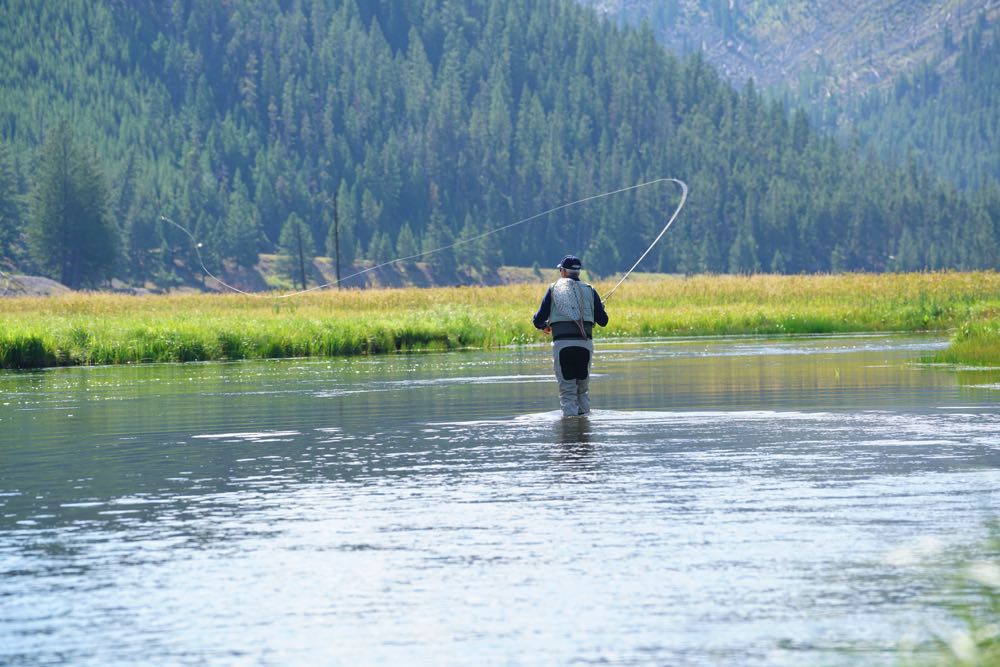 If you find yourself with a fish on the end of your line that has somehow pulled out 100 feet of line then have no fear. Most reels have backing on them that are capable of reeling the fish in.
See Also: How To Set Up A Fly Reel With Line, Backing & Leader
That being said, 99% percent of the time you'll be fine with the fly line that's on the reel. The only time you would need more is if you're hooked up to a monster and you happen to have light tippet on, and for that, you'll also need a good fly rod.
Features To Look For in Trout Lines
There are many different types of features in fly line. So much so that it can begin to get confusing or overwhelming. That's why below we broke it down to some of the important features you should be looking for in a fly line.
We're going to cover the ones you should really be looking for. You may not need all of them but these are the most general and best features most anglers need in their fly line.
Color
The color of your fly line is going to determine how well you and the fish can see it. If you want to throw a sinking line with a streamer attached then you should use a dark or muted color. This will prevent fish from being spooked by it.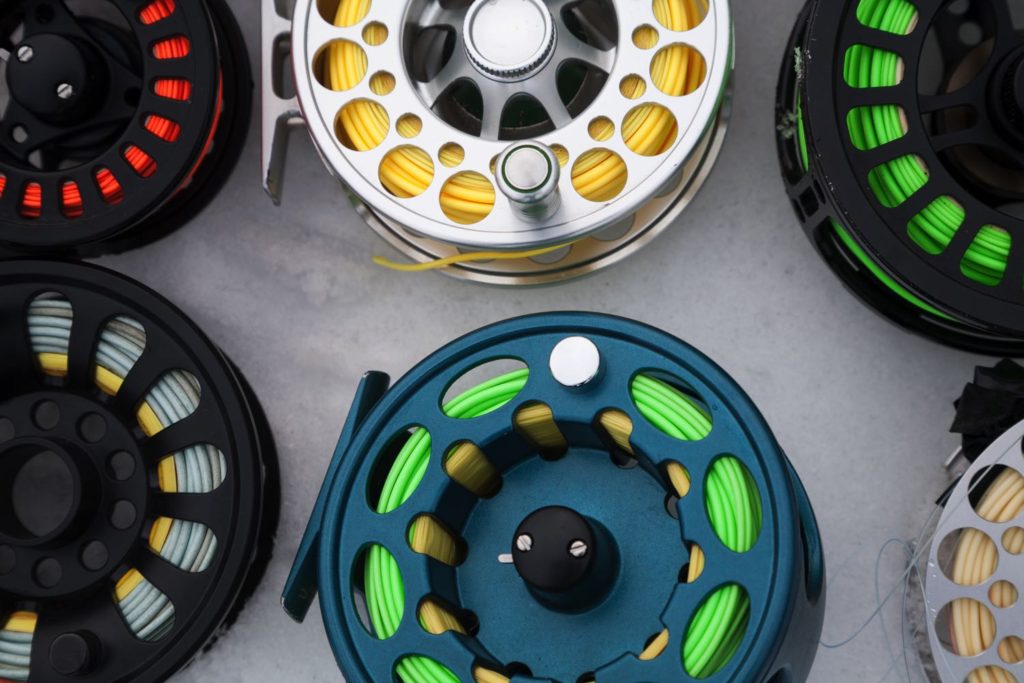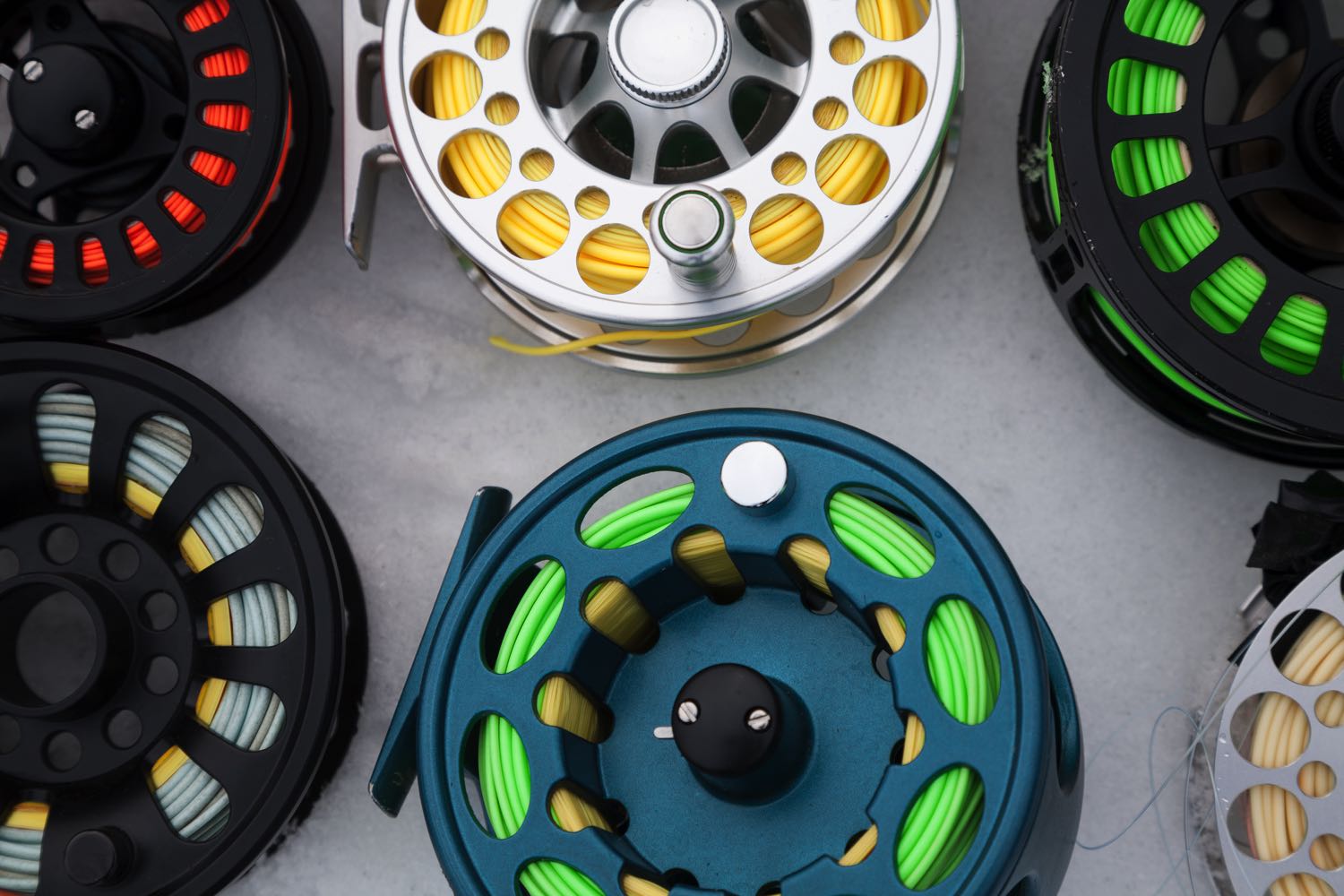 A high res color is great for floating lines. Easily see where your line is headed in a drift so it can be mended to let your dry fly run drift-free. Or, use the line as an indicator when nymph fishing.
Sinking or Floating
Sinking line is great for all subsurface flies. Get a nymph or a streamer down deep quickly. This is great for fishing really deep river runs or in lakes where trout are holding in deeper waters.
Floating is great and can be used for almost any fishing scenario. You can throw dries with it, or you could also drift wet flies and strip in streamers. Great for fish that are high in the water column or are looking up.
Temperature Control
A lot of newer fly lines are now being made to withstand the elements. Hot and cold weather can cause fly lines to expand and contract which can mess with your casting distance as well as accuracy.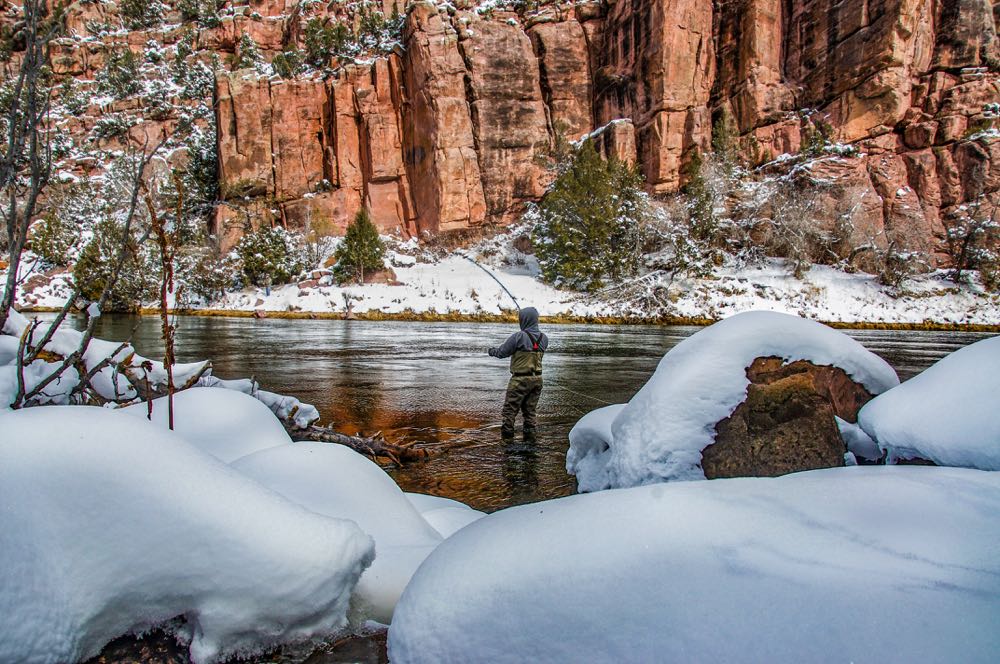 Most trout fishing will not be done in extremely hot weather, but it can be done in cold weather and in cold water. So if you plan on fishing in cold water and don't want your line to contract then look for something that maintains temperature control.
Sink Rate
If you plan on fishing with a sinking line then you should take into account the IPS. Otherwise known as the inches per second. This shows how quickly the line will fall into the water.
If you want to get down deep quickly then a high IPS will be great. If you want a slower fall then look for a lower number. Both of these work well when working deep water.
The Best Fly Line For Trout
Here is my list of the best fly line for trout that you'll find on the market today. These are taking into account all of the things that I covered above, as well as the price and overall quality.
Airflo Superflo River & Stream
Taper – Weight Forward
Available Weight- 3-6
Regarded as one of the best fly line companies in the world, Airflo Superflo River & Stream is a great all-around fly line for trout fishing. The floating weight forward line can be used in a number of circumstances.
Easily cast for accuracy as well as distance with this line. Throw delicate dry patterns and land them on a dime. Ideal for fishing for spooky trout.
Rio Trout Series Floating Line
Taper- WF
Available Weights – 3-6
The Rio Trout Series has a special weight forward taper that gives it great loop stability when casting from long distances. Allowing you to hit spots further away than you normally would be able to.
The line also has a very low stretch to it. Making it great for detecting subtle strikes when using the line as an indicator, and it also allows for stronger and better hook sets on trout.
The low stretch also helps with mends. So, if you're fishing in current that moves your line all around you should be looking at Rio Trout Series. You'll be able to easily mend your fly and get solid drifts over and over again.
Orvis Clearwater Weight Forward Line
Taper – Weight Forward
Available Weight – 5-9
It's hard to go wrong with Orvis products. They're easily the most recognized name in fly fishing and there's a reason for that. They produce solid pieces of gear and equipment. The Orvis Clearwater Weight Forward Line is no different.
The line is made a half size bigger. This helps load the rod a little bit more. Giving the angler a little extra power when casting, and will help create good loops and will be able to turn the fly over.
The line also has an integrated slickness built into it. Allowing it to slide through the guides easily and quickly. Ensuring you get the most out of your cast every time you heave it back.
Rio Mainstream Sinking Line
Taper – Weight Forward
Available Weight- 4-8
The mainstream line by Rio is made to accommodate the needs of the average fly angler as well as the beginner. So, you'll be getting a no-frill, solid piece of equipment for a good price point.
The head of this line is slightly shorter as well as a little bit heavier. This will help rod performance and will give you some extra oomph when casting.
The line comes in two different IPS, 3-4 and 6-7. This gap allows you to either slowly sink your line to meet trout. or if you want to fish deep and get down there fast then the 6-7 is the right one for you.
Scientific Angler Sink Tip
Taper – Weight Forward
Available Weights – 5-8
Sink tip lines were introduced in order to help maintain control of your fly while it's beneath the surface. With the Scientific Angler Sink Tip, SA is able to create a line that accomplished this while also keeping the price point to a minimum.
This is great for throwing streamers either from a boat or wading out in a river. Really though, you can use this line for just about any type of wet fly. It does not have to just be streamers.
The IPS on this line can be found in 2.5-4. Making it a nice mid-range for sinking. Get your flies down deep with this line and use it to draw out those pesky, deep water trout.
Review This Post
Conclusion
Now that we've gone over all of the different types of fly line for trout hopefully you have a better understanding of what you should be looking for. It can be a little overwhelming at first but once you boil it down, it's not too bad.
The product above would be great for just about any fly angler to get started with. Figure out what type of line you want from the guide above and use that to pick out from one of the five fly lines we talked about.
Feel free to also use it as a jumping-off point to figure out which fly line is right for you. There are many different ways of fly fishing and you'll find you there is a line out there that meets your needs. So head down to the local fly shop and pick one out, or check out of the many online retailers.
Some images in this post are courtesy of Shutterstock.
Like This Article? Pin it!