As an Amazon Associate I earn from qualifying purchases.
Rio is one of the most recognized and trusted names in the fly line game. As a fly fisher for the past 35 years, and professional guide for the last 15, I've seen my share of fly lines put to the test. Some cast better than others, some last longer than others, and there's always a little personal preference involved.
With all this in mind, and with all the major players and constant newcomers, one line continues to be a standard on my boat and walk-wade guide trips. The one line that continues to keep its place in the arsenal is the Rio Gold.
Why Trust My Rio Gold Fly Line Review?
This review of Rio Gold Fly Line is a proper and true review. There's no speculation here. Hours and hours, days, and weeks have been logged testing the Rio Gold fly line.
This one line has spent countless hours on cold creeks, flowing rivers, and warm(ish) lakes.
As an avid angler, mostly for trout, and a professional guide, I get to see firsthand the true performance of a lot of equipment and how each item stacks up against another option.
Not only do I get to test things myself when guiding, but I get to witness how these items work for a myriad of styles and anglers, green and seasoned.
What's In The Box?
The Rio Gold fly line comes in the familiar blue box with its recognizable and standard gold "Rio" logo and lettering. The blue box indicates the Premier level of lines – the second highest tier in the Rio lineup, putting it at the $100 price level.
The specific line we're looking at is the Rio Gold Weight Forward 6 weight line. What's discussed below, however, runs quite true for the entirety of the Rio Gold Fly Line lineup.
The Line
On first look, the line looks similar to many lines out there with a welded loop at each end of the line. The noticeable difference, visually speaking, is the color transitions through the line.
While this isn't exclusive to Rio, many companies don't use color transitions as it adds manufacturing expense.
These transitions help the angler to visually see how much line is being cast, and where the head, belly, and running line begin and end.
Knowing these locations is key to understanding where the different weights/feeling of each section lies. This can help you understand your cast better and assist in understanding how the cast will feel/react given the amount of line outside the tip of your rod. It also helps you to measure casting distance.
The Spool
Across the board, fly line spools are all quite similar. Rio's label is easy to read and comes with a small sticker/label stating the fly line name and weight.
This sticker is particularly handy as it can be placed on your reel, spool, reel case, etc. to remind you of which line you're dealing with. As someone who has an arsenal of lines, reels, and different spools for these reels, this sticker can be very handy.
Rio's spools do come apart if you wish to take your line off while keeping it wound, or prefer to have it off the spool to line your reel.
There's a pin hole in the center, of course, to slide the spool on a spooler machine or to use a pen/pencil at home to allow the spool to spin as you line your reel.
*Tip – when lining your reel at home, after you've tied the backing onto the rear fly line loop, toss the spool into a bowl or bucket of water. The spool will spin catch-free and easily as you reel; no pen/pencil needed!
Rio Gold Fly Line Review Features & Specs
In conducting the review on the Rio Gold Fly Line, the most important aspects I found most helpful to understand were its build quality, weight, total length, line profile, and technology.
Build Quality
Fly line materials are fairly ubiquitous. They're most often a woven core (such as nylon) with a PVC coating. In a float line such as this, gas "balloons" are added to the PVC material.
What makes lines stand apart is the processes, quality of materials, how many gas "balloons" are added, the finished texture/feel of the PVC, and any chemical additives to aid in slickness, hardness, softness, buoyancy, etc.
My review of the Rio Gold WF floating line definitely puts it at the upper end. With a slick, smooth feel the line will hold up to repeated flexing, stretching, and repeated slap/contact/friction with water and even some bushes and trees.
Line Weight
Head Weight: The 30ft front of the head (front taper and thickest/heaviest part of the head) weighs 10.9gm. The full 48ft head (including back taper) weighs 15.2gm.
Available Weights: 2-9wt
Total Length
This 6wt and all 4-9 wt lines are 90 feet in total. Only the 3wt lines are 80 feet.
Line Profile
The long head (especially the long back taper) profile is great for maintaining stability and cast control over any distance. The front taper shape and head can also quickly load a rod at short range without much line out.
Technology
Slick Cast – A Rio proprietary coating to reduce friction with fly rod guides and water.
MaxFloat Tip – A Rio Proprietary coating on the tip/loop of the line to help it float better without having to add mass/increase diameter.
Lumalux – The Lumalux color option can be charged with a light source to glow in the dark.
Gas Balloons – Companies who produce floating fly lines such as the Rio Gold, add trapped gas bubbles or 'balloons' to aid in line buoyancy. Cheaper lines do not do this.

The difficult part is finding the right amount of gas balloons to add. Too many and your line floats well but can fall apart easily. Too few and you won't get the float you need.
Texture
Smooth finish, with a slightly softer feel. This means the line is nice and pliable, especially in cold weather but can get a little tacky in hot weather or warm water. The lack of added texture means it won't beat up on your rod's line guides and won't crack as easily as other lines.
Warranty
Rio has a 1-year warranty on their fly lines across the board.
This covers defects in materials and workmanship, not if you stepped on your line with wading cleats.
All fly lines deteriorate over time and with use and will need replacing. They are not forever purchases. Take good care of your line; avoid standing on it when casting and clean it regularly to help extend the life of your Rio Gold Fly Line.
Color Options
Aesthetics is a big part of most peoples' purchases and choosing line is no different. Whether you're looking for something stealthy, need a high-viz line to see it better, or want to match your rod and reel setup, the Rio Gold lineup offers some great options:
Moss/Gold (moss green tip and head, good for stealth)
Orange (high-viz)
Melon/Gray Dun (high-viz tip)
Lumalux (balance of stealth and visibility, can glow in the dark)
Rio Gold Fly Line Review: My Personal Thoughts
Pros:
Great, supple feel at most temperature ranges
Excellent castability
Lasts longer than other lines
Cons:
Can feel "sticky" in some fly rod guides (fly rod brand depending), especially in hot weather.
The tip floats well at first but, as the coating wears off, it tends to sink a bit too quickly.
Once the slick coating wears off, it can get dirty easily and needs cleaning more often.
My review of Rio Gold WF floating line shows it's a great all-around line.
It presents a variety of flies well, from small dries to nymph rigs and streamers.
The best part of the line is the long head which helps load short distances quickly and maintains solid control on long-distance casts. It feels like you have total control of your line from casting to mending, and tackles the most wide range of floating-line situations.
Hot weather and warm water can negatively affect the line however and the tip tends to sink as the line ages (which is pretty normal for most lines).
FAQs About Rio Gold Fly Line
Here are some common questions that arise around buying a fly line and my answers based on what I found in my review of Rio Gold Fly Line:
Does Rio Gold Fly Line have a loop?
Yes. With Rio Gold, both ends have welded loops for making connections to your reel backing and to your leaders much easier. Knots attached to loops, especially loop-to-loop connections, are extremely strong and reliable.
How long does Rio Gold last?
This question is a tough one and depends on how often you use your lines and how well you take care of them. For those who fish a few times per year, the line will last a few years. For guides and folks who fish all the time, lines will likely last about one year. Regular cleaning will extend the life of your fly line.
Where is Rio Gold Fly Line made?
Idaho Falls, Idaho, USA
What is fly line made of?
Most fly lines are made with a thin braided nylon material coated in thick, pliable PVC. Different additives are added to make it float better and last longer.
If I spend money on a good fly line, why do I need backing on my fly reel?
Fly lines are generally 80-100 feet in length. Backing is added to the reel before the fly line to fill space on the reel spool. It's much less expensive than the fly line and much thinner. It also adds length for big fish to be able to make long runs (runs much longer than your fly line).
Are more expensive fly lines better?
In short, yes. There are lots of reasons but the two main reasons are castability and longevity. If you need to save some money, less expensive lines will get the job done but you'll compromise on performance and longevity.
What is Slick Cast?
Slick cast is a Rio proprietary finish coating on some of their lines. The Gold series comes with the Slick Cast finish which greatly reduces friction on water and on the fly rod guides. This makes your casts much faster and smoother, and allows you to get more distance easier.
What color should fly line be?
This is a tricky one to answer. Personal preference definitely comes into play here.

Some will prefer the stealth of the moss green tip (moss/gold color line) to fish picky or weary fish. Others may need a high visibility line like the orange color so they can see the line better in the drift.

The multicolored lines make knowing the different parts/distances of your line (running line, belly, tip) much easier. The Lumalux is a great option for a little stealth in the daytime and the glow-in-the-dark night fishing.
What end of the fly line should I attach to the backing?
The first loop you see attaches to the backing. Rio puts a small tag there that says "Attach this end to backing.". This tag will need to be removed before you reel the line onto your fly reel.

The floating end/loop that attaches to your leader is tucked in at the bottom of the spool.
Rio Gold Fly Line Review – Finishing Thoughts
According to Rio, it's the "ultimate all-around, floating line for the trout fly fisher.".
In my opinion, if you're looking for one of the best all-around floating lines for a multitude of fly fishing situations, look no further than the Rio Gold Fly Line series.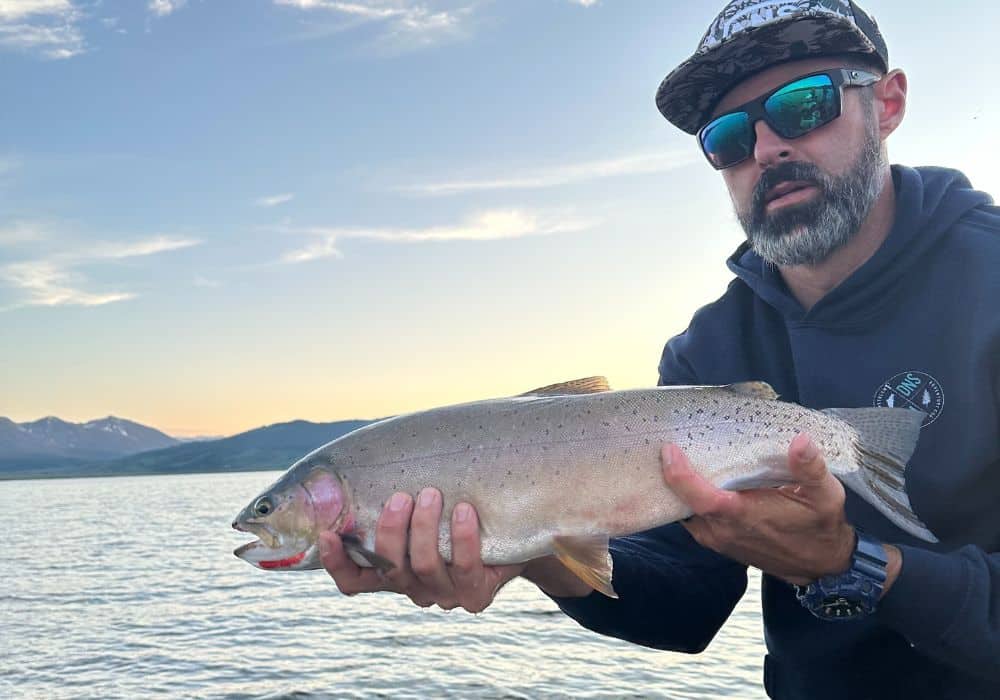 Rio has long been known for churning out quality lines and the Rio Gold is no exception.
Its long head makes distance casting a breeze. The shorter front taper and belly/body (thickest and most heavily weighted) make quick shots and short casts very easy too. The texture is smooth and slightly softer than other brands which some will like and some won't as much.
My honest and experienced review of the Rio Gold Fly Line is that while it costs a little more than 3/4 of the other Rio offerings, and 3/4 of the offerings from other line companies, the price is still under the industry's top-tier lines. It just may be the perfect melding of price and performance.
Amazon and the Amazon logo are trademarks of Amazon.com, Inc, or its affiliates.
As a part of the Amazon Associates Program and other affiliate programs, Into Fly Fishing® may receive a comission if you order products through links on this website.