Fly fishing line has long been one of the most confusing aspects of fly fishing. The different lengths, sink rates and weights can puzzle even the most advanced anglers. Despite recent efforts from companies to make it more simple to determine what you need, questions still arise.
Snowbee, a company better known for their waders, has created a variety of fly lines that are suitable for numerous types of fly fishing. The XS Delicate Presentation Floating Line is one of the most productive lines I've found for finesse setups. Snowbee did its best to make an option for those anglers who spend quite a bit of time chasing spooky fish.
Snowbee XS Delicate Presentation Fly Line
If you like what you see in this Snowbee XS Delicate Presentation Fly Line review, you can order the fly line at Snowbee.
I'm a finesse angler at heart. Spending years in northern Minnesota and the Bighorn Mountains of Wyoming has helped me refine my small stream fishing skills. Finesse fly fishing is beyond entertaining. It'll always be my first choice when I head to the water!
Finesse angling has mainly been the type of angling I've been doing while using this line. In this Snowbee XS Delicate Presentation Fly Line review, I'll tell you all about where I've been using this line, in which conditions, and what I think of it.
Disclaimer: IntoFlyFishing.com is a participant in the Amazon Services LLC Associates Program, as an Amazon Associate I earn from qualifying purchases. Please see our Privacy Page for more information.
Why Trust My Snowbee XS Delicate Presentation Fly Line Review?
I've mostly been using this fly line on a small river in the mountains of Montana in some fairly difficult conditions. Some days it's been cloudy and windy, and on others the sun was high in the sky and the water was clear. In general, the fish have been on high alert, but in all cases the Delicate Presentation Fly Line did its job.
I use the 2 weight line on a 7′ 2 weight Snowbee G-XS fly rod with a Snowbee Spectre 2/3 weight reel.
At Into Fly Fishing, we only review gear that we have personally used. We see reviewing gear as a major responsibility! We want anglers to receive an honest opinion regarding the gear they're considering purchasing.
I can tell you, I've not only given this fly line a thorough testing, but I've also used similar fly lines from various other brands. I fish a lot, so I have a lot to compare it to.
See also: Snowbee Fly Lines Buyer's Guide
Watch the Snowbee XS Delicate Presentation Fly Line Review
What's in the Box?
When you receive the Snowbee XS Delicate Presentation Fly Line, you'll find a few things besides the fly line. Snowbee goes out of their way to make sure anglers are well taken care of when they make a purchase.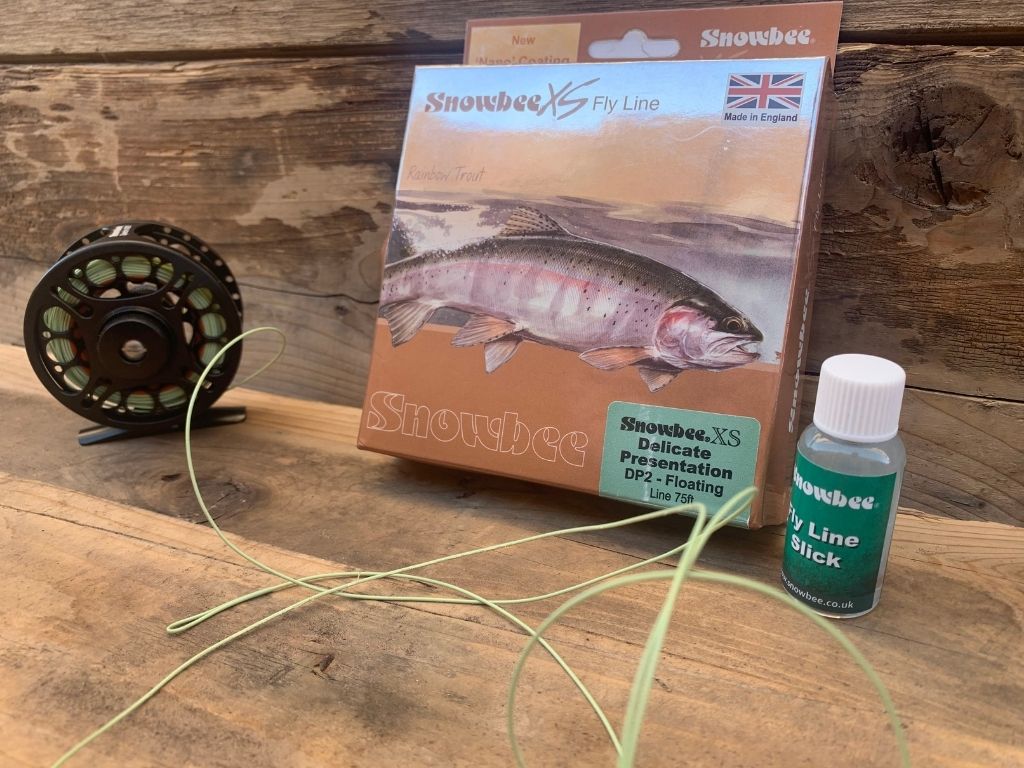 The Line
You'll receive the Delicate Presentation Floating Line on a cylinder. Snowbee indicates which side needs to attach to your backing. It's necessary for you to follow these instructions. Your line won't perform as well if you don't attach the correct side to your backing. Snowbee has been producing fly lines for 30 years, so you can expect quality.
Line Slick
Snowbee also sends along a bottle of line slick with their fly line. By adding a small amount of this to my fly line, I did notice improvement in my casting. The line flows through the guides even easier than it already does. Now I always make sure to take advantage of this and put it on my other lines as well.
Loops
Each end of this fly line has a welded loop. This has saved me quite a bit of time when I'm attaching the line to my backing as well as my leaders.
Snowbee XS Delicate Presentation Fly Line Review Features & Specs
The makeup of fly line can be confusing for anglers. Depending on the fish you're targeting and where you're fishing, you'll have to select different types of line. Be sure you're well aware of what you need before you make your purchase.
Makeup
Nano Coating Technology has allowed Snowbee to pack more coating material over the braided core. This allows the line to stay slim and thin, but not sacrifice any power as a result. Also, this technology makes it even easier for it to move through the guides.
Length Distribution
The XS Delicate Presentation 2 weight Fly Line is 75 feet long. 2 weight reels are obviously a bit smaller than other reels you may use, so the shorter length happens to be pretty handy. Many fly lines you'll use are around 90 feet long! However, you shouldn't need this much line if you're fishing such a lightweight setup.
Order The Snowbee XS Delicate Presentation Fly Line
If you like what you see in this Snowbee XS Delicate Presentation Fly Line review, you can order the fly line at Snowbee.
The length is distributed as follows: The rear taper is 43 feet, the line belly is 16 feet and the front taper is 16 feet. The rear taper is fairly skinny and it gets skinnier the closer it gets to the backing.
Snowbee has always been known to produce very easy and smooth-casting lines since they started producing fly lines 30 years ago. In my experience using it, I can confidently say that this fly line follows that trend.
The recent advancement in Nano Coating Technology allows them to pack more coating material over the powerful braided core to keep the line afloat much better, while also keeping the line slim and smooth so it can shoot through the guides with ease.
The line belly is the thickest part of the line. The thicker belly helps you achieve a bit longer casts, and it's really the meat of the line. I can clearly notice that I start to feel more power when I reach this portion of the line.
The front taper thins out as it gets to the tip. The front 16 feet are what the fish will primarily see. This needs to be the least intrusive! You don't need a wide front taper that will slap the water and disrupt everything. You'll find that fish will spook quite easily if that's the case.
Snowbee makes the front taper of the fly line wide enough so you can still cast, but not too wide that it won't work for delicate presentations.
Casting Power
The Snowbee XS Delicate Presentation line is plenty powerful for smaller streams and rivers. Since I was using a 2 weight line, I knew that I'd be limited in how far I'd be able to cast.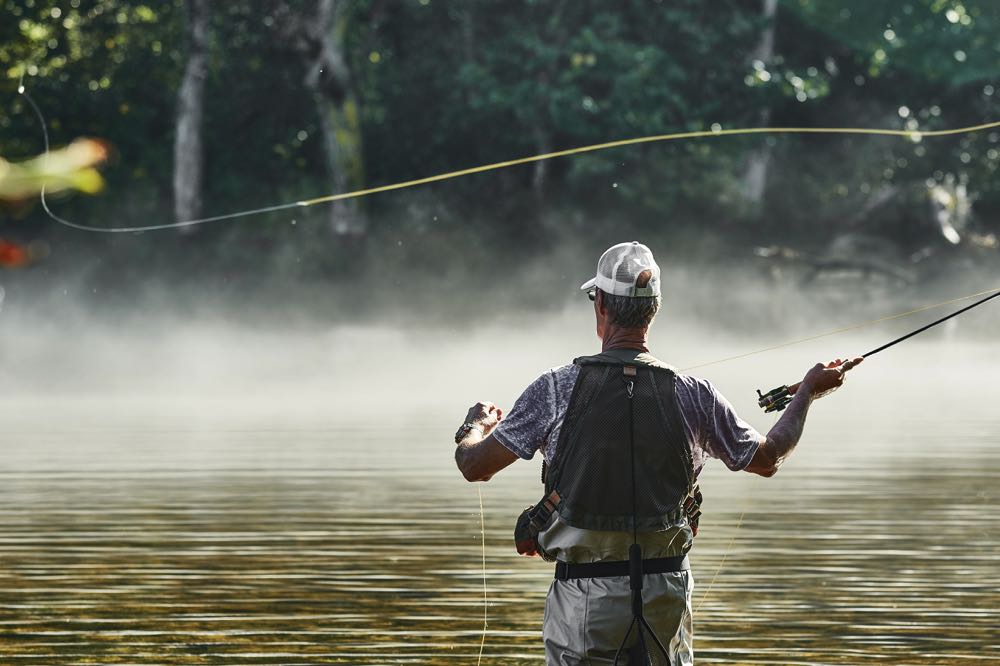 However, the line made its way through 15-20 mile per hour winds fairly easily. If you find yourself in those winds, don't expect to make casts over 20 or 25 feet. The line isn't strong enough, and odds are you aren't using heavy enough flies to help you.
If it's a calm day, you can definitely make those longer casts, but with a finesse setup, you'll rarely find yourself making anything longer than 25 or 30 feet.
Presence on the Water
Snowbee wasn't lying when they said it was a delicate presentation line. Even on those rare occasions when I made a poor cast, this line fell nicely onto the water. I was able to restart and not worry about my fly slapping the water or moving too much water as I began to back cast.
Too often anglers try to make a 30 foot cast and before their fly even hits the water, the fish are gone. The line hit the water too hard and all hope of landing a fish is gone. This thin line makes sure this isn't an issue. And that's vital for your ability to land fish on those gin-clear mountain streams.
Jason Borger, the man who "shadow casted" for Brad Pitt in the movie "A River Runs Through It," would only use the Snowbee XS Floating Line. I think that's a good sign of the quality of this line, and it's true that the professionals think this is one of the best fly lines on the market.
Snowbee XS Delicate Presentation Fly Line: My Personal Thoughts
This fly line is quite affordable despite its unique features. Many companies create specific fly lines for certain uses and charge an arm and a leg. For $72, you can't go wrong. It's affordable, and it can perform in those specific circumstances and do all you need it to do.
This fly line is not intrusive at all. Even if you're new to fly angling and aren't quite confident enough in your casts, this line won't spoil your time on the water. It's forgiving enough to let you make some mistakes and still land fish for you.
The line is delicate! It takes quite a bit of time to get used to it and see where and how you can cast it. If it's been a long off season, do yourself a favor and warm up with a less touchy line. You'll be thankful that you had a chance to get the rhythm down before you started casting this.
Mending with this line isn't always easy. Since it's so delicate, a gust of wind can completely ruin your mend. Do your best to make very small mends if at all possible. The less you have to work with this line while it's on the water, the better. However, that's the case with most fly lines.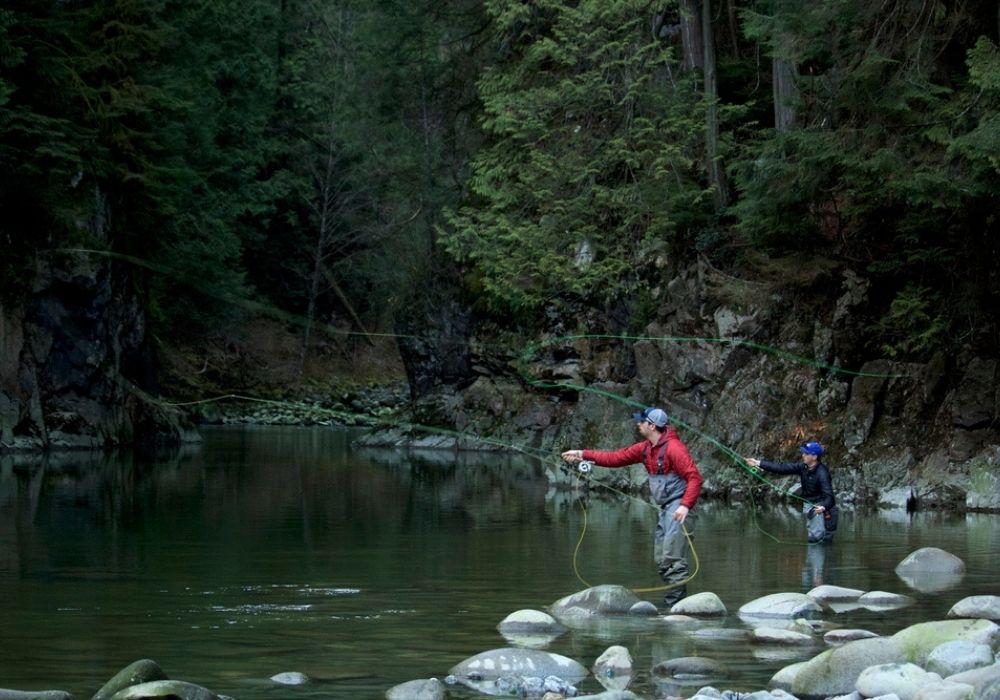 Overall, I was quite pleased with the Snowbee XS Delicate Presentation Fly Line. This line is right at home on high mountain streams. I used it for finesse angling on some really tricky spots on the streams I was fishing in Montana, and it performed admirably. I've caught more than my share of big trout on it.
If you're fishing clear water on a sunny day and you know fish will spook at any little thing, then this is a great option for you. You can stay out of the way, but still make normal casts. It's a win-win for you!
Order The Snowbee XS Delicate Presentation Fly Line
If you like what you see in this Snowbee XS Delicate Presentation Fly Line review, you can order the fly line at Snowbee.
Be patient with yourself when you're using this line. It takes time to learn. Like any sort of finesse setup, it's all about familiarity. As long as you're comfortable with what you're using, you'll be okay. Learn the ins-and-outs of this line and you'll find yourself quite pleased with it.
Conclusion
Fly fishing is an art! Too many anglers overlook one of the absolutely necessary aspects of the art: fly line. Anglers are confused about it or don't think it's overly important. This is wrong! Pay close attention to where you're fishing and how you're fishing. Which fly line you choose will make all the difference in the world.
Snowbee has created an option for backcountry anglers who love to catch wild and native trout. If that causes some excitement in you, it should! This line is a wonderful option, and you'll be quite pleased with the results.