As an Amazon Associate I earn from qualifying purchases.
In this Scientific Anglers (SA) Mastery Titan review, we'll closely examine the design of the line, the technology in the build, what works well, and what doesn't.
I've been casting flies for 35 years and guiding professionally for the last 15. I've seen companies come and go, I've seen changes and fads, but one thing is for sure, I've done A LOT of casting with a lot of lines.
Why Trust My SA Mastery Titan Wf 8 Fly Line Review?
All reviews are self-research-based reviews. There is no internet info gathering here, only honest reports of the gear we use after hours, days, weeks, months, and even years of personal experience.
Not only have I been fortunate to cast and cast many lines to exhaustion and failure, but I've witnessed a multitude of anglers cast them as well. As a professional guide, I get a front-row seat to see how others handle this same equipment and what might work for you.
What's In The Box?
SA Mastery Titan Wf 8 Fly Line review – The Unboxing:
The Scientific Anglers (SA) Mastery Titan comes in your typical fly line box with the line wound around a plastic spool.
This line is a fresh, cold/cool-water-specific line with an aggressively over-weighted head for turning over large, heavy flies and nymph rigs. This powerful head makes tossing big, fuzzy, articulated streamers a breeze and handling bulbous indicators and tons of split shot a lot more pleasant.
This is definitely a niche line and not meant for general purpose fishing or a do-everthing rod/reel setup.
The Box
The box, with is its silver coloration with red lettering, denotes that it's part of the Master series of SA lines. The color makes it easily recognizable and also stands out on store shelves.
SA's Mastery series is a mid-tier series with lots of added technology but not the whole top-of-the-line arsenal available from SA.
The Mastery series retails for $80, just under the Amplitude Smooth and Sonar series at $100, and the flagship Amplitude series at $130.
This intersection of value and performance makes the SA Mastery lines some of the best selling lines on the market.
The Line
For this review, I've been using the 8 weight option. It's been cast on a variety of 9 and 10-foot Sage and Redington rods in a variety of situations in Montana and Idaho.
The running line is sky blue and the head (rear taper, belly, and front taper) is a grass green.
With as many lines as I've handled in the past, it's apparent just by looking at the line, that it's a quality build. The PVC looks supple and the finish isn't too dull or too shiny (cheaper lines that are too dull or too shiny often have little/no finish coating, too much finish coating, or cheap coating that won't last).
The line looks and feels supple at room temperature but the outer coating does seem slightly firmer than similar lines from other companies…say a Rio or Airflo line. For me, there are good arguments for both a firmer finish and also a more pliable.
The Spool
Across the board, fly line spools are all quite similar. Scientific Angler's label is easy to read and comes with a small sticker/label stating the fly line name and weight.
This label is very handy as it can be placed on your reel, spool, reel case, etc. to remind you of which line you're dealing with. As someone who has a lot of different lines, reels, and different spools for those reels, this sticker can be very useful.
SA's spools do come apart if you wish to take your line off but keep it wound or prefer to have it off the spool to line your reel.
There is a pinhole in the center, of course, to slide the spool on a spooler machine or to use a pen/pencil at home to allow the spool to spin as you line your reel.
*Tip – when lining your reel at home, after you've tied the backing onto the rear fly line loop, toss the spool into a bowl or bucket of water. The spool will spin catch-free and easily as you reel, no pen/pencil is needed!
SA Mastery Titan Wf 8 Fly Line Review Features & Specs
In my review of SA Mastery Titan WF 8wt Fly Line, the categories under scrutiny were:
Build quality, Weight, Texture, Configurations, Profile, Technology, Castability/accuracy, Presentation, and Warranty.
Here's what I found:
Build Quality
As stated above, the quality out of the box seems on par with SA's high build standards. As a leader in the industry, their refinements, in my opinion, have gotten better and better.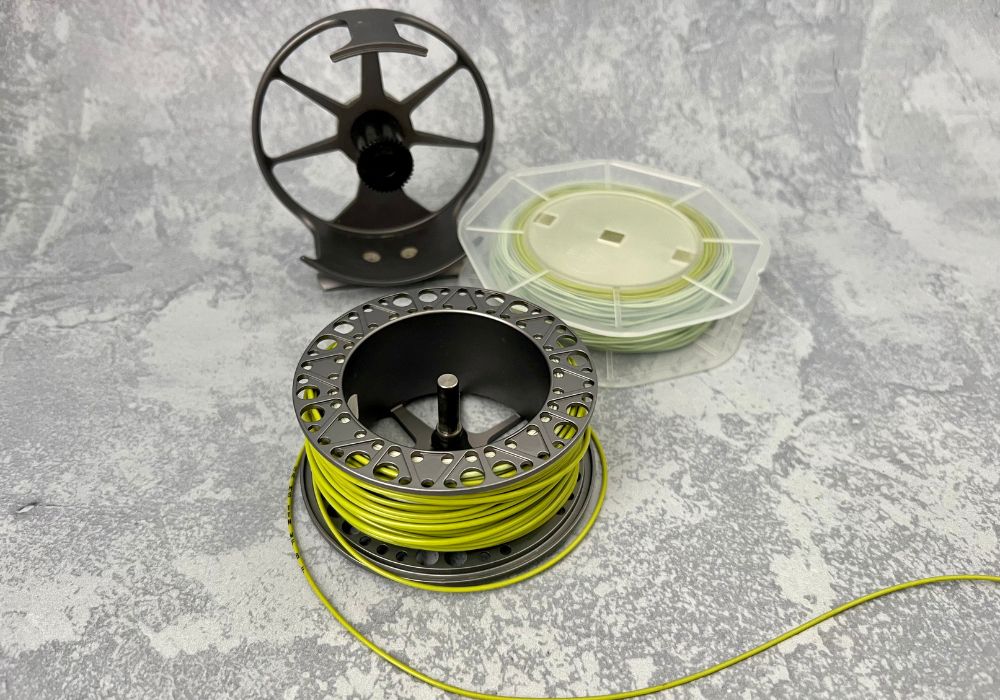 This line is a strong braided nylon core line which is perfectly suited for cold and cool water situations. The PVC and outer coating are supple yet slick and should last years (as it has for me).
Weight
The SA Mastery Titan WF line is available in sizes 6 through 10
SA Titan WF lines are built 2 sizes heavy! This is a size and a half over their newest standard "half-size-heavy" found on most of their lines.
The 8wt line I've been using has a head weight of 310 grains. The 6wt comes in at 230gr, the 7 at 265gr, 9 at 365gr, and the 10 at 420gr.
Colors/Configurations
The SA Mastery Titan currently only comes in one color option with a blue running line and a green head/tip.
The blue running line changes to green right where the rear taper and running line meet making it easy to see where the weighted section of the line ends and to easily judge a 35 foot cast.
Texture
The Mastery series of lines, including the Titan Taper, are all smooth textured lines. While other SA lines employ dimple or cross texture, the Mastery lines do not.
It's smooth texture is given a slick sheen using SA's proprietary line coating.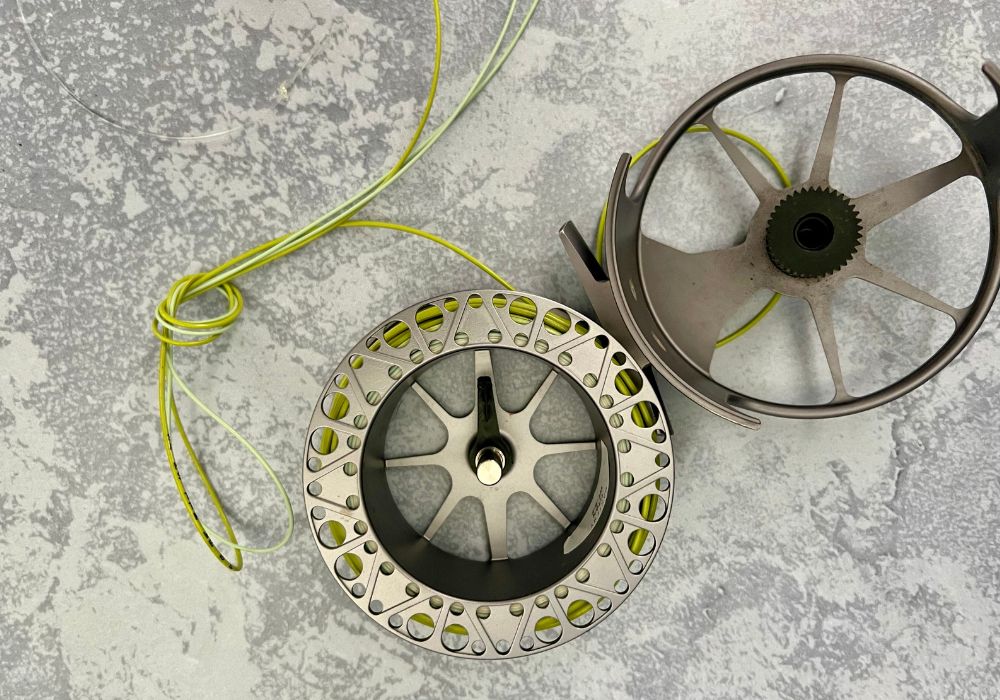 SA's coating does add a little bit of firmness to the line and, as mentioned above, makes it feel a touch more firm than comparable lines from other companies.
The benefits of this firmer texture are twofold:
First is decreased friction. It's noticeably quick shooting, especially with all the extra weight in the head. There is also less "stickiness" on the water when lifting to set or recast.
Second is increased protection for the PVC coating. Dirt, debris, oils, etc. seem to quickly be shed.
The drawback of a firmer coating is that the line can feel a bit over stiff in really cold conditions. This can lead to line cracking over time especially with deferred line cleaning/maintenance. This is a braided core line, however, which has great pliability. A slightly firmer coating is therefore does not seem detrimental.
Profile
All weights in this series are 90 foot lines.
The 35ish foot head is made up of a short 5ft front taper, a 10ft front (heavier) belly, and a 20ft rear belly (with a rather short rear taper to the running line).
The short head puts extra weight in the front of the line and makes it easier to punch big, heavy, wind-resistant flies and indicators for greater distances. The short front taper really helps turning over these heavier setups at the end of the cast.
Technology
AST – SA's patented dry-slick technology. This is the coating you'll feel on the PVC that adds slickness and "shootablity" to the line. It also keeps dirt, grease, debris, and other contaminants from harming the line.
Double Welded Loops – Easily connect to backing and leaders via loop-to-loop or other connections.
Line ID – If you ask me, this is a game-changer. Simple. Effective. For those who have many lines on many spools or reels, keeping track of what line is where becomes a problem. Line ID prints the name of the line (series, line, weight) on the tip and end for easy recognition. Wish we had this one in the 90s.
Castability/Accuracy
The castability of this line is really second-to-none. If you're a streamer junkie, a bass popper guy, a pike/muskie-only gal, or a salmon under a bobber kind, this is your line! There isn't a big enough fly to put this line to shame.
A correctly loaded rod can carry this line for quite a distance too. This is aided by the oversized head, line overweighting and the slickness of the line.
Accuracy isn't exactly a strong suit. Don't get me wrong, this line is accurate enough. But it's not a "land a midge dry on a quarter from 40ft" kind of accurate. This line's short, powerful head is meant more for making heavy casting easier and works great for quick shots too.
Presentation
With a short head and short front taper, this line is geared more for powerful turnover than delicate presentation. When you think about what you're targeting with this line, that's not a bad thing.
Most of what you're doing with the SA Mastery Titan is asking for a splashy, attention-grabbing water entry anyway.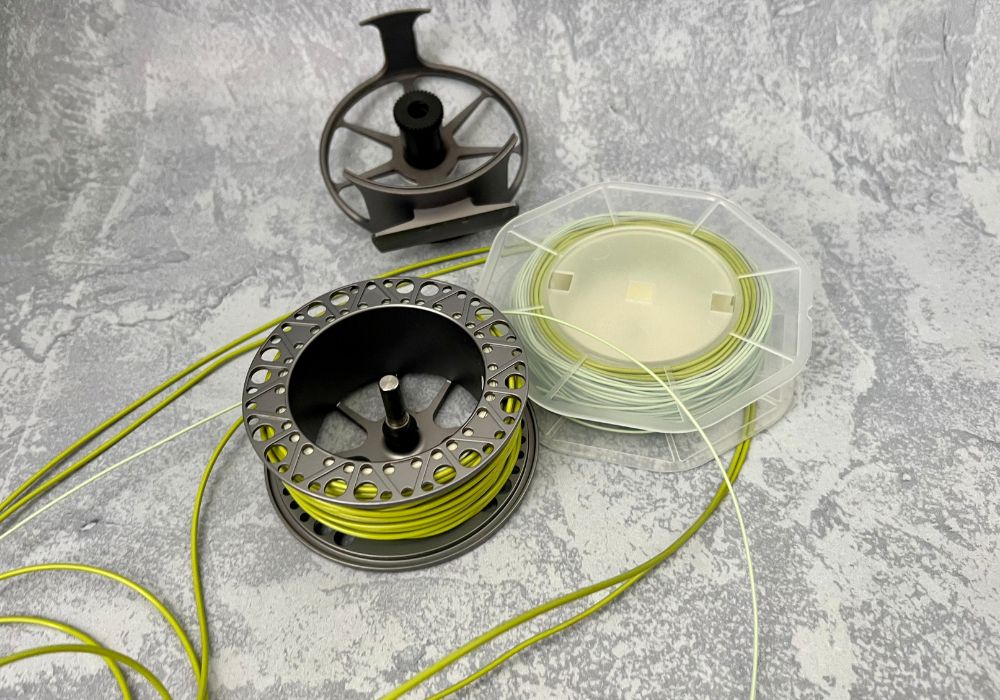 Trout streamers, bass poppers, and big pike flies benefit with plop on the water by grabbing the attention of any predator in the immediate area.
When using big dries or nymph rigs on this line, you're covering a lot of area in a drift so the point of entry isn't generally where you think the fish is going to be anyway.
The only part about presenting that can be questionable is the distance-mend. A longer rod greatly helps greatly in such situations.
Warranty
Scientific Anglers doesn't post anything about a warranty on their website. I've heard both 1-year and 5-year warranties regarding their lines. This would definitely be from defects, not use and abuse.
I do feel that SA doesn't post outright about the warranty so that they can make a judgment call on a case-by-case basis. The best thing to do is to send a line with a short letter directly back to SA.
I have seen SA replace almost all lines sent back to them aside from some egregious and obvious misuse cases.
SA Mastery Titan Wf 8 Fly Line Review: My Personal Thoughts
Pros:
The short, powerful head really does turn over wonderfully.
The slickness of this line shoots well on any rod I've fished it with.
The tip remains buoyant even in long drifts…a plus for big dry flies, surface poppers, and indicator fishing.
Cons:
Not the easiest line to mend if you're making long casts.*
Aggressive turnover means splashy presentations. That's great if you're trying to get attention (streamers, bass poppers, etc.), but not for situations requiring stealth.
If stealth is your game, look elsewhere. If you need to punch big flies and big nymph rigs to any distance, this line is for you.
With 6wt to 10 options, this is a great line for fishing streamers to trout, big poppers for bass, hunting pike or musky, or for a multi-purpose switch line. It also casts big indicators and heavy nymph rigs very well, from an over-weighted Teton rig for trout to tossing nymphs or beads to steelhead and salmon.
*The short head makes distance mending a little annoying but, for steelhead, I often use a 10ft rod to help. SA has also introduced the Mastery Titan Long (longer head) to be better suited for mends.
FAQs About SA Mastery Titan Wf 8 Fly Line
With all the line options available these days, there are always a lot of questions that pop up. Here are some common ones:
What is the Titan Taper line for?
This is a niche line for big, heavy flies/setups. The short, heavy head helps drive big flies and heavy nymph rigs easily.
How long does Scientific Anglers Mastery Titan Taper last?
This always depends on a lot of factors. 100-250 uses is a general idea. For some, that's one season. For others, one line will last years.

Use, abuse, and cleaning will factor in as well. All lines simply age as time passes too…UV damage, atmospheric breakdown…lines aren't forever purchases.
Where is Scientific Anglers line made?
Midland, Michigan, USA
What color of fly line is best?
Color is always a personal preference. Dull, subtle colors will camouflage better. Bright colors will stand out. If you want to be sneaky, pick the dull color. If you need to easily track your line in the drift, use the bright color.

This line's head and tip are a semi-light green. Personally, I think the tip color is green enough to camouflage decently but, in most situations, easy enough to track with your eyes too.
How do i pick the right fly line for my rod?
The easiest answer is to simply match the line weight to your rod's weight rating. Some folks like to overweight their lines, meaning put a 6wt line on a 5wt rod. This is acceptable but I would never recommend underweighting or putting a 5wt line on a 6wt rod as castability will suffer.

Many of today's fly lines are already over-weighted. It's common for a 5wt line to technically be a "5 1/2" weight line making them load better on today's faster action rods.

The Titan taper and other niche specific lines are weighted even more.
Conclusion
For anybody who likes targeting big fish with big flies, the Scientific Anglers Mastery Titan WF line is a fantastic choice. The ease at which this line turns over and carries heavy setups will have you impressed, not to mention save you a ton of energy and frustration.
This line has now been my go-to for articulated streamers, general bass, pike, and muskie, and steelhead indicator line for around 3 years now. With maintenance and care, this line has held up well and always held up to some extreme weather and even a bit of accidental abuse.
If you're a big-fish, big-fly, or heavy-rig kind of fisherperson, I'm convinced you'll love adding the SA Mastery Titan WF line to your arsenal.
Amazon and the Amazon logo are trademarks of Amazon.com, Inc, or its affiliates.
As a part of the Amazon Associates Program and other affiliate programs, Into Fly Fishing® may receive a comission if you order products through links on this website.