In this gear review article, we'll have a deep look at the Moonshine Vesper 9ft 8wt. The Vesper series is Moonshine's high-end rod, which is available from a 8'6" 3wt to a 9' 10wt.
Moonshine Vesper 9′ 8wt
If you like what you see in this Moonshine Vesper 9′ 8wt review, you can order the Moonshine Vesper 9′ 8wt fly rod on Amazon.
We've covered a range of these Moonshine rods in this blog, so please have a look at those reviews too.
Disclaimer: IntoFlyFishing.com is a participant in the Amazon Services LLC Associates Program, as an Amazon Associate I earn from qualifying purchases. Please see our Privacy Page for more information.
Disclaimer
As a disclaimer, I must point out that Moonshine sent me this rod for a review, but I'm in no way obligated to give this rod a great review if I feel it's not up to it. But one positive aspect of receiving multiple rods from a manufacturer is that you can compare rods to one another.
In the case of the 8wt Vesper, it's good to compare it to their more affordable saltwater-ready 8wt Outcast – a rod that I really liked.
Where and How Was the Rod Tested?
So, initially, I set out to test the rod and was hoping to find some decent-sized bass. Unfortunately, after a couple of trips out, I couldn't find any fish of a noteworthy size, but on my last outing, while looking for bass, I stumbled upon a honey hole full of carp.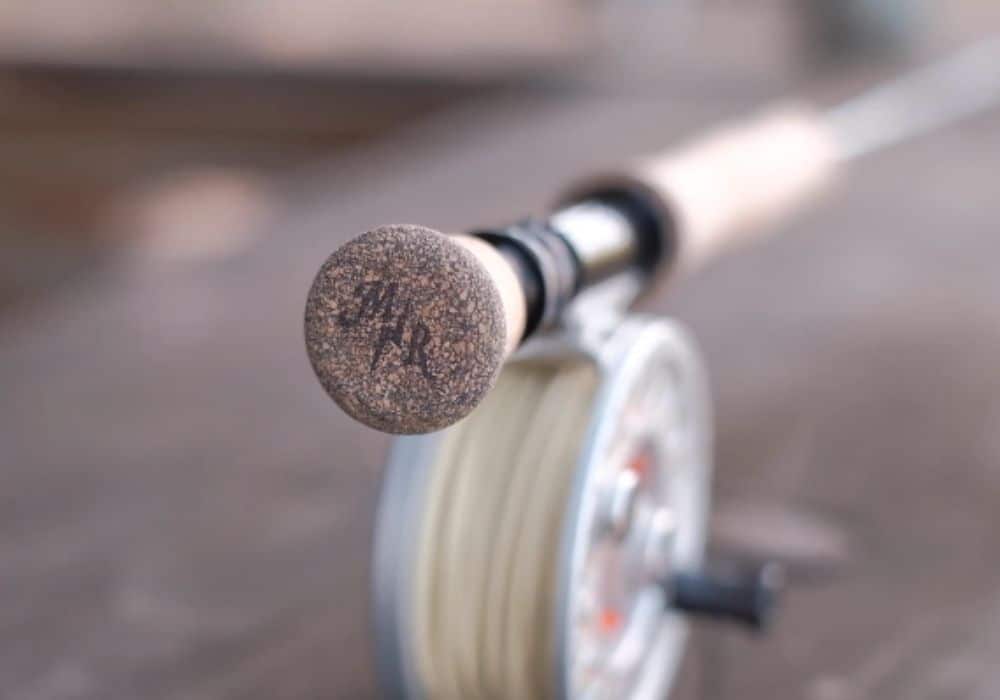 These fish were all feeding very close to the bank, so long casts weren't needed. To keep the fish out of debris and structure, I relied on the rod's pulling power to land fish quickly.
However, looking for bass, I got to test the rod's full casting potential and teamed it up with an 8 weight floating fly line and a Shilton SL5 saltwater reel.
Where Does the Moonshine Vesper 8wt Shine?
So, let's look at where the 8wt Vesper shines:
Line Speed
The rod is built around a properly fast-actioned blank that allows you to generate immense line speed. I wouldn't say it's as fast as something like a GLoomis Asquith, or something in that range, but I would call it a very usable fast-action rod, if that makes sense.
The capability of the rod to generate this high line speed makes it an excellent option for the saltwater angler who needs to overcome heavy winds and deliver large flies.
One thing that I must mention is that you'll only be able to get the full potential from this rod if you can do a proper double haul.
Pulling Power
The 8wt Vesper has a stiff butt and mid-section, giving it a ton of pulling power. The largest carp I caught on the day was about 7 pounds, but the rod was nowhere near its limits. I'll have to find bigger fish to test the rod with.
Accuracy
Before receiving the rod from Moonshine, I read up quite a bit about it. From the info on their website, it's easy to establish that it'll have a ton of pulling power and is able to generate high line speed.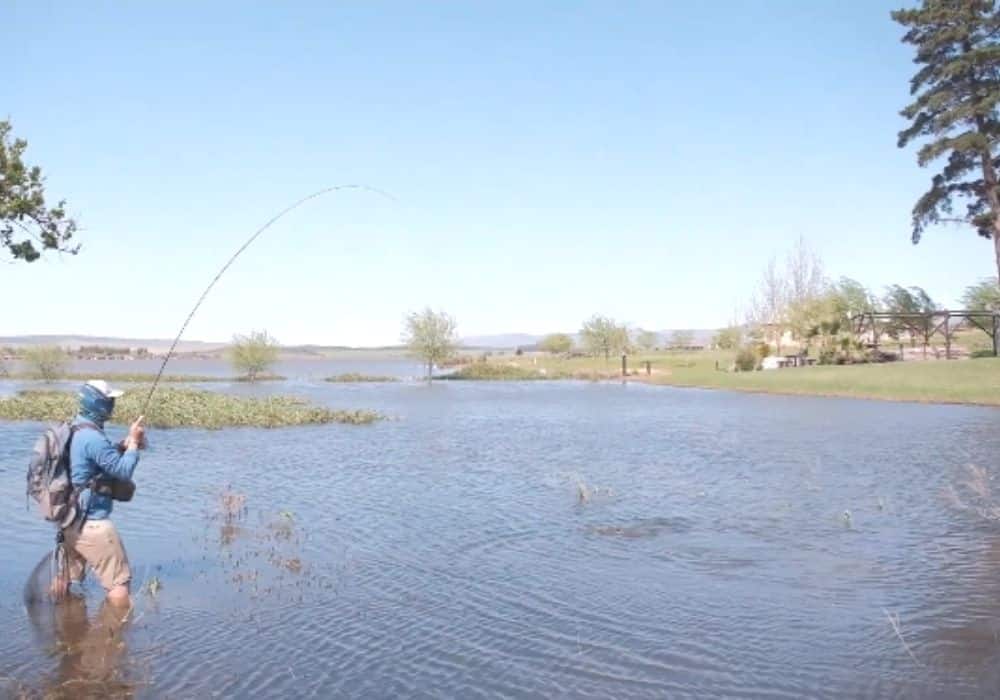 One of the aspects that really impressed me, though, was how accurate the rod is in medium to long-range casts. It was a pleasant surprise and it never felt that I had to work to get accuracy.
Watch the Moonshine Vesper 9ft 8wt Review
Where Does the Moonshine Vesper 8wt Fall Short?
Now that we looked at where the 8wt Vesper performs well, let's look at where it could fall short for your intended application.
This is Moonshine's premium rod, and for the performance, there's a jump in price. I must say, for a rod of this quality and this performance level, a price just under $450 is really good, but I know it might still be out of reach for some anglers.
If you're looking for an alternative, the 8wt Outcast is exceptional and comes in at under $300.
Order the Moonshine Vesper 9′ 8wt
If you like what you see in this Moonshine Vesper 9′ 8wt review, you can order the Moonshine Vesper 9′ 8wt fly rod on Amazon.
There are no shortcomings other than that. I feel the rod does what it's designed to do and does so without any flaws. If you're a beginner fly angler, though, you might opt for a slightly slower-actioned rod.
Rod Details
Let's get up close to the rod itself, and look at it in more detail:
Tube
The rod is shipped in a single compartment cordura covered tube with the moonshine logo embroidered on the side of it. The zippered cap also has an ID sticker on top of it, noting all the rod's details.
Rod Sock
Inside the tube, you'll find a five-compartment rod sock, with one compartment for each section of the four-piece rod, and one for the spare rod tip section. The rod sock has a Moonshine Rod Co patch stitched to it, but none of the rod's details.
One note that I would like to make is that once your rod is set up, there's one spare tip section left in the sock. Now, if you insert this back into the tube, be very careful not to push down onto this tip section too hard. I forgot about this and almost snapped the tip-top off.
Rod
So let's get to the real reason for this article.
Fighting Butt
The 8wt Vesper has a decently-sized fighting butt made from a combination of standard and rubberized cork. The Moonshine logo is also laser engraved to the bottom of it.
Reel Seat
Moving up, we have a black aluminum saltwater ready uplocking reel seat with two locking rings. Both of these rings have Delrin bushings, which helps to prevent your reel from coming loose.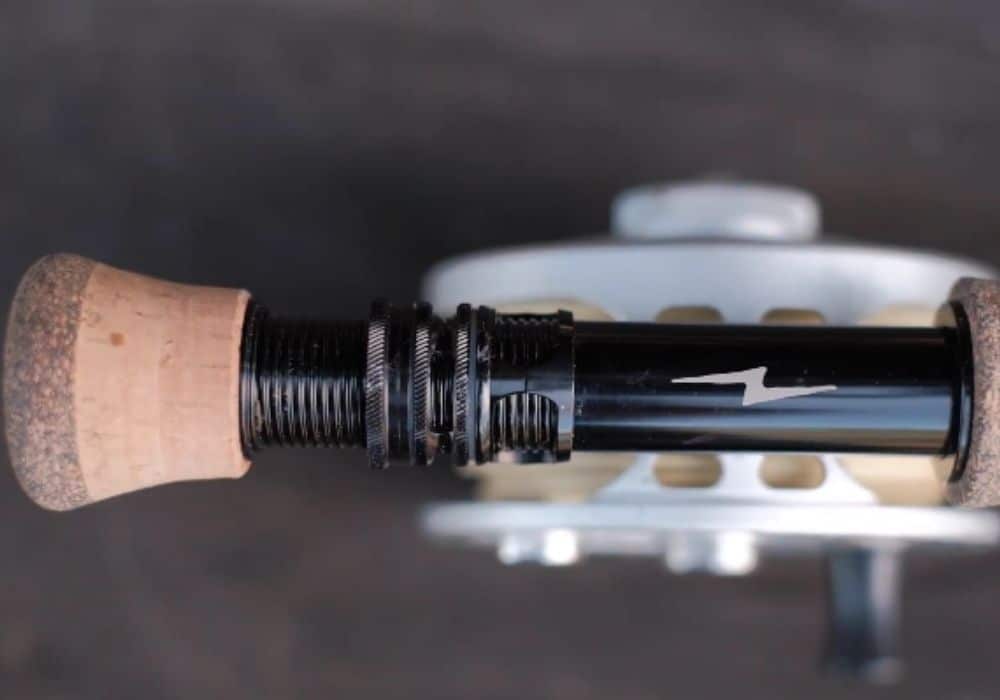 With this reel seat, your reel won't go anywhere.
Grip
The rod features a full-wells grip made from good cork. The front and rear of the grip are finished with rubberized cork rings that give it a nice accent, and this material is also more durable.
Blank
Now the blank. Would it be fine if I just say: it's bloody good? It really is. Firstly it's light. It has a good fast action, which suits the intended purpose of the rod. It has incredible pulling power for an 8wt, and it's very accurate.
It's made from a high-modulus carbon material. This, combined with the single foot guides on the rod, does result in a lot of rod noise while the line passes through the guides.
Line Guides
Talking about the line guides, the two first stripper guides have solid titanium frames with silicon carbide inserts. The rest of the guides are all single-foot light wire guides in a gunsmoke color.
Yes, these probably aren't as durable in the long run as double foot guides, but if you look after your rod and don't bash it into things, this won't be an issue.
Finish
Now the finish. The blank has a similar matte grey color you'll find throughout the Vesper series. All the line guides, hook keep, and ferrules are finished with black thread wraps and metallic orange accent wraps.
Each section has orange alignment dots, which makes setting your rod up a tad easier. One thing that I really appreciate is that, on the rod that I received, the clear coat covering the thread wraps covers the base of the line guides too.
This minor detail will prevent the ingress of water under the guide's feet, which will make the rod last that much longer.
My Personal Thoughts
So, let's look at what my personal thoughts are about the Moonshine Vesper 8wt.
Pros:
The rod is able to generate good line speed and has a really good recovery rate.
The beefy butt section gives the rod ample pulling power.
The advertised weight is 3.6 ounces, and on my little kitchen scale it came in at 3.5 ounces, which is really light for an 8wt fly rod.
I love the attention to detail that was given when the rod builders applied the clearcoat around the line guides. It just gives me peace of mind that no salt water will be able to get in there.
You get a spare tip section, which is a major plus point if you frequently travel.
Cons:
There's really not much I can fault with the rod, probably because it satisfies my expectations of what an 8wt should be. As mentioned earlier where I spoke about where the rod falls short, the only "downside" is the price of over $400.
But, having said that, remember the performance you're getting, so actually, the rod offers incredible value for money.
I would say that the other negative point for some folks, and this is why Moonshine is able to offer this rod for the price, is that the rod isn't made in the States.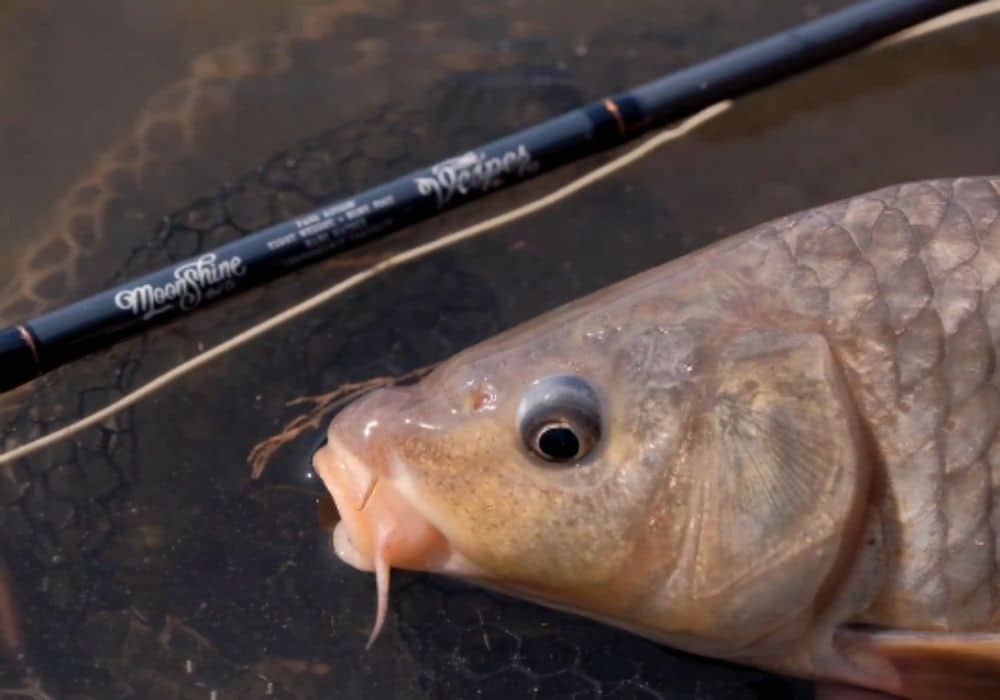 I know there are anglers who prefer fishing rods made in their home country, and that's perfectly fine, but it's just something that I wanted to state clearly.
Who Should Buy the Moonshine Vesper 8wt?
So, who should consider buying the Moonshine Vesper 8wt? The first angler I'm thinking of is a flat angler who regularly targets bonefish. Damn, this will be a good bonefish rod. It's accurate, deals exceptionally well, and you can cast it all day long.
Order the Moonshine Vesper 9′ 8wt
If you like what you see in this Moonshine Vesper 9′ 8wt review, you can order the Moonshine Vesper 9′ 8wt fly rod on Amazon.
The 8wt Vesper will also make for an excellent freshwater/saltwater crossover rod and will fare very well for fish species such as golden dorado, peacock bass, and salmon.
Conclusion
I hope that you found this review helpful, and if you have any questions or comments about the rod, please feel free to drop them in the comments section down below. We'll be on standby should you have any questions, and we'll answer them as quickly as possible.
Until next time.