This is an in-depth TFO Signature 2 review. The Signature 2 is one of the more affordable fly rods in Temple Fork Outfitters lineup. They're well priced for beginner and intermediate fly fishers, and are a more than suitable rod for any fly fisher.
I bought a couple Signature 2 rods basically as sticks I could beat up guilt free. They're my go-to carp rod, and I need something that can take abuse and has a good warranty for this sort of fishing. I've used TFO rods for most of my fishing career and the Signature 2 for a few years.
The Signature 2 rod is a good stick. It doesn't look bad at all, it casts well, and it has a versatile range of weights and lengths. It's worth a closer look to see if it's a rod that will suit your needs.
Why Trust My TFO Signature 2 Review
I've been fishing with TFO Signature 2 fly rods for a few years now. I have a 5 weight and an 8 weight model. I've caught a lot of fish on both, including carp over 20 pounds and some really large brown trout.

I've also owned many fly rods to compare the Signature 2 to. This is indeed a hands-on, tried-and-tested review of the TFO Signature 2.
What's in the Box?
The TFO Signature 2 comes in a rod sock with little else but itself, as is often the case with fly rods these days.
The Rod
All Signature 2 rods are two pieces. They're graphite rods with a green black finish and components updated from the original signature series. It's a nice looking rod right out of the package.
The Rod Sock
The Signature 2 doesn't come with a rod tube, unfortunately, but it does come in a heavy rod sock that protects it to some extent. I recommend buying a rod tube if you really want to keep your Signature 2 safely stored for travel.
Warranty Card
Every TFO fly rod I've owned came with a little card explaining the lifetime warranty and how to register the rod. It's simple, but very helpful. The warranty is, in fact, one of the biggest perks of this and any Temple Fork Outfitters brand rod.
TFO Signature 2 Review Features & Specs
With design input from Lefty Kreh, it's natural to expect good things from the Signature 2 rod series. This rod does indeed perform well. It also looks and feels good, and has a quality some rods of its price range don't have.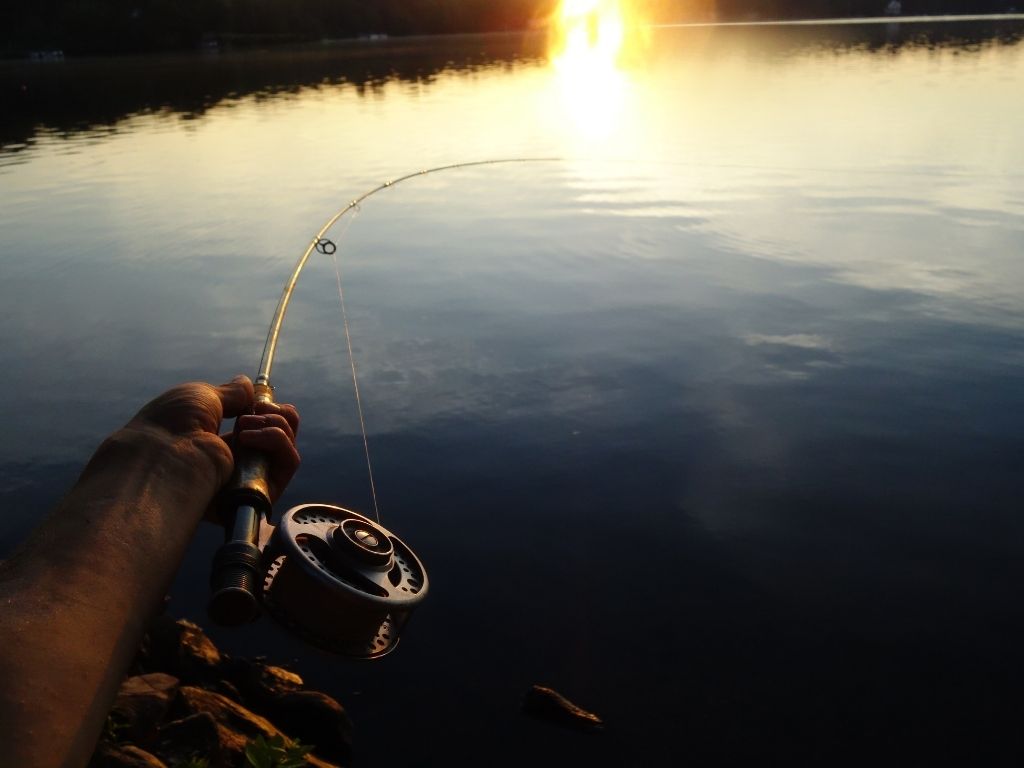 In my time fishing these rods, I've had enough time to really find out the details and get to know them, if you will. There's a lot I like and a few things I don't. This is as thorough as I believe a TFO Signature II review should be.
Build Quality
The build quality of the TFO Signature 2 is very good. The components are of good quality, the finish looks good and is even, and the cork handle holds up nicely. I like the oversized striping guides that TFO puts on their rods. I've also never had any issues with guides becoming loose or off-center.
Overall, the Signature 2 is a good looking and feeling rod that holds up well during at least a few years of use.
Weight
Physical weight: 2.4 oz (2 wt) to 4.7 oz (10 wt)
Available weights: 2 to 10 wt
The Signature 2 is fairly middle-of-the-road rod in terms of weight. It isn't overly light. This is no big issue, especially in the smaller sizes. However, casting the heaviest sizes all day could be a little bit taxing. The available sizes are a perk, though not especially atypical of TFO or other rod-makers.
Length
6′: 2 wt
7'6″: 3 wt
8′: 4 wt
8'6″: 4, 5 wt
9′: 5, 6, 7, 8, 9, 10 wt
The range of lengths and weights of the TFO Signature 2 isn't as broad as some other fly rods. However, it does cover a more than suitable range of species and types of fishing.
Warranty
TFO's excellent warranty is a big plus of buying any of their rods. The process is pretty simple. You register your rod online after you buy it. Then, if you break your rod, you simply ship it to TFO with a check for $35. Temple Fork Outfitters will either fix or replace the rod for you.
This no-fault warranty covers the blank and any damage to it. It's exclusive to the original owner. This warranty service is one of TFO's best-liked aspects.
Taper
Taper is one of the most important things that dictates how a rod casts. The blank of the Signature II has a taper more conducive to a deep bend than the Pro II and as such is a bit slower and bends deeper. The butt section looks much beefier. It's a good casting taper though, especially for a rod of its price.
Action
The TFO Signature 2 is rated "mod-fast" by TFO, but personally, I'd call it much more moderate than fast. It's definitely a tad on the slower side for a modern graphite rod. I love really fast rods for a lot of my warmwater and saltwater fishing, and on occasion the action of the Signature has bothered me a little, but if you aren't looking for something very fast it would be a fine match.
When trout fishing, especially dry fly, dry dropper, or indicator nymphing, the action of the Signature is very appropriate.
Accuracy
With most modern fly rods, accuracy is consistent enough that any faults are that of the caster, not the rod, at least in close and mid ranges. That is certainly the case with the Signature 2. It's more than adequate.
At close and mid range, it's easy enough to get a fly where it needs to be. A beginner can easily use this stick to hone their presentation skills.
I've had more trouble at long range with some other rods, but I believe this is because I'm more adept with slightly fast action fly rods. I've used the Signature 2 for a lot of carp fishing and have had no problem getting flies in front of fish from a rod length to 50 feet away.
Distance
I consider the Signature 2's casting range adequate. I've turned out 80 to 90 foot casts with both of mine when the situation allowed. Matching it with a slightly heavier line than it's rated for can get a bit more distance. I've also been able to turn over some long roll casts with the Signature 2.
Don't expect this rod to increase your distance dramatically if you're still learning, but it's better than some rods on the market.
Durability
Overall, the TFO Signature 2 seems sturdy enough. The handles on mine have held up a bit better than those on my Pro 2s, though I've used the latter a lot more. The components are durable as well. The blank itself seems plenty durable on the whole, though I've broken both my 8 weight and 5 weight in ways I wouldn't typically expect to break a fly rod.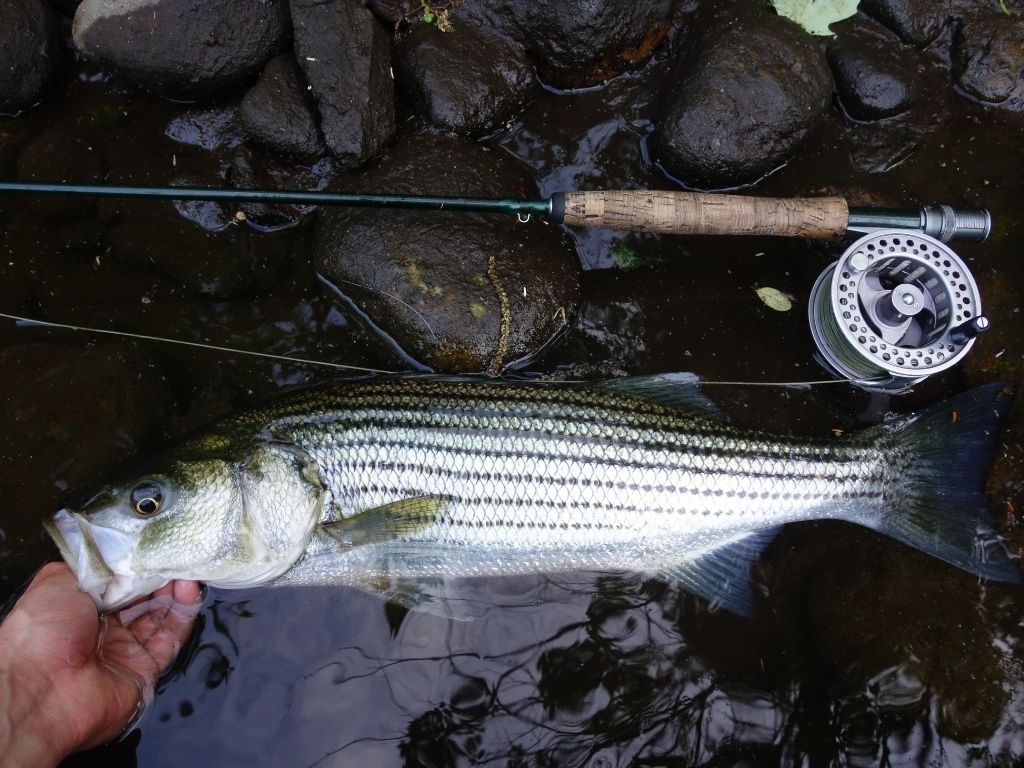 The tip of the 5 weight once snapped while I was rigging it. My 8 weight broke from merely falling a couple of feet. Considering that my 10 weight Pro 2 survived falling out of a rod rack atop an SUV mid-drive, this does seem a bit odd to me. However, some rod impacts by heavy flies could be to blame. My 8 weight held up well when I put the iron to large fresh king salmon with it.
Versatility
The Signature 2 lineup covers a good range of fishing types. The smallest model, the 6′ 2 weight, is very appropriate for small mountain stream wild trout. The largest of the series, the 10 weight, could be used for most inshore saltwater and small offshore fish species.
The length ranges aren't particularly noteworthy, so there aren't really any niche models in the Signature 2 series. They're appropriate for a lot of trout, warmwater, and lighter saltwater applications. The components don't seem to suffer any more from saltwater exposure than any other fly rod I've owned.
Aesthetics
The Signature 2 is a nice looking rod. The grip and accents look like they're matched with the anodized reel seat. The clear green blank finish and gold lettering are lovely. Interestingly, the Signature 2 is a prettier looking fly rod than the more expensive Pro 2 .
Personally I don't put a ton of stock into how a rod looks if it accomplishes what I need it to, and that's the case for the Signature 2. It looks good, but what matters more is that it's a good fly rod.
Grip
The cork handle on the Signature 2 is fairly run of the mill. It isn't so full of filler that it falls apart quickly, but over time with a lot of use it'll definitely begin to wear. I like the black foam end on the handle, and it does look nice on the fighting butt. The shape is appropriate and comfortable.
Reel Seat
The reel seat is up-locking and anodized aluminum. It looks good and is durable enough. I've had no issues with the reel becoming loose throughout a day of fishing. As the lockers unscrew, they stay tight. Nor have any parts worn or loosened since I bought the rods. It does what it needs to do.
Affordability
The Signature 2 is a very affordable rod for most fly fishers. It's well placed in the TFO lineup. It's best as a beginner or intermediate rod, but it's not out of place in an experienced fly fisher's arsenal either. The Temple Fork Outfitters Signature II fly rod typically runs about $130 to $140.
There are certainly less expensive beginner rods and even full outfits. However, they typically aren't as good, either.
Fish Fighting
Due to its somewhat slower action and some flex down in the butt section, the Signature 2 has a little less power for fighting fish than some rods. You can feel it if you've been fishing a stiffer rod and switch over. I was using my 10 weight Pro 2 one day for stripers and decided to switch to my 8 weight Signature 2 for a bit.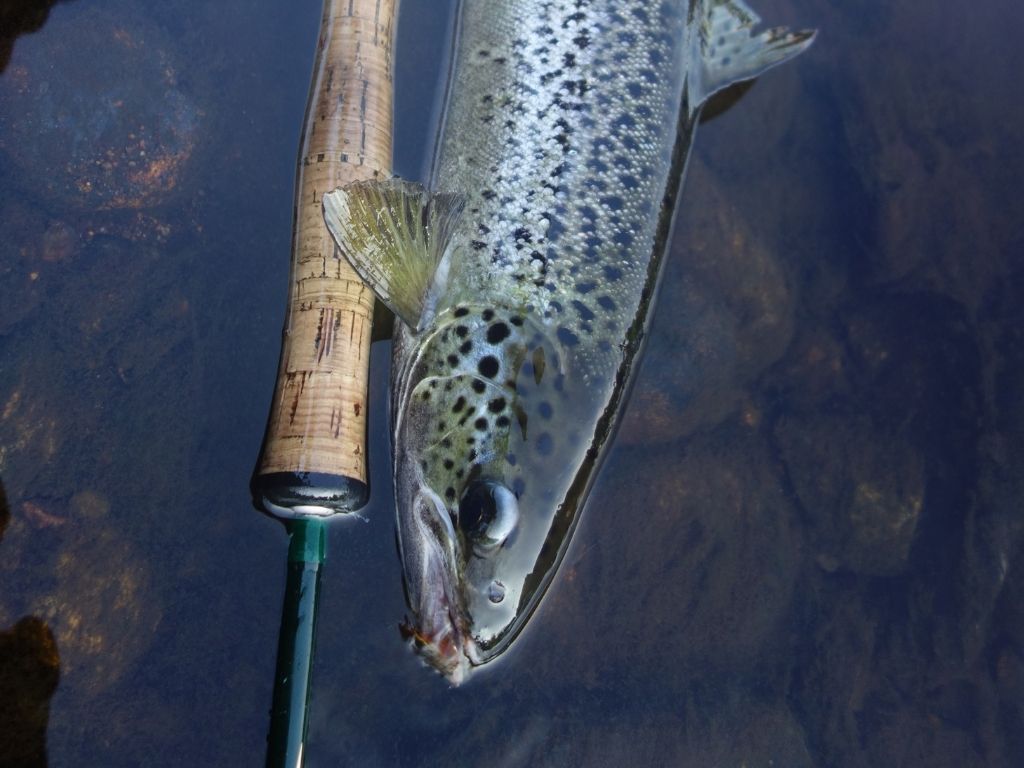 I was immediately struck by how much more I had to work to land the next fish I hooked. I saw that the rod bent deeper than the 10 weight. That doesn't mean it's bad, but you need to be more conscious when fighting big fish.
TFO Signature 2 Review: My Personal Thoughts
Pros:
Affordable
Good build quality
Effective casting and accuracy
Excellent warranty
Cons:
Rated a bit higher than its actual action
Soft in the butt section
Doesn't come with a case
Having fished Signature 2 rods for a few years and for a lot of species, I like this rod. For me, my 8 weigh's sweet spot is large trout on streamers and warmwater fish. I very much enjoy it for carp fishing and at times for sight fishing striped bass.
As a nymphing rod, my 5 weight is a poor performer tight lining but outstanding for sight nymphing or indicator nymphing. It has enough backbone that I sometimes use it for schoolie stripers. It's most ideal with large bass and walleye.
The quality matches the price. Of course, these rods are much more appropriate for beginners than seasoned anglers. The action rating is a little off, but that isn't uncommon. It'll fit perfectly with anybody who's used to casting moderate action fly rods.
Conclusion
The TFO Signature 2 is a good inexpensive fly rod. It's perfect for beginners and also not a bad backup for those with a bit more experience too. This rod has a good range of uses and casts well. It holds up to a lot of use, although it's important to take some measures to protect it when traveling. It's unfortunate that it doesn't come with a rod tube.
I certainly recommend the Signature 2, especially to beginners or those just looking to branch out to a new brand without breaking the bank. I hope this TFO Signature 2 review helps you decide whether it's the right rod for you. If you have any experience with this rod, feel free to comment below!