As an Amazon Associate I earn from qualifying purchases.
Some call Euro nymphing the purest form of fly fishing. Nymphing is a popular method of fishing used in world championships over in Europe, and the best fly anglers in the world swear by these techniques. As a result, the gear necessary to try it often have high price tags.
Redington saw a gap and created a rod that gives anglers a chance to Euro nymph with more affordable equipment. The Redington Strike is less than $300 and performs as well as some of the higher-end Euro nymphing rigs.
Shop The Redington Strike
View the Redington Strike and compare prices on AMAZON.
Spending years fishing in the western United States has allowed me to interact with some of the most talented anglers in the world. Odds are, however, that they're using equipment that's way beyond most people's price range. It's reassuring to find a Euro nymphing rod that will perform well in a great price range.
In this Redington Strike review, I'll describe the rod and tell you all about my experiences fishing with it. I'll mention where I think it shines and where it may fall short.
Why Trust My Redington Strike Review?
At Into Fly Fishing, we only review gear that we've personally used. Redington sent this rod to be tested, and I was given the opportunity to do a full review with no expectations.
I used this rod for several weeks on some narrow mountain streams with heavy vegetation along the banks. These are tough conditions for any rod, and it gave me the chance to really learn what the Redington Strike is capable of. I truly enjoyed the process of learning the ins and outs of it.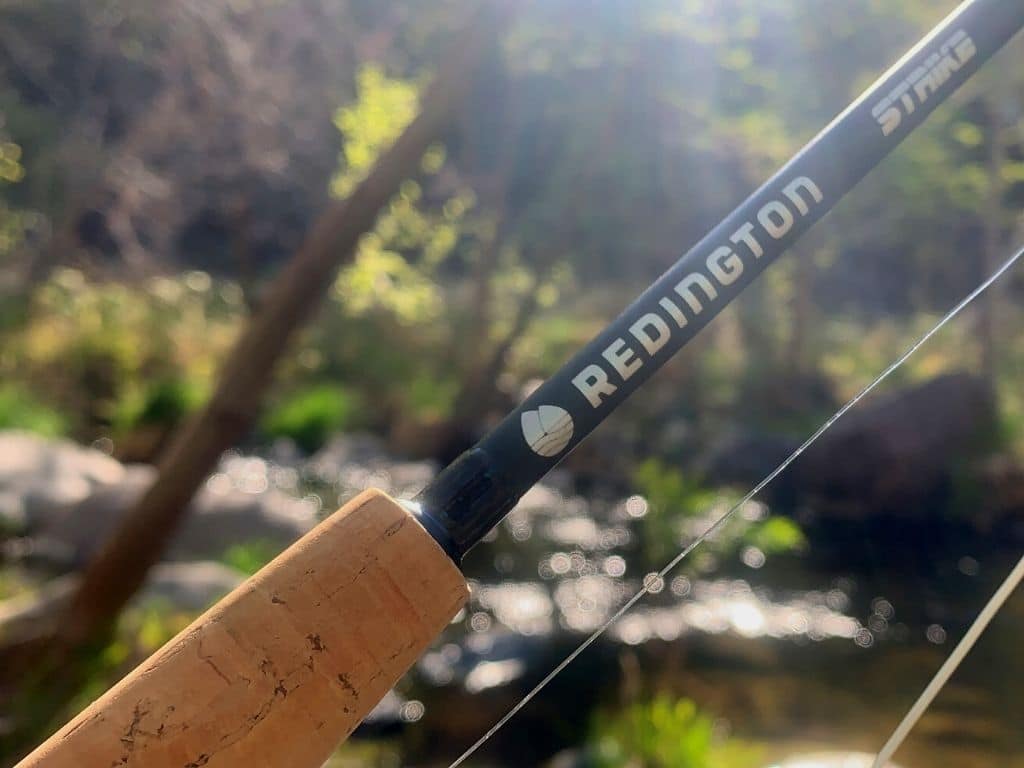 I've been Euro nymphing for several years and have had the chance to test some extremely high-end equipment. Because of that, I had plenty to compare this more affordable rod to. So, how did it stack up?
What's in the Box?
When you receive the Redington Strike, you'll get a rod tube as well as the rod. The rod tube comes with four slots in it to keep your rod separated and protected. You'll also be able to travel fairly easily with this rod.
The rod tube is slender and light. It can easily be attached to your pack and put in tight quarters somewhere in your vehicle. Too many Euro nymph rod tubes are large. A 4-piece 10 or 11 foot rod in a 2.5 inch rod tube feels bulky and difficult to carry. Redington did well with the sleek design.
Redington Strike Review Features & Specs
The Redington Strike is a fairly new design from Redington. They're well-known for creating affordable fly fishing gear and kept the theme with the Redington Strike. However, it has all of the necessary features to perform as a high quality Euro nymphing rod.
Build Quality
The Redington Strike is built with a CNC machined, anodized aluminum reel seat to ensure that it will last for years. It also has single-foot guides as well as epoxy-coated section tips to prevent any unnecessary sticking. All of the details of the rod were created to allow for sensitivity and stealth.
Weights
You can purchase the Redington Strike in both a 3 or 4-weight. The available lengths for the 3 weight are 10′, 10'6″ and 11′. Depending on your needs, there's likely an option for you. The 4-weight lengths are 10′ and 11′.
In Euro nymphing, length can make quite a bit of difference, so make sure you understand the water you're fishing and how to best tackle it. It may require some contact with a local fly shop or expert, but Redington does have an option that will suit you and your needs.
Warranty
The Redington Strike comes with the lifetime warranty that Redington places on the majority of their gear. These lifetime warranties are especially reassuring for diehard anglers because they know the importance of being able to fish a rod hard without worrying about potential damage to the rod.
Action
In Euro nymphing, the action of a rod can cause all sorts of controversy. Redington created the Strike model to be a medium-fast action rig. Quite a few Euro nymph rods are fast action, but Redington felt that they needed to fill a need amongst the medium action community.
I noticed that this rod was definitely a bit slower than a fast action rig, but the rod made up for it with its sensitivity. The rod is impressively sensitive. I was able to detect every small strike no matter the speed of the water or distance of the cast. Also, I was able to feel when my nymph was moving along the bottom of the water column.
I was able to use very light tippet, which was necessary because I was mostly fishing gin-clear streams that required as much stealth as I could possibly manage. And even though I was using a light tippet, I was able to still be somewhat aggressive with my fighting. The guides are created to allow for head shakes and long runs, and I got plenty of those while fishing with this rod.
Action (cont.)
One complaint anglers may have with the more sensitive tip is that it can be a bit delayed when you set the hook. It's a slight difference and you likely won't notice it when you're looking to make a strip set. I barely noticed it myself, and only because I was looking for anything noteworthy about the rod.
Versatility
Versatility is not something anglers often think about when it comes to Euro nymphing. However, because it's a medium action, you can fish it a couple different ways. Obviously, a Euro nymph line will work, but you can also use a mono-rigged leader for dries.
Streamers, nymphs and dries are all options with the Redington Strike. Depending on the conditions, you can likely make this rod work for your next fishing excursion.
Grip
The grip on the Redington Strike is what sets it apart from many more affordable rods. It has an extended grip that's 8.5 inches! This is an amazing feature that creates a much better balance. In Euro nymphing, balance is absolutely necessary.
With the longer grip, you don't have to get too creative with finding a proper balance. You can use a reel in a somewhat similar weight class to make sure you're good to go and can cast exactly how you'd like. You can place your hand higher or lower on the grip to get more or less power on it.
Because the handle is about two inches longer than a traditional fly rod grip, you'll have ample opportunity to make it work for you.
Aesthetic
The aesthetic of this rod is great. Redington chose to keep the shine off and use a matte black design. It looks extremely sharp. I didn't get glare on the water that spooked fish, and it paired well with almost any color reel. Let your line and reel make the design statement. The Strike is okay sitting in the background.
See more: Redington Vice Review
Redington Strike Review: My Personal Thoughts
The Redington Strike is a beautiful rod. There are numerous pros of the rod, and it's one that I'll definitely keep in my arsenal.
The grip on this rod is truly a game changer. Depending on the cast I needed to make or the mend that was necessary, I could adjust my hand placement and accomplish what was necessary. Also, I could use a more reasonable reel that allowed for a better balance and more normal appearance.
The price of this rod is absolutely one of its best features. For $299, you'll struggle to find a Euro nymphing rod that performs as well as this one. It's not going to break the bank by any means, and you'll have a lifetime warranty that'll let you be more aggressive with it.
The feel of this rod is another pro. I was able to toss nymphs, dries and smaller streamers with this rod. I never once felt like my fly overmatched my rod. I could make 20 or 30 foot casts with no trouble whatsoever. Also, short little casts were quite possible.
The main con with this rod is that it can feel heavy. Other anglers have said this, and part of it does ring true. With the extra weight, some anglers have to pair a somewhat heavier reel to make sure it balances properly. Do yourself a favor and try a few different reels with it before you make your final decision.
Overall, I'm a big fan of the Redington Strike. Euro nymphing isn't my go-to fishing method, so I often need a more forgiving rod when I choose to do it. The medium fast action saved me every time I took it out on the water. I was able to miss my casts a bit, but could mend and maneuver the rod quickly to make it fix my mistakes.
I was able to make every cast I wanted and had a blast doing it. I also think I looked pretty good doing it as well. The matte black appearance is one of my favorite designs that I've ever seen.
Many rod companies are getting flashy with their gear, and I appreciate the subtlety of the Redington Strike. It's an understated look for a superior rod.
Conclusion
I have no qualms about recommending this rod to anglers. If you're new to Euro nymphing and want a quality rod without breaking the bank, this is the perfect option for you. You'll find that it'll meet all of your needs and then some.
Shop The Redington Strike
View the Redington Strike and compare prices on AMAZON.
I can say that I definitely enjoyed my time with the Redington Strike. I don't anticipate ever feeling as if I've outgrown it or need to move on to something different. I expect it to keep up with me as I gain skill and continue to learn the art of Euro nymphing.
Amazon and the Amazon logo are trademarks of Amazon.com, Inc, or its affiliates.
As a part of the Amazon Associates Program and other affiliate programs, Into Fly Fishing® may receive a comission if you order products through links on this website.