When looking for the best fly tying kits, you should keep in mind what type of flies you plan on tying. Are you looking to target trout, warmwater species such as bass, or do you prefer throwing flies to saltwater fish?
Also, are you an experienced tier who knows what you're doing, or are you new to the art and looking for your first kit? Below, I'll go into depth about a few different kits as well as the different materials in them.
Compare Fly Tying Kits
Image
Title
Best For
Price
Buy

Top

Top

Top

Scientific Anglers Deluxe
Best Overall
Buy Now

Top

Top

Creative Angler Wooden Station
Most Complete
Buy Now

Top

Top

Gunnison River Deluxe Fly Tying Kit
Best Budget
Buy Now

Top

Top

Colorado Anglers Z797 Wooden Kit
Best Self-Contained
Buy Now

Top

Top

WETFLY Deluxe Fly Tying Kit
Best For Wet Flies
Buy Now
Product prices and availability are accurate as of the date/time indicated and are subject to change. Any price and availability information displayed on [relevant Amazon Site(s), as applicable] at the time of purchase will apply to the purchase of this product.
Prices pulled from the Amazon Product Advertising API on:
If you're looking for fly tying kits, I'll explain important things to look out for, how to tell if you're purchasing a good fly tying kit, and how to know if it has everything you'll need for tying flies.
Disclaimer: IntoFlyFishing.com is a participant in the Amazon Services LLC Associates Program, as an Amazon Associate I earn from qualifying purchases. Please see our Privacy Page for more information.
Best Fly Tying Kits
No matter what your experience level, you should find something below that will help you pick out the perfect fly tying kit for you.
1. Wet Fly Deluxe Fly Tying Kit
Pros: Great starter kit, solid price point
Cons: Not all materials included. Not a stable vise
The Wet Fly Deluxe Fly Tying Kit has everything you need to start tying your own flies. Its low price won't break the bank either, making it perfect for someone who wants to dip their toes in the fly tying world.
Pros and well-seasoned tiers might not find this kit particularly useful, but there are some materials that they could salvage and use in their own kits. Perhaps the instructional DVD could serve as a refresher.
As the name of the kit says, this is a wet fly box only. You can learn to tie different nymphs and baitfish imitations with it. The majority of a trout's diet is subsurface anyway. We know dries are great, but you'll catch more fish below the surface.
Along with this kit, you also get a book and DVD. These cover the basics of how to get started tying flies and could work great as a refresher for an intermediate or expert tier.
2. Colorado Anglers Z797 Fly Tying Kit
What's included: Vise, bobbin, threader, twister, hackle, pliers, scissors, whip finisher, hooks, dubbing
Pros: Book and DVD, can tie all different types of flies
Cons: Poorly made vise, bobbin can come loose
With the Colorado Anglers Z797 Fly Tying Kit, you can decide among three different options: a standard kit, a standard kit plus DVD, or the kit plus the book and DVD. This review will focus on the kit, book, and DVD.
This kit features a vise with a built-in base and seven different tools you can use to enhance your fly tying experience. This would be a great starter's kit or an even better traveler's kit for a novice or pro tier.
This kit is very light and extremely compact. It's ideal for sticking in a bag and carrying with you to the stream or destination of your choice.
This kit comes with material that will allow you to tie both dries and wet flies. You could even tie a few small Woolly Buggers. The kit itself will work for tying small streamers, but that doesn't come included.
3. Gunnison River Deluxe Fly Tying Kit
What's included: Materials to tie 32 flies, five tools, vise, instructional DVD and book
Pros: Good price and a solid starter kit
Cons: No wire or cement. May need to purchase some extra materials
Along with all of the gear that you'll be getting with the Gunnison River Deluxe Fly Tying Kit, you'll also get a tough and durable carrying case. This will allow you to stow it safely at your home or even take it on the road with you as a travel tying kit.
The book and DVD will show you how to tie three of the most popular flies in fly fishing, making it great for a beginner. It's also a great way to save money, as you now won't have to continuously spend money on flies at the fly shop.
In total, the kit weighs around 4 pounds, meaning you can quickly and easily transport it anywhere. The materials provided also allow you to tie up to 32 different types of flies. It's enough to get you started and out on the water.
4. Scientific Anglers Deluxe Fly Tying Kit
What's included: Chenille, peacock herl, dubbing, hackle, thread, hairs, yarn, cement, fibers
Pros: Everything you need to get started. Includes hooks
Cons: Not the best material. Upgrades will be needed if you become a serious tier.
Containing a C clamp vise, the Scientific Anglers Deluxe Fly Tying Kit is perfect for setting up at home. Strap it onto a table or workbench that can accommodate the size. The rotating head of the vise allows you to work at whatever angle you need.
The kit itself comes with everything you need. A few odds and ends may need to be purchased, but overall you'll be able to get started tying right when you get the box. It's arguably one of the best kits for fly tying. It's definitely one of the best beginner fly tying kits.
The DVD it comes with will help any beginner get started with tying, while the number of materials it comes with will be perfect for a pro looking for a backup kit or something to travel with.
With this kit you'll be able to tie streamers, dries, nymphs, and wet flies. You'll be able to tie whatever you need, and it'll all come from this one kit.
5. Creative Angler Wooden Fly Tying Kit
What's included: Vise, tools, tying material, DVD, book
Pros: Comes with table and C clamp vise. Beautiful wooden finish
Cons: Unstable vise, price
One of the pricier models on this list, but also one of the best kits for fly tying, the Creative Angler Wooden Fly Tying Kit comes equipped with everything you need as well as a strong and durable wooden tying station.
It's equipped with a C clamp vise as well as one with a base.
Use this is as your primary kit for tying, or even take it on the road with you. The kit comes with 11 different fly tying tools that you can use to help you advance your tying.
It's a larger station, so transport could be an issue, but it gives you a strong base that you can use to store your equipment.
Features of the Best Fly Tying Kits
Now that I've gone over some kits, below I'll go into more detail about the different types of accessories that your kit will come with.
I'll cover boxes, tools, materials, vises, and much more.
Vise Grip
There are two different types of grip for vises. They are the collet and the lever type. The lever type is also called the parallel clamp. A collet uses a one-piece jaw that works as a pair of tweezers.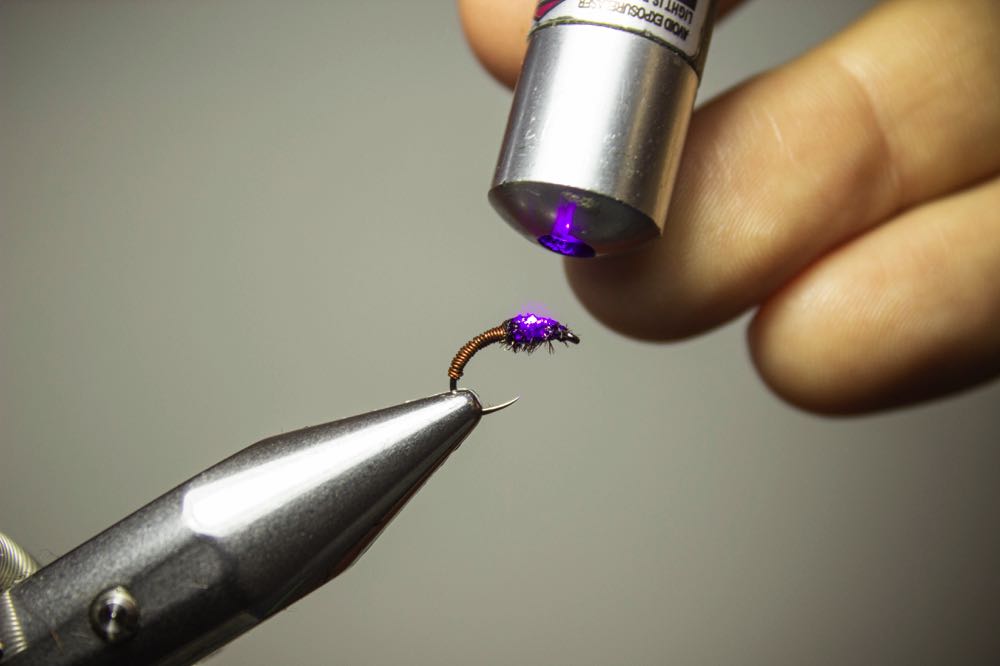 The collet style means that the jaws are pulled into the collet. This is like a metal collar that sits behind the jaws, and you push it up to ensure a secure fit around the hook you're tying your fly to.
Choosing a grip type is all personal preference. Whichever you enjoy most will be the most efficient.
Vise Mount
There are two different types of mounts for your vises. They're the C clamp and the base mount. The C clamp is best used at home on your permanent work station. It can be attached to anything with a lip.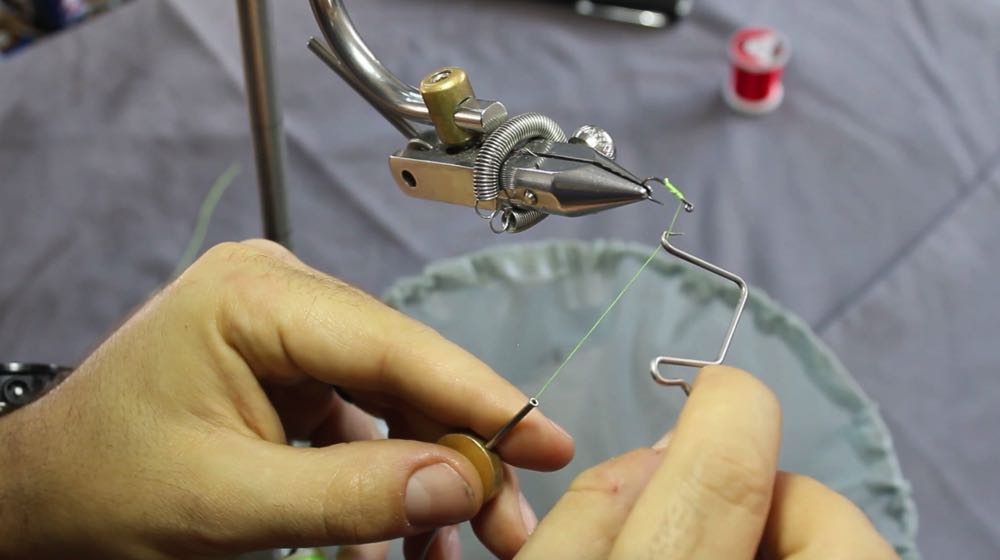 The base mount is best used for travel. Since you don't know where you might need to tie a fly, it's helpful to know that all you have to do is set it on the ground and you've got a tying station.
Bobbin Holder and Bobbin Wire Loop
A bobbin holder is a very useful and very simple tool. It has two wire legs that grab the spool of thread and using tension, it feeds the thread through a tube. This allows you to control the amount of thread used on a fly.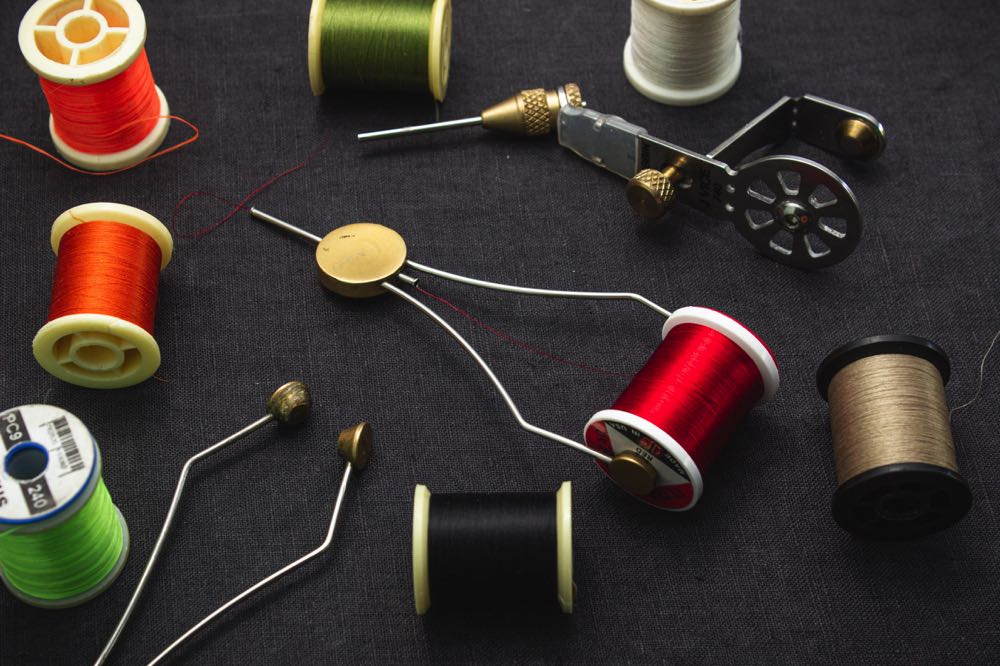 Because of the tension, you could even let the thread and bobbin dangle underneath your fly when you're tying it. This allows you to hold the thread and not have it bunch up on the table in front of you.
Hair Stacker
A hair stacker is used in tying Elk Hair Caddis, stimulators, and other bushy flies. It's used to help even the tips on the hair on your fly, maintaining a full and even look on your flies.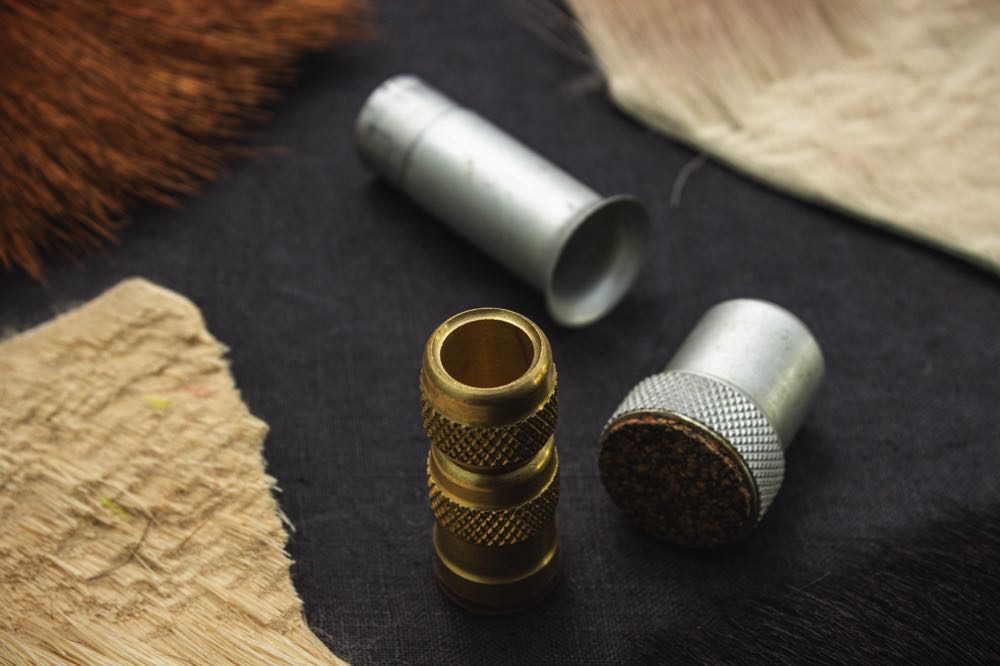 Use it with any type of winging or hair. Elk, deer, squirrel, moose, or even calf will work well with this device.
Threader
Instead of having to thread a bobbin by hand, you now can just use this piece of equipment. It makes it much easier and takes all of the frustration out of having to do this every single time you tie a fly.
This tool isn't really something you need to have. However, it can make your fly tying experience more fun and much more hassle-free.
Whip Finish Tool
This tool is used to tie off a fly. It can look a little strange if you don't know what it is, but it's a great piece of equipment to add to your tying kit.
Basically, it ensures that your fly doesn't completely unravel when you're fishing. It ensures you can get a decent knot tied. It's possible to do this without this tool, but it makes it much quicker and easier.
Hackle Pliers
Hackle pliers are used for grabbing a feather and twisting it around a body or shank. They give you a better grip than just using your fingers and allow you to dictate the position it is laid.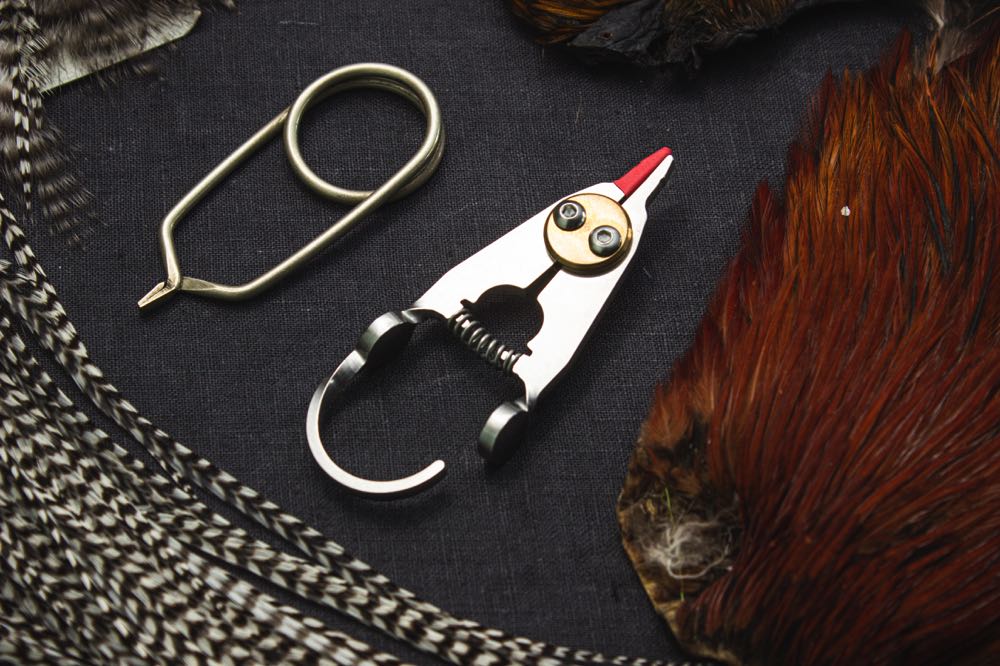 For some flies, this tool is essential. For others, you don't really need it. It all depends on what you enjoy using as a fly tier, and if you think it'll help then it's best to have one in your kit.
Scissors
There are several different types of fly tying scissors out there. Each one is made for cutting a different type of material on a different type of fly.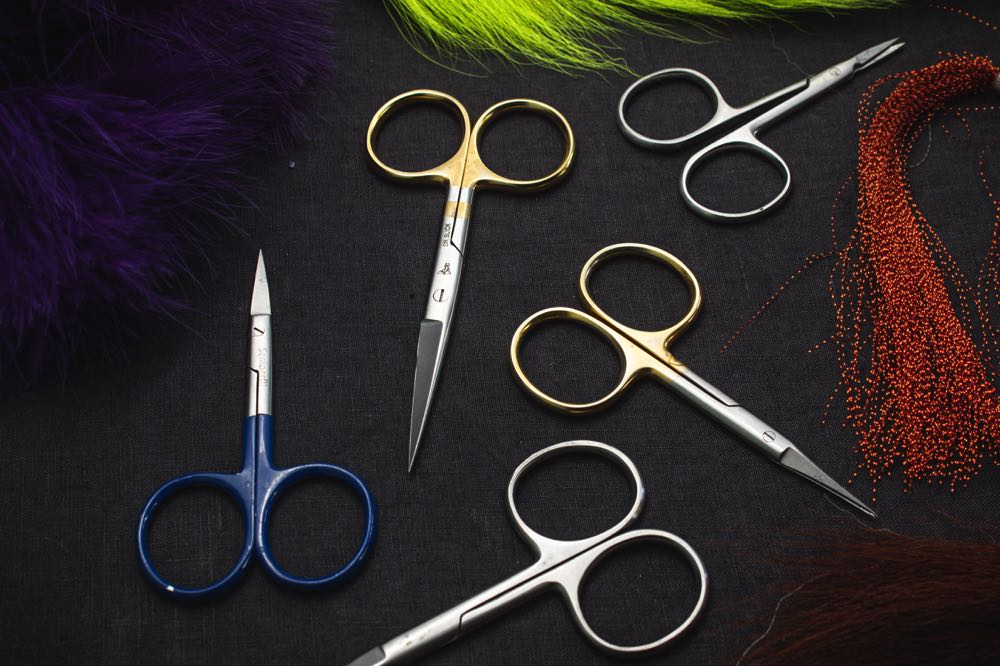 You'll have to sit down and think about which material you'll be using and then match that scissor type to the material used.
Dubbing Twister
This is exactly what it sounds like. It's used in tying and twisting dubbing. Making a durable dubbing is important when you're fly tying, and this tool will help you achieve that.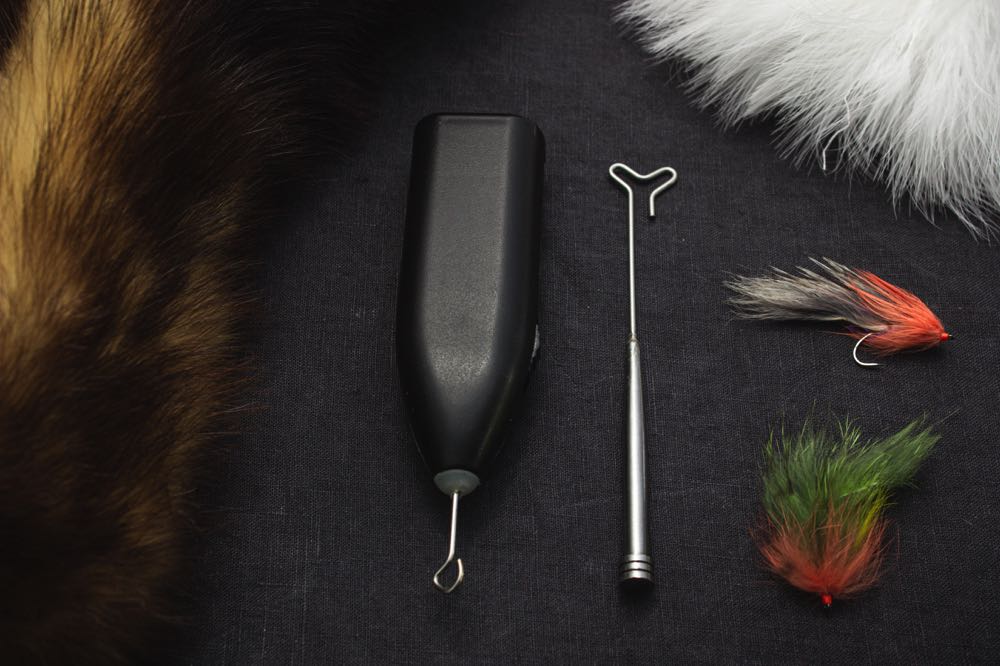 To use this, you need to make a loop of thread and put it through the dubbing twister.
Dubbing Needle
A dubbing needle comes in handy during several different times on different types of flies. The needle tip is bent, and that lets the tool apply the correct amount of head cement on the fly.
The bent needle also makes it easy to tease out the dubbing. There are some dubbings that are way too thin to thread a needle through by hand, so the needle will take all of the work out of it.
Thread
There are three different types of threads that are the most popular in the fly tying world: nylon, polyester, and kevlar. Nylon and polyester are cheap and strong, making them ideal for tying flies.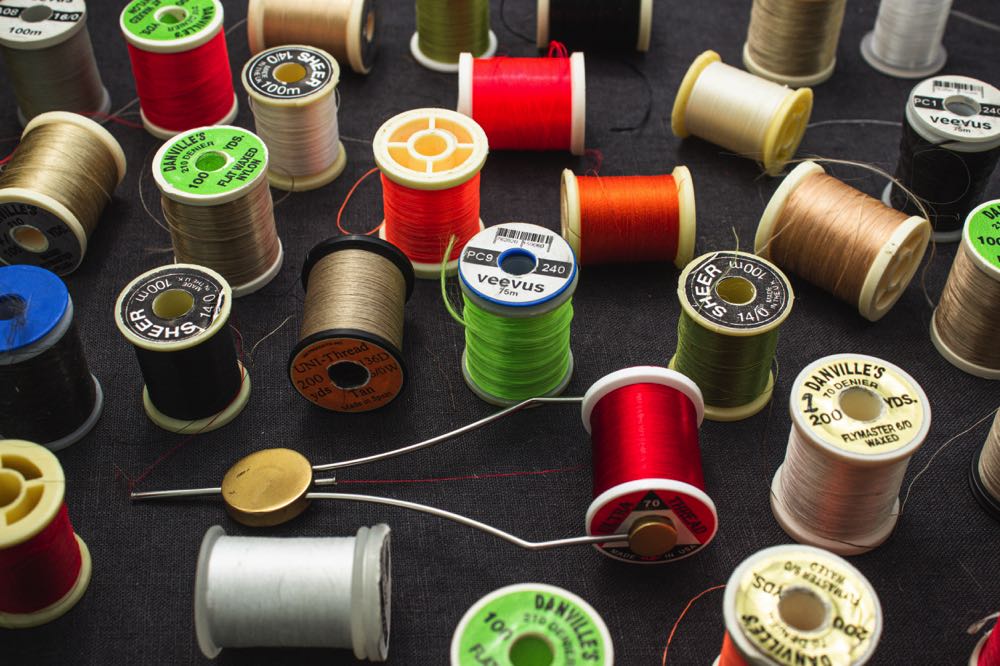 Kevlar is tough and has no stretch to it. It can be a pain to work with, but it's great for using on certain types of flies, specifically, large flies or ones made of synthetic materials.
Feathers
Feathers can be used for all sorts of different reasons in fly tying. Mostly, they're used to give the fly a little bit more of a life-like action that fish seem to really respond to.
They can be used as leg imitations, on streamers and wet flies, and to give a little extra pop of color to the fly itself. It's a great piece of material to use on a fly.
Beads and Wires
Beads are typically used in different wet flies or nymph patterns. They're usually placed at the head of the fly and have some weight to them, so they can sink at a faster rate and get into the strike zone quicker.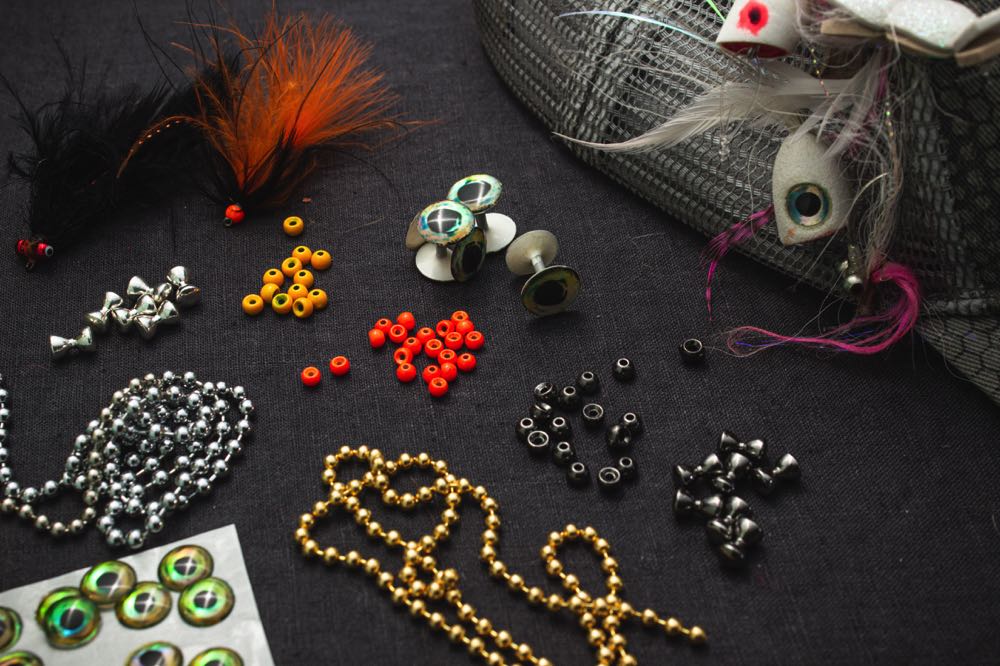 Wires are used the same way. Instead of having a heavy bead head, you can get a weighted wire. This is wrapped around the shank of the hook. Then the material is placed over it. It also weighs the fly down so that it gets in front of the fish's face quicker.
Review This Post
Go Buy the Best Kits for Tying Flies!
Buying a fly tying kit can be a great way to get started tying your own flies. There's no need to worry about purchasing equipment you don't need, as everything you need is already in the kit.
It can also be great for people looking to take the next step in fly tying. If you're a beginner with a few pieces of material and equipment, you can now upgrade and have a whole kit for yourself.
Now that you know a little bit more about what kind of kits are out there and what the materials are, go out and buy one yourself. Hit up a local fly shop, outfitter, or check out a store online.
Like This Article? Pin It!