As an Amazon Associate I earn from qualifying purchases.
In this article we'll be checking out the Nahka Michelin Soled Wading Boots by Vision.
Let's get into it.
Vision Nahka Michelin Wading Boots Review
I've had the Vision Nahka Michelin Wading Boots for probably about six months now, and I've been fishing them extensively in Europe.
I've been on small rivers and streams as well as large rivers. I've fished them on gravel spring creeks and also on big boulders and slippery rocks.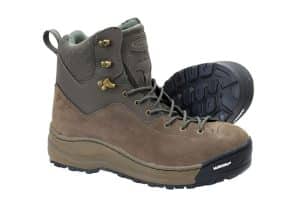 Vision Nahka Michelin Wading Boots
If you like what you see in this Vision Nahka Michelin Wading Boots review, you can order the wading boots on Vision.
I've given them a good run, and I have a good idea of how they feel and how they fish. If you're thinking about picking up a pair for yourself, check out this Vision Nahka Michelin Wading Boots Review.
Vision Nahka Michelin Overall Construction
First of all, let's talk about the construction of these Vision Nahka Michelin Boots.
We'll start with the sole. This is what Vision is trying to sell with these boots. They have a Michelin tire sole.
On Vision's website, and on any website that you read for wading boots that have Michelin soles, whether they're Orvis or whoever makes them with Michelin, they say that if they can grip a road, they can grip rocks.
In my opinion, the grip is ok. We'll get into that a little bit later. But what I do really like about these boots is how sturdily they're built.
They're really nice. There's double and triple stitching on almost all the seams, and they're also glued under that as well. They really do look like they're going to last.
I've already waded a lot with them. I've been fishing a lot with them, and nowhere on the boot is any of that glue tearing up or anything like that yet.
I think that's because many boots just have glue, or many boots just have stitching. But Vision has decided to go with a really durable makeup here.
They've triple stitched most of the seams, and they also glued underneath that. You end up with a pretty sturdy-looking boot.
On the sole, besides it being Michelin tire material, they say it's inspired by the Michelin LTX A/S tire, with modifications targeted to make it specific for wading for better grip.
There are some recessed positions on the sole for tungsten carbide studs. If you wanted to put studs in the bottom of the boot, you could.
Basically I find that the sole of the boot is just beautiful. It's on there really nice. It's not going to lift off of the boot, and it's super strong. It feels like a really well-built boot.
The laces go all the way down to low on the boot near the toe. With one tight pull, you can tighten the entire boot. You can get them on and off really quickly.
They also have super strong metal lace keepers on the side. I've had some boots in the past with plastic lace keepers. After a year or a season or two, they'll start to bend, and then when you go to tighten the boot, they just snap off.
It's nice to see that Vision opted for really strong metal lace hooks. It does make a huge difference with the confidence you have when you're tightening up the boots super tight.
How's the Grip of the Vision Nahka Michelin Wading Boots?
Now I'll talk about what everyone wants to know with a new wading boot. How's the grip?
Like I said before, the Michelin tire boot soles are supposed to be superior in grip. I find them to be the same as any other sole.
What I do like about the Vision Nahka Michelin Wading Boots is that the sole is a little bit softer. When you're walking on slippery rocks that are sharp, they dig in a little bit, and you get a better grip that way.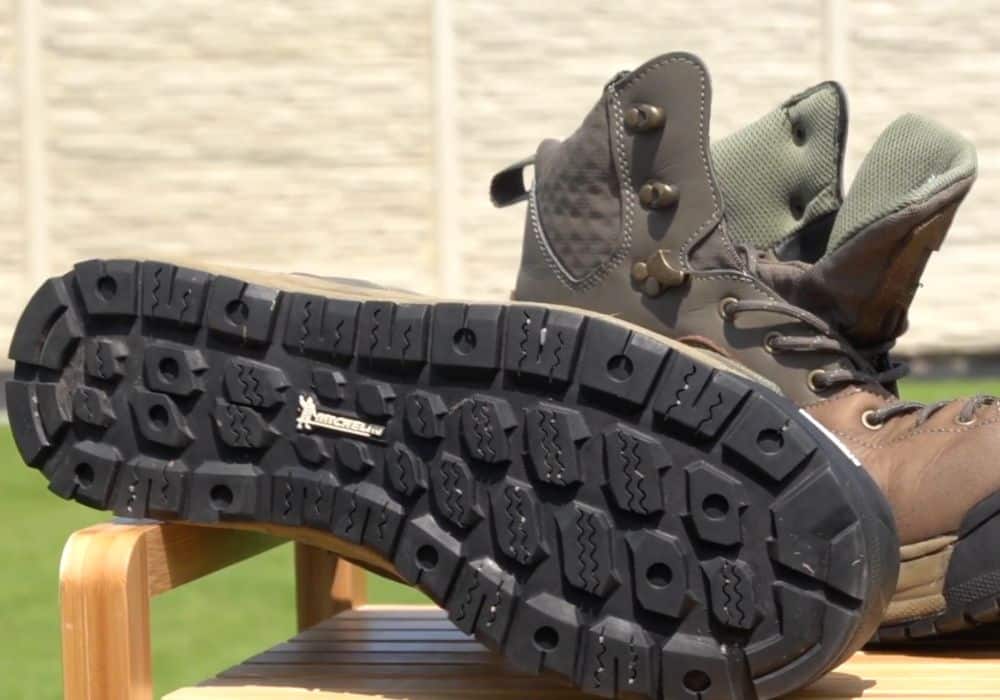 But if you're walking on circular stones in the river, don't expect the boots to hook onto them and keep you from sliding around.
If you want to have that kind of grip on a stone creek, where there's algae on the rocks or they're really slippery, you'll want to go with felt soles.
But in many places, felt soles are illegal because they transmit algae. So if you have to get rubber sole boots, you might as well go with ones that are Michelin.
It just means that they're built with really high quality rubber from a known brand, added on to another brand that's quite good as well, Vision.
About the Vision Brand
If you're from the US or Canada like me, you probably haven't heard of them. Or maybe you have, but you haven't fished much of their stuff, because it's hard to find in the US and Canada.
They're a brand out of Finland, and they design all their gear with competition anglers and avid anglers who really know their stuff.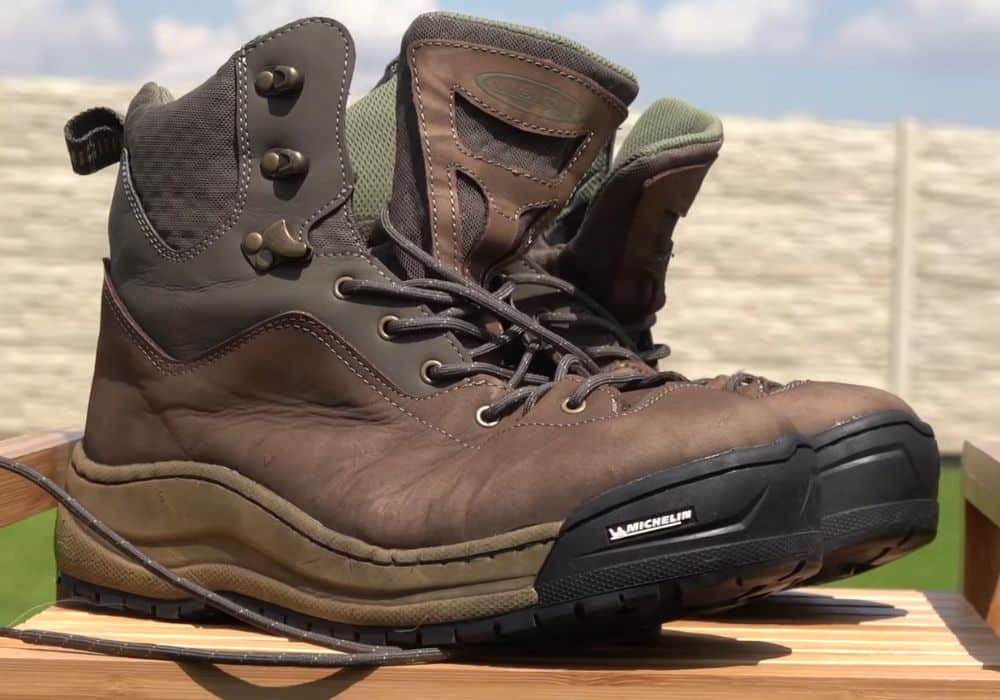 Vision started out creating cheaper gear, and now they've graduated to producing some really high quality gear. I'm fishing their Nymphmaniac Fly Rod right now, and I absolutely love it. There will be a review of that rod coming out soon, so look out for that.
So far I've been loving all my Vision gear. It's great, and so far I think that these boots are no different.
Vision Nahka Michelin Wading Boots Manufacturer Warranty
I think the warranty is one area where Vision could improve. Their warranty is basically just for manufacturer faults on these boots and I think on all their rods as well.
So, they won't cover you for wear and tear, and as far as I know, they don't give you that 60-day money-back guarantee that other companies like Orvis give you on their boots.
But if you get these boots like I did, they're in perfect shape. They look like they'll last for a few seasons at least. They're a nice boot, so you shouldn't have a problem.
It would be nice to have at least a 60-day money-back guarantee, a fish-and-try-them kind of warranty, or even a year-long warranty, so if they break down completely you can get a new pair.
But I do think that if you have an issue with the Nahka Michelin Wading Boots and you reach out to Vision, they have repair centers around. You can ship them to a repair center here in Europe and get them repaired.
In that way, they do have a pretty good warranty system. But it would be nice to have a little bit longer warranty for the boots, so you could try them out and make sure they'll last.
The Pros of the Vision Nahka Michelin Wading Boots
Next let's get into the pros and the cons, and I'll start by talking about the pros, the things that I like about the Vision Nahka Michelin Boots.
First of all, I think they're super comfortable. I have what I call wimpy feet. As soon as I put on a new pair of boots, I get blisters on my feet, and that's no different for wading boots.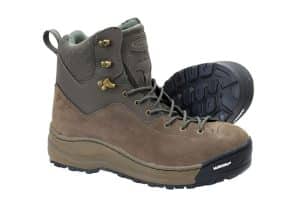 Order The Vision Nahka Michelin Wading Boots
If you like what you see in this Vision Nahka Michelin Wading Boots review, you can order the wading boots on Vision.
On my first day with these, I had a fishing guide. I put them on and wore them for something like 12 hours. I had no blisters and no problem with the boots, which is saying a lot.
You can expect that if you're getting these boots brand new for an important fishing trip, after one full day of fishing you won't have beat-up, sore, and blistered feet. Vision did a good job of padding these boots where you need the padding most.
Another pro for me is the sole on these boots. Even though they claim that Michelin boots have better grip, I don't really find that too much.
But like I said, I like the soft rubber. It does feel like it's a super durable sole. So far I've been hiking on them a lot, and I don't even see any wear and tear after three months.
The overall durability is a massive pro. I haven't fished them for two or three years yet, like you'd probably want to see, but I wanted to get this review out for you after fishing them pretty extensively. I think that they're durable.
Lastly, another pro for me is that they're easy to tighten. Vision has thought that through. You can unhook all the hard loops, and then you have the laces all the way down to the bottom of the boot, which means you can quickly get them off.
Then when you put them on, it's the same, one quick snap with your hands, pull them up, and they get super tight, all the way down to the toe, so you don't have to keep on tightening them in different positions.
That's a pro. You want to get on the river quickly and get home quickly when it's dark. So yes, I like the lace system on the Vision Nahka Michelin Wading Boots.
The Cons of the Vision Nahka Michelin Wading Boots
I try to hunt for cons on boots and on all the gear I review here on Into Fly Fishing. Nowadays, fly fishing companies are making such good products that it's hard to find cons in many cases. But there are a couple with the Vision Nahka Michelin Wading Boots.
Number one is that they only have three holes above the sole and along the inner arch. The holes are for drainage, after the boot is full, when you're in water above the ankle height of the boot.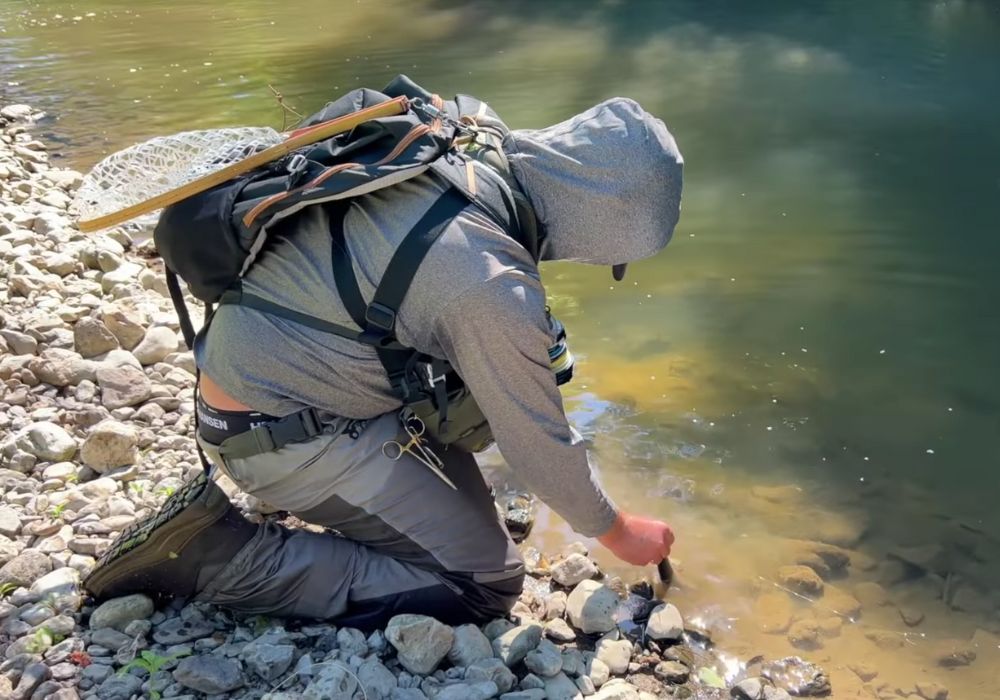 Obviously they fill up, and when you come back out onto the riverbank, beach, or surf, and they start to drain out, they only drain out of those three holes. Your feet will be a little heavy for a little longer than they have to be.
On some of my other boots, the whole bottom section is mesh, which means that as soon as I pull my boot out of the water, all the water comes out. Then the boots are super light, and they dry faster that way as well.
I'd have liked to see the holes a little bit lower down and a few more of them.
Another con that I had with the Vision Nahka Michelin Wading Boots is that whilst the sole is triple sticked and glued, so I don't think it'll come loose, there are a couple spots where the threading is coming a little loose.
I don't know why, but maybe if Vision had glued over the threads again, there'd be less chance of thread coming up. I can still tell, though, that it's not going to come all the way out. I think it's just a little loose, and I think the sole's going to remain on there no problem.
With Vision, the main con is that they don't have the best warranty. Like I said, come on, give us a 60-day money-back guarantee, or give us a year to really fish these boots.
If the sole comes off, the laces break, the lace hooks break, or anything happens that you can't repair yourself, it'd be excellent if Vision would cover that.
Maybe they do, but they don't word it very well on their website. Basically it just says manufacturer fault, not wear and tear. What does that count as?
If something breaks off, do they cover it? If they do, great, but either word it better on the website, or ofter that 60-day money-back guarantee that a lot of brands are doing these days.
The Price of the Vision Nahka Michelin Wading Boots
The Vision Nahka Michelin Wading Boots will cost you around $280 USD, or €280 Euros. Both currencies are basically the same at the time of writing this review.
$280 isn't a cheap boot, and it's not really at the top end of a boot either. You can buy a hiking boot that's not this high quality for $200 or $220.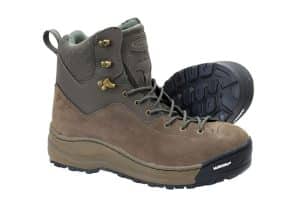 Order The Vision Nahka Michelin Wading Boots
If you like what you see in this Vision Nahka Michelin Wading Boots review, you can order the wading boots on Vision.
It's in the upper ranges of what a wading boot will cost you, but as soon as you pull them out of the box and have a good look at them, you can tell that some money went into making and manufacturing them.
That's why some money goes into going to the store and buying them yourself. $280 is a pretty good value. If you have the money to spend, I think they're a great option.
My Personal Opinion of the Vision Nahka Michelin Wading Boots
I've said it already, I've fished the Vision Nahka Michelin Wading Boots extensively for the last three months. I've been going out quite a few times a week for 10 or 12 hour days of fishing.
They've held up beautifully. There's barely any wear and tear, aside from that one little loose thread.
The bottom of the sole is barely even scuffed. They look pretty much like they're brand new, despite being fished quite a bit.
I think they're a great boot. If you're in the market for a new wading boot and you've got a little bit more of a budget, somewhere in the mid to upper end of the budget spectrum for wading boots, I think that these Vision Nahkas are fantastic.
Conclusion
I hope you enjoyed this article. If you did, leave a comment below and check out the review video on our YouTube channel.
If you do, please subscribe and hit the notification bell so you'll be notified the next time we come out with a new review.
We're coming out with gear reviews like this one every single week, as well as fly fishing tutorials like how to fish in salt water, Euro nymphing tutorials, and even some destination vlog videos, like fly fishing in the Maldives, Patagonia, South Africa, and so many places around the world.
We hope to have you around for the journey. But for now, get off the internet and go out fishing!
Until next time, tight lines.
Amazon and the Amazon logo are trademarks of Amazon.com, Inc, or its affiliates.
As a part of the Amazon Associates Program and other affiliate programs, Into Fly Fishing® may receive a comission if you order products through links on this website.