In this Simms G4 Waders review, I'll give my thoughts on this product after using them for years. These are the main pair of waders that I wear both while guiding and for personal use, and there's definitely a reason for that.
These are the top of the line waders from Simms (which is known for their waders), and it shows in more ways than one.
Below, I'll break down as much as I can about these waders: the specs, how they feel, and how they perform.
Disclaimer: IntoFlyFishing.com is a participant in the Amazon Services LLC Associates Program, as an Amazon Associate I earn from qualifying purchases. Please see our Privacy Page for more information.
Why Trust My Simms G4 Waders Review?
At Into Fly Fishing, we only review gear that we've used enough to fully understand the pros and cons. I've put in countless days on the water in these waders in a variety of different conditions.
Simms G4 Waders
If you like what you see in this Simms G4 Waders review, you can order the fly wader on Trident.
I wore these almost exclusively while guiding in Alaska, and I still wear them most of the time when I'm out fishing for fun on my own. I've waded, hiked, and rowed boats in them. I don't think there's much they haven't seen.
I've owned various waders over the years, and I even have certain waders for certain situations. I've tried everything from all-neoprene waders to budget-friendly breathable waders and everything in between.
What's in the Box?
For the Simms G4 Waders, this section is pretty straightforward. There are no surprises as to what's included when you make a purchase.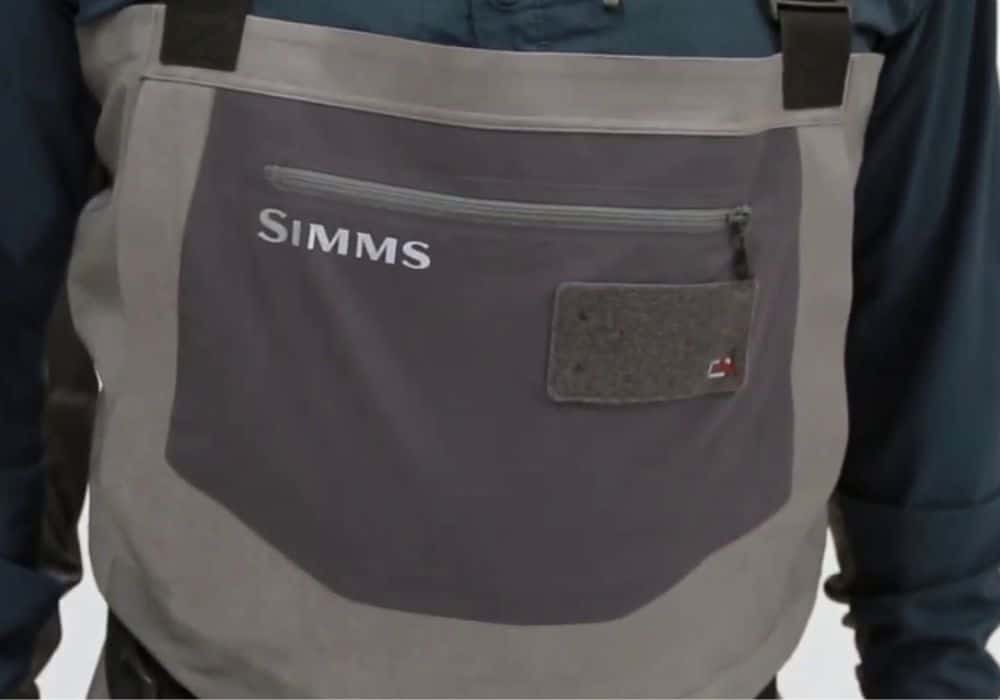 The items included are:
Simms G4 Waders
Obviously. This is what you're paying for, and you'll receive a neatly folded, clean looking pair of Simms G4 Waders. Hopefully they don't stay this way for long!
Wading Belt
Along with the actual pair of waders, you'll also receive a quality wading belt. It has a wide strap and a very durable buckle with the Simms logo on the front. I always recommend wearing the wading belt when you're out fishing.
Simms G4 Waders Review Features and Specs
These are the top-of-the-line waders from Simms. This is reflected by both the quality as well as the price. This isn't a budget pair of waders, but if you're planning to spend a lot of time in different conditions, it may be worth it.
The Simms G4 has a lot of features that make them an excellent choice for the serious fly angler.
Materials and Quality
One of the first things you'll notice when opening the box of your new waders is how durable they feel. The waders feel extremely sturdy, and this is because of the materials used to create them.
The waders feature a 3-layer Gore-Tex shell in the upper part and a 4-layer Gore-Tex shell in the lower part. This adds to their durability and reduces the chances for punctures and tears.
The stocking feet in the Simms G4 waders are compression-molded neoprene, which improves the fit and comfort. There are also 2 mm gravel guards built in above the stocking feet.
Simms uses high-quality zippers and seams throughout the waders. The zippers are lightweight and waterproof for added protection.
If you flip the waders inside out, you'll notice extra patching on many of the areas where the seams meet, specifically in the crotch area.
Features
Of course the main goal is to keep you dry, but these waders also have an impressive amount of storage as well as a place to warm up your hands.
On the front of the waders, you'll see a large zippered pocket that's very versatile. I've stored everything from tippet and leader material to an extra beer and sunflower seeds in there. You'll also find a fly patch attached to the front of this pocket.
One of my favorite features is the fleece-lined reach through the pocket, which is also on the front of the waders. The lining is really soft. It feels very comfortable to the touch, and it's even better when the weather is cold. I love being able to stick my hand in there to warm up on a cold day.
Order the Simms G4 Waders
If you like what you see in this Simms G4 Waders review, you can order the fly wader on Trident.
Inside, you'll find a flip-out storage pouch. This is smaller than the one on the front but is still extremely useful. It's a great place for indicators, weights, or other smaller items. This pocket is interchangeable with other pouch options available from Simms.
The Simms G4 waders come with three belt loops for your wading belt and a comfortable shoulder strap setup. The shoulder straps are an airmesh material that helps with breathability. They have opposing buckles to help convert them into waist highs on warmer days.
And just because they tried to think of everything, there's even a shark fin buckle for your hemostats.
Fit
Simms offers three different sizes for inseam length and many different options for stockingfoot size and chest girth. I recommend trying some on to make sure you get the best fit, but if that isn't an option, the sizing chart is pretty accurate. Remember to take into account what you'll be wearing while you're fishing.
Simms does a great job of offering multiple sizing options. Many waders only come in a few sizes, which can make it difficult to find a good fit. A lot of times you'll settle for something that may fit your feet but not your chest, or vice versa.
Comfort
I find the waders to be comfortable and don't mind spending 10+ hours at a time wearing them. I also think they're very mobile for how sturdy they are. These aren't a lightweight pair of waders, but I have no problem hiking around or getting in and out of boats wearing them.
They have an athletic feel to them, which relates to the fit. I'm much more comfortable when the waders don't feel like a large plastic bag on me. Everything is close to my body, and no extra pieces are hanging off, making life difficult.
The waders can get a little warm on hot days, but the ability to convert them into waist highs with the shoulder straps is very helpful. Many days I've enjoyed being able to feel the breeze a little bit more.
Mobility
As I mentioned, these aren't a lightweight pair of waders, so they might feel bulky at first. This makes them less ideal to pack for traveling, and you may get hot if you're fishing in warmer areas. On the flip side, they'll keep you warm if it's cold.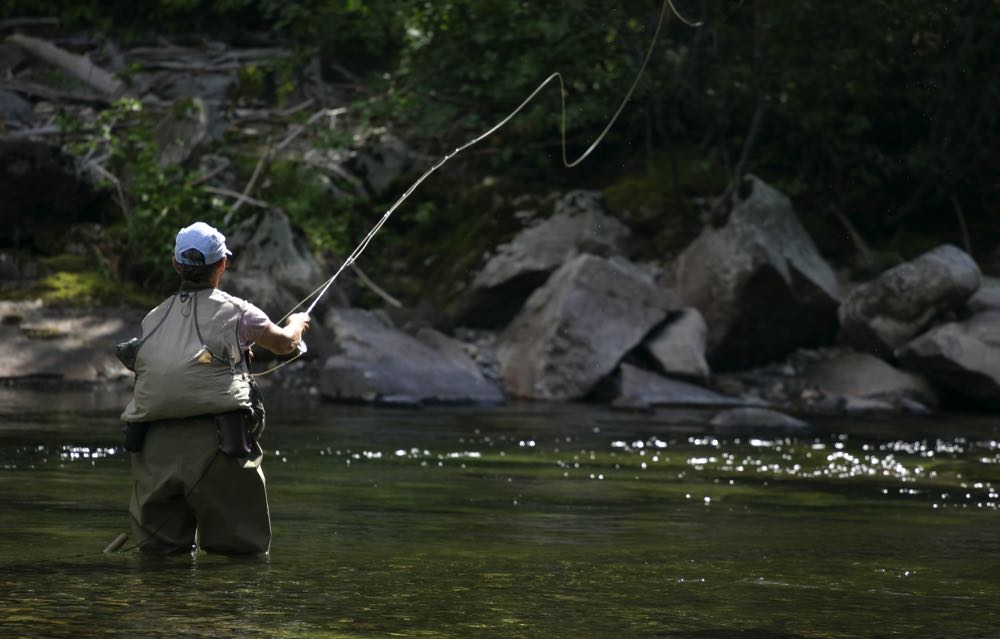 The patented front and back seams are meant to help with mobility. The fabric doesn't get stuck or feel tight around your movement points, which makes them much more enjoyable to walk around in.
I've been able to crawl over and down some big logs and other sketchy areas in these waders. I never felt like my movement was inhibited by wearing them.
Warranty
Overall, I believe Simms has a great warranty and repair program. Everyone has different experiences, but I've always received excellent service when I've needed a repair or replacement.
As of right now, Simms offers a 60-day replacement program for leaks. After that, within a year leaks are repaired for free, and after a year most repairs cost $60 dollars.
Price
This is the biggest drawback of these waders. The Simms G4 waders currently sell for $799.95. This price tag for a pair of waders may seem absurd to some people…and for a lot of people it is.
There's no justification for spending this much money on a pair of waders if you'll only wear them a few times a year in moderate conditions. Several great budget options are available that will work for most anglers.
The Simms G4 waders are really built for guides and the most fervent anglers. They're built to give the wearer confidence that they'll perform every day they put them on, no matter the use or conditions.
Made in the USA
All of the Simms G4 waders are currently handmade at the Simms headquarters in Bozeman, Montana. Simms designs and manufactures waders in the factory there.
Simms G4 Waders Review: My Personal Thoughts
Let's take a look at the main pros and cons of these waders along with what you should think about when considering purchasing a pair.
There's no such thing as perfect, just what fits your situation. It's more important to understand the features of a product and make a decision based on your circumstance.
Pros
Durability: In my mind, this is the biggest reason to purchase these waders. If you want something you won't have to worry about and that will last for years and years, look no further.
Features: Simms has taken a lot of time to think about what an angler needs. The G4 waders have so many handy features that they're really all you need for a day on the water. You could easily take your leaders, tippet, nippers, hemostats, a small fly box or two, and floatant and fit it all on or in the waders.
Availability of Sizes: Simms offers many different options on their sizing chart. This helps to ensure that you'll find a pair that fits how you want them to. It can be hard to find a good fit, and Simms does as much as they can to help solve that problem.
Cons
Price: This is the biggest and most obvious drawback. At just under $800, this is an investment and not an impulse purchase. It's very important to be realistic about the type and amount of use the waders will get.
Weight: These waders can definitely feel heavy and bulky, especially at first. If you're looking for a lightweight, easily packable pair of waders, these aren't for you. When I'm planning a backpacking or camping trip, these are usually the first item I cut.
For me, the pros outweigh the cons on these pairs of waders. When bushwhacking through Southeast Alaska, or jumping in and out of aluminum boats with jagged metal everywhere, durability was far and away the most important feature.
I can remember specific times when I slid across jagged metal or ran right into a sharp stick, expecting to get wet the next time I got in the water, and somehow I was always dry.
The only leak I've ever had were pinhole leaks in the stocking feet. Simms was able to fix the problem quickly and get the waders returned no problem.
Also, as a guide, I need storage and the ability to keep important items close at hand. I could have a boat bag with all the options, but with these waders, the necessities are right there with me.
Order the Simms G4 Waders
If you like what you see in this Simms G4 Waders review, you can order the fly wader on Trident.
If you're planning to hit the river a couple times a month in the summer in Colorado, you should probably look at something much more affordable. And if you're just getting into the sport, I'd definitely steer you away from spending this much on any gear item, much less a pair of waders.
Conclusion
Overall, I hope this review of the Simms G4 waders helped you understand what these waders offer, but more importantly who they're really for. They're an incredible piece of equipment, and for the right person they're worth the money. I highly recommend them for anyone not scared off by the price.
If you're new to fly fishing, check out some of our other reviews for something more affordable. Then if you decide you need something more, you can always upgrade. It's better to do it that way than have $800 sit in the garage or closet.
Thinking about all the memories I've made while wearing these will always make them special to me. It makes me very excited to get back out and create some more!